Oh hi there!
We're Liz and Paul, the creators of Zardyplants.
First off, let's explain Zardyplants since, that's us.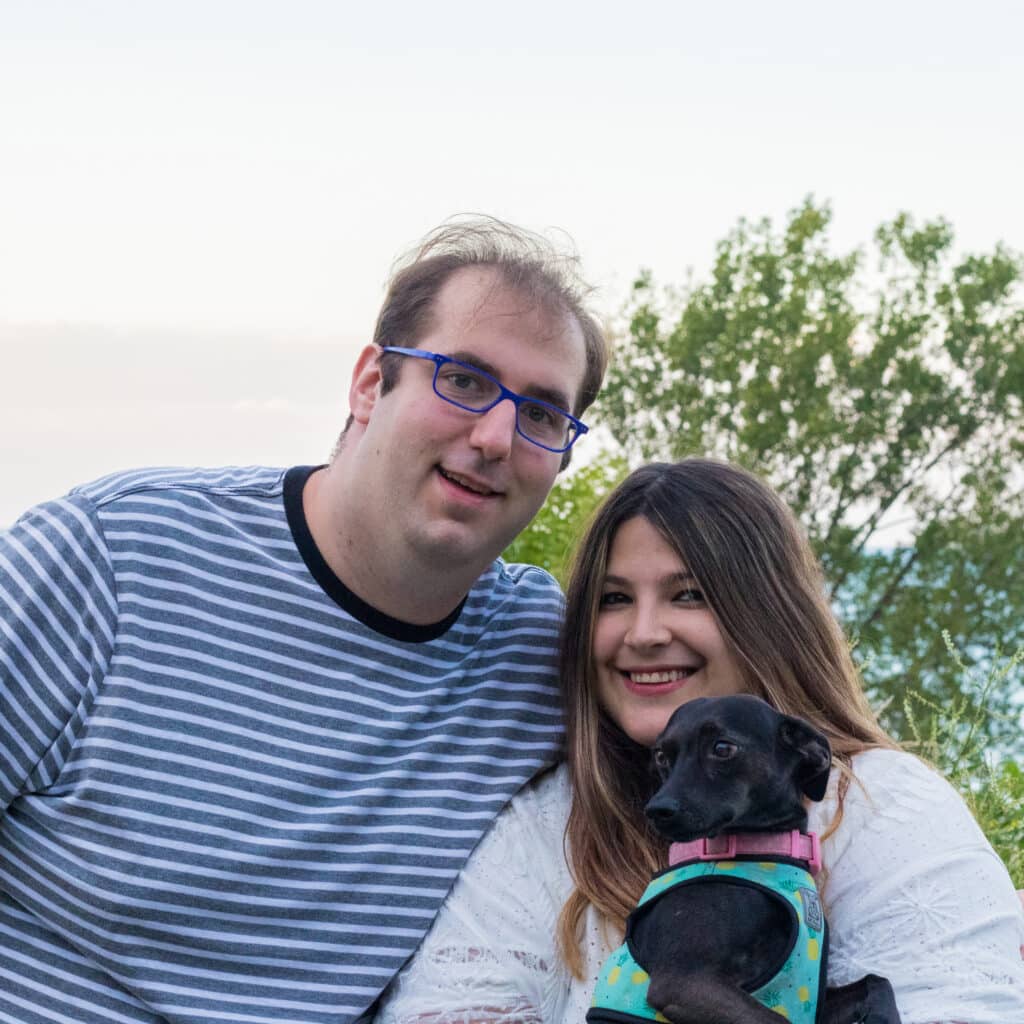 When I (Liz) was little, my mom called me Lizzie, which became Lizard, which eventually became Zard. That turned into Zardy because anything is cuter if you put a -y or an -ie at the end. Then my older brother, in his infinite cleverness, added "pants" to the end and called me Zardypants. Fast forward 20 years, Zardyplants seemed like the only blog name that felt authentically me, since I eat so many plants I call myself an Herbivore.
ANYWAY. Paul and I are a totally dorky married couple from the Northwest suburbs of Chicago with our cute but crazy dog Luna, a chihuahua-dachsund (chiweenie) mix from a local animal shelter.
Paul is a freelance photographer/marketer/nerd and I am a recipe developer/writer/dork. I also work a full time job at a house of worship.
When it comes to the blog, Paul is the brains behind everything you see and I am behind everything you eat. Paul does all the photography, videography, editing, technical blog stuff (there's a lot you don't see that goes into keeping this thing running!), and any marketing (besides social media posting, which we share). He also keeps the house running and does all the dishes which is amazing. I cook constantly and develop recipes, write the posts, write emails, do cooking demos (a blast!), write the e-books, and do a lot of trying to track down new things for us to learn whether it's watching webinars, listening to podcasts on my way to and from work, or networking with other bloggers.
Paul and I started this food blog to share our vegan recipes. We went vegan together in early 2018 after watching the documentary Forks Over Knives. We went vegan for the animals, for our health, and for the environment and will always be vegan. I even went ahead and got a certificate in Plant Based Nutrition from eCornell because it was that important to me, and helped me understand how to eat a healthy, nutritious, satisfying plant based diet backed by science and research. The recipes on my site show that you shouldn't have to give up the taste you love for to support the animals we love, our bodies, and our planet.
We'd love to get to know you, our readers. Drop us a comment below or find us on your favorite social media platform. We're most active on Instagram, Facebook, and Pinterest (all under the handle @zardyplants) or you're welcome to email us too!

Want to keep up with our recipes? Click here to join our weekly newsletter subscription. We promise not to spam you and we'll never sell your info. :)