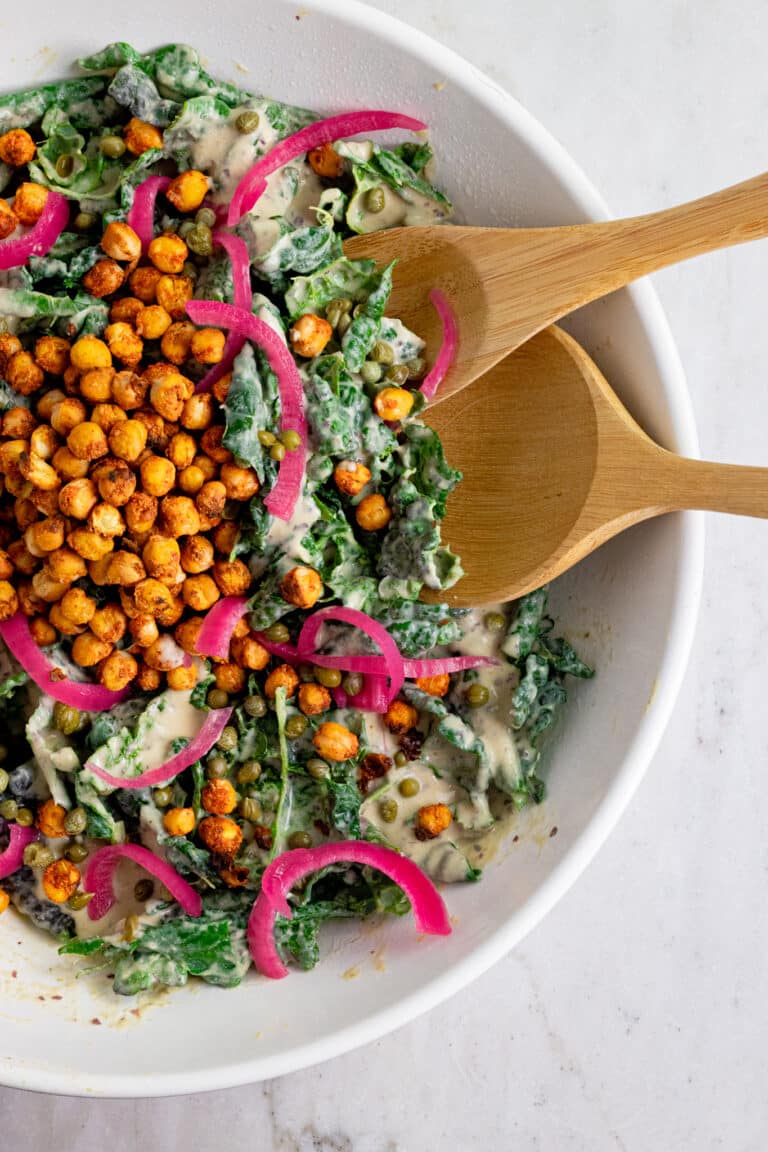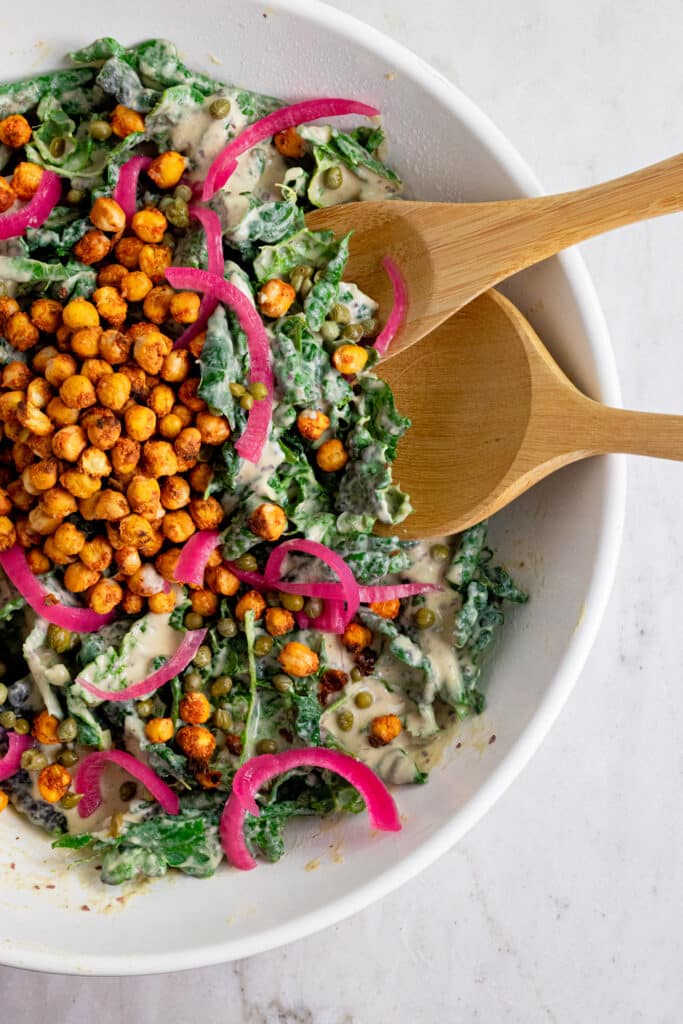 This Vegan Kale Caesar Salad with Chickpea Croutons and Pickled Onions is a delicious twist on a classic salad. This salad is also protein-packed, super satisfying, and takes less than 15 minutes to throw together!
Hey Internet, ready for a super fresh, tasty and healthy meal? This salad tastes so much like a traditional Caesar salad but with no anchovies or cheese–score!
It sounds crazy, but one of my favorite things to eat is salad! There's so many different combinations and flavors you can come up with, and I love playing around.
Kale is one of my favorite salad greens, and it's seriously underrated in my humble opinion. If you're not a kale fan, I have a few tricks for enjoying it and incorporating it into your diet--because man, this stuff is good for you!
Alright, so what makes this salad so epic?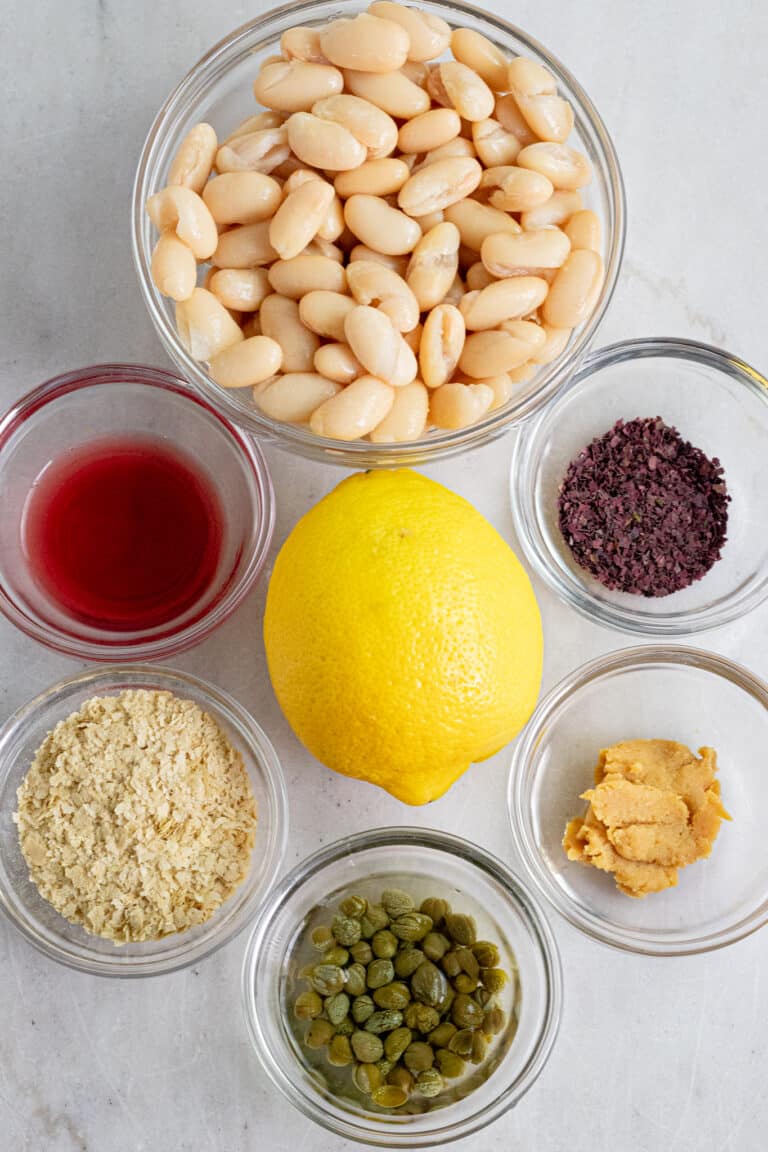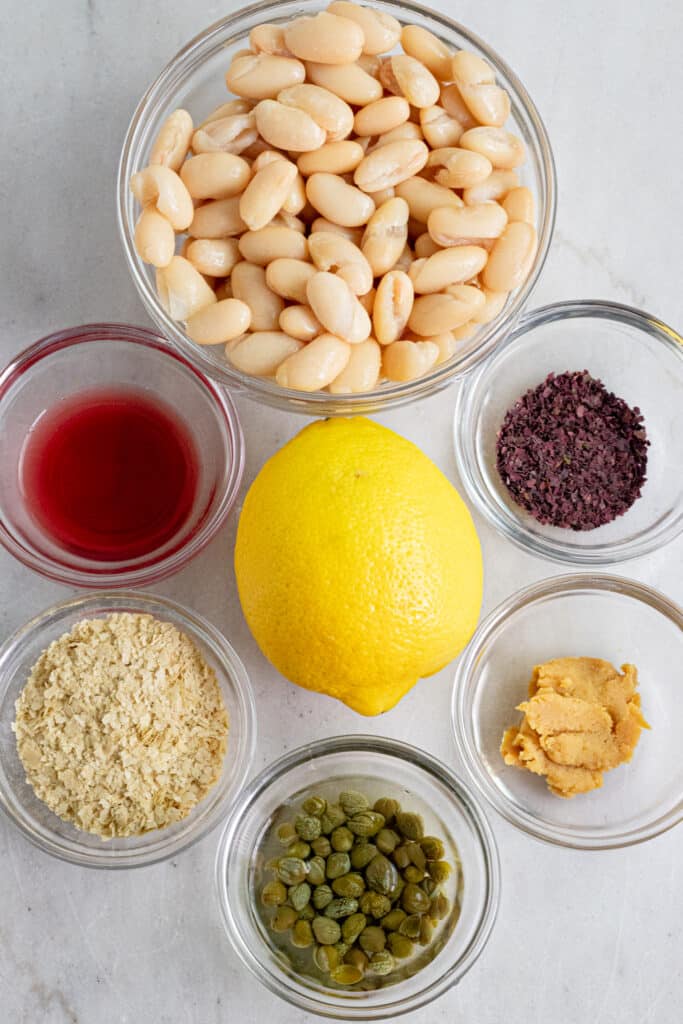 How to Make Kale Taste Good
Let's talk about the dinosaur in the room. Kale. In this case, as I hinted, we're using lacinato / dinosaur kale (but you can use any kale or green).
This dark leafy green is a powerhouse of nutrients in just one cup: 2x your daily value of beta-carotene (vitamin A), 684% of your daily value of vitamin K (say what?!), over 100% of your Vitamin C for the day and is also rich in manganese, magnesium, potassium, copper, calcium, fiber, and protein. This roster earns it the title of heavyweight champion in my book.
But the former buffet garnish turned super food star gets a bad rap for being tough, bitter, and hard to eat. Well, I must say I respectfully disagree.
Kale really just needs a little TLC.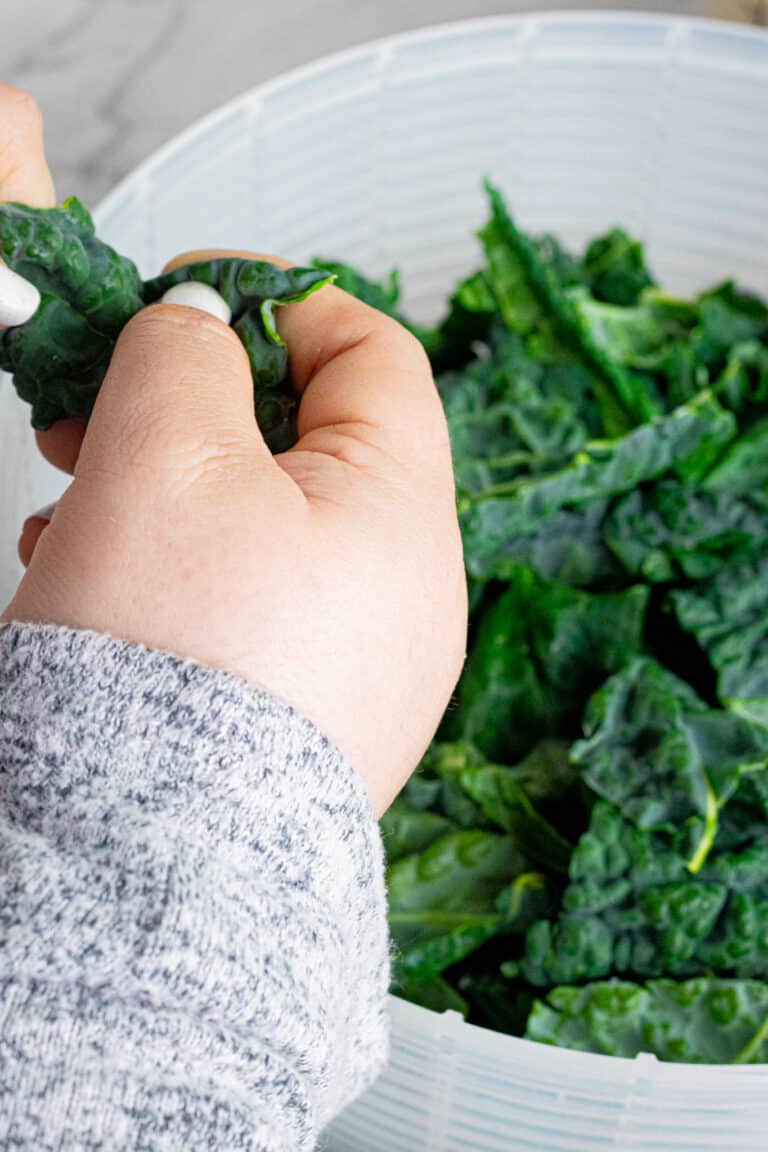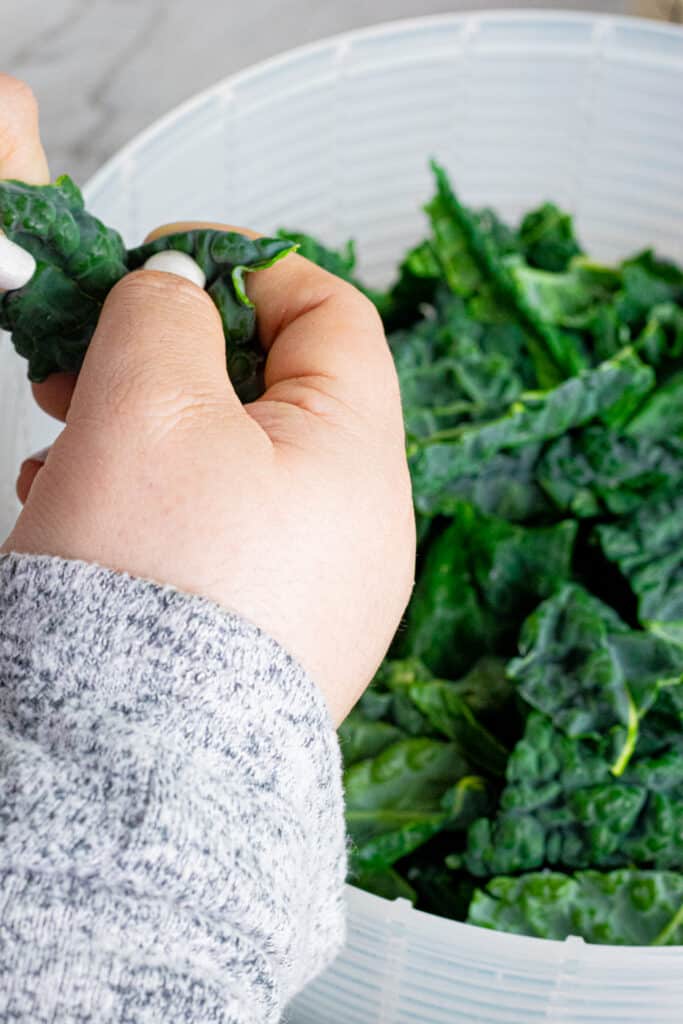 It sounds a little hokey to "massage" your greens, but I promise, if you just try my tips for kale, you will find it way more palatable and, dare I say, enjoyable? I swear, I too once hated kale!
Since kale is a cruciferous vegetable (from the cabbage family!), it has very tough cell walls on the inside. Massaging it helps to break down those cell walls, making it easier to chew and digest.
Using an acid as your massage "oil", such as lemon juice, helps this process, and also cuts the bitterness, making it more palatable. And if you're using a tasty dressing that includes lemon juice like the one below, I'd recommend just massaging the dressing straight into the leaves to save time and impart more of that yummy flavor into your greens.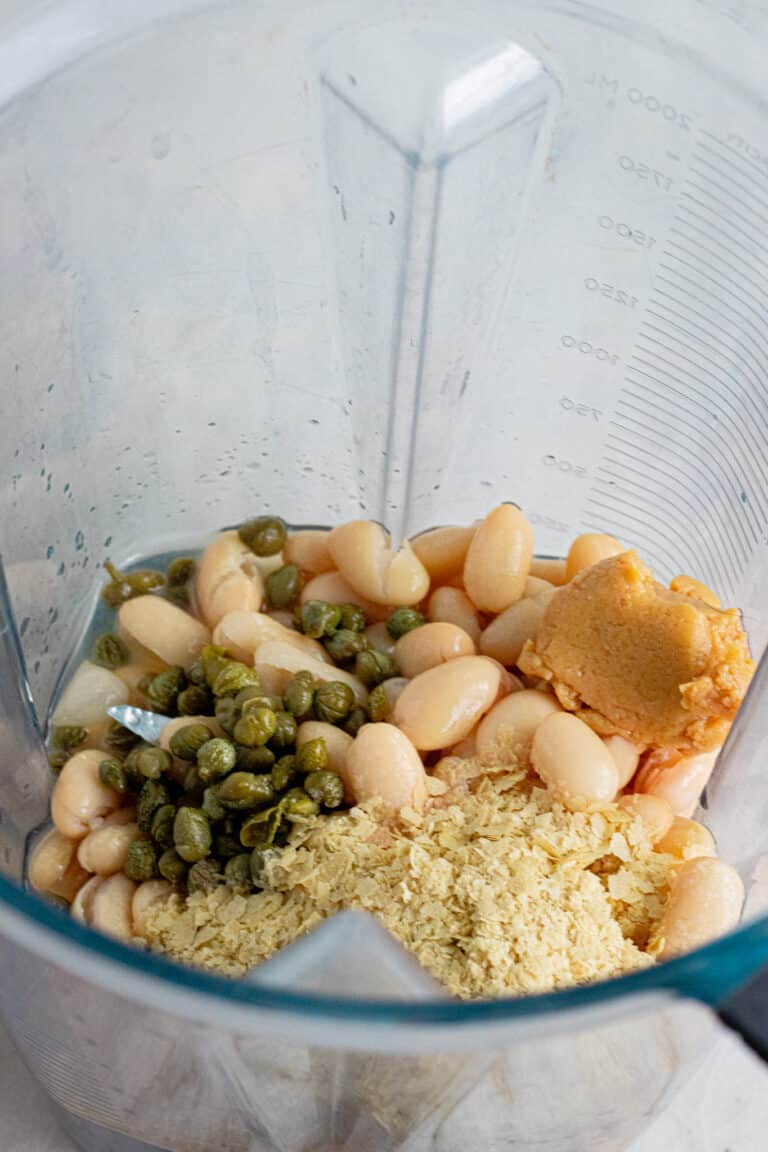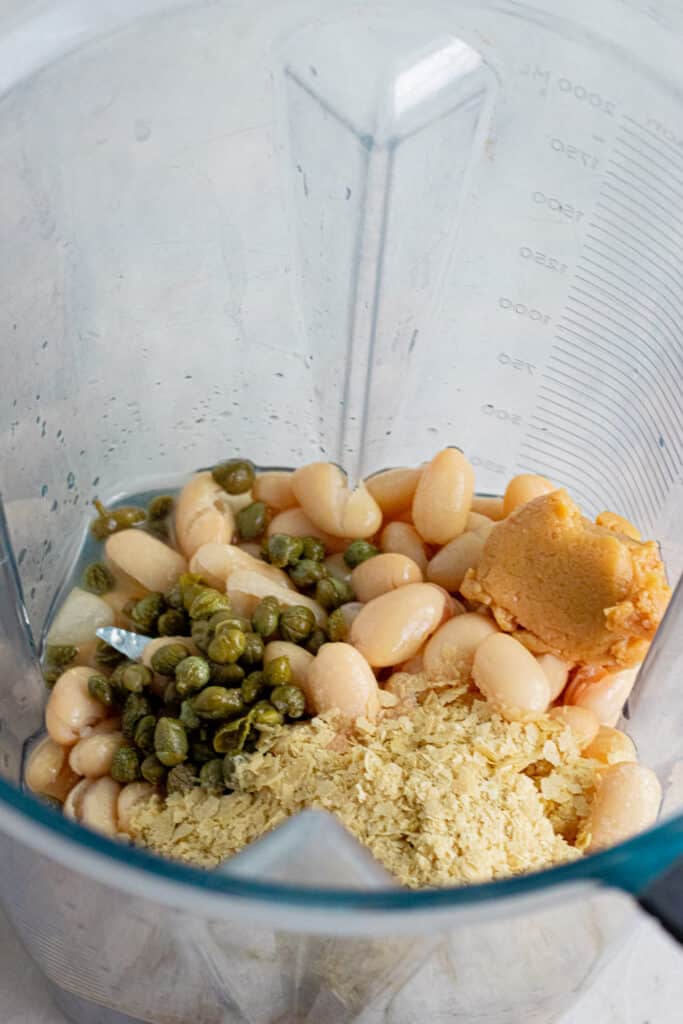 Oh Yes, the Caesar Salad Dressing!
Speaking of salad dressing, this one is EVERYTHING! It's tangy, salty, and some nutritional yeast gives it that parmesan-y flavor, making this a great vegan Caesar salad.
If you want to keep your salad dressing a lighter color (like Caesar dressing), use an unfortified nutritional yeast. Unfortified still has nutritional benefits but doesn't have as many added B vitamins.
According to Dr. Michael Greger, a highly respected researcher in the Plant Based Nutrition field, over at nutritionfacts.org, supplementing B vitamins (except for B12) can be harmful. Specifically, supplemented B6 (as folic acid) may increase our risk of cancer.
B-6's natural form, folate, does not cause an issue, and is found in many whole foods, such as leafy green vegetables. I will occasionally use supplemented / fortified nutritional yeast in my recipes for the color, but the majority of what my family and I consume is unfortified.
Continuing on, to get that almost fish-y flavor, I'm using capers and a little of their brine for their tanginess (shut up, little red squiggly, line, that's a word) and saltiness.
I'm also using some ume plum vinegar, which is optional but highly recommended as it adds another great kick of flavor. If you don't have it though, just use a vinegar (white wine vinegar, apple cider vinegar, or rice vinegar are good choices) and salt if needed.
I included a little miso paste (a hallmark of umami flavor–this is highly recommended (use chickpea miso if you can't eat soy)), some white beans as the base (you can also use soaked cashews or tofu), and dulse flakes, a type of seaweed, that really ups the sea-flavor (also optional).
As far as the rest of the salad, it's pretty simple!
There are some deliciously crunchy airfried or roasted chickpeas that act as a "crouton" but with way more flavor and nutrients like protein, fiber, phosphorus, copper, and folate. :) You can either airfry these or roast them–I've provided instructions for both.
If roasting the chickpeas, I highly recommend using a silicone mat lined pan. I feel like it helps get the chickpeas crispier than parchment paper, and it's better for the environment and your wallet, too!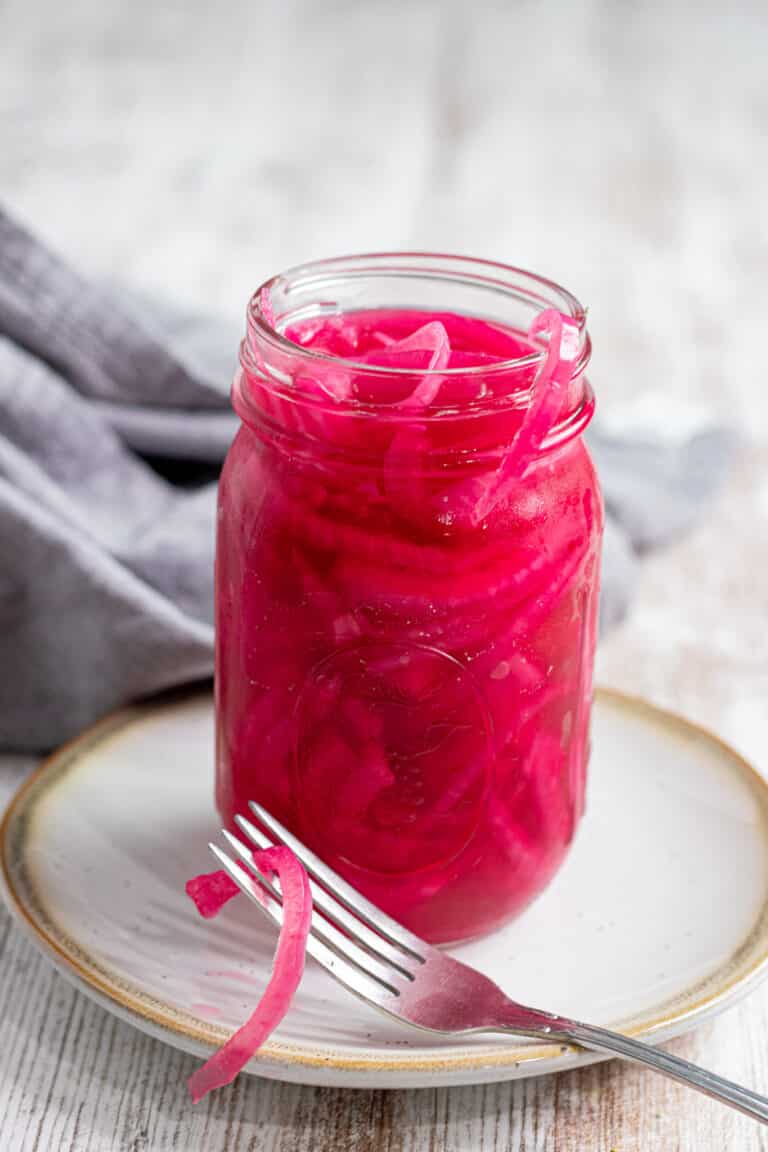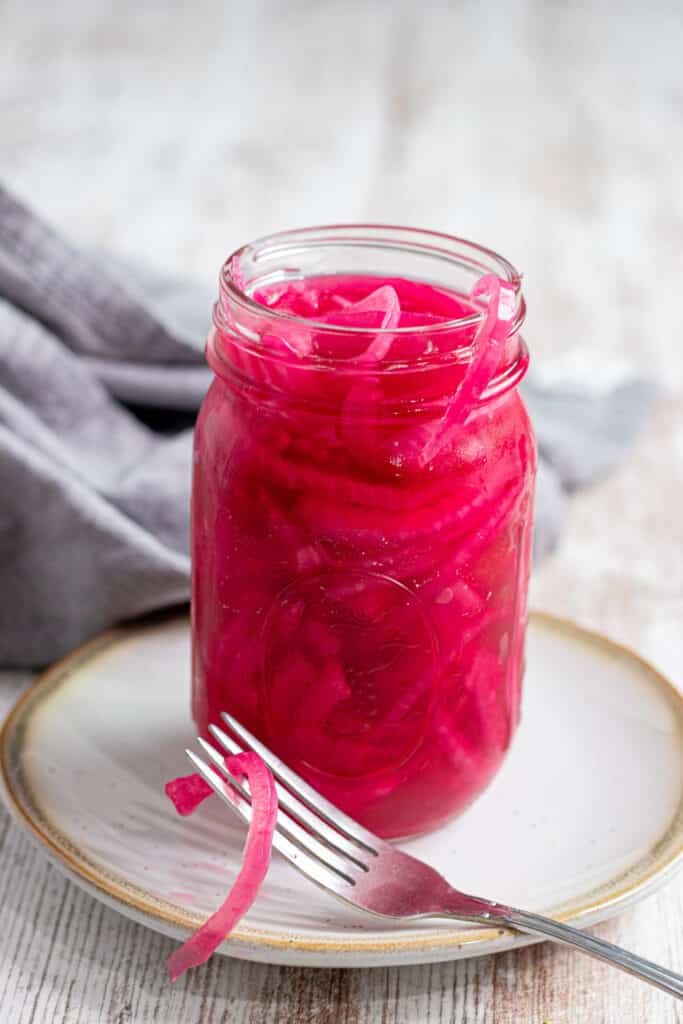 A Quick Pickle Note
Finally, I like to add pickled red onions to my salad, which is totally optional. You can either buy them at the store or make them at home like I do.
Here's the recipe to make your pickled red onions at home -- you'll only need 5 minutes and 4 ingredients!
Quick sidebar: After the photo I had to pick out the onions in one of the bowls for Mr. Zardyplants, who doesn't like anything pickled. I guess Paul Piper didn't pick a peck of pickled peppers.
Sorry, hubby, you married a pun-obsessed girl.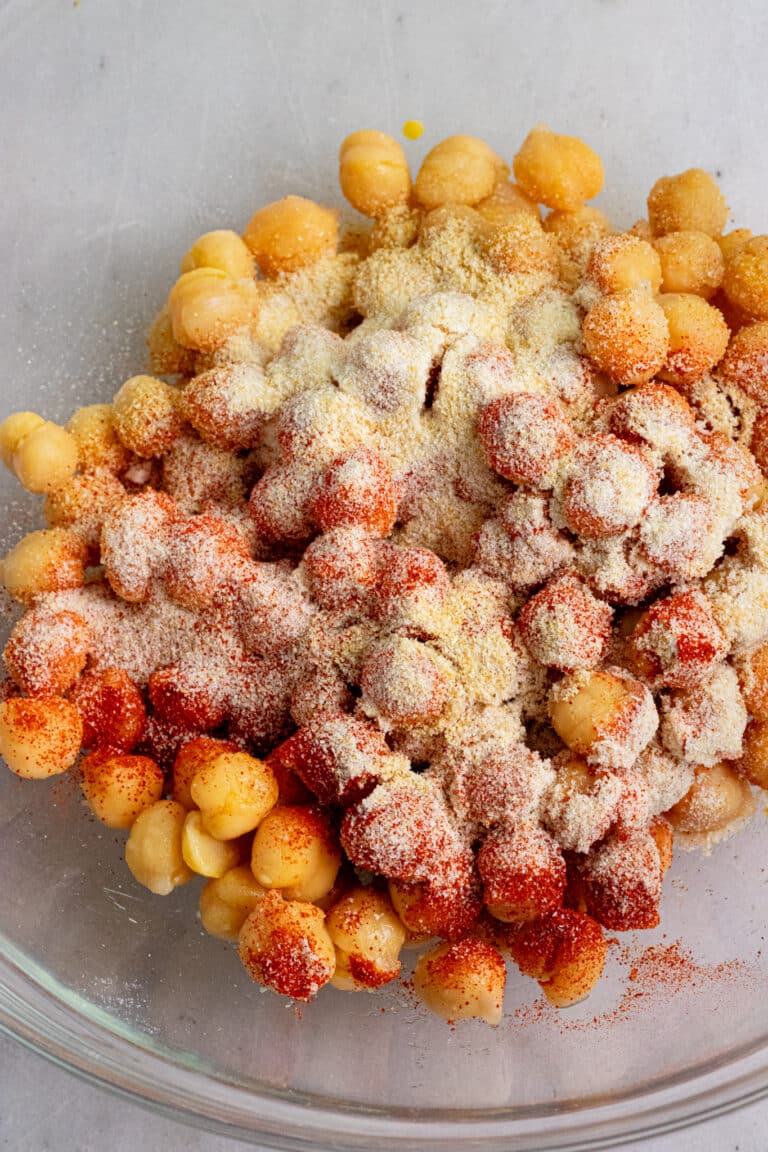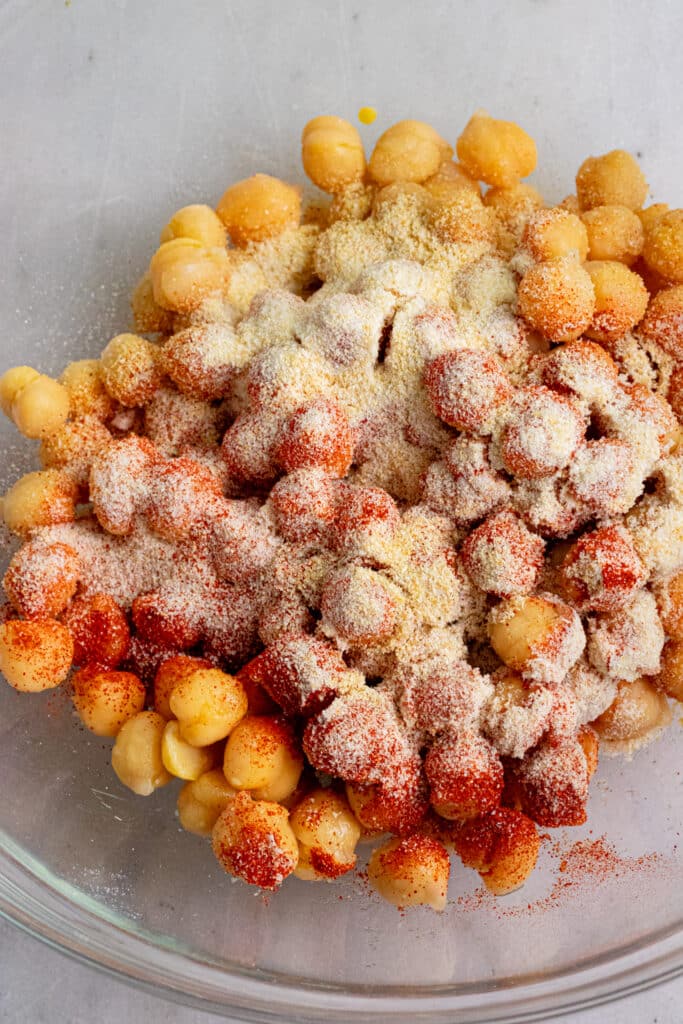 How to Make Crunchy Chickpeas
So my Vegan Kale Caesar Salad is actually crazy easy to make!
Let's start with the chickpeas since they take the longest. For this recipe I airfried mine so I'll start with those directions but I'll give you oven directions too. You can also cook crunchy chickpeas stove top.
For all methods, Add the chickpeas to a medium bowl and mix the recommended (or any you like) spices into them. Toss well -- I just use slightly wet chickpeas to avoid oil, but you can use oil if you want.
To Airfry:
Remove the basket from your airfryer and add the chickpeas. Adjust so they are in a single layer and put the basket back in the airfryer. Cook at 400 degrees Fahrenheit (205 degrees Celsius) for about 10 minutes, shaking the basket halfway through.
To Oven Roast:
Preheat your oven to 400 degrees Fahrenheit (205 degrees Celsius) and add your chickpeas to a lined baking tray in a single layer. Bake for about 20 minutes, stirring halfway through.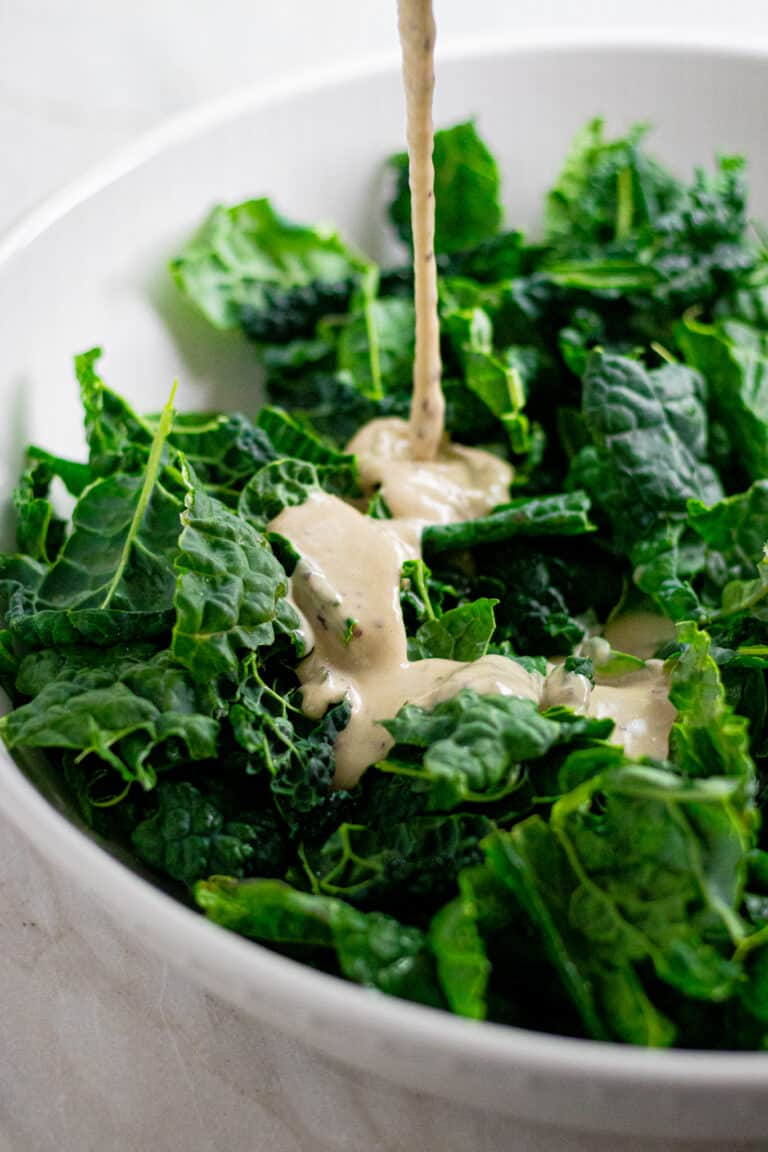 How to Make Vegan Kale Caesar Salad
While the chickpeas are cooking, make your dressing by adding all ingredients except the dulse flakes to the blender. Blend until smooth, then add the dulse flakes and just pulse to combine.
Set the dressing aside and work on your kale now.
Remove the stems from the kale (my dog loves them, but you can also save them for a stirfry) and tear or cut the kale into bite size pieces.
Wash and dry your kale--I love my salad spinner! It helps dry my greens really quickly and you'd be surprised how useful it is if you eat a fair amount of greens.
Add your greens to a large bowl. Pour about ⅔ of your dressing into the kale and set the rest aside for now.
Massage the dressing into your kale. Seriously.
Then just assemble Vegan Kale Caesar Salad by adding the pickled red onions, extra capers, and the chickpea croutons. Enjoy!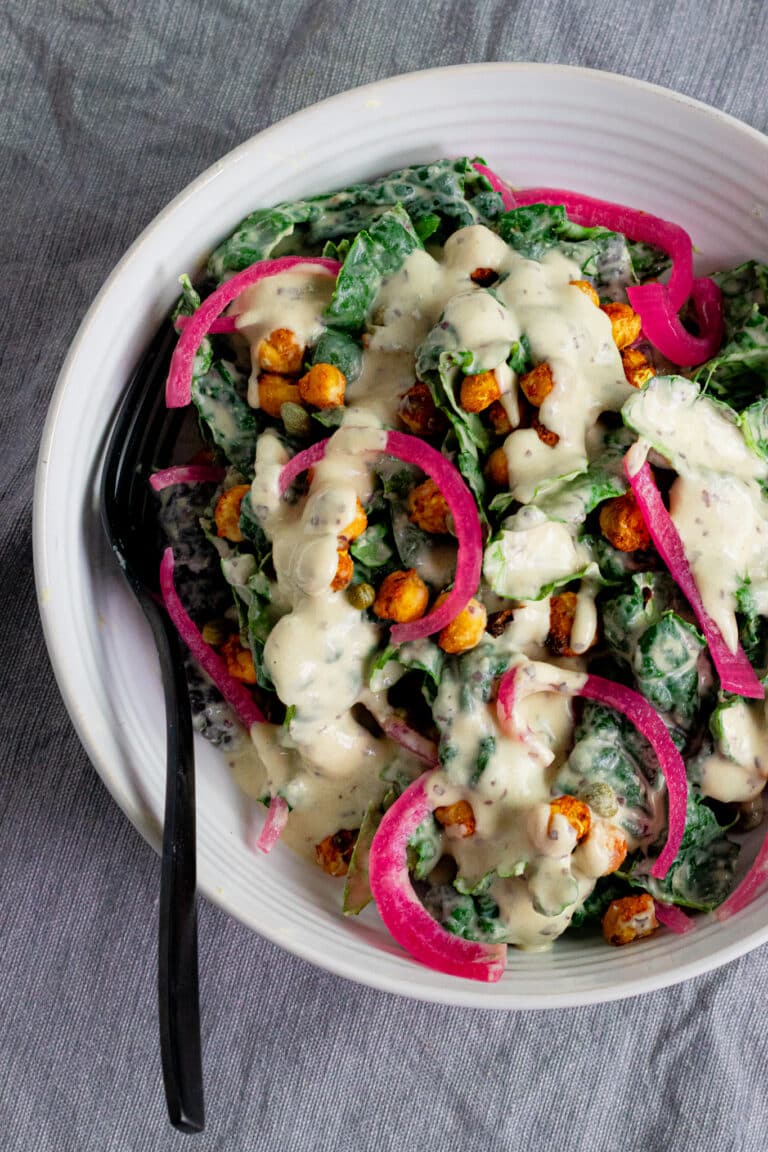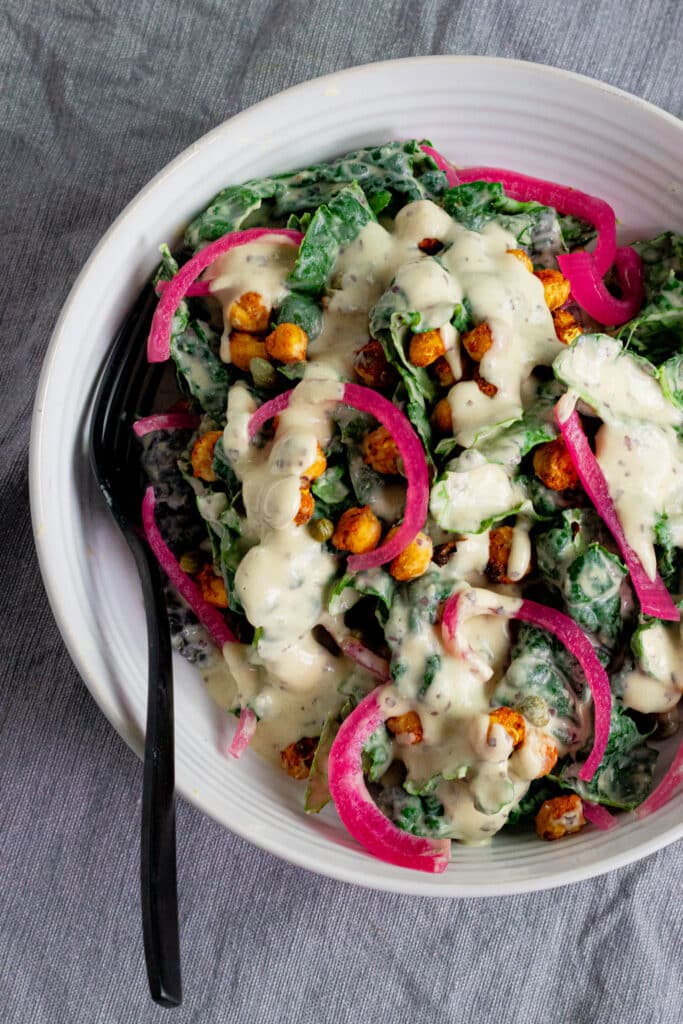 Anything else?
As always, I hope you love this recipe–I know I do.
Let me know in the comments below if you make it, tag me @Zardyplants on Instagram so I can see your beautiful recreations! If you tag me on IG, I will share your post in my stories :)
Also, one quick request: if you love how this recipe looks or tastes, please leave me a 5-star rating and a nice comment–ratings help more people find my recipes which helps me keep providing them! Thank you!
<3 Liz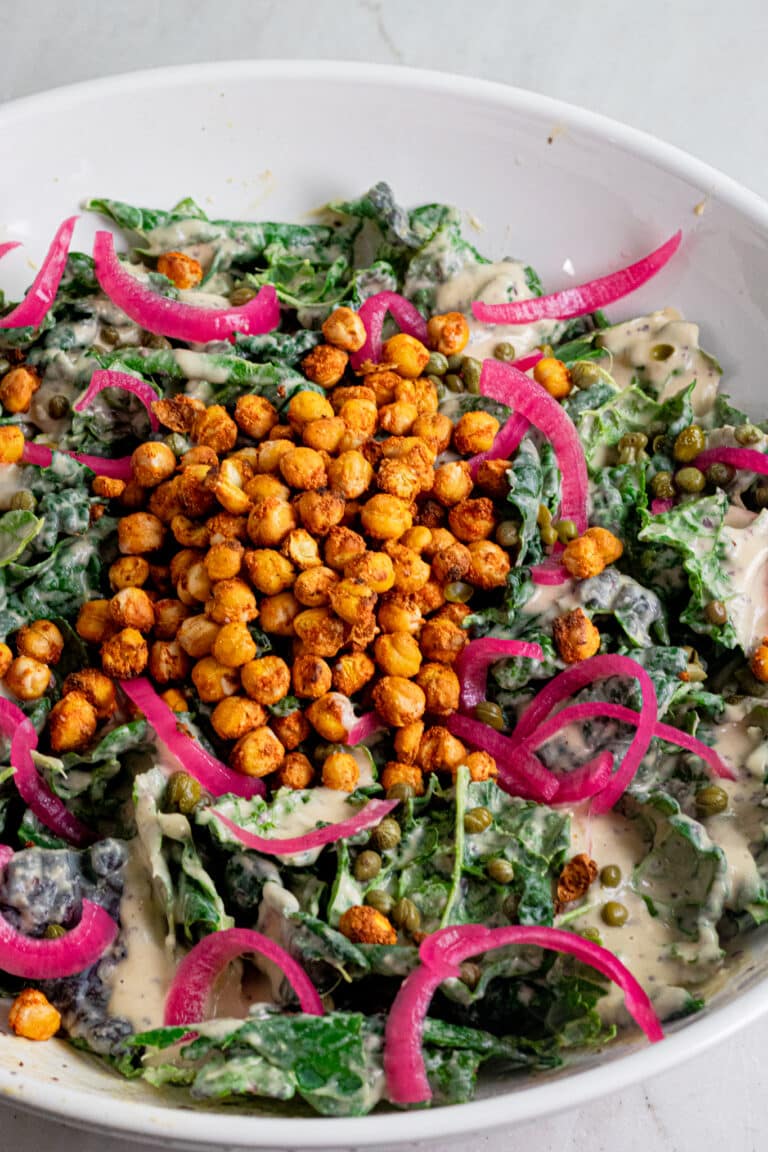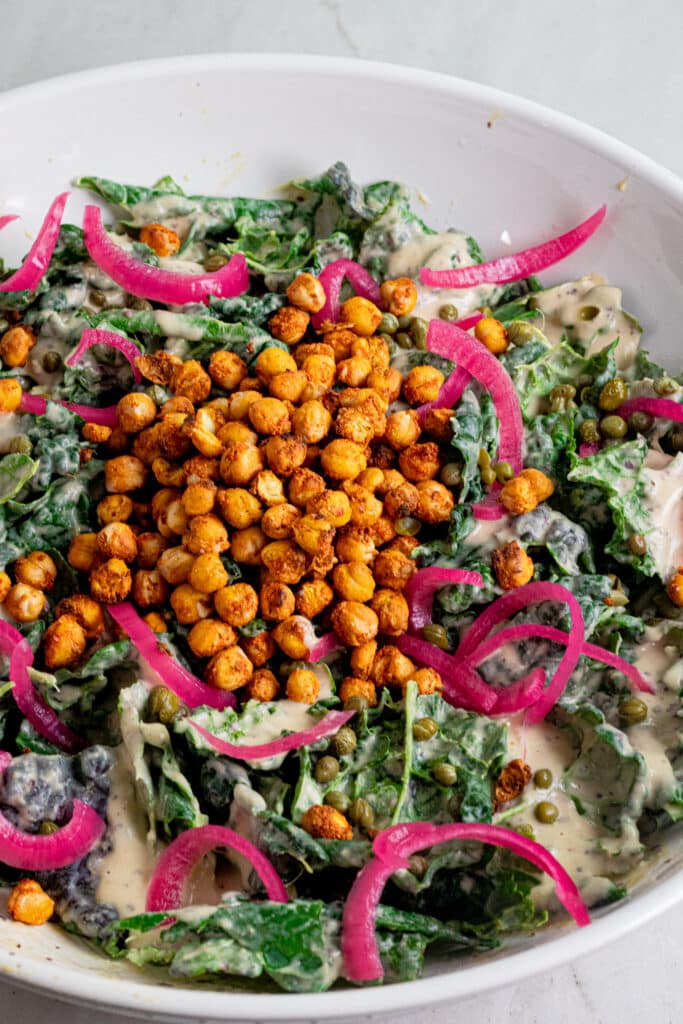 Follow me on Social Media!
Print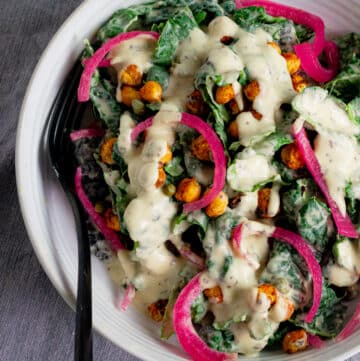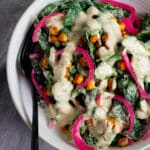 Vegan Kale Caesar Salad with Chickpea Croutons and Pickled Onions
---
Author:

Liz Madsen

Total Time:

15 minutes

Yield:

3

meal-sized salads

1

x

Diet:

Vegan
Description
This Vegan Kale Caesar Salad with Chickpea Croutons and Pickled Onions is a delicious twist on a classic salad. This salad is also protein-packed, super satisfying, and takes less than 15 minutes to throw together!
Vegan, Oil-free, Gluten-free, Nut-free, Sugar-free, can be Soy-free
---
Salad Ingredients
4 cups

kale, any variety (I used lacinato / dinosaur kale), washed and torn into bite-size pieces

2 tablespoons

capers

1

-

15

oz can chickpeas, drained

1 tsp

onion powder

1 tsp

garlic powder

½ tsp

paprika

½ tsp

salt

¼ cup

pickled red onions, optional
Dressing Ingredients
---
Instructions
If baking, preheat oven to 400 degrees F (205 degrees C). If airfrying, you'll set your airfryer to the same temperature.
Toss your still wet chickpeas in the onion powder, garlic powder, paprika, and salt. If they are dry, run them under a little water to get the spices to stick. Spread them out on a lined baking tray or add them to your airfryer so that they're in a single layer.
If baking, bake chickpeas for 20 minutes, stirring halfway through. If airfrying, set your airfryer for 10 minutes, and shake the basket halfway through.
While chickpeas are cooking, make your dressing in a food processor or blender. Blend everything in the dressing ingredients list above EXCEPT the dulse flakes. After the dressing is smooth and creamy, taste it. If you're happy with it, add the dulse flakes and just pulse a few times to incorporate the dulse but not blend it up entirely.
Add washed, torn, and stemmed kale to a large bowl. Pour on ⅔ of the dressing and use clean hands to massage the dressing into the greens for two minutes, really working the leaves. Let the salad sit until ready to serve.
When the chickpeas are done, remove them from the oven or airfryer. I like my chickpeas to be a little crunchy on the outside and softer on the inside. If you would like, you can cook them longer and make them crunchier, or cook them for less time if you would like a softer chickpea.
To serve, add salad to a bowl and toss in capers and pickled red onions if using. Drizzle on remaining dressing. Add crunchy chickpeas on top. Enjoy!
Storing dressed salad not recommended for more than 1-2 days. To meal prep salad, store dressing separately until ready to use. You can massage kale ahead of time with just lemon juice and it will stay fresh in an airtight container in the fridge for up to 5 days.
Prep Time:

5 minutes

Cook Time:

10 minutes

Category:

Salad

Method:

Blender

Cuisine:

Vegan, American
Keywords: Vegan, Oil-free, Soy-free, Gluten-free, Nut-free, Sugar-free, Caesar Salad, Plant-based
---
---
Other Recent Content!