Cheezy Potatoes and Kale Au Gratin… Like a lot of people, I used to think that the term au gratin meant with cheese. It actually means by grating, but apparently actually refers to a baked dish with breadcrumbs baked on top and becomes golden brown. This dish definitely fits that bill!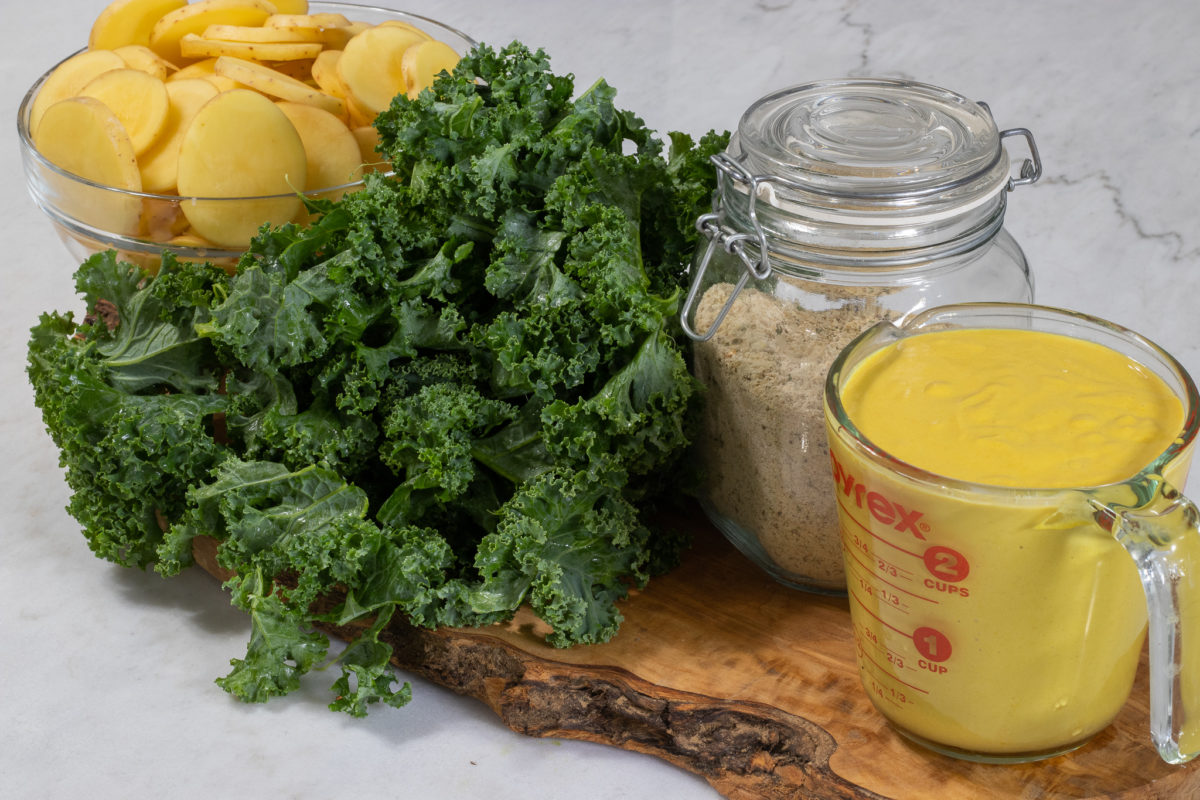 Anyway… thinly sliced potatoes layer up in this dish with fresh kale, my mouthwatering bean-based cheeze sauce and topped with my delicious vegan parm topping for a completely decadent (yet healthy!) culinary experience.
This recipe is the ultimate warm comfort food, but there's no guilt involved. It also keeps quite well in the fridge, so you could prep it on Sunday and reheat it for easy lunches or dinners throughout the week. I mean, I could also eat this for breakfast, too ;)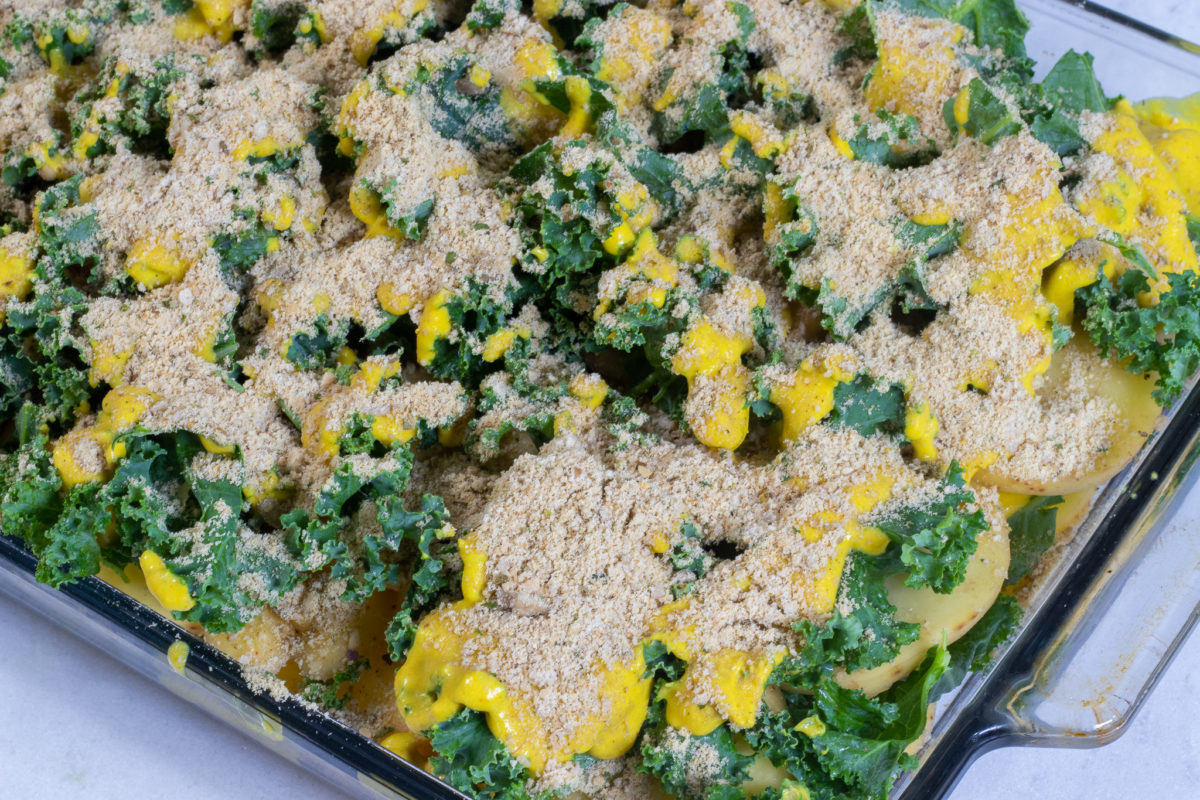 To thinly slice the potatoes, I used my mandolin, but you could also use the slicer on your food processor. If you are slicing by hand, make sure your knife is very sharp. If you cannot get them thinner than ¼ of an inch that's OK, just increase your bake time. Finally, make sure you make all of your potatoes approximately the same thickness so that everything cooks evenly.
I used gold potatoes because I just love how creamy they get when cooked, but you could definitely use other potatoes. You could even try this with sweet potatoes–yum! I don't peel my potatoes because I like to get as many bonus nutrients as possible, but you can peel yours if you like.
For this recipe you can use any kind of kale you like (you can use spinach too, it's just going to have less texture when cooked), but I prefer curly kale. The top layer of kale is exposed to the hot air of the oven and becomes crispy like kale chips.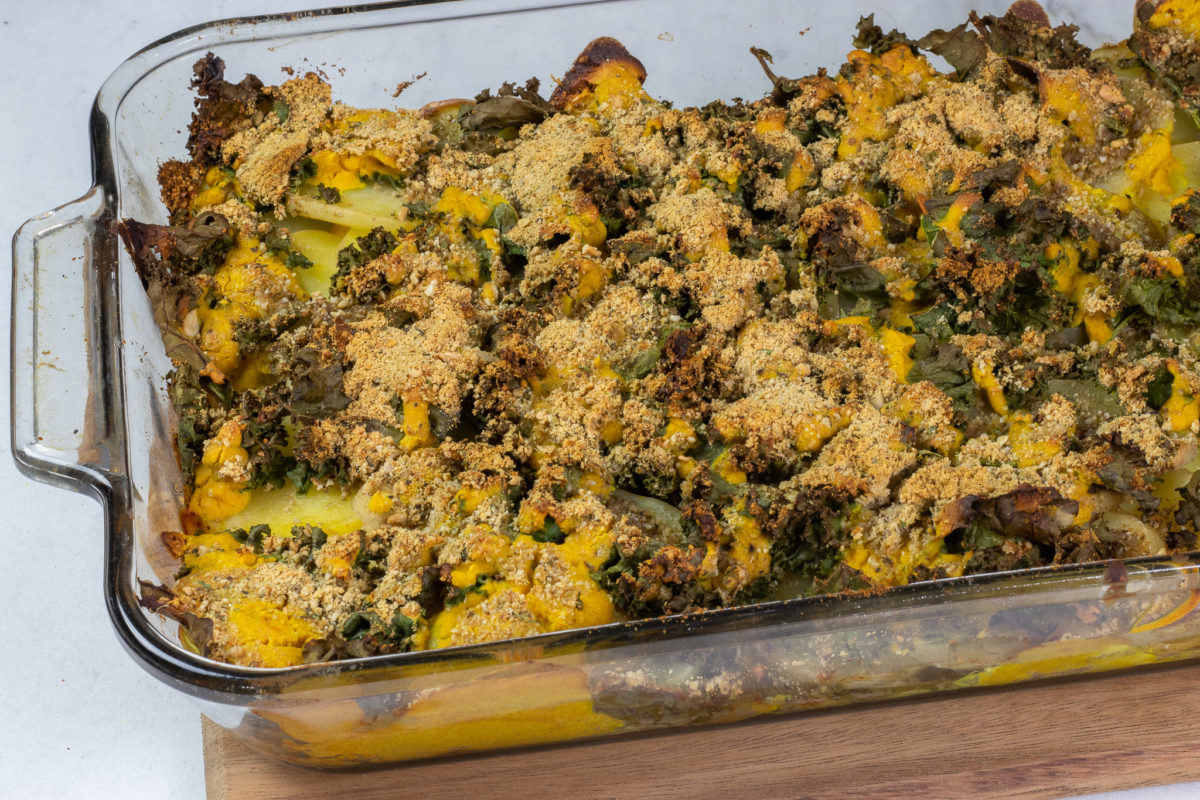 You could easily replace the kale in the Cheezy Potatoes and Kale Au Gratin with other vegetables. Broccoli or mushrooms would be amazing in this. For more plant-powered protein you could also add in some chickpeas, but the cheeze sauce is bean-based so you are getting some protein there. And don't forget that all plants have protein!
As always, let me know if you make this recipe and please tag #Zardyplants and mention me @Zardyplants so I can see your beautiful recreations! If you tag me on IG, I will share your post in my stories :)
<3 Liz
Follow me on Social Media!
Print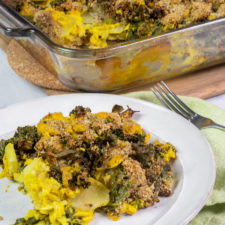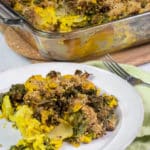 Potatoes and Kale Au Gratin
---
Description
Going plant-based doesn't mean having to miss out on your favorite meals. With my recipe, you get a the great taste of a load potato and more! Vegan, Oil-free, Gluten-Free, Soy-free, Plant-based  
---
8

smallish gold potatoes

1

bunch of kale

1

batch of cheeze sauce

½

to

1

cup of my vegan parm topping, optional
---
Instructions
Preheat the oven to 425 F (218 degrees C).
Slice your potatoes very thin. As you slice your potatoes, store them in a bowl of cold water to stop them from oxidizing and turning brown.
Wash your kale, remove the stems, and chop or rip it into bite-size pieces.
Wash your kale, remove the stems, and chop or rip it into bite-size pieces.
In the same blender, make your cheeze sauce.
In a large, deep baking dish (I used a 9" x 13"), put down 1 layer of potatoes and cover it with half of your kale, spreading everything out evenly. Don't be afraid to layer potatoes where you have to to fill the gaps and crevices.
Pour on half of the cheeze sauce, trying to evenly coat things as best as you can.
Sprinkle a little parm over that layer.
Repeat the process until you are out of all ingredients, ensuring that the last layer is kale covered in cheeze sauce. Leave some bits of kale unsauced if you want them to get crispy. Sprinkle more parmesan on the top.
Bake covered for 20 minutes and uncovered for 20 additional minutes.
Serve, top with more parm and enjoy hot.
Refrigerate leftovers in an airtight container up to 5 days.
Cook Time:

1 hour

Category:

Entree

Cuisine:

Casserole
Keywords: Vegan, Oil-free, Gluten-Free, Soy-Free, Plant-based, Au Gratin, Casserole
---
---
Other Recent Content!