If you're looking for vegan fries out and about, there are a few options for you. Some of the biggest chain fast food restaurants don't even have vegan fries. Are Arby's fries vegan?
This post may contain affiliate links. See our disclosure policy for details.
Hey Internet, I like fries. There, I said it.
I mean, really, any kind of potato. If you have potatoes, I like them. I'm talking vegan roasted potatoes, boiled baby potatoes, vegan baked potatoes (loaded of course), vegan mashed potatoes, vegan latkes, vegan potato kugel, vegan potato and leek soup, etc. I could go on for days about potatoes.
Sweet potatoes are not my favorite potato but they're still good (especially when made savory with hummus and roasted veg on top).
Russet potatoes, though, are perfect for fries. And I love making fries in my oven or air fryer.
But you know what, I also really like fast food fries. They're definitely more of a once-in-a-while or "in a pinch" type of treat. But I love them, and so does my hubby.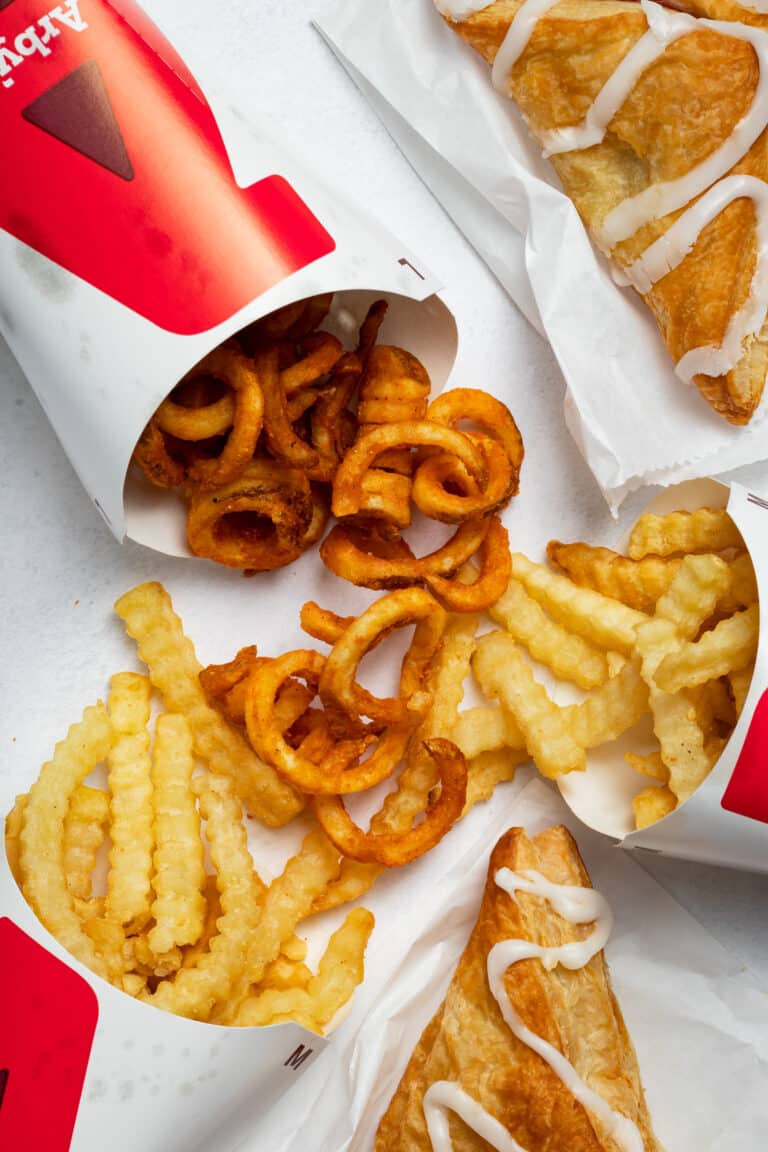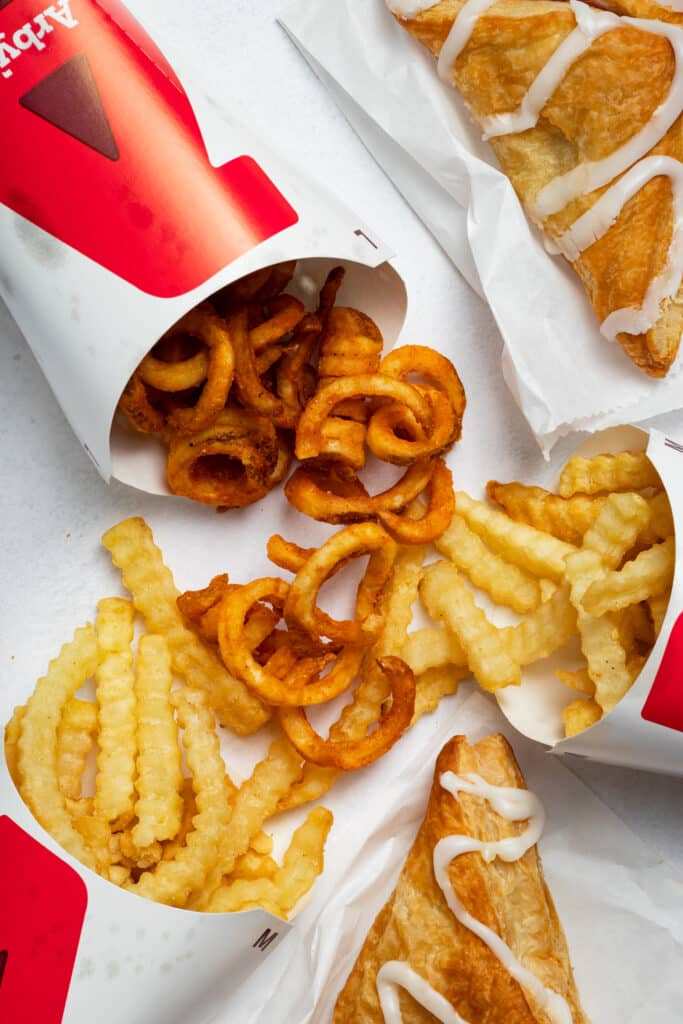 Jump to:
The best fries, in our opinion, are definitely Arby's. But Arby's is not known for being a vegan-friendly restaurant as it has a meat-heavy menu.
In fact, in 2019, Arby's trolled vegans by creating a "marrot," a carrot made out of meat as a way of stating it would never offer vegan meat like the Impossible burger, which is growing in popularity especially in non-vegan restaurants across the country.
According to People magazine, Jim Taylor, Chief Marketing Officer for Arby's, said "Plant-based meats are the latest incarnation of making vegetables look like what Americans really want, which is great, tasty meat."
I'm not about to start foaming at the mouth over Taylor's statement (that's what they want anyway, to provoke), but regardless of that, it's safe to say Arby's does not intentionally offer vegan options and has very limited vegan options or vegetarian options, at least in 2022.
So, as you know, veganism is very important to us. We've been eating a vegan diet (and identified ethically as vegans) since early 2018. So the question is: Are Arby's fries vegan?
The short answer is yes. But let's talk about why.
What kinds of fries does Arby's have?
As of May 2022, Arby's has two kinds of fries: curly fries and crinkle fries.
Curly fries are the seasoned corkscrew and spiral french fries that Arby's is known for, while their crinkle fries provide a bit more of a plain (but salted) flavor.
The curly fries are definitely our favorite, and are spiced with onion powder, garlic powder, and other spices.
Arby's also sells "Potato Cakes" which appear to be triangular shaped hash browns and are also vegan friendly. We haven't tried potato cakes from Arby's but they appear to be popular.
There seems to also be some mention of Homestyle Fries.
While we didn't see "Homestyle Fries" on the menu on Arby's website, they were listed in the required menu item ingredients document. To find this document, scroll down on one of their menu items pages and select "Nutritional Information." Then select "Ingredients and Allergens."
These homestyle fries may be a breakfast item, and/or they may be only available in certain locations. They do, however, appear to be vegan.
Note: We cannot link to this document itself because it appears to be a PDF that is updated monthly, so the link would get out of date/broken very quickly.
Unfortunately, the onion rings and crispy onions are not vegan as they contain egg products.
Do Arby's fries contain animal products?
No. It appears that Arby's fries, as of May 2022, are 100 percent vegan.
A quick way to tell if something is likely vegan (not true in ALL cases, but in most) is to check the cholesterol in the nutrition label (for restaurants these are usually available on their website). If it lists 0mg, it's likely vegan.
Exceptions include anything with honey, processed sugar which may be filtered with animal bone char, etc. But since eggs, dairy, and meat are a major source of cholesterol, you can safely assume that french fries that contain no cholesterol are also probably vegan.
You can find the full, up-to-date list of ingredients via Arby's website as they are required to list their menu items ingredients.
Please be aware that their website states that Arby's Fries contain wheat, so they are not suitable for people avoiding gluten.
What oil are Arby's fries cooked in?
According to Arby's website as of May 2022, the oil Arby's fries are cooked in is a blend of: "Corn Oil, Soybean Oil, Canola Oil, Hydrogenated Soybean Oil, with Dimethylpolysiloxane (to reduce foaming)."
Surprisingly Arby's fries are not cooked in animal fats (like beef fat), vegetable oil or palm oil (which is great because palm oil is not good for the ecosystem or environment). Some of their other products appear to contain cottonseed oil or sunflower oil, but not the fries from what we can see.
For folks allergic to corn, you may want to avoid Arby's because of the corn oil.
But what about shared oil?
According to Arby's website, "Menu item[s] is [/are] cooked in the same oil as other items that contains egg, milk, soy, fish (where available).
Unless you are actually medically allergic to egg, milk, soy, or fish, this statement is really just a disclaimer about cross contamination. But this is actually a major debating point among vegans and honestly, I can see both sides.
On the one hand, shared oil means that yes there's a possibility your fries may have touched a non vegan product (such as Arby's Chicken Nuggets or Mozzarella Sticks).
For some folks, they don't want any contact with the non-vegan item and that's understandable. If you don't like your food to share oil with non-vegan food, then Arby's fries probably aren't a good choice for you.
On the other hand, shared oil doesn't mean that the fries and chicken are actually mixed together--generally things are in the same deep fryer but in separate baskets to make things easier on kitchen staff.
Also, proponents of eating food cooked in shared oil will argue that you are telling big companies with your money (the only thing these corporations will understand/listen to) that you want vegan options.
Now, maybe fries isn't the main way to do that since they aren't intentionally plant based like a Beyond or Impossible burger, but my point is that some vegans are OK with eating food cooked in shared oil.
I mean, if you want to get really granular, we can talk about how there are animal byproducts in everyday things we use like cars and smartphones.
Finally, I'm not going to take a side (at least in this post) because it's unproductive. The one thing I will say about this is veganism is supposed to be about doing the least amount of harm that is possible within reason.
It's not about being perfect, and I feel trying to be perfect and "purist" about it is also unproductive and doesn't do the most amount of good.
The most amount of good is, in my opinion, making veganism accessible and welcoming to people so we can change more minds. If something is too extreme, few will try it and even fewer will succeed. This is the reasoning why companies like Beyond Meat and Impossible Foods are doing so well, because they appeal to a broad spectrum and don't come off as unapproachable.
What could I have with Arby's fries to make a meal?
Other vegan-friendly options at Arby's are rather minimal, but there are a few things.
There's also a salad option: you could order the side salad (mostly green leaf lettuce) without the shredded cheddar cheese. They have three dressings that happen to be vegan: Balsamic Vinaigrette, Red Wine Vinaigrette, and Light Italian.
They have a few sauces you could try with your fries including:
Arby's Sauce
Ketchup
Mustard (not the honey dijon dressing, which has both honey and egg yolks)
Bronco Berry Sauce
Smoky Q Sauce
Red Ranch Sauce
Marinara Sauce
I've heard that their classic fries (the crinkle cut) are great dipped in the Red Ranch Sauce, but I haven't tried it yet.
Other vegan items: the apple slices and Tree Top applesauce off the kids menu are vegan, so there's your fruit with your meal. You could add the apple slices to the salad if you like.
Finally, there's a few accidentally vegan desserts at Arby's: the cherry turnover and the apple turnover! These aren't the best dessert you've ever had, but they're great in a pinch.
Note that if you do not eat sugar that may have been filtered with bone char, then you will have very limited options at Arby's.
Are the Frozen Arby's Fries Vegan?
You can now buy a bag of frozen Arby's fries (the seasoned curly fries) from the freezer section at some grocery stores.
Turns out the ingredients are very similar to the ones in the fries they serve at the restaurant. And yes, they are also vegan and totally fair game.
I did some research just for you (what a hardship…) and yes they are also delicious. :)
I like to serve them with my homemade vegan philly cheesesteak, or with my vegan sausage in a bun with all the fix-ins. Delicious.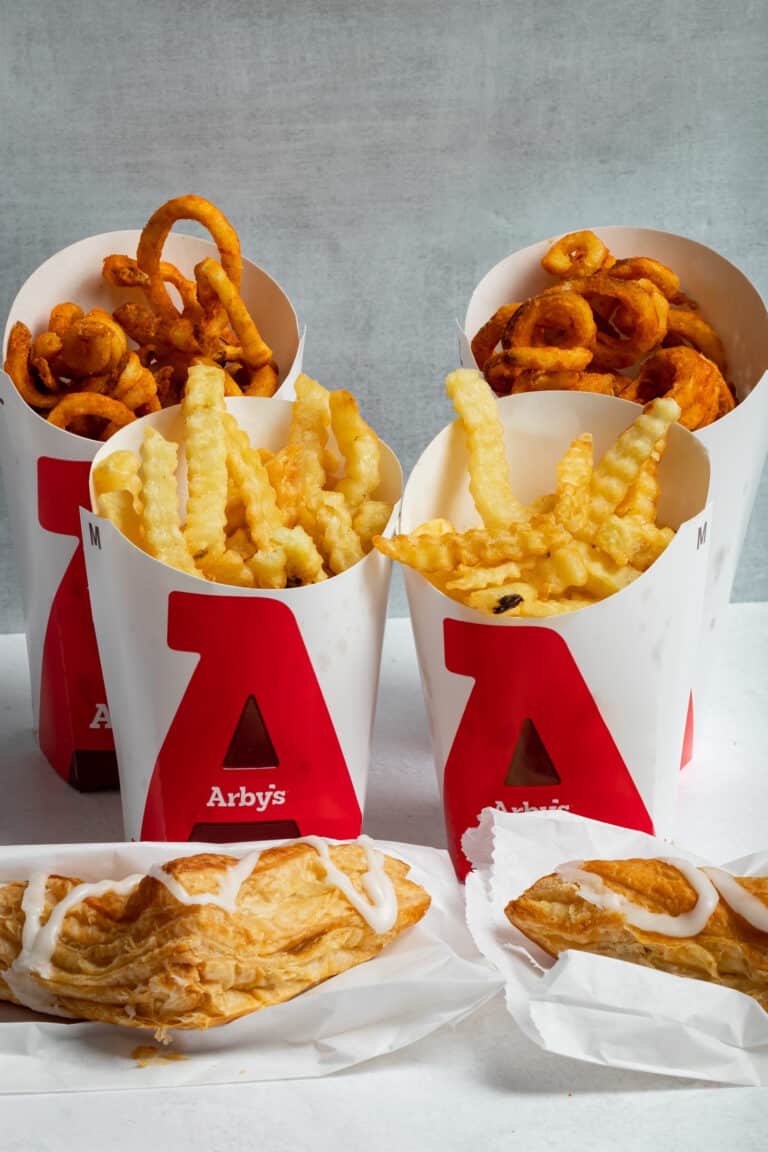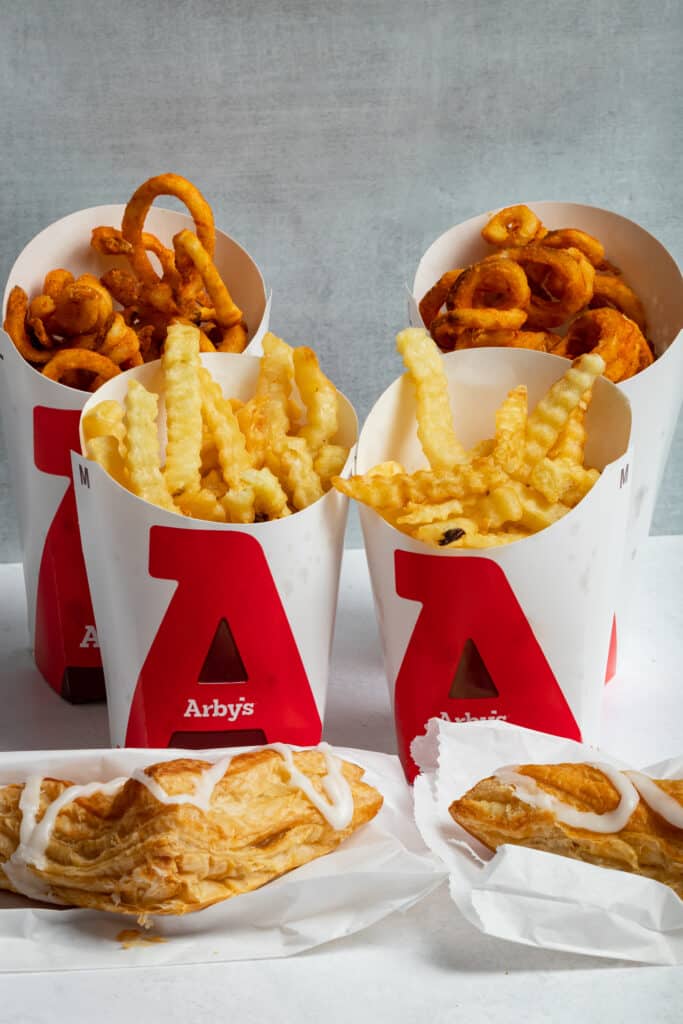 Is Arby's a Good Choice For Vegans?
In general, I'd say that no, Arby's isn't a GREAT choice for vegans. Their management is actively anti-vegan and chooses to mock vegans instead of ignore them let alone offer intentionally vegan options. I wish they had vegan roast beef or any vegan sandwiches at all, but no such luck.
I mean, look at Burger King's partnership with Impossible Meat and KFC's partnership with Beyond Meat. And countless other restaurants.
These options may or may not be vegan as stated on the menu but it's easy to order the impossible whopper vegan at Burger King (just ask for no mayo or cheese... Whoppers aren't supposed to come with cheese but I've learned the hard way to always say it!).
Or you could be like Wendy's and just ignore vegan food.
Even Taco Bell has better vegan options even without providing vegan meat substitutes.
But I digress. If you're stuck on the road, you have a craving for vegan french fries, or your friends/family really want to go there, refer to this page and you'll know what to order at this popular fast-food joint.