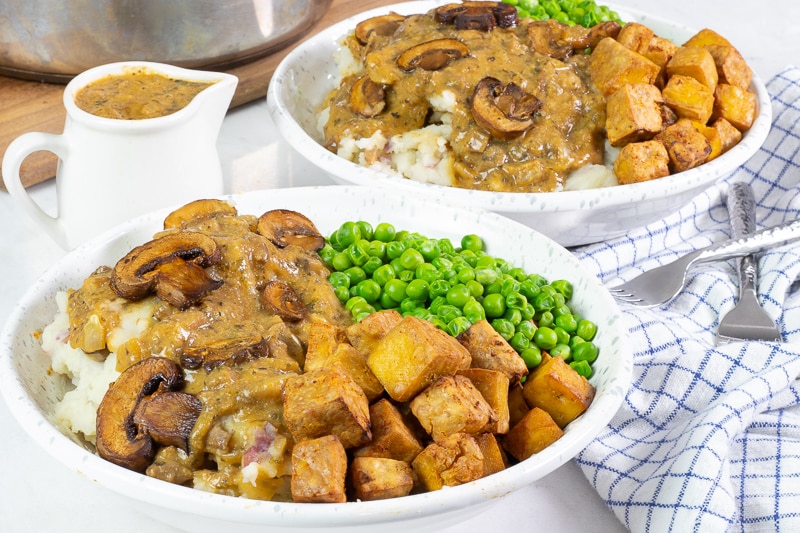 My super easy garlic Vegan Mashed Potatoes and Gravy are delicious! With my vegan mushroom gravy, these go great as a side dish or a filling!
I know it seems like everything I post is for Thanksgiving lately. While that's partially true since the holiday is right around the corner, I also feel that these recipes do dual duty.
For example, today I am bringing you my Vegan Garlic Mashed Potatoes and Mushroom Gravy; garlic mashed potatoes smothered in mushroom gravy. This a perfect side for Thanksgiving dinner, but in all honesty it is a part of my meal rotation almost every week. Both of the elements of today's dish are so easy to make that I'm confident you'll want to make them one of your staples too.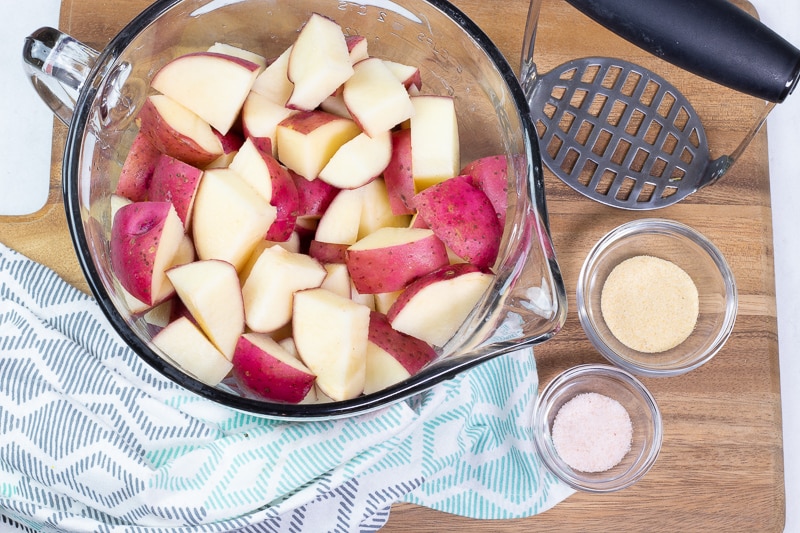 Let's Talk Potatoes
The ingredients for the mashed potatoes are super simple. To make my mashed potatoes fluffy, creamy, and comforting, you would think I add lots of butter and milk, right? Nope! I use the water I boiled the potatoes in to make my mashed potatoes the perfect smooth and supple texture.
To do this, I simply drain the boiled potatoes through a colander, and I have a bowl beneath the colander to catch the starchy water. You won't need very much of it, but I always reserve as much as I can so I have enough to work with.
I used red potatoes for this, but you can use any potato. I find that Yukon gold potatoes are super creamy, so they make a great base. Sweet potatoes would be a great way to switch it up as well!
I personally do not peel my potatoes. I love the texture of the skin in the mashed potatoes (adds a nice color too). There are also a lot of nutrients in the peel, so I just scrub my potatoes very well before chopping. Peel if you'd like, though.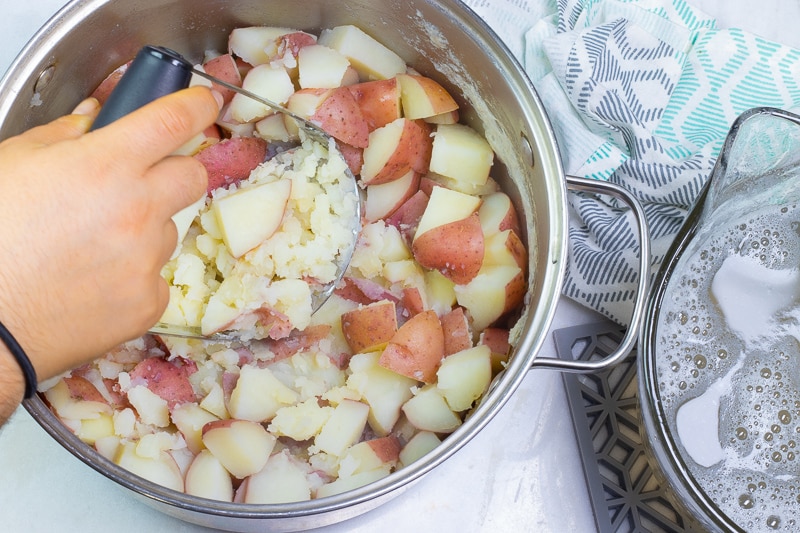 So what's in this thing?
There aren't any hard and fast rules about how big to chop your potatoes. The key is that you want to chop them all roughly the same size. This allows them to boil at the same rate so that they're all done at the same time.
I place my potatoes in the pot first, then cover them with water by about an inch. I've tried to bring the water to a boil first and then add the potatoes, but for running the risk of splashing yourself with boiling water, it doesn't really seem to decrease the cook time that much.
After your potatoes come to a boil, check them frequently. I like to use a fork to press one of the potatoes against the wall of the pot. If it easily smashes the cube of potato, you know they're done. After straining and saving the water, just mash the potatoes. I find it SO much easier to do this with a great potato masher. I LOVE this one from OXO.
As far as seasonings go, you can add any you like. I added garlic and salt to these potatoes to keep it pretty simple. You could definitely use roasted garlic or regular minced garlic, but let's be honest and admit that I'm pretty lazy and garlic powder is awesome. :) Sometimes I use dill or chives, especially if I have the fresh variety available.
The Best Mushroom Gravy
Gravy is another one of those things that used to intimidate me. I thought you had to use butter and flour to make a perfect gravy, but that's not the case. Once I finally learned that it wasn't scary or hard to make gravy, I started experimenting with textures and ingredients.
I've mentioned before that I used to hate mushrooms, and I still won't eat them raw. Luckily they're more nutritious when cooked! When I started learning how to cook them, I started liking them a lot more.
For this gravy, I like to use a lot of mushrooms. I dice up half of them and water saute them with the onions, and the rest are sliced up and cooked separately so they caramelize and get a great texture. Cook all together if you like, though.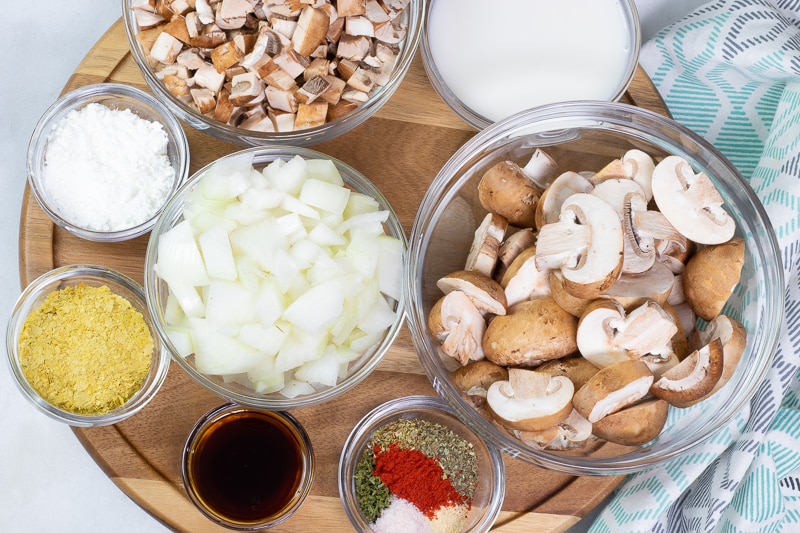 You can add any seasonings you like to this gravy, but I LOVE the combination of some Italian seasonings, smoked paprika, and some nutritional yeast. Play around with the the spices to fit your tastes.
This is a chunky gravy, but to make it creamier I like to use an immersion blender to blend part of it. Feel free to skip this step if you prefer or blend it completely if you like a smooth gravy.
This gravy keeps very well in the fridge or freezer. If it gets too thick, thin it out with a little water or vegetable broth. The corn starch helps thicken it to make it more like traditional gravy, but leave it out if want a thinner sauce.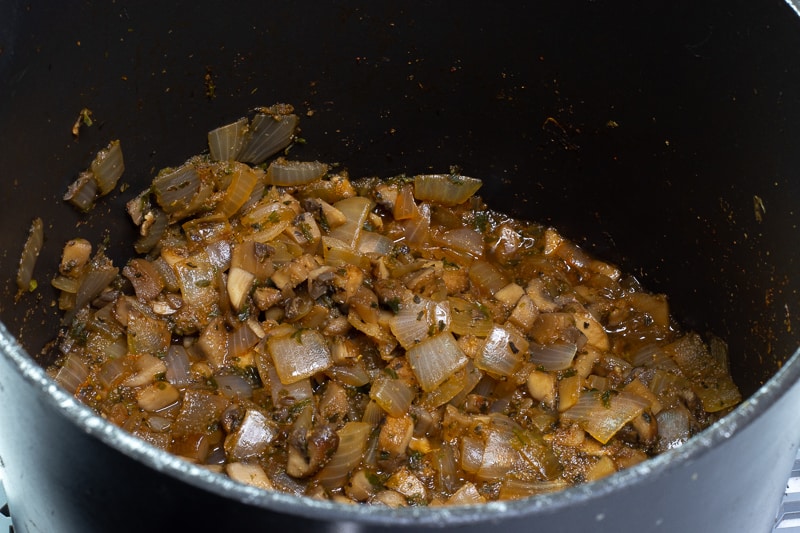 What to Eat with Mashed Potatoes and Gravy
I'd be remiss if I didn't mention a few of the great holiday dishes you could pair with my mashed potatoes and gravy. The first that comes to mind is my Smoky Lentil Quinoa Loaf.
Of course the mashed potatoes are also the topping for my Smoky Shepherd's Pie. You could also use the gravy as a sauce with the veggies and lentils to jazz up the pie filling.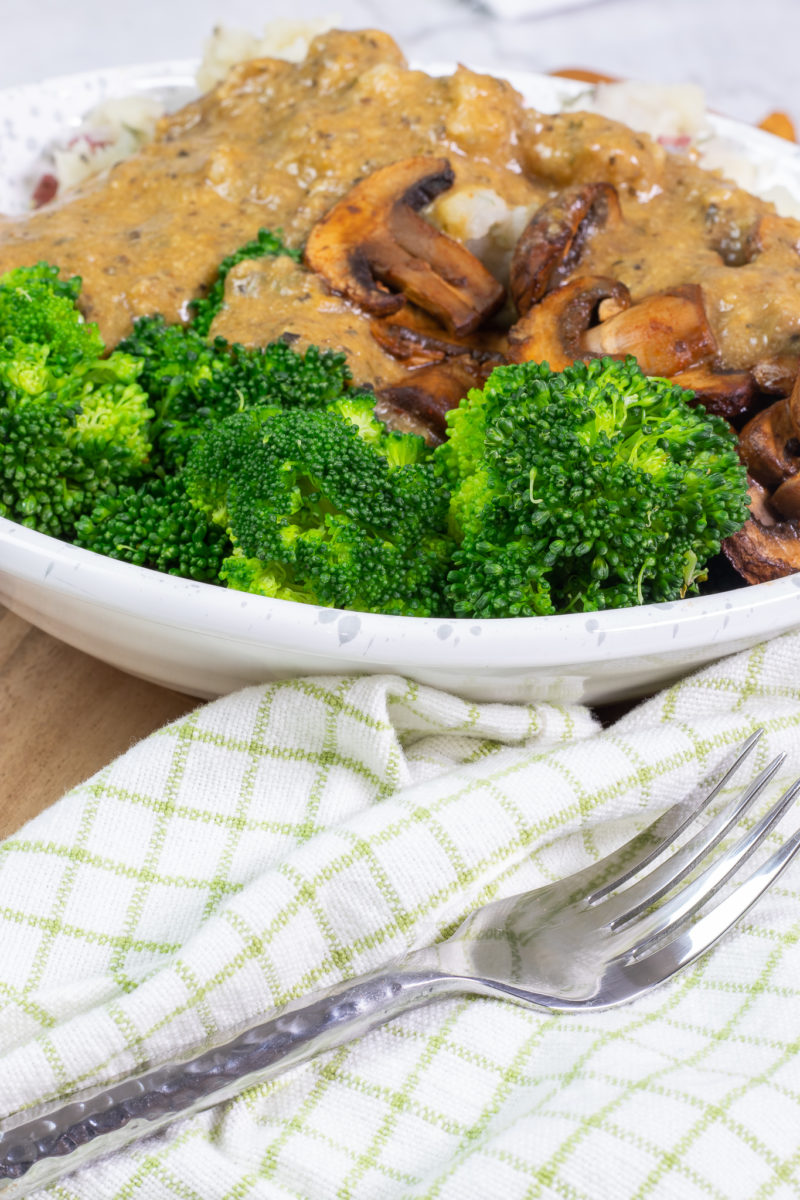 Even during a regular weeknight, I like to use these as a (large) side dish and pair them with a green vegetable like peas or broccoli. Sometimes I also like to throw in a protein like baked tofu or tempeh.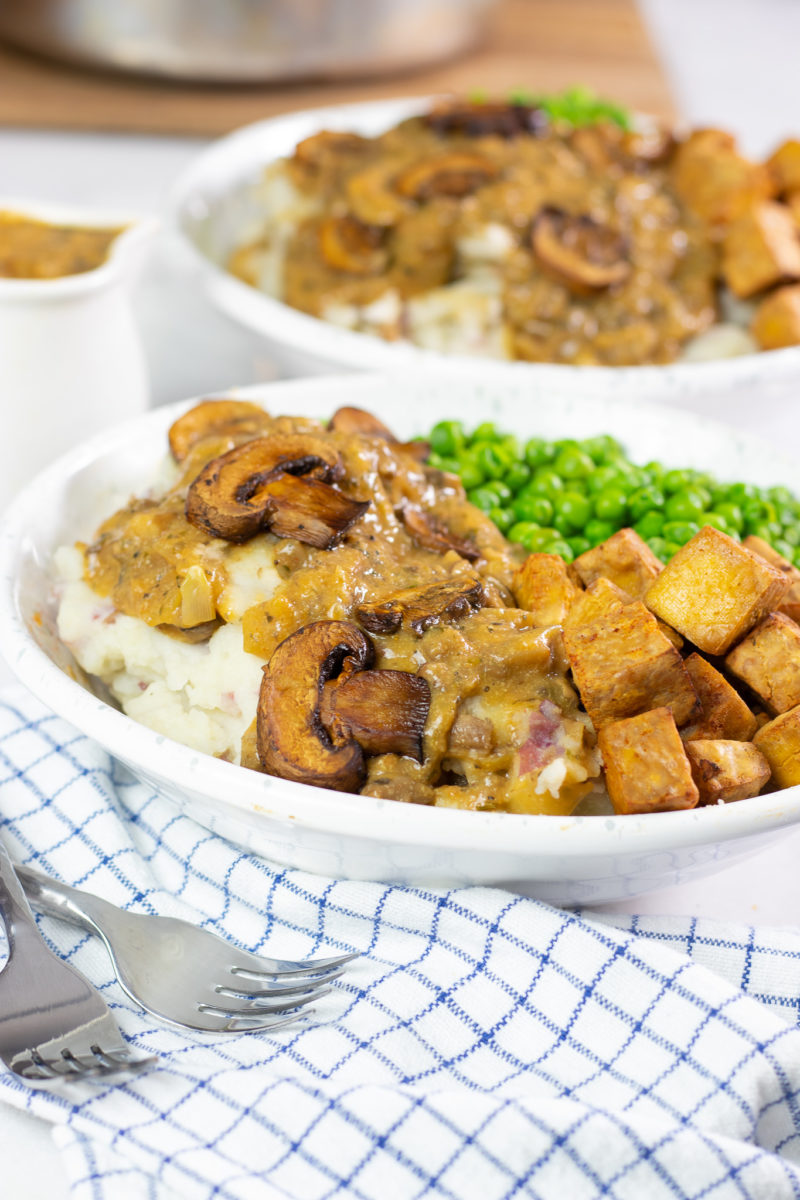 No shame in just eating a big bowl of mashed potatoes and gravy on its own, too. Not that I've done that :D
As always, let me know if you make this recipe and please tag #Zardyplants and mention me @Zardyplants so I can see your beautiful recreations! If you tag me on IG, I will share your post in my stories :)
<3 Liz
Follow me on Social Media!
Print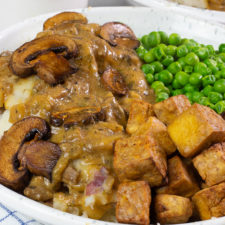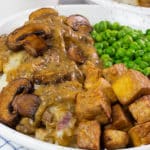 Vegan Garlic Mashed Potatoes and Mushroom Gravy
---
Author:

Cook Time:

40 minutes

Total Time:

40 minutes

Yield:

6

side servings

1

x
Description
These super easy garlic mashed potatoes are delicious! With my vegan mushroom gravy, these go great as a side dish or a filling! Gluten-Free, Nut-Free
---
Scale
Ingredients
Mashed Potatoes
8 cups

diced potatoes (I used red potatoes)
Potato cooking water, as needed (I used around 1/3 cup)

1.5 teaspoon

garlic powder

1/2 teaspoon

pink Himalayan salt (or any salt)
Gravy
1

medium white onion, diced

8 oz

crimini mushrooms, diced fine

8 oz

crimini mushrooms, sliced

1 tablespoon

low sodium tamari (can sub soy sauce if not gluten-free)

2/3 cup

unsweetened nondairy milk

2 tablespoons

corn starch

3 tablespoons

nutritional yeast

1 teaspoon

garlic powder

1 teaspoon

dried parsley

1 teaspoon

dried basil

1 teaspoon

dried oregano (or sub all

3

for Italian Seasoning blend)

1/2 teaspoon

smoked paprika
Water as needed (I used around 1 cup)
---
Instructions
Add your diced potatoes to the pot and cover with water by about 1 inch. Bring to a boil.
While potatoes are cooking, start the gravy by water sauteing your onion in a sauce pan over medium high heat until it starts to brown, about 4 minutes. Let your onion start to stick to the pan before you de-glaze with about 1 tablespoon of water each time. This increases the flavor and also browns the onions.
While the onions are sauteing, start a nonstick skillet going on medium heat. When its hot, add the sliced mushrooms. When they start to stick, add the soy sauce. After that, stir them every so often and add a small splash of water whenever they start to stick again. Be patient and let them cook down. They will also release a bit of their own liquid. If you need to, you can add more low sodium soy sauce but I like to just use water. I find that when combined with the gravy, they have plenty of flavor.
Next add your finely diced mushrooms and saute about 3 more minutes. The mushrooms let off their own water so you shouldn't need to add more, but if something starts to stick, go ahead and add a tablespoon of water and stir.
Add your spices and cook another minute. Use a fork or whisk to mix the corn starch and nondairy milk well. Add to the gravy and stir.
Turn the heat on the gravy down to a simmer and add the nutritional yeast and water as needed to reach desired consistency. If you like, use an immersion or stick blender to blend part or all of the gravy, according to preference.
When the potatoes are fully cooked, drain them in a colander set on large bowl (to save the cooking water). Transfer the potatoes back to the pot or another bowl and mash them up with some of the cooking water (add only a little at a time). When you are satisfied with the consistency, add the garlic powder and salt, stirring well.
Serve everything up immediately. Refrigerate leftover mashed potatoes separately from gravy, each up to 5 days in an airtight container. Freeze leftover gravy up to 6 months in a freezer safe container. When reheating gravy, add a little water to achieve a smooth consistency.
---
Notes
35 minutes for potatoes / 20 minutes for gravy / 40 minutes for both (can combine)
Category:

Side-Dish, Ingredient

Cuisine:

Vegan, American
Nutrition
Serving Size:

1

Calories:

187
Keywords: vegan, plant-based, oil-free, vegan mashed potatoes, gravy
---
---
Other Recent Content!