Sometimes you just want to stuff your face with nachos but you're WFPB. With my Loaded Vegan Potato Nachos with Queso, you can have potachos and eat them too!
Hey Internet, I'm Liz from Zardyplants and this is 2020! Welcome to my first blog post of the decade! I look forward to many more.
To commemorate, I'm bringing you my amazing nachos, but there's something special about these nachos.
Instead of chips, I've used potatoes cut into fries and cooked until crispy and golden brown, which are the best fries, in my opinion.
Then we're going to load up these fries with all the toppings that make nachos awesome like mushroom-lentil taco "meat," pico de gallo, olives, jalapenos and guacamole.
Finally, we'll smother them in amazing, nut-free vegan queso.
Are you ready for Loaded Vegan Potato Nachos with Queso?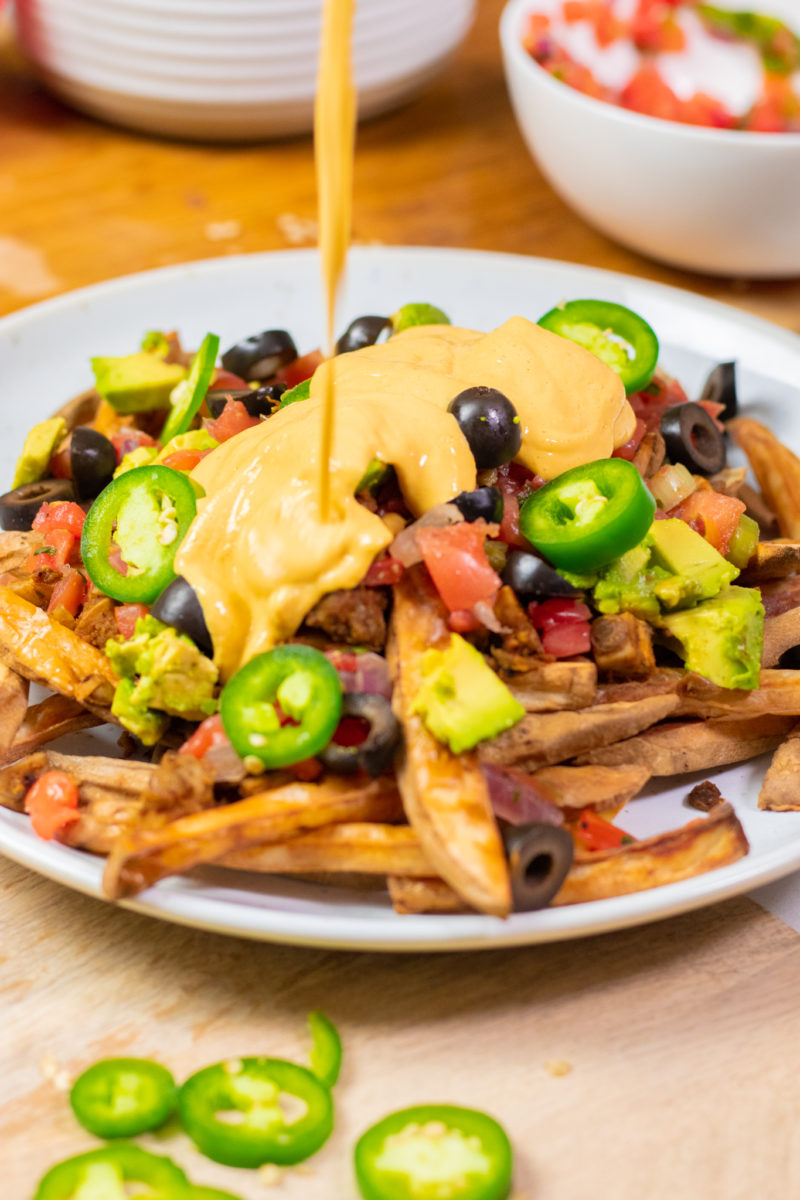 How to Make Amazing Crispy Vegan Potato Nachos with Queso
You can definitely make incredible fries in the oven, I did it for years. But what will really take your fries to the next level is an air fryer. I'll cover both methods for you.
Note: I do not season or add anything to my fries before baking them since we are covering these fries in toppings and queso. If I were to make these for something else, I'd rinse them in water then toss them with spices before baking or air frying.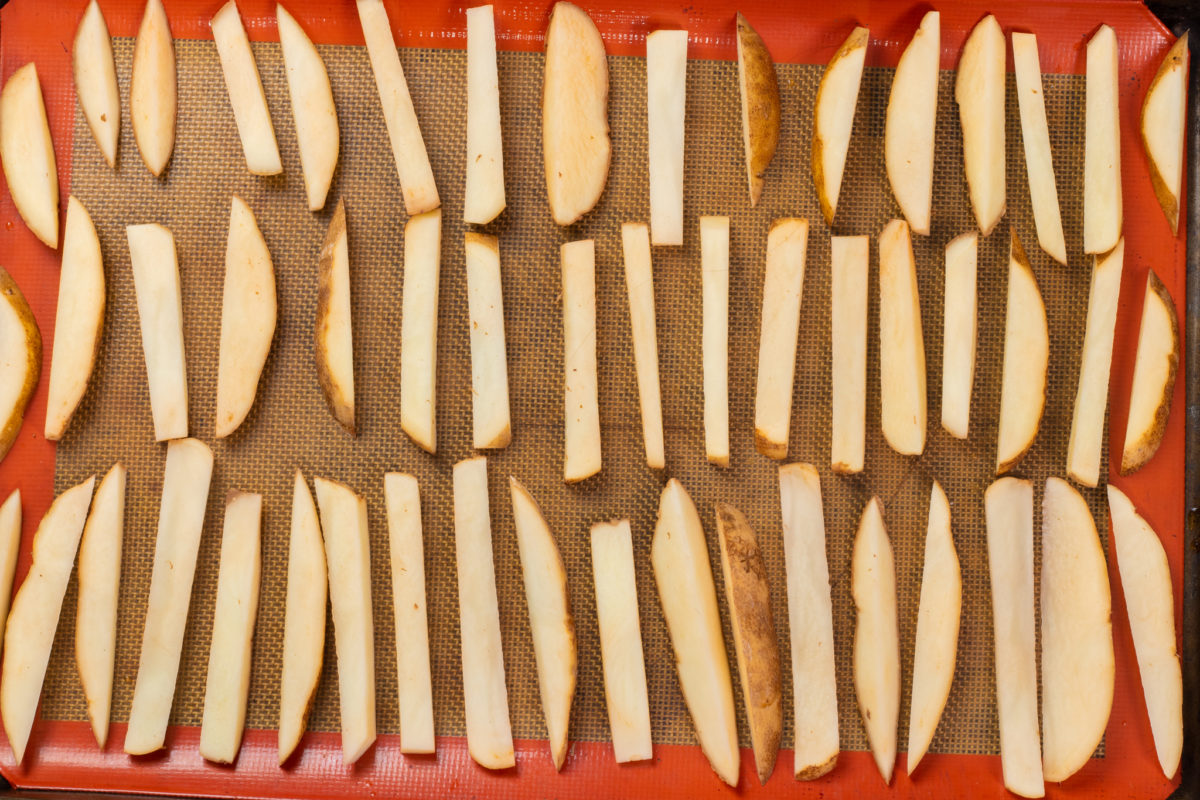 In the oven:
So you're going to cook these fries at 425 degrees Fahrenheit (or 220 degrees Celsius). You'll want to line a pan with a silicone mat. I strongly recommend a silicone mat over parchment paper.
Why?
I'm not talking about saving money (which it does) or helping the planet by reducing waste (which it does). I'm talking about improving the texture of your food.
In my opinion, if you're going to bake things in the oven, a silicone mat is one of the best investments you can make.
And it's not even much of an investment. For under $15 you can get quality silicone mats that you can place on your baking pans (you can buy other sizes too depending on what pans you bake with. I use these half sheet pans for just about everything).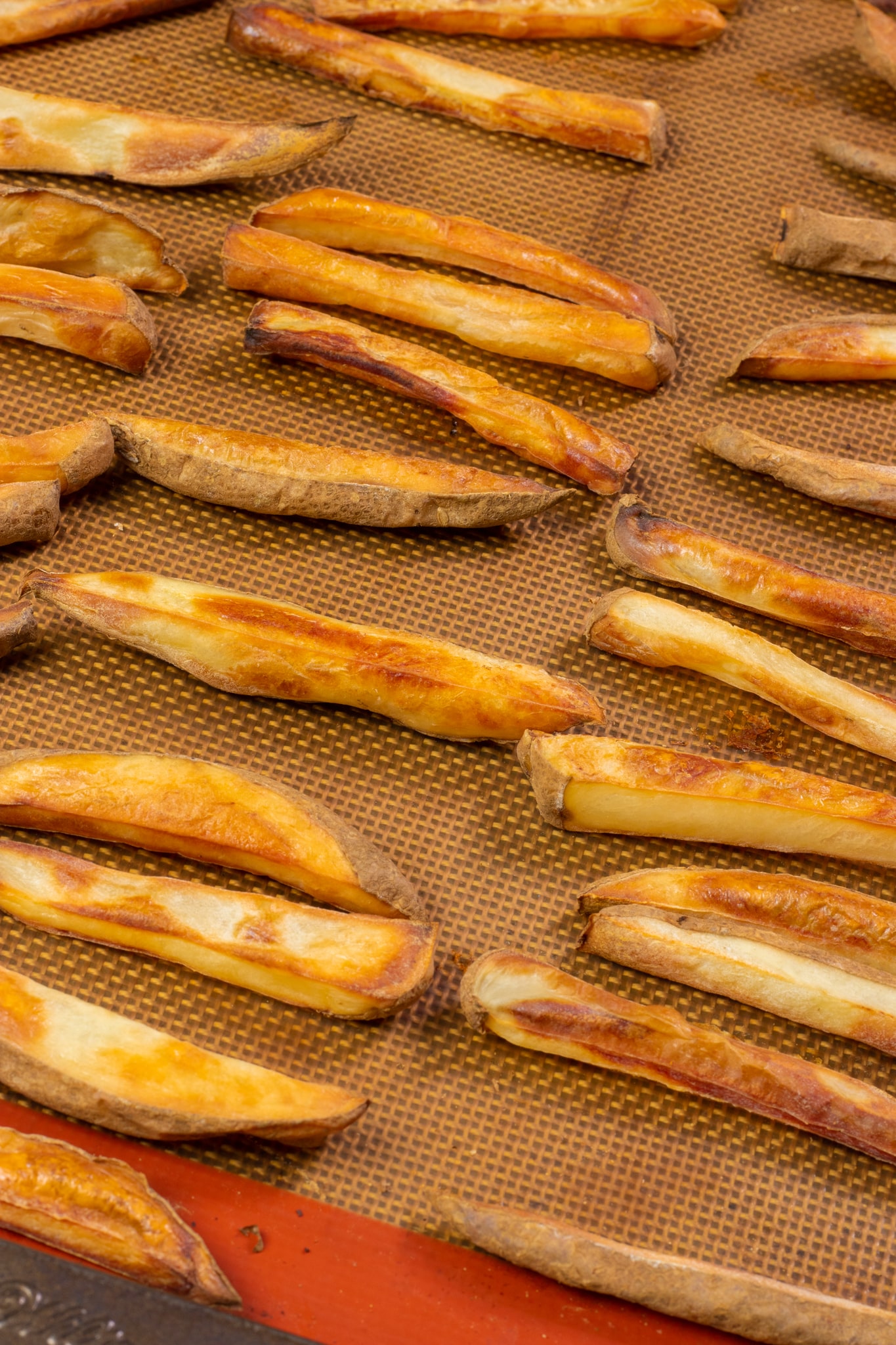 Silicone mats increase vegetable caramelization. They increase the crispy texture of fries and tofu. They keep your food from sticking to your pan. They're easy to clean and store (I just put them back on my pan after washing and drying and store them like that so they're ready to go when I'm ready to cook again).
So depending on how thick you cut your fries, you'll bake them for around 30-40 minutes, flipping 3 times. I like to cut my fries skinny but you can cut them thick like steak fries too (may need longer cook time), just try to cut your fries all the same. Bake them 30-40 minutes until crispy and golden brown.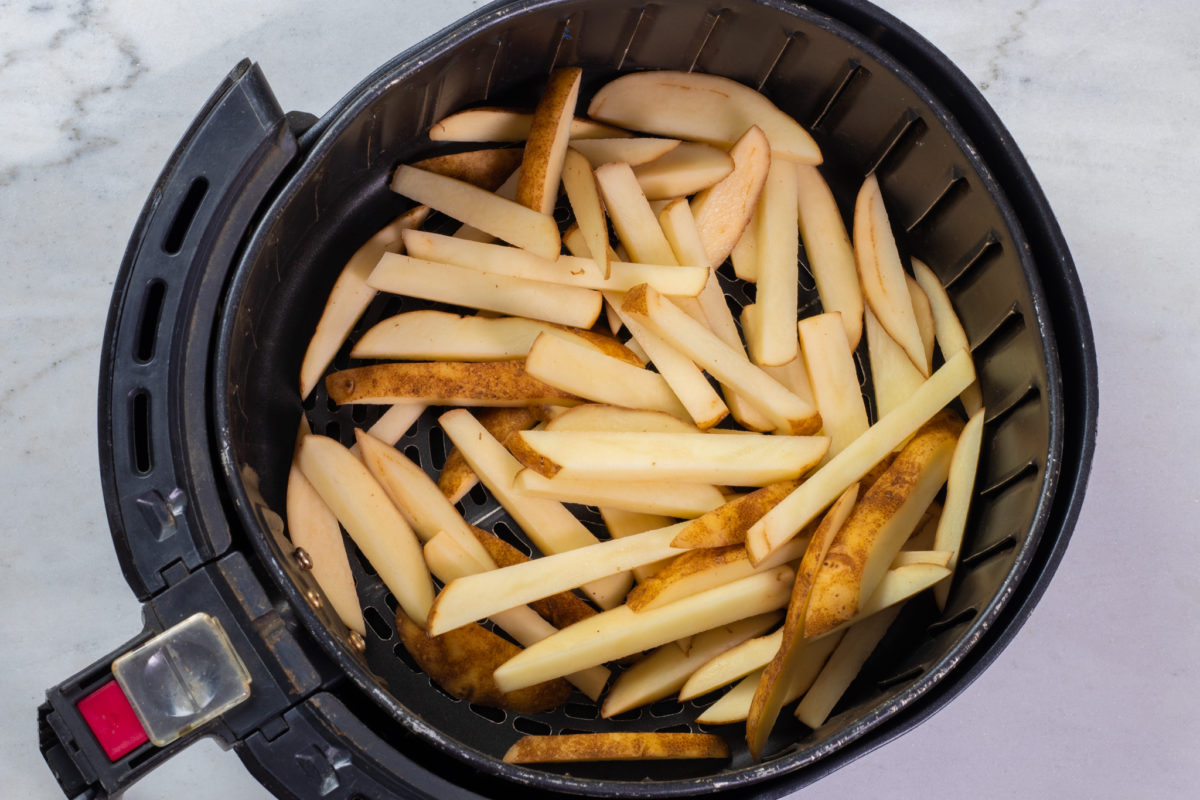 To cook fries in the air fryer, cook mine at 400 degrees Fahrenheit (or 205 degrees Celsius) for 20-25 minutes.
One trick I like to use is preheating my air fryer. Before I put anything in it, I set the air fryer to my desired temperature and run it for about 5 minutes.
My air fryer does not have a preheat function, so I do this and it has yielded good results for me. Yours may, so if it does, use that.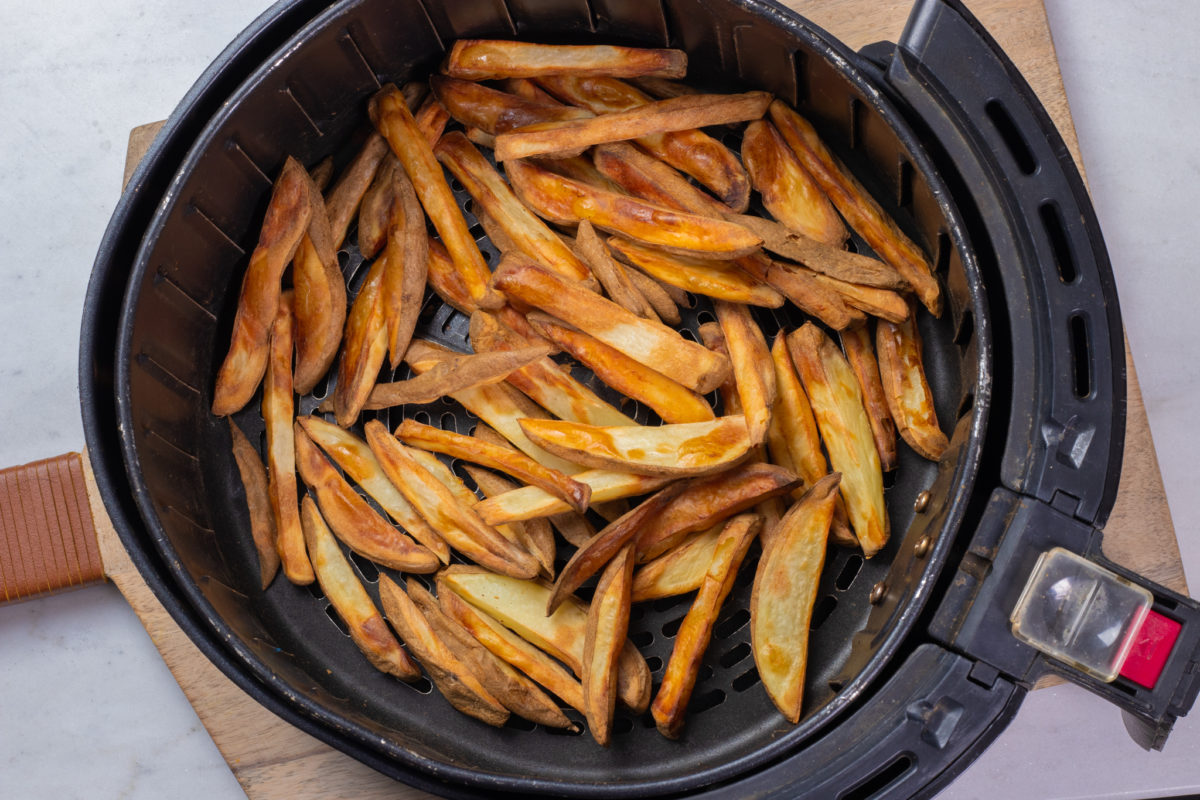 Add your fries to the basket. They do not have to be in a single layer, but remember that the more fries you have in your basket, the more often you should take out the basket during the cooking process and shake it.
Too many fries in the basket may also make some of the fries come out less done than others. If that happens, just take out the ones that are done and cook the underdone ones for a few more minutes until they match the others.
Alright, now that we've talked about two different ways to make the fries, we can get into the really fun part–loading them up!
Let's Talk About What to Put on These Nachos
So now we have a big ol' plate of fries, which is amazing. You could stop here and just eat them like this, with a dip or something. But these are nachos, so what are we going to load them with?
Today I'm using:
Lentil-Mushroom Taco "Meat"
Pico de Gallo (finely diced tomatoes, onions, cilantro, and jalapeno, feel free to make yourself or sub something like salsa or just diced tomatoes)
Olives
Jalapenos
Avocado
and of course my awesome queso which I'll talk about in a bit.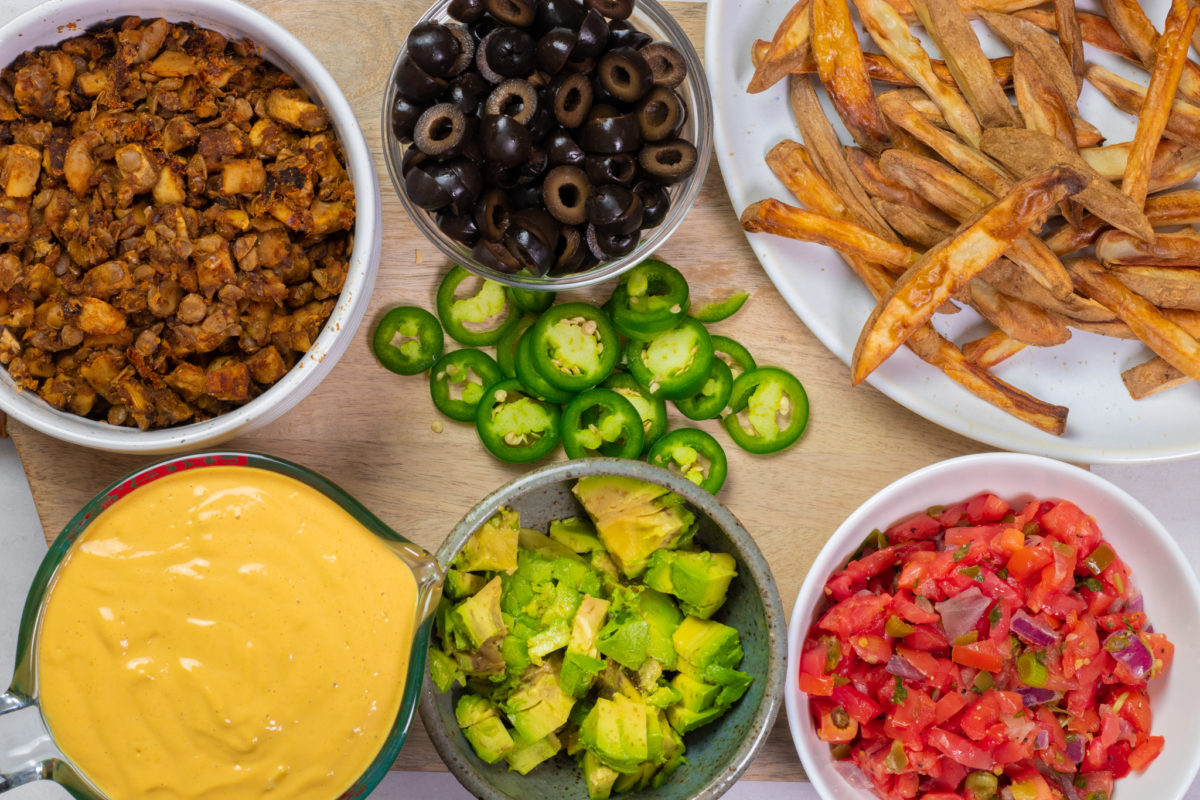 You can add or remove anything from this list that you like. Add other veggies like red onion, bell peppers, other types of peppers, squash, etc. You can also absolutely use tortilla chips instead of potatoes if you like.
You could also make it easier by using a mock ground meat like Gardein or Beyond Meat, but I like the flavor of the lentil-mushroom taco meat and it's a healthier option because it's low in fat.
The lentil mushroom meat is easy to make. You just take cooked lentils and some raw mushrooms and saute them together in a pan with some spices until they're a nice, smoky, delicious mock ground meat for your nachos.
You can use diced avocado like I did or you can also use guacamole. I like the texture of just diced avocado so that's what I used. If you want to make guacamole, just mash up some avocado and mix it with some diced red onion, jalapeno, cilantro, lime juice, and salt. Garlic if you're feeling fancy.
QUESO, Let's Get On With It!
The moment you've all been waiting for has arrived. For getting this far, here you get a cookie (sorry you have to make it yourself ;) ).
This queso sauce is soy based to avoid using nuts. If you cannot have soy, try soaked cashews, plain nondairy yogurt, or white beans.
The other things in this queso recipe include:
Lemon and vinegar for tang
Garlic and onion powder
Red bell pepper
Nutritional yeast for cheeziness
Cayenne and chipotle powder for spice (use either one or both)
and nondairy milk to blend it with (this aids in the creaminess but you can use water if you like).
All you have to do is add everything in a blender and blend it until smooth, creamy, and delicious. You don't need to heat it up before you pour in on the nachos, but you can if you like.
Ready for the full recipe? Let's go.As always, let me know if you make this recipe and please tag #Zardyplants and mention me @Zardyplants so I can see your beautiful recreations! If you tag me on IG, I will share your post in my stories :)
<3 Liz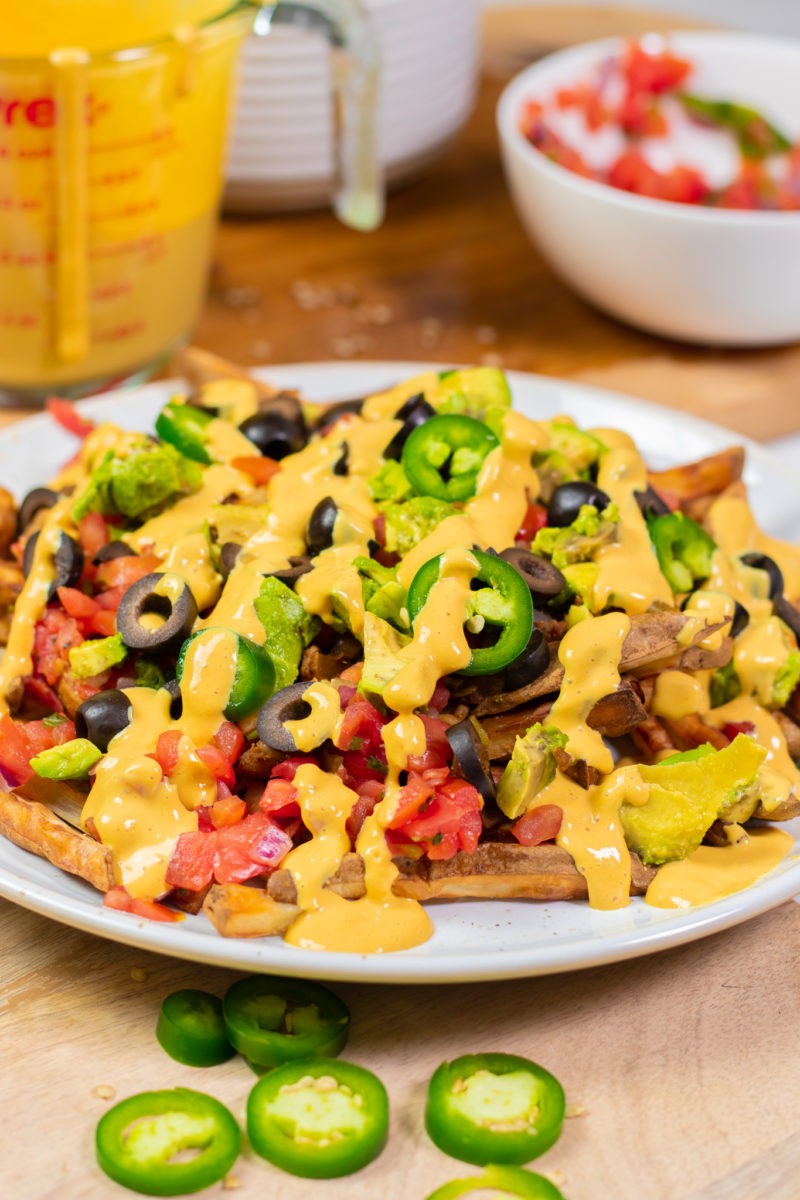 Follow me on Social Media!
Print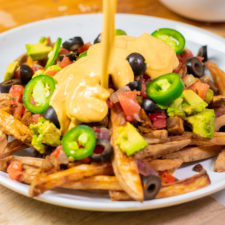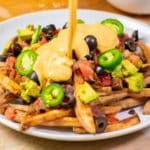 Loaded Vegan Potato Nachos with Queso
---
Author:

Liz Madsen

Total Time:

50 minutes

Yield:

2

entree-sized portions

1

x
Description
Sometimes you just want to stuff your face with nachos but you're WFPB. With my Loaded Vegan Potato Nachos with Queso, you can have potachos and eat them too!
Vegan, Gluten-free, Oil-free, Nut-free
---
Nachos
5

large russet potatoes, cut into fry even fry shapes

10

oz

white mushrooms

½

cup

cooked lentils

1 tsp

ground cumin

1 tsp

oregano

1 tsp

paprika

½ tsp

chipotle powder (or chili powder or cayenne pepper)

¼

cup

black olives, sliced

1

jalapeno, sliced

¼

cup

pico de gallo

½

avocado, diced
Queso
½

block (about

198 grams

, which is half of a 396g block) firm tofu

6 tbsp

nutritional yeast
Juice of

1

lemon

1 tsp

apple cider vinegar

¼

cup

chopped red bell pepper

½ tsp

each onion and garlic powder

¼ tsp

chipotle powder (or to taste)

¼ tsp

cayenne pepper (or to taste)

¼

cup

unsweetened nondairy milk (I used almond) (or sub water)
Salt to taste, I used about ¼ tsp
---
Instructions
1a. If using oven method, preheat oven to 425 degrees Fahrenheit (or 220 degrees Celsius). Prepare half sheet sized trays with silicone mats or parchment paper. Place fries in a single layer, not touching, on trays. Place in oven, bake for 30-40 minutes until desired crispness is achieved. Flip or turn the fries 3 times to ensure browning on all sides. 1b. If using airfryer method, preheat to 400 degrees Fahrenheit (or 205 degrees Celsius) by heating the basket with nothing in it for 5 minutes (or if your air fryer has a preheat function, use that). add fries to basket. Cook in air fryer for 20-25 minutes until desired crispness is achieved. Shake the basket well every 5 minutes or so to ensure browning on all sides.
While fries are cooking, prepare the lentil-mushroom mixture by adding those to a large skillet with the designated spices. To prevent sticking, just add water a tablespoon or two at a time. Cook over medium high heat, stirring frequently, for about 15 minutes, until mushrooms have shrunken and have melded nicely with the lentils. When finished, set aside.
Prepare queso by adding all the ingredients to a blender and blending until smooth and creamy. Set aside.
Assemble your nachos by adding potatoes to plates and sprinkling on desired toppings. Drizzle on a generous portion of queso. Dig in and enjoy!
Refrigerate leftovers in an airtight container up to 5 days. Recommended to reheat in an air fryer, oven, or pan on the stove to retain crispy texture. Store any remaining queso separately in a jar or other airtight container.
Notes
If using oven: 50 minutes | If using air fryer: 40 minutes
Cook Time:

50 minutes

Category:

Snack, Party

Cuisine:

Vegan, Plant-based, Potato, Nachos, Queso
Keywords: Vegan, Gluten-free, Oil-free, Nut-free, Potatchos, Queso
---
---
Other Recent Content!