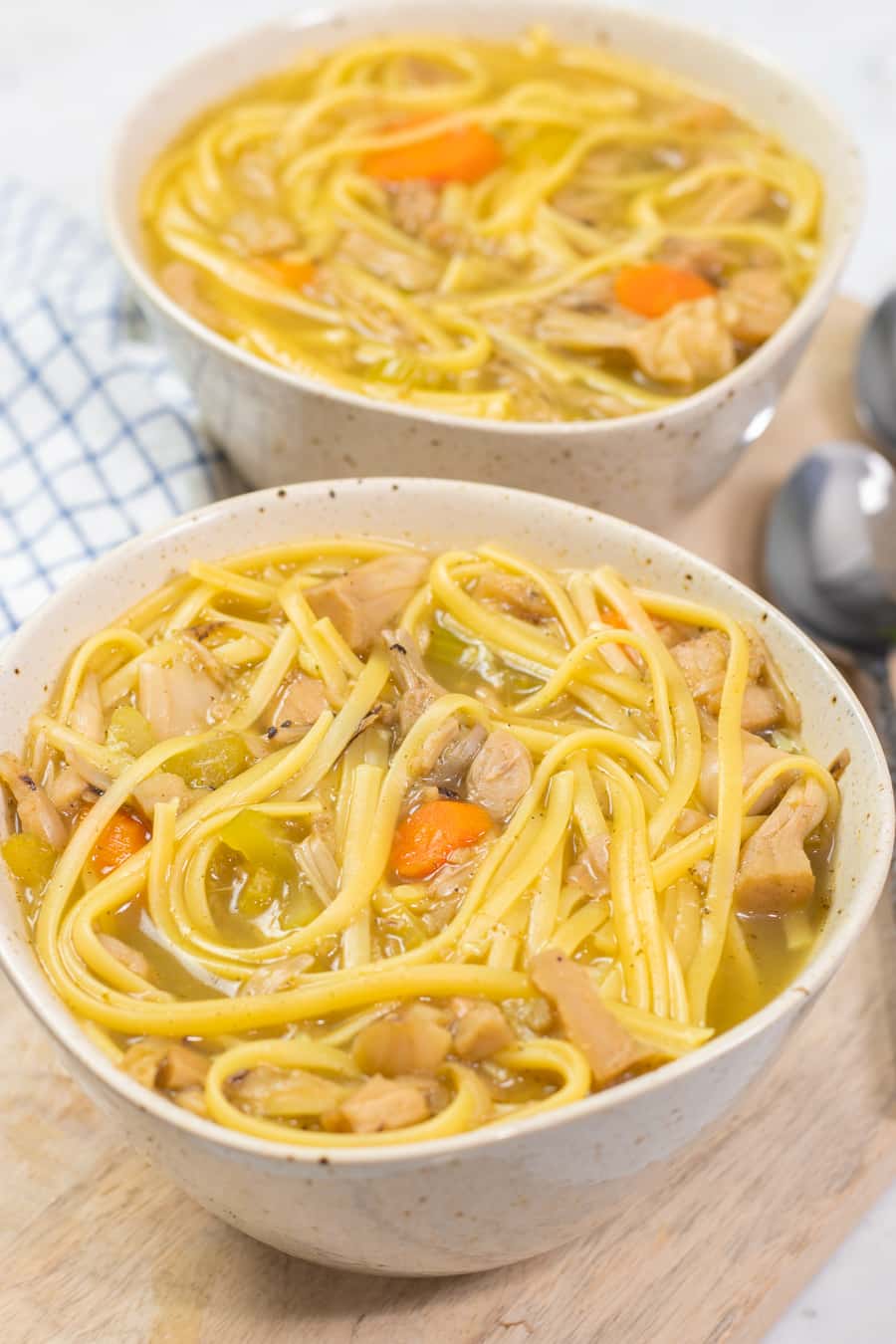 Sniffle Hey Internet… are you sick? I am-er, I was, and I want to share with you all a recipe that really helped me. I made it on repeat while I was sick and it just made me feel so much better. Plus it tastes amazing.
You ready?
Vegan DOUBLE NOODLE Chik'n Soup!
This delicious, warming soup tastes just like what I grew up eating when I didn't feel good. Jackfruit makes an excellent chicken replacement especially when you season it with poultry seasoning!
Poultry seasoning, despite the name, contains no actual chicken but herbs like marjoram, sage, thyme, rosemary, nutmeg, and black pepper. If you have all these in your pantry you can make your own. I bought mine on sale just after the holidays were over. :)
And like I said above, DOUBLE THE NOODLES! More pasta is always better in my book and it's absolutely delicious in this soup. You can easily make this recipe gluten free just by using gluten-free pasta.
Oh and guess what, this soup comes together in 30 minutes! That's right, in just half an hour, you could be sitting on the couch, under a blanket, enjoying a mug full of delicious Vegan Double Noodle Chik'n Soup.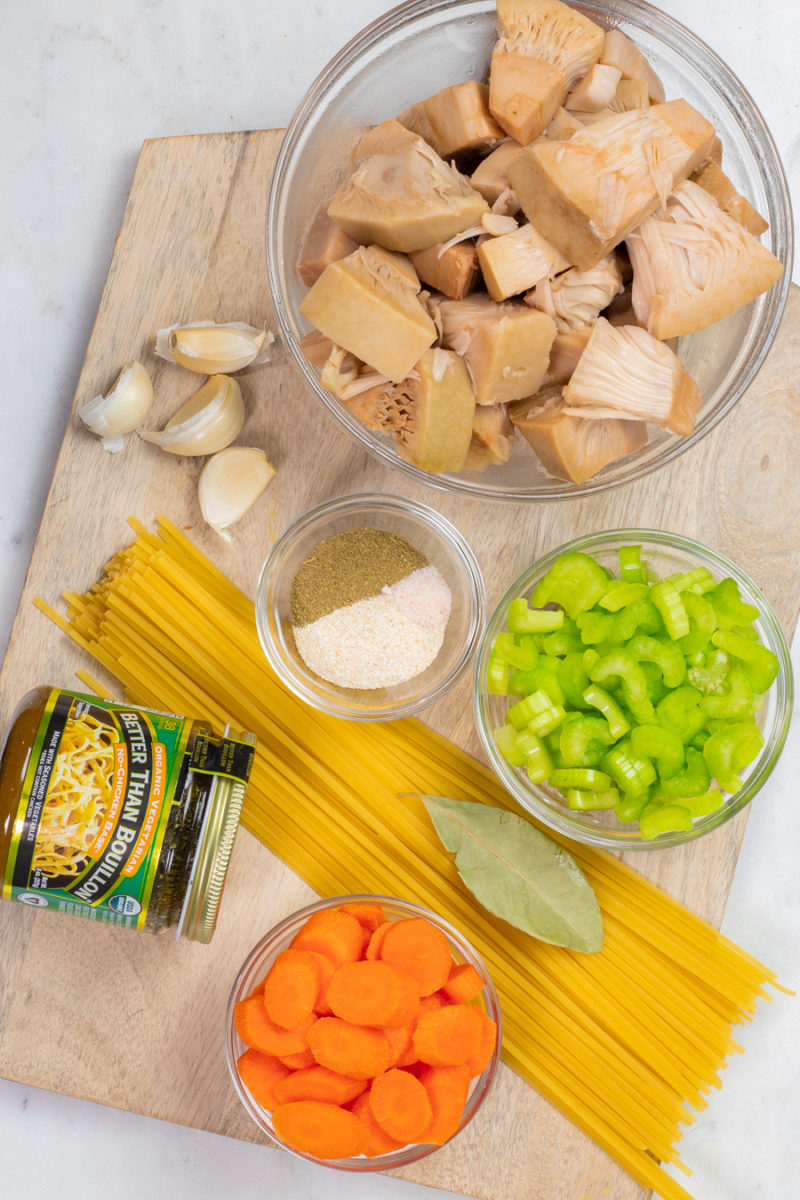 What's Jackfruit and Where Can I Find It?
Let's talk about jackfruit. Jackfruit is a large, spiny member of the fig family.
When it's ripe, its somewhat sweet, but young green jackfruit actually doesn't have much of it's own flavor. More importantly, it has a texture that when pulled apart resembles meat.
You may have heard of people using jackfruit for pulled 'pork' sandwiches. I've had those. They're delicious.
But I wanted to think of some new ideas we could use jackfruit for. Last year I posted a Creamy Cucumber Chik'n Salad using jackfruit.
For those of us in the northern hemisphere, it's time for something warm and comforting (sorry Aus, I know it's summer for you right now).
So how do you find jackfruit? I recommend buying Young Green Jackfruit (most importantly, you do not want to use ripe jackfruit in this recipe) in a can.
A Note About Canned Jackfruit
Canned jackfruit either comes in water or brine. IF you buy it in the brine, you should rinse it VERY well after pulling it apart. Then also drain it very well.
You can find it at Trader Joe's, Whole Foods, and many Asian grocery stores. If you cannot find it near you, try ordering it online.
Let's talk about the broth now. I personally absolutely love the Better Than Boullion products. It's a concentrated stock paste, rather than a powder, and they have many vegan flavors and they're so delicious.
For this recipe I used their No-Chicken flavor which can be found at some health food stores or online. You can certainly also use a premade Vegetarian (it's vegan for all intents and purposes) Chicken Broth like this one from Imagine (also tasty, but I find the Better Than Boullion paste to be a better value, and you can control the amount better by changing the ratio of paste to water).
You may also use vegetable broth, but the flavor will probably be somewhat different.
How to Cook the Jackfruit
First, shred the jackfruit. It's actually quite easy. Rinse the jackfruit well and then use either a few forks or your fingers to pull apart the sections.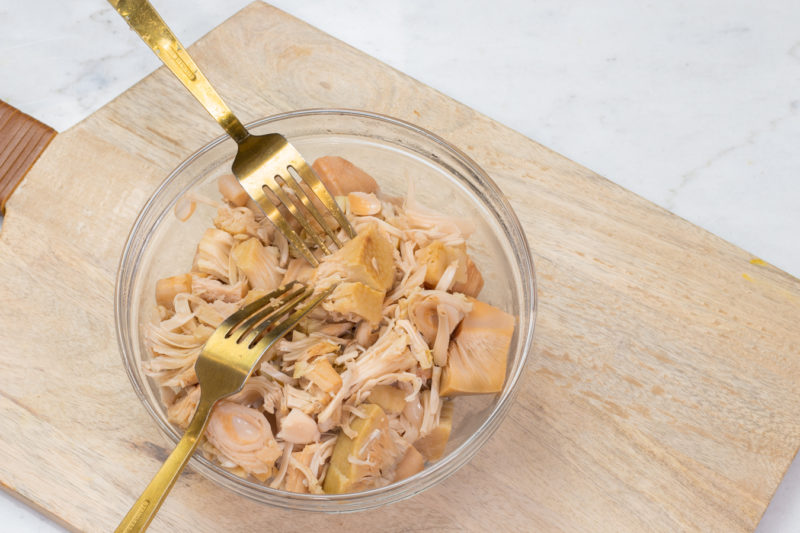 Don't shred them too much if you'd still like to have chunks of chik'n in your soup. They will cook down a bit.
Drain the jackfruit well if you haven't already. Add it to a large pot (the same pot you'll cook the soup in), sprinkle on the poultry seasoning and the onion powder, and cook it on medium high heat for 8-10 minutes, stirring frequently.
If you'd like your chik'n to be more chewy, take it out of the pan and set it aside. I wanted mine to be soft in the soup, so I left it in while the soup cooked.
Moving on to the Soup
While the jackfruit cooks, mince some garlic (the more garlic, the better to help a cold!), slice some celery, and slice some carrots (I call for skinny carrots because who wants huge chunks of carrot in their soup? You could also just dice a large carrot, but for texture I sliced mine). Try to slice veggies thinly and evenly.
When the timer is up on the jackfruit, move the jackfruit aside in the pan (or take it out if that's your preference) and add the garlic. Saute for 1 minute, then add the rest of the veggies, bay leaf, water (or broth).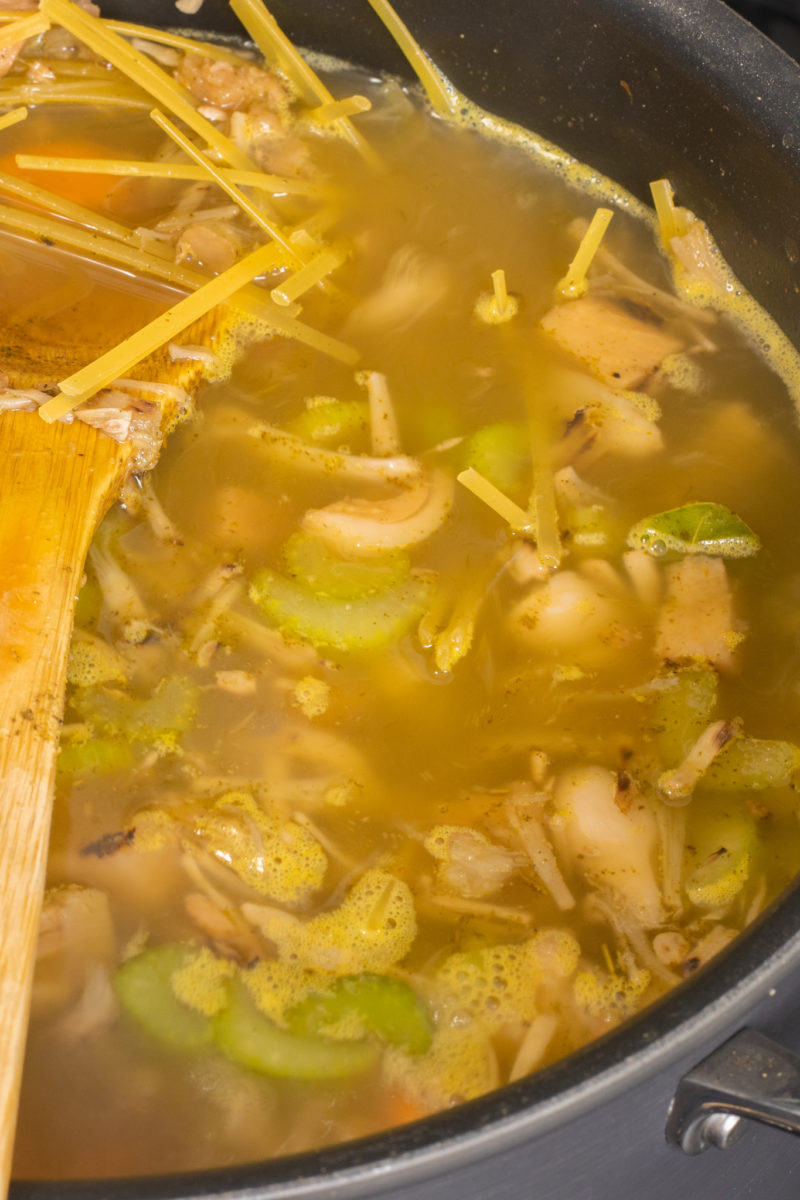 Let come to a boil and dissolve the stock paste in the soup. Let it cook for 5 minutes, then add in your pasta.
All you have to do now is let it cook for 5-7 minutes, until the pasta and veggies are soft enough to eat. Stir and check the progress often. Serve it up and enjoy!As always, let me know if you make this recipe and please tag #Zardyplants and mention me @Zardyplants so I can see your beautiful recreations! If you tag me on IG, I will share your post in my stories :)
<3 Liz
Follow me on Social Media!
Print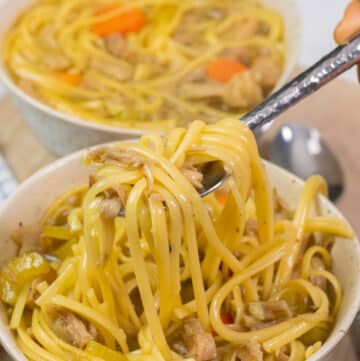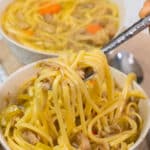 Vegan Double Noodle Chik'n Soup!
---
Author:

Liz Madsen

Total Time:

30 minutes

Yield:

10 cups

1

x
Description
For those cold days of winter there's my Vegan Double Noodle Chik'n Soup! It hits the spot when I have a cold or sore throat.
Vegan, Oil-free, Soy-free, Nut-free, Can be Gluten-free if you use GF pasta
---
CHIK'N
SOUP
3

skinny carrots, sliced

3

ribs celery, sliced

4

cloves garlic, minced

1

bay leaf

12

cups

water

8 tsp

(more or less to taste) no-chicken boullion paste (or sub broth for paste and water)

16

oz

pasta of choice (I used linguine)
---
Instructions
Rinse and drain jackfruit well, then shred with 2 forks or your fingers. Don't shred them too much if you'd still like to have chunks of chik'n in your soup. They will cook down a bit. Drain the jackfruit again as it can hold onto water. Remove the seeds and discard, or crush them with your fingers and add all of it to a large pot.
Stir in the poultry seasoning and the onion powder, and cook it on medium high heat for 8-10 minutes, stirring frequently.
While jackfruit cooks, mince garlic and slice veggies thinly and evenly. When 8-10 min is up, either remove jackfruit and set aside (for chewier texture), or leave in pot and move aside.
Add garlic to the area you cleared and saute one minute. then add the rest of the veggies, water, and bay leaf. Stir well and let come to a boil.
Stir in the stock paste until dissolved. Cook 5 minutes.
Add pasta and cook until soft, about 5-7 more minutes, until pasta and veggies are soft enough to eat. Serve hot and enjoy!
Top with parsley if desired.Refrigerate leftovers in an airtight container up to 5 days. If pasta soaks up too much of the liquid, add a little water and a dash of salt and pepper to revive flavors.
Cook Time:

30 minutes

Category:

Soup

Cuisine:

American
Keywords: Vegan, Plant-based, Soup, Chicken Noodle Soup, Oilfree
---
---
Other Recent Content!