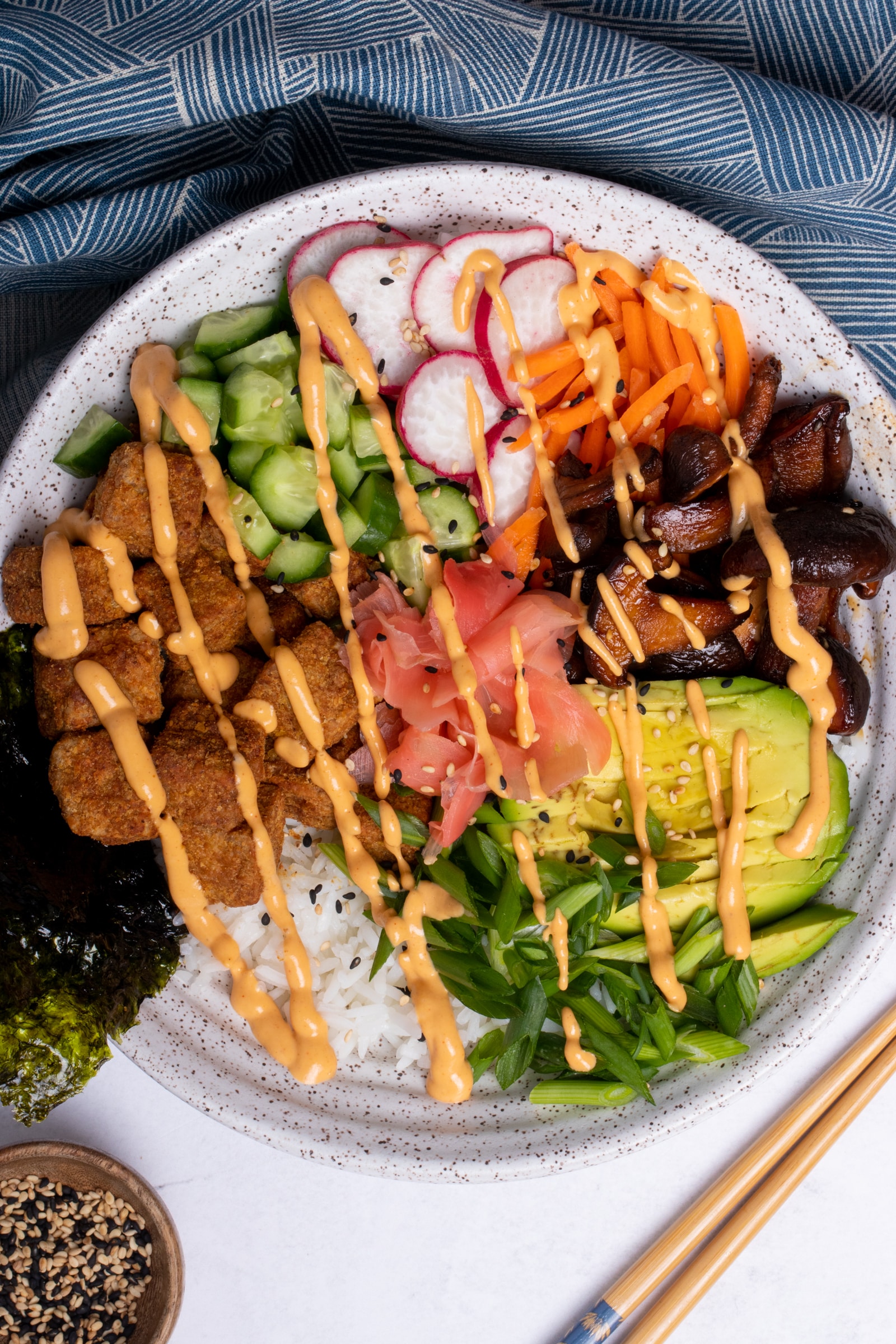 When you need your sushi fix but don't have time, Customizable Sushi Bowls can make for a healthy meal. With premade rice you can enjoy them all week!
Hey Internet! Today I'm bringing you one of my all-time favorite lunches to meal prep or enjoy at home: Sushi Bowls!
I am a huge fan of sushi and I have been ever since I was about 15 years old. I initially tried it with my family when we were living in Fargo, North Dakota (we moved around a lot). While I did love the fish sushi, perhaps my favorite was the vegetable sushi like the cucumber or avocado rolls.
Fast forward to a little over a decade later, sushi had been a rare treat for me ($$$). When I went vegan, it was such and easy and delicious meal for me, but again, too much money to eat as regularly as I would have liked.
So I took a sushi-making class at Whole Foods and it was great. I feel like I really learned how to properly form my rolls.
However, I still find it to be a pain to roll sushi. At the very least, it's time consuming and I like a lot of rolls because big portions are my thing. But I still wanted that sushi flavor, and for a cheaper cost then buying it at the grocery store or a restaurant.
Thus, Customizable Sushi Bowls were born! Essentially, it's a bowl of rice with some veggies, cut up nori sheets and other toppings like tofu, or edamame.
But it's super delicious, fast and easy to make, far less expensive than buying it prepared, and pretty portable. You don't even need a microwave to eat them at school, work, or on a picnic!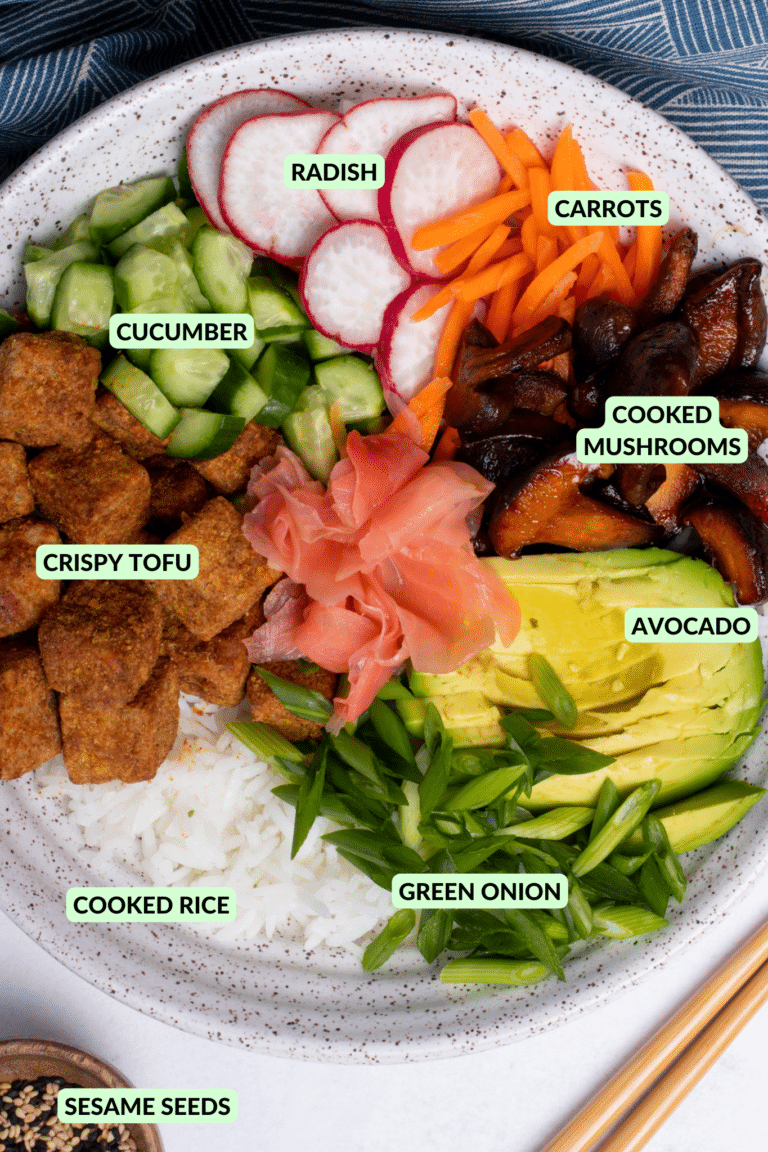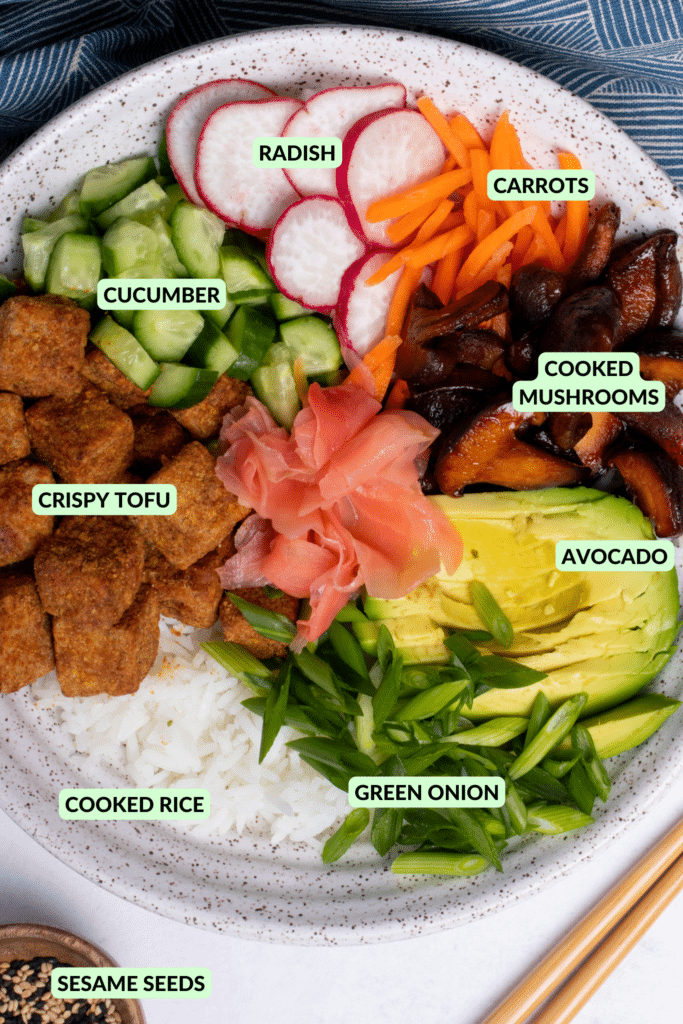 Making the Sushi Bowls
Did I mention it's completely customizable (that IS a word in my book, stupid spellcheck)? Start with a base of rice.
Since we don't need to worry about the roll sticking together, you can use any type of rice you like. I like to use brown short grain rice, but you could use white rice, basmati, jasmine–even quinoa for a little more protein.
The veggies are interchangeable as well–I like to use shredded carrots, diced cucumbers, and green onions/scallions. I also love to add sauteed mushrooms, which are super easy to make.
All you do is throw your mushrooms in a hot skillet with a little coconut aminos (a great GF and low sodium sub for soy sauce) and smoked paprika (or any spice). Saute for about 10 min and you've got yourself some mushrooms that so good they may not make it to the bowl (I literally stood in my kitchen eating these out of the pan. I had to yell at myself to stop so I'd have something to put in the bowl to photograph. :p
You could use any other veggies you like. Try avocado, radish, cabbage, or broccoli. Or add fruit like mango, plum, or peach.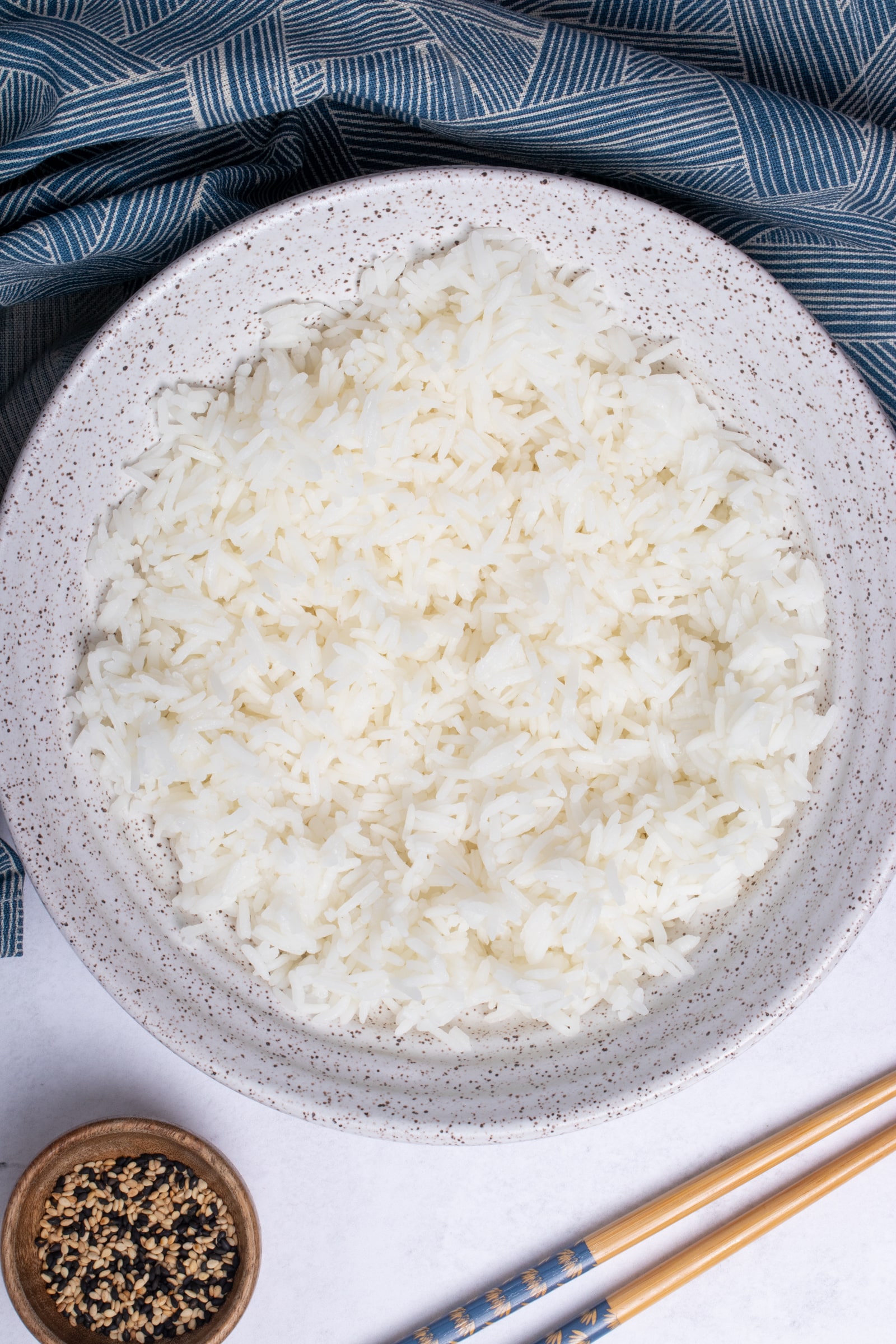 Topping the Bowl
I highly recommend adding cut-up nori to this. You could either fold a sheet 4 times and cut it with scissors or a knife into eighth-inch strips like I do, or rip off chunks of the sheet and use it like a tortilla to hold spoonfuls of the ingredients and eating it like a taco (which is way more fun).
For other toppings, you could definitely boost the protein by adding edamame like I have here, or tofu (think marinated and baked/airfried!), tempeh, or any other type of meat alternative. I also like to sprinkle some sesame seeds and sometimes dulse flakes (another type of seaweed).
Finally, you can add either soy sauce or tamari for a gluten-free option. In this recipe I used coconut aminos which is a different flavored alternative to soy sauce. It's actually made from the sap (coconut palm nectar) from coconut palms. It's much lower in sodium and it has a slightly sweet-salty flavor to it which I really enjoy. You can find it at your favorite online health retailer, health food store, or even Trader Joe's.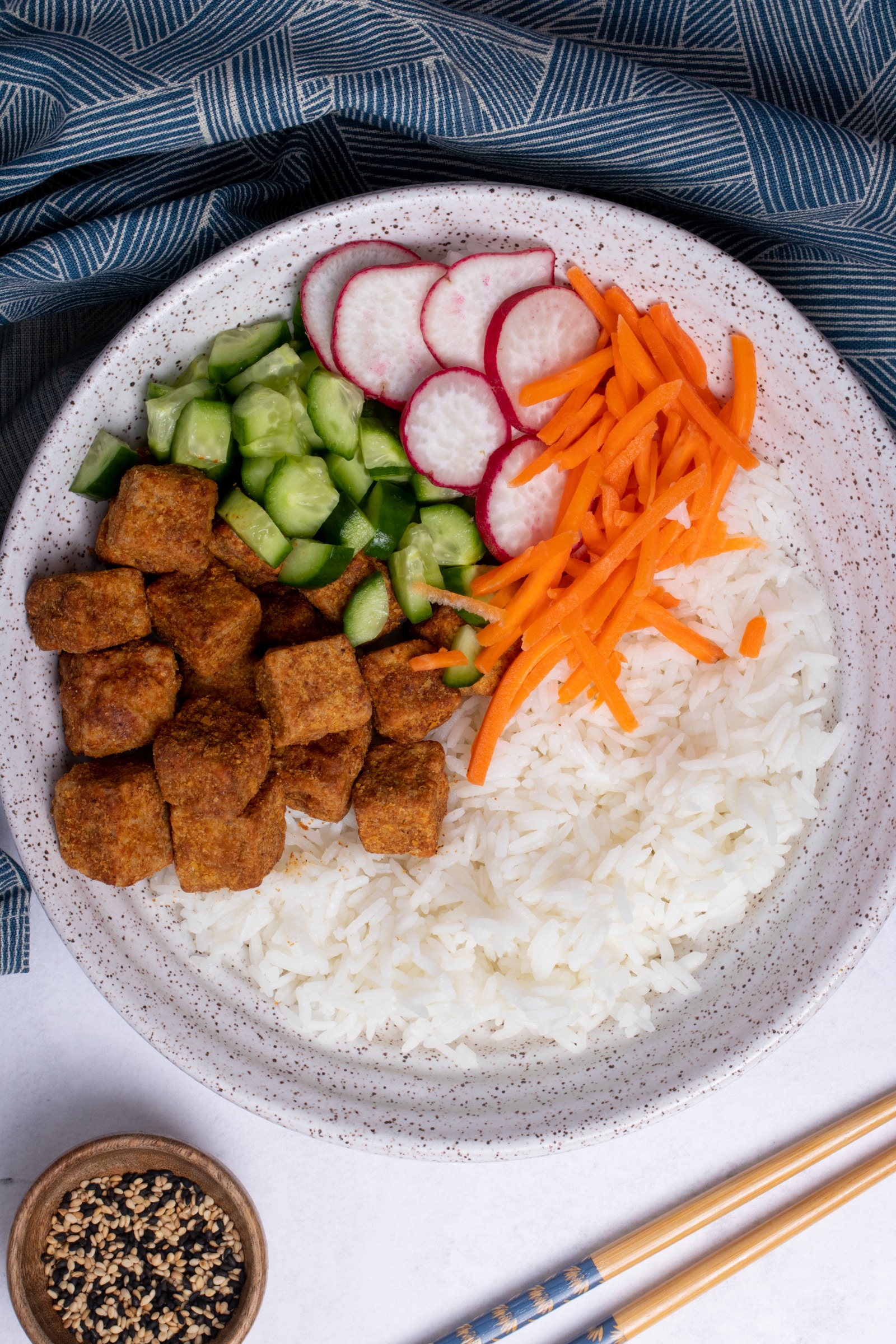 Anything Else?
If you're a person who likes pickled ginger and wasabi paste, you could also add a little bit of those into your bowl. I like pickled ginger a LOT, and get large tubs of it from my local Asian grocery store. You could also try adding other pickled goodies like kimchi or onions.
I hope you love these Customizable Sushi Bowls, and let me know in the comments below what your favorite sushi bowl toppings are.
As always, let me know if you make this recipe and please tag #Zardyplants and mention me @Zardyplants so I can see your beautiful recreations! If you tag me on IG, I will share your post in my stories :)
<3 Liz
Follow me on Social Media!
Print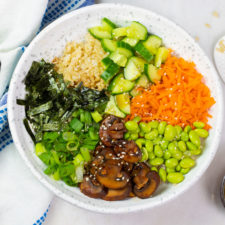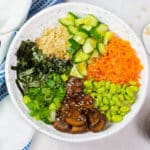 Customizable Sushi Bowls
---
Author:

Liz Madsen

Total Time:

15 minutes

Yield:

5

Servings

1

x

Diet:

Vegan
Description
When you need a need your sushi fix but don't have time, Customizable Sushi Bowls can make for a healhy meal. With premade rice you can enjoy them all week!
Vegan, Gluten-free, Oil-free, Nut-free, Sugar-free
---
3 ¾ cup

cooked rice (or other grain), chilled if desired

3

medium carrots, grated or cut into matchsticks

2 ½ cups

sliced seedless cucumber (or regular cucumber, seeded)

5

green onions, sliced

4 cups

mushrooms, sliced

1 ½ cup

cooked edamame

5

sheets of nori, ripped or cut into strips

4 tablespoons

coconut aminos, divided (can sub soy sauce or tamari)

2 ½ tsp

sesame seeds

½ tsp

smoked paprika
---
Instructions
Heat a large skillet over medium high heat. When hot, add mushrooms, smoked paprika, and half the coconut aminos (or soy sauce/tamari) to pan and cook for about 10 minutes, stirring occasionally. Mushrooms release their own water so you shouldn't need to add any, but if you do, just add a tablespoon at a time to prevent sticking. Cook until mushrooms are less than half their original size and nicely browned.
Add rice to a bowl and top with veggies, edamame, and sesame seeds.
Cut nori sheets into small pieces. I like to cut them into little strips. Add them to your bowl, or store in a separate jar or container to pack with your sushi bowl.
Add the rest of the coconut aminos (or tamari or soy sauce) to the bowl and enjoy immediately or pack up for later noshing. Enjoy!
Refrigerate leftovers in an airtight container up to 5-6 days.
Cook Time:

15 minutes

Category:

Entree, Side

Method:

Stovetop

Cuisine:

Vegan, Sushi, Lunch
Keywords: vegan, plant-based, oil-free, vegan sushi
---
---
This post was originally posted in 2019. It was updated in 2022 with new photos and suggestions for toppings. Here is a photo from when it was originally published.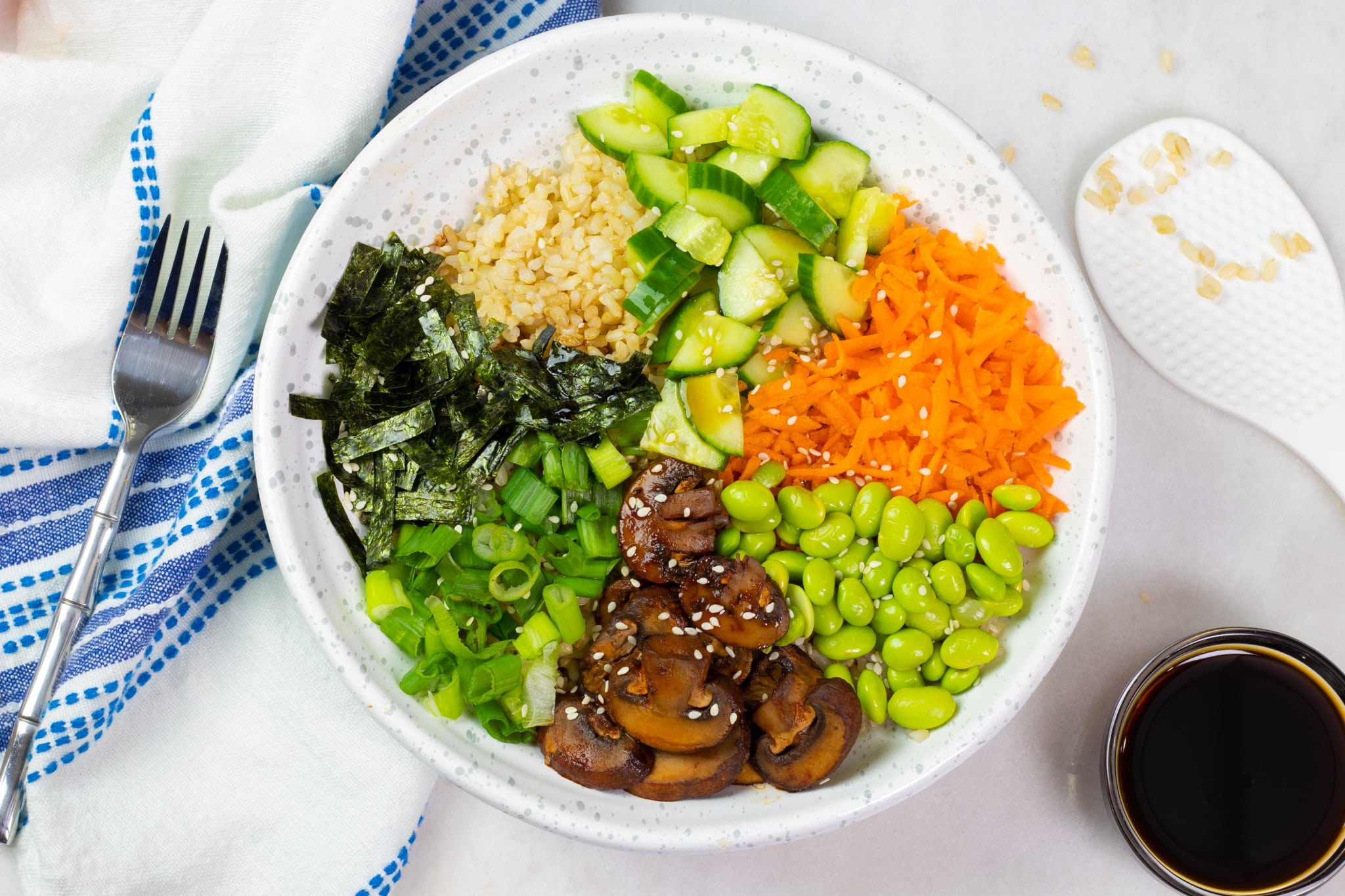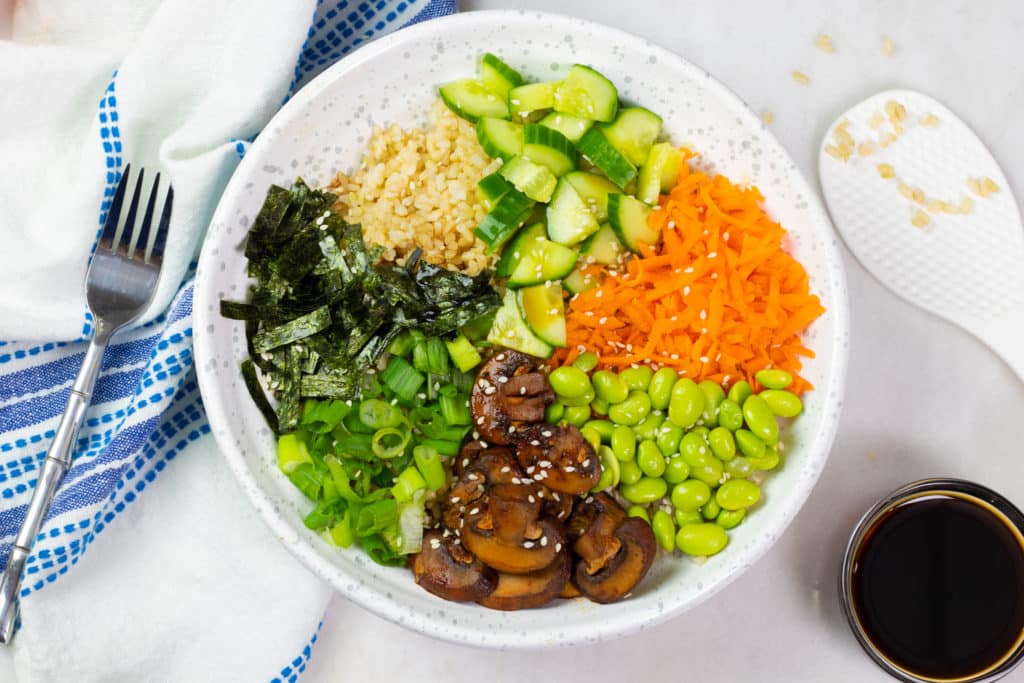 Other Recent Content!