I don't know about you, but one of my favorite breakfasts is muffins–mostly because it feels like dessert… Cake for breakfast, anyone? I know I said savory breakfasts are my fave and they still are, but there's something about a good muffin I can't resist. I especially love muffins because they're a little more dense than cake, so they actually fill you up a bit more, and it's so easy to take them on the go. My Pumpkin Ginger Breakfast Muffins do all that while remaining vegan!
It's funny because this recipe was actually a failed cookie that turned out too cake-like. Still delicious though.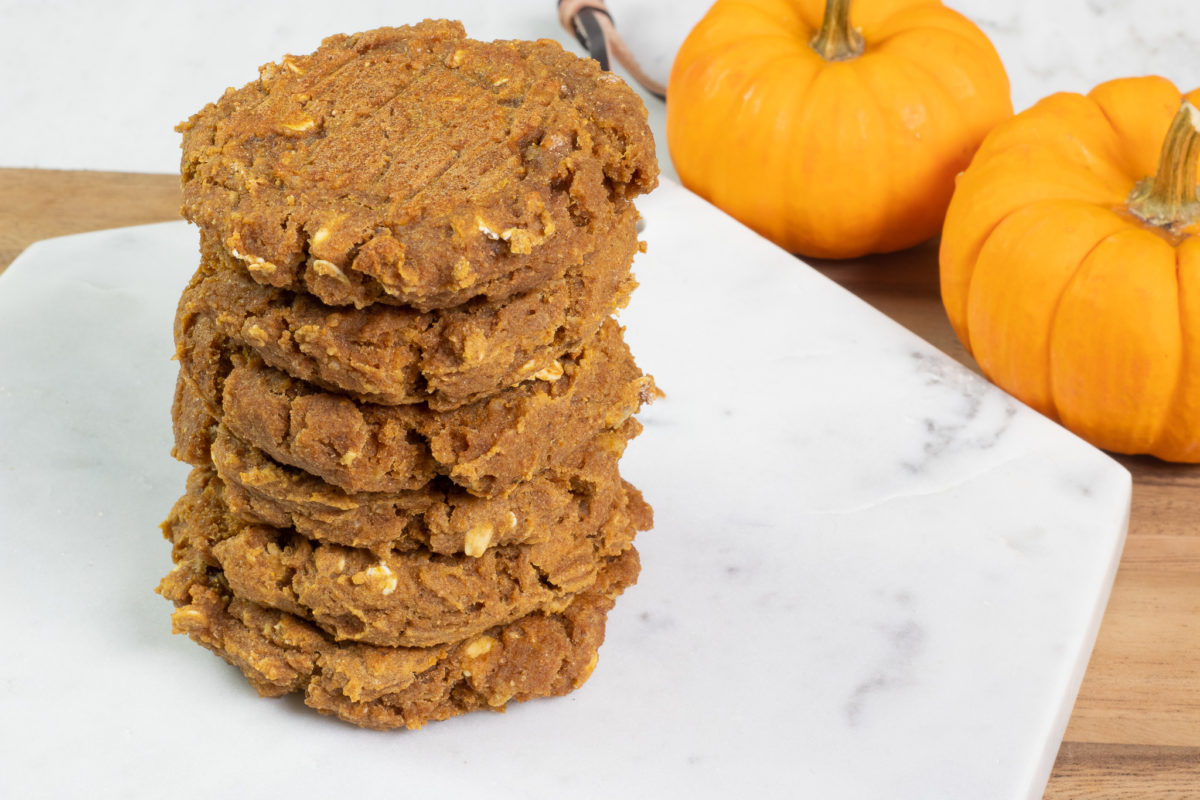 I had leftover batter so I threw it in a mug in the microwave to make a little mug cake. It rose a lot, so I figured out that they'd actually make great muffins. A few adjustments to the recipe, and here we are!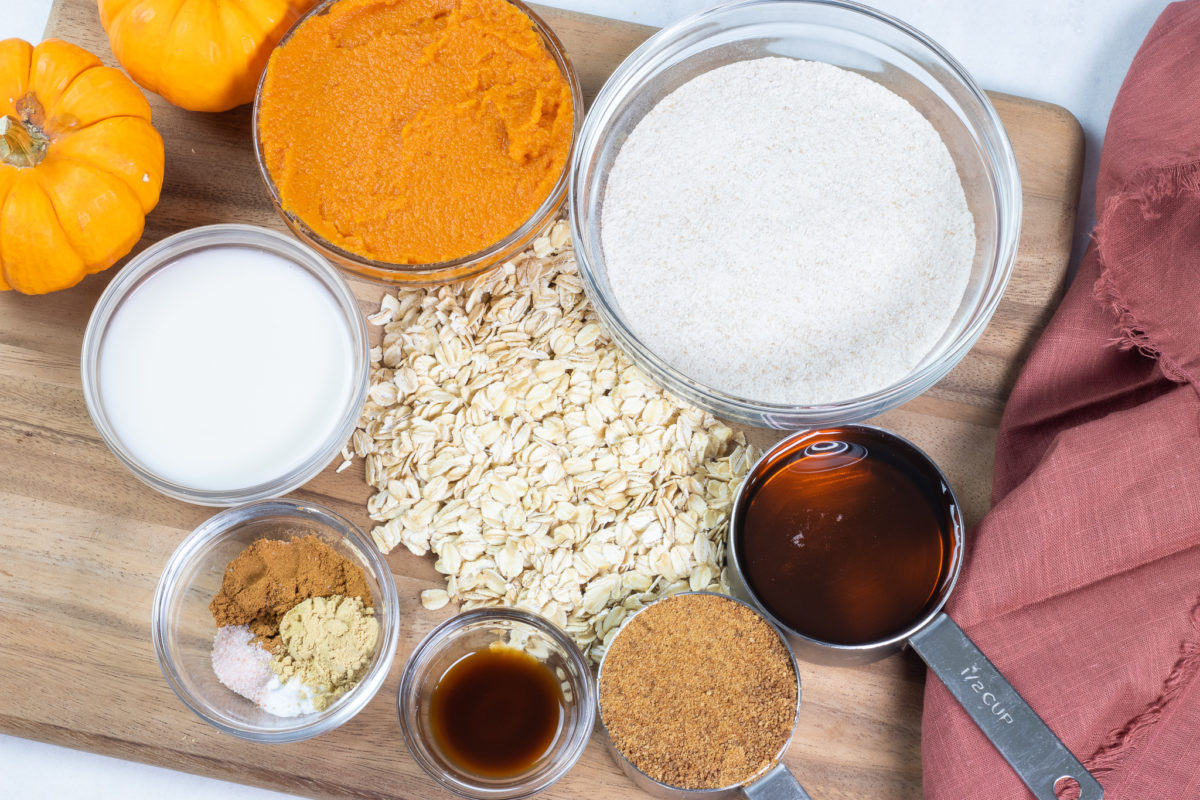 These muffins taste like fall, with a whole lot of pumpkins, a little spice, and a taste of what's to come this holiday season (hint: it rhymes with tingerbread...)! I warm these muffins up before I enjoy them, and they're even better with a little jam or nut butter spread on them.
I also love the texture of these, because of the whole rolled oats that are mixed through the batter. They aren't overly chewy but toasted just enough from the heat of the oven for a nutty flavor without the use of nuts.
I hope to test these next with gluten-free flour, but if you do before I update this page, please let me know in the comments below!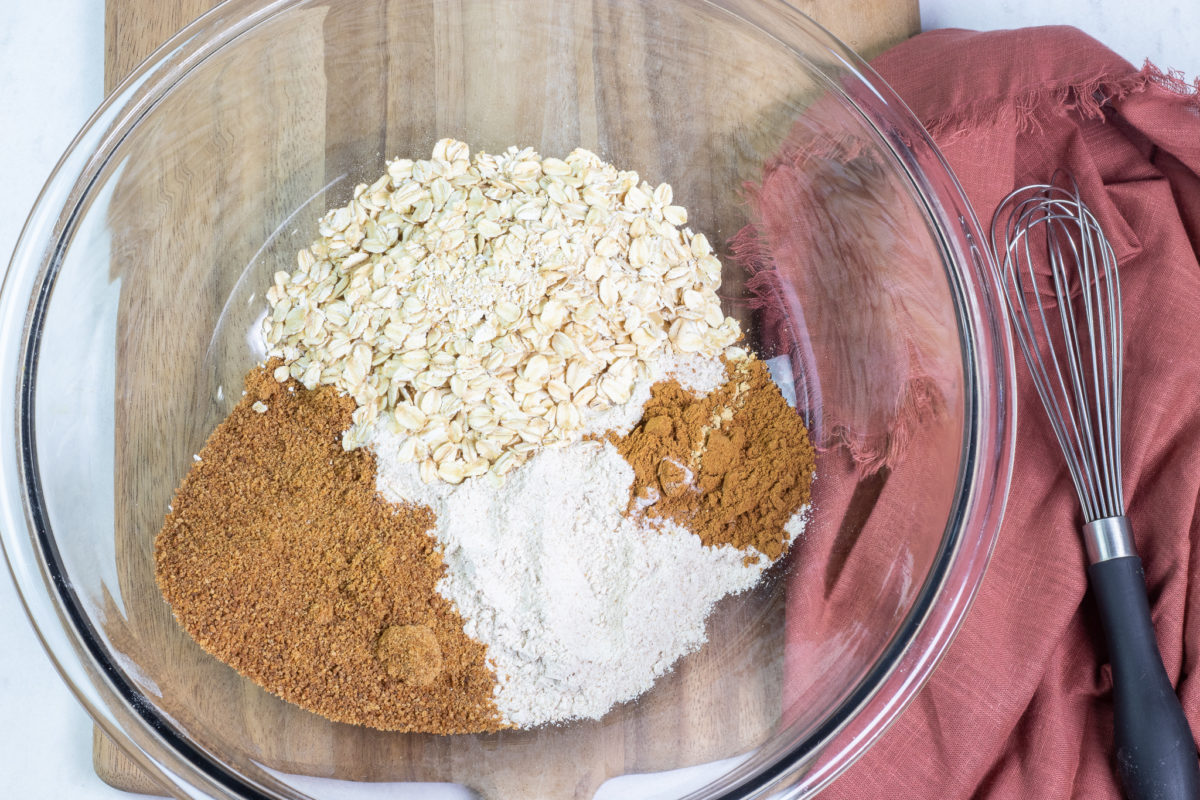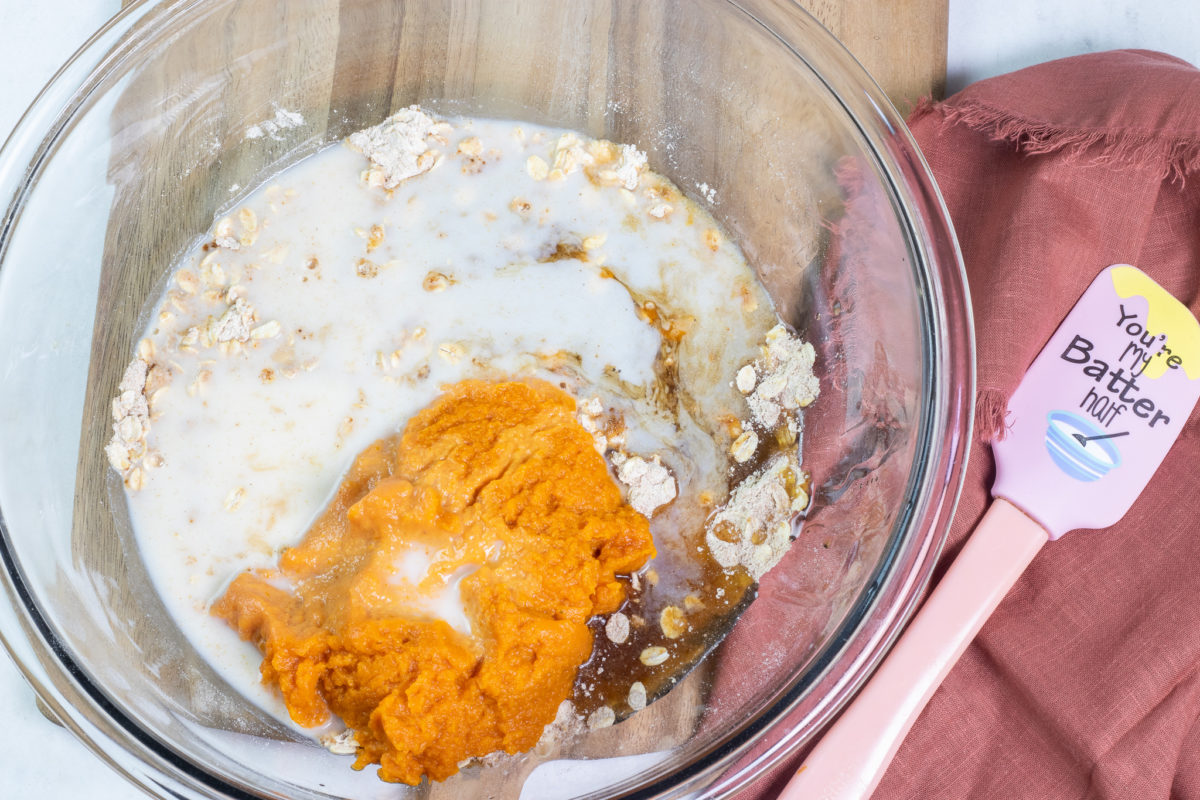 I used a whole cup of pumpkin puree in the batter but if you're not super crazy about pumpkin you could sub half of it with mashed banana or applesauce. The pumpkin puree actually acts as a binder for the ingredients, so make sure to use another sub that acts like that too.The spice from the ginger is definitely noticeable in this recipe, but I wouldn't say it's spicy, per se. However if you're not a fan of spice or you're worried, feel free to reduce or omit the powdered ginger.
These can also totally be dessert, especially with a little icing or ice cream. I could really just eat them all day long, but I might not keep losing weight if I do that, haha.
Feel free to reduce the sugar if you like. They're very tasty even with less sugar. You could even add some date syrup/chopped dates and mashed banana to sweeten them naturally.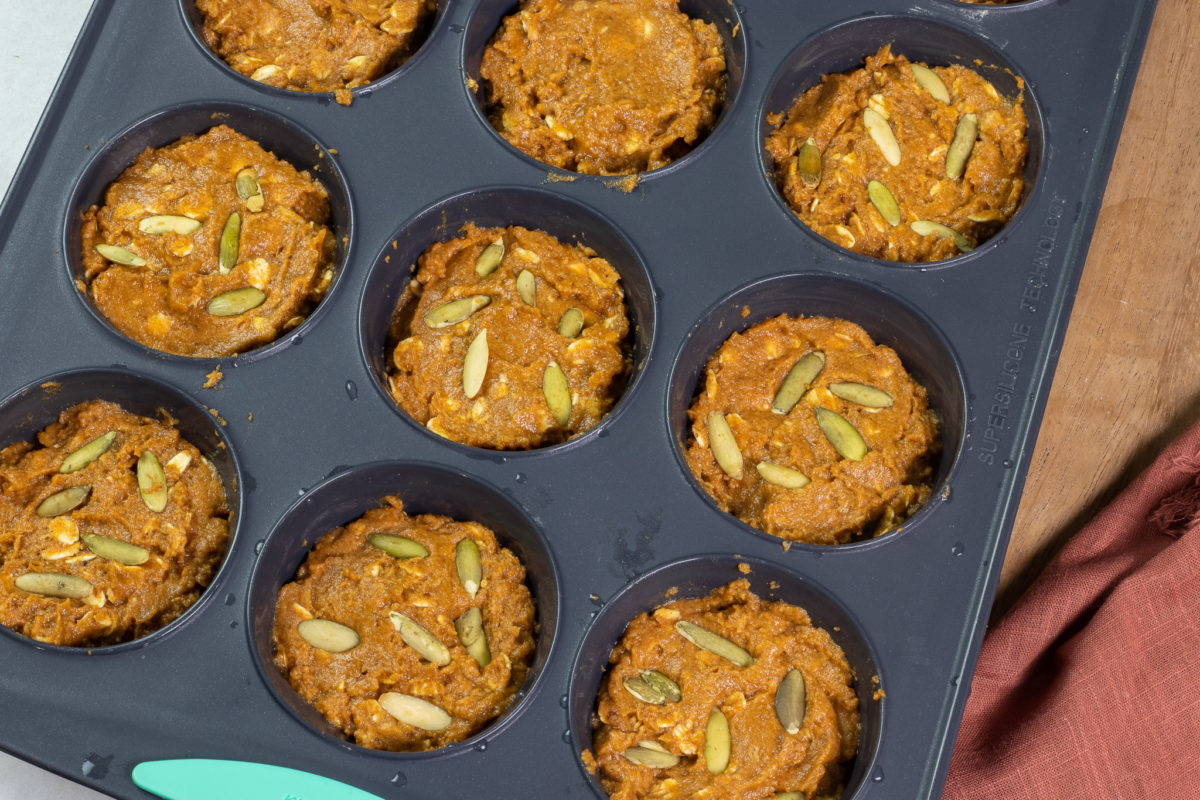 These muffins can also be made in only one bowl + the muffin pan. Fewer dishes is always better in my book, or shall I say Mr. Zardyplants' book because he's generous and nice enough to do most of the dishes since I do most of the cooking. I definitely recommend a silicon muffin pan for this. I actually have one that's metal with silicone cups attached. You can also get little individual silicone cups, fill them, and place them on a sheet pan to bake. Either way, it helps the muffins not get stuck to the pan. If you do not want to use silicone, you may need to either use disposable muffin liners or pan spray to keep these from sticking after baking.
Alright, enough rambling, let's get onto the recipe!
As always, let me know if you make this recipe and please tag #Zardyplants and mention me @Zardyplants so I can see your beautiful recreations! If you tag me on IG, I will share your post in my stories :)
<3 Liz
Follow me on Social Media!
Print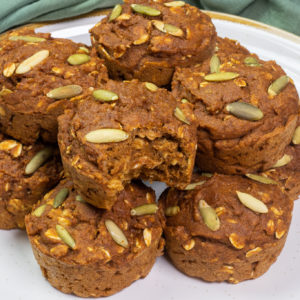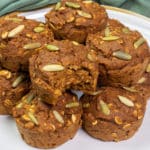 Pumpkin Ginger Breakfast Muffins
---
Author:

Liz Madsen

Total Time:

40 minutes

Yield:

10

muffins

1

x
---
Dry
1 cup

whole wheat flour

⅔ cup

rolled oats

⅓ cup

coconut sugar.

2 teaspoons

pumpkin spice

½

to

1

teaspoon ground ginger

½ teaspoon

baking soda

¼ teaspoon

salt
Wet
1 cup

pumpkin puree

½ cup

maple syrup

¼ cup

unsweetened nondairy milk (I used almond milk)

1.5 teaspoons

pure vanilla extract
Raw pumpkin seeds to sprinkle on top, optional
---
Instructions
Preheat your oven to 375 degrees F (190 degrees C).
Mix all your dry ingredients in a large bowl and ensure there are no clumps.
Add the maple syrup, nondairy milk, and pumpkin and mix until well combined. Then add the vanilla extract and stir briefly to combine. Do not over mix
Spoon batter into silicone muffin pan or cups and fill up between half and ⅔ full. Repeat until you've used up all your batter.
If desired, press a few pumpkin seeds into the top of each uncooked muffin.
Bake for 20-24 minutes, until the sides of the muffins start to pull away from the edges of the pan and an inserted toothpick comes clean.
Let cool 15 15 minutes before removing the muffins from the pan. I run a butter knife around the edges of each muffin to make sure nothing sticks to the pan.
Transfer to a wire cooling rack.
Enjoy warm, or at any temperature!
Store leftovers in an airtight container up to 5 days.
Cook Time:

40 minutes

Category:

Breakfast, Snack

Cuisine:

Muffins
Keywords: Vegan, Oil-free, Pumpkin, Muffins
---
---
Other Recent Content!