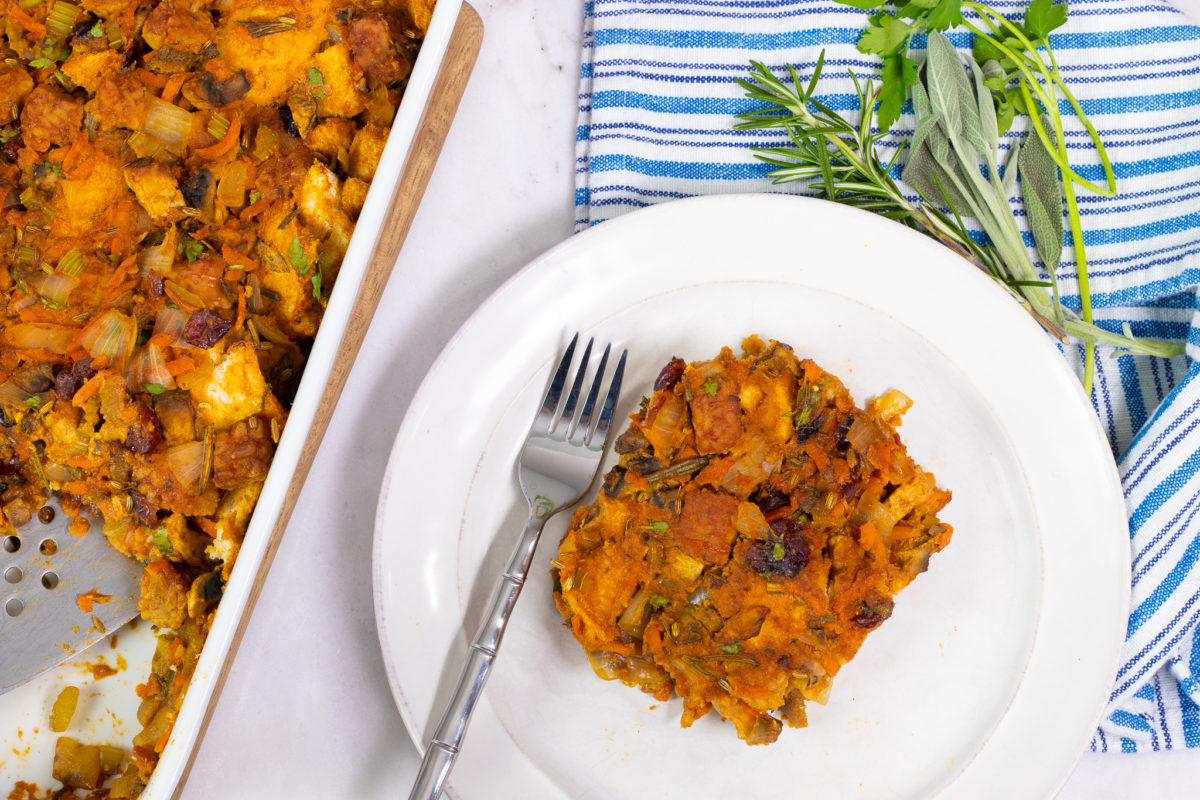 Thanksgiving is inching closer and closer, so I'm excited to share my Gluten-Free Holiday Stuffing with Tempeh Sausage and Veggies recipe with you all! It's packed with goodies like smoky tempeh sausage crumbles, dried cranberries, mushrooms, and fresh herbs, which can be a luxury when you're on a budget.
Stuffing was definitely one of my favorite parts of the Thanksgiving meal when I was a kid. My dad always made it, and for me it was one of the quintessential parts of the meal, something I liked way more than the turkey. Now that my husband and I are vegan, I wanted to veganize it but also create a unique flavor that would complement the rest of the Thanksgiving or Holiday spread.
This stuffing is not only super delicious and pretty darn healthy, but it's easy to make too! All you're doing is sauteing some things, throwing them all together, and baking them. However, there are a few easy things you can do to prepare ahead of time to make the cooking process faster.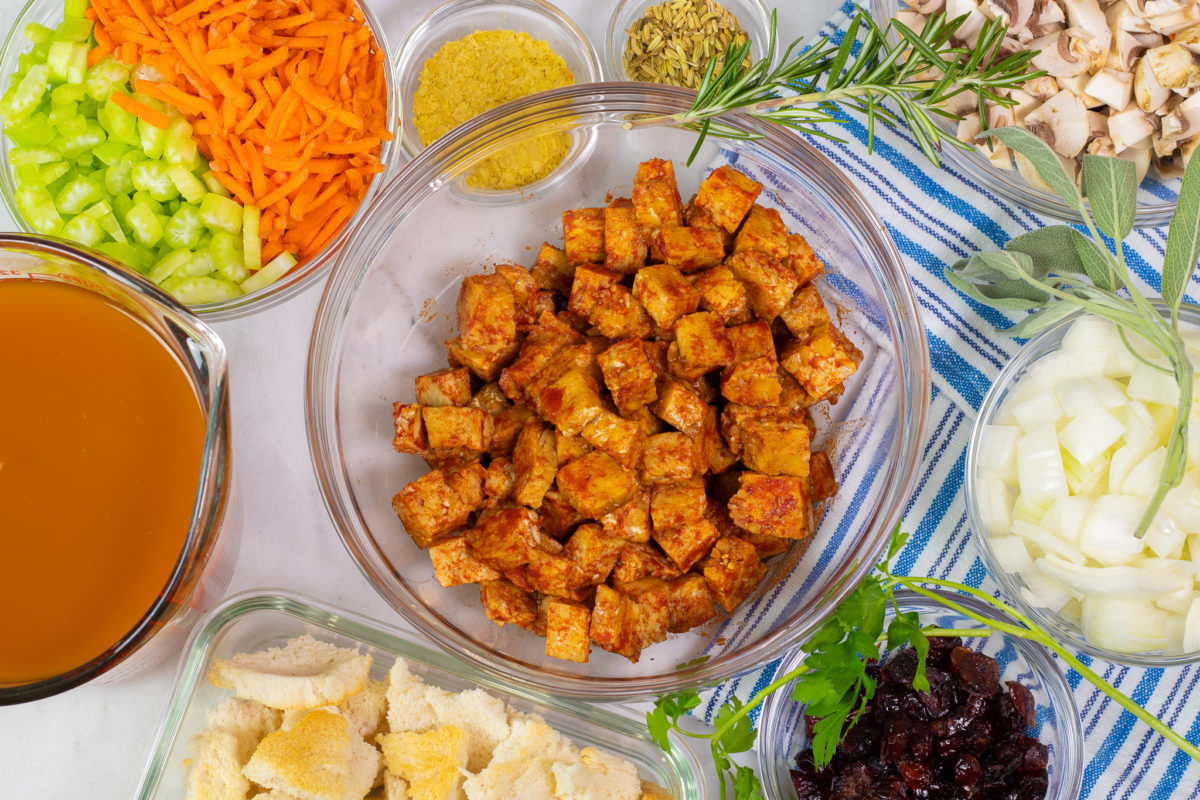 Preparing in Advance
With all the different dishes we make on Thanksgiving, it's great to have some things you can make ahead of time to make your life easier on the day of. Stuffing is best when it's freshly made because of the crisping the oven gives it, but there are a few parts of the recipe we can make ahead of time.
The first is marinating the tempeh which increases the flavor by approximately one million percent. You can really marinate your tempeh in anything you like, but I definitely recommend my marinade for a salty, sweet, smoky, umami (savory) flavor that rivals that of animal-based sausage.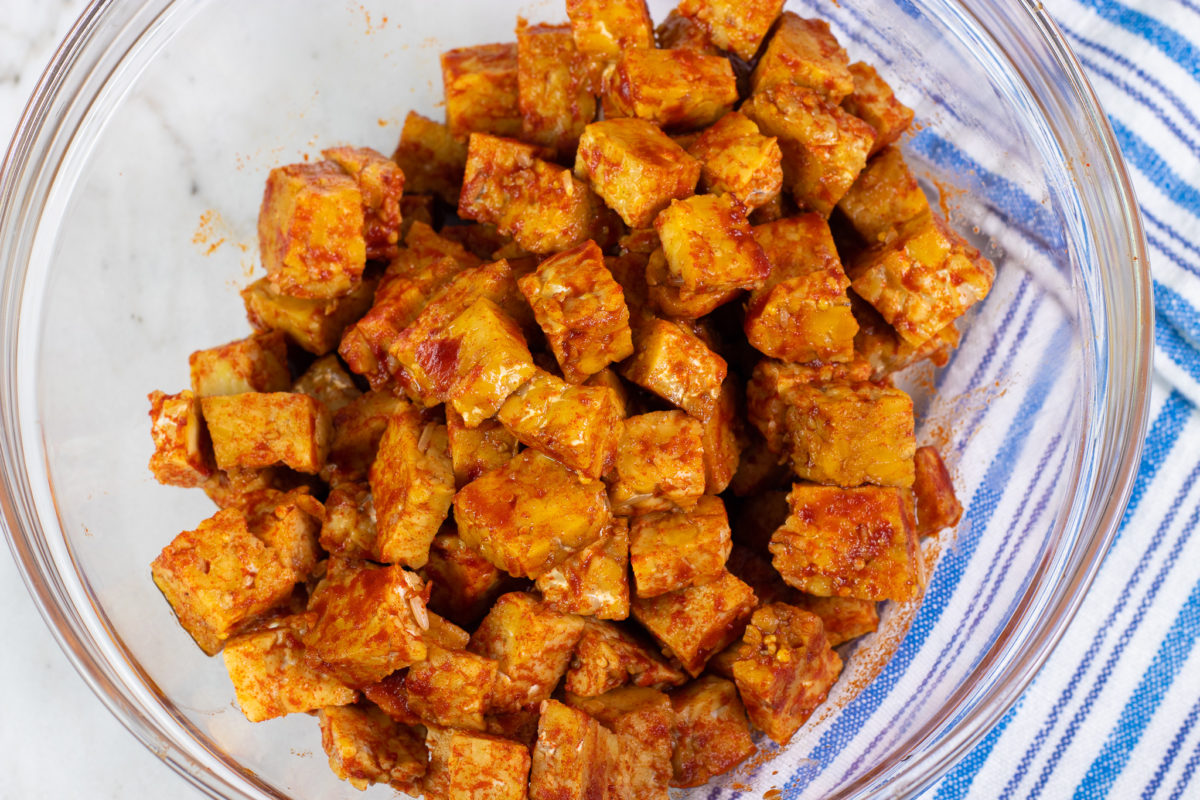 I like to marinate my tempeh for 8 hours (or overnight), because this really gives the fermented soybeans a long time to soak up all those delicious flavors. If you're short on time, try to marinate the tempeh for at least 1 hour.
The other thing you can do ahead of time is dry out your bread cubes. Now of course you always have the option to toast them in an oven, but in my opinion, if you have the time, it's easier just to dry them out overnight. Simply spread them out on baking tray and leave them on the counter (preferably out of reach of any animals who might try and snack on them — looking at you, Luna).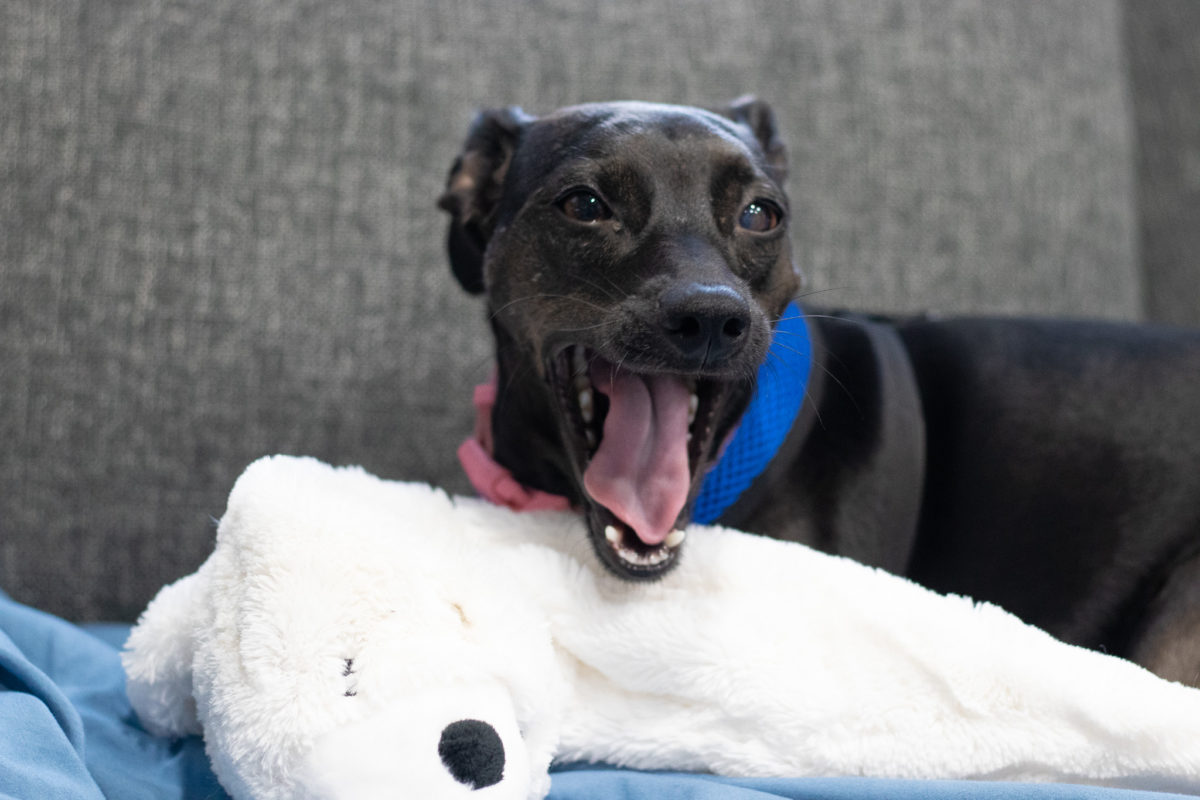 What's in the Stuffing?
The most traditional item in this stuffing is probably the bread. I've kept this one gluten-free since I serve many different eaters. You can use any bread you'd like, though. Some breads you could try:
-french bread
-sprouted grain bread (like Ezekiel brand)
-sourdough bread
-whole wheat bread
-rye bread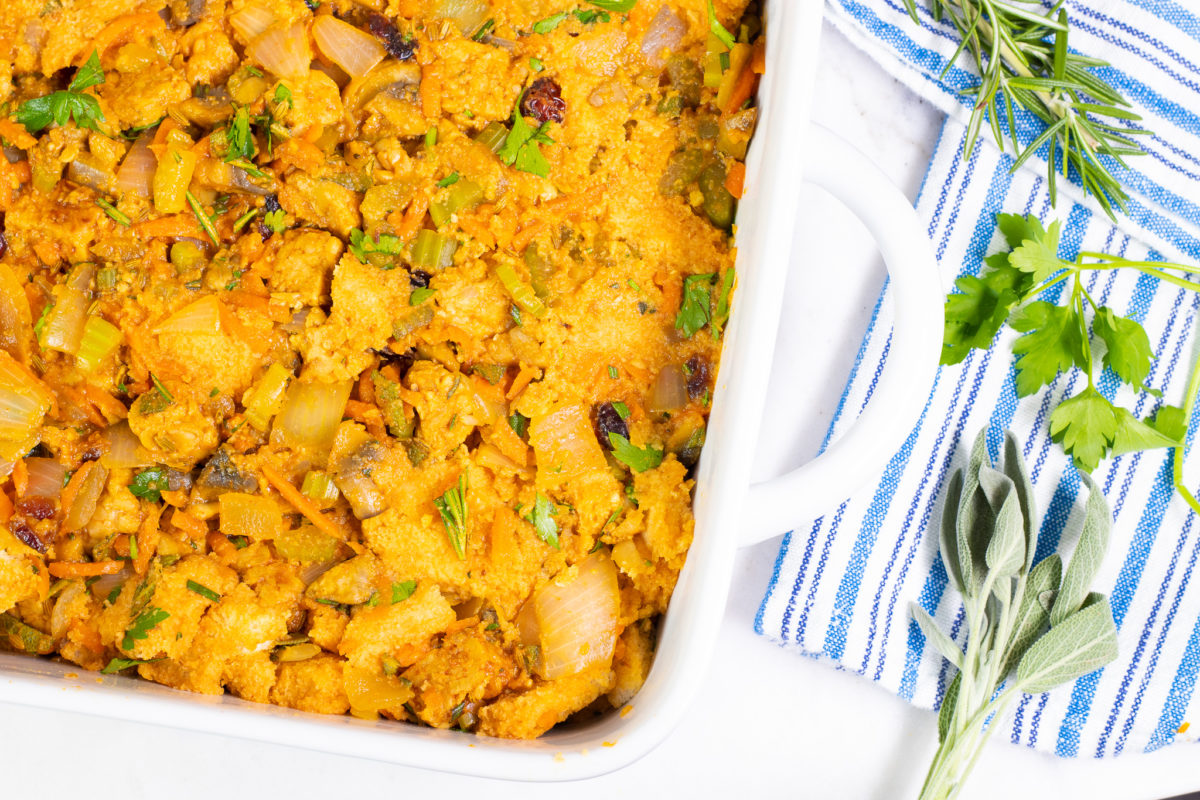 Anything will work. If it's not of the sliced variety and you end up cubing it, it may take longer for it to dry out than if it's thinner. You want pieces to be around 1 inch to 1.5 inches in thickness and across. This makes them easier to stir into the mixture, but not get totally lost in during the baking process.
Other traditional things in this stuffing include celery and onions as well as fresh herbs. You can skip the fresh herbs if you can't find them or if you're looking to save money, but this is one of the very few times during the year that I buy them since I am on a budget… and let me tell you they are 100% worth it. They really make the dish.
On the nontraditional side, I've added a few things to modify the texture and flavor of this stuffing. One thing I've added is smoky tempeh sausage crumbles.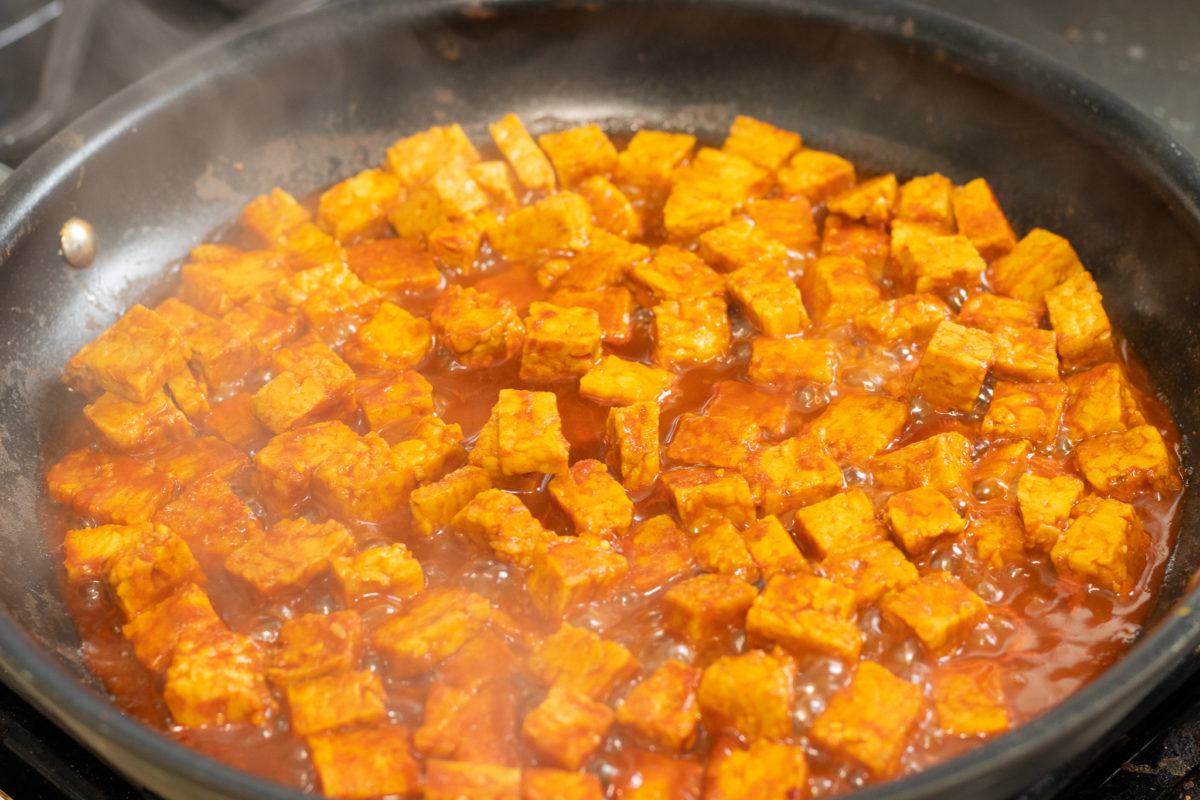 Tempeh is different than tofu. Tofu may end up soggy in this, but the tempeh is chewy and "meaty" for lack of a better term. They are both made from soybeans, but tempeh is fermented whole soybeans, where as tofu is more processed.
Tempeh is incredibly high in protein, and healthy but can sometimes have a bitter taste if not prepared properly. This is why I recommend cubing it, marinating it, and then cooking it down in liquid before adding it to your stuffing mixture.
We are creating a sausage-like flavor with the smoky profile of the smoked paprika, coconut aminos or soy sauce, and giving it a nice sweetness with maple syrup. We are also cooking it down with toasted fennel seeds, which also help with the sausage flavor since a lot of animal-based sausage is actually prepared with fennel.
To off-set the sweetness a bit, we're adding unsweetened dried cranberries, which add a chewy, tangy, and festive flavor to this stuffing. It can be very difficult to find unsweetened dried cranberries. If you cannot, don't worry; it will still taste good with sweetened cranberries.
I've added carrots for a bit more texture, and mushrooms for a more "meaty" and umami flavor. I grate the carrots so I make sure that they get cooked enough, but you can also dice them very finely. Mushrooms will cook down, so you don't need to be too careful about how large the pieces are when chopping.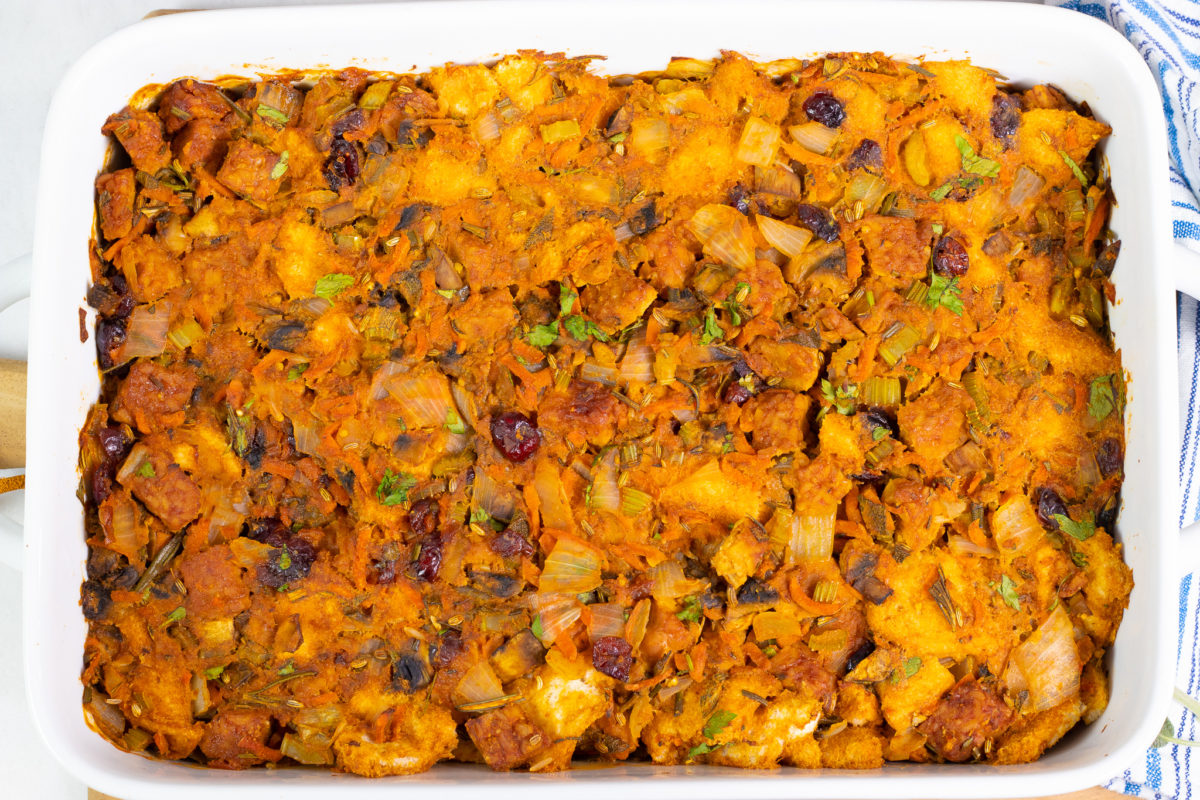 Finally, I've added just a bit of nutritional yeast that adds a lovely nutty flavor to this stuffing. 2 tablespoons for the whole recipe adds another layer of flavor without adding the cheeziness that nutritional yeast sometimes does. Imagine me not wanting something to be cheezy for a minute…?!
I really think this stuffing is so good it can be eaten on its own, but that's because it's been our meals a lot since we have to make it so much for recipe testing… life of a food blogger. :)
As always, let me know if you make this recipe and please tag #Zardyplants and mention me @Zardyplants so I can see your beautiful recreations! If you tag me on IG, I will share your post in my stories :)
<3 Liz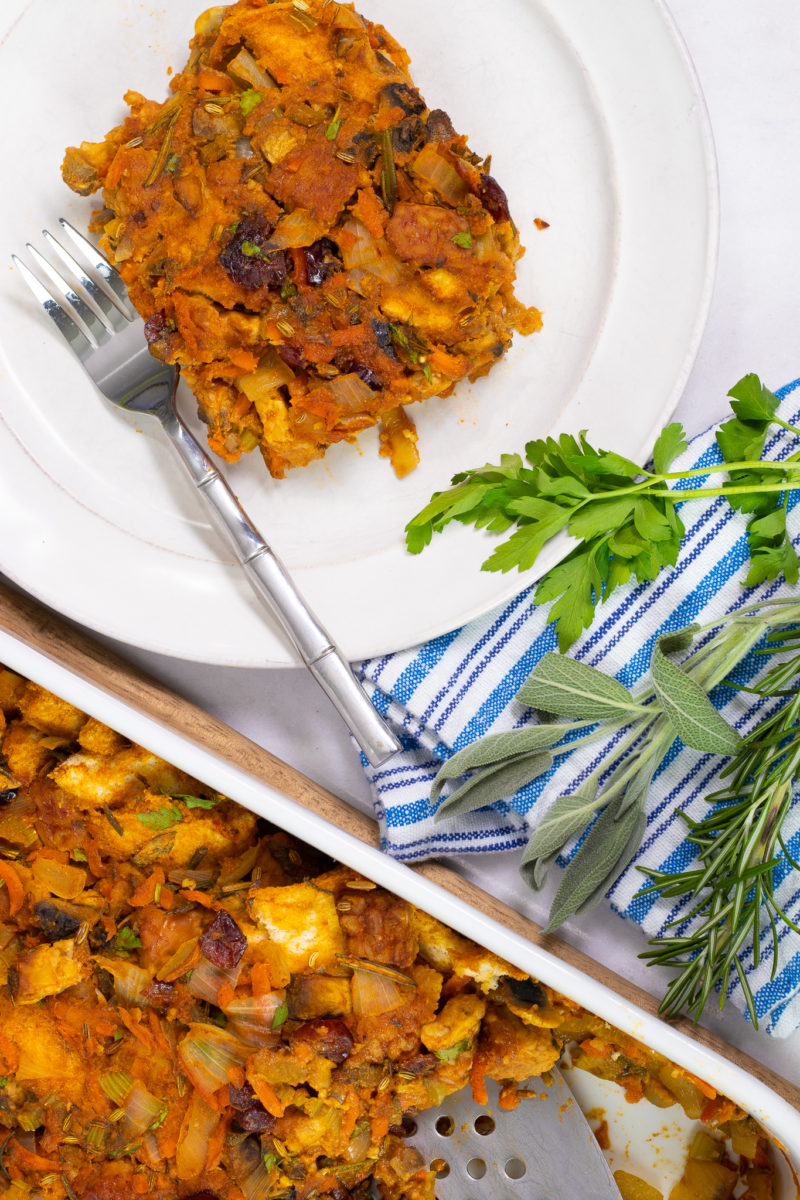 Follow me on Social Media!
Print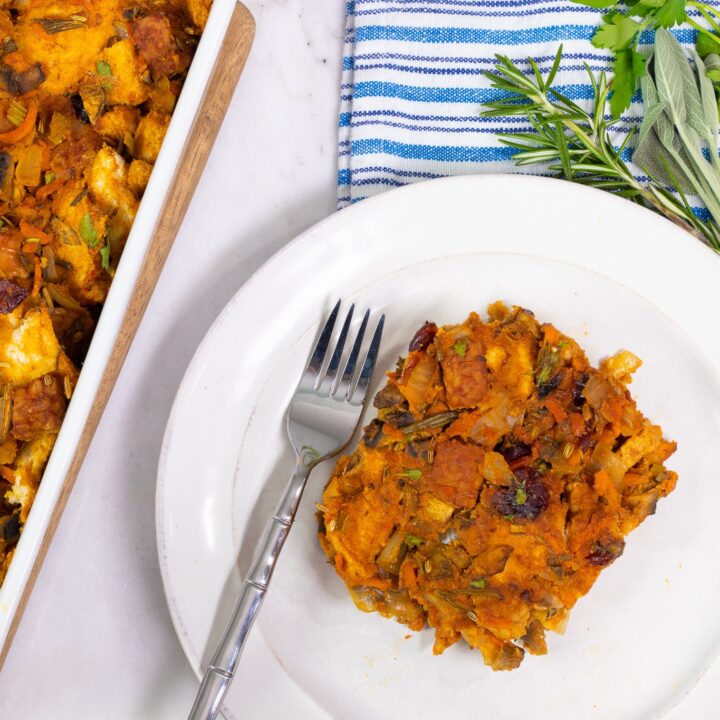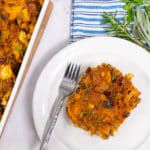 Gluten-Free Holiday Stuffing with Tempeh Sausage and Veggies
---
Author:

Liz Madsen

Total Time:

1 hour 10 minutes

Yield:

9 x 13 size pan
Description
With this Gluten-Free Holiday Stuffing with Tempeh Sausage and Veggies recipe, you can make these holidays feel like home with the taste of cranberry.
Vegan, Oil-free, Gluten-free
---
Main
3 cups cubed gluten-free dried bread (or other bread if not gf) (if no time to dry, bake in oven at 325 for 15-30 minutes)
1 medium onion, diced
4 ribs celery, diced finely
2 medium carrots, coarsely shredded
8 oz white mushrooms, diced
¼ cup fresh parsley, stemmed and chopped
3 tablespoon fresh sage, stemmed and chopped
3 tablespoon fresh rosemary, stemmed and chopped
4 cups low sodium vegetable broth, divided
2 tablespoon nutritional yeast
1 flax egg (1 tablespoon ground flaxseed + 3 tablespoon water)
Salt and pepper to taste
1 tablespoon fennel seeds
½ cup water
Smoky Tempeh Sausage Crumbles
2- 8 oz packages tempeh, cubed
½ teaspoon
maple syrup
(a little more if using tamari/soy sauce)
½ teaspoon smoked paprika
---
Instructions
Preheat oven to 350 degrees F (176 degrees C). Start by toasting your fennel seeds in a large skillet over medium high heat. Stir frequently and toast about 2-3 minutes. Next add your tempeh with whatever leftover marinade is in the container + 1 cup vegetable broth + ½ cup of water. Cook on medium high heat, flipping every 4-5 minutes until most of liquid has thickened (about 15 minutes total).
While the tempeh is cooking, start sauteing your onions and celery in a large pot, adding vegetable broth a few tablespoons at a time to keep it from sticking. Cook till onions are translucent, about 5 minutes.
Next add carrots and mushrooms and lower heat to a medium simmer. Let cook, stirring occasionally for about 8-10 minutes. While waiting, prepare your flax egg by mixing 1 tablespoon of ground flaxseed with 3 tablespoon with water. I like to stick it in the fridge for 5 minutes to gel.
Add both the finished tempeh and sauteed vegetables (no need to discard liquid) to a large bowl. Next add your nutritional yeast, salt & pepper to taste, and flax egg and stir well.
Add the fresh herbs, cranberries, and cubed dried bread and stir once more. Now pour the remaining vegetable broth and stir until all bread has been soaked in the broth. Add to a 9 x 13 rimmed baking dish and bake uncovered for 40-45 minutes. Top should be lightly browned and slightly crisp to the touch
Serve warm. Refrigerate leftovers in an airtight container up to 5 days. Recommend to reheat in toaster oven or oven for texture, but microwave is good too ;)
Cook Time:

1 Hour, 10 minutes

Category:

Entree

Cuisine:

Vegan, Stuffing
Nutrition
Serving Size:

⅛

Calories:

248
Keywords: Vegan, Oil-free, Gluten-free, Stuffing, Holiday, Plant-based, Thanksgiving
---
---
Other Recent Content!