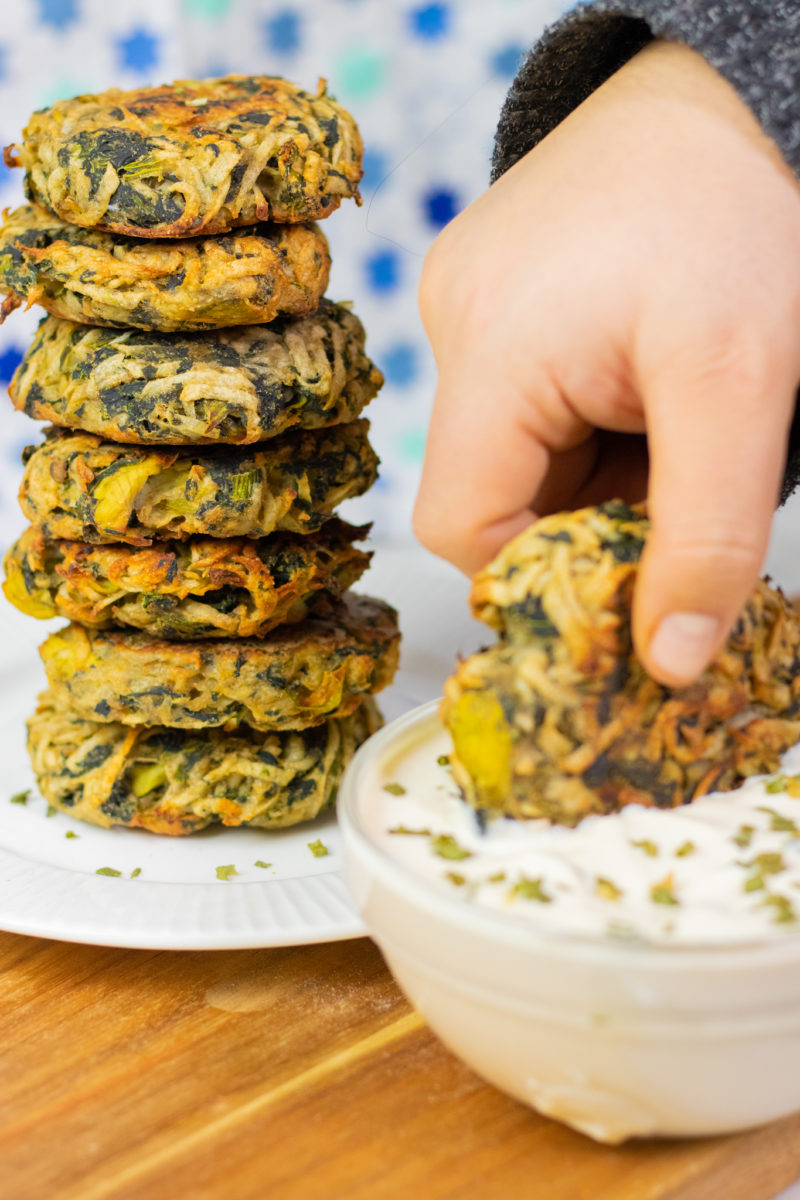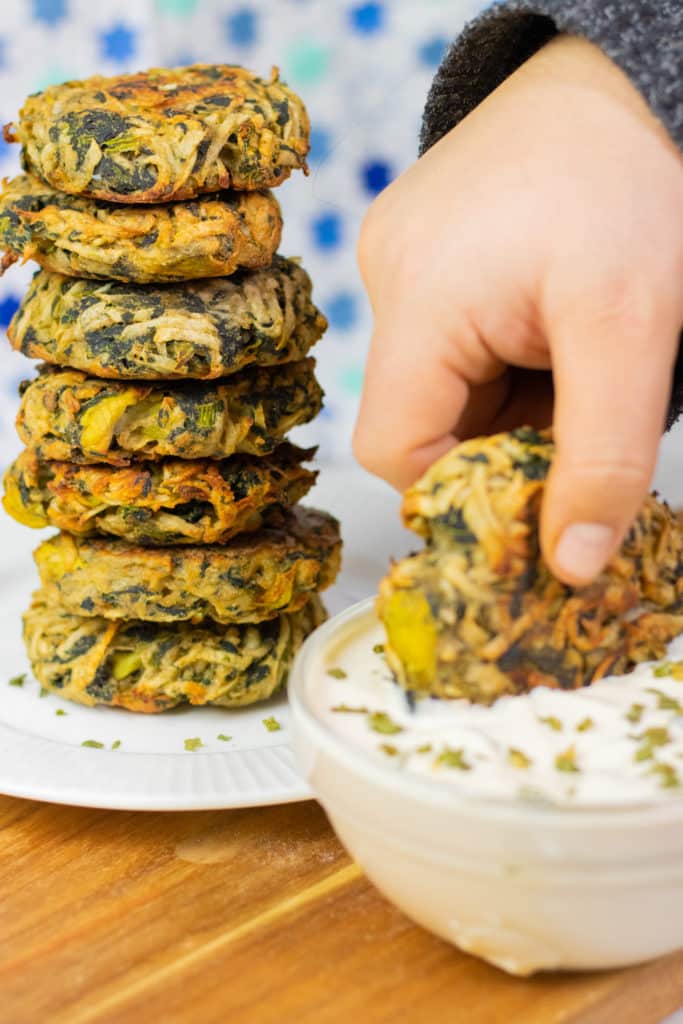 Update: Good News! We have just been approved for an event at Purple Sprout in Wheeling, IL Saturday Dec 21, 3pm-4pm! We are going to be doing a demonstration and tasting of some of our latkes!
Hey Internet! I'm excited to be sharing my Baked Oil-free Spinach Artichoke Latkes with you today! It's almost Chanukah (or Hanukkah) and so I'm pretty happy it's finally time for latkes, or potato pancakes.
Traditionally fried in oil (to celebrate the oil lasting 8 days and 8 nights, read the Chanukah story: https://www.myjewishlearning.com/article/the-maccabean-revolt/), these latkes are actually oil-free, so much healthier. But we, can eat them and still appreciate the symbolism of the oil, yes?
These oil-free Spinach Artichoke Latkes are so good that I might just have to eat them when it's not Chanukah, too.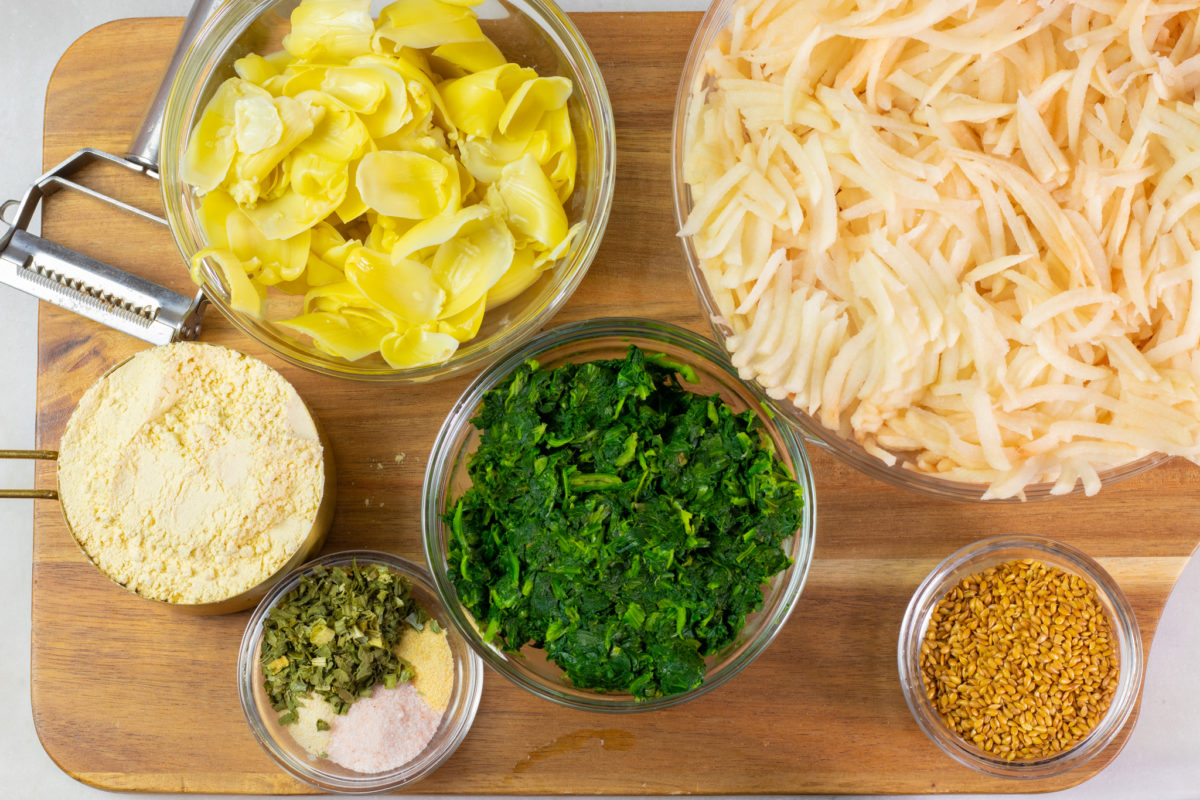 Wait, What's a Latke?
Latkes (pronounced either lot-keys or lot-kuhs, depending on who you talk to), are basically just shredded potatoes, sometimes other veggies, eggs, flour, and oil to fry in. They get packed together in little flat clumps, somewhat like fritters, and are often dipped in applesauce and sour cream.
But these crispy, chewy, savory latkes don't have to be regarded as a once a year treat. I present my version, free of oil but just as delicious. I've customized this recipe with spinach and artichoke hearts, and it tastes just like a popular dip with chips.
So What's in Them?
As mentioned above, for a fun flavor I've used defrosted frozen spinach and artichoke hearts in these, but you can play around for sure.
You can use any potatoes in these, or you can even use other vegetables. For 3 fun variations including Traditional Potato Latkes, Sweet Potato Latkes, and Root Vegetable Latkes, as well as many other Jewish recipes and passed-down-through-generations Applesauce with a secret ingredient, check out my Chanukah Recipe eBook (link)!
The flour in this recipe is actually ground garbanzo beans, so it's higher in protein and grain-free. You can substitute it for regular flour if you like.
For the eggs, I've used ground flax seeds + water, but I've also used Bob's Red Mill Egg Replacer with a lot of success.
The other stuff in the latkes is just herbs and spices. You can add any that you like, but I love the combination of garlic, onion, and dried chives in this recipe.
How to Make Baked Latkes
I always loved latkes when my mom made them. I think it was likely one of my most requested meals. But as mentioned earlier, they are fried in oil, and I wanted a way to make them for myself and have them be something I felt good about eating.
To make latkes, you'll need your shredded potatoes, garbanzo bean flour, herbs & spices, flax eggs, and any add-ins (like the spinach and artichoke hearts.
Shredding the Potatoes
Peel your potatoes first. Peeling is not necessary, but I like the texture of my latkes better when I peeled my potatoes first.
Funnily enough, I refused to even try to make latkes for the longest time because I didn't want to peel the potatoes. I hated having to peel anything. Until I found this peeler on a whim on Amazon.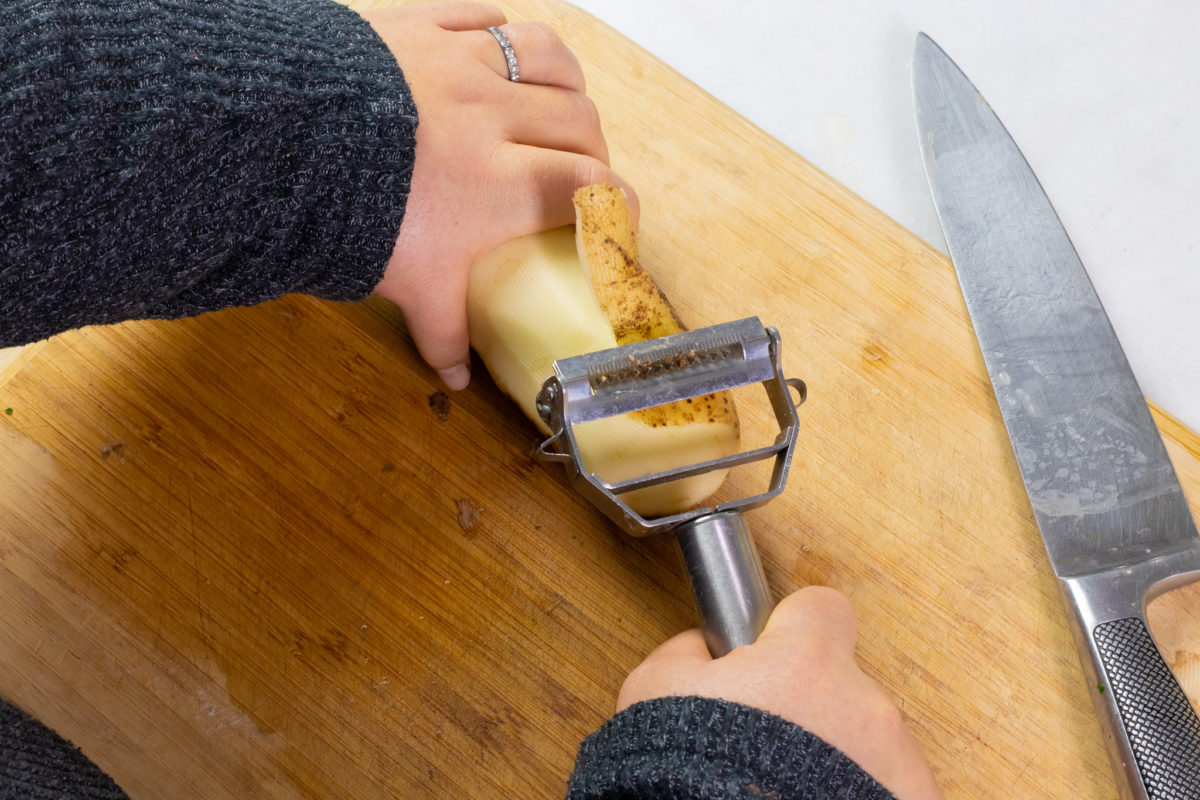 It's seriously amazing. I mentioned in my Butternut Squash Carrot Ginger Soup (link) recipe that I was astounded that this peeler made fast work of 2 thick-skinned butternut squash. Well let me tell you, it does just as good a job on potatoes and made it a painless process for me.
The easiest way I've found to shred the potatoes is to run them through a food processor that has a grating plate. I am obsessed with my Breville Sous Chef 12.
This is not the most expensive of their line, but it is a beast, grating potatoes, cabbage by the head, turnips, beets, and more. The grating function gets the most use, but it also can slice things ridiculously thin or thick (has a sliding lever to decide how thin or thick you want it), as well as a powerful S blade (standard cut blade) and a dough hook.
But if you don't have a food processor with this function, you can use any type of grater, like a box grater. If it's strenuous, well, switch arms often and count it as your workout. Holiday cooking is a sport, anyway.
Forming the Oil-free Spinach Artichoke Latkes
After your potatoes are grated, dry them out as much as possible. I just pile mine in a clean kitchen towel and press or squeeze the liquid out. You want the potatoes to be damp, not wet, otherwise your mixture will not stick together well.
Note: I have NOT tested this recipe with frozen hash browns from the grocery store. They are larger, so I'm not sure if they would work or not. If you did want to try them I would make sure they're heated and very dry before working with them, and be prepared to add extra flax eggs and/or garbanzo bean flour.
If you're using spinach and artichoke hearts, all you have to do is make sure they're very dry as well. For the spinach, defrost, drain, and use your hands to squeeze out as much of the spinach's liquid as possible. Then shred it with your fingers and set aside. The artichoke hearts can be drained and dried, discarding the very mushy parts.
Mix your potatoes, artichoke hearts, flour, herbs, and spices well in a large bowl. I like to mix by hand to make sure ingredients get evenly dispersed.
Next add your egg mixture and mix again. Then stir through the spinach and begin the shaping process.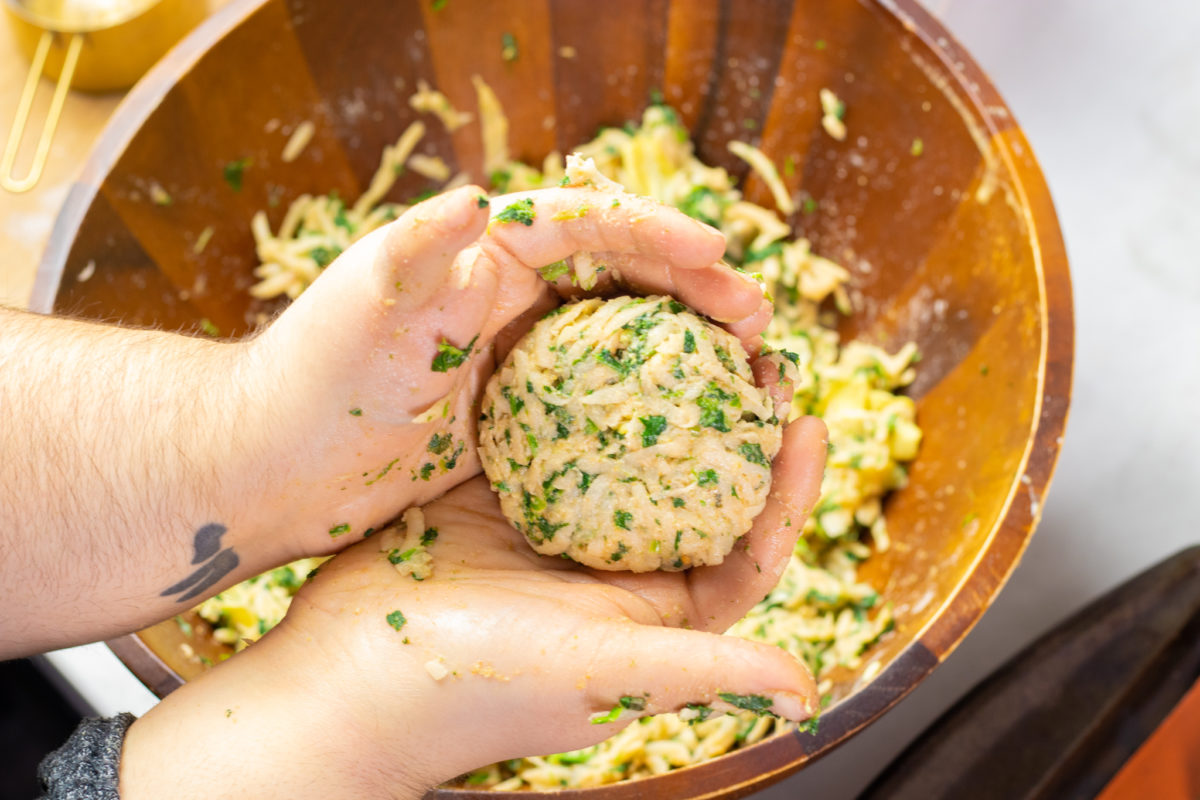 To shape your latkes, take about a fistful (about 1/2 cup, or slightly less) of the mixture and use your hands to make a ball.
Baking the Oil-free Spinach Artichoke Latkes
Place it on a silicone mat lined baking tray and flatten it with your hand until it's about 1/2 inch thick.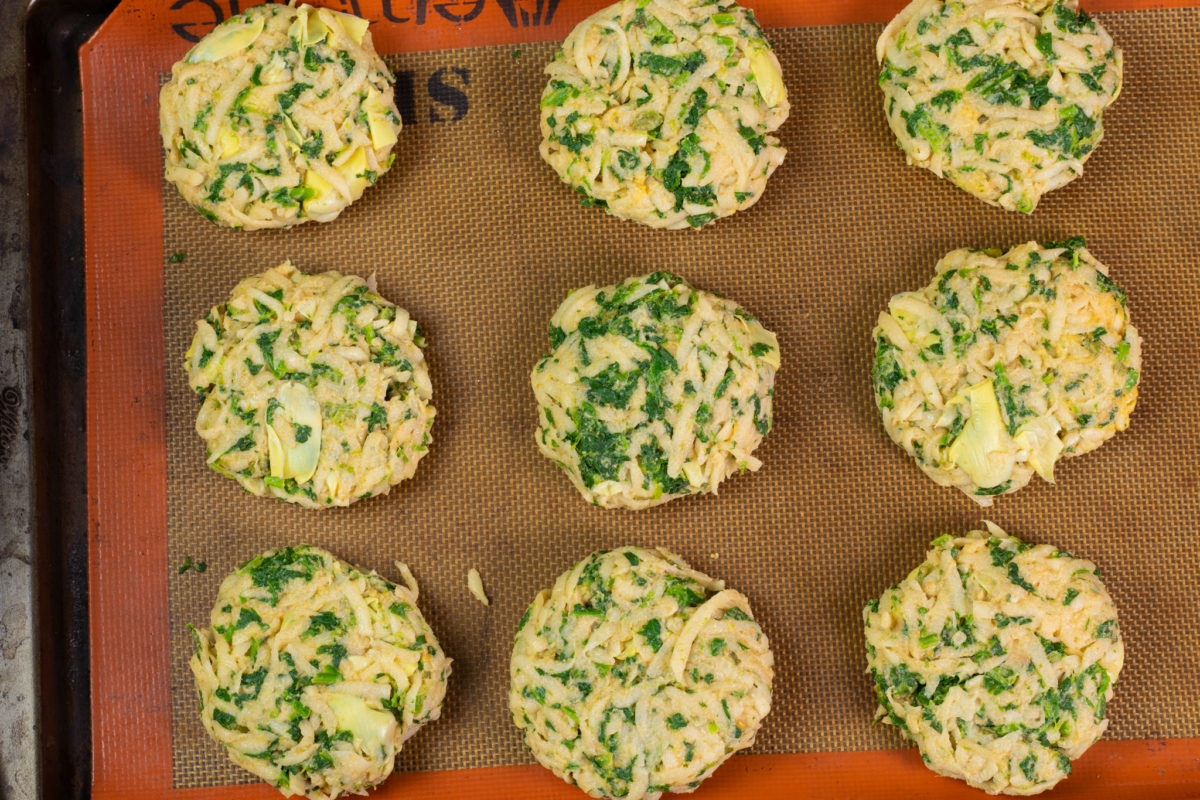 You can use parchment paper too but I feel that the silicone mat helps the latkes get even crispier, plus it's cheaper than parchment paper because it's reusable!
Then all you have to do is bake your latkes for about 45-50 minutes, flipping half-way through. If you check them any earlier than 25 minutes, chances are they won't be ready yet.
You'll know if you try and pry it off with a spatula and it sticks. Leave it longer, about 25 minutes for me, and I've made several different versions over a dozen times now.
It should come up fairly easily with a metal spatula. Hold steady one side of the tray with an oven mitt protected hand and use the metal spatula to slightly forcefully slide under the latke and gently flip.
What to Serve with Latkes
You can serve anything you like with latkes (hummus, mayhaps?), but traditionally latkes are served with sour cream and applesauce. I have a great tofu sour cream recipe for you. You could also sub soaked cashews or white beans
Tofu Sour Cream
1 block medium or firm tofu (or sub. cashews)
Juice of 1 lemon
A clove of garlic
1 tsp apple cider vinegar
1 tsp white wine vinegar
Approx. 1/2 cup of water
1 tsp of salt
Blend until smooth and creamy
For applesauce, if you've only ever had the jarred stuff, you haven't tasted real applesauce in my opinion. My mom used to make me the most AMAZING applesauce, and I could eat a whole (quadrupled) batch in a matter of hours.
What I didn't know until I asked for the recipe is that my grandmother used to make her applesauce this way, and that it's a family recipe–the Kuperstock Family Recipe.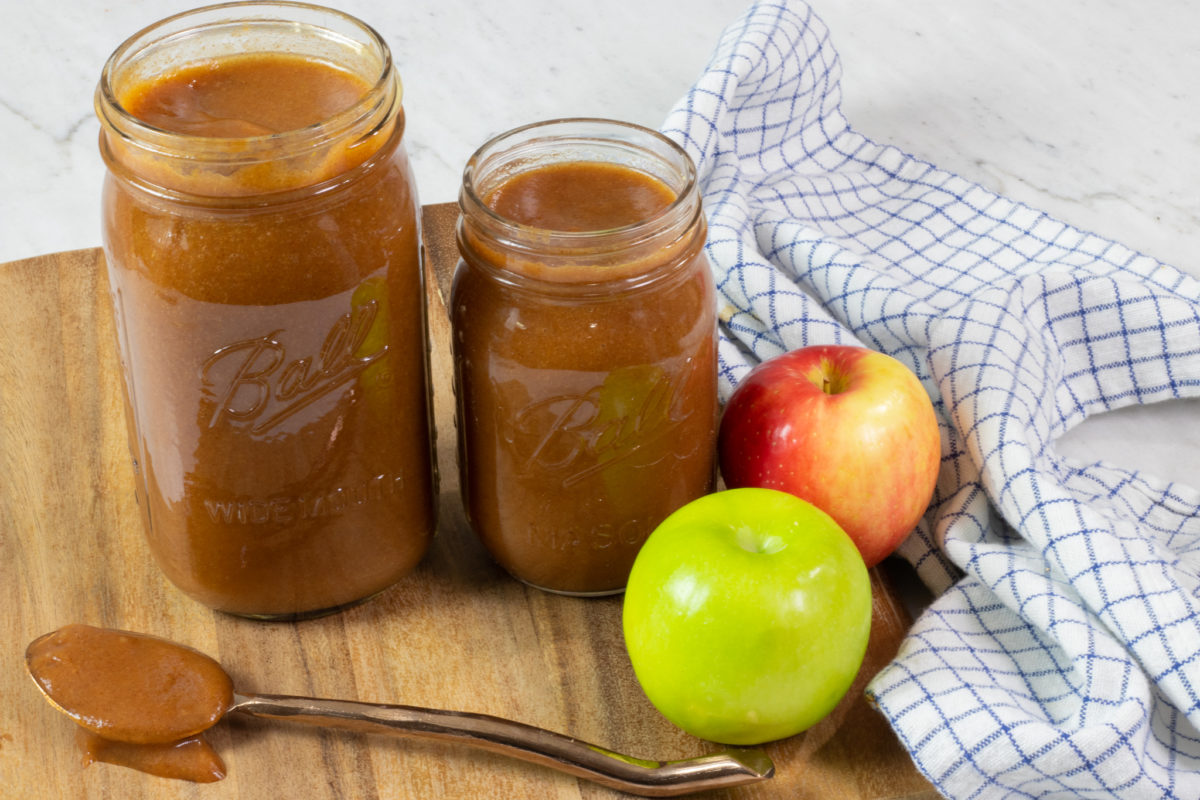 This recipe uses two kinds of apples and a special, secret ingredient. Want to know the family secret? I've provided it in my Plant-Based Chanukah Recipe eBook.
Want More Latkes?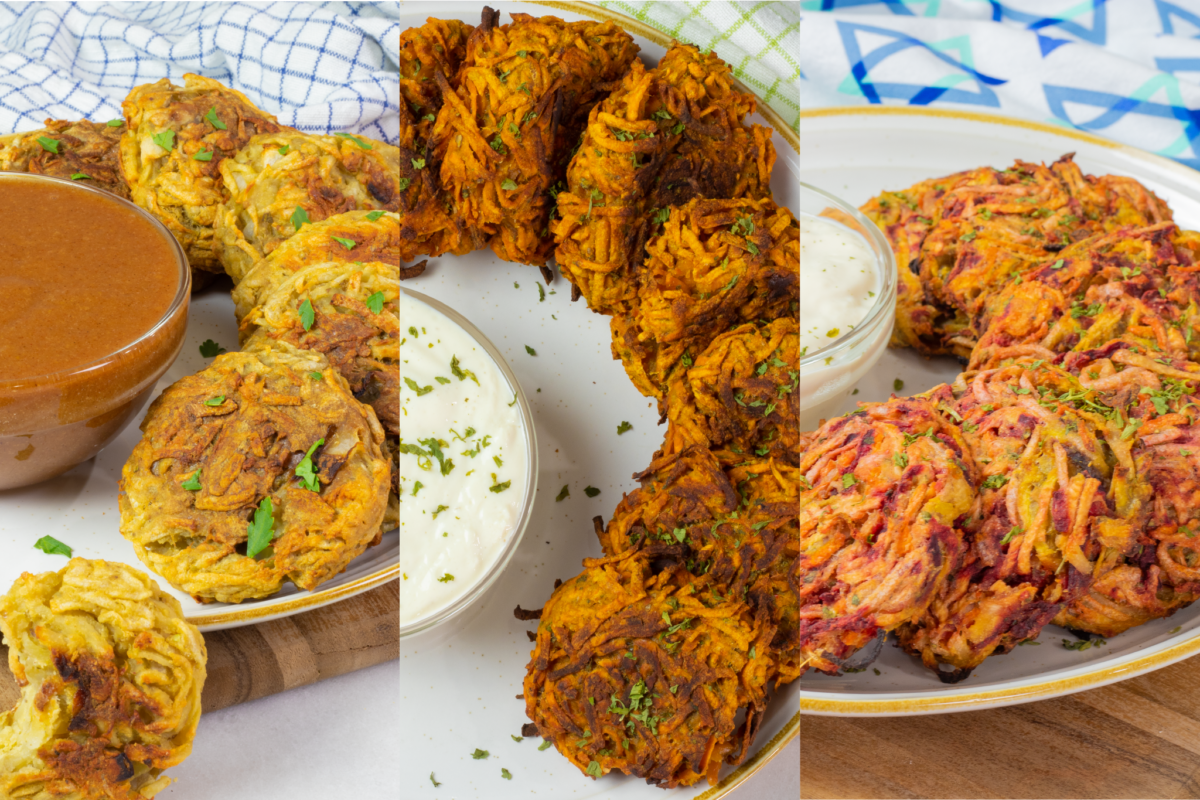 Loved these latkes? Want to stuff your face with other kinds like sweet potato or root vegetable? What about other Jewish comfort food like Rugelach, Matzoball Soup, and Kugel?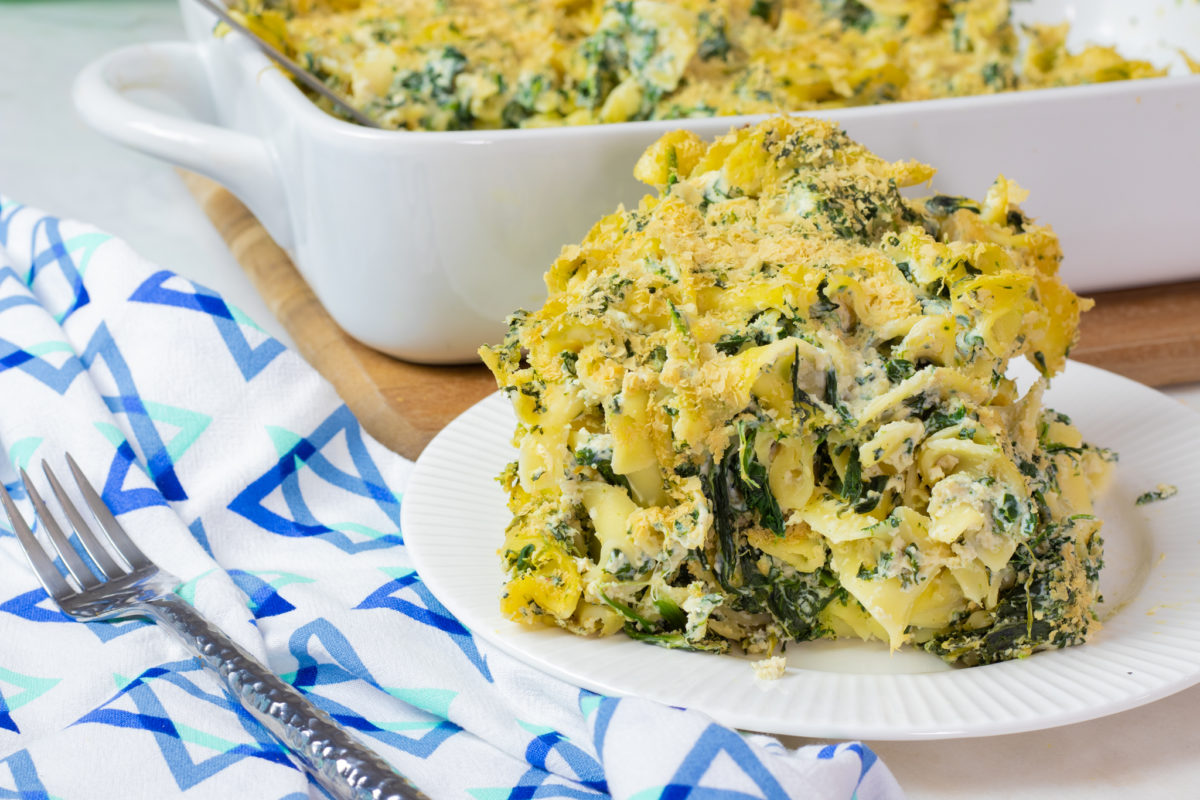 I have to plug my Plant-Based Chanukah Recipe eBook one more time. It's available for a limited time and is only $9. Really.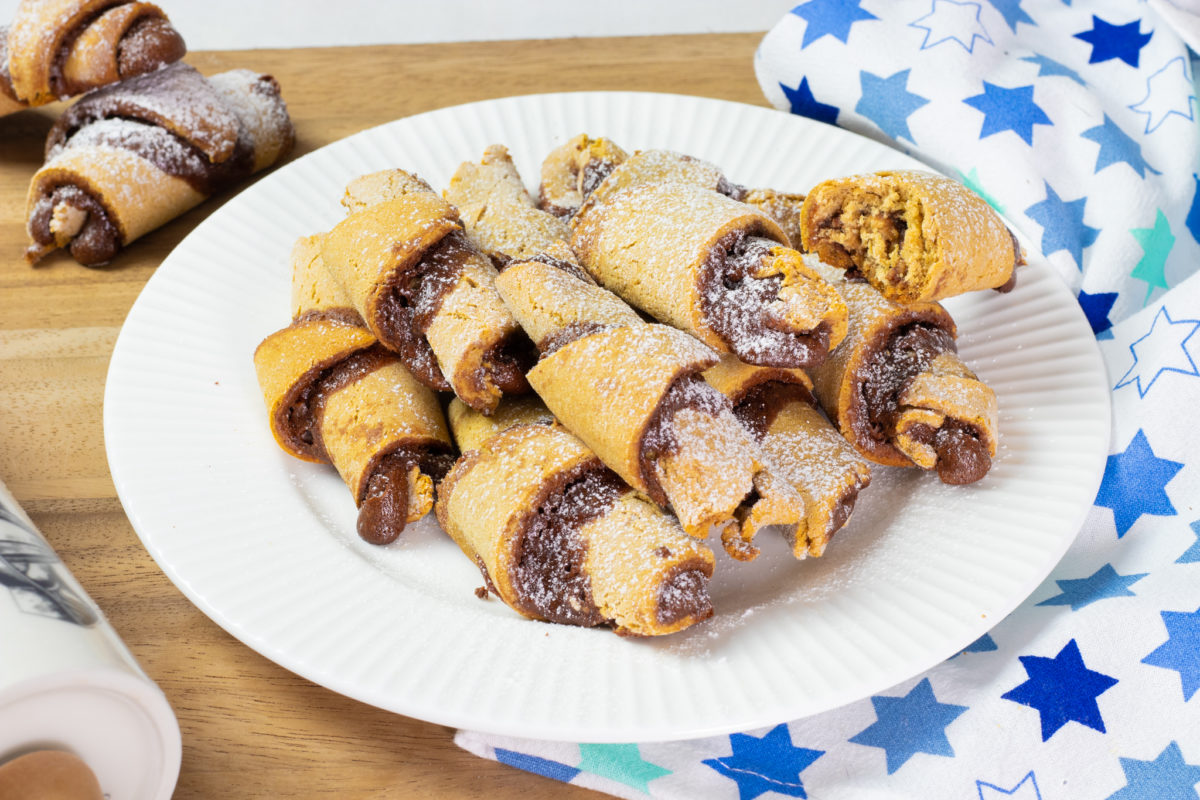 Even if you aren't Jewish, these recipes are seriously delicious and comforting, and awesome to enjoy any time of the year. Most of the recipes are gluten-free, and if not, they can easily be made gluten-free with only ONE modification.
Alright, let's make some Oil-free Spinach Artichoke Latkes!
As always, let me know if you make this recipe and please tag #Zardyplants and mention me @Zardyplants so I can see your beautiful recreations! If you tag me on IG, I will share your post in my stories :)
<3 Liz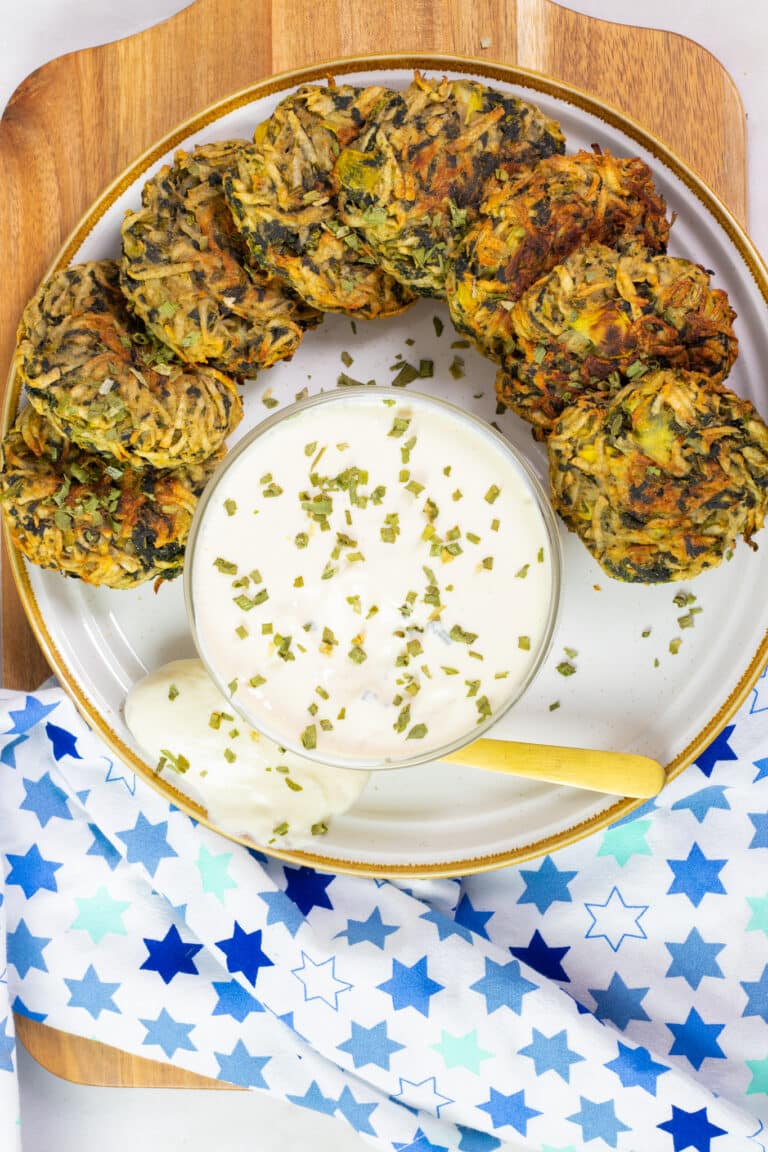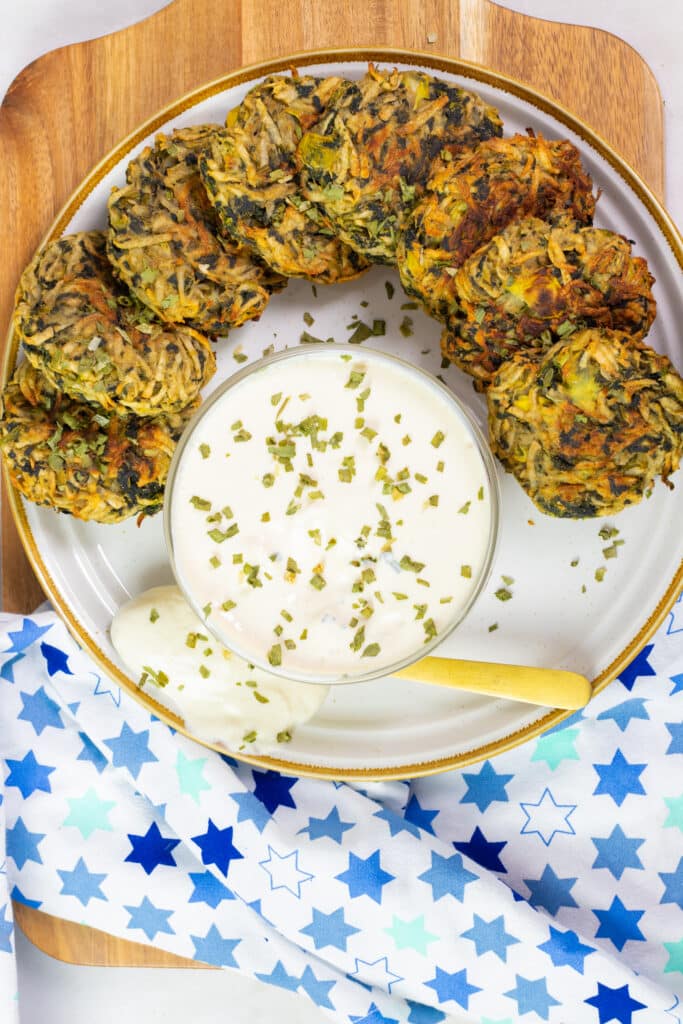 Follow me on Social Media!
Print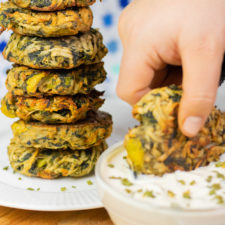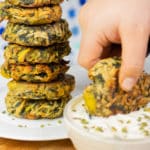 Oil-free Spinach Artichoke Latkes
---
Author:

Prep Time:

20

Cook Time:

55

Total Time:

1 hour 15 minutes

Yield:

14

-

16

latkes

1

x
Description
It's Chanukah (or Hanukkah) soon and so I'm happy it's time for latkes, or potato pancakes. My Oil-free Spinach Artichoke Latkes are plant-based and tasty!
Vegan, Gluten-free, Oil-free, Grain-free, Soy-free, Nut-free
---
Scale
Ingredients
3

lbs Russet potatoes, peeled and coarsely shredded

1.5 cups

canned/jarred artichoke hearts in brine/water

16 oz

frozen chopped spinach, defrosted, drained, excess water pressed out

1 cup

garbanzo bean flour

2 tsp

onion powder

2 tsp

garlic powder

2 tbsp

dried chives

1 tsp

pink Himalayan salt (or a little less table salt)

3 tbsp

ground flaxseed +

9 tbsp

water
---
Instructions
Pre-heat your oven to 400° F (205° C). Defrost your spinach, drain it, and squeeze out the extra water. Set aside for now.
Mix the ground flaxseed and water in a small bowl put in the fridge to gel.
Wash, peel, and grate your potatoes.
Squeeze excess water out of potatoes with a clean kitchen towel. Get out as much water as you can. Also dry out your artichoke hearts.
Add the shredded potatoes, artichoke hearts, chickpea flour, and spices to a bowl and mix well with clean hands.
Next add your flaxseed mixture and again mix well with hands. Then stir though the spinach, shredding it with your fingers as you go.
Form patties with your hands, making into a ball and flattening until about half an inch thick. Use approximately half a cup of the potato mixture per latke. Place each latke on a silicone mat or parchment lined baking tray, about half an inch apart. Repeat until of the mixture is used up.
Bake latkes for 25 to 28 minutes. Carefully flip at this point. Bake again until top is lightly browned, about 20 - 24 more minutes.
Top with parsley and serve with tofu based sour cream (internal link) and applesauce (link to book).
Refrigerate leftovers in an airtight container up to 5 days. Suggest reheating in the oven or a toaster oven to retain crispy texture.
---
Category:

Snack, Jewish

Cuisine:

Vegan, Plant-based, Latkes
Keywords: Vegan, gluten-free, soy-free, nut-free, oil-free, Latke, Hanukkah
---
---
Other Recent Content!