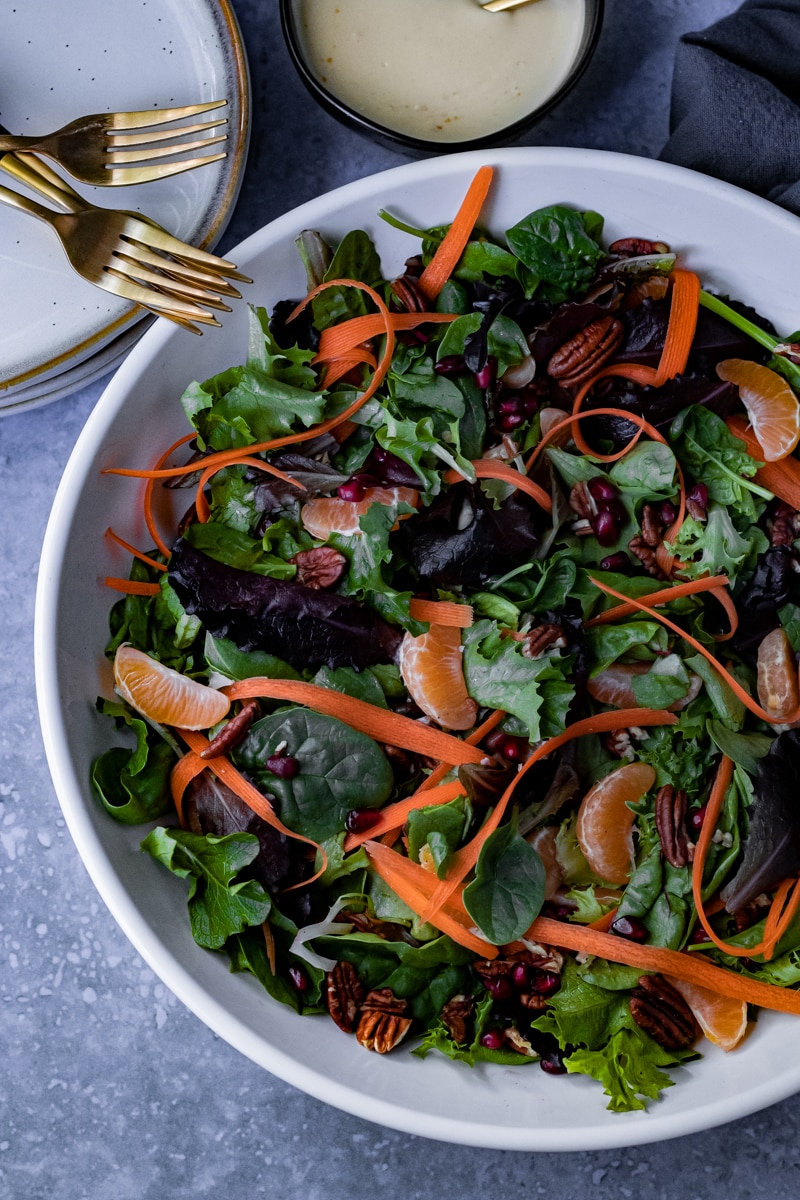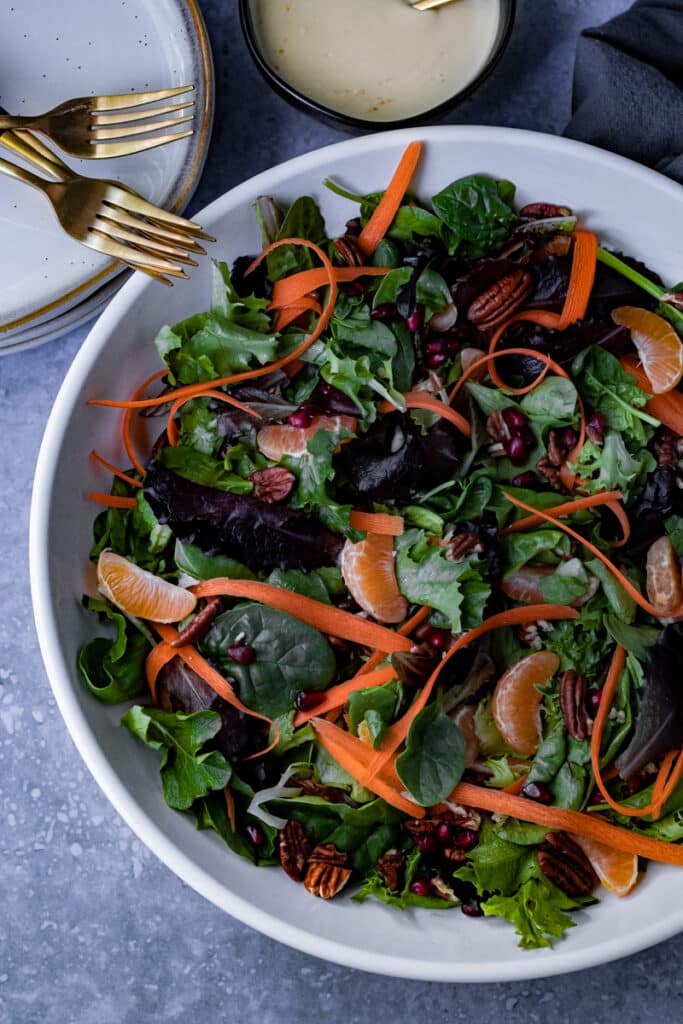 I have a fantastic salad recipe for you today featuring pomegranates, oranges, pecans, carrots and baby greens. My Pomegranate Orange Pecan Thanksgiving Salad is perfect for any meal or on the side of any meal for fall (or autumn, some say), but it is especially perfect for Thanksgiving, complementing any array of traditional or nontraditional holiday dishes.
Fall is my favorite season, but not just because of the beautiful leaves and sweater weather. I'm not a PSL (Pumpkin Spice Latte) kind of girl, but I am a Pomegranate girl, and fall is the one time of year I can buy them without paying an arm and a leg.

How to Open a Pomegranate
Pomegranates are pretty complicated to open. You have to figure out how to break into its high security system and separate it from its walls without injuring the delicate, flavorful seeds. Not to mention, you have all that membrane stuff to remove before you can finally enjoy the sour-sweetness of the fruit. They're seriously the OG sourpatch kid. *crickets*
I have a small hack for you to help with this–and it's not buying the seeds separately. You can certainly do that to save time, but it's rather expensive. No, my hack involves a knife, a large bowl, and some water.
Fill the bowl with water and place on the counter or table. I like to sit at the table and do this while I watch a YouTube video. Wash your pomegranate and grab a sharp knife, but it doesn't need to be too large.
Notice how the pomegranate has large angular ridges around it? Cut vertically (from stem to root) along each of those ridges. You only need to press in your knife about ¼-inch to pierce through the thick pomegranate skin.
Place your pomegranate in the bowl of water and gently use the tip of your knife to separate out each wedge. Next use your fingers to rub the pomegranate seeds out of their membrane. The water acts as a lubricant to separate the seeds from their protective shells and to minimize bursting.
As you separate the seeds, they will sink to the bottom of the bowl, and the white membrane parts will float to the top, enabling you to easily remove them. When you're done, simply strain out the water and you're left with delicious, ready-to-eat pomegranate seeds.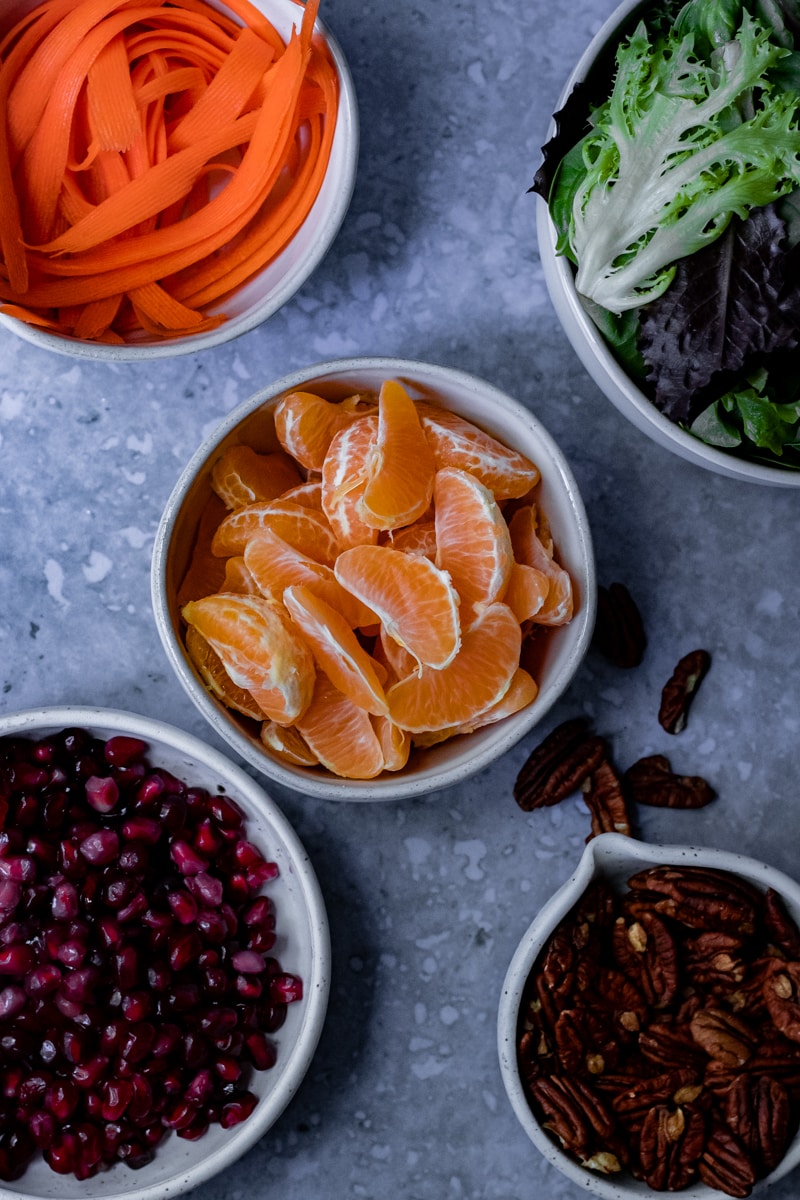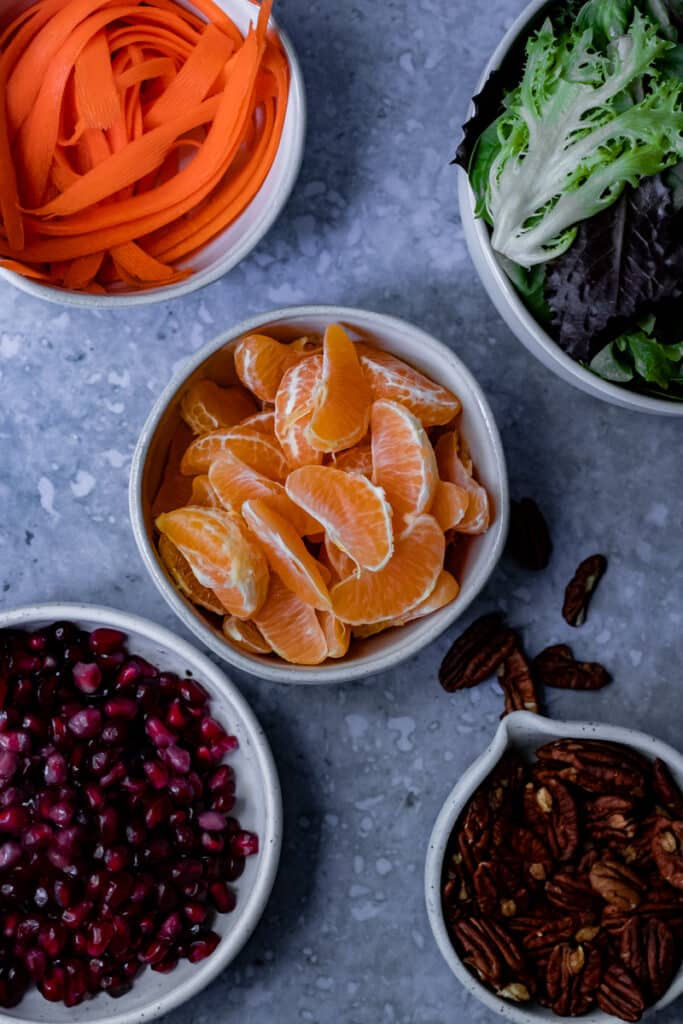 Other Things in This Salad
The rest of the salad is pretty simple. I chose baby greens for the salad because they're light, nutritious, easy to chew, and mild in flavor, but feel free to sub any greens you like. If you want to use a heartier green like kale, I would massage the dressing into it before mixing in the other ingredients.
Orange chunks really brighten the salad with their citrus magic. I use clementines because they're full of flavor, super cute, and easy to peel. I use about 4 clementines for this salad but feel free to adjust as you see fit.
Pecans lend themselves very well to this salad because they're crunchy and lightly sweet. I buy plain pecan halves and roughly chop them before throwing them in the salad.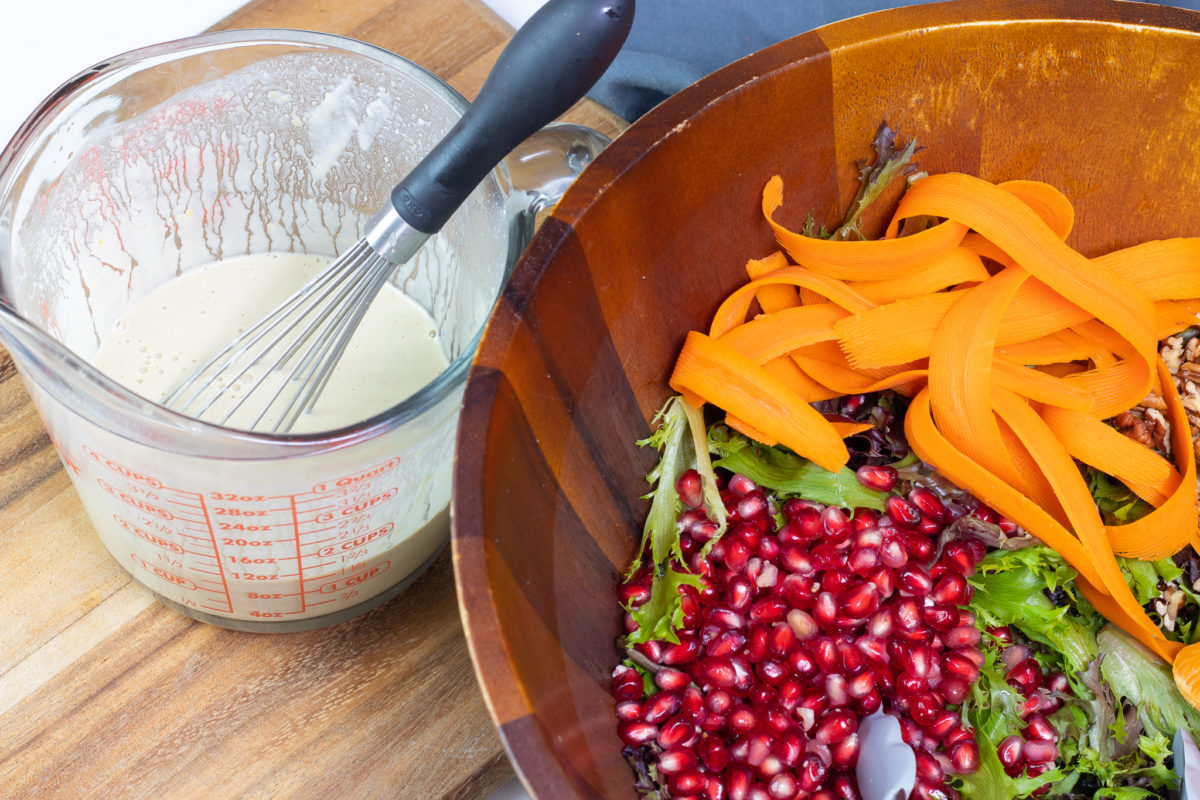 Carrot ribbons are beautiful, add a light crunchy texture, and another hint of sweetness to the salad. I make these ribbons by dragging my amazing vegetable peeler along the sides of the carrot, making wide, flat shavings to toss with the rest of the salad.
The dressing is incredibly delicious, but very simple and easy to make. The main ingredient is tahini–my other husband (sorry Mr. Zardyplants). It's smooth, creamy, and has an indescribable, addictive flavor. The light touch of mustard really makes this dressing. I used spicy brown mustard, because I like a little kick, but feel free to sub dijon for a less intense flavor. You can also play with the amount.
The other ingredients in the dressing really round it out. A little maple syrup sweetens it just enough, while the white wine vinegar and lemon juice brighten it and complement the citrus from the oranges.
The only other ingredient is water, and you want to add just enough to make it the consistency you prefer. I like a pancake batter consistency to make this salad super enjoyable to eat.
You could serve this salad up in two bowls for a lightly refreshing meal, or as a side to any dish such as my lentil quinoa veggie loaf.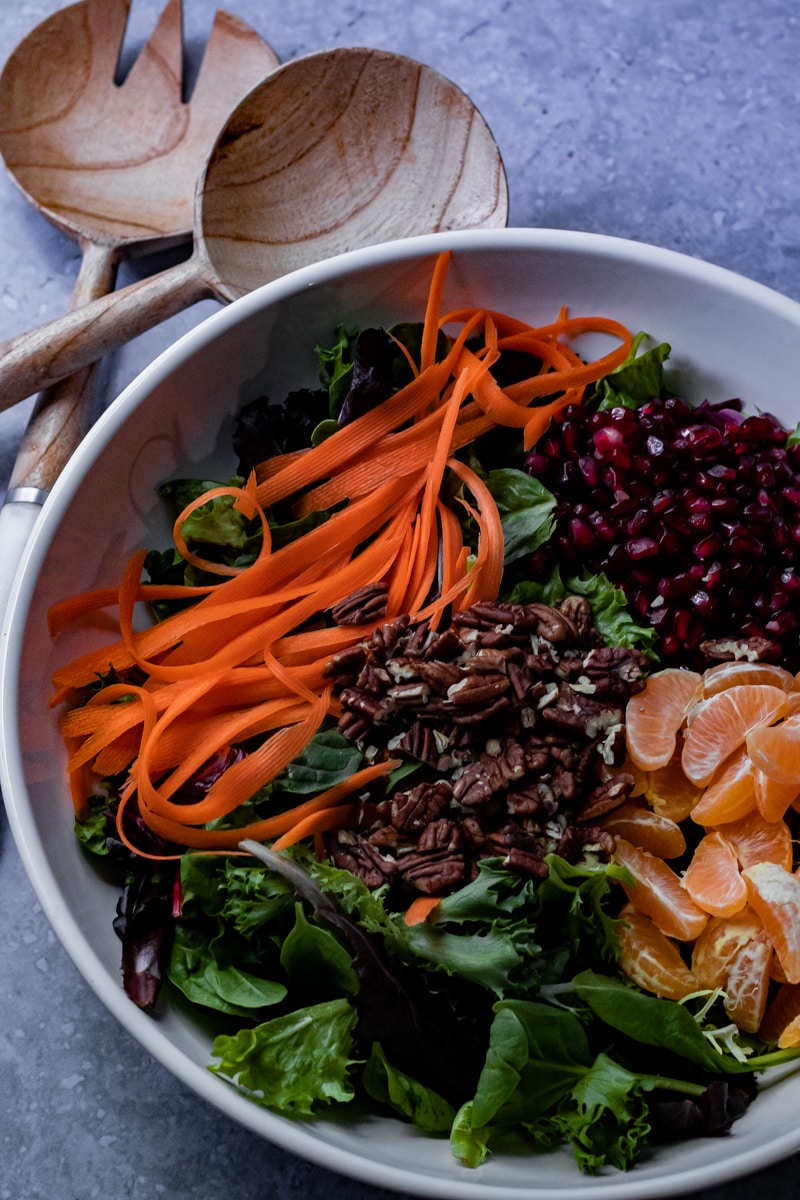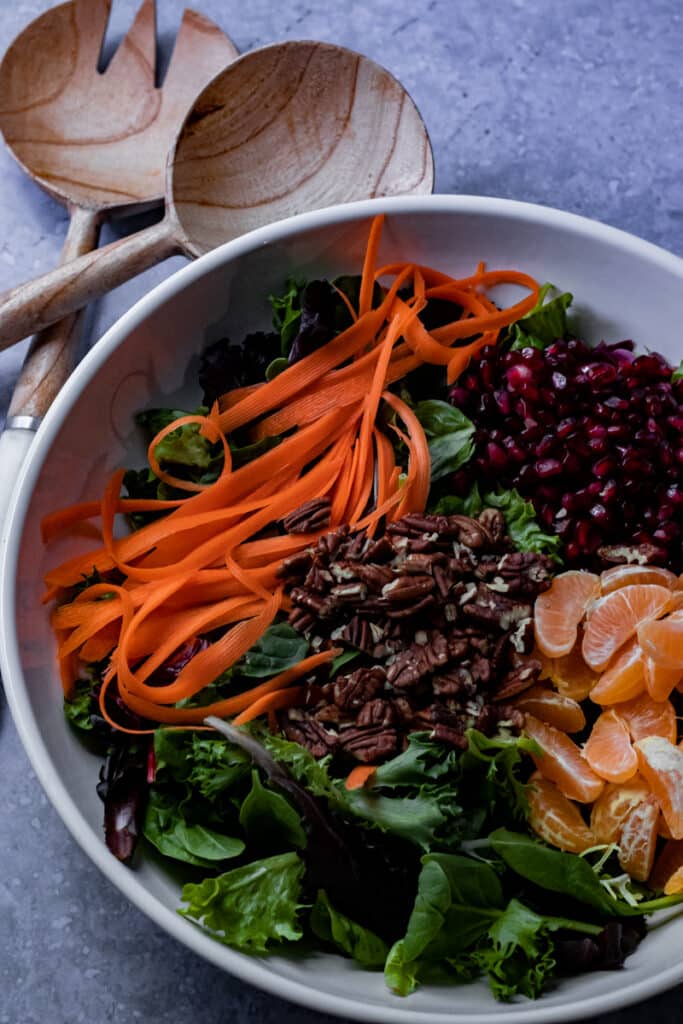 As always, let me know if you make this recipe and please tag #Zardyplants and mention me @Zardyplants so I can see your beautiful recreations! If you tag me on IG, I will share your post in my stories :)
<3 Liz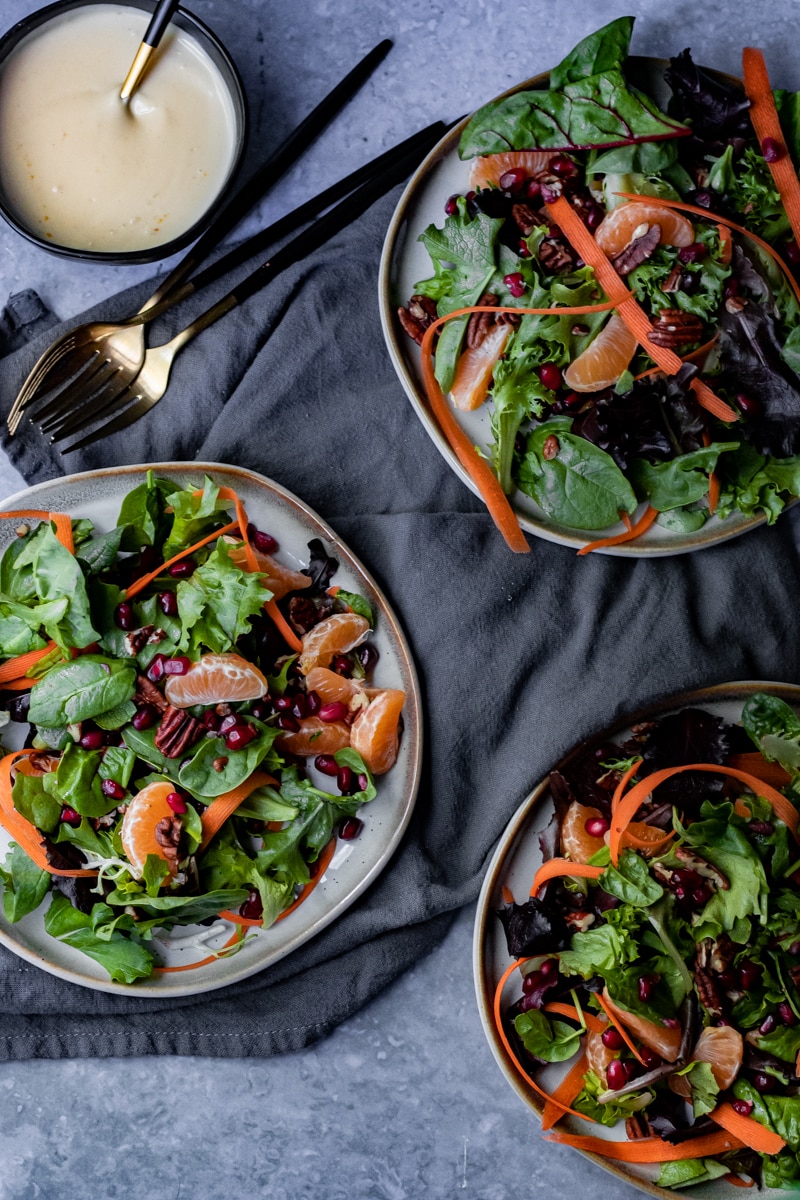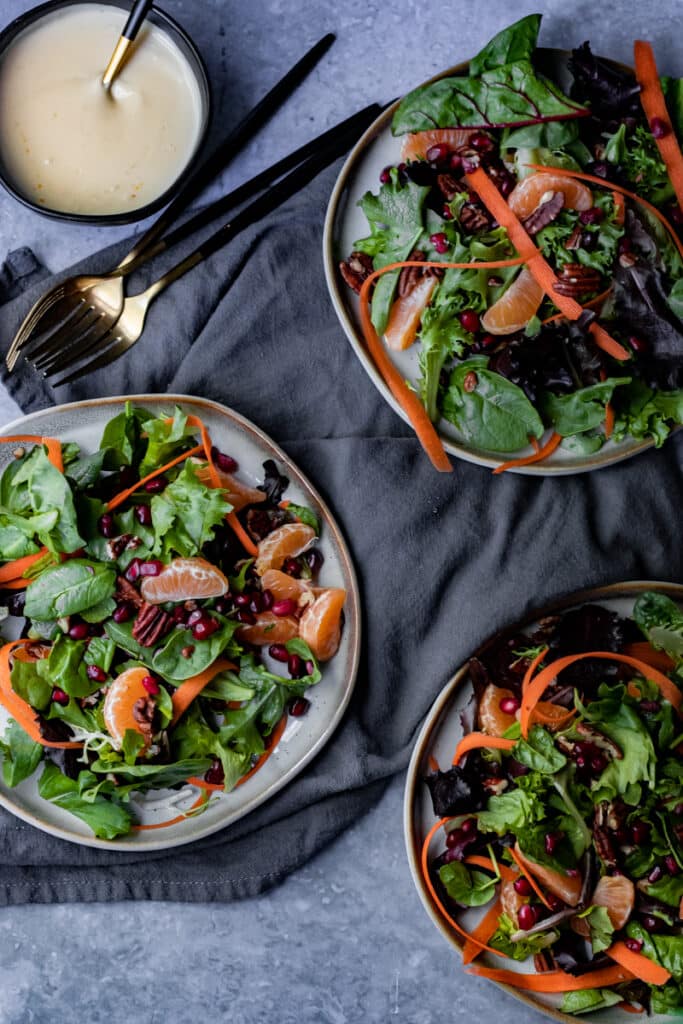 Follow me on Social Media!
Print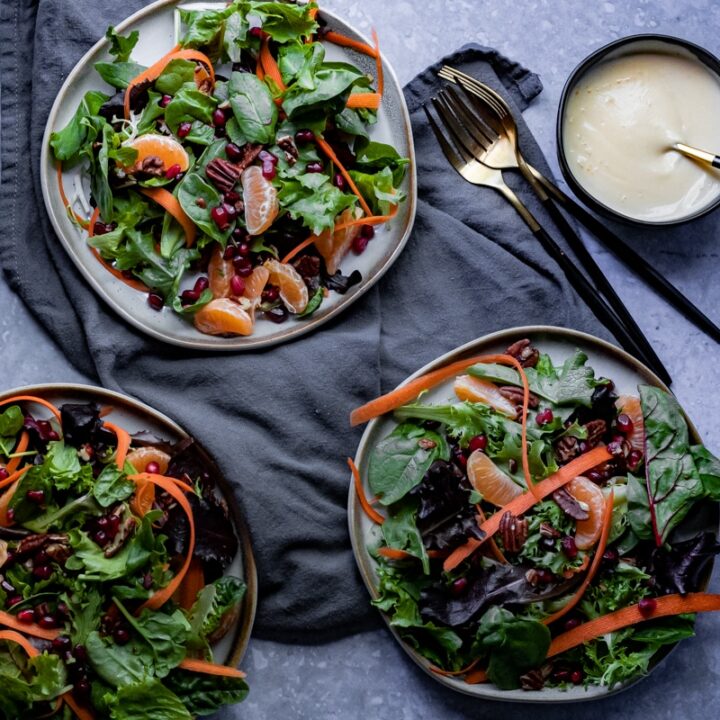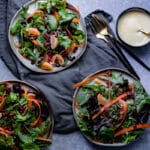 Pomegranate Orange Pecan Thanksgiving Salad
---
Author:

Liz Madsen

Total Time:

30 minutes

Yield:

6

generous side salads

1

x
Description
Need a healthy alternative for Thanksgiving? My Pomegranate Orange Pecan Thanksgiving Salad will give you the taste of the holidays with none of the guilt! Vegan,  Oil-free, Gluten free
---
Salad
5 oz

baby greens

1

medium pomegranate

4

clementines (or roughly 2 cups chopped oranges)

2

medium carrots, peeled into ribbons

½ cup

pecans, roughly chopped
Dressing
6 tablespoons

tahini

2 teaspoons

white wine vinegar

1 tablespoon

maple syrup
Juice of

1

lemon

½

to

1

teaspoon spicy brown mustard, to taste (or dijon mustard)
Water to thin
---
Instructions
Separate seeds from pomegranate, using above method if you like. Discard pomegranate shell (compost if you're able).
Peel your carrots into ribbons. Save leftover parts of carrot for snacking, broth-making, or compost if you're able.
Toss together greens, pomegranate seeds, oranges, carrot ribbons, and pecans.
Mix the dressing with a whisk, adding water as needed until desired consistency. I personally like it to resemble pancake batter.
Pour dressing over salad and serve immediately. If making ahead, reserve the dressing until ready to serve.
Cook Time:

30 minutes

Category:

Salad, Entree

Cuisine:

Vegan, Salad
Nutrition
Serving Size:

1 salad

Calories:

219
Keywords: vegan, plant-based, oil-free, gluten free, vegan salad
---
---
Other Recent Content!