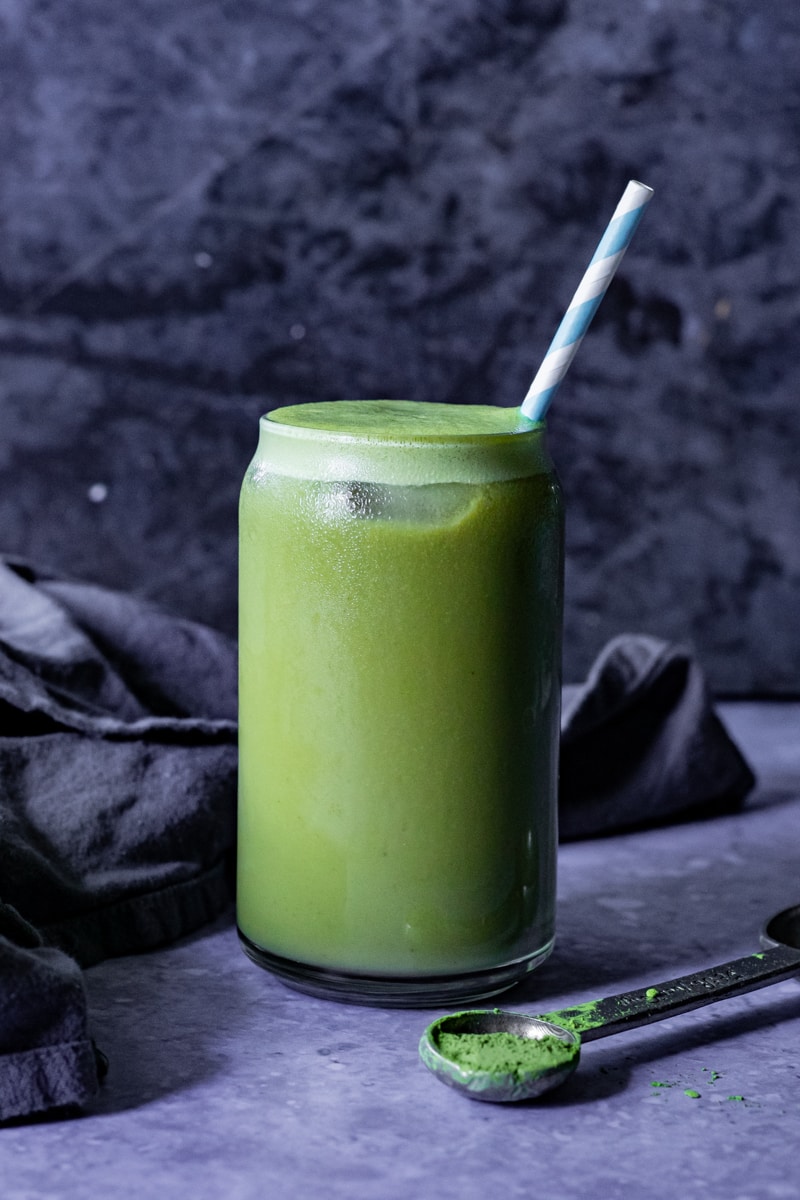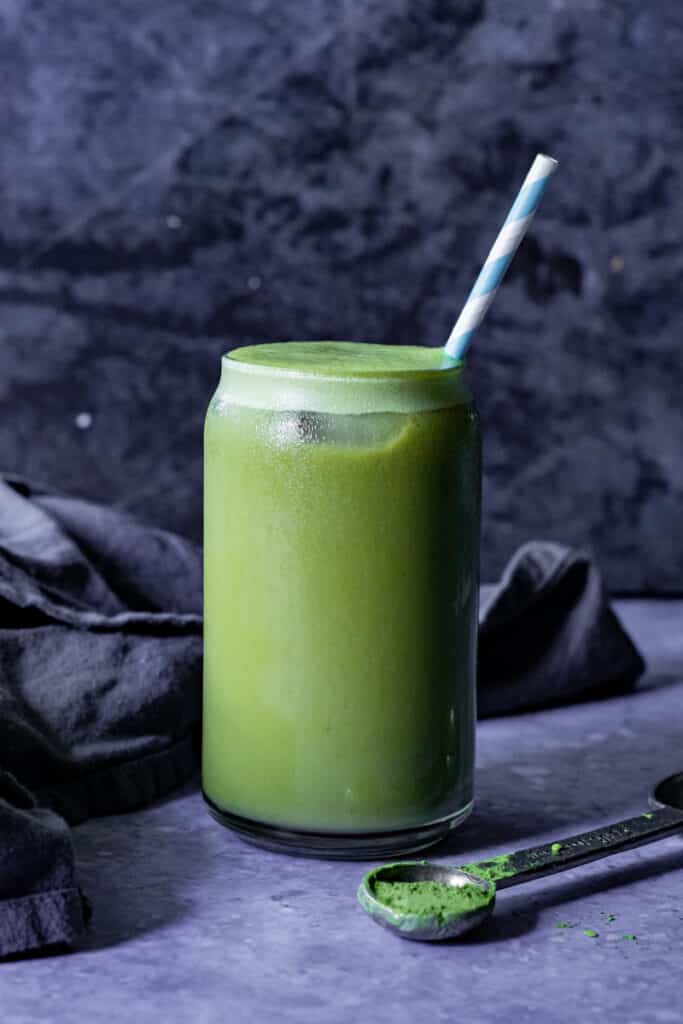 Are you a coffee or a tea person? I'm personally a tea person and my husband prefers coffee. However, we are both obsessed with my Vegan Iced Matcha Green Tea Latte.
The matcha I use currently is Akira Organic, and I'm obsessed with it. I've tried many, and I really love this one.
Every morning I make myself either a cold or hot matcha drink, but I reach for the cold one much more often--even in winter--because I find the taste incredibly appealing. I'm also way too lazy to heat my plant milk.
As you will see in the video I included, when I take this to work in the morning (if you didn't know, I hold a grant writer / communications position at a nonprofit for people with disabilities) I pour it straight into my Contigo Autoseal Leak Proof Travel Mug.
This post is not sponsored by Contigo, I just truly love their product. I have 2 of these mugs, haven given them as gifts at least a half dozen times, and -- come on -- they have 33,000 ratings on Amazon.
On the weekends I like to enjoy them in my fancy milkshake glass with a reusable straw. If that makes me a hipster than so be it.
More on Matcha
Matcha comes from the green tea leaf, but the leaves are a little bit different from the kind you'd find in Sencha, the more common green tea leaf that you would find in tea bags.
The green tea plants used to make matcha are grown for a longer time in the shade, and after harvesting their stems and veins are removed, and the remainder of the leaves are stone ground into a fine green powder.
Matcha tea is higher in caffeine than Sencha green tea leaves. The flavor is different as well.
Matcha tea, especially higher grade matcha known as ceremonial grade (as opposed to culinary, more on this shortly) when heated or blended, even in water, the tea is a creamy, smooth texture.
Ceremonial grade v.s Culinary grade -- what's the difference and is it really worth it to pay more for ceremonial grade if I don't plan on hosting a Japanese Tea Ceremony (side note: I actually would love to attend one of these)?
Well, ceremonial grade is more expensive as it's usually designated high enough quality to be used in Japanese Tea Ceremonies.
Culinary grade can be somewhat bitter if being used just as tea. It is commonly used in baked goods and other cooking--I'm looking forward to making some treat recipes for the blog using culinary matcha.
However, there is an in-between grade that is both delicious and reasonable in price. It's known as premium grade.
What sort of Matcha Powder am I Looking For?
If you are trying matcha for the first time, I'd recommend a premium grade powder to see how you like it. You can always upgrade later.
Traditionally, matcha is made with a bit of hot water and it is whisked in a small bowl with a special bamboo whisk, then added to more hot water.
I personally prefer, and many people do, to make my matcha with nondairy milk. I also make my lattes in a pretty unconventional way, which we'll talk about next.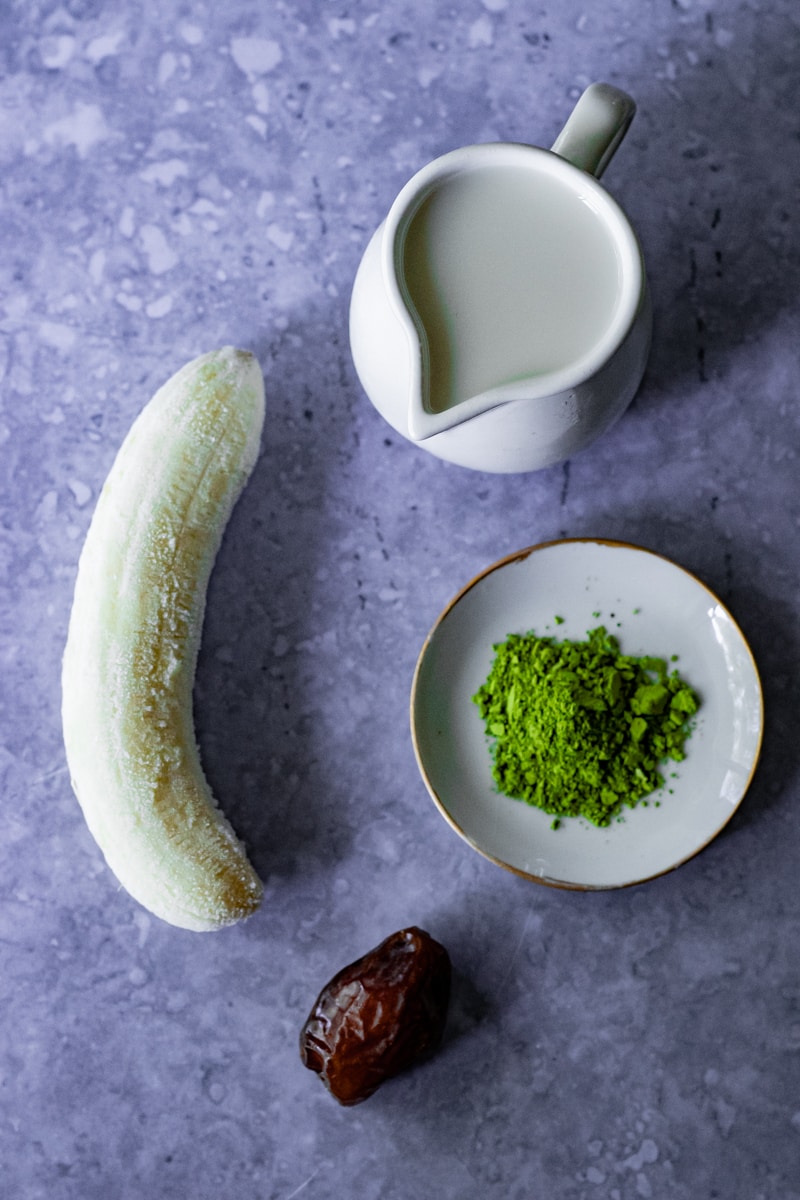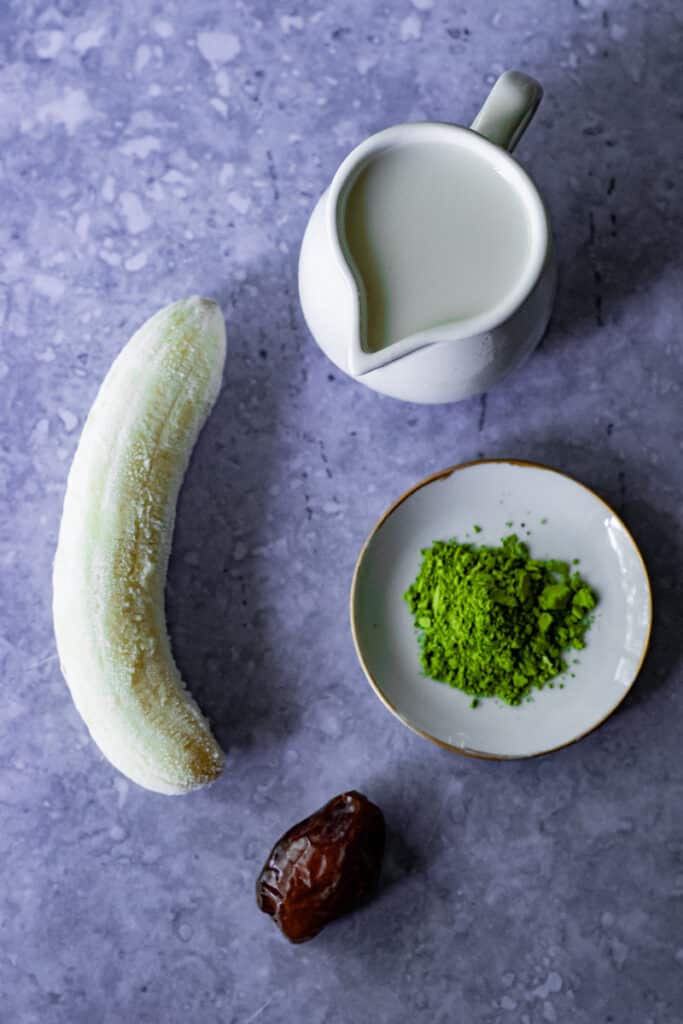 How to Make a Vegan Iced Matcha Latte
There are of course many ways to make an iced matcha latte, but this is how I make mine and I absolutely love it. I drink it almost every morning and find myself missing it if I don't, although that could be the caffeine withdrawal talking. ;)
I blend my matcha lattes in my Vitamix blender which you do not need to make the latte -- I used to make it even when I had a regular blender. The only thing is if you don't have a high powered blender you may need to soak your date in hot water before blending--or use another sweetener like maple syrup or agave.
So I like to put my matcha in first, that way when I put my other ingredients in it minimizes the risk of leaving some matcha powder on the sides of the container.
Then I add my nondairy milk, making sure to have the milk "grab" any stray bits of powder on the blender walls. Then I throw in the rest of the ingredients, including my PITTED date (please remember to rip your date open and pull out the pit. It doesn't taste very good and may hurt your blender).
Blend until smooth and creamy and serve in your favorite glass or thermos. The Contigo travel mug I mentioned earlier keeps my latte cold or hot for many hours.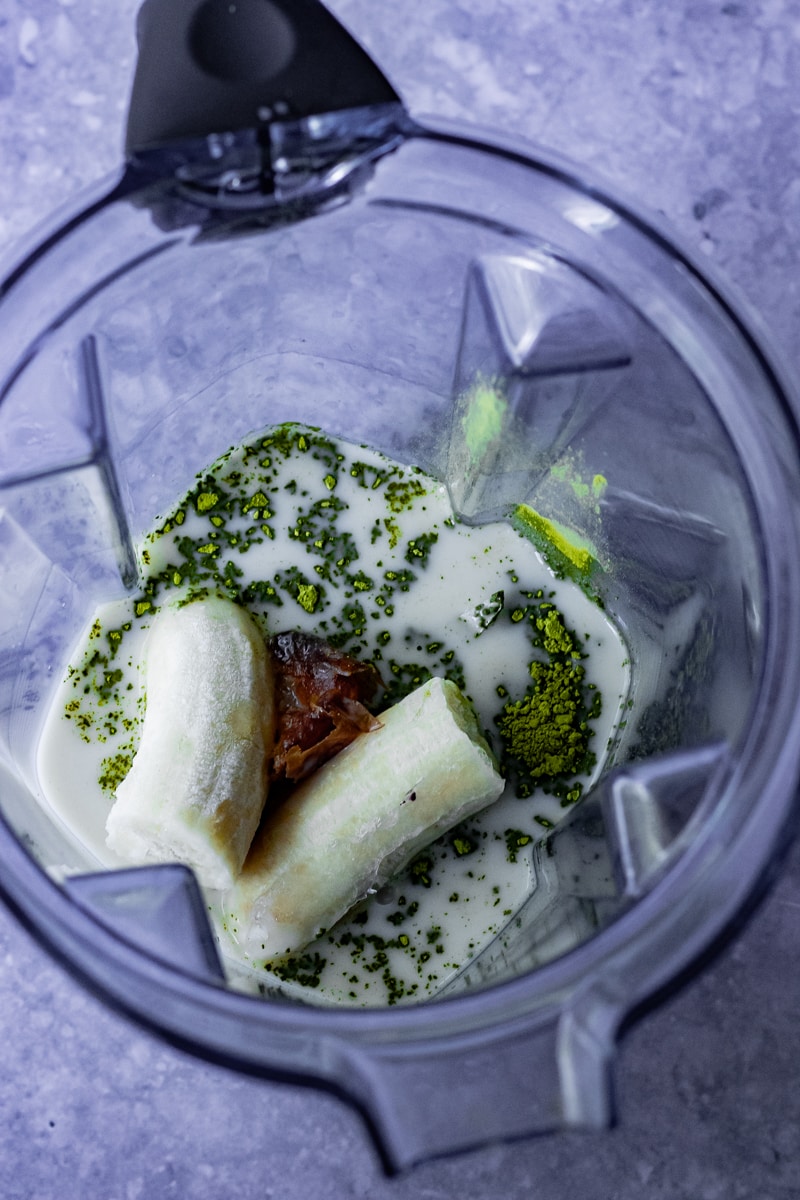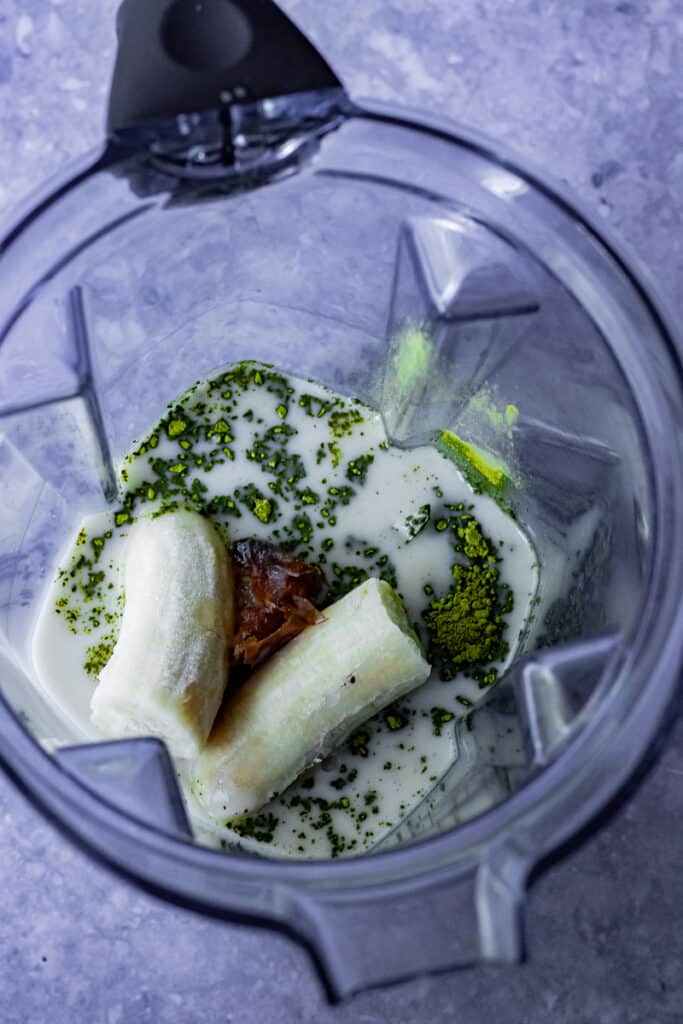 What You'll Need
So, of course you'll need some matcha. I put between ½ teaspoon and a full teaspoon. The more feel sleepy, the more I use. If you are new to matcha, start off with half a teaspoon.
For liquid, you can use water, but for a creamier, more latte-like drink, I highly recommend using some kind of nondairy milk.
My favorite nondairy milk by far for this drink is oat milk, one of the creamiest most-like-cow's-milk plant based milk options, in my opinion.
But I've also tried this with coconut milk, soy milk, and almond milk. All delicious. So use what you like. :)
In terms of sweeteners, I use a medjool date in this recipe. Unlike processed sweeteners, dates are packed with over 16 nutrients like potassium, B vitamins, calcium, magnesium, fiber, etc. As mentioned above, if you don't have a high powered blender, soak your pitted date in boiling water for around 10 minutes (and then drain it) before blending.
You can also use another unrefined sweetener like maple syrup. You can use a non-liquid sweetener as well like organic cane sugar.
Finally, my unconventional addition: frozen banana!
A short backstory: I don't have ice at home. I don't like ice in my drinks (even water) and the trays were just taking up a lot of room in my freezer (my refrigerator does have an ice maker but it's not hooked up to our water line so…).
And of course one day last summer I wanted a cold matcha latte. I threw a frozen banana in there to see what happened. The flavor turned out awesome!
What do the Bananas Taste like in this?
Let me note that you can taste the banana in it. So if you are a person that hates banana, don't use it. Freeze canned coconut milk in an ice cube tray instead and pop a couple of those in your latte.
But, the banana flavor is not overwhelming. Most of what I taste in this latte is the rich flavor of the matcha, the creaminess of the nondairy milk (the banana actually adds to the creaminess too), and the sweetness of the date.
The banana also adds to the sweetness a little bit, so you may try experimenting with the amounts if you find it too sweet.
And that's it! There's lots of other add-ins you could experiment with, such as:
Anything Else?
hemp seeds (even creamier!)
extracts like vanilla or coconut
cinnamon or nutmeg
other fruit
peanut butter
chocolate
a pinch of salt
I'd love to hear about it if you find a new flavor combination you like!
As always, I hope you love my Vegan Iced Matcha Latte recipe!
Let me know in the comments below if you make it, tag me @Zardyplants on Instagram so I can see your beautiful recreations! If you tag me on IG, I will share your post in my stories :)
Also, one quick request: if you love how this recipe looks or tastes, please leave me a 5-star rating and a nice comment–ratings help more people find my recipes which helps me keep providing them! Thank you!
<3 LIZ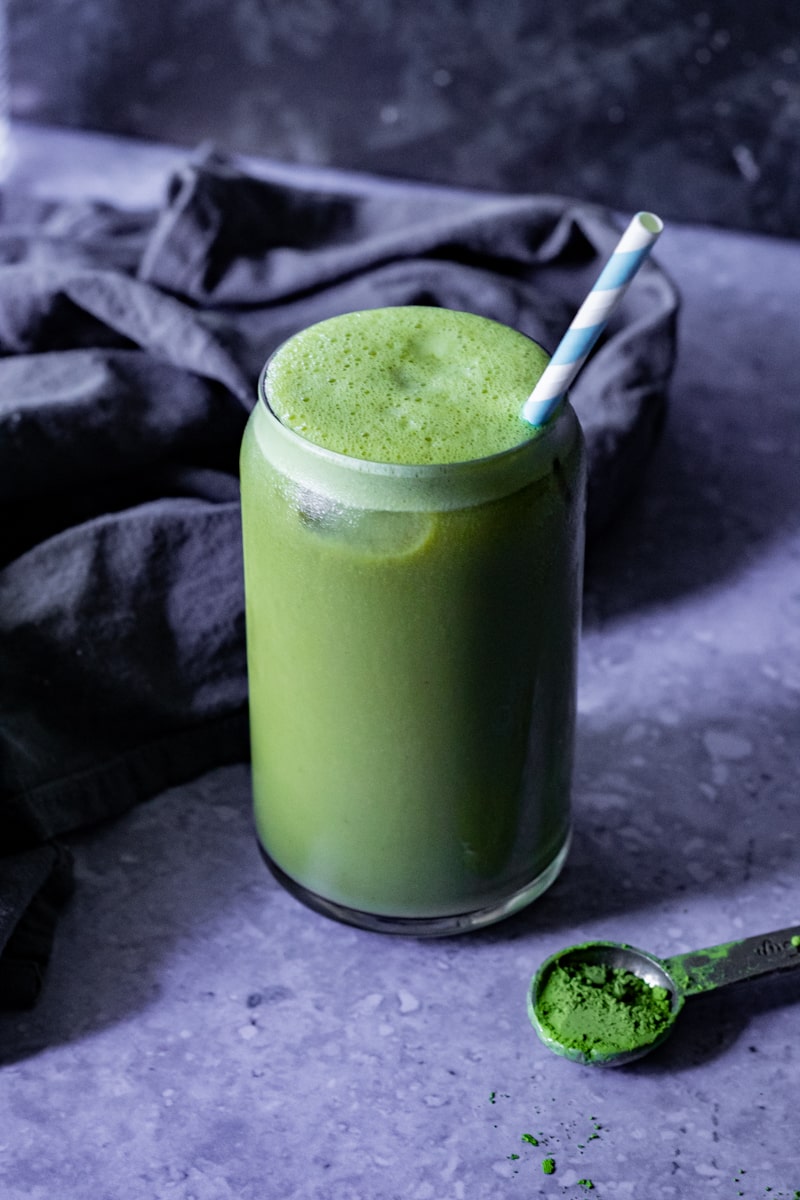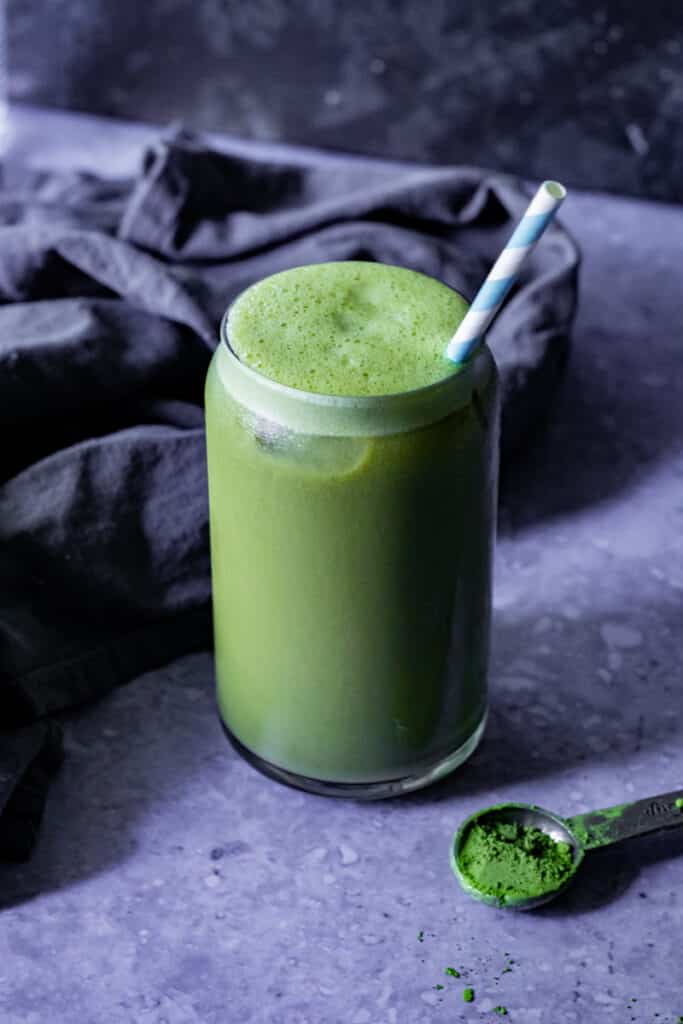 Follow me on Social Media!
Print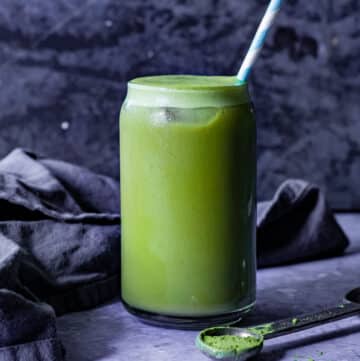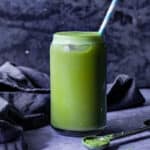 Vegan Iced Matcha Green Tea Latte
---
Author:

Liz Madsen

Total Time:

5 minutes

Yield:

1.5 cups

1

x
Description
Green tea deliciousness in 5 minutes! This recipe makes it taste like LIQUID ICE CREAM only way healthier of course. You'll only need 4 ingredients to make this delicious iced latte that rivals popular coffee shops for a tiny fraction of the price.
Vegan, Gluten-free, Oil-free, Soy-free, Nut-free
---
½

-

1

teaspoon matcha powder

1.5

cups

unsweetened nondairy milk

1

medjool date, pitted *see note*

1

frozen banana
---
Instructions
Break the banana into 2 or 3 pieces to make it easier on your blender.
Add everything to the blender pitcher, put on the lid, and blend on until creamy and smooth.
Serve up immediately or store in a travel meg.
Notes
If you do not have a high powered blender, I'd recommend soaking your date in boiling water (AFTER removing the pit) for 10 minutes, draining the liquid, then adding it to the blender.
Cook Time:

5 minutes

Category:

Drink

Method:

Blender

Cuisine:

Tea
Keywords: Vegan, Gluten-free, Oil-free, Soy-free, Nut-free, Matcha, Iced Latte
---
---