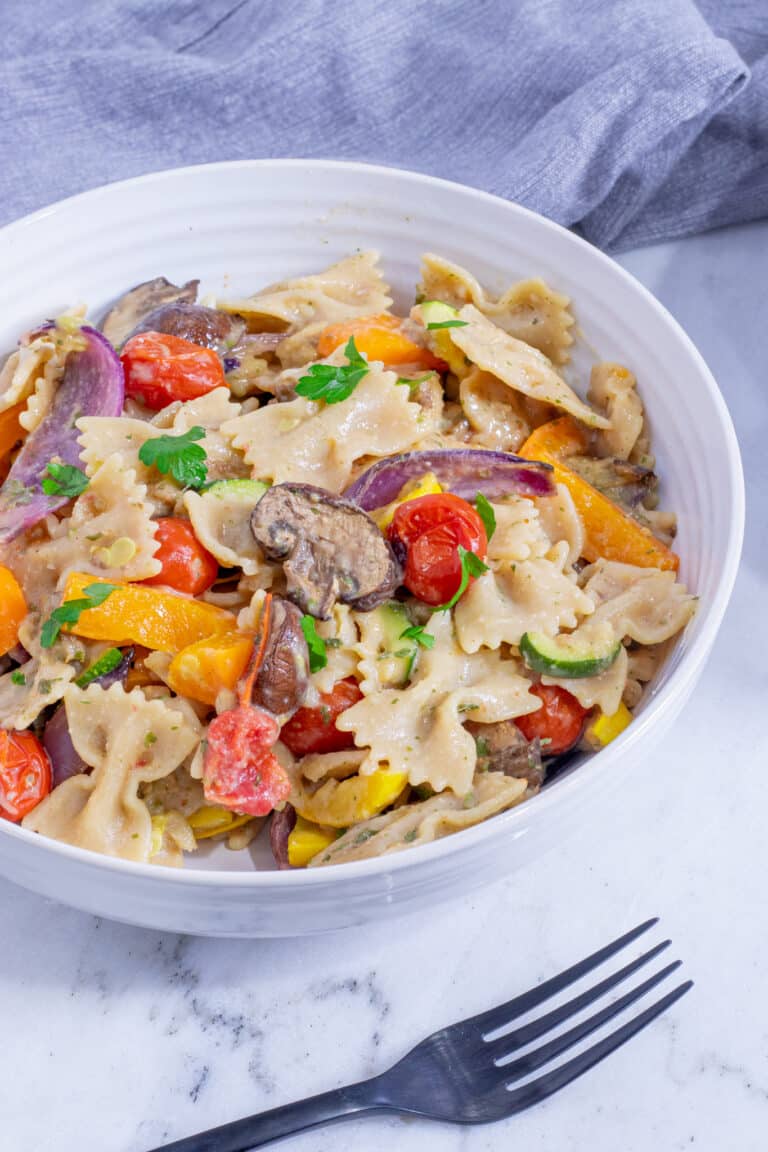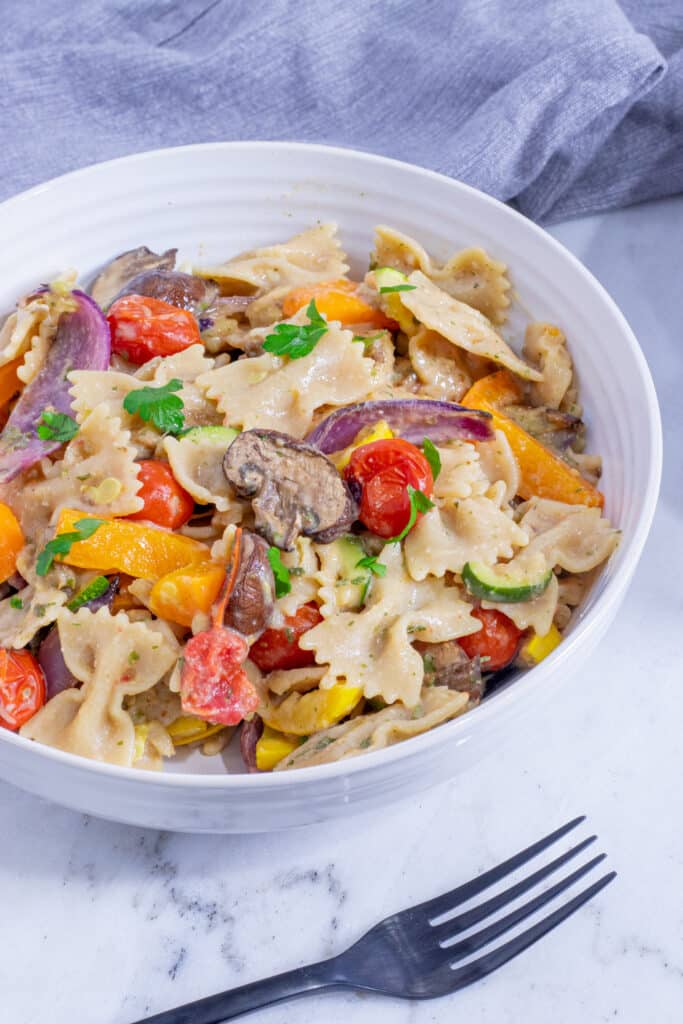 This roasted vegetable pasta is prepared with only a pot of water and a sheet pan in the oven. It comes together in just 30 minutes and is super cozy yet light and refreshing.
Surprise, surprise--I have another fun pasta dish for you today! One of my favorite dishes I've seen at potlucks and events is a big bowl of pasta with roasted vegetables like squash, peppers, and onions, yum!
Unfortunately, these dishes are usually drenched in oil, leaving me feeling somewhat lethargic and uncomfortable. Since I don't cook with oil at home, I decided to try my hand at recreating this dish my way.
And let me tell you, it's delicious!
I've used a rainbow of veggies and a bright, creamy yet light savory sauce featuring a few of my favorite sauce ingredients: tahini, lemon juice, and miso paste.
The best thing about this recipe is how quickly and easily it comes together. All you have to do is roast the veggies of your choice on a sheet pan and boil pasta on the stovetop.
Ready to talk about the ingredients? They're pretty simple and super customizable to your tastes!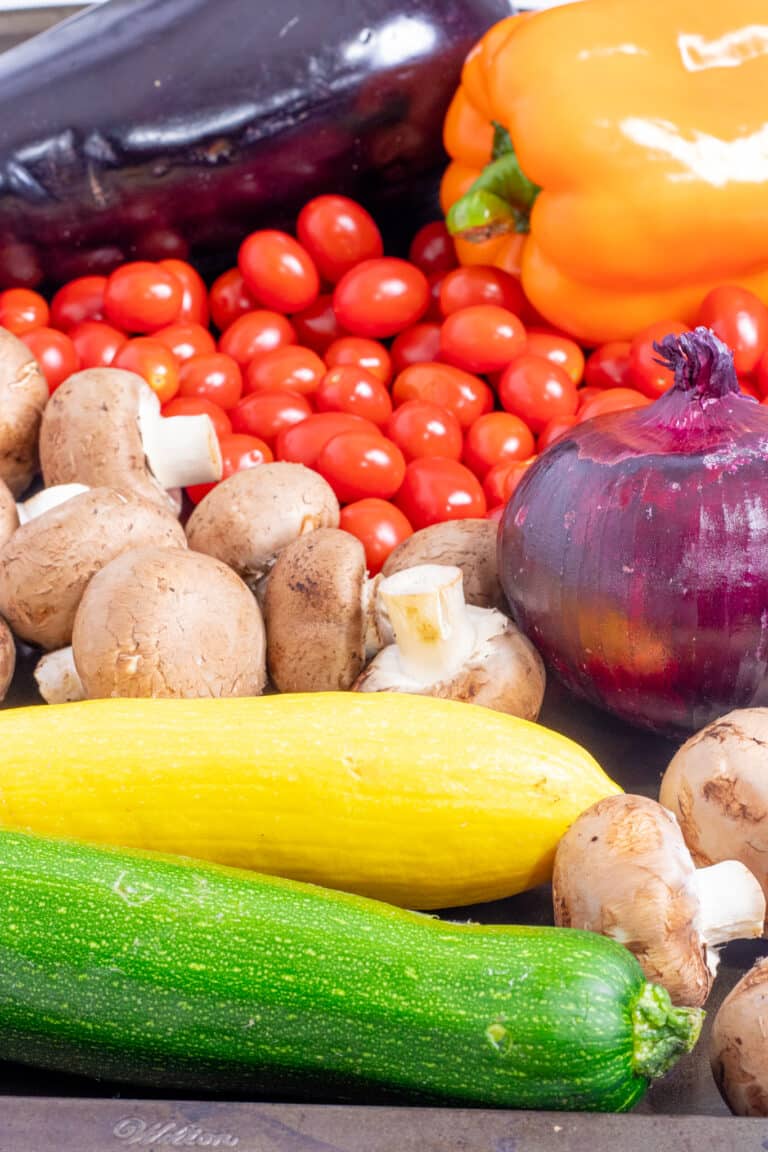 What You'll Need
Obviously this is a pasta dish so you'll need some pasta--but you can actually sub rice or any other grain too! To make this grain free, use a bean-based pasta like Banza or POW!
You could also serve the veggies with the sauce as a side dish to some other meal, like my lentil vegetable "meatloaf".
Next, probably also pretty obvious, you'll need some vegetables. I like a nice variety, so I included a rainbow of delicious vegetables:
Grape / Cherry Tomatoes
Orange Bell Peppers
Yellow Squash
Zucchini
Eggplant
Red Onion
Mushrooms (brown is part of the food rainbow, at least, lol)
You could also experiment with other veggies like broccoli, cauliflower, asparagus, brussels sprouts, garlic, carrots (I would shred these to reduce cooking time), etc.
As mentioned, you can use pretty much any veggie you like, just keep in mind cook time (harder veggies like carrots and beets take longer to cook so try cutting them smaller).
Let's Get Saucy
For the sauce, I mixed together a few of my favorite sauce ingredients--I try to always have the things I like such as tahini, miso paste, mustard, maple syrup, spices, and fresh citrus on hand, knowing I can always mix them into a delicious dressing for pasta, salads, and more.
This sauce features several of those ingredients--let's talk about a few of them.
Tahini, my all-time favorite seed butter is a fantastic alternative to cashews which can be expensive. Tahini is made from ground sesame seeds. It can be hard to find a tahini you like (some of them can be bitter), but my favorite is the Whole 365 Tahini.
Miso paste is traditionally made from fermented soy beans. It's salty, tangy, and full of probiotics! It also has a really great savory umami flavor. For this recipe, use a mild miso like yellow or white.
If you can't eat soy, look for Chickpea Miso Paste, made from, well, chickpeas instead of soybeans. I've found it online and at local health food stores.
Spicy mustard: there's just a tiny little half teaspoon of this in the whole dish, but it makes a difference with a nice little kick. If you don't like spicy, use a different mustard like Dijon--and if you don't like mustard at all, feel free to leave it out but I recommend trying it!
Lemon juice--kinda goes without saying, but this citrus really brightens up the dish. You could also try it with lime or orange.
Maple Syrup--I added a teaspoon of maple syrup to add a hint of sweetness to the sauce. Leave it out if you're avoiding sugar. You could also leave out the lemon and add apple cider vinegar for a natural sweetness.
Spices and herbs like garlic powder and parsley are great in this recipe, and feel free to play around with it and add what you like.
Finally, I recommend a spray bottle of water if you are avoiding oil--we'll talk about that shortly.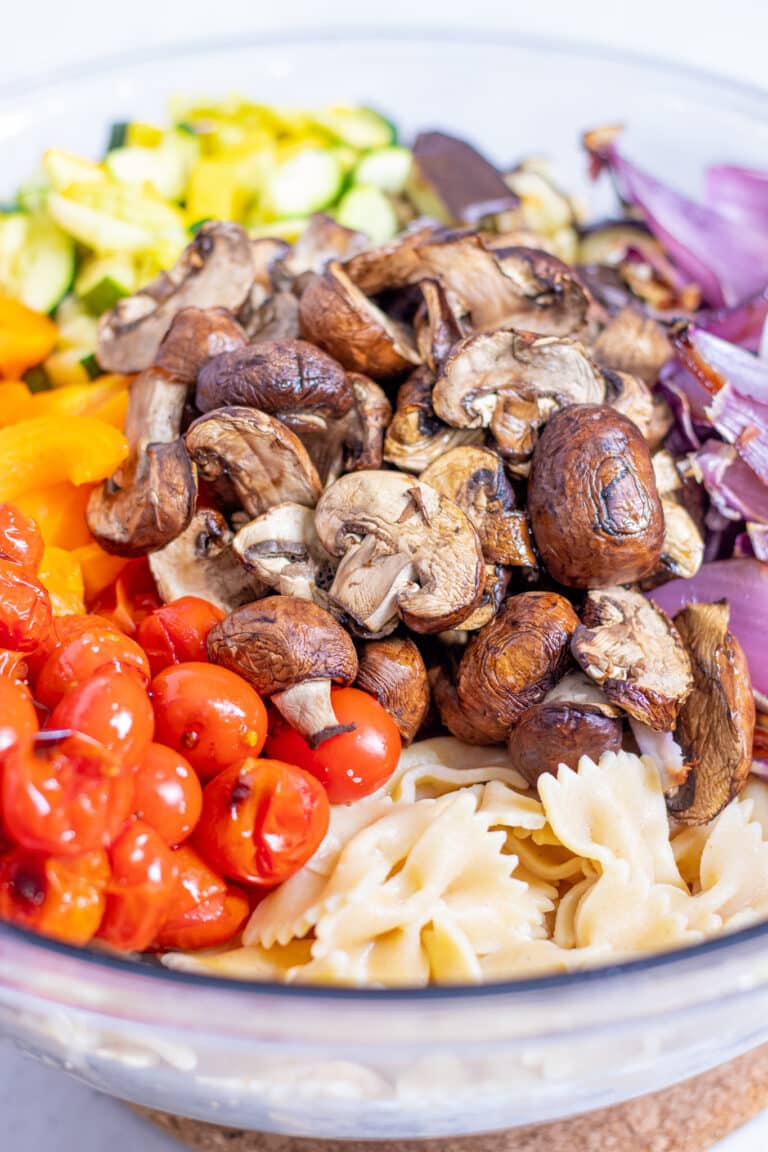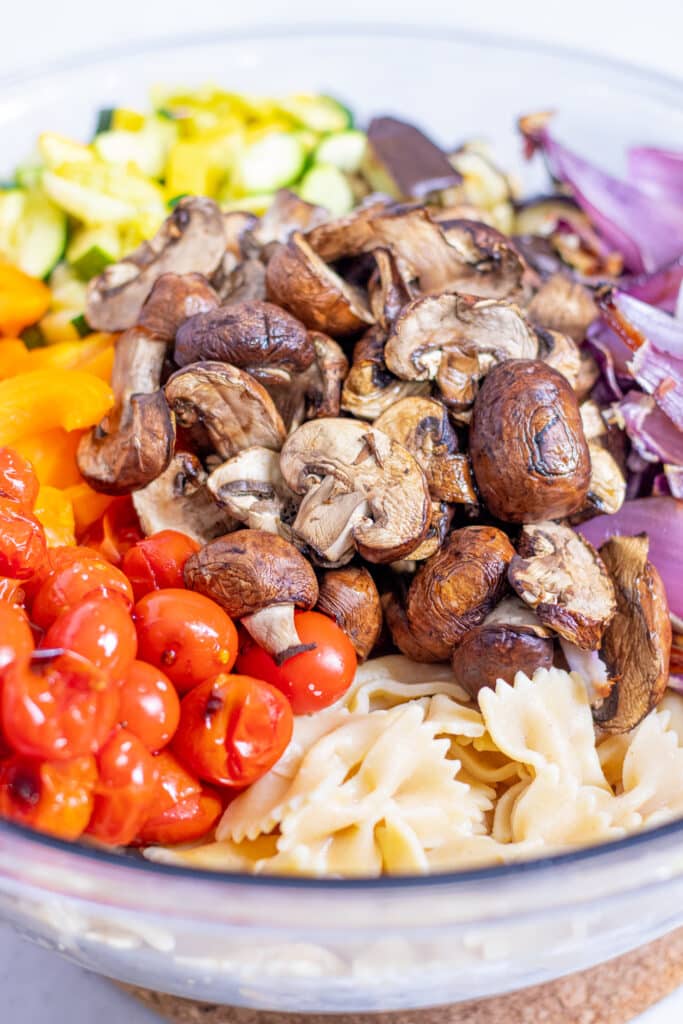 How To Make the Pasta and Veggies
Okay, that's a bit of a misnomer. You know I'm going to tell you to follow the package directions on your pasta because every pasta is a little different!
But you're going to roast your veggies on a silicone mat (HIGHLY recommended) sheet pan. You can use parchment paper, but the veggies caramelize WAY better on a silicone mat in my opinion, and you'll save money by not having to purchase parchment all the time.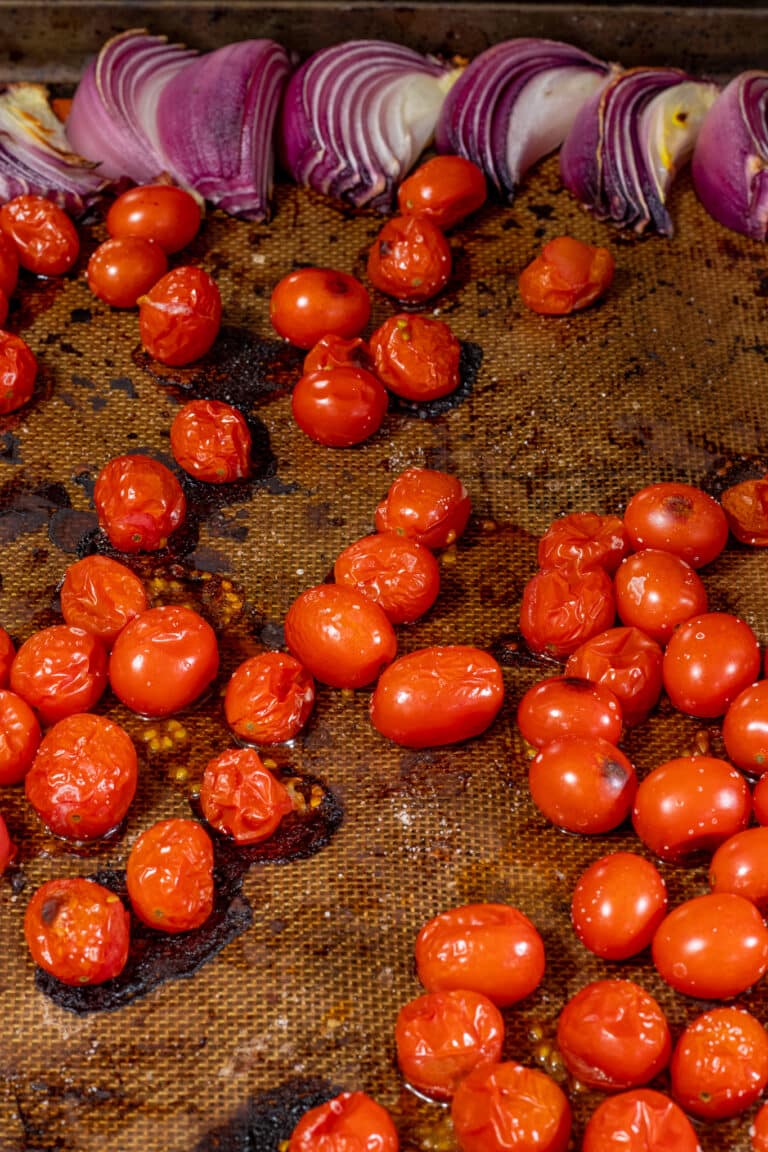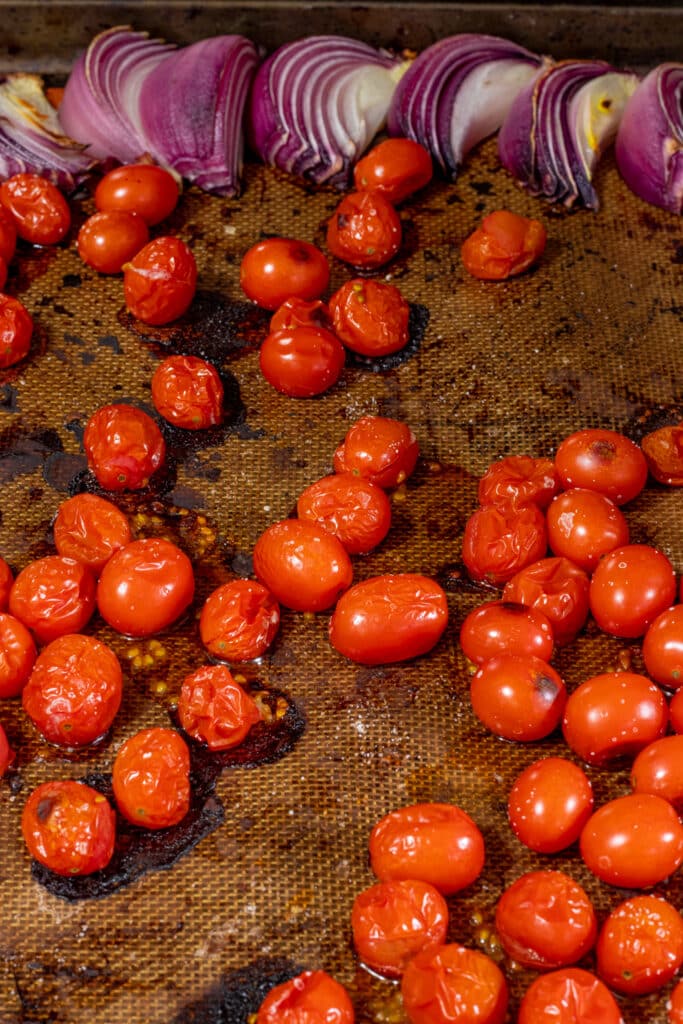 I used two half sheet pans because the eggplant, red onion, and mushrooms needed a little bit longer in the oven than the other veggies.
Also, part-way through the cooking process I removed the squash from the other pan because I like it to be not too well done and I added the tomatoes so that they'd start to blister but not pop.
It's really a matter of personal preference--after learning to roast veggies without oil you'll learn more about what you like and can adjust accordingly.
Roasting Veggies Without Oil
Speaking of roasting without oil, the silicone mat is one part of the puzzle, but the other part is the liquid.
If you are someone who is cool with consuming oil, by all means. You cook how you like--I'm just here offering suggestions. :)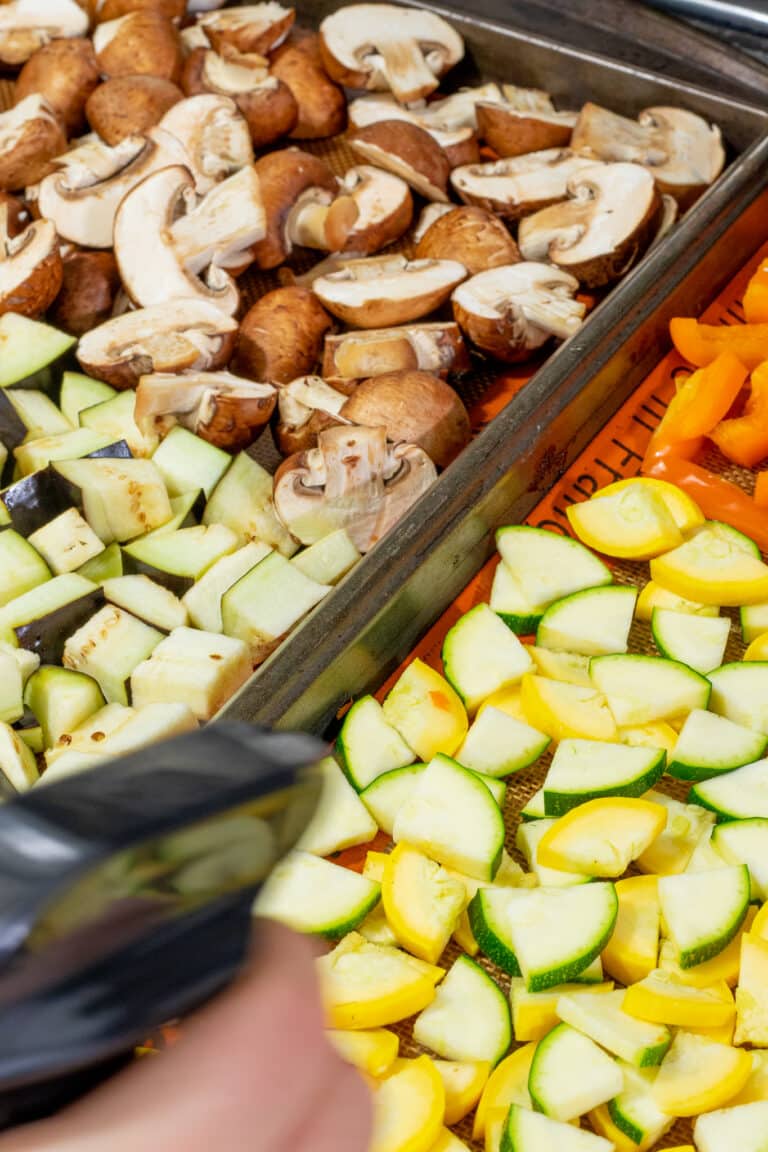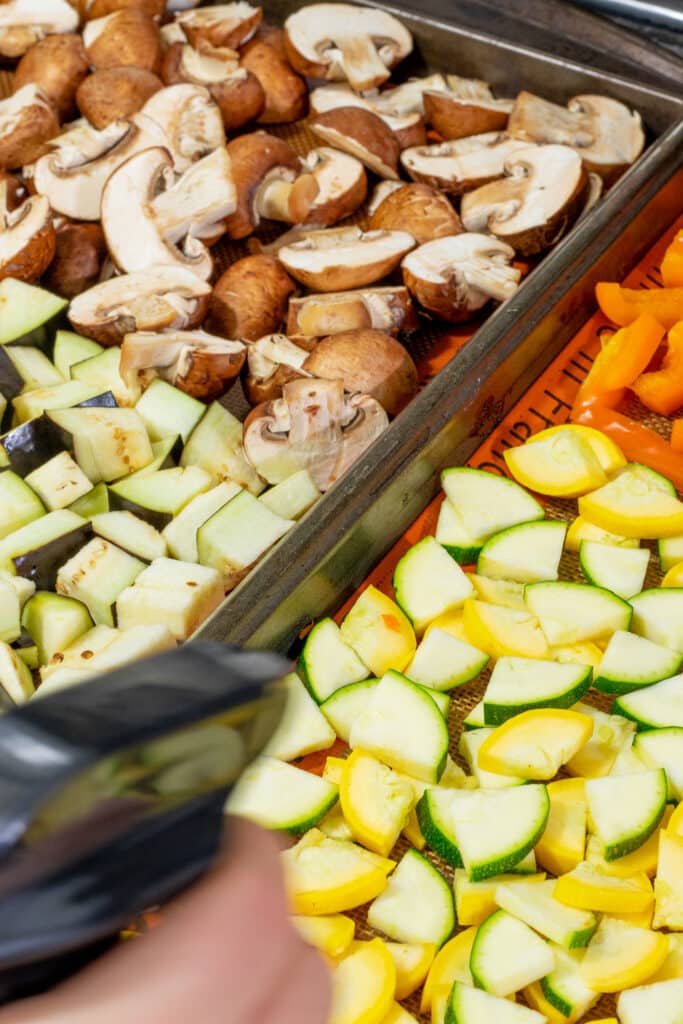 If you wish to cook without oil, I highly recommend using a spray bottle with water to mist your veggies before putting the trays in the oven. It helps keep them from drying out AND it will help spices adhere to your veggies.
You can sprinkle your veggies lightly with salt before you put them in the oven if you'd like. I'd recommend it for at least the mushrooms and eggplant as it helps draw the excess water out and enables them to caramelize better. Just an observation.
While your veggies roast you can cook your pasta. You can make your sauce now too by just whisking the ingredients together in a small bowl or jar. My mom always made her sauces in her measuring cup, and I picked up that habit from her.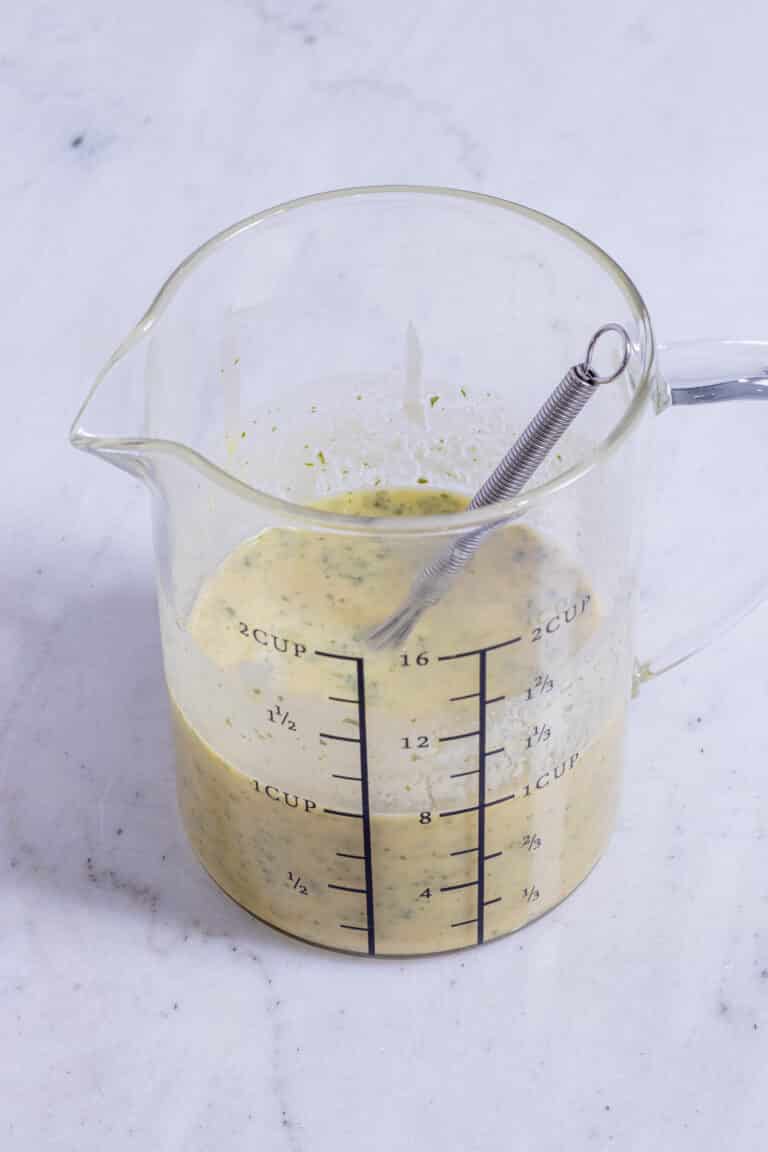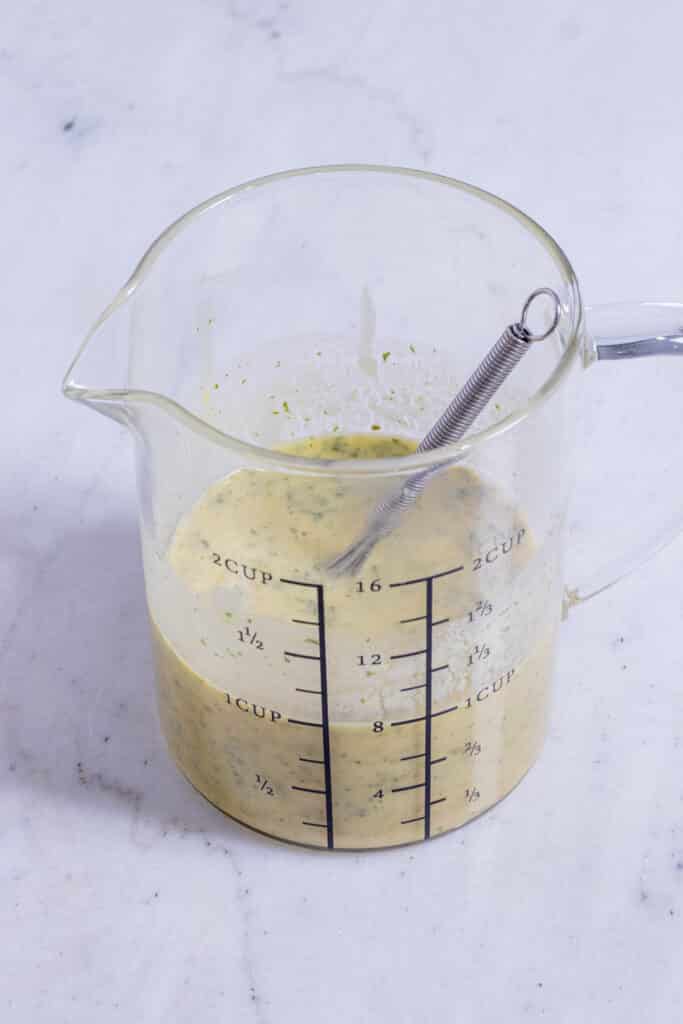 The measuring cup is nice since they usually have a spout so you can easily pour your sauces without dirtying more dishes--however a jar is nice too since you can shake it up with the lid on and easily store leftovers.
When everything is done cooking, simply combine it all in a big bowl! Sprinkle it with fresh parsley if you like. If you want to add a little cheesiness, add a little of my vegan Parmesan topping.
Notes and/or Suggestions
I actually don't have too many notes on this recipe--it's pretty simple and easy. A few quick thoughts, though:
With the red onion, I just cut it into large chunks and separated the layers after roasting. I do this because it helps the onion to not dry out during the cooking process, and the insides end up getting gooey and slightly sweet--absolutely divine.
If you love 30 minute dinners, check out of a few of my most popular:
Finally, take my words as mere suggestions and play around! This has become one of my staple meals and it's an easy, health promoting, quick dish to whip up whenever I'm tired and don't know what to cook or don't have time.
As always, I hope you love this recipe!
Let me know in the comments below if you make it, tag me @Zardyplants on Instagram so I can see your beautiful recreations! If you tag me on IG, I will share your post in my stories :)
Also, one quick request: if you love how this recipe looks or tastes, please leave me a 5-star rating and a nice comment–ratings help more people find my recipes which helps me keep providing them! Thank you!
<3 LIZ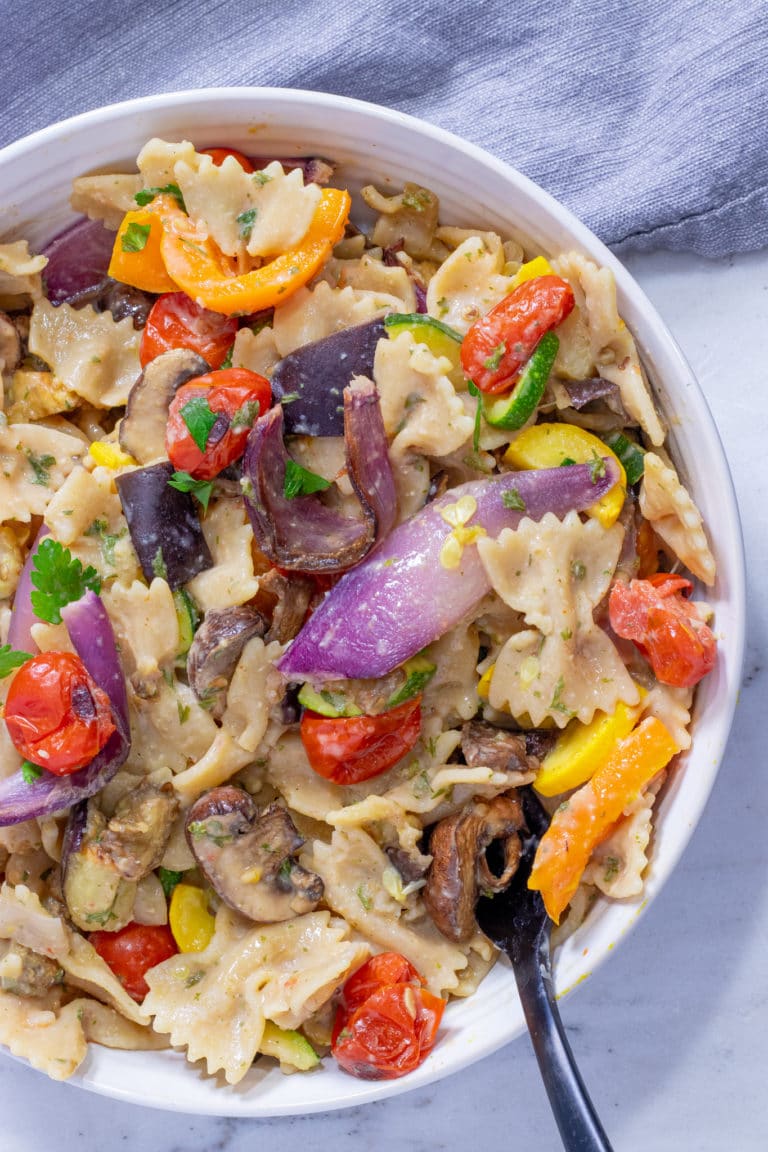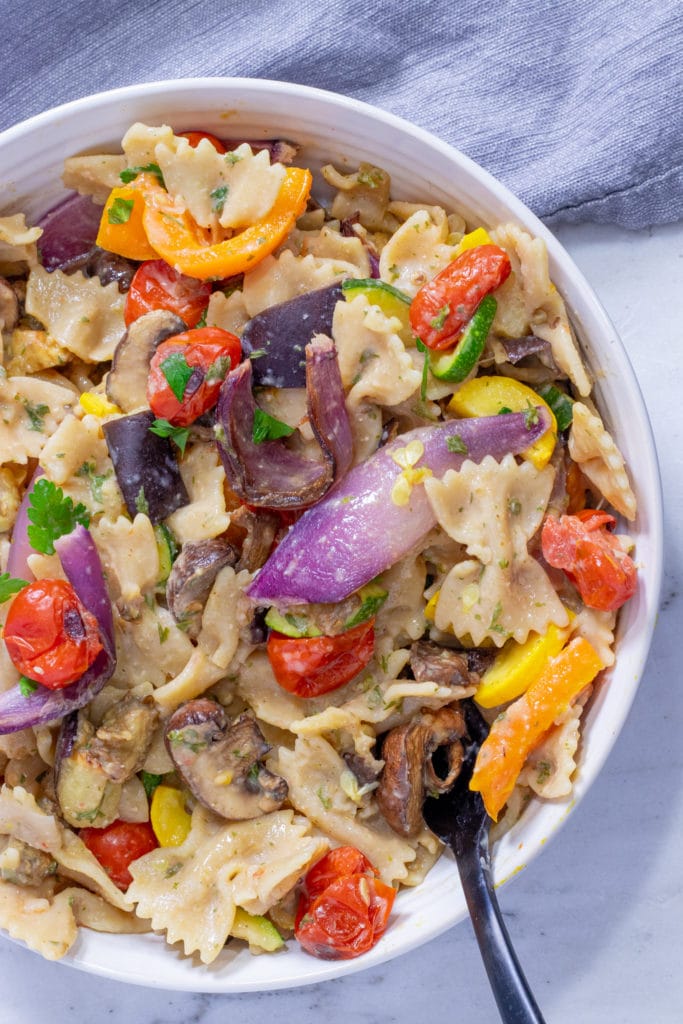 Follow me on Social Media!
Print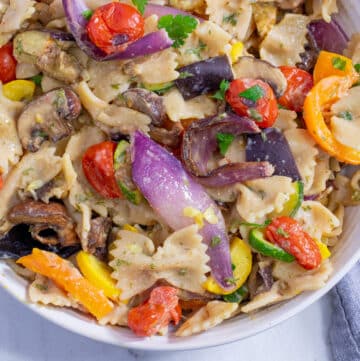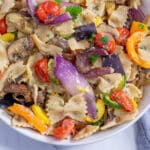 Vegan Sheet Pan Roasted Vegetable Pasta with Lemon Miso Sauce
---
Author:

Liz Madsen

Total Time:

30 minutes

Yield:

8

servings

1

x

Diet:

Vegan
Description
This roasted vegetable pasta is prepared with only a pot of water and a sheet pan in the oven. It comes together in just 30 minutes and is super cozy yet light and refreshing. A light lemon miso tahini dressing makes everything super delicious, especially when paired with the perfectly caramelized vegetables. Vegan, Oil-free, Nut-free, Refined Sugar-free, Can be gluten-free, Can be soy-free
---
Pasta
16

oz

pasta of choice (use gluten-free if needed)

1

pint

grape tomatoes

2

medium orange bell peppers, sliced thinly

1

medium yellow squash, diced

1

medium zucchini, diced

1

small eggplant, diced

1

medium red onion, halved lengthwise and cut in wdges

16

oz

mushrooms of choice (I used crimini), sliced

½ tsp

salt, divided, optional
Fresh parsley as garnish, optional
Sauce
---
Instructions
Preheat your oven to 425 F (218 degrees C) and chop your veggies. Arrange on a silicone mat or parchment lined pan. Arrange separately if you'd like to control how cooked each veggie gets (refer to image in post). Spray veggies lightly with spray bottle filled with water and lightly sprinkle with salt if desired.
Start pasta water boiling. Cook according to package directions.
Cook veggies about 15-20 minutes. At 15 minutes, check them. If one gets done enough for your liking, use a spatula to remove it from the pan and place it in the large bowl you'll mix everything together in.
Then place the tomatoes on if you want them to remain whole but get lightly blistered. This is how I prefer them, so cook according to your own preferences.
While everything cooks, mix the sauce ingredients in a jar, bowl, or measuring cup. Taste and adjust if needed. Thin with water until it's the consistency you like. I added enough water to make just under a cup of dressing, and that was enough to lightly coat my pasta and vegetables.
When everything is done, separate the pieces of onion and mix everything together in large bowl. Sprinkle with fresh parsley if desired and serve warm. Enjoy!
Refrigerate leftovers in an airtight container for up to 5 days, but remember that pasta dishes are best when enjoyed that night. You could always halve the recipe if you're concerned.
Cook Time:

30 minutes

Category:

Dinner

Method:

Oven, Stove top

Cuisine:

Italian
Keywords: Vegan, Oil-free, Nut-free, Refined Sugar-free, Pasta, Roasted Veggies
---
---