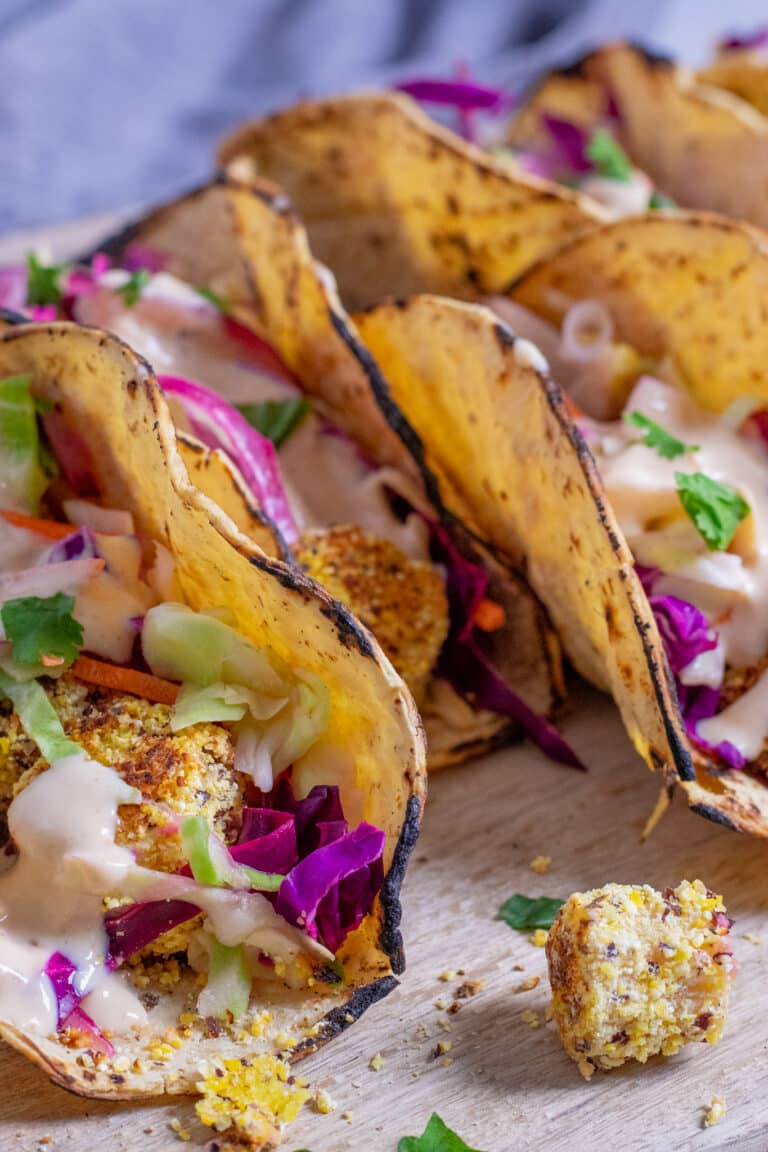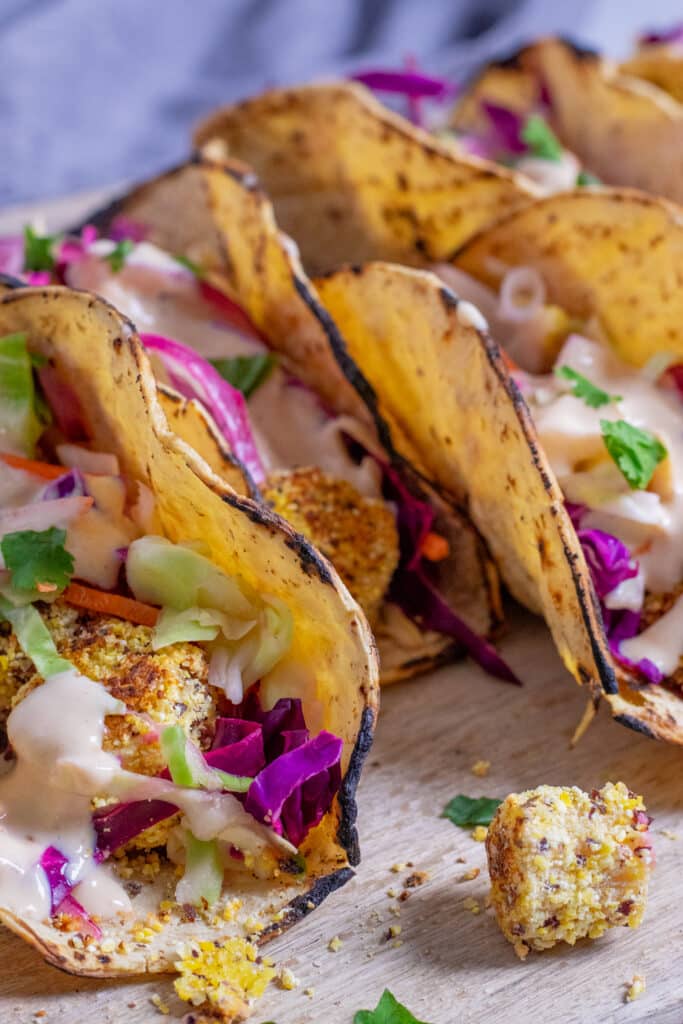 Hey Internet, in honor of one of my favorite days -- Taco Tuesday -- I'm bringing you these fun Vegan Fish Tacos with a tangy cabbage slaw and a luscious Chipotle Aioli! This recipe is not only ridiculously delicious but it's also gluten-free, oil-free, nut-free, and sugar-free!
These fun tacos are easy enough to make on a weeknight but fun enough for a party dish. You could also ditch the tortillas and serve it up as a taco salad as a great low carb option.
These tacos are
Tangy
Zesty
Crunchy
Light
Seafoody (what, I'm not going to say fishy XD ) (think a little salty)
Spicy (adjustable)
Sold and ready to make some fish tacos? Okay, but let's get into what you'll need first.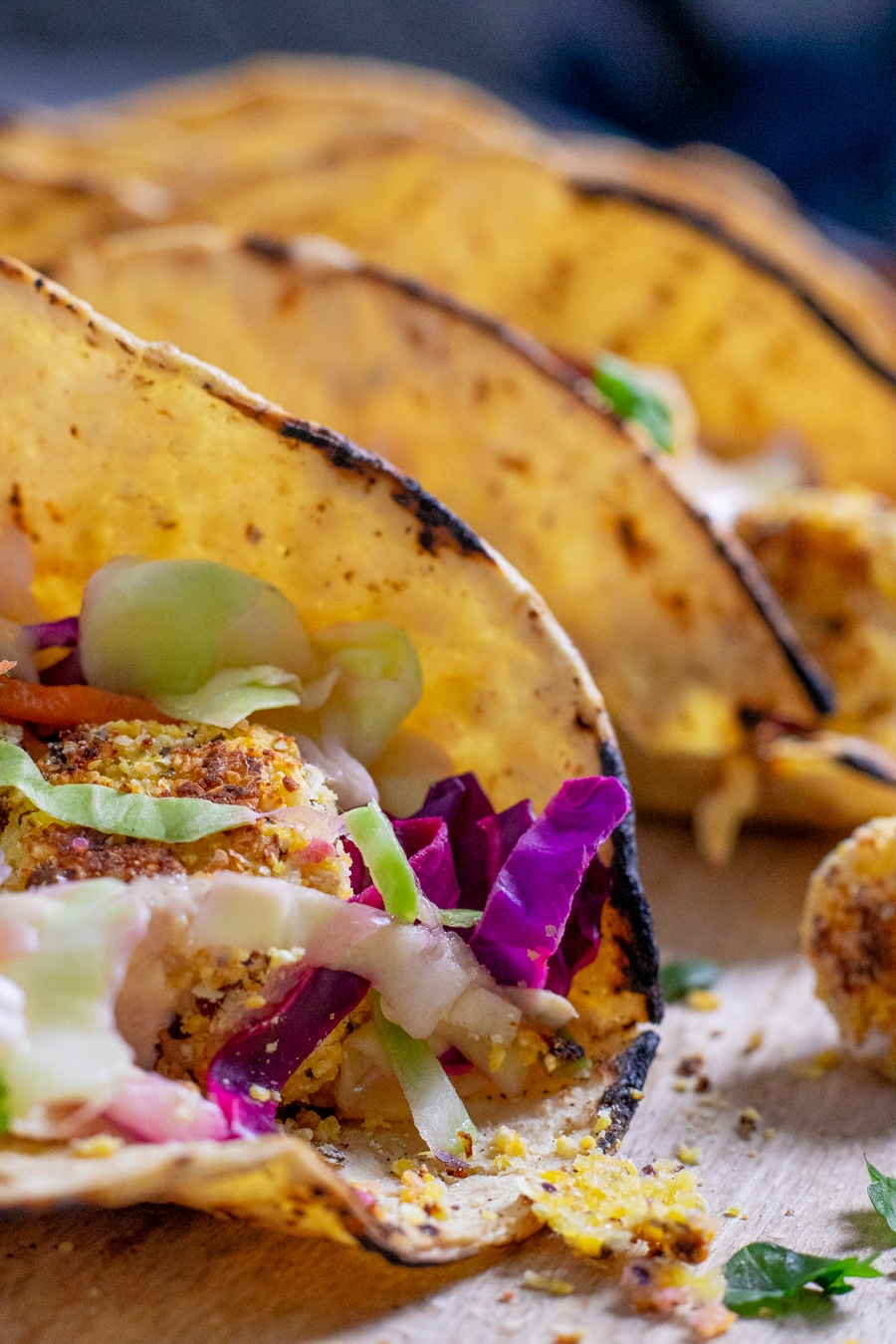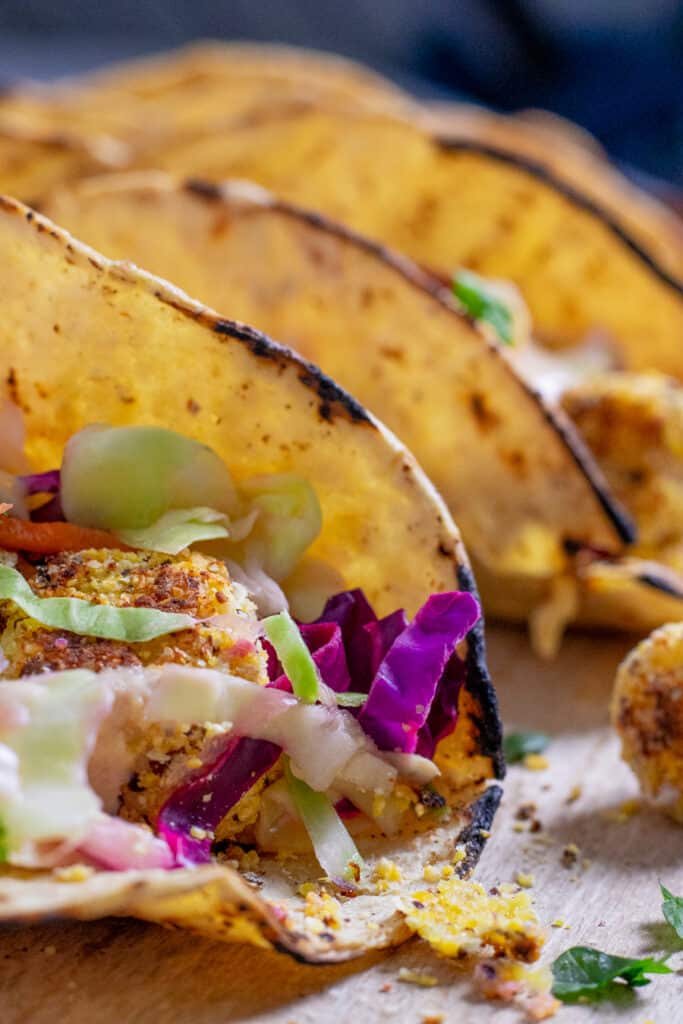 What Goes in the Fish Part?
These delicious "fish nuggets" are made from… drum roll please hearts of palm! Heart of palm is a vegetable harvested from the inner core and growing bud of certain palm trees.
But Liz, that's not eco-friendly!
Well, yes, but only if it's done to wild palm trees. Palm trees grown on a farm specifically for this purpose are OK. Native Forest brand Harts of Palm are my favorite sustainable brand.
According to Native Forest:
Hearts of Palm are crisp yet tender and taste great straight out of the can as a low-calorie snack, on top of almost any salad, or as an ingredient in a wide range of recipes (hence their popularity all over the world!). Native Forest Hearts of Palm are certified organic and a rainforest-protective, renewable resource.
So, you don't need to feel bad about enjoying hearts of palm for your fishless tacos. It's used in a wide variety of vegan dishes like scallops and ceviche!
What are the Flavors Like?
In this recipe, I've dipped them in lemon-y almond milk and dredged them in a corn grits mixture and baked them until crispy.
For the liquid mixture you'll just need lemon juice and almond milk! This step is actually optional, but it adds a fresh creamy citrus taste to the vegan fish.
For the dry mixture, you'll need corn grits (I used Bob's Red Mill Medium Grind Cornmeal), onion powder, garlic powder, a little salt, and a seasoning called dulse flakes.
Dulse is a type of seaweed that is commonly sold as granules or flakes. It is one of the least ocean-y tasting seaweeds I've tried (and there's so little of it in this recipe you won't have to worry about it tasting like seaweed).
Sea vegetables are actually very good for you. Dulse in particular is high in potassium and calcium. It's also very low in sodium but does give a nice salty flavor to whatever you're eating.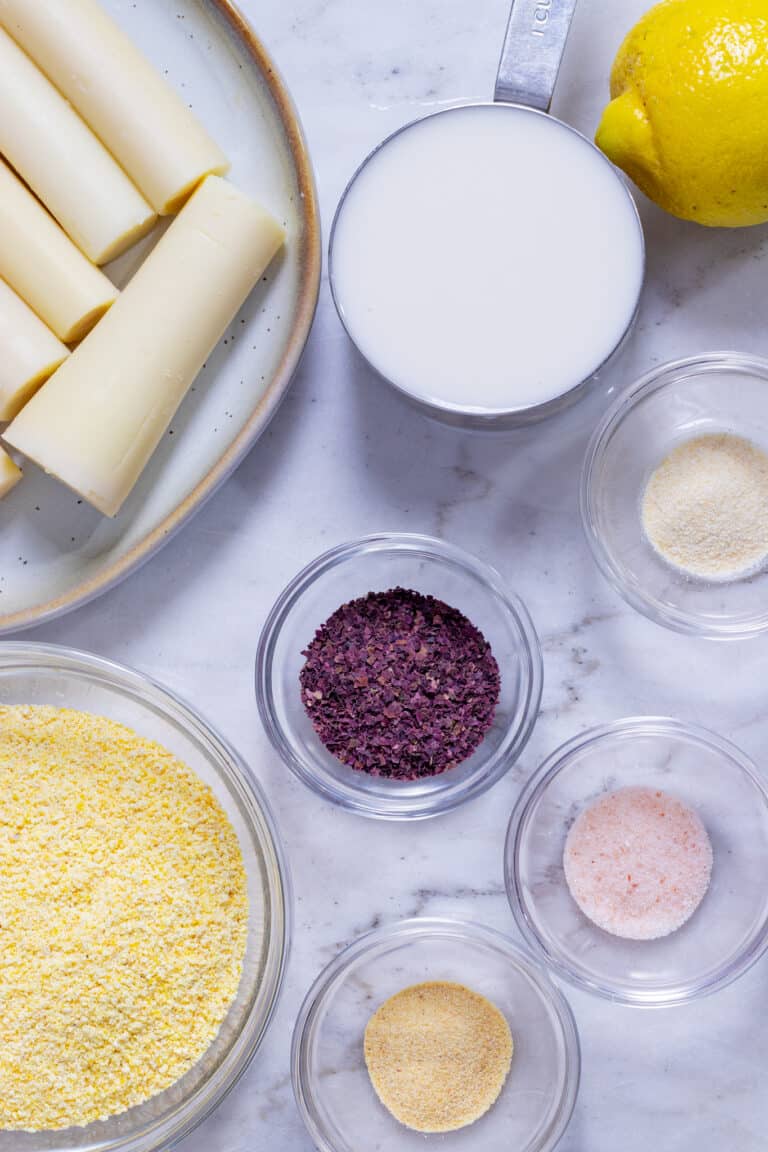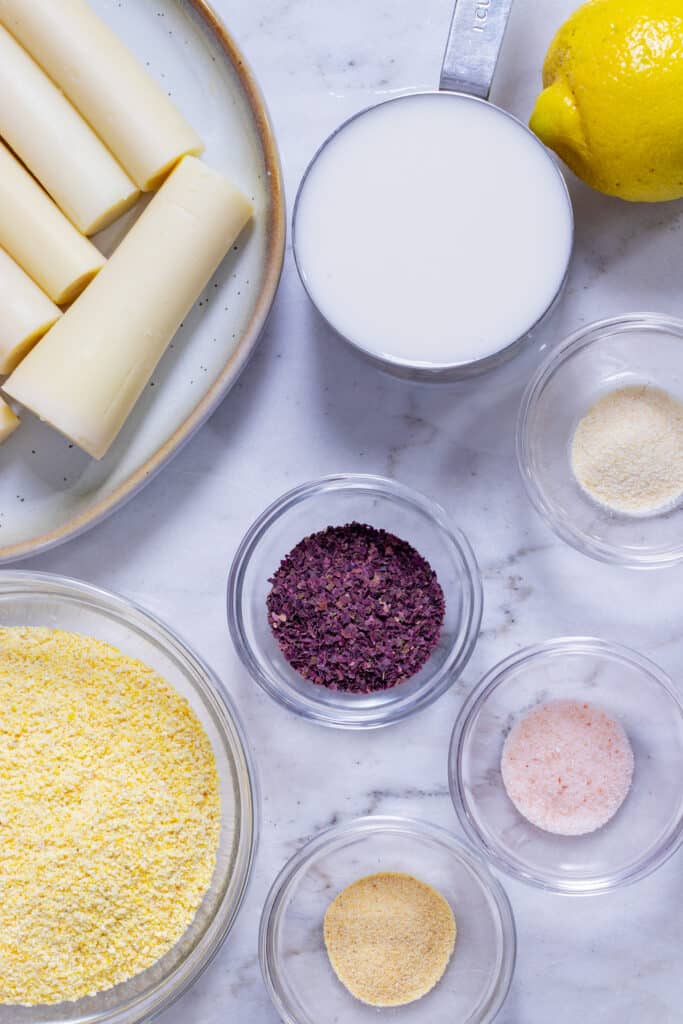 To Make the Vegan Fish
It's a very simple process to make the vegan fish for this recipe. Slice your hearts of palm into bite-sized chunks.
First, you're going to want to mix the dry ingredients in a bowl and the wet ingredients in another bowl.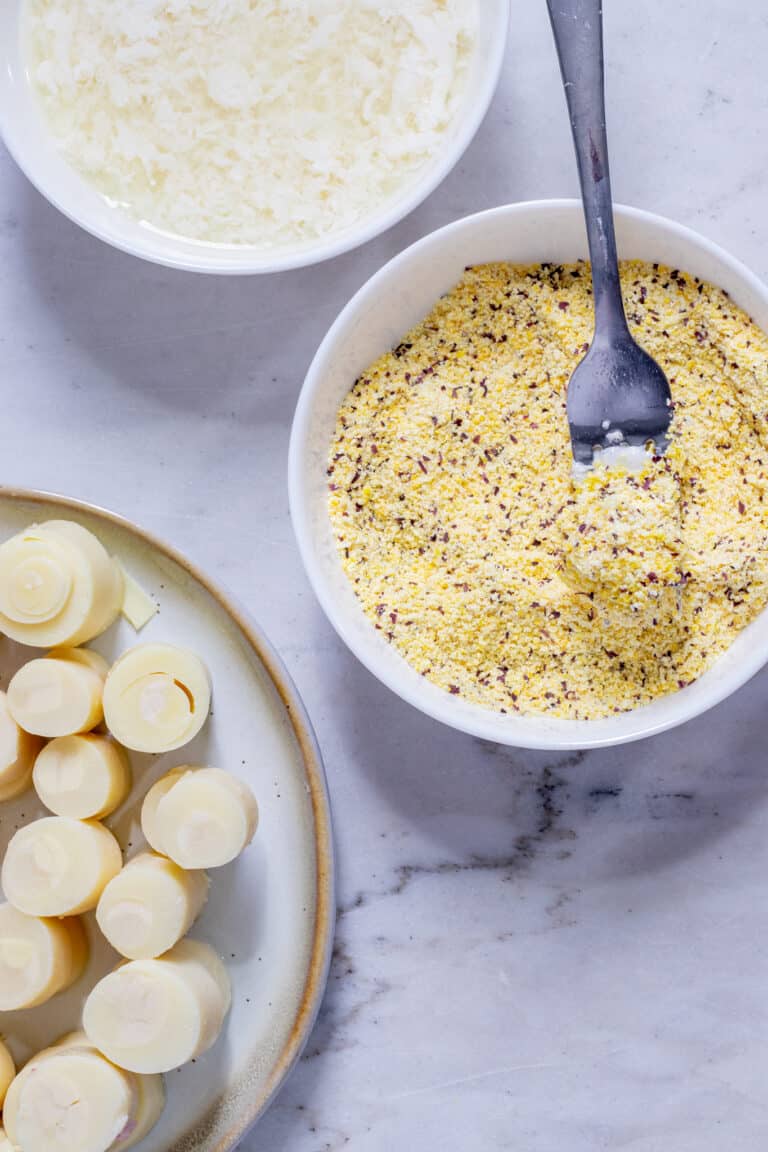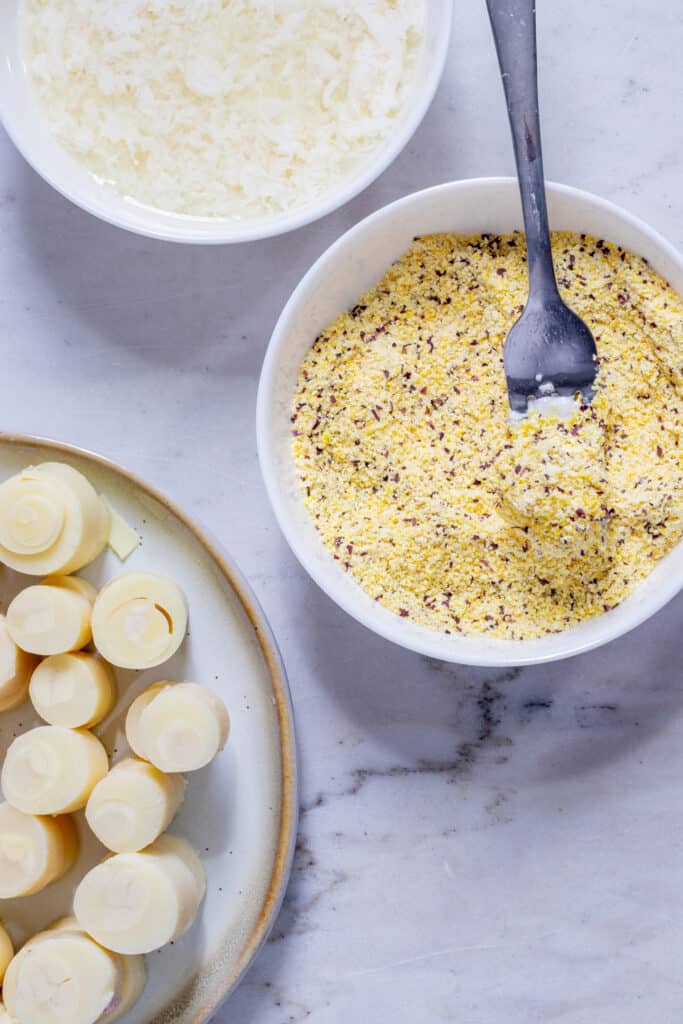 Dunk each piece first in the liquid, then in the dry. Either roll the piece in the mixture or pick up the mixture with your fingers and gently cover the piece in it until all sides are covered.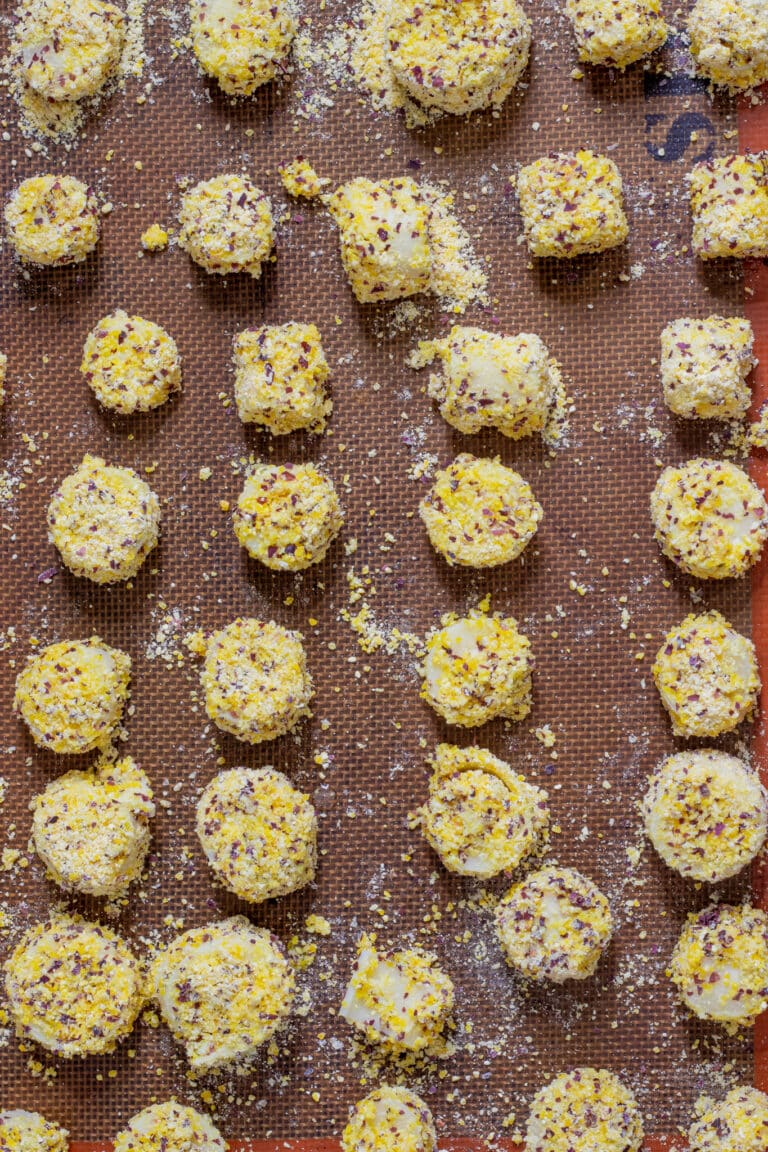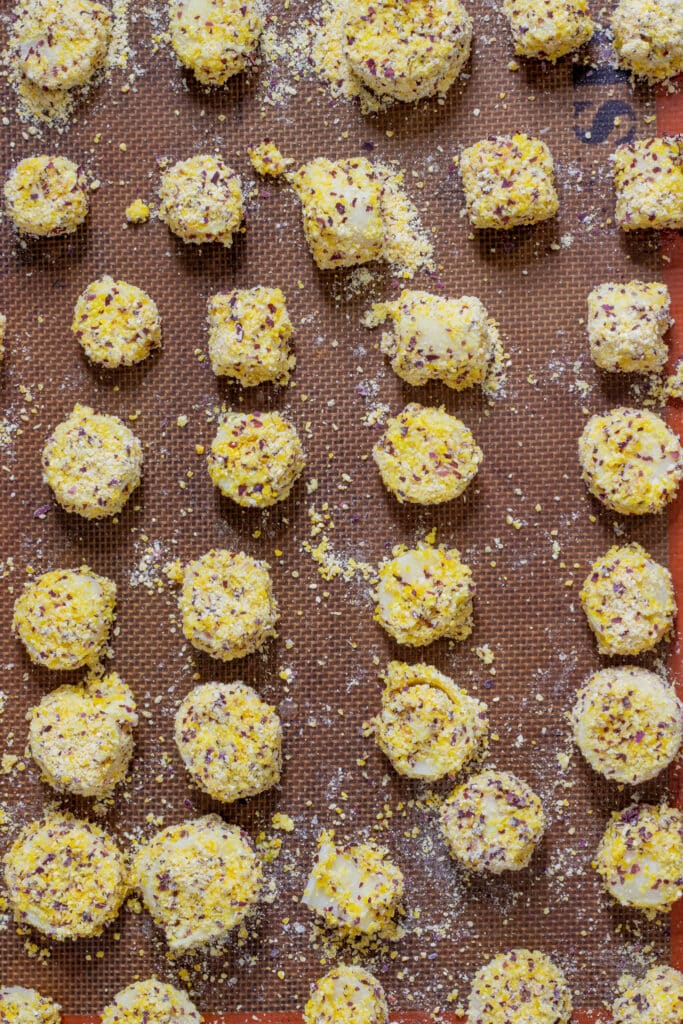 Place each piece on a silicone mat (highly recommended) lined pan.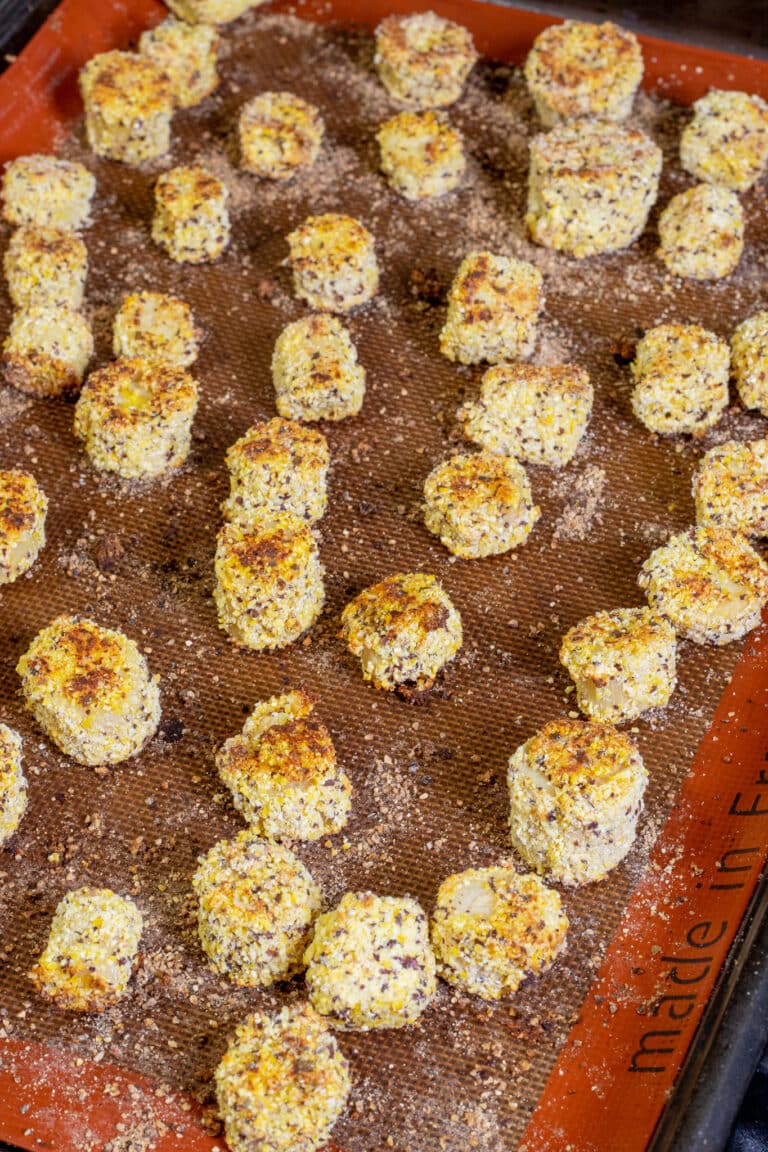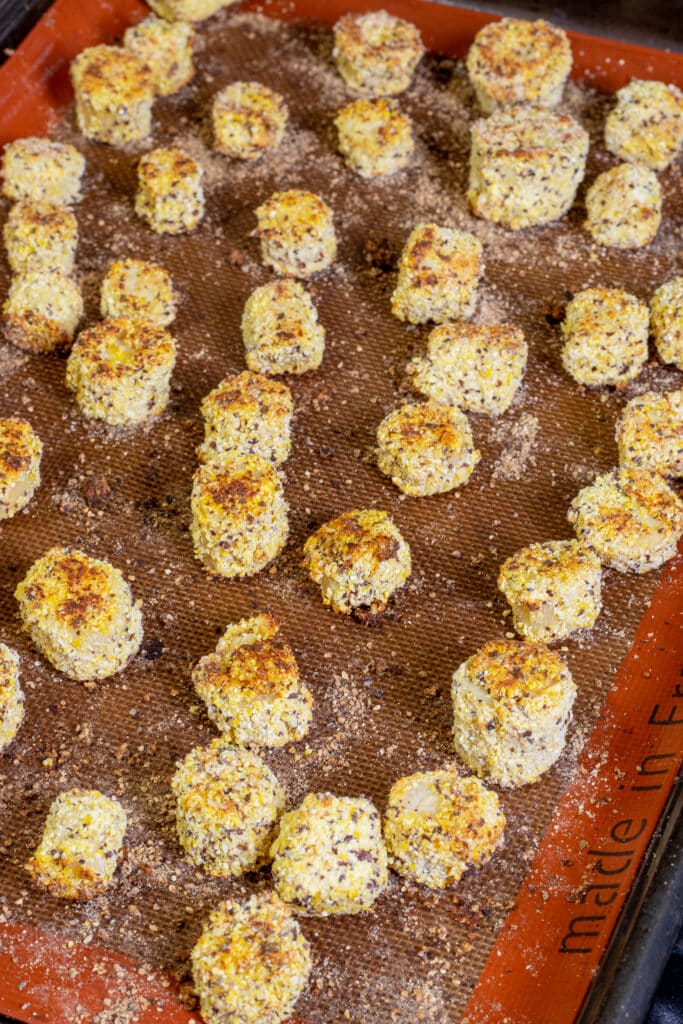 Bake 20-30 minutes at 425 degrees F (or 218 degrees C) and flip halfway through. The time you bake them will depend on your oven. You want the pieces to be lightly browned.
Other Ingredients for Vegan Fish Tacos
The tangy cabbage slaw is very easy and delicious to make, and super fast especially if you use a short cut like I did: pre-shredded cabbage (or coleslaw before any sauce is added).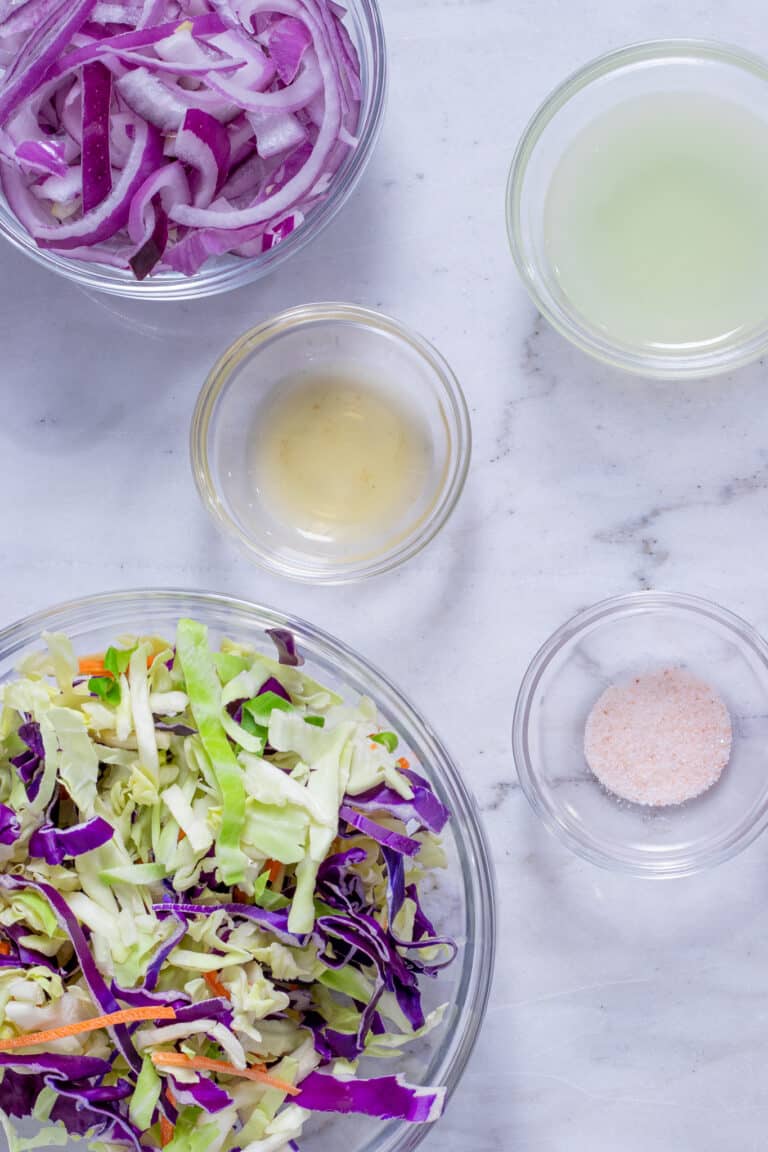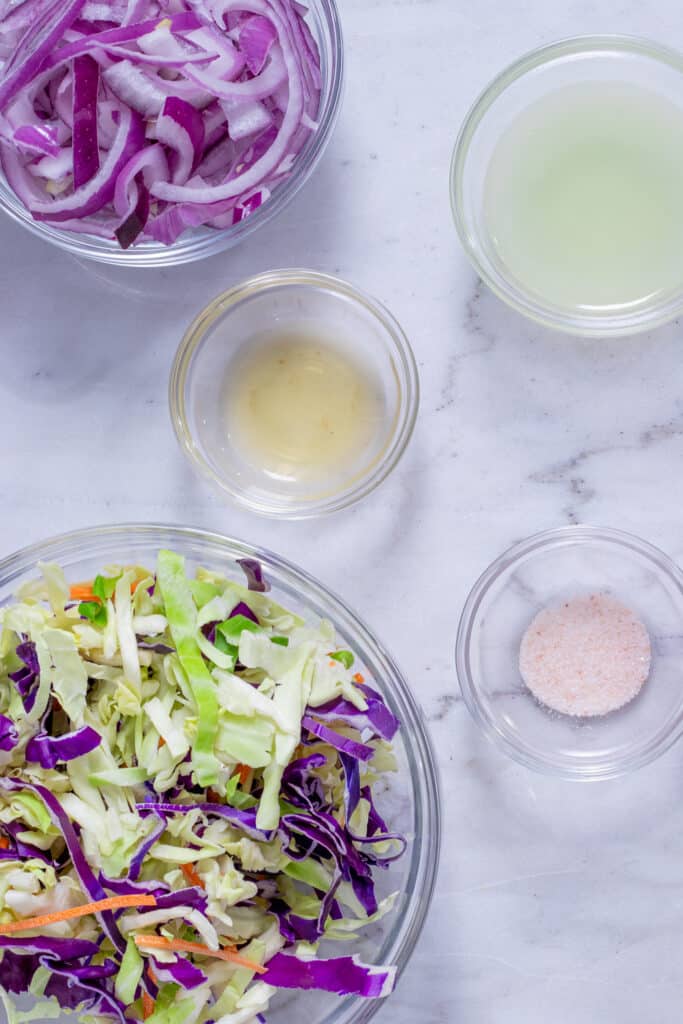 You can buy a blend of green and red cabbage (mine had carrots in it too!) and throw it in a bowl with the other slaw ingredients to make this really fast.
Otherwise, shred up about a cup and a half of each red cabbage and green cabbage. Throw in a shredded carrot, too.
We're then going to add a little lime juice, apple cider vinegar (or white/rice vinegar will work), and a dash of salt. If you'd like, you can add a little maple syrup but i liked it as is.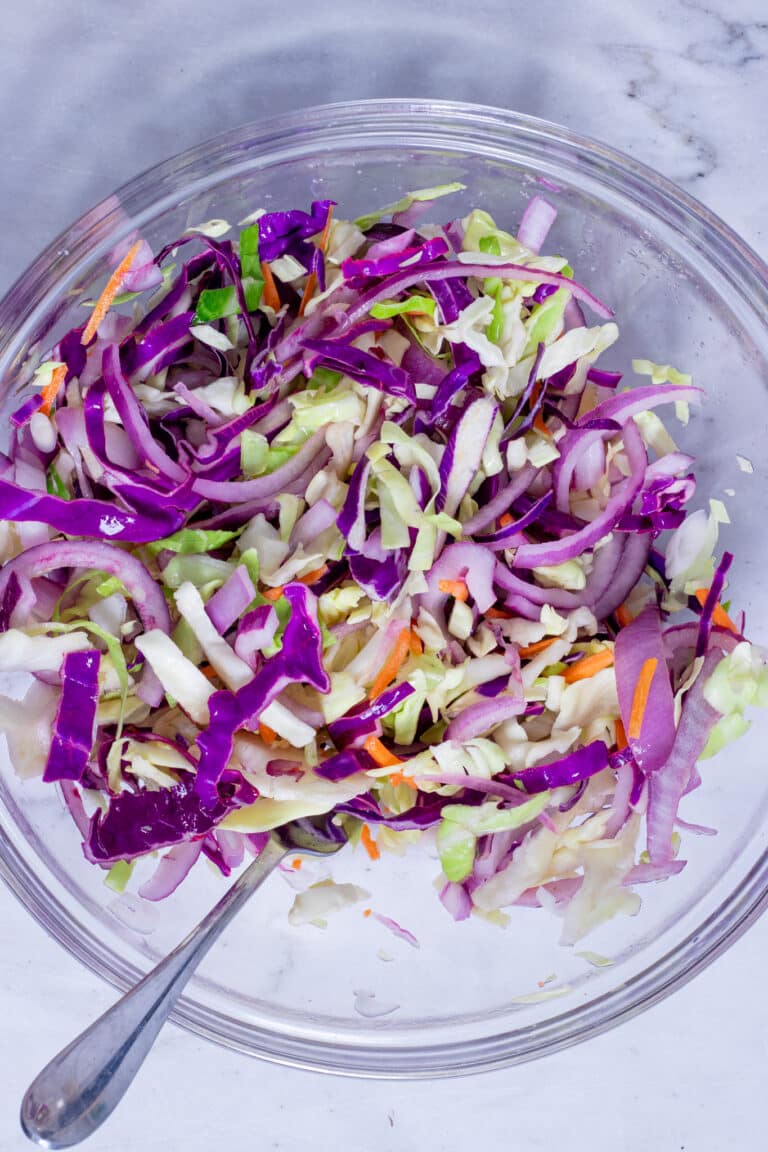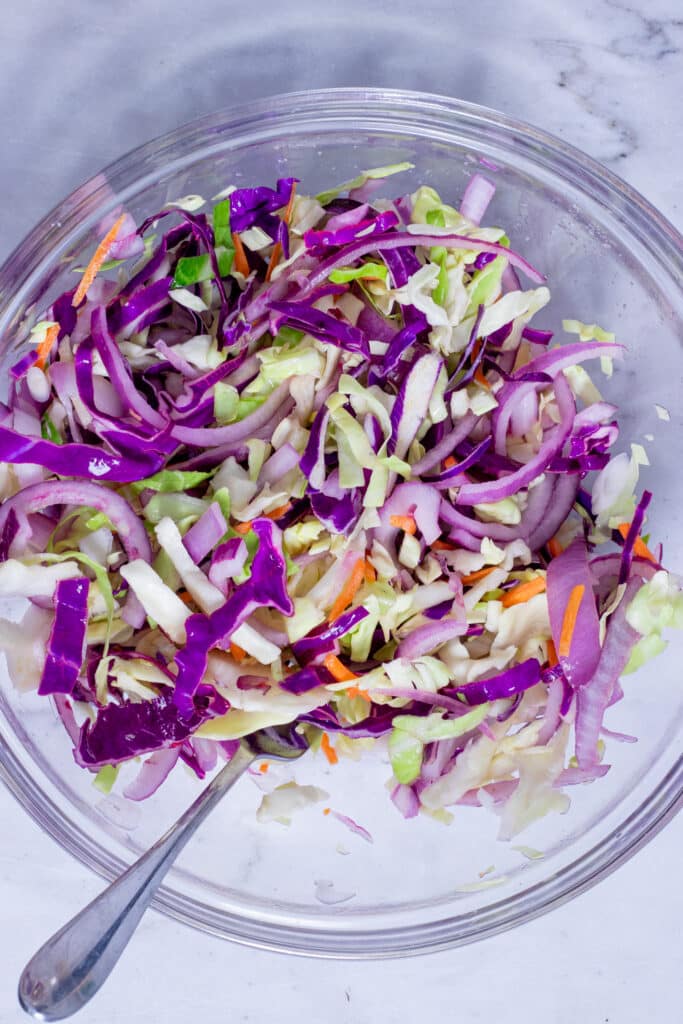 Its a little sour on its own, but the perfect complement to the vegan fish nuggets and aioli.
Speaking of the Aioli
Aioli is a word for mayonnaise and garlic mixed together. I've of course veganized it and added a little kick: chipotle powder.
If you don't like spicy, leave this out. If you don't have chipotle you could also use a squirt of sriracha, a pinch of cayenne, or red pepper flakes.
Either use my super simple recipe for vegan mayo or buy your own, but add garlic powder, lime juice, and your spice of choice.
Here's the proportions if you're modifying my mayo recipe: juice of 2 limes, 1.5 tsp garlic powder, 1/2 - 1 full teaspoon chipotle powder.
If your mayo is too thick for your liking, put a small amount in a cup or bowl and mix in a little water until it's the desired consistency.
Putting It All Together
For the tacos themselves, you'll obviously need some tortillas. I used these white corn tortillas from Trader Joe's -- they're oil-free! You can use any tortillas you'd like.
You'll want to heat your tortillas before loading them up. Otherwise they can taste kinda like cardboard and fall apart on you too.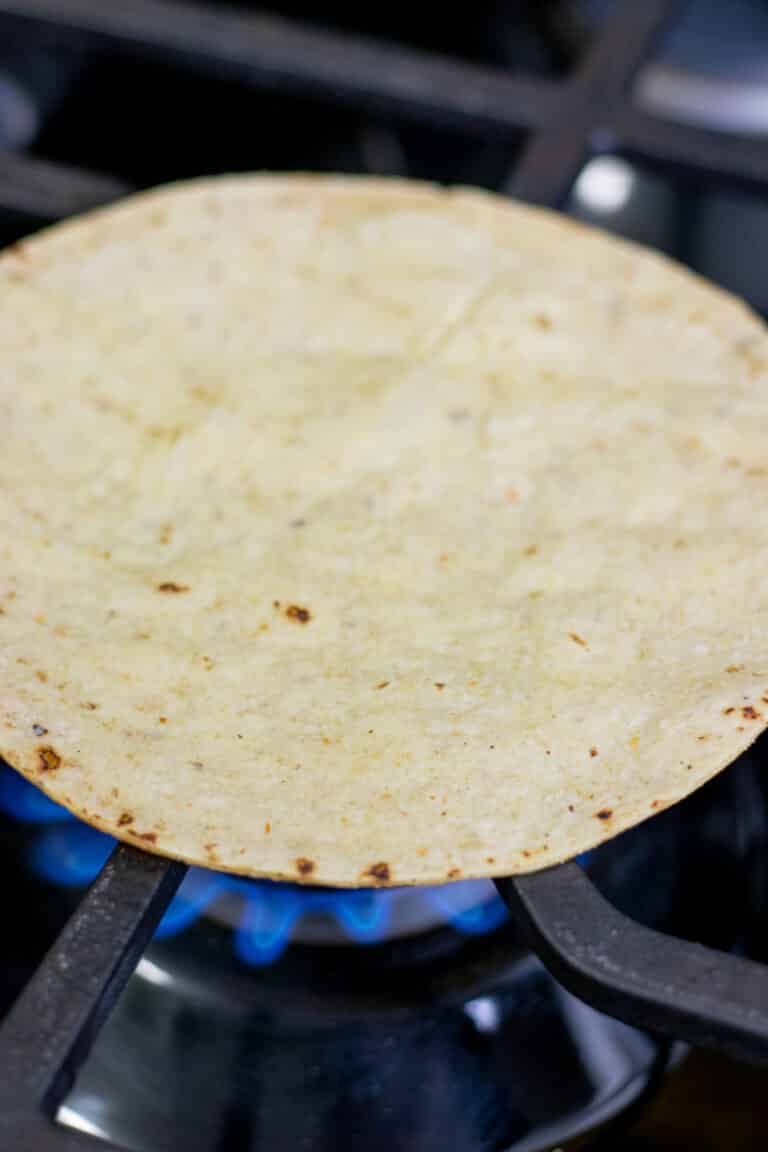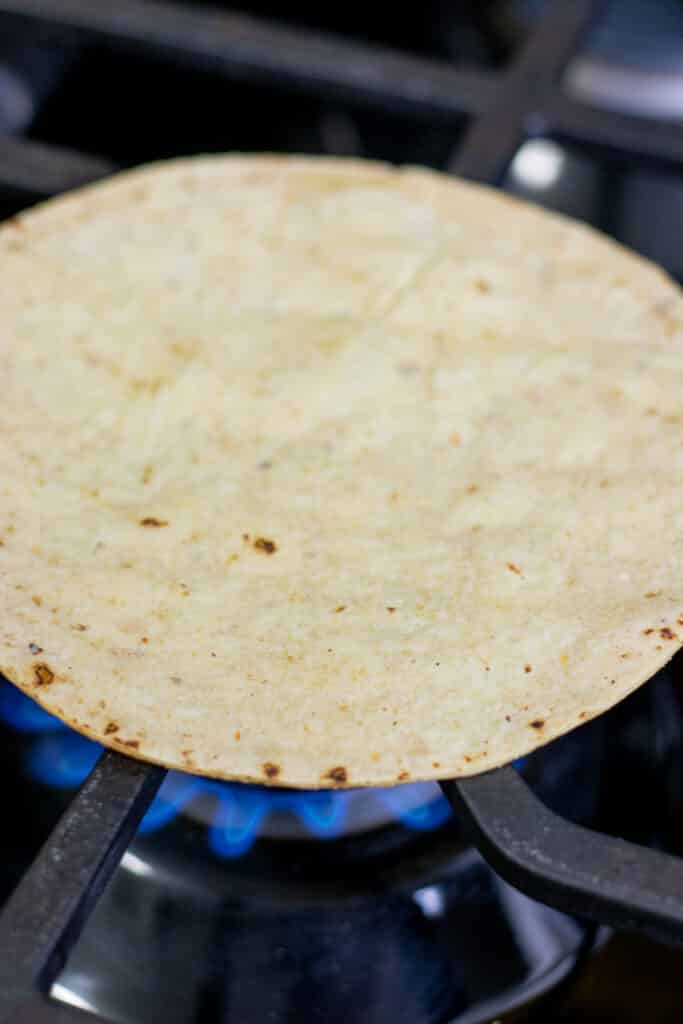 I like to heat mine over the flame of my gas burner. If you don't have a gas stove or a grill, you could use a skillet or a tortilla pan if you have one.
If you don't like the char, you can microwave them for softer results.
You could even use lettuce cups instead, or just throw all the ingredients over a salad.
Load up your tacos with a few vegan fish nuggets, a generous scoop of slaw, a drizzle of the aioli, and a sprinkling of cilantro if you like that sort of thing (I do but Mr. Zardyplants does not).
These tacos were so good my dog kept trying to get one. Luna, sit!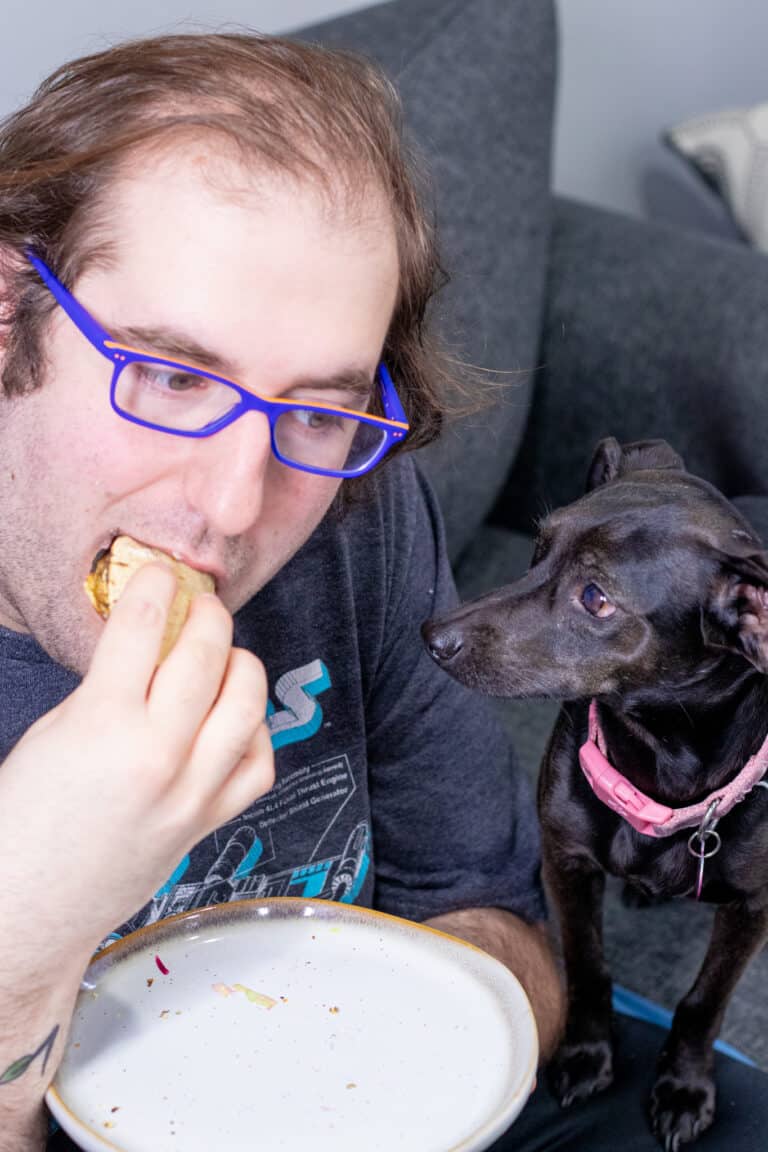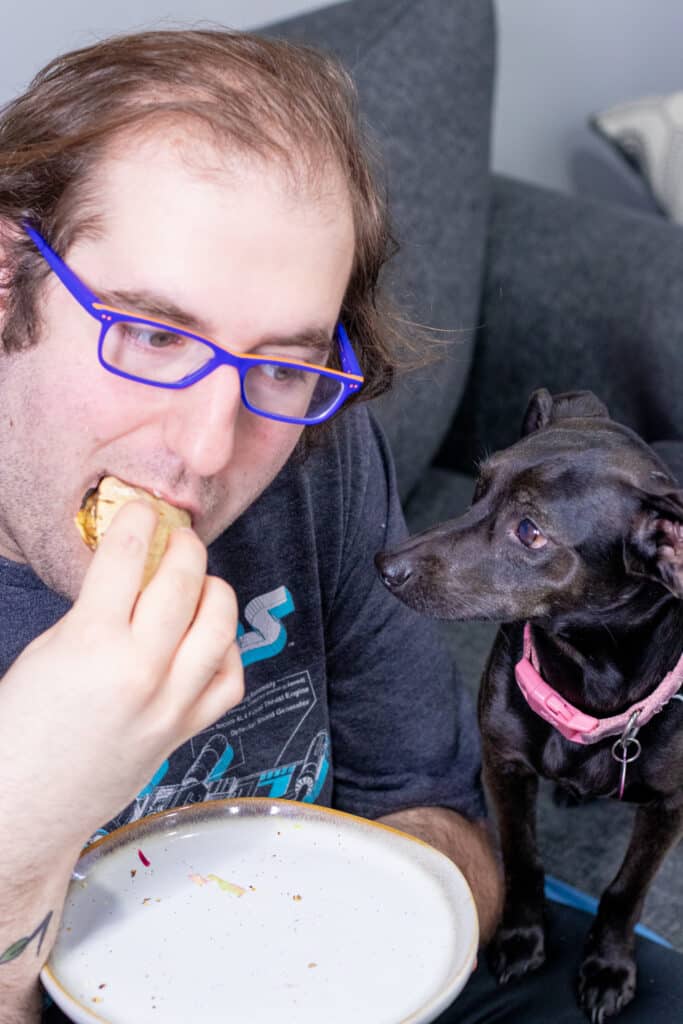 Anything Else?
As always, I hope you love this recipe!
Let me know in the comments below if you make it, tag me @Zardyplants on Instagram so I can see your beautiful recreations! If you tag me on IG, I will share your post in my stories :)
Also, one quick request: if you love how this recipe looks or tastes, please leave me a 5-star rating and a nice comment–ratings help more people find my recipes which helps me keep providing them! Thank you!
<3 LIZ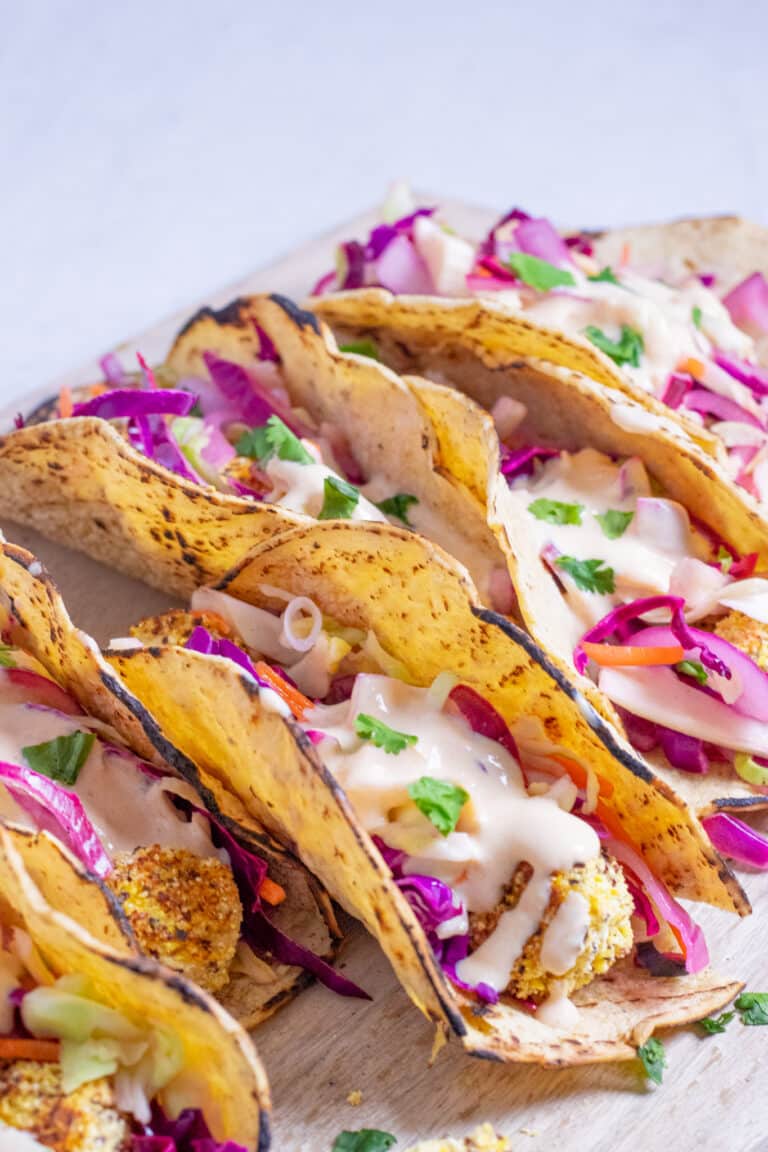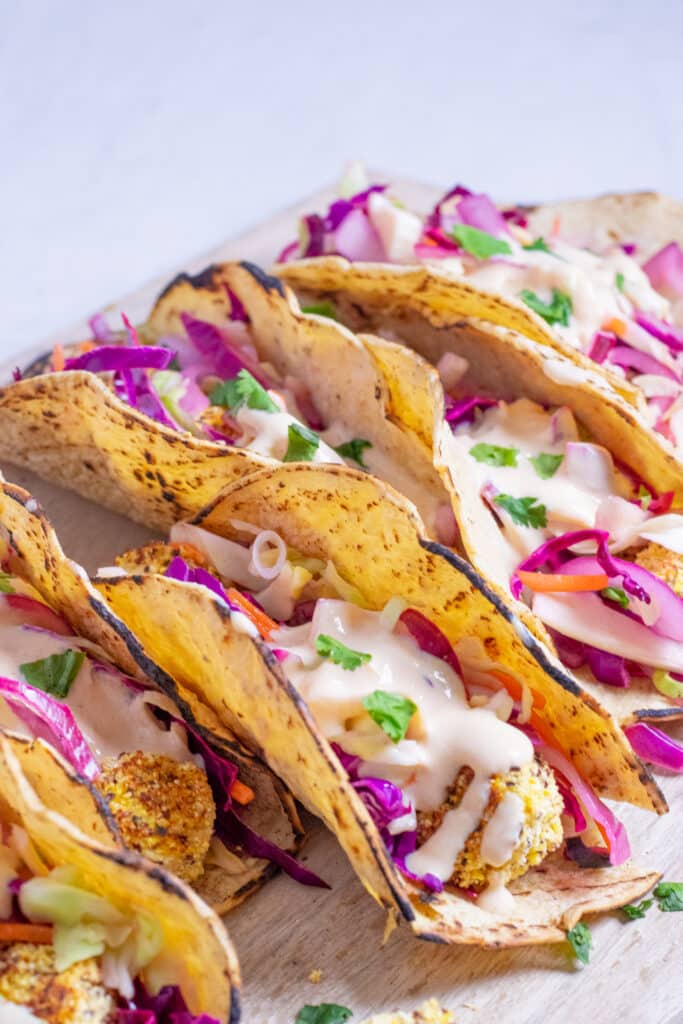 Follow me on Social Media!
Print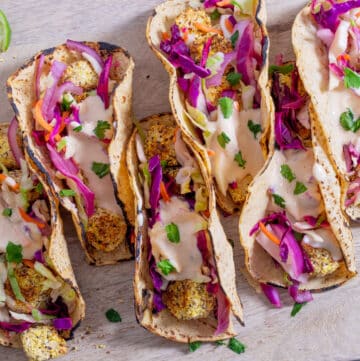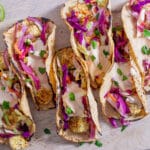 Vegan Fish Tacos with Tangy Cabbage Slaw and Chipotle Aioli
---
Author:

Cook Time:

30 minutes

Total Time:

30 minutes

Yield:

9

tacos

1

x
Description
These vegan fish tacos are super easy to make and feature hearts of palm! Healthy, tasty, and ready in 30 minutes! This recipe is vegan, gluten-free, oil-free, nut-free, and sugar-free. Ditch the tortilla and throw everything in a taco salad to make it a good low-carb option too.
Vegan, Gluten-free, Nut-free, Oil-free, Sugar-free
---
Scale
Ingredients
Tortilla
9

tortillas

1/2

batch vegan mayo (or use

1.25 cups

store bought vegan mayo)

1.5 tsp

garlic powder

1/2 tsp

chipotle powder
Juice of

2

limes
Cilantro, optional
Vegan Fish Nuggets
2

-

14

oz cans Hearts of Palm

1/2 cup

unsweetened nondairy milk
Juice of

1

lemon

3/4 cup

medium grind cornmeal

1 tsp

dulse flakes

1/4

-

1/2

tsp salt

1/2 tsp

onion powder

1/2 tsp

garlic powder
Cabbage Slaw
1.5 cups

each green and red cabbage (or use pre-cut blend)

1

medium carrot, shredded

1

small red onion, thinly sliced
Juice of

2

limes

1 tbsp

apple cider vinegar (rice or white wine vinegar will work)

1/2 tsp

salt, optional
---
Instructions
Preheat your oven to 425 degrees F (or 218 degrees C). You can also cook these in your air fryer to save time!
In a medium bowl, mix your nondairy milk and lemon juice. In another medium bowl, mix the cornmeal, dulse flakes, onion & garlic powder, and a dash of salt.
Chop your hearts of palm into bite-size pieces. Using a fork or your fingers, dunk each piece in the liquid and roll it or coat it in the dry mixture. Place on a silicone mat or parchment lined baking tray.
Bake the vegan fish nuggets for 20-30 minutes (depending on the heat of your oven), flipping each piece halfway through. You're looking for the pieces to get lightly browned.
While those are cooking, make your slaw by tossing all the ingredients in bowl together and mixing well. Then make your aioli in the blender if you haven't already.
When the vegan fish nuggets are 5 min from done, use your gas burner, grill, skillet, or microwave to heat your tortillas. Place a cover (I used the top of a cake carrier) over the plate of cooked tortillas on the counter to keep them warm.
Assemble your tacos: place a few pieces of vegan fish in a tortilla, add a generous spoonful of slaw, drizzle on the aioli, and sprinkle on a bit of cilantro if using. Enjoy!
Notes
Note 1: You can make these in the air fryer to save time! Lower the temp to 400 degrees F (205 degrees C) and set the timer for 8-10 minutes. Then flip them (don't shake the basket because hearts of palm can sometimes fall apart) and do another 5-8 minutes until they are lightly browned.
Note 2: The sodium is reading pretty high on these because of the hearts of palm. The plugin I use to calculate this isn't accounting for the fact that you drain and rinse these hearts of palm. I would guess that the sodium is far lower in reality. I also used low sodium tortillas (but the plugin doesn't recognize them) that I found at Trader Joe's and pink Himalayan salt which is lower in sodium per gram than table salt. So, if you are watching your sodium, rinse your hearts of palm well. You can lower the salt in my recipe too, and maybe up the lime juice or the dulse flakes to increase the salty flavor while lowering the sodium!
Category:

Entree

Method:

Stove top, Oven

Cuisine:

Mexican
Keywords: Vegan, Gluten-free, Nut-free, Oil-free, Sugar-free, Tacos, Fish Tacos
---
---