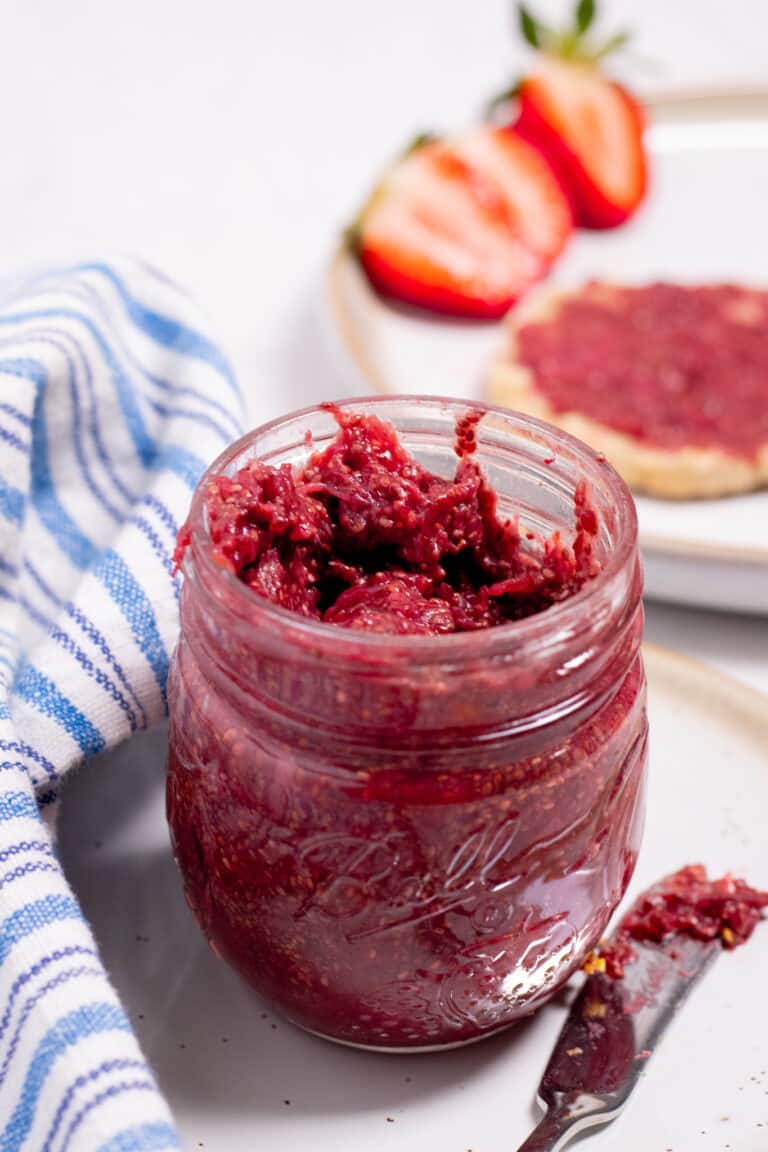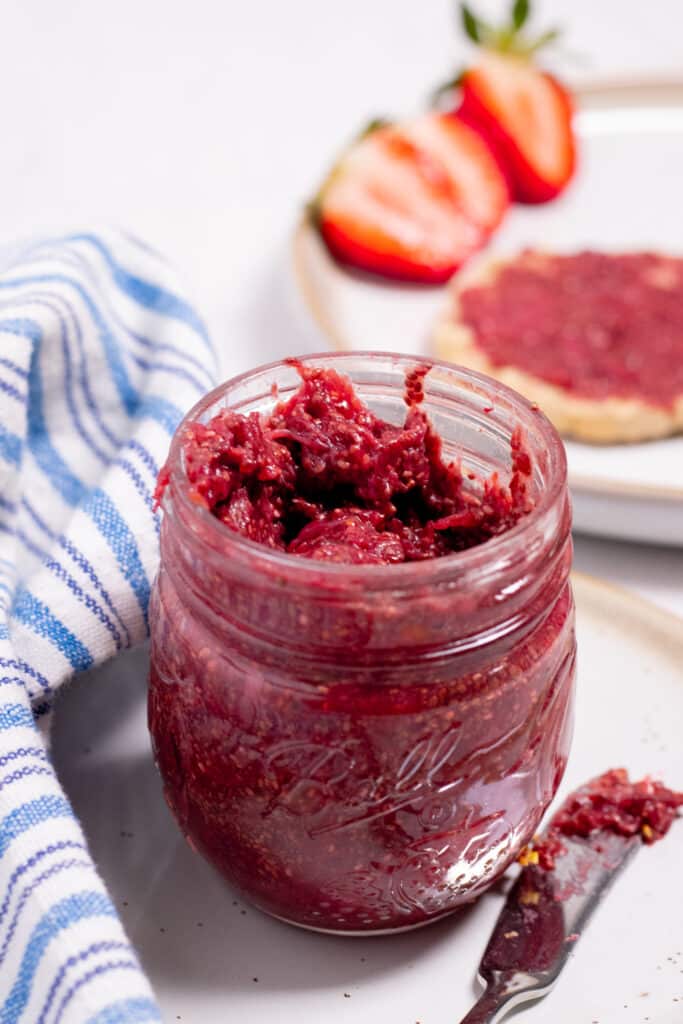 This quick and easy 3 Ingredient Vegan Strawberry Jam will work with any fruit and can be made sugar free or refined sugar free.
Have you ever tried a sugar-free jam from the store? They're usually kind of bland, or they have some type of chemical zero calorie sweetener that's actually not very good for you.
I've tried really good fruit-sweetened jams before but they've always been really expensive. Well, the hunt stops here.
This jam is:
Quick and Simple
This strawberry jam can be made in less than 10 minutes (plus a few hours in the fridge) and with only 3 ingredients.
Healthy
This jam can either be made refined sugar-free with the addition of dates or maple syrup, or completely sugar-free, sweetness coming from the fruit itself.
Versatile
You can use any type of fruit you'd like in this recipe! Even mix and match! Imagine adding a little citrus to the jam, or mixing fruits like blueberries and pineapple!
Inexpensive
If you can buy your chia seeds in bulk, you can save a LOT of money. I buy a huge bag from Costco every 4-6 months and I use it for all kinds of things, like delicious Chia Pudding.
This recipe can be made with fresh or frozen fruit, so it's easy to save money. Shop in season, buy in bulk, and make from scratch when you can--all good ways of saving money on a plant-based diet.
Did I mention this recipe is ridiculously easy? Read on to find out just how easy.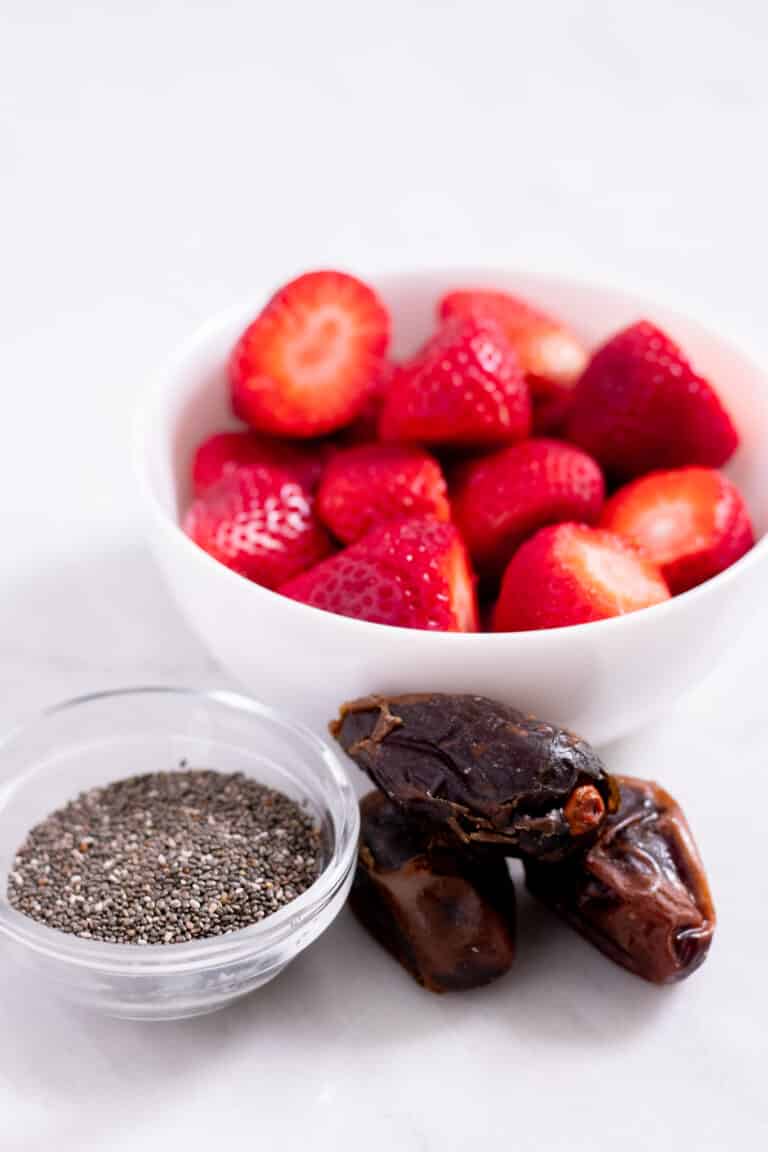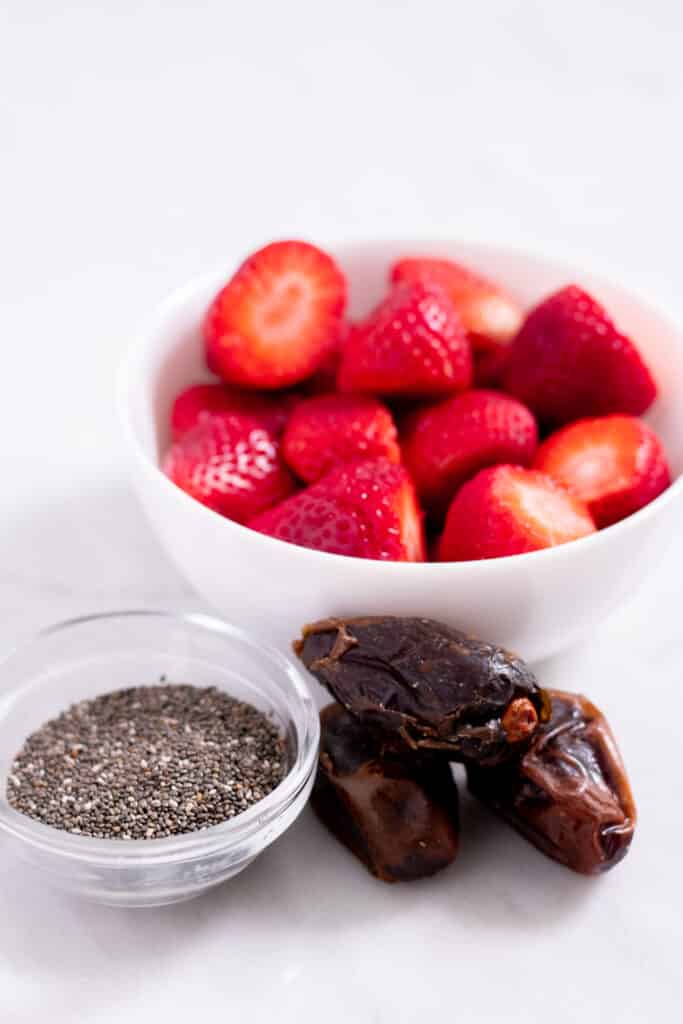 What You'll Need
Well, you'll need some fruit. For an 8 oz jar of jam you'll need about 10 oz of fruit, frozen or fresh.
You'll need a little bit of water. Depending on the water content of the fruit you're using, you may need between 2 - 4 tablespoon of water. I used 4 tablespoon (or ¼ cup) for this recipe--and I was using both fresh and frozen strawberries because I had them on hand.
For frozen fruit, start with less water and add more if you need to, since they may let off some liquid as they melt.
Don't worry about it too much, as the chia seeds will soak up most of the additional liquid. When wet, chia seeds expand to 10x their size and become more gelled instead of crunchy.
Chia seeds are from a plant called Salvia hispanica a plant in the mint family. It's native to South America.
Chia seeds are not only edible but high in quality protein, fiber, antioxidants, calcium, manganese, magnesium, phosphorus, omega-3 fatty acids and are also rich in zinc, vitamin B3 / niacin, potassium, vitamin B1 (thiamine) and vitamin B2. They are also relatively low in calories for their nutrition (about 46 calories a tablespoon).
Chia seeds also help you stay fuller longer, so spread it on that English muffin or toast.
If you don't want to use chia seeds, you can try using pectin instead.
One more thing: the sweetener. This is optional. If you'd like to leave it out, you can do so without any adjustment.
If you'd like to add a healthy sweetener, try a few pitted dates (shown here) or a little maple syrup.
If you are interested in the jars I used, they are these adorable jam jars from Ball.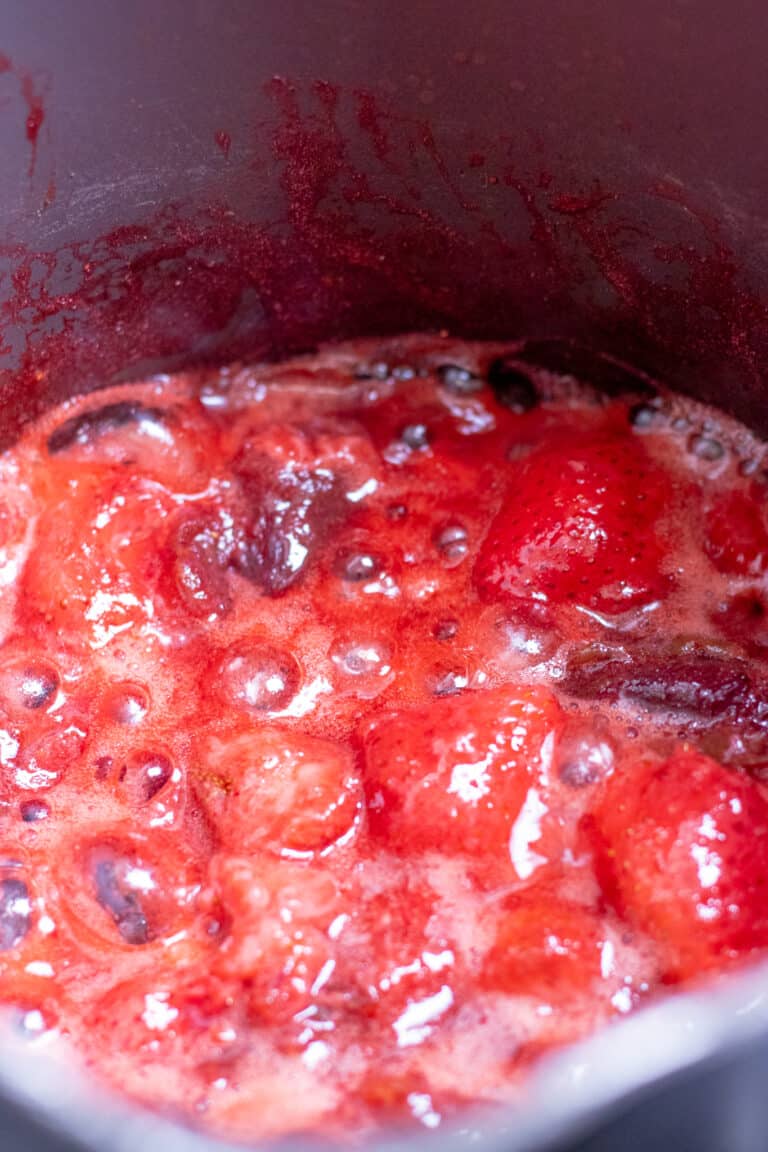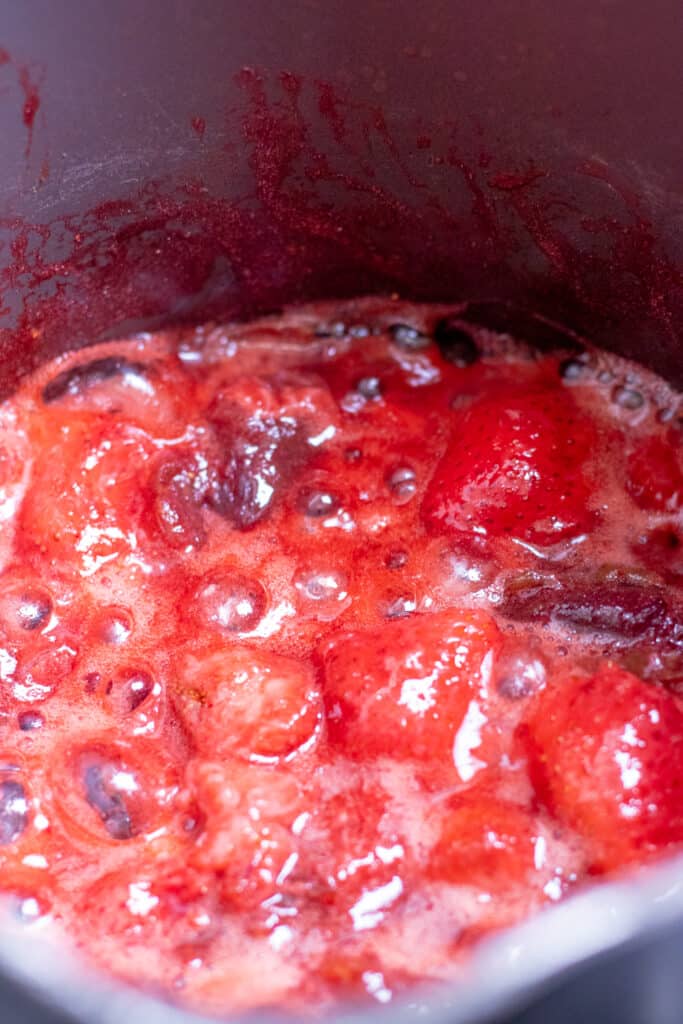 How to Make the Jam
As mentioned, making this jam is super easy. Just a few simple steps!
First, you're going to cook it for about 5-10 minutes on the stove top, until the fruit has broken down enough that it mushes with a fork. It may take closer to 10 minutes if you are using frozen fruit (harder fruit like apples may take a bit longer).
If you are using dates, add the same time as the fruit. Otherwise, add your sweetener (if using) when you blend.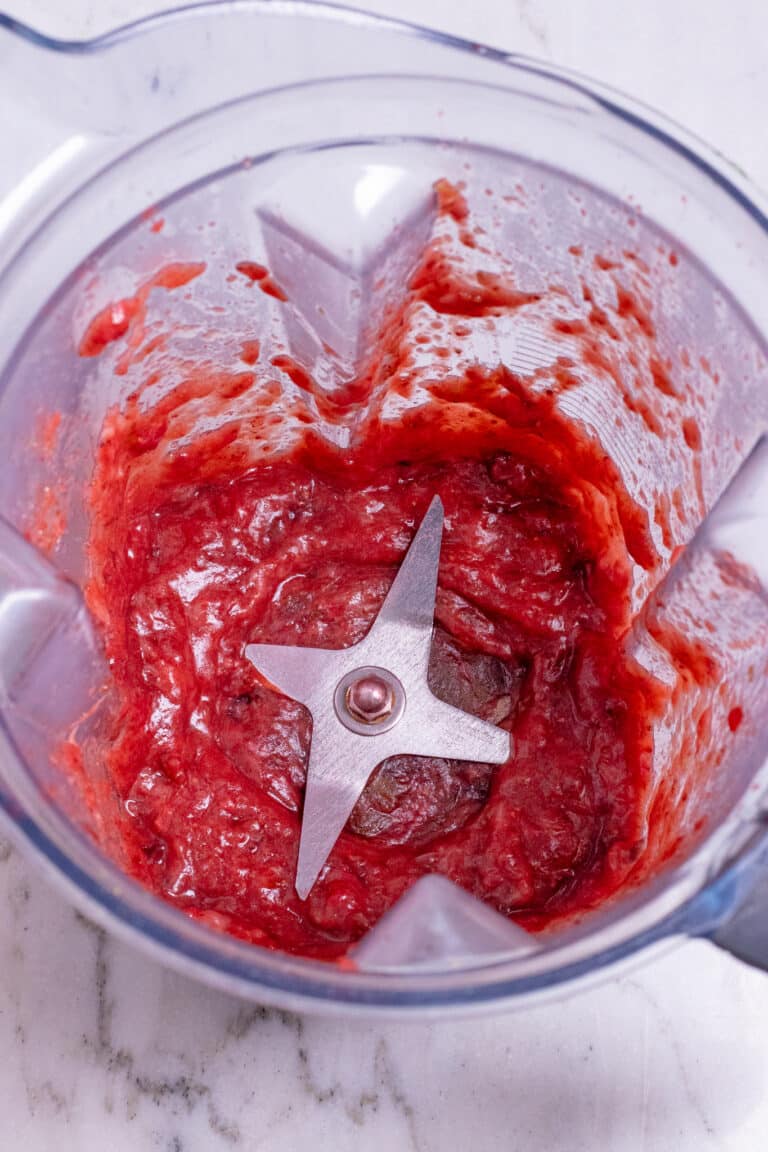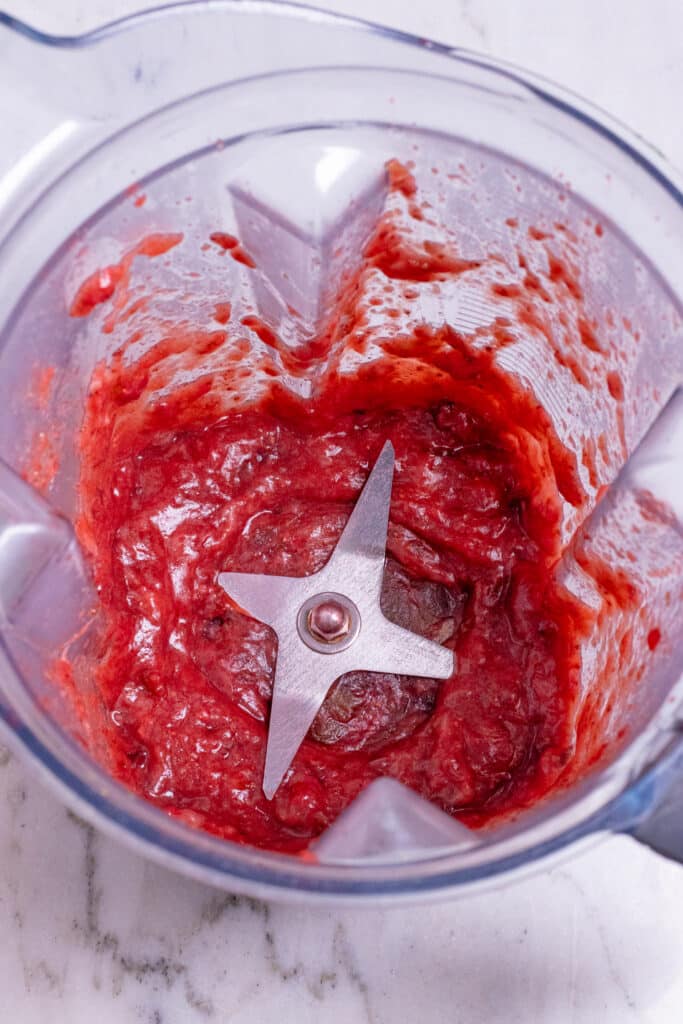 Speaking of which, when the fruit is soft, you can either mash it with a fork or blend it. I pulsed mine in the blender a few times to help chop up the cooked dates but if you like it fully blended, go ahead and blend until smooth.
Then, mix through your chia seeds with a spoon or spatula and add to a jar. Close the lid and refrigerate for about 2 hours until gelled.
That's it! That simple to delicious, healthy, chemical-free jam. Wonderful for kids and adults alike, this jam only needs one thing, a vessel (or a spoon, no judgement here).
Let's Jam
You can enjoy this jam in a variety of ways. Some of my favorites?
On a lightly toasted English muffin with some creamy natural peanut butter (Trader Joe's has a good one if you have that near you).
On top of banana nice cream--oh yes, I went there.
Scooped onto oatmeal--really, a scoop of chilled jam on hot oatmeal… yum.
Straight up with a spoon--it's not much different than chia pudding. Eat it with a spoon if you please!
OK I'm done telling you how to eat jam. Let's make some!
Jam on, my friends. (#sorrynotsorry)
As always, I hope you love this recipe!
Let me know in the comments below if you make it, tag me @Zardyplants on Instagram so I can see your beautiful recreations! If you tag me on IG, I will share your post in my stories :)
Also, one quick request: if you love how this recipe looks or tastes, please leave me a 5-star rating and a nice comment–ratings help more people find my recipes which helps me keep providing them! Thank you!
<3 LIZ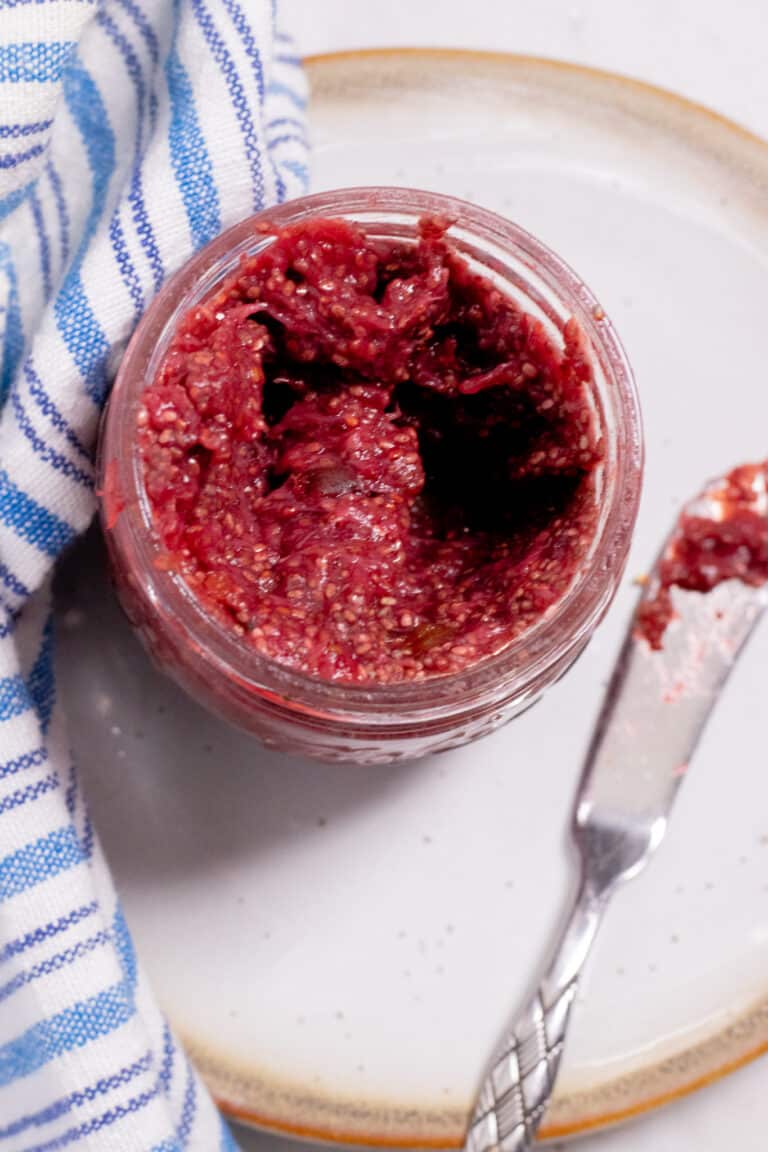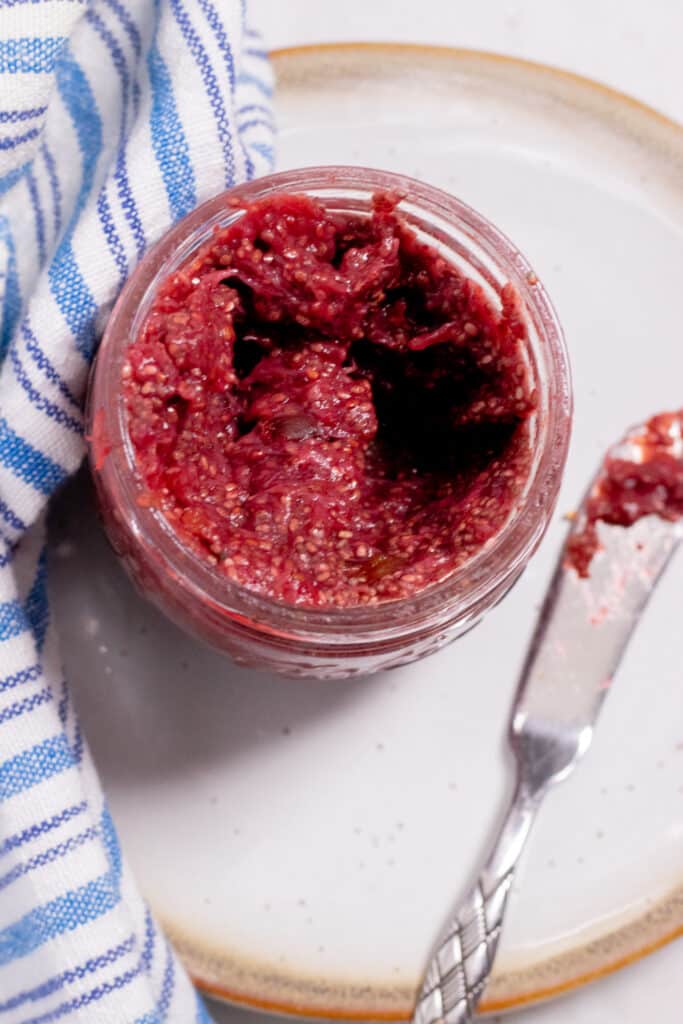 Follow me on Social Media!
Print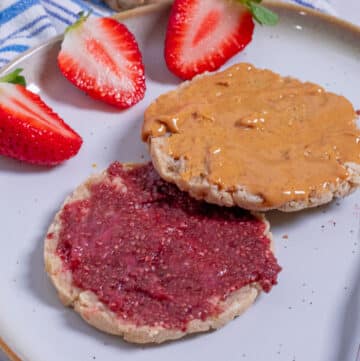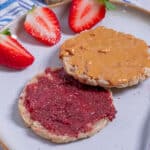 3 Ingredient Vegan Strawberry Jam Sugar Free
---
Author:

Liz Madsen

Total Time:

2 hours, 10 minutes

Yield:

8 oz

1

x
Description
Deliciously easy 3-ingredient jam that only takes 10 minutes to make (and 2 hours to gel in the fridge)! Use any fruit you like. The recipe is refined sugar free with an option to make it completely sugar free. Allergy friendly & gluten-free.
Vegan, Gluten-free, Nut-free, Oil-free, Refined Sugar-free, Can be Sugar-free
---
10 oz

fresh or frozen strawberries

2 tbsp

chia seeds

¼ cup

water (or less)

3

dates, optional (can sub with maple syrup or omit)
---
Instructions
Heat a small saucepan over medium heat. Add the fruit, dates if using, and water. Stir frequently and cook 5-10 minutes until fruit mushes easily with a fork.
Mash fruit with a fork or pulse / blend in a blender or food processor. If using maple syrup add and taste. When happy with flavor and consistency, mix through the chia seeds with a spoon or spatula.
Add the mixture to a jar, put on the lid, and refrigerate 2 hours or more. Enjoy!
Refrigerate in an airtight container up to 10 days.
Cook Time:

10 minutes

Category:

Jam

Method:

Stovetop

Cuisine:

Breakfast
Keywords: Vegan, Gluten-free, Nut-free, Oil-free, Refined Sugar-free,
---
---