This post is packed with soy curls recipes and all the info you need to make them your go-to. If you're looking for a super versatile meat replacement, look no further than soy curls!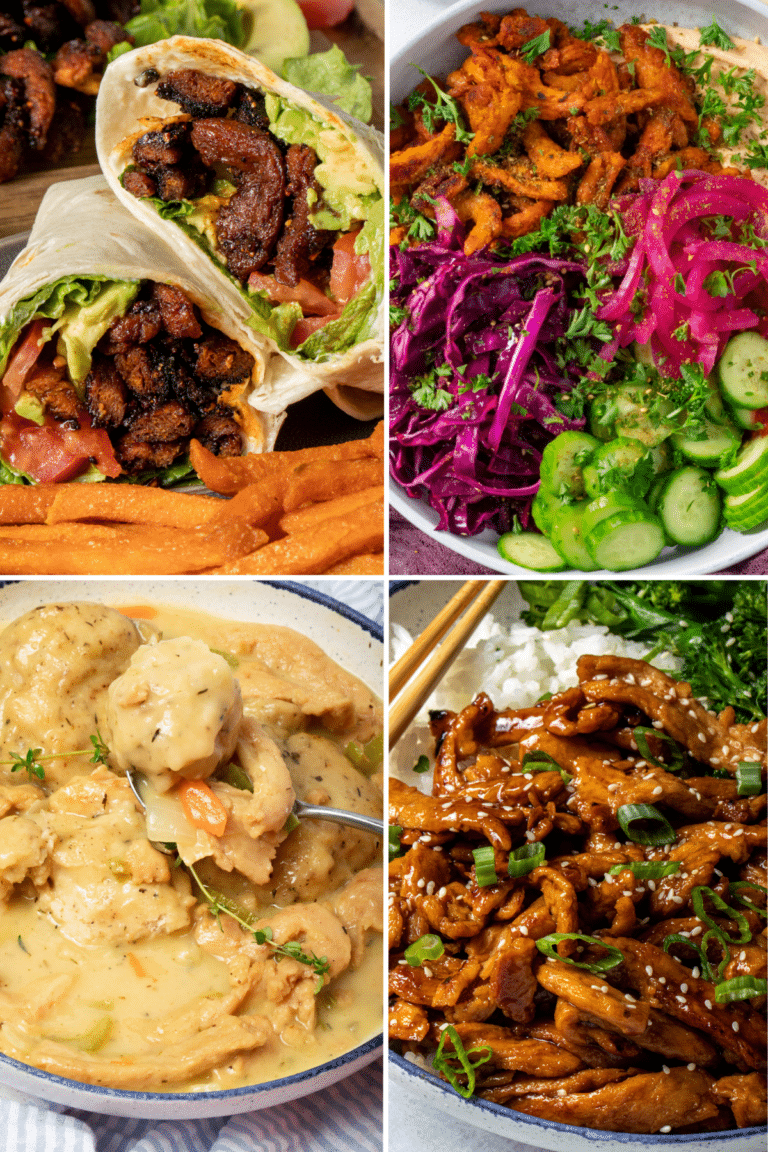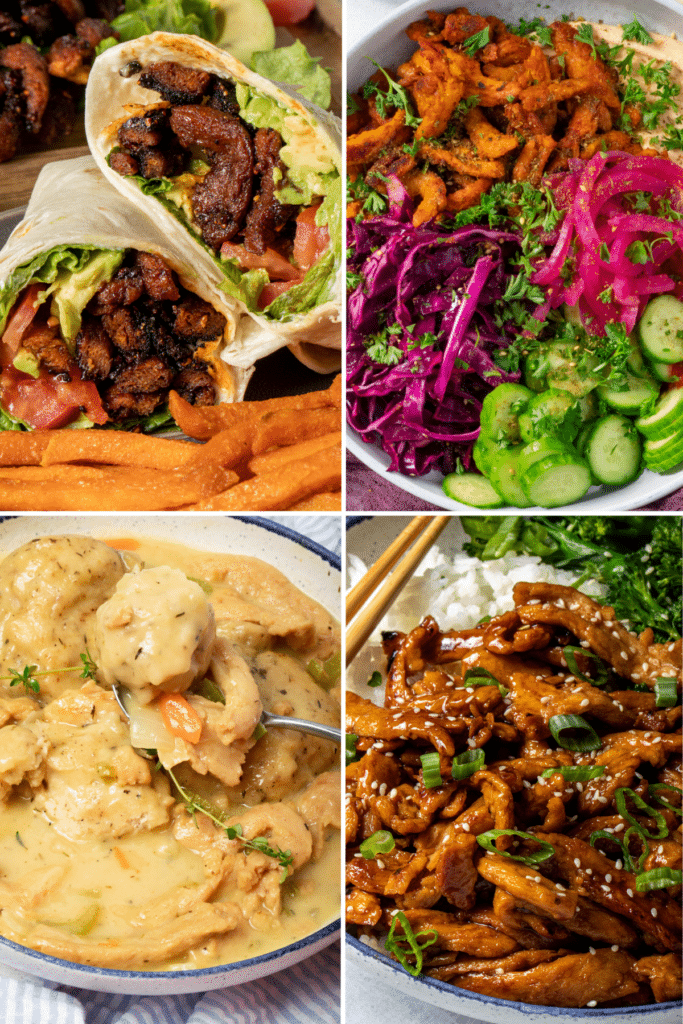 Hey Internet, if you're new here, you need to know that I LOVE soy curls. They're inexpensive, they last a long time, and they're one of the best vegan meat substitutes.
I use them in stir fry, vegan chicken recipes, vegan beef recipes, and even in things like soy curl bacon! So much flavor.
They're truly one of my staples and I never let myself run out. I actually don't like a lot of processed vegan meats, so that's why these soy curls are perfect.
I do think that fruits, vegetables, nuts, seeds, and legumes are the foundation of a plant based diet. However, it helps to be able to mix it up and use things like soy curls to make vegan versions of dishes you may not be able to eat anymore.
It took me a lot of trial and error to learn how to make the best soy curls. So I've decided to round up all my recipes using soy curls and offer my best soy curls tips. Next time you're making soy curls (or if it's your first time,) come here for tips and inspiration!
I really hope that this page will be a great resource to you and others you may know. Please share this page, and keep reading for ideas on how to cook soy curls and recipes with soy curls.
What are soy curls?
Soy curls are a naturally vegan and healthy meat alternative. Soy curls are made from boiling and dehydrating whole soybeans, which is a very natural and not overly processed method.
Butler Foods is the only company who makes soy curls (at the time I'm writing this, anyway. Don't be afraid of soy products!
Butler soy curls are incredibly easy and versatile to use and they have a truly awesome meaty texture.
They work quite well in a large variety of applications from sauteing, to stir frying, to baking, to soup (yes they hold up in soup!), to just about anything you can think of.
According to Butler Foods' website, soy curls "are made from select, non-GMO, whole soybeans (Soy), grown without chemical pesticides." They're also kosher if that's something you observe.
FAQ
What Are Soy Curls Made Of?
Soy curls are a natural product made from 100 percent whole soybeans (non-GMO soybeans that are grown organically).
Are Soy Curls Highly Processed?
Soy curls really are not highly processed. They are what I consider lightly processed, as they are boiled and dehydrated, clumping and positioned together to create the dried product you find in the bag. This is very different from many of the freezer meat substitutes you see at the store which can be highly processed and given lots of extra ingredients (like oil, sodium, sugar, etc.).
How Much Meat Do Soy Curls Make?
One 8 ounce package makes about 1 ½ pounds of meat substitute. If you want to make a huge batch, make two bags' worth at a time! But be prepared to dry fry or cook in batches so the soy curls aren't smothered.
Are Soy Curls Like Tofu?
Only in the sense that they're both made from soybeans and don't have any flavor of their own. Soy curls are a totally different shape, size, texture and are made from a different process than tofu.
Are Soy Curls the Same as TVP?
No. TVP is made from pressure cooking and drying defatted soybean flour (a remnant of the soybean oil industry), meaning it's actually more processed than soy curls are. TVP comes in either little bits (as seen in my vegan bacon bits) or larger TVP chunks. Soy curls are also a different size and shape than TVP, but they do both come dehydrated.
Worst mistake when making soy curls?
Using cold water, room temperature, or even warm water! I highly recommend not using water to rehydrate them at all, because you're missing a major opportunity to inject flavor into your recipe. Try a HOT (this helps penetrate the soy curls) broth that already tastes good. That's the real trick to make whatever you're cooking become one of your favorite dishes! The only thing is I would not recommend reheating soy curls in boiling water as the texture may suffer.
Can you put soy curls in a food processor?
Yes. But if you put them in the food processor when they're dry, you may end up with a lot of powder. I like to rehydrate my soy curls first, and then usually cook them in whatever seasonings I want, then food process. If I'm making taco meat, I rehydrate them in vegan chicken broth or vegan beef broth (vegetable broth also works!), cook them in taco seasonings and add garlic and onion, then pulse the mixture a few times in the food processor. Delicious!
Do soy curls go bad?
Yes, they can, which is why Butler Foods' website recommends storing them in the refrigerator or freezer. I've never had this problem, BUT we go through a lot of soy curls. What I've learned from some of the vegan communities I'm in is that you'll know from the smell if they've gone rancid (like nuts and seeds, which are also best to store in the refrigerator or freezer if you've got the room (which we never do…).
Where Can I Buy Soy Curls?
I have on occasion seen soy curls in the United States in health food stores and in the health food section of some grocery stores, but I haven't seen them at big retailers like Whole Foods. You could definitely ask your local health food store to carry them, but it's not a guarantee.
If you shop on Amazon, you may want to put soy curls on Subscribe and Save! If you don't shop on that site, you can also buy them directly from Butler Foods, the company that makes them. Fun fact about Butler: they're a family farm / company so you can feel good about supporting them directly!
They are sold in individual 8 ounce bags, in multi-packs, or even in big bulk boxes.
You can also purchase them from the Vegan Essentials online health food store.
Are Soy Curls Healthy?
Soy curls are one of the healthiest meat replacements out there along with tempeh, beans, and mushrooms. They're high in fiber and protein and they're less processed than other options and they contain no oil or added sodium, sugar, etc.
As with all other things, soy curls are as healthy as you make them. If you're watching your sodium, try to put them in less salty dishes. If you're not consuming added sugar, don't add any sugar to them.
Soy curls are similar to tofu in that they don't really have any flavor of their own but they act like sponges and will soak up whatever you give them.
They contain no sodium, cholesterol, sugar, or trans fat of their own. Since they are made from whole soybeans, one serving (about ¾ cup) contains 5 grams of fat and 11 grams of soy protein as well as some potassium, iron, and calcium.
How to Rehydrate Soy Curls
Add your soy curls to a medium bowl or a large bowl. Don't use a small bowl as they expand to more than twice their size when rehydrated!
Cover with hot liquid--I recommend broth of some sort but you can use hot water in a pinch. Press down the soy curls with a big spoon so they're covered. Allow to soak for 10-15 minutes.
Then use it as you like. I do recommend squeezing out the excess liquid unless you prefer your soy curls soft (which you may if they're going into a soup!).
My bag contains many different sizes and some powder--how do I make the most of it?
This is such a great question because even I was a little surprised when I ordered my first bag of soy curls.
Many people like to separate out the sizes in separate ziplock bags (or reusable food storage bags! I usually don't bother, but there is some powder/crumbles at the bottom of the bag that's too small for some of the soy curls recipes I have below.
But don't discard this powder and the tiny crumbles! Save them in a small container in your fridge or freezer and toss them into your next chili or pasta sauce--they really do make a great addition. In fact, I sometimes use them in my vegan meat sauce. It thickens, adds protein, and reduces waste--win win!
What Do Soy Curls Taste Like?
As mentioned above, soy curls don't have much of a flavor on their own. They're like sponges in that they'll soak up whatever flavor you put them in.
That's why my #1 soy curls hack is to not rehydrate them in hot water (or warm water) like most people seem to do, but rehydrate them in BROTH. And not just any old broth, but really flavorful broth (go ahead and season it too! Season it to taste like whatever you want.).
If I'm making soy curl chicken, I like to rehydrate in a large bowl with vegan chicken broth. I'm a big fan of the Better Than Bouillon No Chicken Base… just mix 1 teaspoon of the base per 1 cup water (hot water is best for it to dissolve) to get some nice vegan chicken broth. You can also do vegetable broth with a little added herbs like poultry seasoning (it's vegan) and a bit of nutritional yeast.
Similarly if I'm making soy curl beef, I'll do Better Than Bouillon No Beef Base and hot water. A good substitute is soy sauce (or coconut aminos) and mushroom powder, plus a little oregano!
Other ideas include rehydrating them in mushroom broth, dashi, or any commercially available vegan broth, even onion soup mix as long as the packet is vegan.
You can also rehydrate soy curls in a marinade! I did that for my soy curl bacon and it is AMAZING.
How to Store Soy Curls
If storing the dehydrated (the way they come), unprepared soy curls, the Butler Foods website states that it is best to keep them in the refrigerator or freezer to keep them fresh.
I go through them quickly enough that I've never had a problem, so I store them in my pantry.
If you haven't worked with soy curls before, or you only just started using them, I'd start with one or two bags, and keep them in the refrigerator or freezer until you're ready to use them. Start experimenting with them (find tons of soy curls recipes below!) and see how often you'd like to eat them before buying large quantities.
As for cooked and prepared soy curls that are already part of a dish, these can be stored like most food, usually for 4-5 days or frozen for up to 3 months. If you're making one of my recipes using soy curls, I always indicate the storage instructions in the last step of the instructions.
How to Use Soy Curls
There are many different ways to use soy curls. We like to use them in stir fries, soups & stews, wraps, quesadillas (with vegan cheese and a little lime juice!) salads, etc.
I particularly like to use soy curls in dishes influenced by various Asian cultures and cuisines. I often use soy sauce or coconut aminos in my marinades and recipes using soy curls.
They're great to replace any type of meat you may miss. And even if you're not interested in "fake meat," you can enjoy the wonderful meaty texture of soy curls as well as some extra fiber and protein in whatever dish you like.
One more tip for best results is to always cook your soy curls in a single layer so that all of them get exposed to heat and air evenly which help with the texture immensely.
How to Cook Soy Curls
There are many ways to cook Butler's soy curls. You can pan fry them in a skillet, in a large pot with other ingredients (like in a soup), you can bake them on parchment paper (after rehydrating), or you can even make soy curls in your air fryer!
One quick idea is to rehydrate them in your favorite broth, cook as desired, and eat with hot sauce or your preferred condiments. So good!
Air Fryer Soy Curls
In my vegan honey mustard chicken wraps, I make air fryer soy curls as one of the methods and I actually really loved them! The air fryer makes the soy curls quite crispy and chewy when cooked in a single layer.
My Favorite Way to Make Soy Curls
So my favorite way to cook soy curls is to rehydrate them in a large bowl with broth (sometimes with added soy sauce or coconut aminos), squeeze out the excess water or liquid, and then "dry fry" them over medium high heat in a large skillet (a non stick pan is best).
You could then even throw the "meat" in a food processor to use as ground "meat" in your next recipe (it stores well in the freezer too!).
From there, you can add in any type of seasonings you like. For best results, cook over medium heat until they are cooked through and lightly browned (or your desired "doneness").
This is also a great way to prepare them for a soup or something so they'll have a nice meaty texture. I prefer to add my soy curls near the end of the cooking process which seems to retain more texture.
Can You Marinate Soy Curls?
The short answer is yes!
I've recently found another method for cooking soy curls that I want to share. This idea came to me when I was experimenting with soy curl bacon.
By soaking soy curls directly in marinade featuring soy sauce, maple syrup, apple cider vinegar, and a few other things, you're packing more flavor into them. There's no need to soak for a long time, I usually do 10-15 minutes. But how do you keep that flavor in them?
If you can add the soaked soy curls and any remaining marinade into a large skillet (again, nonstick is best) and then cook that down altogether until the marinade is gone, it will mostly absorb into the soy curls. Then, continue cooking a little longer to brown them and get a meaty texture.
This helped me create crispy, chewy bacon that's absolutely loaded with smoky flavor.
Tip: Always Presoak / Rehydrate
You can also simply add dry soy curls directly into soups, chilis, etc. but keep in mind that because they are not presoaked, they will soak up a lot of extra liquid. I also recommend simmering or cooking over medium heat, as prolonged cooking over high heat in liquid may cause the soy curls to lose texture.
For that reason, you may need to add extra broth or liquid to your soup or chili. Soy curls soak up about twice their volume in liquid (so 1 cup of soy curls will soak up about 2 cups of liquid especially if the liquid is hot). If you want meaty soy curls in your chili or soup, I suggest cooking them separately and adding at the end.
I have actually not yet dried them in a slow cooker but I definitely need to!
Looking for Soy Curls Recipes?
The recipes you see below are my favorite soy curl recipes. I would not share these if I did not believe every single one is a great recipe. I consider them friendly vegan recipes because they're really easy to make and not scary (like seitan can be, lol).
My favorite recipe on here? That's too hard to choose. I'm kind of crazy about the vegan pepper steak, though. Sweet, savory, and covered with green onions and sesame seeds!
Each recipe shows you exactly how to cook soy curls in the best way for that recipe, but many also provide what I would call a "soy curls hack" (rehydrating in a large bowl of broth, squeezing out excess water or broth, then cooking in a large skillet (nonstick is best) in a single layer with no oil, kind of like "dry frying," one of my favorite ways to cook them) until golden brown.
Onto the soy curls recipes! I'll be adding to the list every time I create a new one.
Best Soy Curls Recipes
If you're looking for the BEST soy curls recipes, look no further! This constantly growing list (hint: bookmark, share, or pin this page!) contains amazing, super flavorful, and easy recipes with soy curls.