I'm still feelin' pumpkin-y, so I've brought you an Easy Gluten-Free Vegan Pumpkin Bread with Almond Maple Glaze today! You just need a bowl, a spatula, a loaf pan, and a few simple ingredients to make this dreamy breakfast / dessert hybrid.
My favorite way to eat this pumpkin bread is warmed in the microwave, and then straight up stuff it in my mouth. But you could also serve it with fresh fruit (I'm thinking apples and clementines) or other breakfast things like these amazing winter squash frittata cups.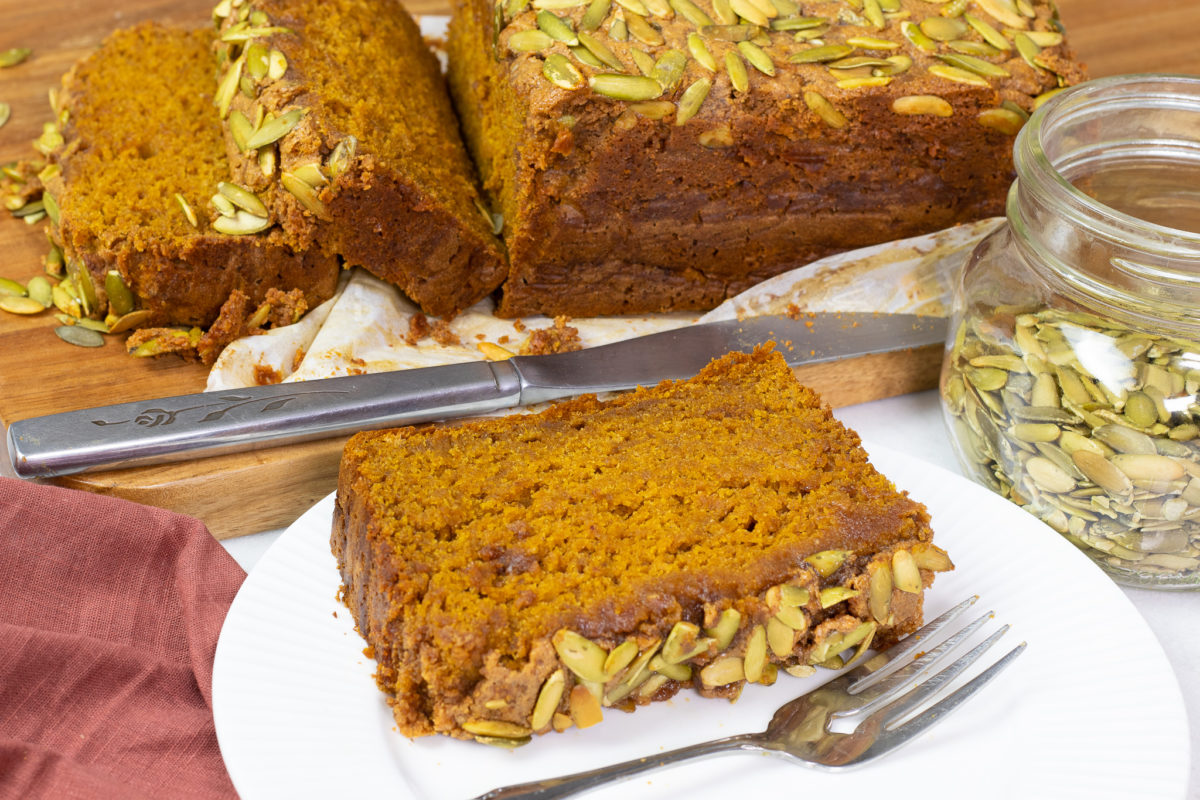 What do I Need?
So like I said, making Gluten-Free Vegan Pumpkin Bread is simple. Of course you'll need your pumpkin puree (not pumpkin pie filling, which has other ingredients), and some good Pumpkin Spice. You can make your own by mixing cinnamon, ground cloves, ginger, nutmeg, and a little allspice, but it's even easier to buy the mix pre-made.
As far as obvious ingredients go, we'll need some flour. And since this is a gluten-free recipe, we'll need the flour to be gluten-free. I like to use Bob's Red Mill 1:1 Gluten Free Blend Flour. You'll also need some baking powder and baking soda.
Many pumpkin recipes use vegan butter or oil, but since I don't cook with those ingredients, I used unsweetened applesauce. It is definitely my favorite oil substitute in baking, but you can also use mashed banana, coconut cream, and ironically pumpkin. :D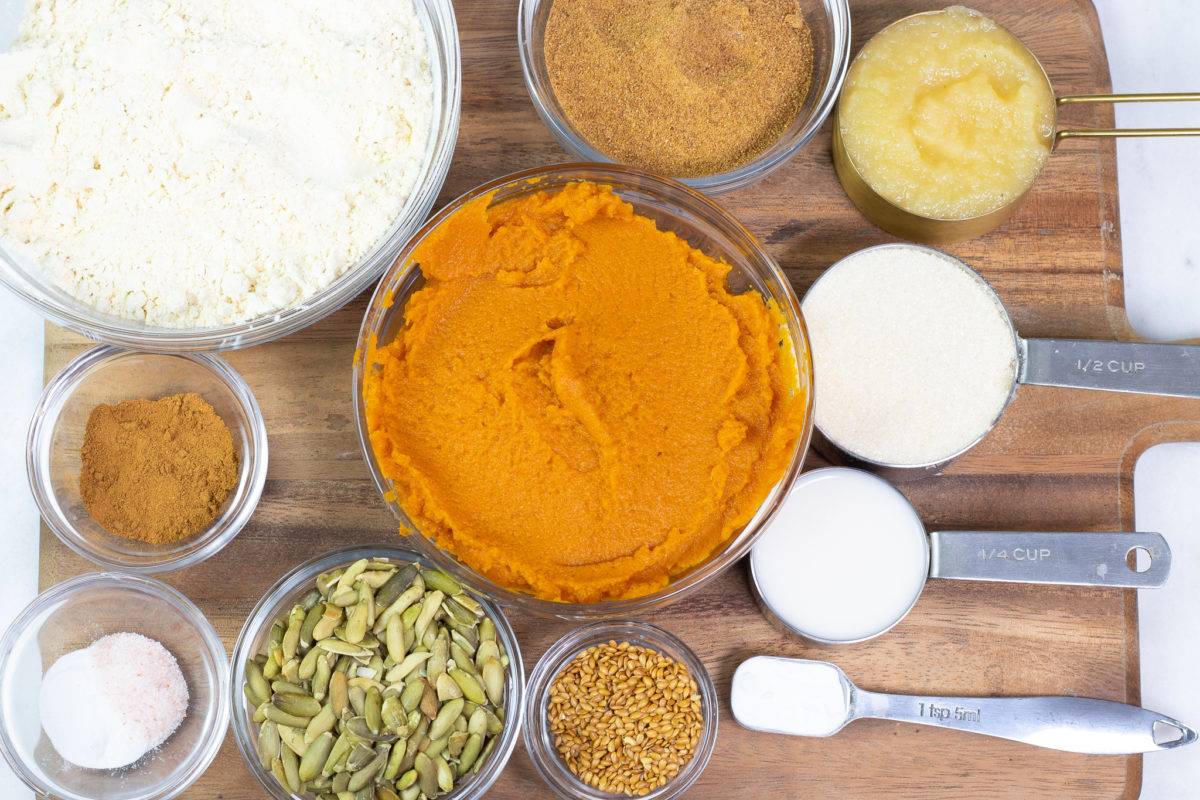 In this recipe, I've used a mix of coconut sugar and organic sugar, but you can play around with different ratios. Coconut sugar, which is technically called coconut palm sugar, is actually lower on the glycemic index, which is a list of carbohydrates assigned numbers referring to how they affect your glucose (blood sugar) (more about that here). Don't get me wrong. It's still sugar. But it's a tiny bit healthier, and the point is that it tastes like brown sugar and cinnamon had an amazing lovechild. *crickets*
Speaking of amazing… I created a glaze for the top of the loaf and it's absolutely divine, if I do say so myself. It's made of 3 ingredients: maple syrup, almond butter (Costco, of course), and almond milk. It's the perfect consistency and it's so good I immediately made more and dipped apple slices in it.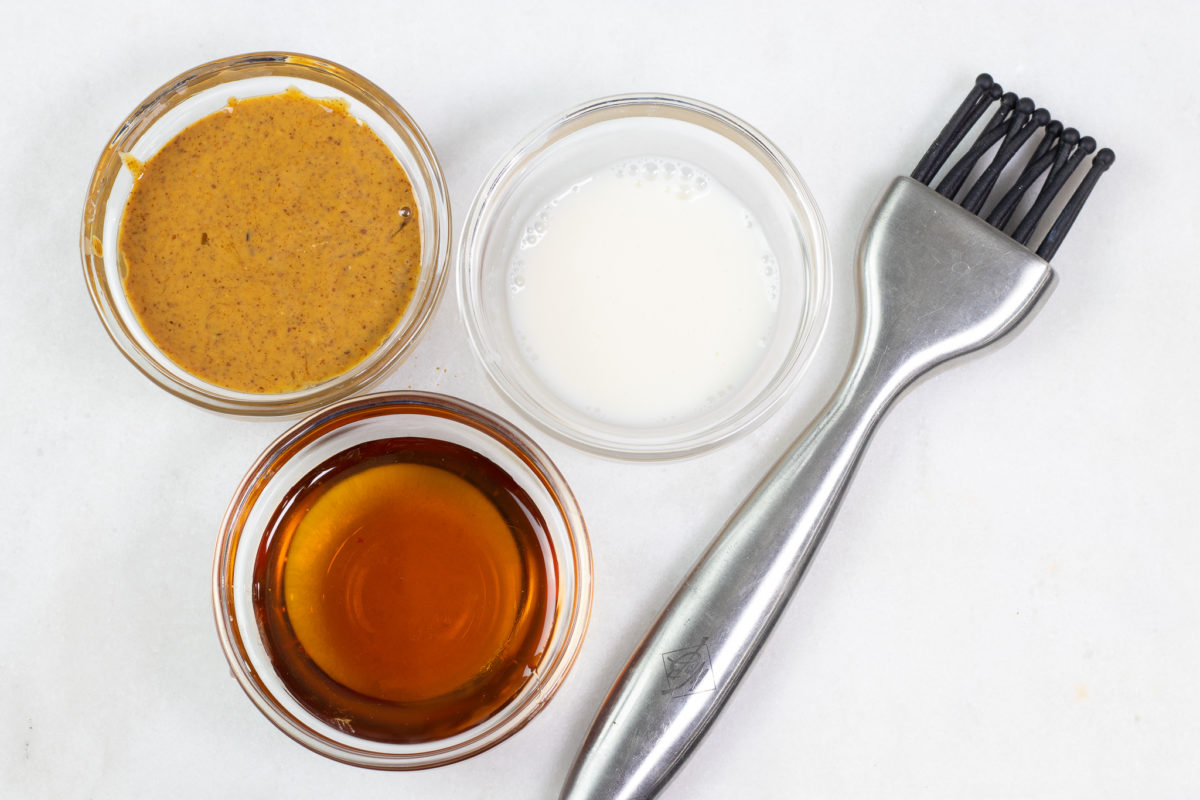 You don't have to sprinkle anything on top, but I think its kind of fun. My favorite thing to top my Gluten-Free Vegan Pumpkin Bread with is raw pumpkin seeds. They get light and crunchy, and they're recipe appropriate. You can also top them with walnuts, pecans… chocolate chips… just sayin'.
How Do I Make It?
Don't let the number of steps scare you off. These are actually pretty easy to make! And when the food is in the oven each time you can walk away and do other things–just set a timer! I like to use my phone because then I can hear it no matter which room I'm in.
The first thing you have to do is make the flax egg before anything else. Flax eggs are awesome, because they're packed with omega 3 fatty acids which are extremely good for lowering your risk for heart disease, diabetes, and cancer. When ground and mixed with water, they also make a fantastic egg replacement, as they turn into a thick gel that binds ingredients well.
To make a flax egg, simply mix 1 tablespoon of ground flaxseed (I freshly grind mine each time to maximize nutrients, using a spice grinder) with three tablespoons of water. You can let it sit on the counter 10-15 minutes to thicken, but I'm impatient so I put it in the fridge for 5 minutes instead.
So after you've made the flax egg, you're going to mix your wet ingredients and sugars. Mix them well with a spatula, then add your dry ingredients on top, making sure everything gets combined but don't overmix.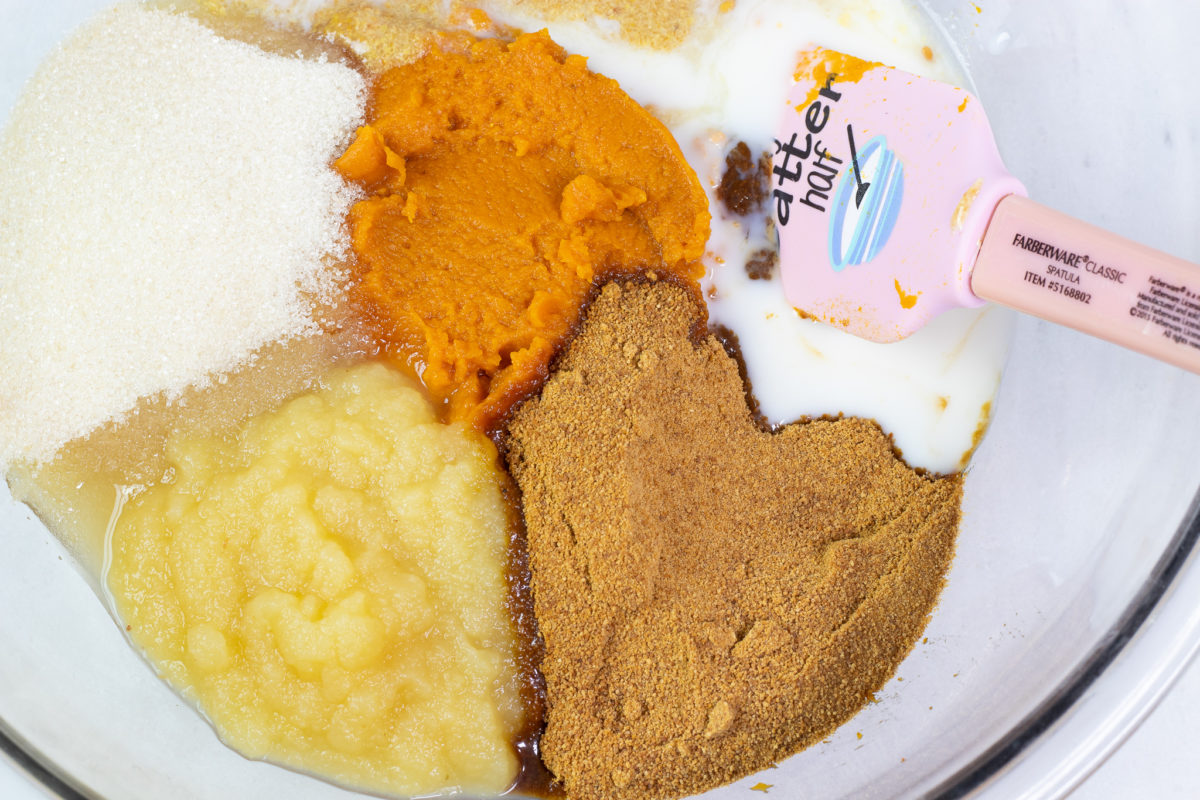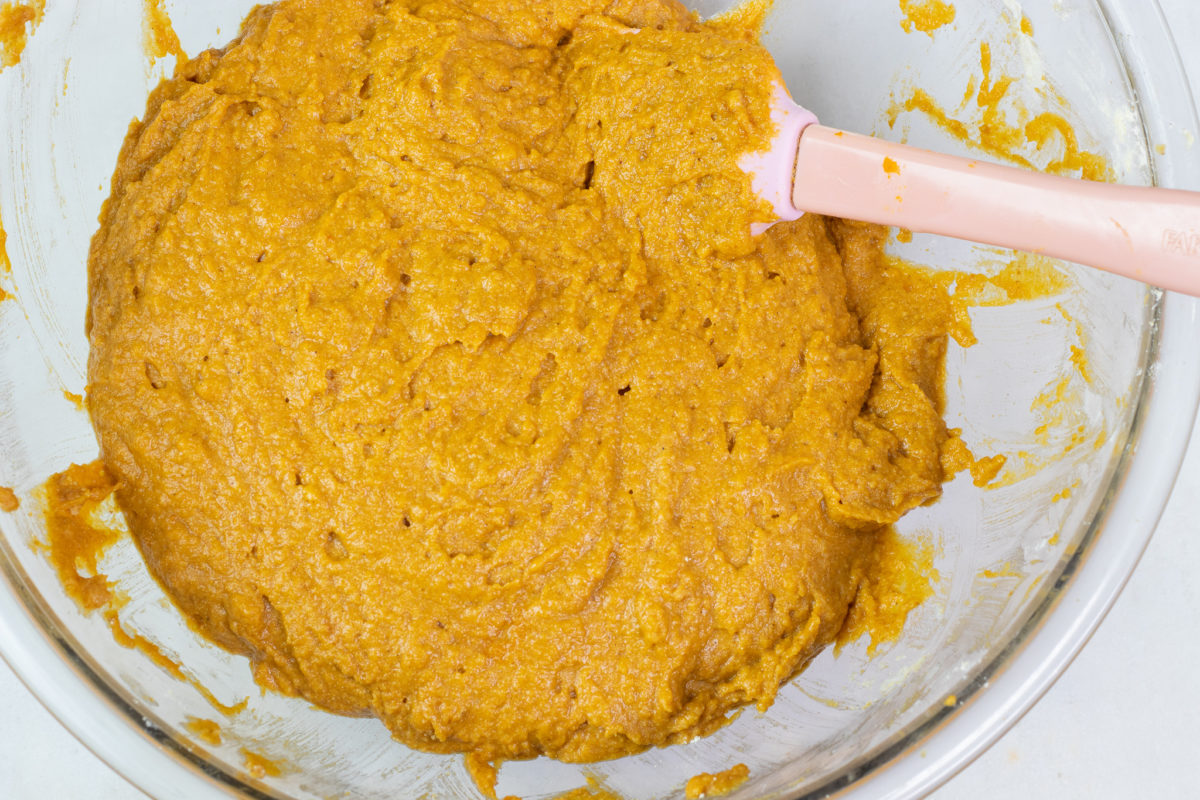 Then put it in a loaf pan. If you don't want to be part of my super cool oil free club then you can grease or spray your pan with oil. BUT IF YOU WANT IN, JUST TRY THIS AWESOME LOAF TIN HACK.
It's really high tech.
First, cut a long piece of parchment paper as wide as your loaf tin. Then insert it into the pan, making the paper flush with all the edges it touches (so your batter takes on the full form of the pan). Then you take your complex adhesive devices and attach them to the outer sides of the pan, securing the placement of the parchment paper while you load in the batter.
After you've scraped all your batter into the pan, take your spatula and smooth it out. Then remove your adhesive devices and–LIZ.
It's tape. You're using tape.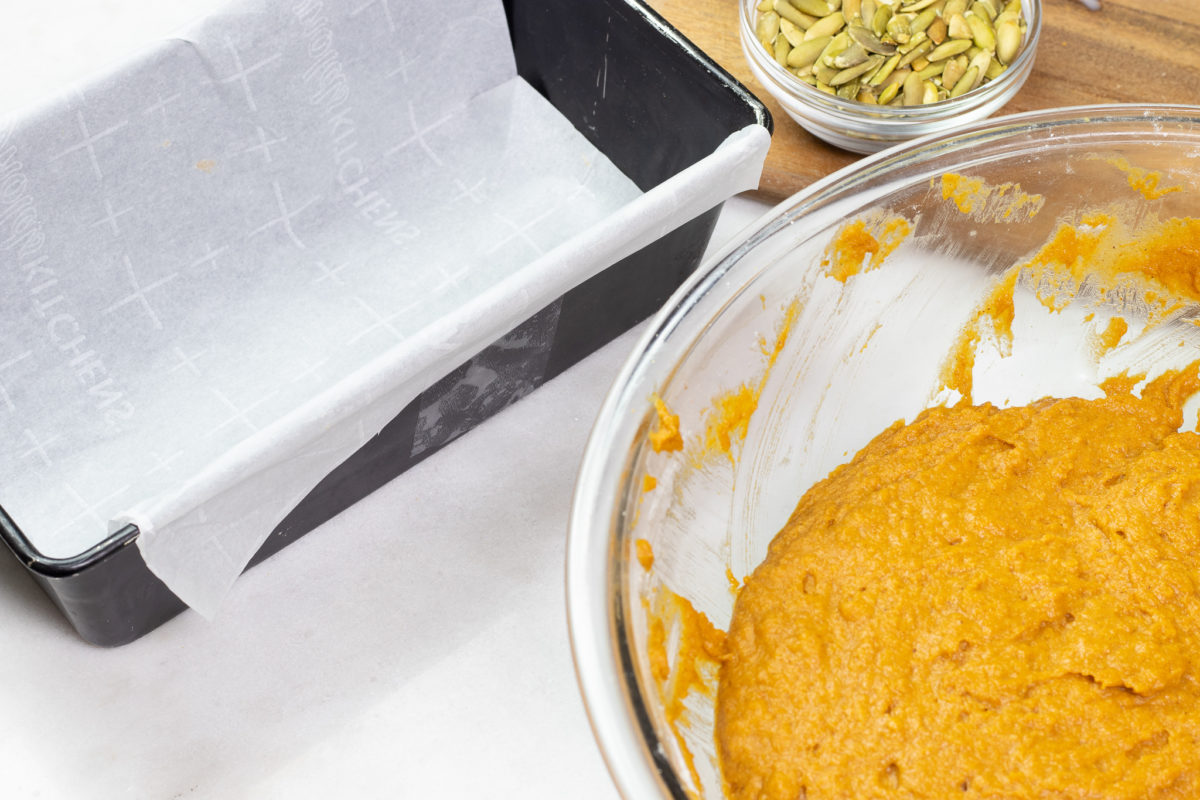 Anyway, you want tabs of parchment paper to hang over the two longer sides of your pan, so that after it's done baking, all you have to do is separate the two short edges from the loaf with a butter knife, and gently pull the loaf out using the tabs. Comes out perfectly. You may recall I also used this method with my Smoky Lentil Quinoa Loaf.
But before putting the Gluten-Free Vegan Pumpkin Bread in the oven, top it with the glaze (I used a basting brush to spread the glaze (I poured it on first) and pumpkin seeds or whatever else you're topping it with, if anything. Then bake it for just under an hour.
As always, let me know if you make this recipe and please tag #Zardyplants and mention me @Zardyplants so I can see your beautiful recreations! If you tag me on IG, I will share your post in my stories :)
<3 Liz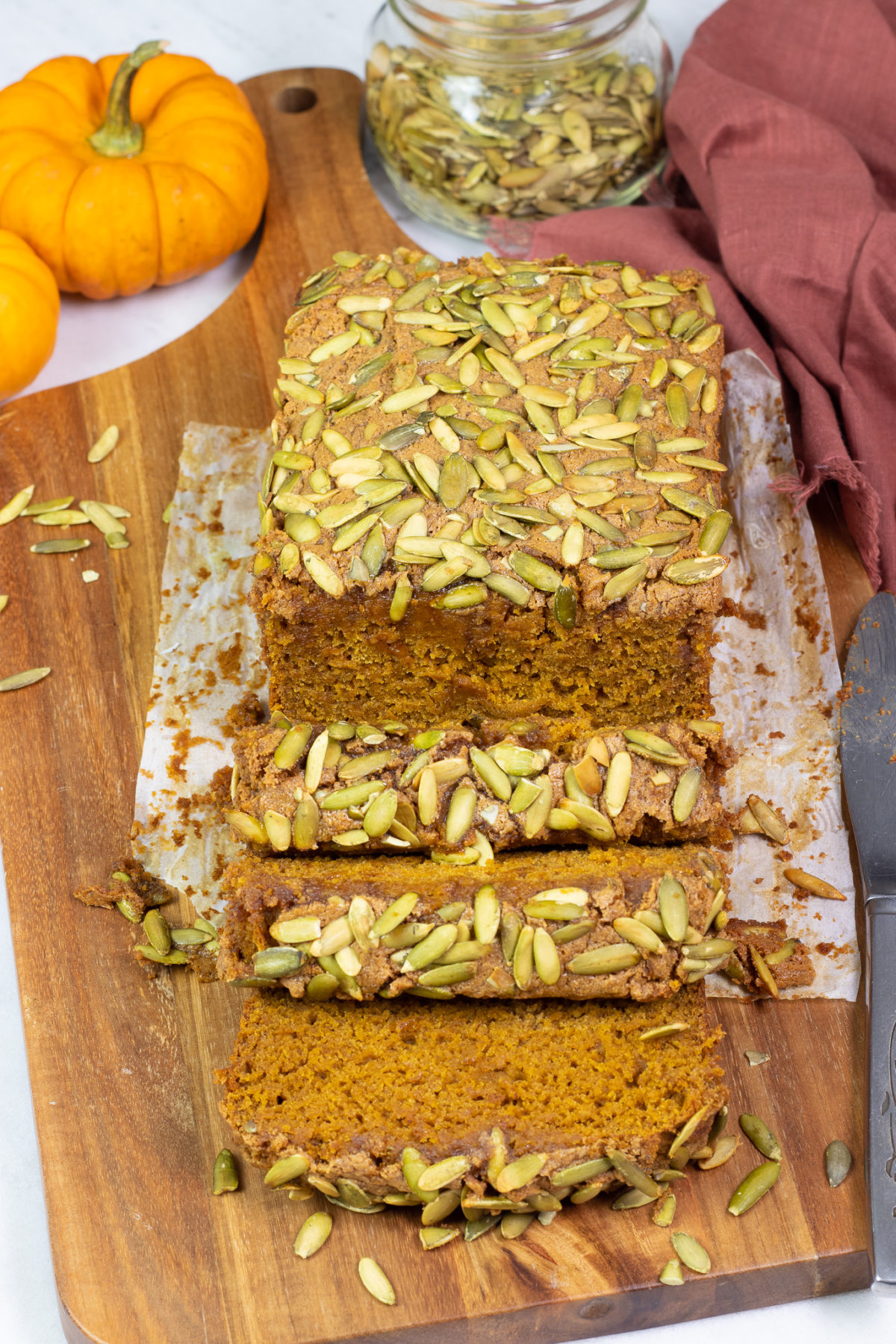 Follow me on Social Media!
Print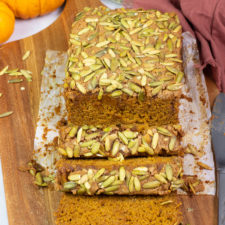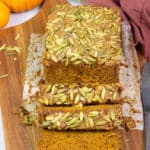 Easy Gluten Free Vegan Pumpkin Bread with Almond Maple Glaze
---
Author:

Liz Madsen

Total Time:

1 hour, 5 minutes

Yield:

10

slices

1

x
Description
Gluten-Free, Soy-Free, Oil-free, Vegan
---
Ingredients
1

can pumpkin puree

1.75 cups

gluten-free 1:1 flour

1 tbsp

ground flaxseed

3 tbsp

water

½ cup

coconut sugar

½ cup

organic sugar

¼ cup

unsweetened nondairy milk (I used almond milk)

½ cup

unsweetened applesauce

1 tsp

baking soda

½ tsp

salt

2 tsp

pumpkin spice
Glaze
3 tbsp

almond butter

3 tbsp

maple syrup

1 tbsp

unsweetened nondairy milk
Topping
⅓ cup

pumpkin seeds, optional
---
Instructions
Mix your ground flaxseed and water in a bowl and put in the fridge to gel. Preheat the oven to 350 degrees F (177 degrees C)
Mix glaze and set aside.
Add pumpkin, sugars, nondairy milk, applesauce, and flax egg to a large bowl and mix with a spatula until well combined. Then add the flour, baking soda & powder, salt, and pumpkin spice on top and mix until well combined, but do not over mix.
Using parchment paper (tip in post about how to make the parchment paper to stay), line your loaf tin or grease it if you cook with oil. Add the batter to the tin, smoothing out with your spatula.
Add the glaze to the top, then sprinkle with pumpkin seeds if desired (or whatever else you'd like).
Bake uncovered for 55 minutes, or until an inserted toothpick comes out clean.
Store in an airtight container up to 1 week.
Prep Time:

10 minutes

Cook Time:

55 minutes

Category:

Breakfast, Snack, Dessert

Cuisine:

Vegan, Breakfast, Pumpkin Bread
Nutrition
Serving Size:

1 slice

Calories:

217
Keywords: Vegan, Gluten-Free, Soy-Free, Plant-based, Pumpkin Bread
---
---
Other Recent Content!