This post may contain affiliate links. See our disclosure policy for details.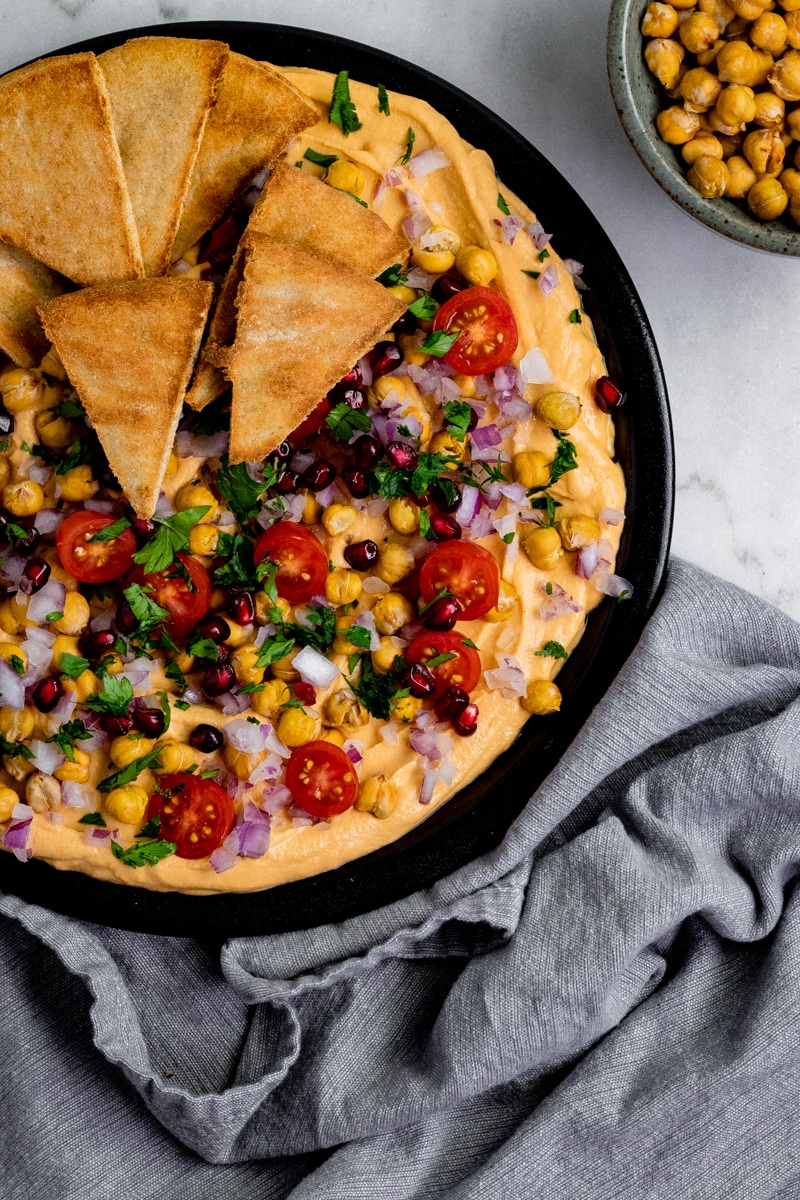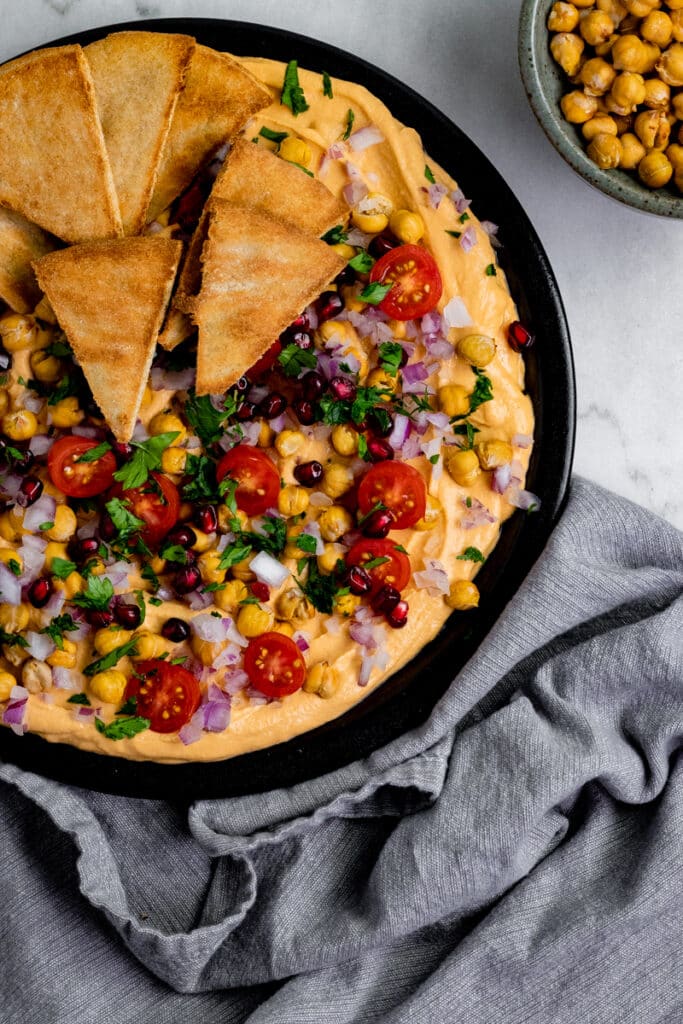 This vegan oil free hummus is super easy to make and incredibly creamy. Serve it up as a meal loaded with veggies and pita or keep it in the fridge as an easy snack with veggies or crackers when you get peckish!
Hey Internet, have you ever had homemade hummus? If you haven't, you don't know what you're missing! And if you have, I've got a super creamy recipe for you to try that I think you'll really like.
I'm not completely against storebought hummus--it's one of my favorite "fast food" options on road trips and such. But it's also loaded with oil, preservatives, and too much salt.
And sometimes homemade hummus can be gritty or bland. Not this hummus!
This vegan oil free hummus is SUPER DUPER creamy and flavorful. The trick is to let it run in the blender for 2 minutes!
(If you don't have a high powered blender, I recommend letting your blender rest a bit in between so it doesn't overheat.)
Hummus is a perfect snack for kids with pita or pita chips, veggies, or crackers. Looking for more snack ideas? Check out this list of 50+ Vegan Snacks for Kids!
So without further ado, let's talk about what you need for this yummy plant based hummus.
What You'll Need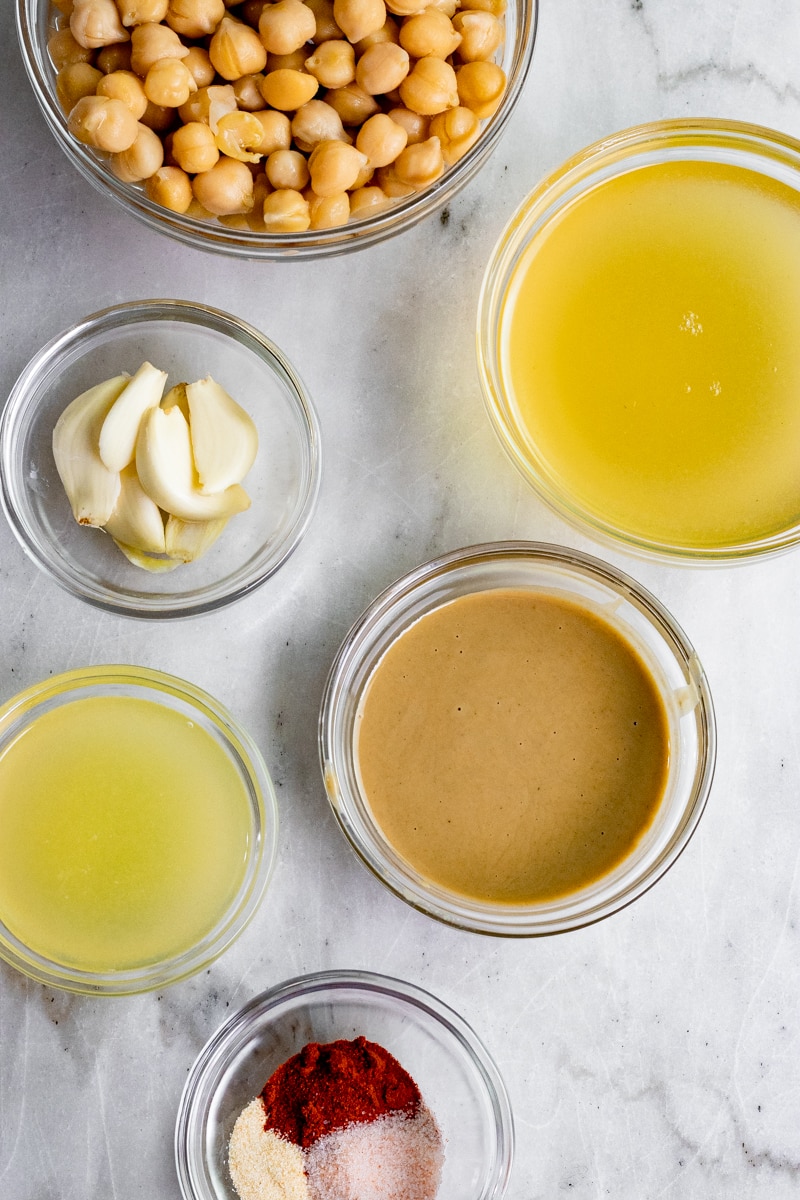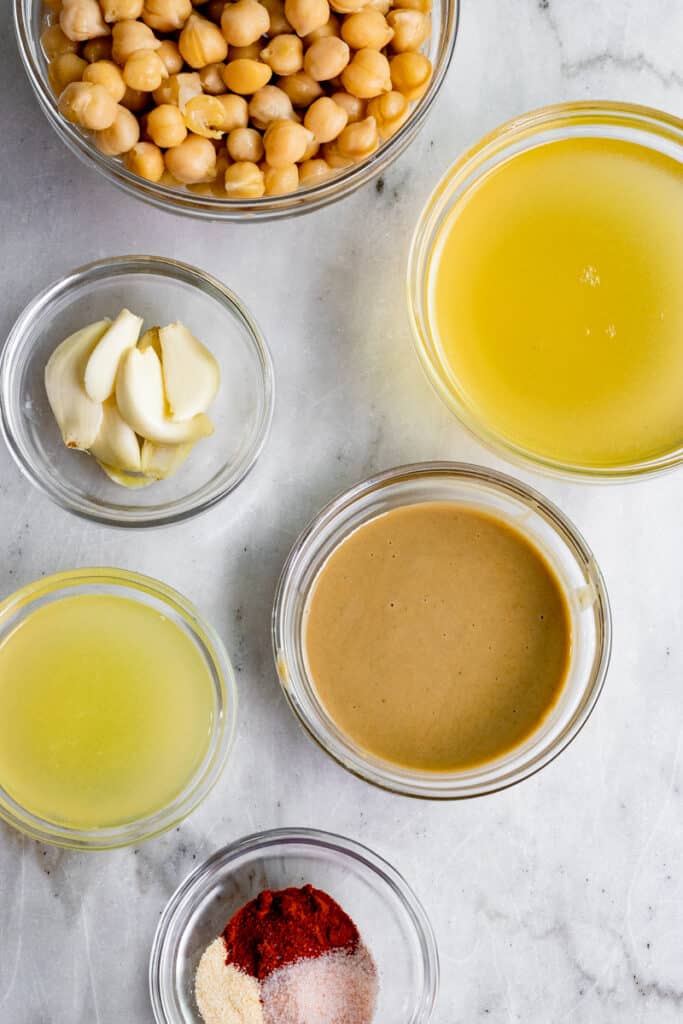 There's only a few basic ingredients you need to make hummus: chickpeas (though you can make great bean dip from any bean or legume--like split pea hummus!), lemon juice, and aquafaba -- the liquid from the can (or cooking liquid if you cooked them from dried.
This bean water (that's what aquafaba means!) is awesome for a variety of things like meringue, mayo, egg replacement, and yes, making hummus super creamy.
The optional add-ins are what take hummus to the next level. Tahini (or cashew or sunflower seed butter) make it even creamier and richer, so I highly recommend it.
You can also play around with spices and other flavorings. This recipe features fresh garlic, a little onion powder, a little paprika (giving it an orange hue and a warm flavor), and a dash of salt.
What to Have the Hummus With
I pretty much make hummus every week. You can take a completely bland meal, like rice and steamed veggies, add a dollop of hummus, and suddenly it's like Guy Fieri's Flavortown without the animal products.
I even have a roasted vegetable hummus pasta salad that is so good my mom asks me to make it every time I visit her in Florida.
I like to switch up the hummus recipe depending on what I'm eating that week. For example, a few weeks ago I made my lentil vegetable Dal and added turmeric, black pepper, and ginger to my hummus recipe.
The result? *Kisses fingers dramatically*
You could make a low sodium hummus by using salt-free chickpeas and only add as much salt as you need. You could even leave out the salt entirely by spicing it up with vinegars, hot sauce, etc.
So, I'll provide the base recipe and instructions (*hint: use a blender!), then a list of possible flavor combinations but truly it only scratches the surface. Experiment with herbs, spices, vinegars, citrus, anything you can think of, and make sure you comment the winners down below.
How to Make Vegan Oil Free Hummus
My favorite method of making hummus is in the blender. While I do have a high-speed blender, I made this even in my old, not so high-speed one.
You can also use a food processor, but I believe the high-speed blender gives you the creamiest result.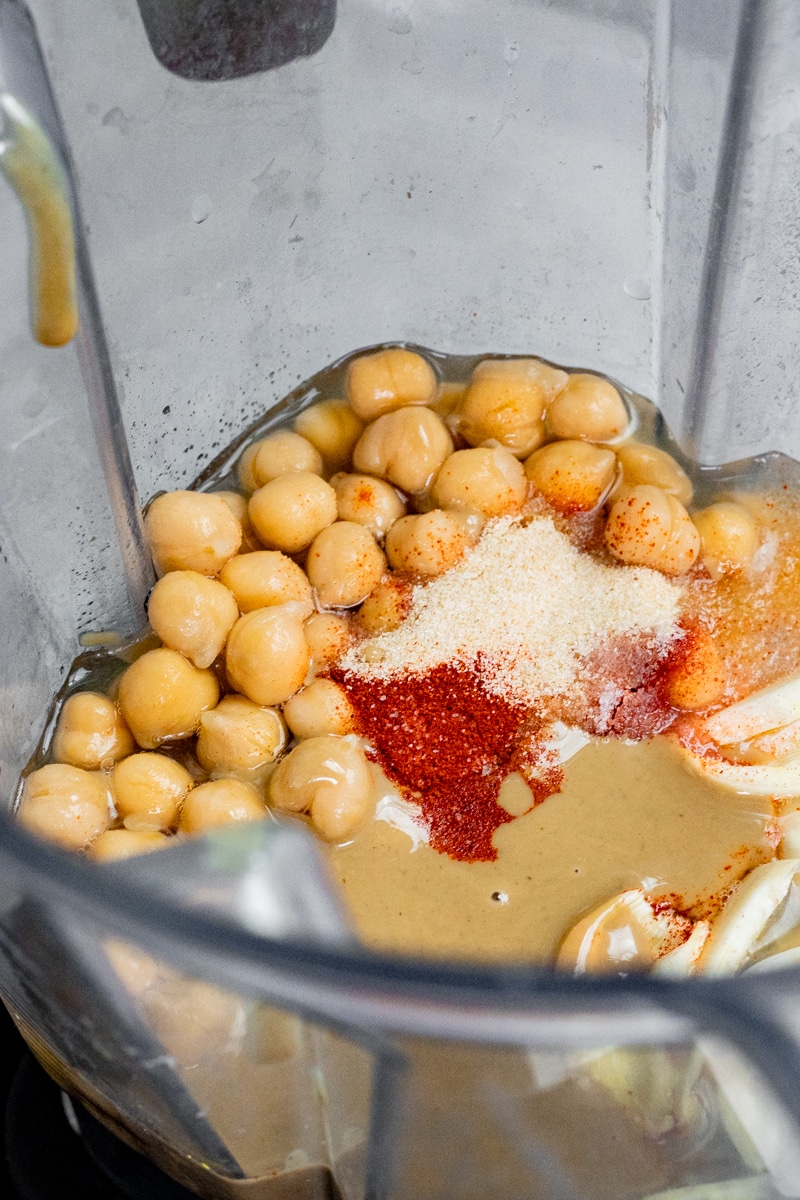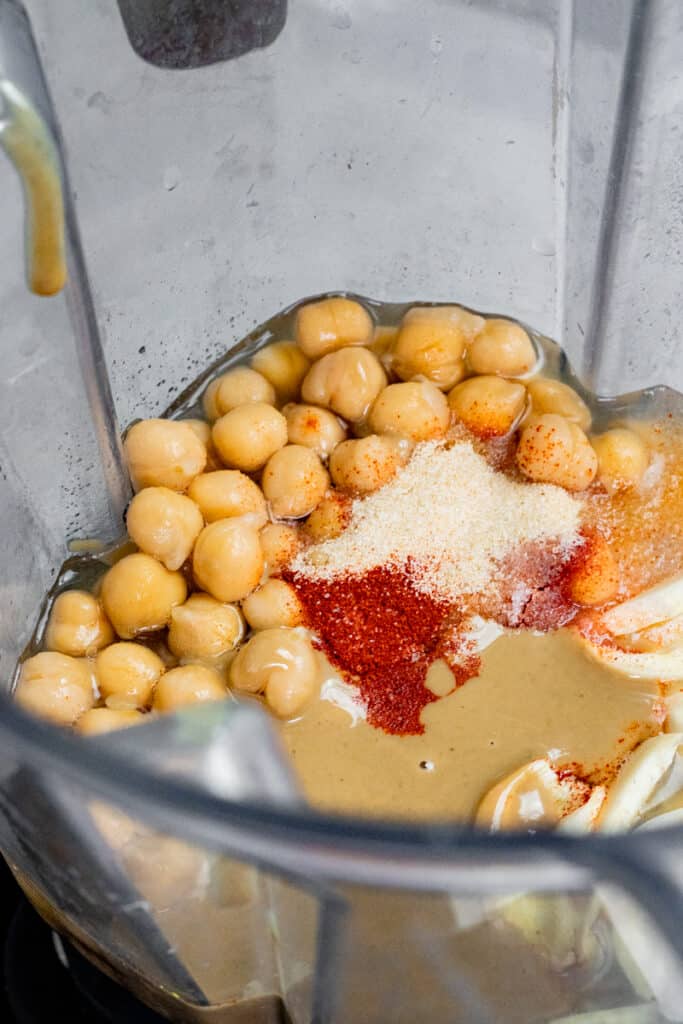 You can use either canned or cooked from scratch chickpeas, but either way make sure to save the aquafaba that comes in the can or in your pot from cooking it.
And you may have seen some people peel their chickpeas, but I don't have time for that. Just blend 'em up!
So like I said above, just blend everything up. Try to add the aquafaba a little a time (it's easier to make hummus thinner than thicker). If you need more liquid still, add cold water a tablespoon at a time until it's the right consistency.
Don't have a high speed blender? That's OK, just stop and scrape down the container every so often, and let it cool down in between blending sessions.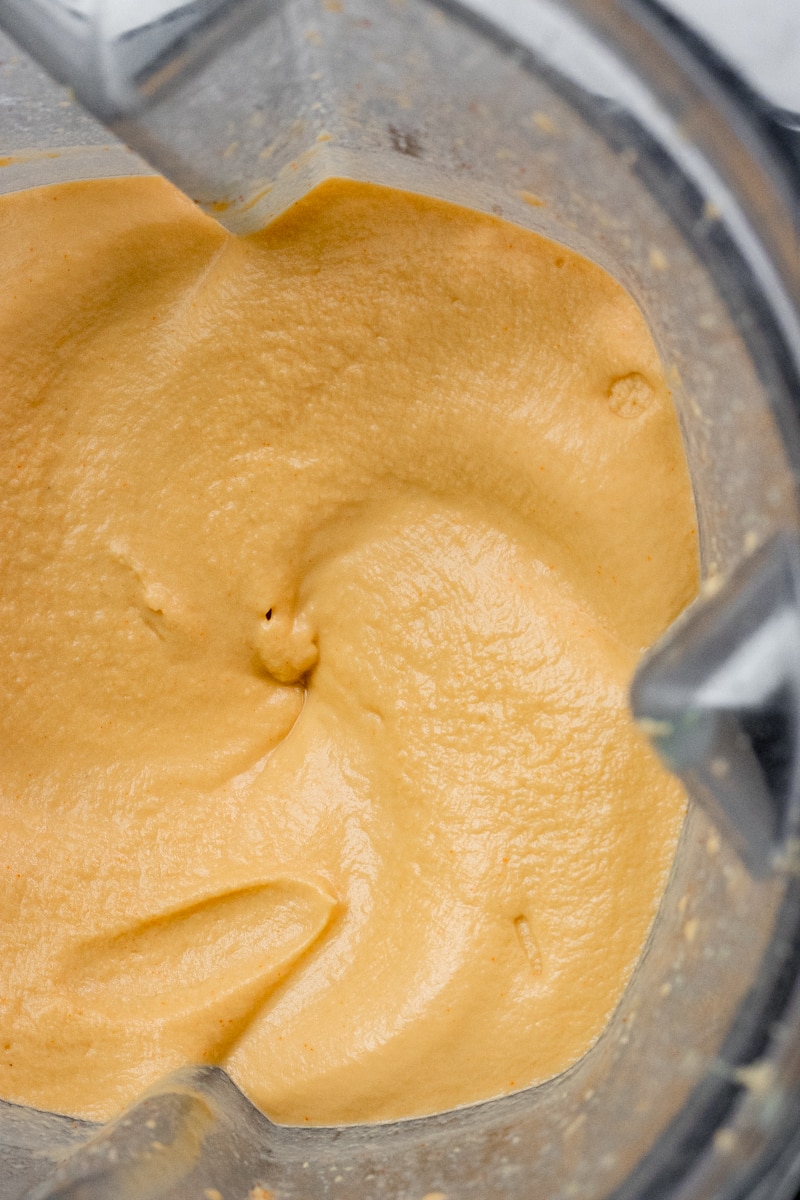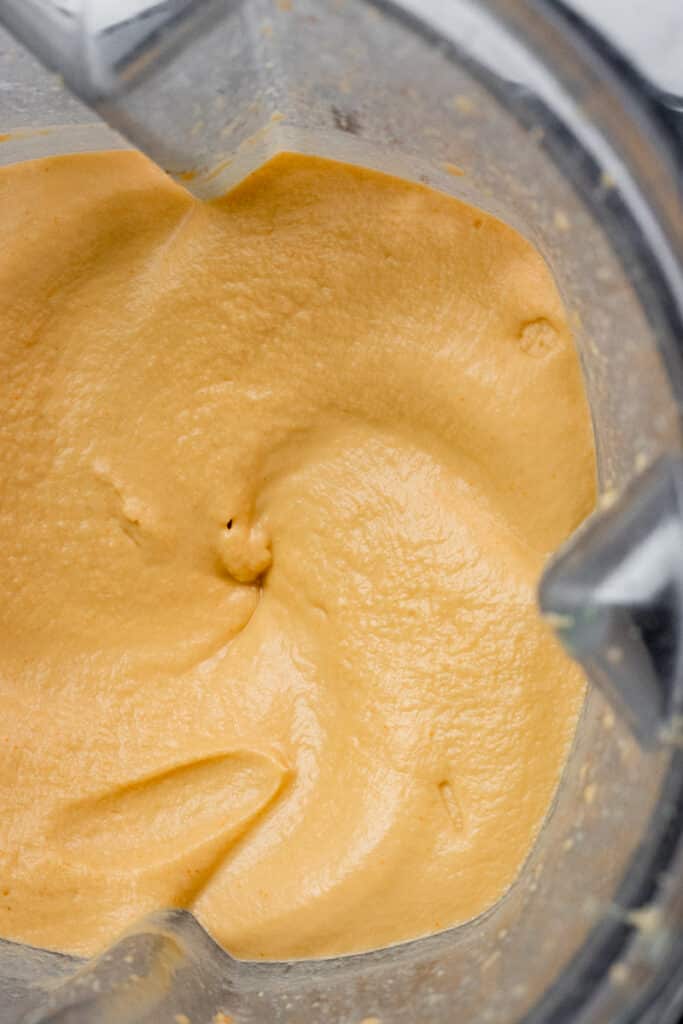 Hummus Flavor Ideas:
There's so many different flavor combinations you can make with hummus, and I'm not just talking about spices. Check out this Roasted Beet Hummus and some other ideas below:
Lemon Dill Cucumber (literally just throw some cucumber in there)
Turmeric Ginger
Chili Lime
Ranch flavored (use dried dill and chives)
Roasted red pepper
Eggplant (Baba Ghanoush)
Cilantro Jalapeno
Pesto (add pine nuts and basil)
Dessert (chocolate, peanut butter, maple, etc.)
Sundried tomato
Anything Else?
As always, I hope you love this recipe--I know I do. Plant based hummus is so easy and versatile to make and keep in your fridge for an easy snack or meal.
Let me know in the comments below if you make this recipe or tag me @Zardyplants on Instagram so I can see your beautiful recreations! If you tag me on IG, I will share your post in my stories :
Also, one quick request: if you love how this recipe looks or tastes, please leave me a 5-star rating and a nice comment–ratings help more people find my recipes which helps me keep providing them! Thank you!
<3 Liz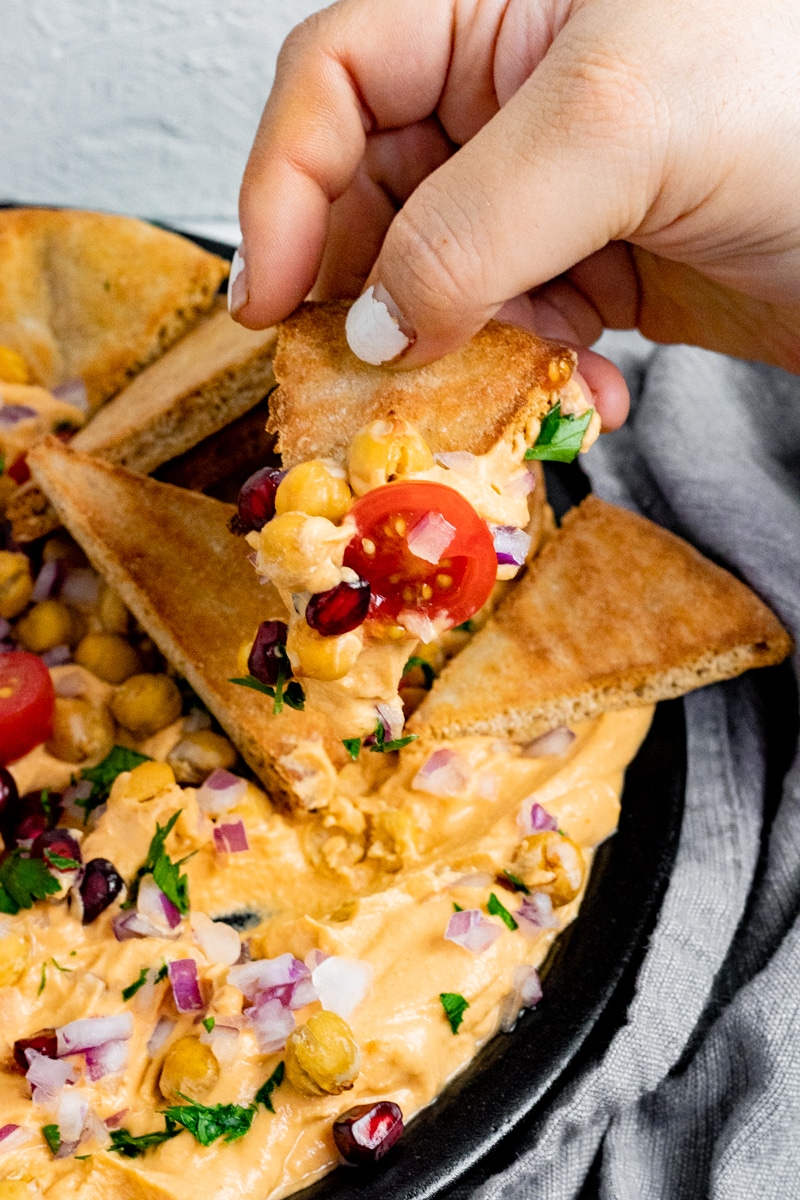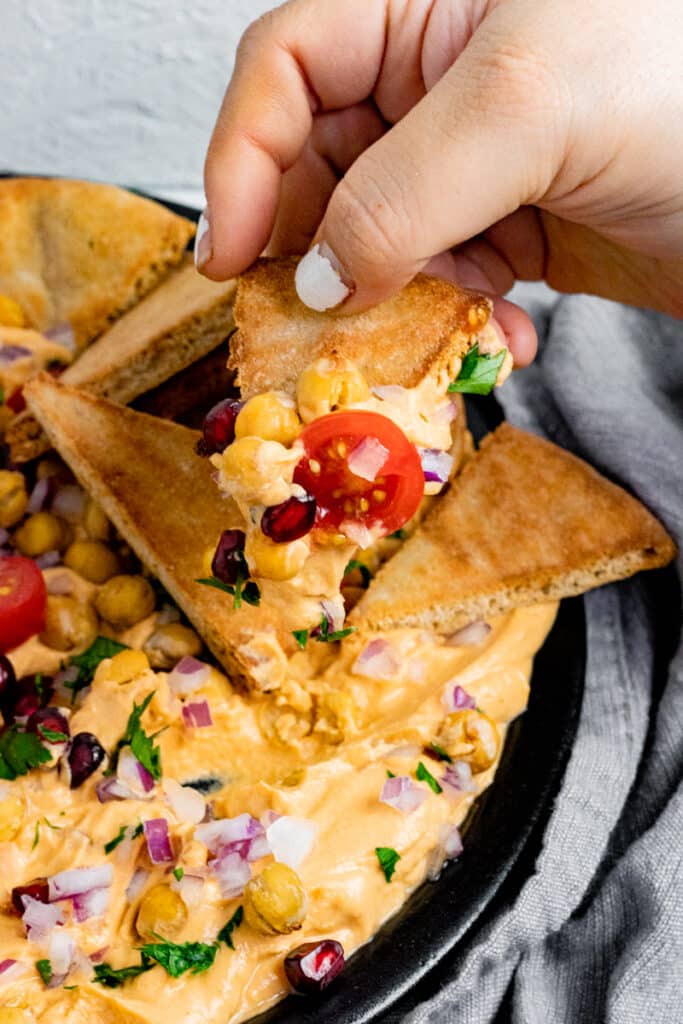 Follow me on Social Media!
Print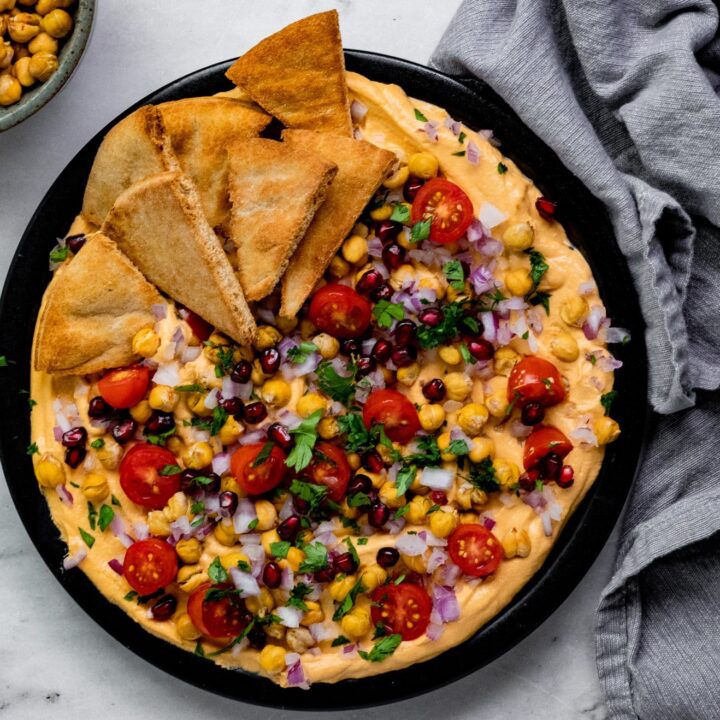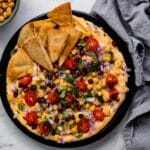 Vegan Oil Free Hummus
---
Author:

Liz Madsen

Total Time:

5 minutes

Yield:

2 cups

1

x

Diet:

Vegan
Description
This vegan oil free hummus is super easy to make and incredibly creamy. Serve it up as a meal loaded with veggies and pita or keep it in the fridge as an easy snack with veggies or crackers when you get peckish!
---
1

-

14.5

oz can (or

1.5 cups

) chickpeas
About

½

cup

aquafaba (the liquid from the can / bean cooking liquid)
The juice of 1 lemon

3 tablespoons

tahini

2

-

3

cloves of garlic

½ teaspoon

onion powder

½ teaspoon

paprika

½ teaspoon

salt, or to taste
---
Instructions
Add all ingredients to blender, adding only half the aquafaba at first.
Blend for at least 90 seconds, but preferably about 2 minutes. Add more aquafaba as needed. If you run out of aquafaba add cold water if more liquid is still needed. Stop and scrape down the container often if you do not have a high-powered blender.
Refrigerate in an airtight container up to 1 week.
Prep Time:

5 minutes

Category:

Snack, Ingredient

Method:

Blender

Cuisine:

Vegan, mediterranean
Keywords: Vegan, Oil-free, Gluten-free, Soy-free, Nut-free, Hummus, Oil Free Vegan Hummus
---
---
Other Recent Content!