Pasta salad is one of my favorite things to eat in the summer. It's creamy, filling, it has a lot of great textures, and it's another excuse to eat pasta (like I need one). Sometimes I find myself craving it during other seasons but I'm cold and all I want is warm food. Thus my warm pasta salad was born.
This pasta salad couldn't get any easier and comes together in just over a half hour, which is perfect for a busy weeknight. All we do is throw some veggies on a sheet pan and roast them, cook some pasta, and mix in some hummus.
I use my own hummus because now I'm spoiled and will never go back to store-bought. Have you tried my hummus recipe?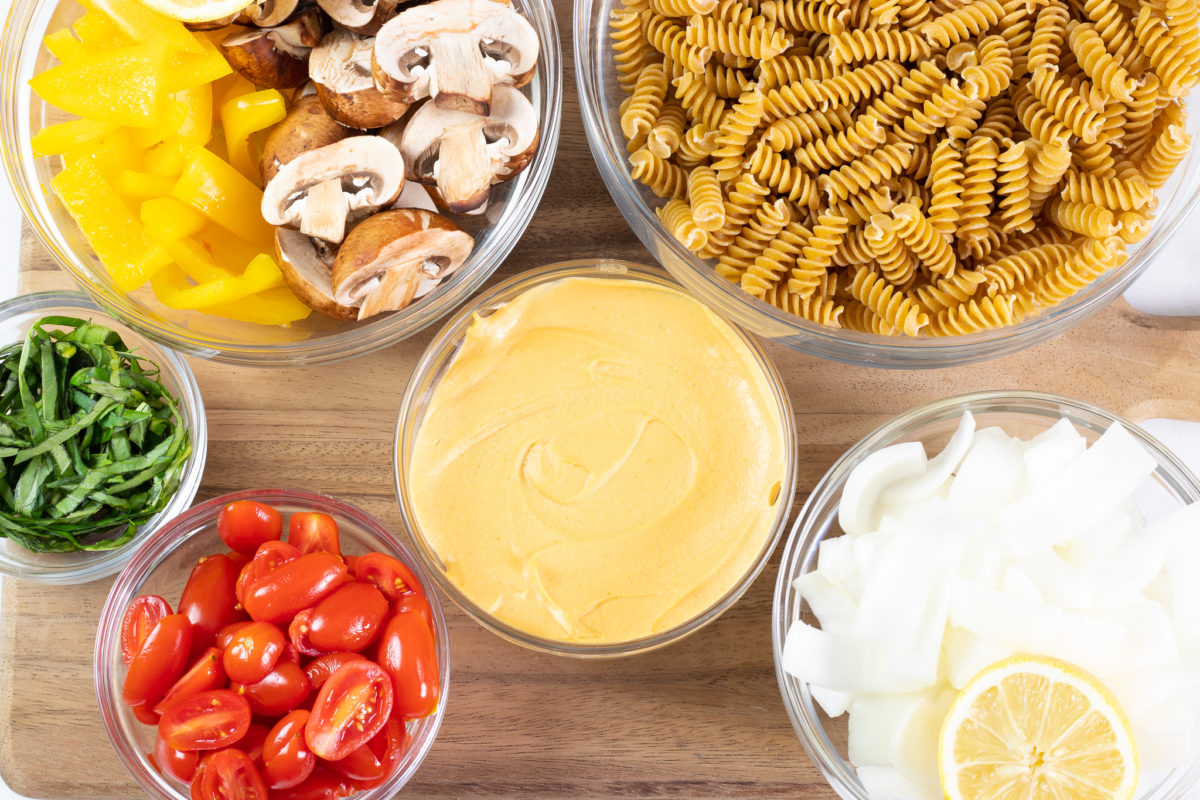 What do I put in it?
The short answer is anything you like! The long answer is … well just a list of veggies and other things. ;)
My favorite veggies (incidentally the ones in this recipe) to include in this dish are onions, mushrooms, bell peppers, and tomatoes, but you can use any you like. This recipe would be great with broccoli, cauliflower, Brussels sprouts, sweet potatoes, beets, parsnips, asparagus, peas, carrots, etc.!
The one thing to be aware of is cook time. Vegetables like the ones I've included in the recipe below have about the same cook time (I do take the tomatoes out part way through).
For simplicity's sake, try to match the cook times of each vegetable on the sheet pan. Sweet potatoes, beets, carrots, parsnips, etc. will take longer to cook than say broccoli, cauliflower or asparagus will. When in doubt, keep checking on them every so often and transfer veggies that are done early to a bowl.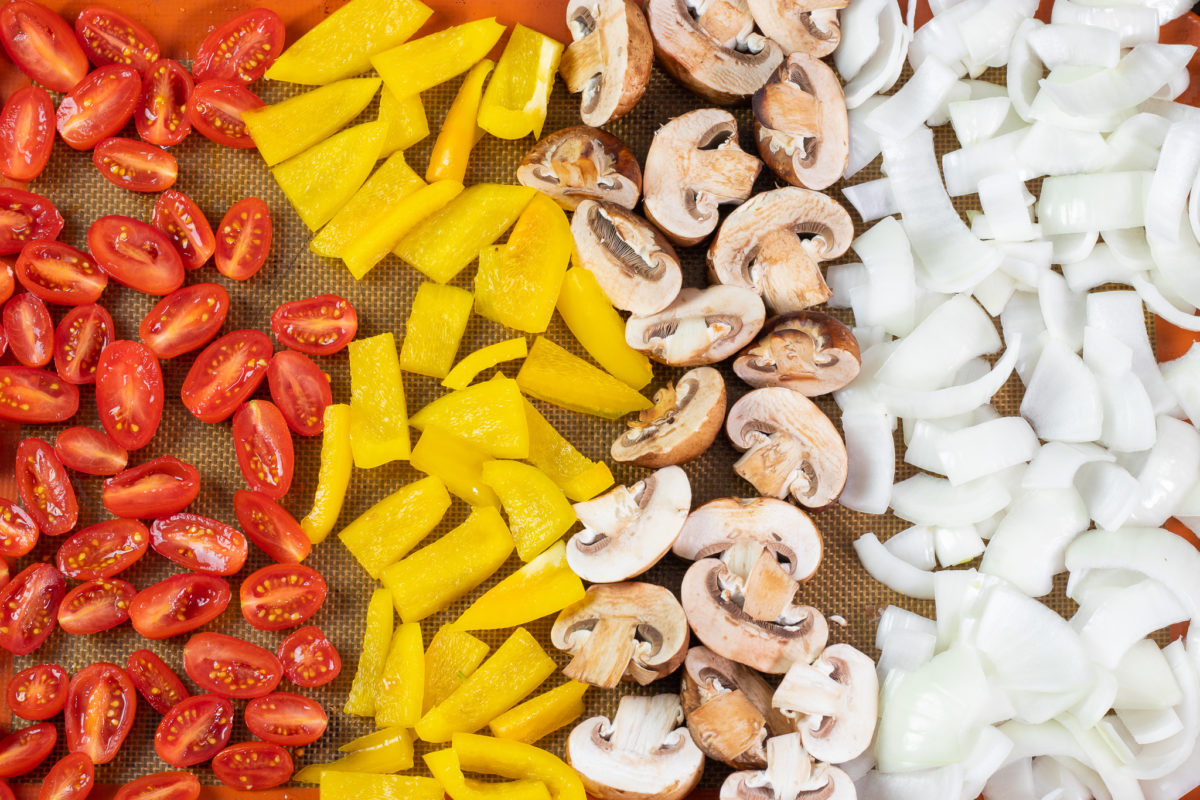 When I roast my veggies I actually do not use any seasoning, but that's because the hummus is so flavorful that the veggies do not need it. If you'd like, you can definitely add spices.
One more thing about the veggies: I lined my pan with a silicone mat not only to save money/the environment (as opposed to using parchment paper), but I really feel that it encourages caramelization of the veggies (especially of the onions, which get sweet and gooey).
You can put any pasta you like in this recipe, which is why this recipe can be gluten-free. If you are gluten-free, simply use a GF pasta I did here (mine is brown rice rotini).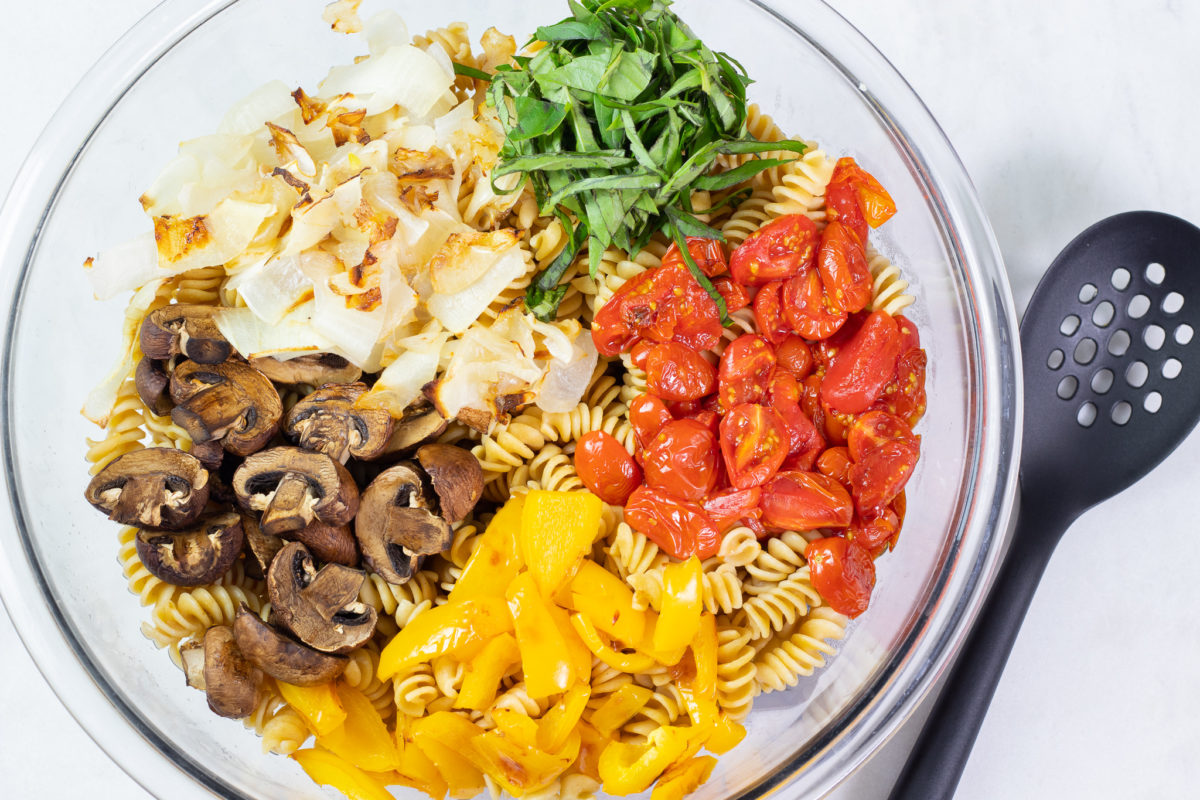 How to Make It
If you like, you can pick a different pasta like whole wheat, chickpea, or lentil. Whichever pasta you use, simply cook it according to package directions.
The dressing or sauce in this recipe is hummus because it's easy, delicious, and creamy like mayonnaise but without the eggs or oil. I like to thin it out only slightly with an extra squeeze of citrus. I make my own hummus because that's how I roll, but feel free to use store-bought if that's your jam.
Finally, add in whatever else you like. I've kept it simple here with some fresh basil, but I've also tried this with olives and capers and it was great. Experiment, and if you do let me know in the comments below or on social media what you tried.
As always, let me know if you make this recipe and please tag #Zardyplants and mention me @Zardyplants so I can see your beautiful recreations! If you tag me on IG, I will share your post in my stories :)
<3 Liz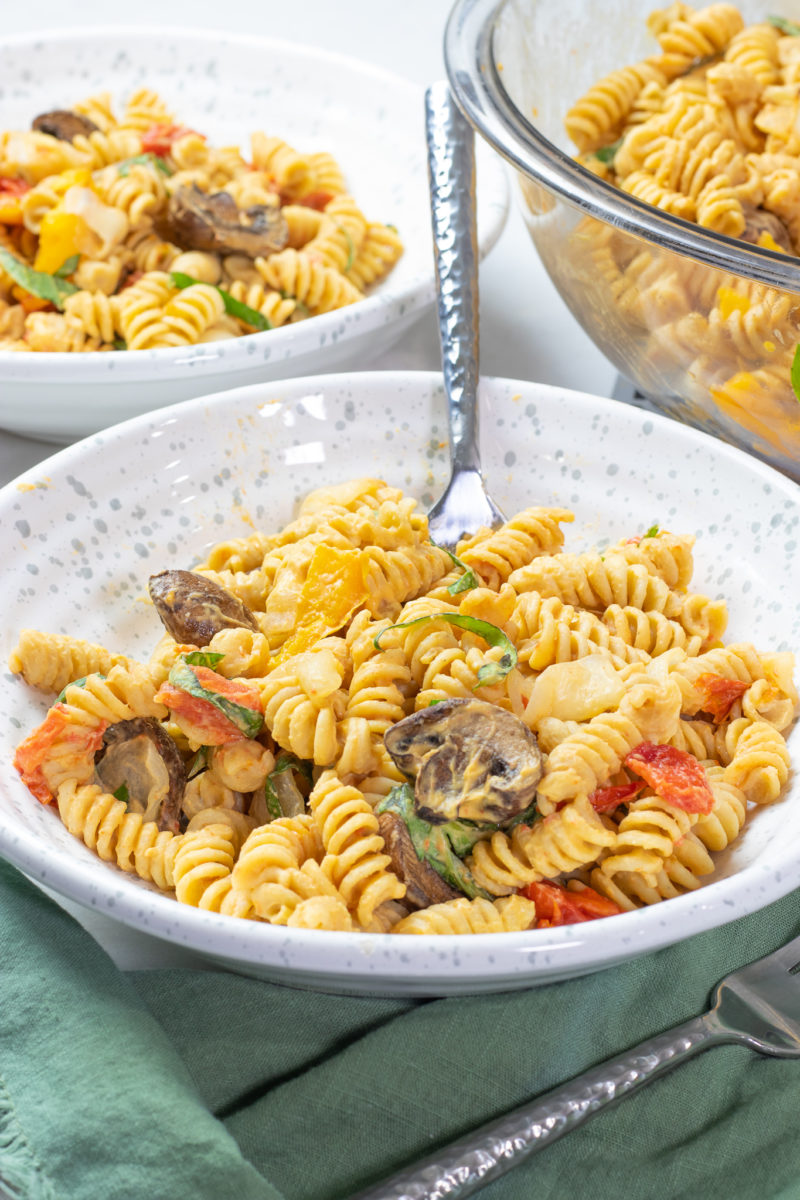 Follow me on Social Media!
Print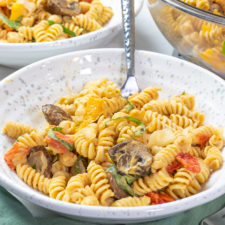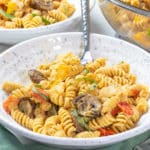 Pasta Salad with Hummus and Roasted Vegetables
---
Author:

Liz Madsen

Total Time:

35 minutes

Yield:

Serves 4
Description
This Pasta Salad with Hummus and Roasted Vegetables is served warm and perfect for dinner. Just mix it in a bowl and past it around the table.
Vegan, Oil-free, Soy-free, Nut-free, Gluten-free (use GF pasta)
---
12 oz

pasta of choice (I used brown rice rotini)

1

medium onion, quartered and sliced (any onion will work)
 12 oz mushrooms, sliced
 1 bell pepper, sliced into 1" long strips
 1 cup grape tomatoes, halved
 1 cup hummus
 The juice of 1 lemon
 ⅓ cup fresh basil, finely chopped
---
Instructions
Preheat oven to 375 degrees F (or 190 degrees C) and put your water on to boil. Take hummus out of fridge to come to room temperature.
Chop veggies and spread out on a lined baking sheet. For ease of removal later, section your tomatoes to one side. Place in oven.
Cook pasta according to package directions. After 15 minutes, remove pan from oven and place tomatoes in a bowl so they don't overcook. Stir the rest of the veggies and replace in oven for 10 additional minutes.
Strain pasta and add to a large bowl. Once veggies are done, add them all on top of the pasta. Add the hummus and lemon juice and stir through. Finally sprinkle in the basil and stir once more.
Serve warm and enjoy!
Refrigerate leftovers in an airtight container for up to 5 days.
Cook Time:

35 minutes

Category:

Entree

Cuisine:

Vegan, Italian
Nutrition
Serving Size:

1

Calories:

492
Keywords: Vegan, Oil-free, Soy-free, Nut-free, Gluten-free, Pasta, Easy
---
---
Other Recent Content!