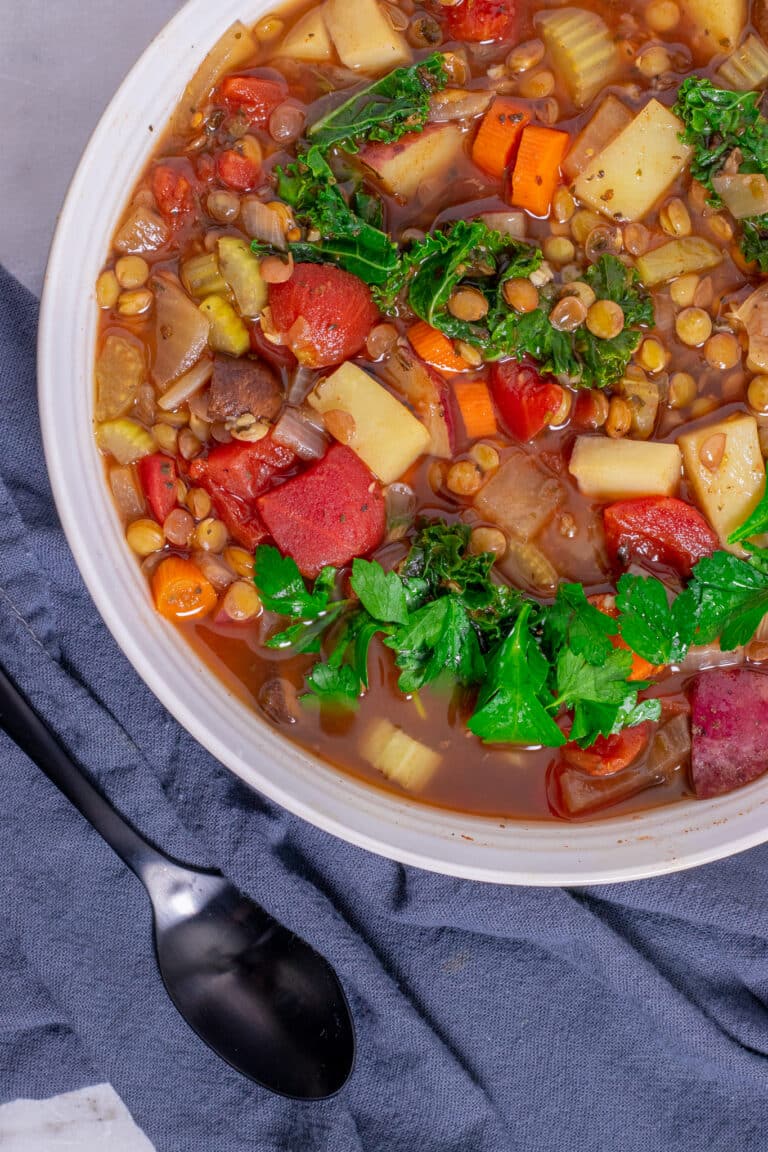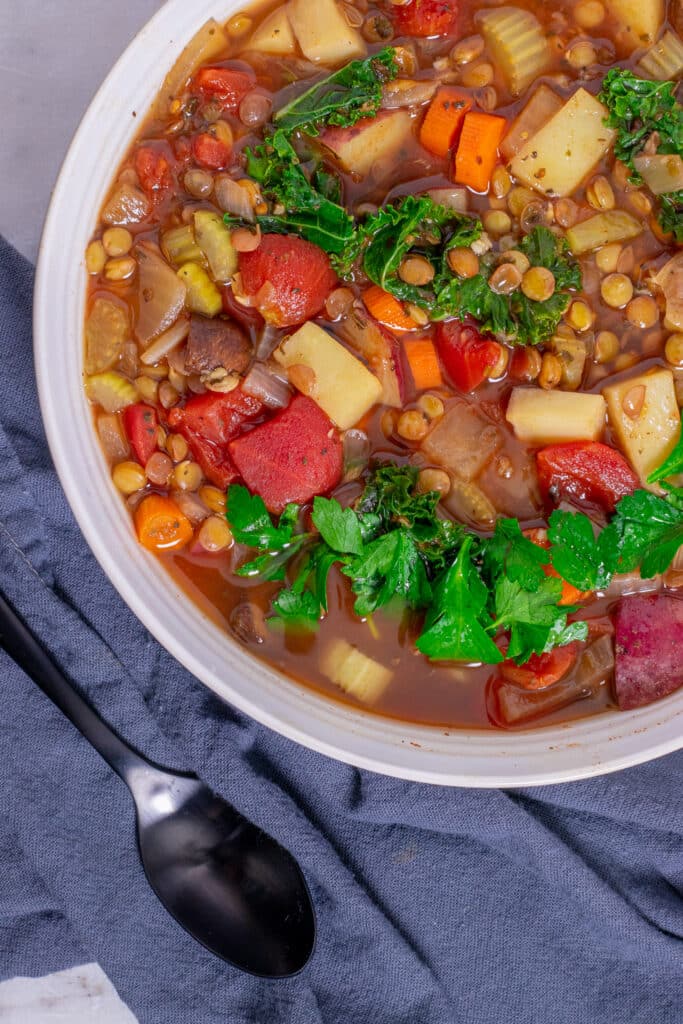 Packed with protein and flavor, my Hearty Lentil Vegetable Potato Stew will leave you warm, satisfied, and nourished. This stew has a wide variety of nutrients to help ward off winter ailments. This stew is also easy to make, freezes well, and makes the perfect meal prep to throw together at the beginning of the week and enjoy for school/work lunches, dinners, or even breakfasts–no judgement here.
I love soups and stews because they're incredibly easy and inexpensive to make, and they also don't require a whole lot of time in the kitchen. Once you get your soup on to simmer, you can set a timer and go somewhere else in the house and do whatever you need to get done.
Soups and stews are also very customizable. You can throw just about any veggies, beans, or grains you like in them. Here, swap out any of the veggies if there's one you like better, or even swap out the lentils for a different legume.
But now that I've mentioned it, let's talk about what else goes in this particular recipe.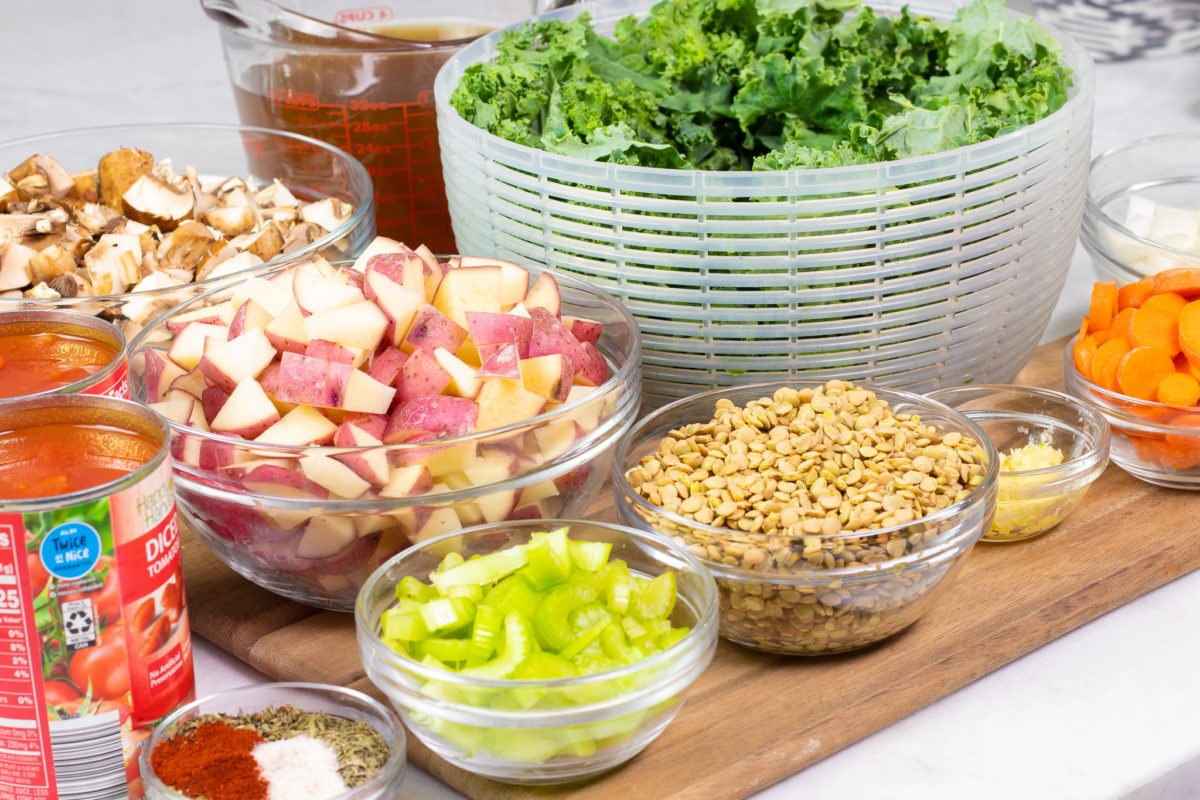 What Goes in the Stew?
Many great recipes start with a mirepoix, which is a French word referring to the flavor created from onion, celery, and carrot. Add a little (or a lot) garlic to make it 10x better.
Obviously, lentils also go in this stew. When I say "picked over and rinsed well" in the recipe below, this is kind of like a disclaimer statement. I have never personally found a rock or anything else in my lentils, but since everyone recommends to do this, I thought I'd better include it. You can add more or less lentils than I did, but may need to adjust the broth accordingly. If you want less potato and more lentil, you can certainly do that.
I made my vegetable broth by mixing Better Than Boullion vegetable paste with water. I like the flavor of this better, but feel free to use any you like. Sometimes I also make homemade broth from saved up vegetable scraps. I used only 4 cups in this recipe because I like my stew thick. If you'd like it to be more like a soup, add more broth.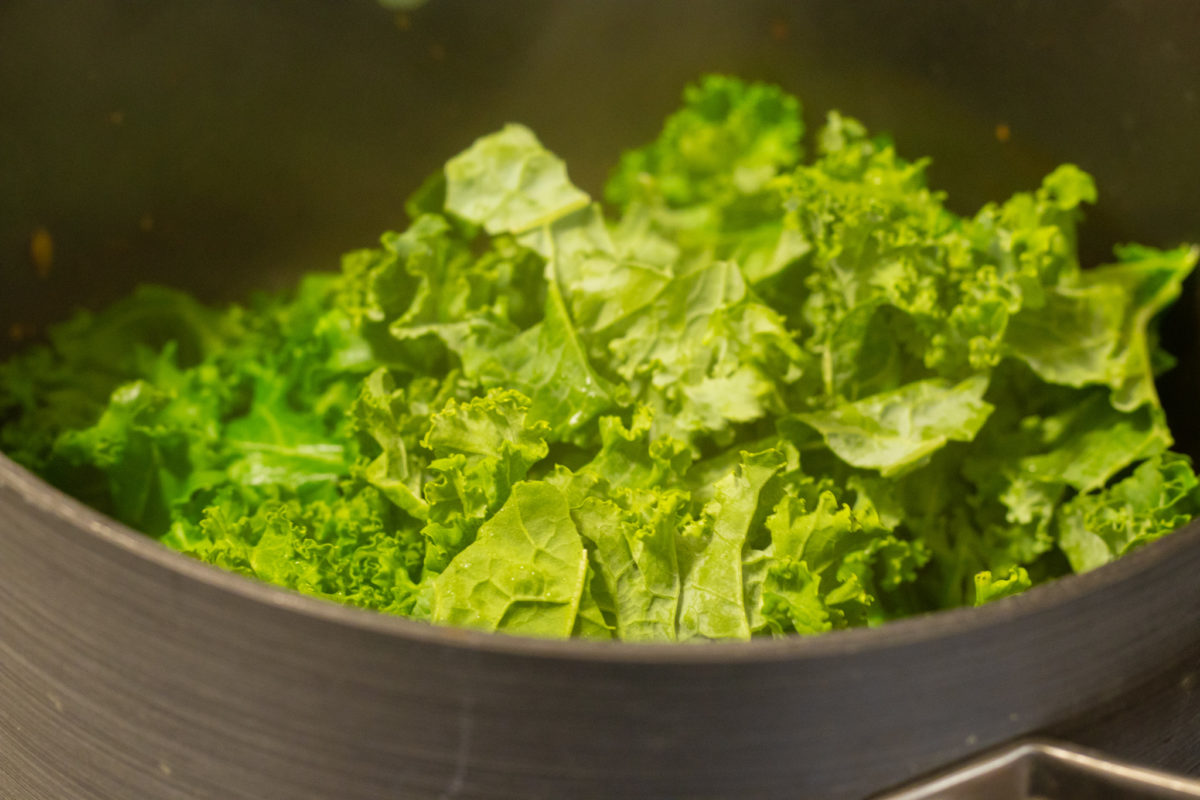 Like I mentioned before, the vegetables in this recipe are customizable. I chose the ones I did because they added something extra to the flavor and texture. I used:
Onions
Garlic
Carrots
Celery
Mushrooms
Potatoes
Tomatoes
Kale
And with soup or stew, the herbs and spices can take it from "it's good" to "HOLY STEW BATMAN / BATWOMAN / BATDAD / BATMOM, CAN I HAVE SOME MORE?!" So for this recipe I used paprika (trust me), thyme, oregano, and basil. The broth, if you've used Better Than Boullion paste, is already quite flavorful, but the herbs and spices are going to take it to the next level!
As always, let me know if you make this recipe and please tag #Zardyplants and mention me @Zardyplants so I can see your beautiful recreations! If you tag me on IG, I will share your post in my stories :)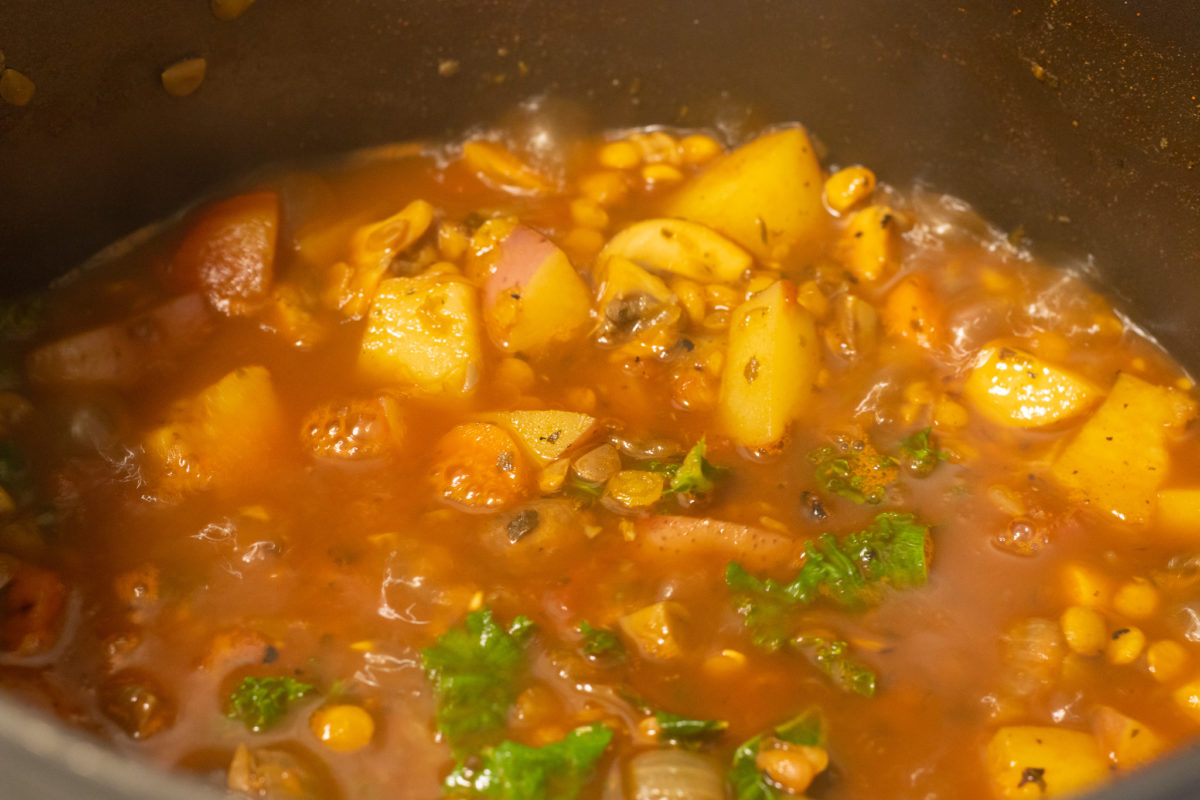 How to Make It
This method of making soup or stew is an easy walk-away-from-it type of method. There are certainly many others, and some may have strong opinions on it. Well my opinion is that I'm always in a rush, so I may not have time to cook my stew "low n' slow" to develop more flavor. In my humble opinion, this stew has LOTS of flavor and doesn't take long at all to make. But you do you.
First, like in a lot of my recipes, we are going to start by water sautéing some onions. Instead of letting these start to stick and brown, you're going to add water 2 tablespoons at a time to keep the onions sautéing but not browning. Sauté them until they are translucent, and then add your garlic.
After sautéing the onions and garlic about a minute, you're going to add your carrots and celery and sauté for about 5 minutes. After THAT you get to add everything else in, stir, and walk away. For the next half hour or so, you only need to check on the stew once or twice. Leave it on a medium simmer (about a 4 on your stove's knobs) and let it do its thing.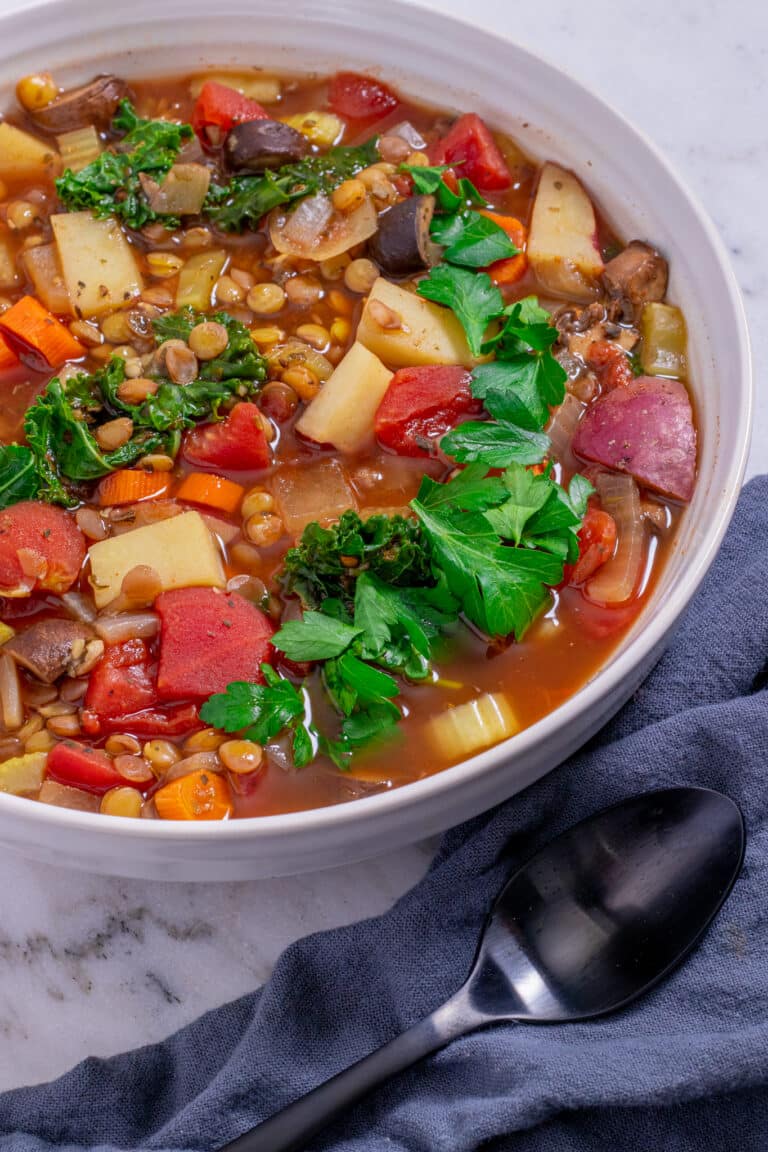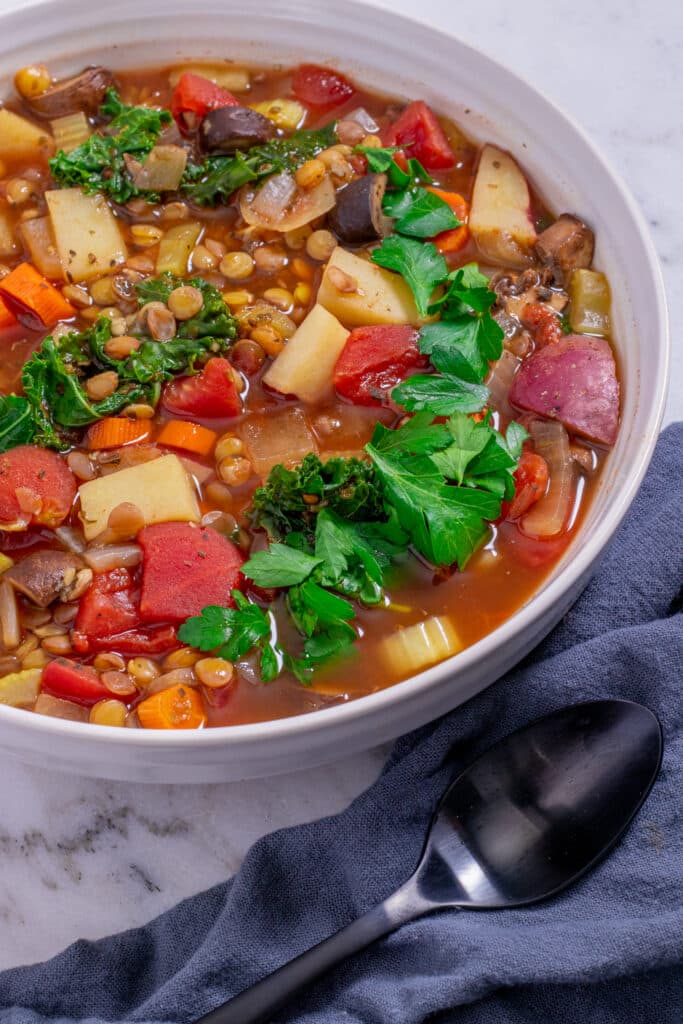 When the stew is a few minutes from done, throw in your chopped kale. By adding it in at the end, we are still retaining a bit of texture (overcooked kale is stringy which is no bueno) but cooking it enough so it isn't hard to chew and doesn't have that bitter punch kale often packs.
And that's it! Pretty simple, yeah? I like to take mine to work for lunch all week, mostly because my office is set at sub-zero temperatures and I like to feel my fingers when I write grant proposals, not sure why.
Alrighty, let's make some stew!
As always, let me know if you make this recipe and please tag #Zardyplants and mention me @Zardyplants so I can see your beautiful recreations! If you tag me on IG, I will share your post in my stories :)
<3 Liz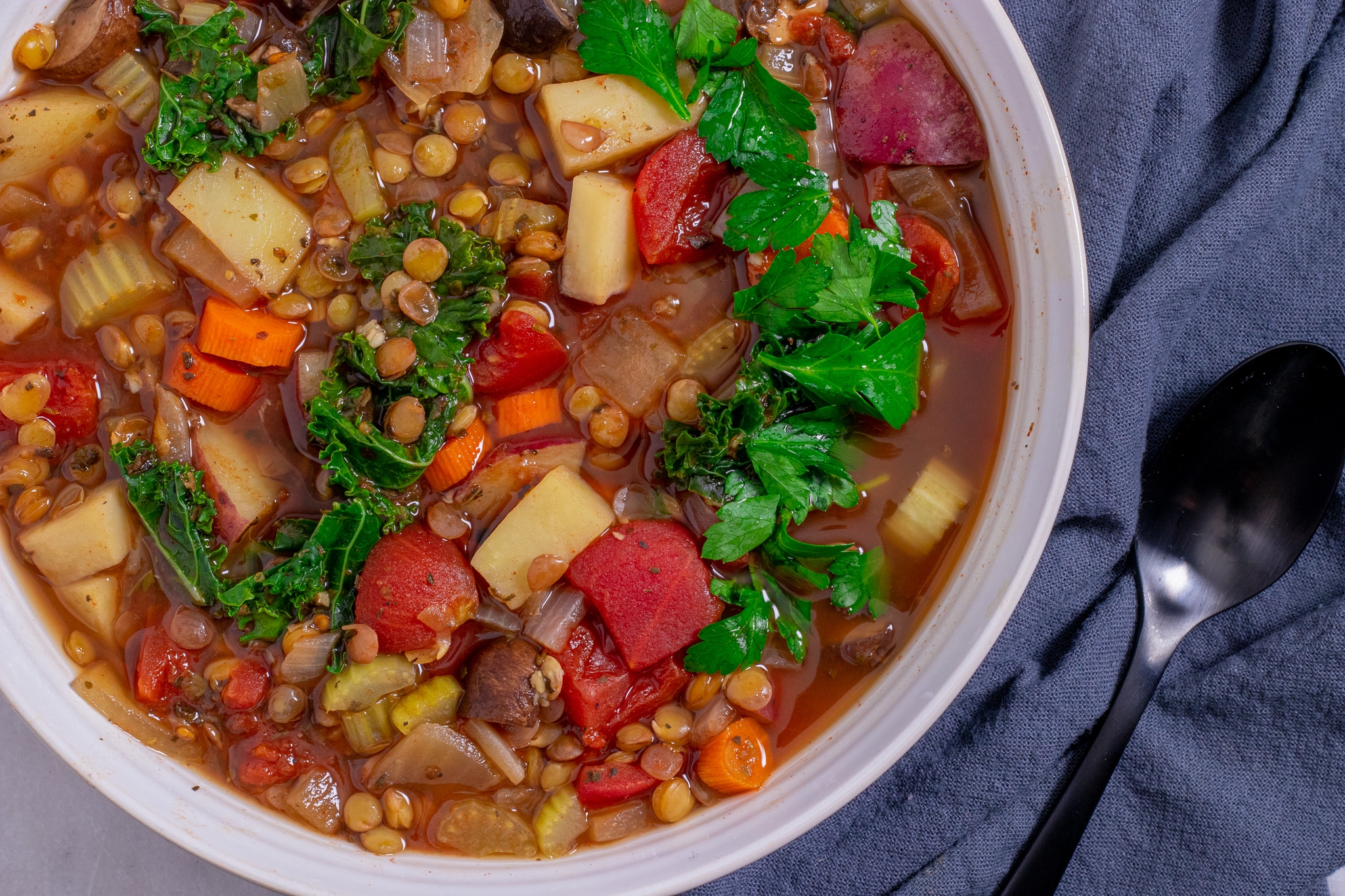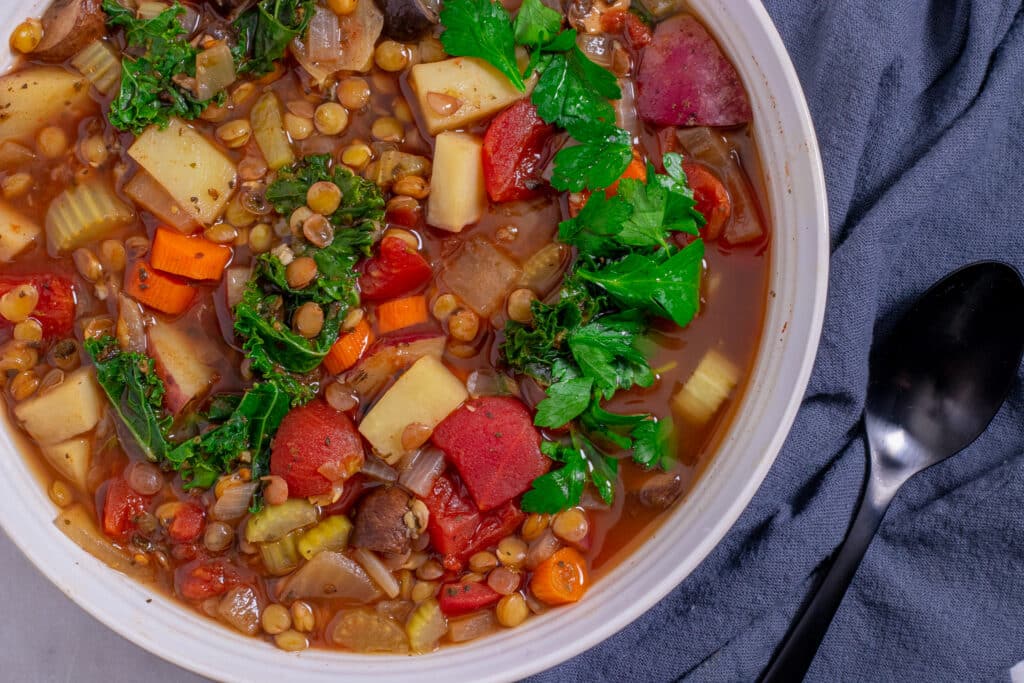 Follow me on Social Media!
Print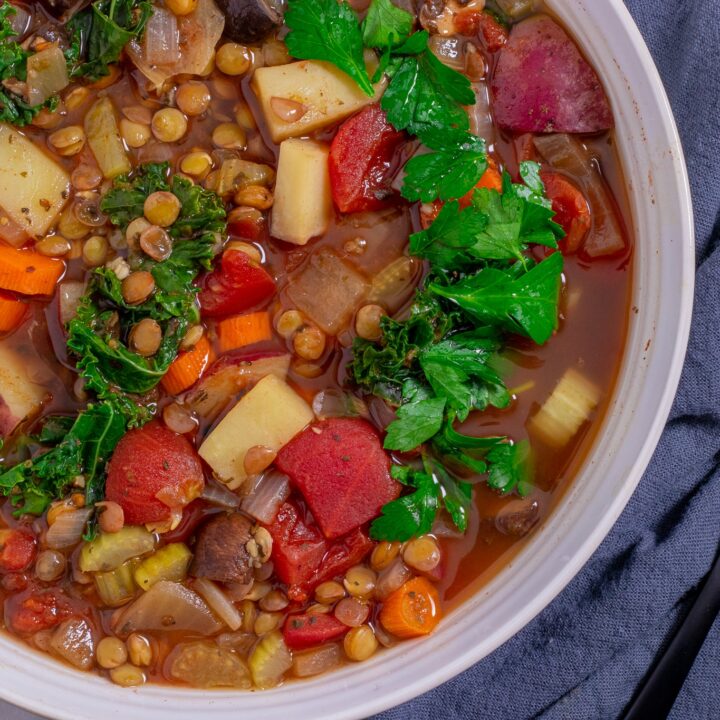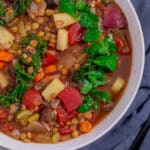 Hearty Lentil Vegetable Potato Stew
---
Author:

Liz Madsen

Total Time:

50 minutes

Yield:

6

large servings

1

x
Description
My Hearty Lentil Vegetable Potato Stew will warm you up on a cold winter's day. With onions, tomatos, carrots and kale, this stew will fill you up!
Vegan, Oil-free, Soy-free, Nut-free, Gluten-free
---
1

medium onion, finely diced

3

-

4

cloves garlic, minced

3

small-medium carrots, finely diced

3

ribs celery, finely diced

16

oz

crimini mushrooms, diced

1

pound

potatoes (I used red), diced fairly small, about ½-inch dice

4

roma tomatoes, diced

1

bunch of kale, destemmed and chopped

1

cup

brown or green lentils, picked over and rinsed well

4

cups

vegetable broth (or more if you want a soup vs a stew)

2 tsp

paprika

1 tbsp

dried thyme

1 tbsp

dried oregano

1 tbsp

dried basil
Salt and pepper, optional, to taste
---
Instructions
Heat your pot over medium high heat and throw in the onions. Saute them, adding water 2 tablespoons at a time to keep them from sticking. Saute until translucent, about 5 minutes.
Add garlic and saute another minute, then add celery and carrots. Let cook in a small amount of water (a few tablespoons) for 5 minutes.
Turn heat down to medium, add the rest of your veggies, broth, and spices and cook for about 30 minutes total. However, set a timer for 27 minutes and test the potatoes to make sure they're done. If they are, add your kale and stir it in well. Cook an additional 3 minutes.
That's it! Serve soup hot, or let cool and store or freeze. Refrigerate in an airtight container up to 5 days.
Prep Time:

10 minutes

Cook Time:

40 minutes

Category:

Entree, Soup

Method:

Stove

Cuisine:

Vegan, Stew
Keywords: Vegan, Oil-free, Soy-free, Nut-free, Gluten-free, Stew, Lentil Potato Stew
---
---
Other Recent Content!