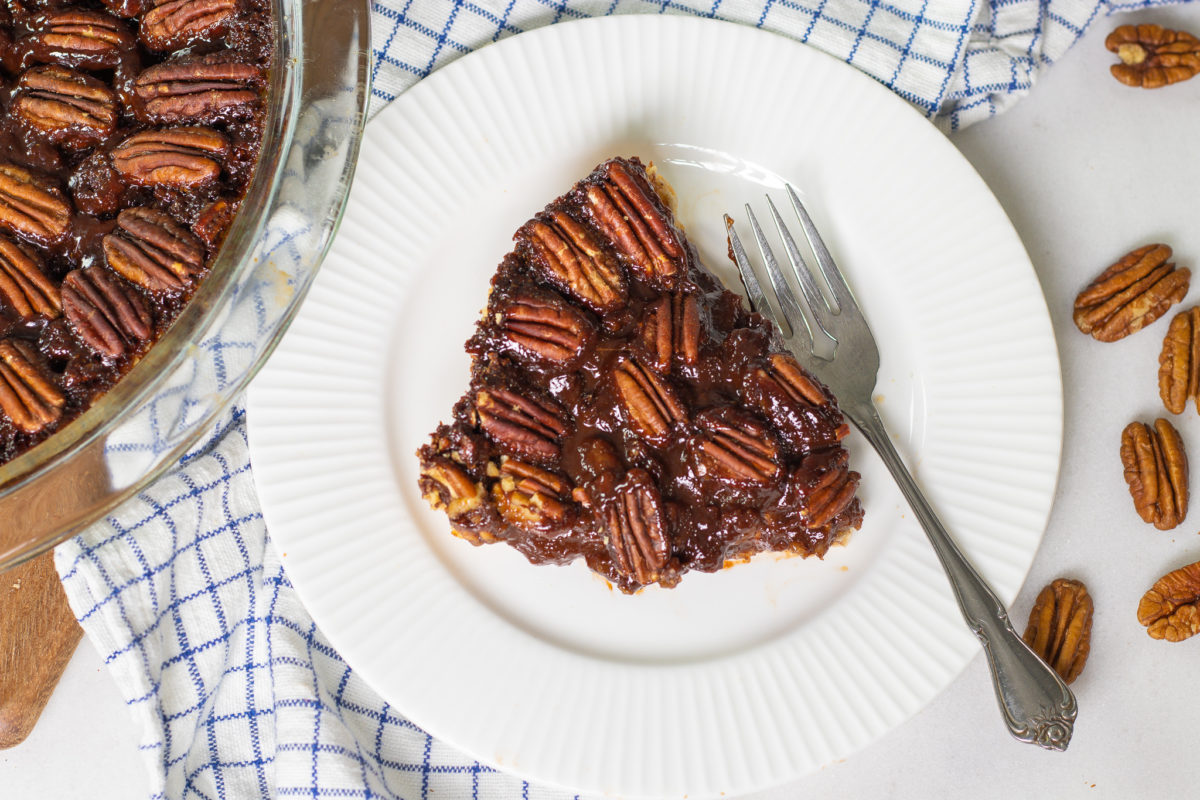 This Vegan Chocolate Pecan Pie is seriously the most amazing dessert I've ever tasted and I am super proud to share it with all of my awesome readers! It's vegan of course, oil-free (no vegan butter!), AND gluten-free! I am trying to make all of my recipes gluten-free from now on (with an exception for the occasional seitan because I'm addicted to the stuff). :)
Even though it's a month away as I write this, I'm beginning to plan my Vegan Thanksgiving menu. We alternate spending time with Mr. Zardyplants' family and mine, and this year belongs to my husband's parents. They are not vegan, and will be cooking their own meal, so I will not be preparing an entire feast.
Still, I want it to feel like Thanksgiving for Mr. Zardyplants. I am going to be cooking up my delicious Smoky Quinoa Lentil Loaf, a Thanksgiving salad to share with my inlaws (recipe coming soon!) my Butternut Squash Carrot Ginger Soup, mashed potatoes and mushroom gravy (recipe coming soon!), and this amazing Vegan Chocolate Pecan Pie.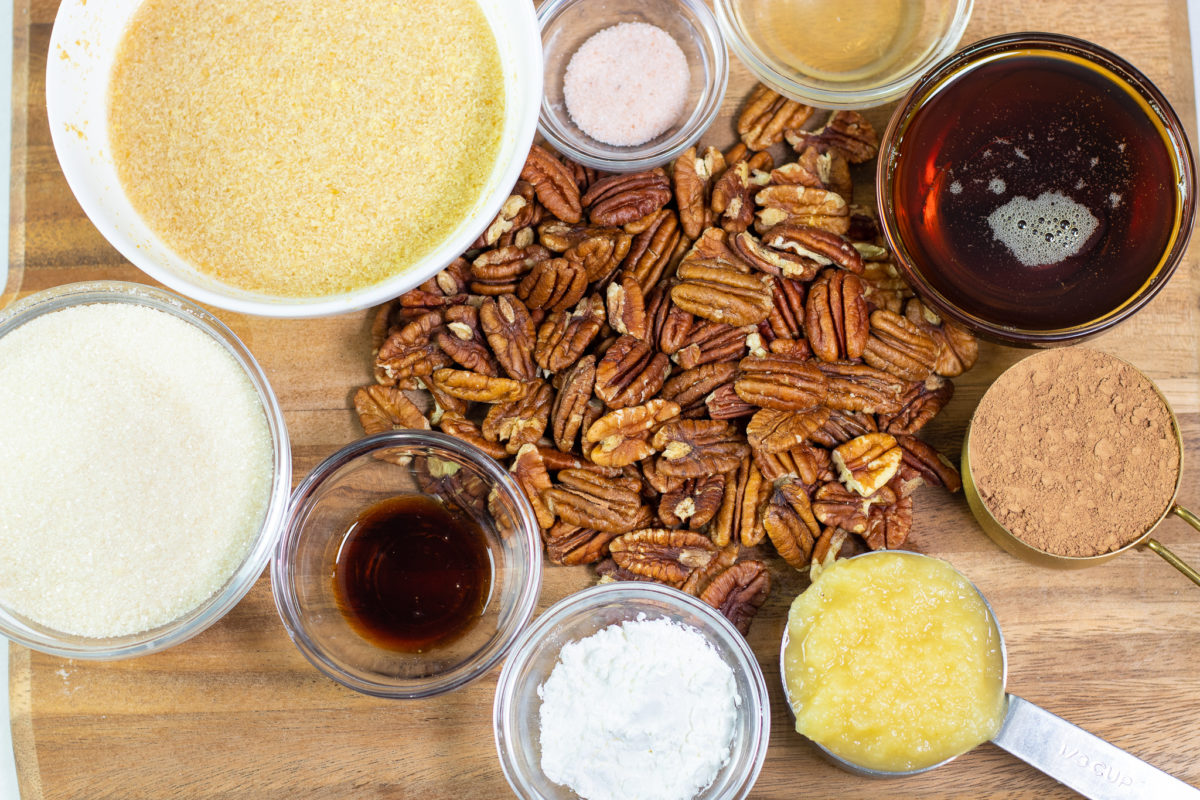 The Deal With Pecan Pie
It's funny, but before experimenting with this pie over the last few weeks, I'd never actually tried pecan pie. Growing up, my mom always made Pumpkin Pie so that's what I know and love.
I wanted to try pecan pie since I LOVE pecans and I've always heard about this pie and seen pictures. A quick note about pecans:
When my husband and I moved back to Illinois in 2017 (we originally met in Illinois and moved a few times due to school and jobs), we were driving through Georgia and developed an inside joke.
We were delirious from lack of sleep and as we drove through Georgia we couldn't help but notice all the signs for pecans (as Georgia is relatively famous for their pecans). I, in my infinite cleverness, started saying peCAN kind of like a chicken. I can't tell you why, but it stuck. Mr. Zardyplants rolls his eyes when I do it now, but it still reminds me of that crazy move and how we got through it together.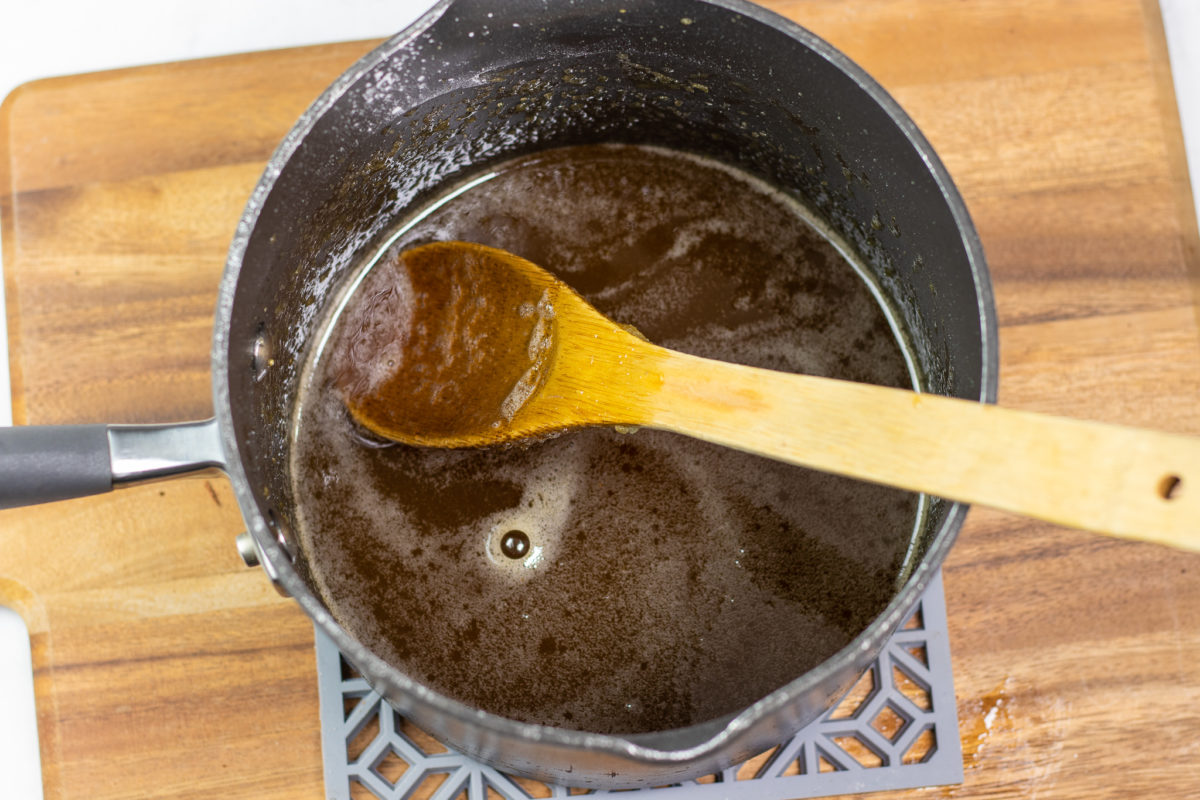 When we started selling cute plant-based t-shirts as a fun side hustle a year or two ago, I convinced my husband to create a t-shirt with a pecan dressed up as Captain Kirk from Star Trek (one of our favorite shows), yelling "Pe-KAHHHHHN". Because why not?
I digress. Back to Pecan Pie, I had to see if my pecan pie was actually good. To figure this out, I had to outsource it. After working on it during the weekend, I brought the first pie to my day job at a nonprofit supporting people with disabilities. If you didn't know, I'm a grant writer and digital media manager.
The pie was a big hit at work. Mr. Zardyplants was also a big fan and currently I have a slice waiting in the freezer for my dad who's visiting us this weekend. Luna wanted to try some pecan pie, but she got some cucumber instead. She seems pretty satisfied. That cucumber was a real labor of love. ;)
How to Make Chocolate Pecan Pie
Pecan Pie is not a hard pie to make. You just have to cook the filling on the stove for a few minutes, pour it into a piecrust and bake it.
But if you want a vegan piecrust, you're going to either have to find a premade one or make your own. And if you want an oil-free vegan piecrust, meaning no vegan butter… then you're probably going to have to make your own. And that can be scary.
But don't worry, I've got you covered with a simple piecrust that you don't even have to roll out!
Instead of vegan butter or shortening, my pie crust uses coconut cream as the substance to mix with the flour, salt, sugar, water, and vinegar. If you've never heard of coconut cream, think about the inside of a can of coconut milk. The heavy, creamy part of that can is coconut cream.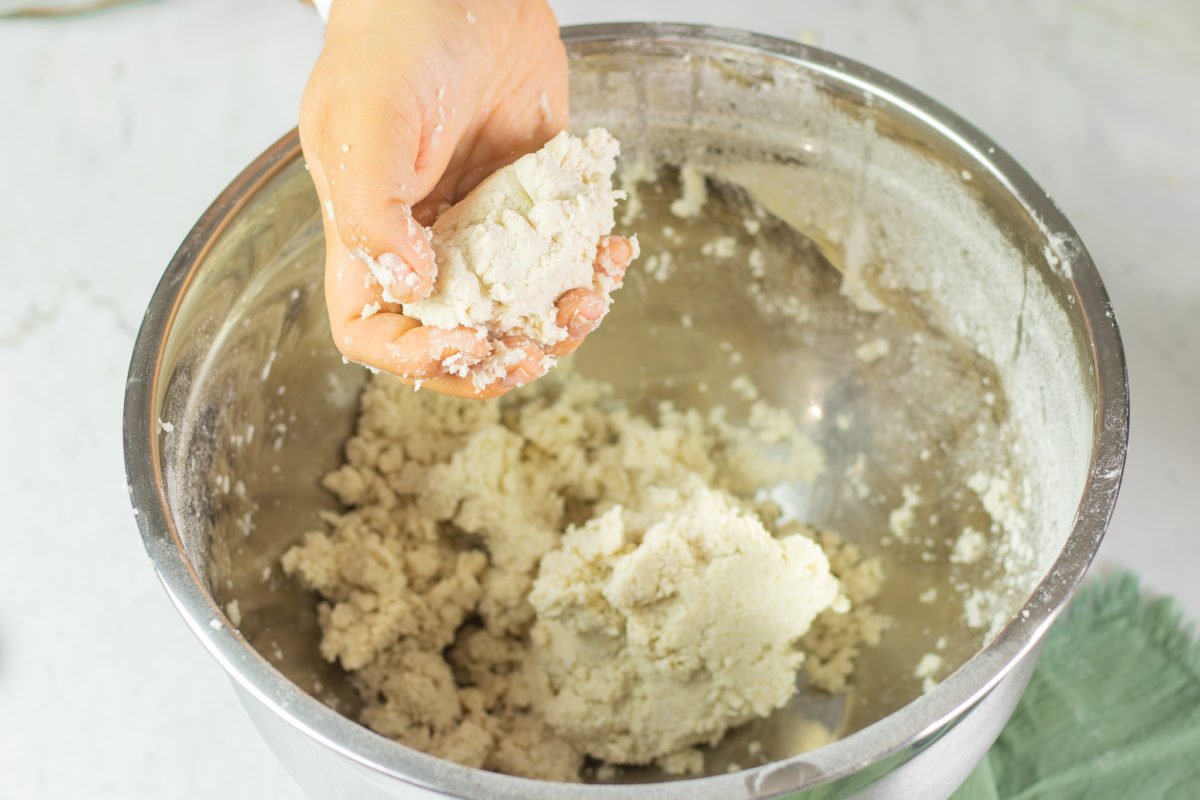 Ingredients
For this recipe, I wanted to make sure I'd have enough of that super thick and creamy stuff without having to waste a second can, so I bought canned coconut cream. If you can't find that (I found mine on Amazon, and you can also find it in the Asian section of some grocery stores like Whole Foods), just get 2 cans of coconut cream from the Asian section of your grocery store, from an Asian grocery near you, or online.
The filling is pretty simple:
Applesauce (instead of oil)
Maple syrup (instead of corn syrup)
Organic Sugar
Corn starch
Flax Eggs (ground flaxseed mixed with water)
Salt
Vanilla extract
Chopped Pecans
and, optional but delicious, cacao powder (or high quality cocoa powder)
I added cacao powder to this because I like chocolate in anything, and I thought it would go really well with the pecans. Spoiler alert: it does. The difference between cacao powder and cocoa powder is in the processing, so if you'd like a chocolate taste but a less refined and processed one, go with cacao powder.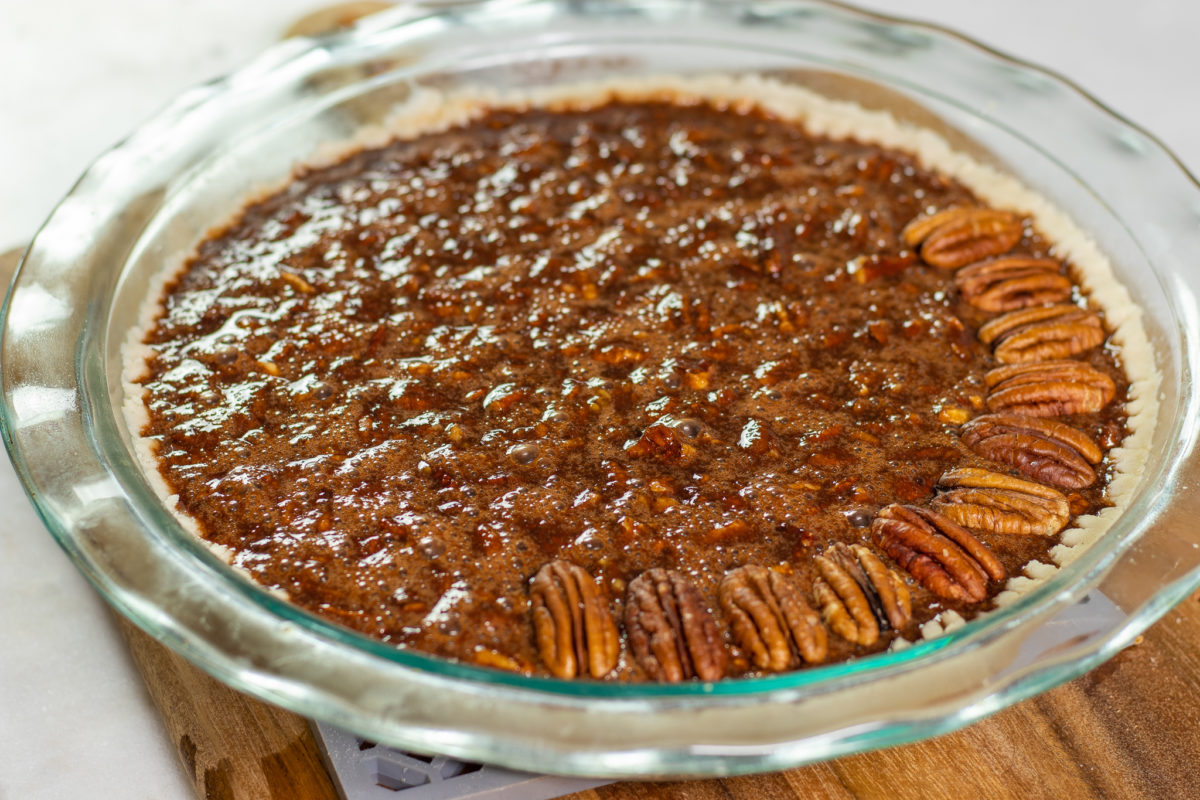 Pecan pie is traditionally a very sweet pie. You can add less sugar to this but as a warning you will have less filling. You may just want to serve smaller slices of it if you are concerned about the nutrition.
Enough about the pie, let's get into making it!
As always, let me know if you make this recipe and please tag #Zardyplants and mention me @Zardyplants so I can see your beautiful recreations! If you tag me on IG, I will share your post in my stories :)
<3 Liz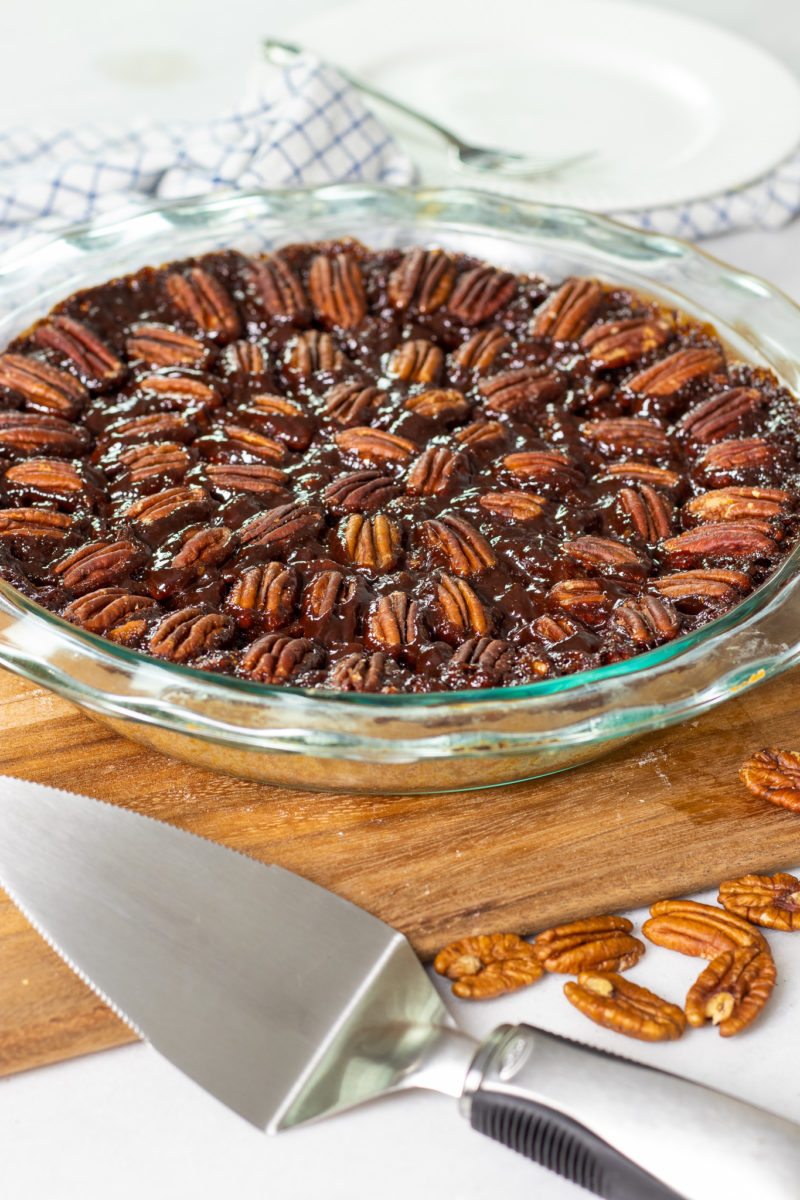 Follow me on Social Media!
Print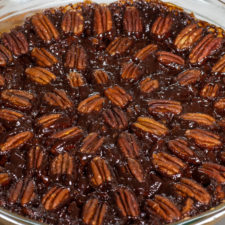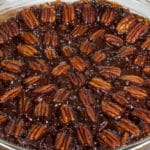 The Best Ever Vegan Chocolate Pecan Pie
---
Author:

Liz Madsen

Total Time:

1 hour, 30 minutes

Yield:

1

pie

1

x

Diet:

Vegan
Description
This Vegan Chocolate Pecan Pie is seriously the most amazing dessert I've ever tasted and I am super proud to share it with all of my awesome readers! It's vegan of course, oil-free (no vegan butter!), AND gluten-free! I am trying to make all of my recipes gluten-free from now on (with an exception for the occasional seitan because I'm addicted to the stuff). Vegan, Gluten-free, Oil-free
---
Crust
1 cup

+2 tablespoon 1:1 gluten free flour + extra for flouring surface and pie dish

1.5 tablespoons

organic sugar

7 tbsp

coconut cream, chilled

¼ teaspoon

salt

½

-

1

teaspoon apple cider vinegar

3

-

4

tablespoon cold water
Filling
½ cup

unsweetened applesauce

⅓ cup

maple syrup

1 cup

organic sugar (or use coconut sugar)

1 tbsp

cornstarch or arrowroot powder

3

flax eggs (

3 tbsp

ground flaxseed mixed with

9 tbsp

water, chilled 5 min)

⅓ cup

cacao powder (or good quality cocoa powder)

¼ teaspoon

salt

1 teaspoon

vanilla extract

1 ¾ cups

chopped pecans + more whole pecans for topping the pie
---
Instructions
Preheat the oven to 350 degrees F (176 degrees C) and lightly flour a glass pie dish with flour
Start by making your pie dough. Use a hand-mixer, stand mixer, or a strong spoon to mix together the flour, sugar, salt, then add a half cup of chilled coconut cream. Mix until well-combined. If you are not using a mixer, you may want to switch to using your hands to mix the dough thoroughly.
Once well combined, add the water and apple cider vinegar. The dough should lightly stick together when pinched with your fingers. If it does not, add more coconut cream a tablespoon at a time.
Ball up dough and place in the center of your floured pie dish. Begin to press out the dough with your fingers until you get to where the pie dish starts to slope up on the sides. Start pressing up the dough with your fingers until you get about a half inch from the top. Do this all the way around, ensuring that the dough is an even thickness and no parts of the glass show through. Depending on the depth of your dish, you may discard a tiny bit of the crust (I like to save it and make a little mini pie in a ramekin or mug pie).
Take a fork and press it all over the bottom and sides of the crust. This enables the filling to "grab" the crust. Set aside.
Add your sugar, maple syrup, applesauce, and cornstarch to a medium saucepan and bring to a boil, stirring constantly. Remove from heat.
Add cacao/cocoa powder, salt, vanilla extract, and flax eggs to a bowl and mix well (with a hand mixer or a spatula). Add the mixture from the pot and stir until well-combined. Add in the chopped pecans and stir once more.
Pour the filling into the pie crust and decorate the top with whole pecans. Don't press the pecans too much or they'll sink into the filling.
Bake covered for 30 minutes, then uncover and put back in the oven for an additional 30 minutes.
Pie will seem somewhat less liquidy but may seem "unset" when removed from the oven. It will set more as it cools. Let it cool completely before serving.
Store leftovers covered on the counter for up to 2 days, or refrigerated for up to 5 days. Pie also freezes fantastically.
Prep Time:

30 minutes

Cook Time:

1 hour

Category:

Dessert

Method:

Baking, Oven

Cuisine:

Vegan, American
Keywords: vegan, plant-based, oil-free, vegan pie, pecan pie
---
---
Other Recent Content!