This vegan pumpkin lasagna is so cheezy and delicious, but completely healthy and easy to make! Lasagna is one of those dishes that I always loved to eat but have been too intimidated to try making at home. One day about a year ago, I finally decided to try making it myself and it was surprisingly easy and incredibly delicious.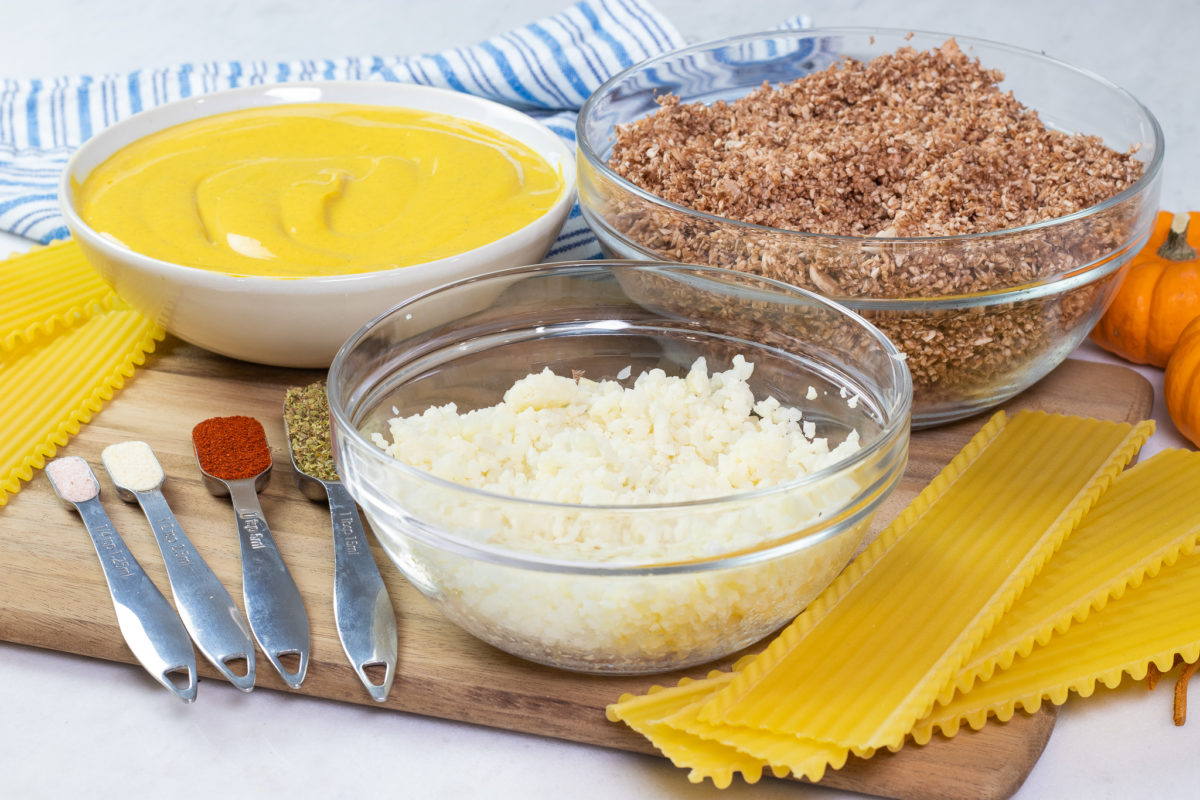 What Goes Into the Lasagna
Fast forward to a month ago I was dreaming up fall recipes and I made this pumpkin cheezy sauce. I had it over pasta that night and it was then that I realized it would make an amazing lasagna. This cheezy sauce replaces the tomato sauce in this recipe, but you could add both if you like!
Speaking of cheeze, I like to cover the top of this lasagna with my homemade mozzarella cheeze. It's easy, healthy (made mostly of tofu!), and delicious. It melts perfectly, and takes on a lovely light golden brown color when baked. However, you may choose to use store-bought vegan shredded cheeze if you like.
Since becoming vegan, I've often experimented with cauliflower and mushrooms for taco meat. For this recipe, I changed up the spices a bit and it turned out to be a great substitute for ground beef. It's easy to make in the oven. If you want it a chewier, crispier texture, bake it for a little longer, but I like it softer.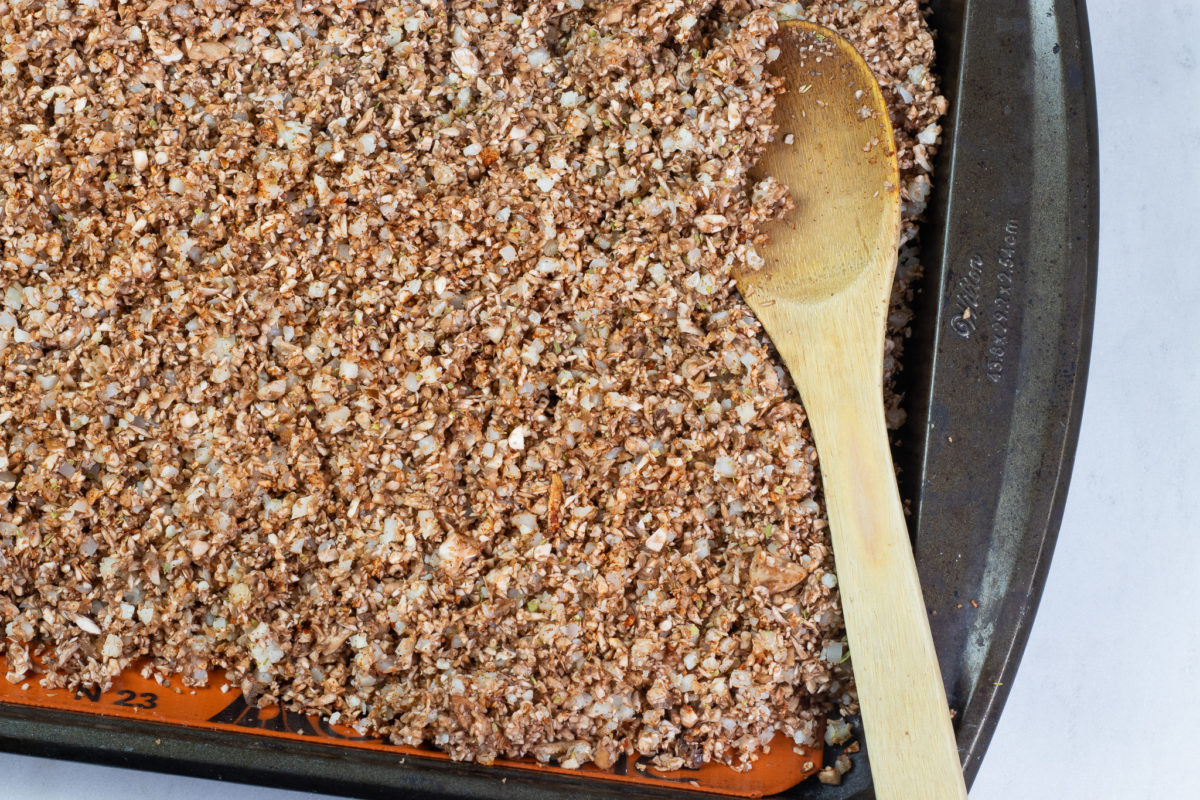 As far as the noodles go, I like to take shortcuts sometimes if it means the food gets on my plate faster. For this recipe I used oven ready lasagna noodles, and as instructed on the package, added a half cup of water on top of each layer of noodles. But if you want to use regular lasagna noodles, cook them according to package directions and forego the extra water in the bake. I'd reduce the bake time, too, and just check it every once in a while, until the mozzarella cheeze on top is a light golden brown.
Assembling the Lasagna
The lasagna itself is very easy to make as it's just a matter of assembly. I like to cover the bottom of my 9″ x 13″ glass Pyrex baking dish with a little bit of the cheezy sauce and then put down a layer of pasta.
If you are using oven-ready noodles, add a little water on top of the pasta. Then add a thin layer of the mushroom and cauliflower mixture, cover it with sauce, and repeat the process until all ingredients are used up. My top ingredient was the last of my cheezy sauce.
Finally make the mozzarella and use two small spatulas to scoop up a dollop of the cheeze on as much of the lasagna as possible. Try to cover as much of the top as you can, knowing that it will only spread a little. There should be enough mozzarella to cover most of the pan.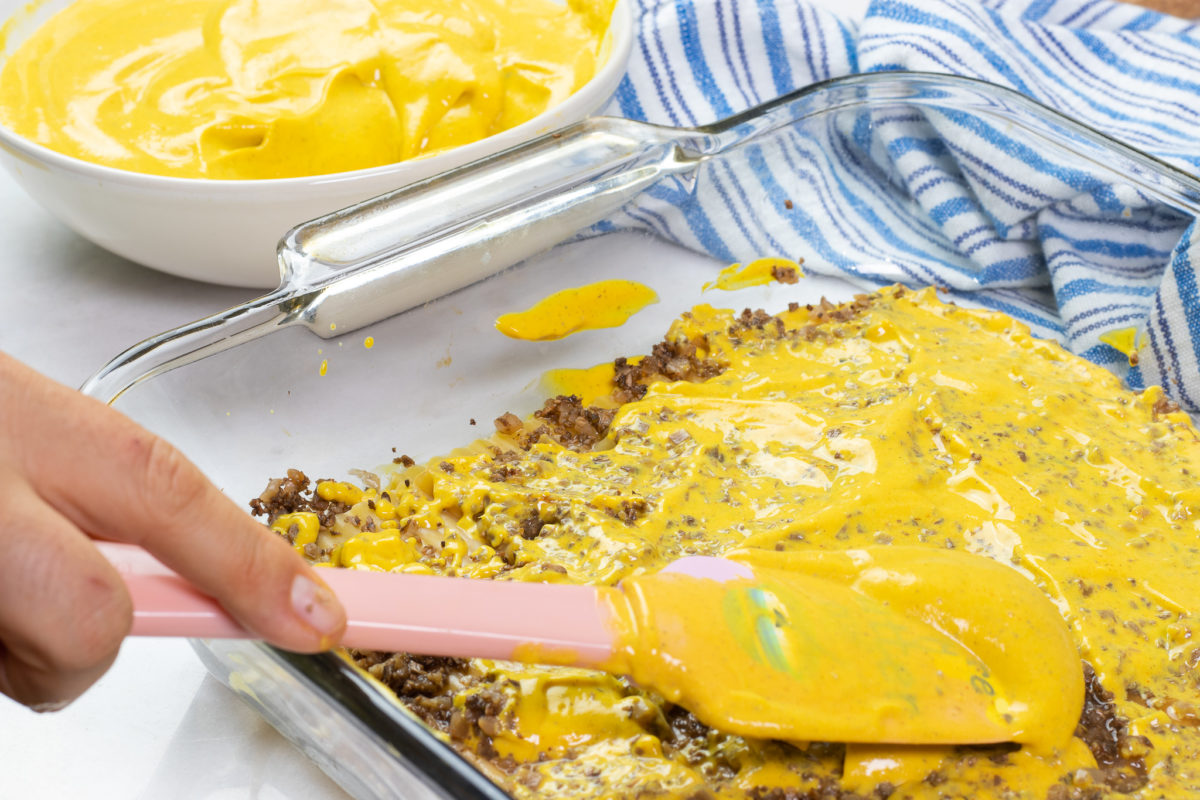 Storing the Lasagna
It also holds up very well in the fridge, so if you make it on Sunday you can eat the leftovers all week for lunches at work or school… if they last that long! Simply reheat the food in the microwave or oven, and enjoy hot–or eat it cold, if that's your jam.
This recipe is not gluten-free, but it can be easily made that way if you purchase gluten-free lasagna noodles. Nothing else in the recipe has gluten. The recipe is nut-free and oil-free, though.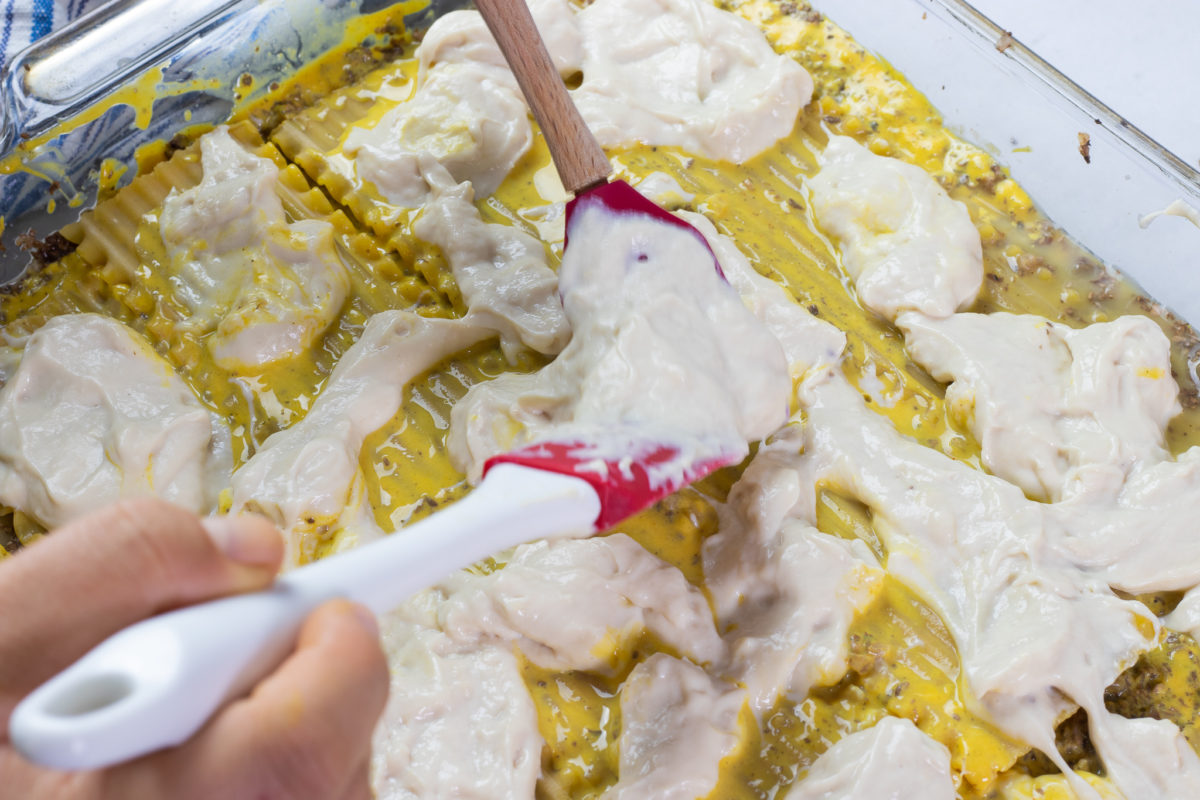 As always, let me know if you make this recipe and please tag #Zardyplants and mention me @Zardyplants so I can see your beautiful recreations! If you tag me on IG, I will share your post in my stories :)
<3 Liz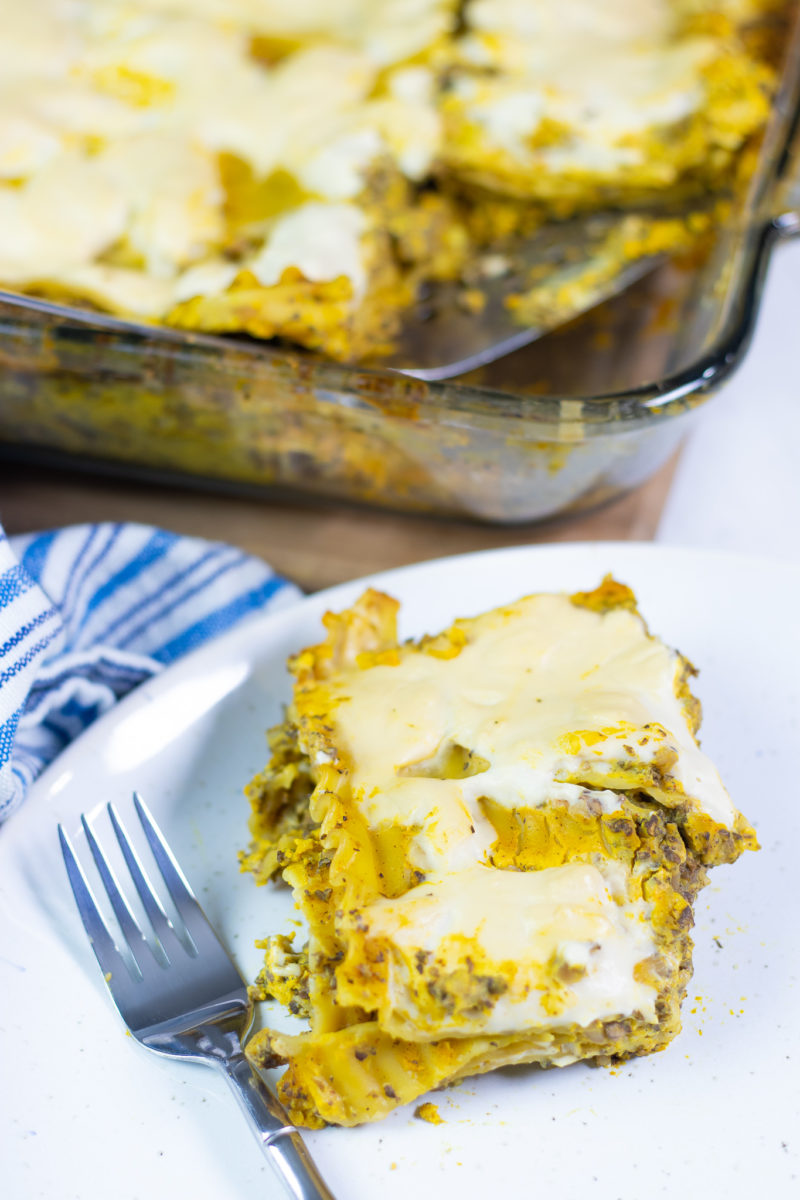 Follow me on Social Media!
Print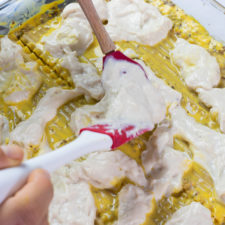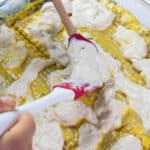 Vegan Cheesy Pumpkin Lasagna Bake
---
Author:

Liz Madsen

Total Time:

1 hour 15 minutes

Yield:

9

x 13 tray

1

x
Description
With my Vegan Cheesy Pumpkin Lasagna Bake, this Italian classic becomes the prefect meal to add to your Thanksgiving meal. Nut-free, oil-free. Gluten-free if you use gluten-free lasagna noodles.
---
1.5

9-oz boxes oven-ready lasagna noodles (see my note above about using regular lasagna noodles--It's fine with minor alterations)
Water as needed if using oven-ready noodles
1 batch homemade mozzarella or 8 oz vegan shredded cheeze

12 oz

riced cauliflower (if frozen, steam cook and press out the water with clean tea towel)

16 oz

mushrooms

1 tablespoon

dried oregano

1 teaspoon

paprika

½ teaspoon

onion powder

¼ teaspoon

pink Himalayan salt (or any, but I like the flavor and lower sodium of this salt)
---
Instructions
Preheat your oven to 375 degrees F (or 190 degrees C) and line a half baking sheet with parchment paper or a silicone mat.
Pulse cauliflower and mushrooms in food processor until texture is crumbly. Spread on baking pan. Sprinkle on oregano, paprika, onion powder, and salt. Bake for 15 minutes, then stir, then bake for additional 15 minutes. You may choose to bake for additional time if you like the texture crispy. Leave the oven on.
In a 9" x 13" deep-rimmed baking dish, start to layer your ingredients. First put down a layer of sauce and noodles. If using oven-ready noodles, add a half cup of water. Spread on the cauliflower and mushroom mixture and continue layering. Your last layer should be the last of the Cheezy Pumpkin Sauce.
Using two small spatulas or spoons, spread the mozzarella out as evenly as you can.
Bake the lasagna covered for 20 minutes, then uncovered for 20 minutes, or until the noodles are fully cooked and the cheeze is lightly golden brown.
Serve immediately and enjoy.
Refrigerate leftovers in an airtight container for up to 5 days.
Cook Time:

1 hour, 15 minutes

Category:

Entree

Cuisine:

Vegan, Italian
Keywords: vegan, plant-based, oil-free, vegan lasagna
---
---
Other Recent Content!