This lush and cozy Vegan Goulash is a tasty bowl of pasta, veggies, and beef alternative. It's easy to make in one pot in less than 30 minutes and has very simple ingredients. It's also ridiculously delicious and will please the whole family, even picky eaters, young or young-at-heart!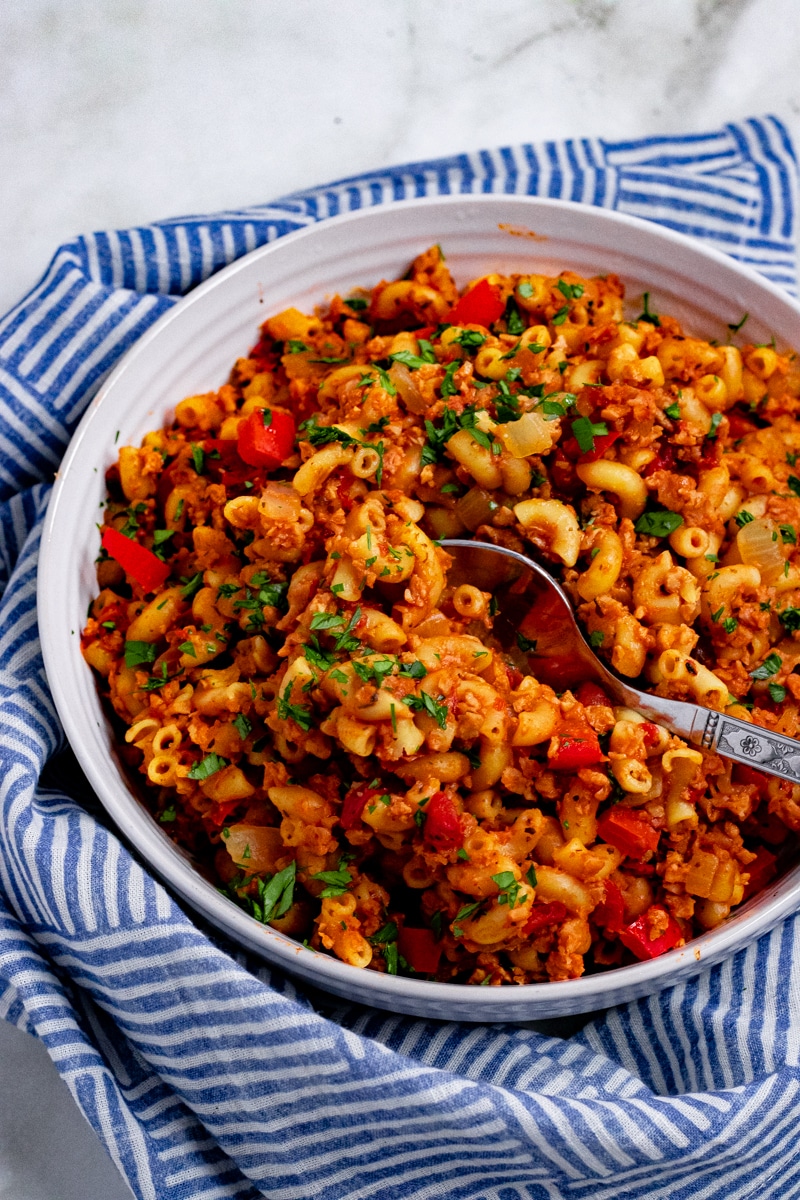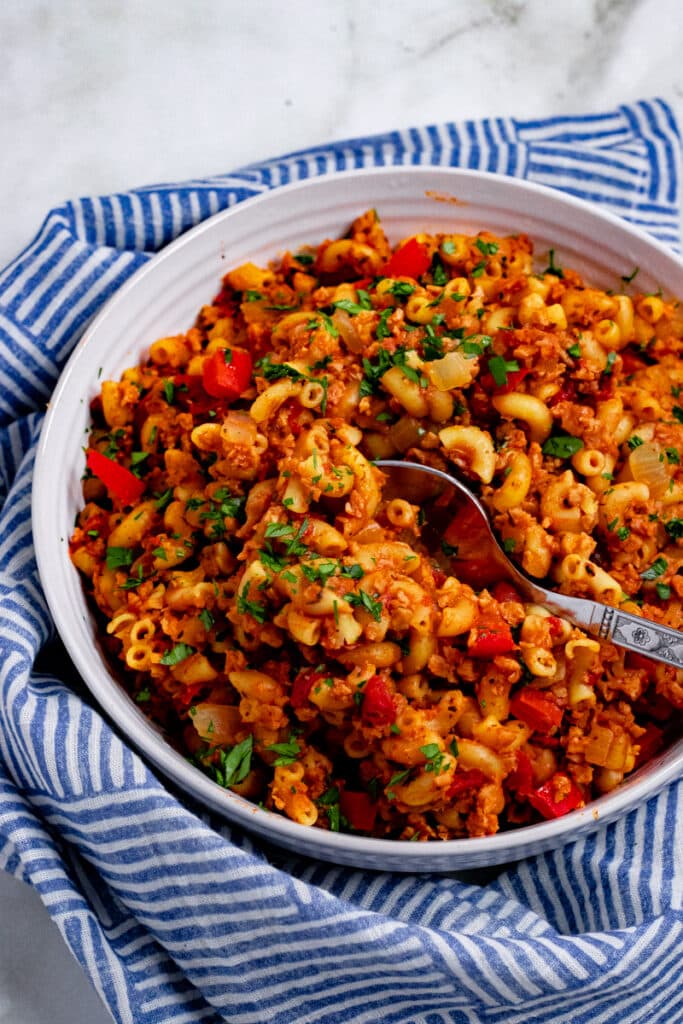 This post may contain affiliate links. See our disclosure policy for details.
Hey Internet, I've got another easy pasta recipe for you today. Fall is coming, and with it a bit nippy mornings and evenings around some parts of the world, including mine.
So, I needed a cozier and slightly heartier meal, so I decided to make this delicious American goulash.
Wait, what is goulash?
Goulash is a term that refers to a kind of stew-like mixture of vegetables and usually meat in Hungarian cooking.
The Americanized version is much less stew-like and more of a pasta dish, that also goes by the name of chili mac or beefy mac.
While I could have called this vegan beefy mac, or apparently American Chop Suey (you learn something new every day!), I didn't want to downplay the delicious role that the vegetables play in it.
Bright tomato, savory onion and garlic, and fresh red bell pepper make this a veggie-packed healthy dish that tastes rich and decadent, without being high in calories.
In fact, since it's vegan, it has zero cholesterol, very low fat, and STILL packs an awesome protein punch.
What's even more is that it's super easy to make in under 30 minutes, and it's not very expensive to make either.
It also is a great budget-friendly meal (TVP is often just as cheap as ground beef, or close, and a whole lot healthier) and makes A TON of food, so you can easily feed a large family or use it as lunches or dinners for the rest of the week!
It's also perfect for kids and picky eaters--so if you're looking for more of that kind of thing, check out my list of vegan kid-friendly recipes or my list of 50+ vegan snacks for kids!
Ready to get into this awesome recipe? Let's go!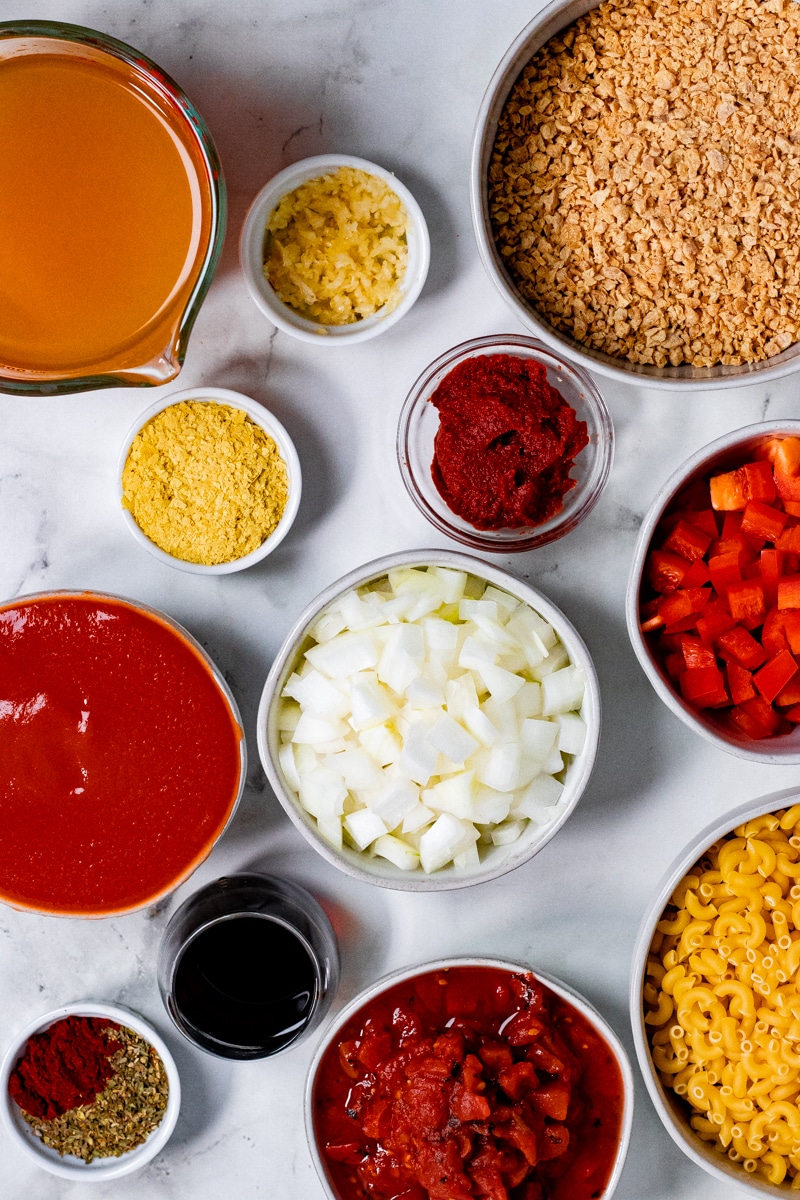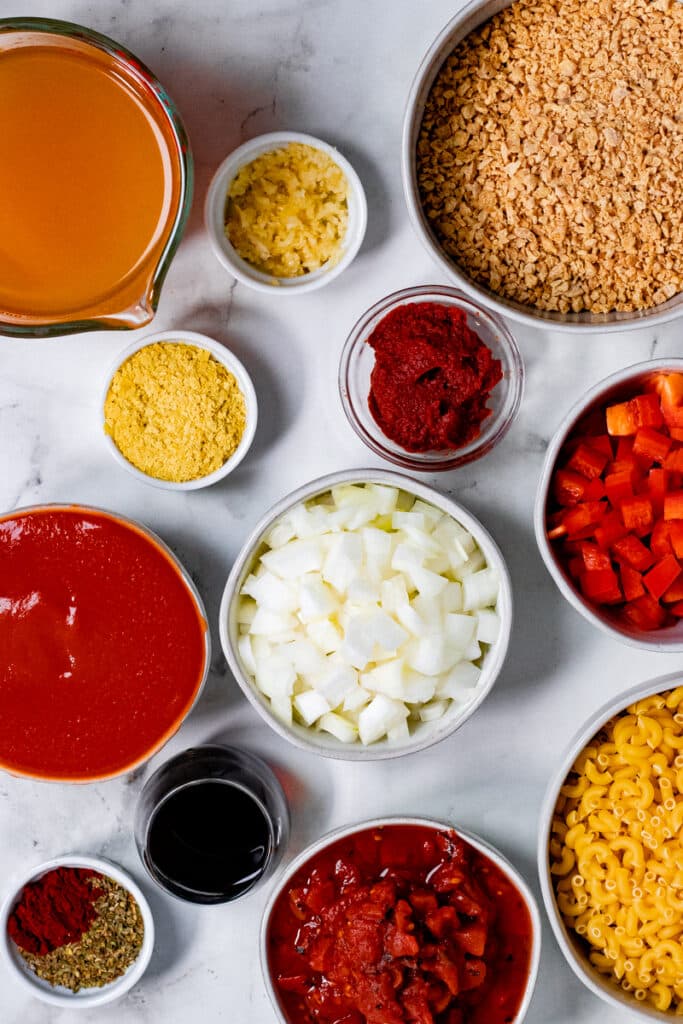 What You'll Need
Let's start with the pasta. Any pasta will work--just know for whole wheat or bean based pastas, you might have to cook them slightly longer than I say. Gluten-free pastas should work well too.
Veggies are easy--I used onion, garlic, red bell pepper, tomato, and a bit of parsley to garnish. Feel free to sub the peppers for anything or add veggies as you please, such as mushrooms, carrots, celery, etc.
TIP: If you add a vegetable that doesn't let off it's own liquid (like mushrooms) have a little extra tomato sauce or broth on hand in case you run out of liquid.
The tomato paste, puree, and diced tomatoes are all part of the base of this dish. You can mix and match them as you choose, but I really liked the combination that all three added.
I used fire roasted diced tomatoes for extra flavor, but regular diced tomatoes will work just fine.
If you are watching your sodium, go for the no salt added canned tomatoes and puree.
In addition to the liquid from the tomatoes, I used reduced sodium vegetable broth. Vegan chicken broth or vegan beef broth will also work very well.
For the ground beef replacement, I used simple TVP, which is textured vegetable protein.
It is a soy product, and it is rich in complete protein and contains virtually no fat so it's a great meat alternative.
If you cannot have soy or don't want to use TVP, you could substitute beans, lentils, or a store bought ground beef alternative like Beyond Meat or Gardein. If you replace it, use less vegetable broth. Start with half the broth and only add more if you need to.
Finally, for flavor, I added Italian seasoning, smoked paprika, a little nutritional yeast, and a bit of reduced sodium soy sauce (can sub tamari for gluten-free or No Soy for soy-free or use salt).
What is the difference between spaghetti and goulash?
While American goulash and spaghetti have many similarities (pasta + tomato sauce + beef or beef alternative = cooked dish), they differ in how they are cooked.
Pasta is usually cooked separately from the sauce, and combined later. Goulash is normally all cooked in the same pot.
I think this method is GREAT because the pasta soaks up all that delicious sauce and you don't even need to strain it!
It took a little bit of experimenting to get the liquids amount just right so that I didn't end up with a soupy mess. I was also constantly worried it would dry out--but it turned out great in the end and I really hope you'll try it too.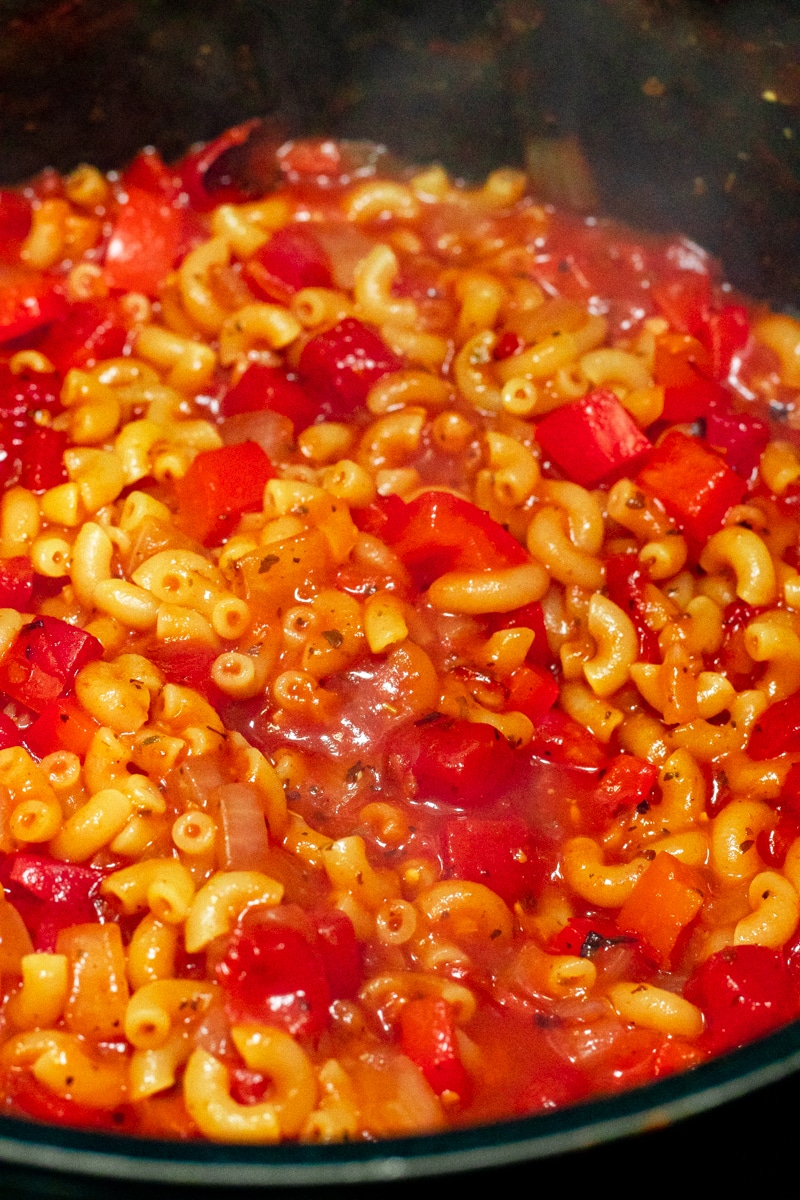 Tips for Making the Best Vegan Goulash
Saute your onions for three minutes before adding the garlic as it burns quicker.
If cooking without oil like I do, just add water a tablespoon at a time as needed while sauteing onions. Wait until the onions start to stick to the pot before you add any water to deglaze it.
When the onions and garlic are done sauteing, you can add all the tomato stuff, broth, and spices to bring it to a boil. To speed up the process, throw a lid on it. Remember, if you're not using TVP, add HALF the broth!
You'll throw the pasta in when the liquid starts boiling, but don't leave it on high. I like to turn it down to medium. It takes a couple more minutes to cook but it doesn't require constant babysitting to keep it all from sticking together. The noodles will soak up more flavors this way, too.
When the noodles are al dente, add the TVP, cooked lentils or beans or whatever.
Stir everything well and serve it up! I like it with some fresh parsley, and even a squeeze of lemon and a sprinkle of nutritional yeast sometimes.
How Long Will This Last?
You should refrigerate the leftovers after they have cooled, but don't wait too long (2 hours max, per food safety regulations). Refrigerate in an airtight container for up to 5 days.
You can also freeze the leftovers in a freezer safe airtight container for up to 3 months. I recommend adding a tablespoon or two of water when reheating so it doesn't dry out.
How to Make This Recipe in a Slow Cooker
Saute the onions and garlic ahead of time and add them to the pot along with everything EXCEPT the TVP and nutritional yeast. Stir well and set on high for one hour.
When it's done, stir in the TVP and nutritional yeast, which should soak up any remaining liquid.
More 30 Minute Vegan Dinners
This vegan beefy mac type dish is absolutely delicious, and I love that it takes such a short time to make--and it only dirties one dish. My hubby is the dishwasher since I do most of the cooking, but the less time he spends washing dishes, the more time we have to spend together after dinner.
So in the spirit of quick and easy one-pot dinners, here's a few more delicious ones you should try:
Anything Else?
As always, I hope you love this recipe–I know I do and so does Mr. Zardyplants, who is vegan but occasionally misses the flavor of meat (but not the cruelty–he insisted I add that line).
This vegan goulash is:
Cozy
Savory
Hearty
Lush
Zesty
A little sweet
"Meaty" (hold the cruelty)
Satisfying
and great for anyone in your life that either isn't vegan or vegetarian yet and needs to be convinced or is already and just kinda misses the taste and mouthfeel of meat.
Let me know in the comments below if you make this recipe or tag me @Zardyplants on Instagram so I can see your beautiful recreations! If you tag me on IG, I will share your post in my stories :)
Also, one quick request: if you love how this recipe looks or tastes, please leave me a 5-star rating and a nice comment–ratings help more people find my recipes which helps me keep providing them! Thank you!
<3 Liz
Save this for later on Pinterest!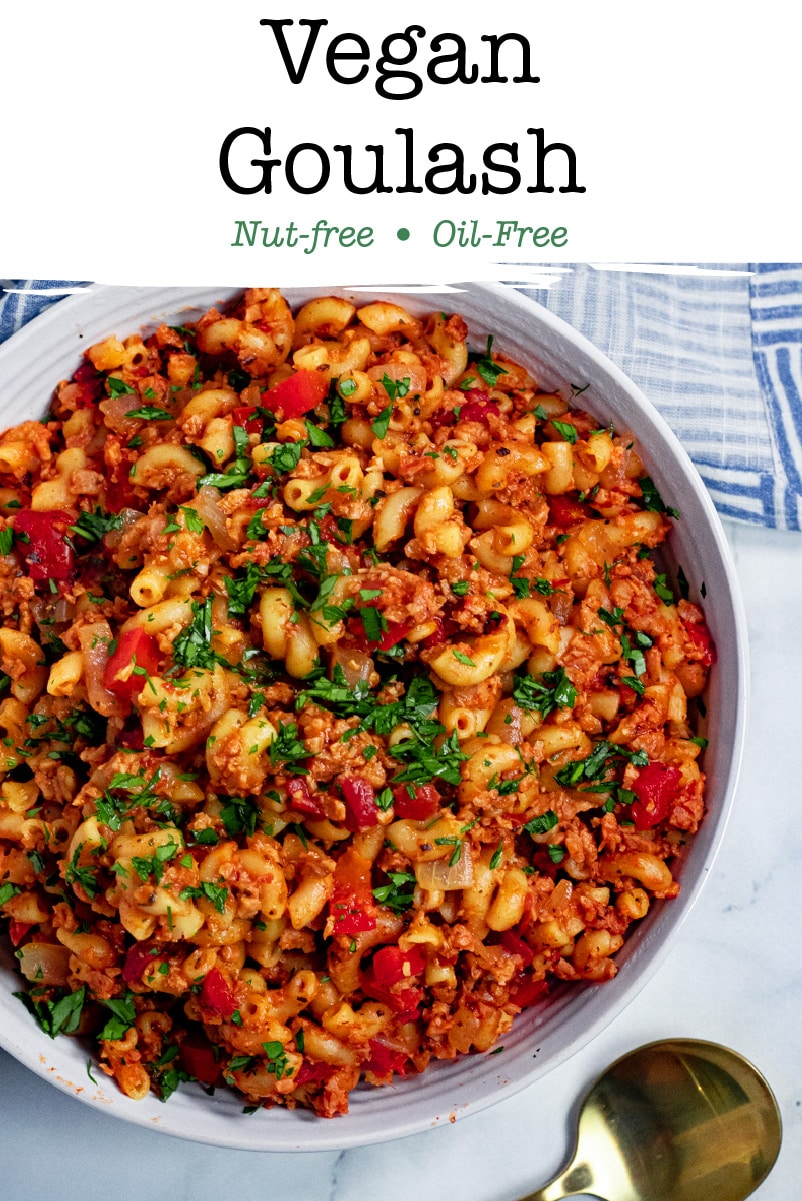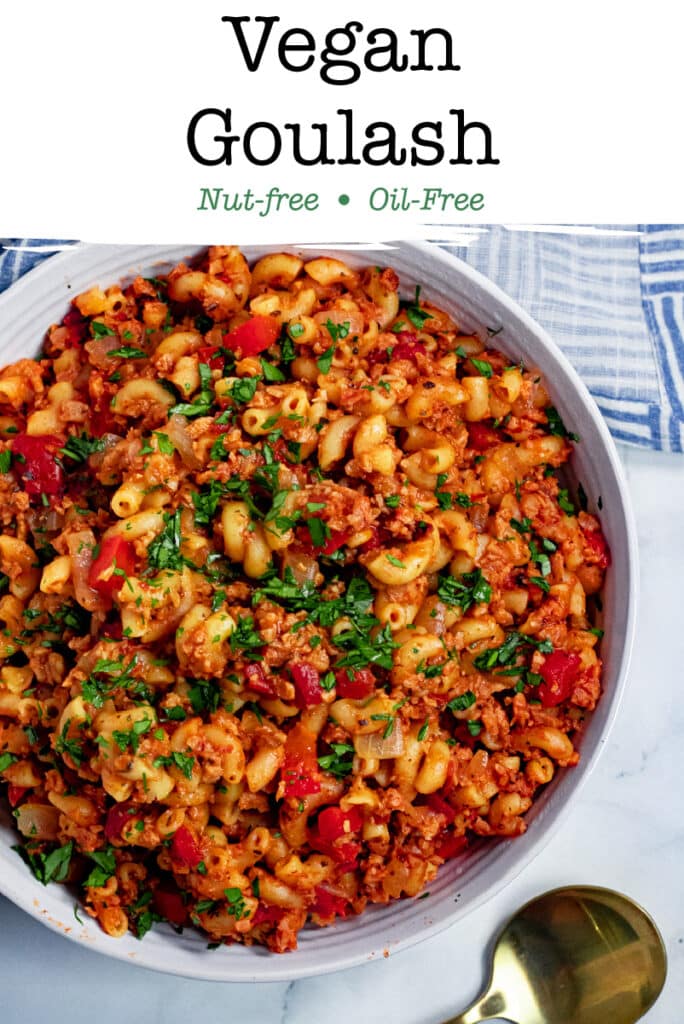 Follow me on Social Media!
Follow my blog with Bloglovin
Print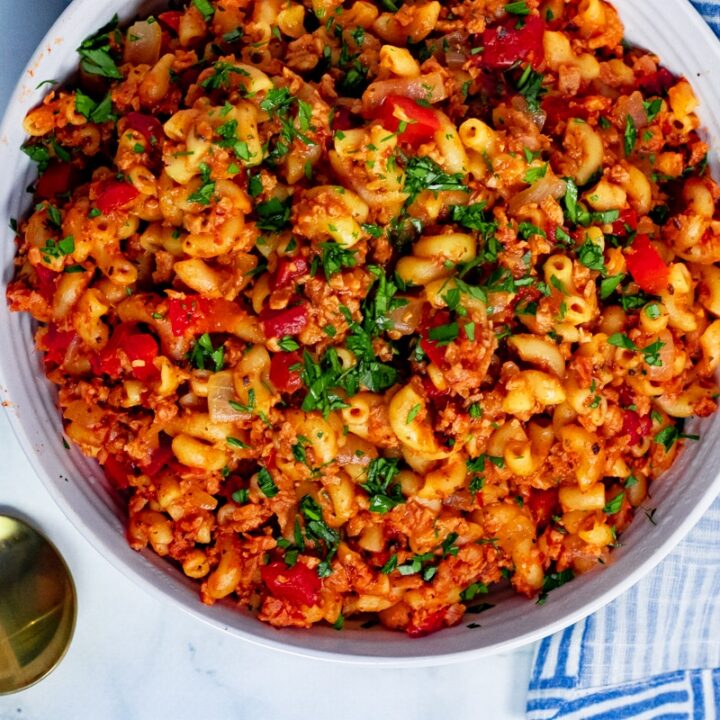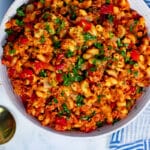 Vegan Goulash (American)
---
Author:

Liz Madsen

Total Time:

25 minutes

Yield:

16 cups

1

x

Diet:

Vegan
Description
This lush and cozy Vegan Goulash is a delicious bowl of noodles, veggies, and beef alternative. It's easy to make in one pot in 30 minutes.
---
1

pound pasta of choice (use gluten-free if needed)

4 cups

vegetable broth (use half if not using TVP)

2 cups

TVP (see note 1)

1

medium yellow onion, diced

4

cloves garlic, minced

1

medium red bell pepper, diced

1

-

14.5

oz can (or

1.5 cups

) diced tomatoes (try fire-roasted!)

1

-

14.5

oz can tomato puree

2 tbsp

tomato paste

2 tbsp

Italian seasoning

½ tsp

smoked paprika

3 tbsp

reduced sodium tamari or soy sauce (sub No Soy if needed)

2 tbsp

nutritional yeast, optional
---
Instructions
Saute: Add onions to a preheated large pot over medium high heat. Saute for 3 minutes, adding water a tablespoon at a time, only when needed (when it starts to stick to the pan). Add the garlic after the onion becomes somewhat translucent and saute another minute. Then add the red bell pepper and saute for one more minute.
Boil: Now add the tomatoes, puree, paste, spices, and broth and stir. Bring it to a boil (you may cover with a lid to speed up the process). NOTE: If you are NOT using TVP, use HALF of the broth suggested, only adding more if needed. Even if you're using cooked beans or cooked lentils instead, it's easy to add more liquid but not remove it once things are already mixed together.
Cook the pasta: Add the pasta in and stir well. Turn the heat down to medium and allow it to cook for 5-8 minutes, stirring occasionally to ensure it doesn't stick to the pot or itself.
Add the TVP if using: Stir the TVP right into the mixture, no need to rehydrate it first. Add in the tamari / soy sauce / No Soy now too. Let it soak up and heat up for just a minute or two, stirring constantly to make sure everything is well mixed. You're done!
Serve: Serve this goulash up in a bowl with a sprinkle of extra nutritional yeast and a little fresh or dried parsley. Enjoy!
Store: Refrigerate leftovers for up to 5 days in an airtight container. Freeze for up to 3 months in a freezer safe airtight container. I recommend adding a tablespoon or two of water when reheating to keep it from drying out.
Notes
Note 1: If not using TVP, you can use cooked lentils or beans or tempeh, or whatever, but USE LESS BROTH. The reason this calls for so much broth is the TVP requires some to rehydrate. If you're substituting something else for the TVP, I'd start with 2 cups of broth and add more if needed.
Note 2: You can use vegan chicken broth or vegan beef broth for a different flavor. Also you could try changing up the spices or veggies!
Cook Time:

25 minutes

Category:

Entree, Dinner

Method:

Stove top

Cuisine:

American
Keywords: Vegan, Oil-Free, Nut-Free, Sugar-Free, Can Be Gluten-Free, Pumpkin Spice Granola
---
---