This huge compilation of High Protein Vegan Meals is a great resource for any vegan or vegan-curious person who wants to up their protein intake. Make sure to pin or bookmark this page for later and share with your friends.
Hey Internet, are you wondering how to get protein as a vegan? Maybe you're trying to explain it to someone else, or maybe you just want to increase your personal protein intake.
This article is a good resource for vegan protein.
Below, I'll answer a few commonly asked questions about vegan protein, common vegan protein sources.
There's also a HUGE roundup of awesome high protein vegan meals from myself and creators around the web (used with permission of course).
Disclaimer: I am NOT a doctor, nutritionist, registered dietician, or scientist nor can I advise anyone on a diet or anything intended to treat or cure any condition. Please take the following information as inspiration only and please consult a healthcare professional before making any changes to your diet or lifestyle.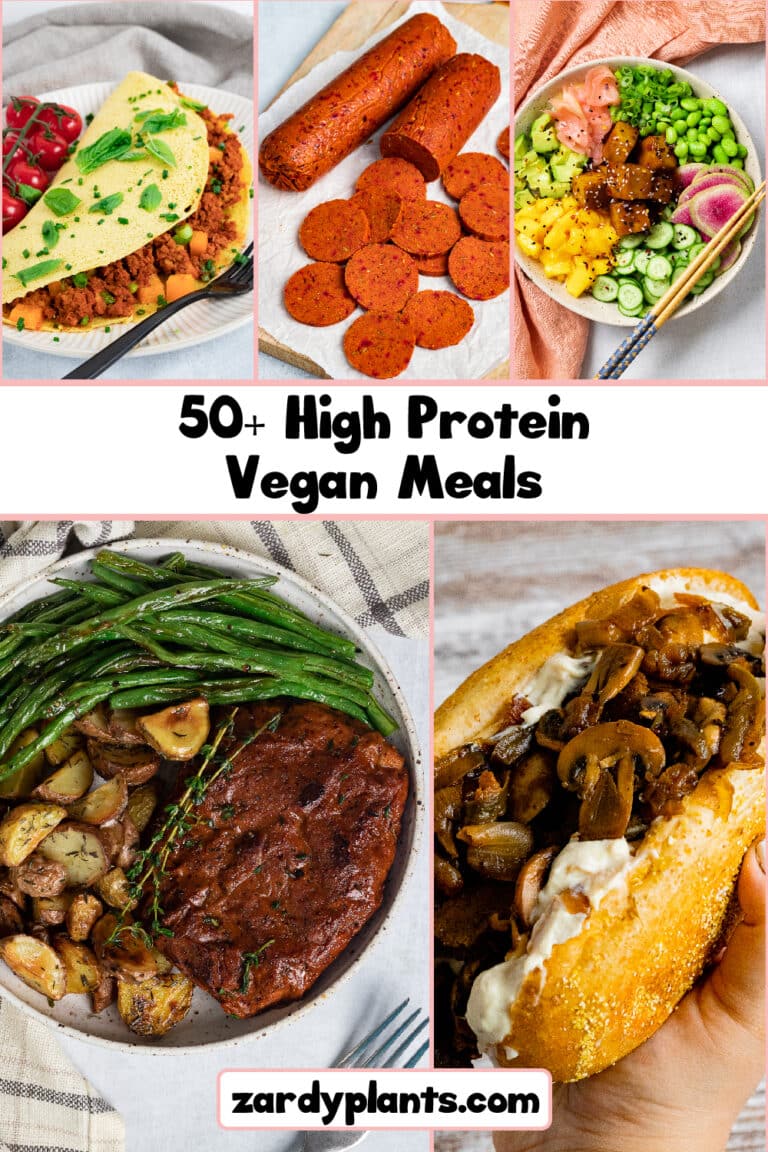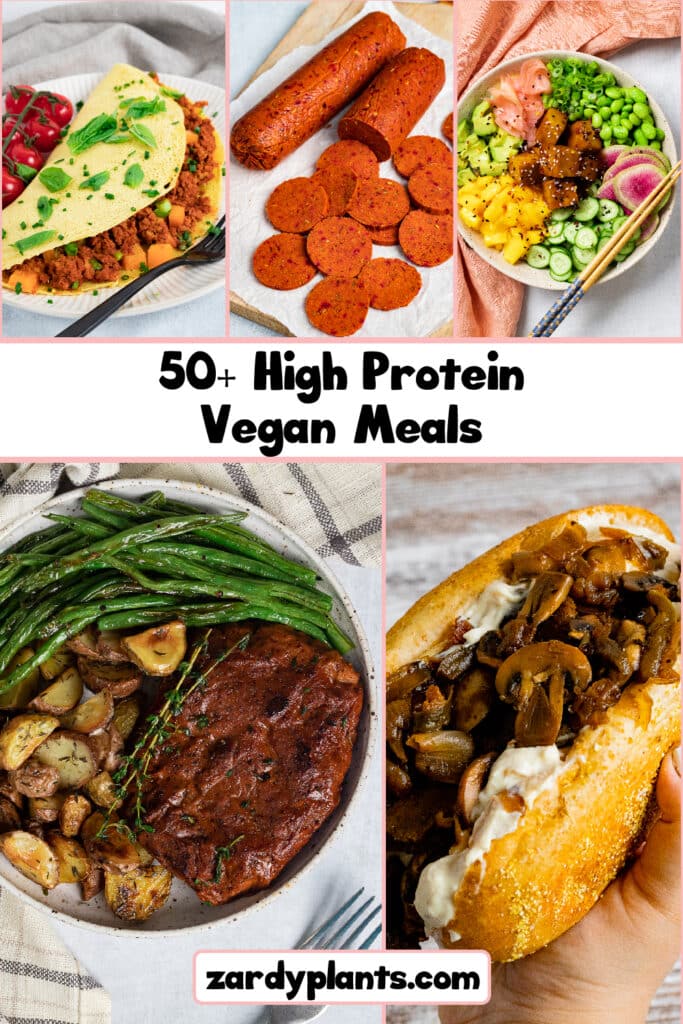 Frequently asked questions about vegan protein
Where do vegans get their protein? / What can vegans eat for protein?
The answer is very simple: plants! All plants have some protein--even a white potato or an apple.

But more specifically, the main vegan protein sources are beans, lentils, nuts, seeds, certain ancient grains, edamame, tofu, tempeh, seitan, and dehydrated soy options (such as soy curls or TVP).

There are also fortified options popping up all the time including protein powders, nutritional yeast, non-dairy milks, and more.
Do vegans need to worry about protein? / Do vegans miss out on protein?
The simple answer is no. As long as you're getting enough calories, you're getting enough protein.

Calorie needs vary between individuals, their total daily energy expenditures (TDEE), basal metabolic rate (BMR), and goals (lose weight, gain muscle mass, etc.). However, it's possible and easy to get plenty of protein even on a modest amount of calories.

For example, say 1600-1800 calories-- that's quite a low calorie regimen that I've often followed to lose weight and still maintained enough protein (under the advisement of a registered dietitian). I actually eat more calories and lose weight easier that way nowadays, but that's beside the point.
How do I make sure I get enough protein as a vegan?
While fitness-minded individuals may wonder something like 'How do vegans get 100g protein?' the truth is that no one really needs that much protein in a day.

Adults of a healthy weight only need between 45 and 55 grams of protein in a day. Protein deficiency is unlikely unless one isn't eating enough food overall, or has trouble absorbing protein.

Please consult a healthcare professional if you have questions about how much protein your body needs.

Read more from a scientific perspective here.

If you're interested in reading a really good, thorough analysis on protein, I highly recommend the book Proteinaholic by Dr. Garth Davis.
High Protein Vegan Recipes
Looking for high protein vegan meals? Check out the long comprehensive list below and definitely pin, share, and bookmark this page for quick reference.
High Protein Vegan Meals
Looking to up your protein intake? Just feel more satisfied when eating higher protein vegan meals? Check out this list of recipes for including more plant based protein in your life.