Trying to figure out what to do with tofu? Check out this list of The Best Vegan Tofu Recipes, packed with dinners, sauces, cheeses (?!?!) and more.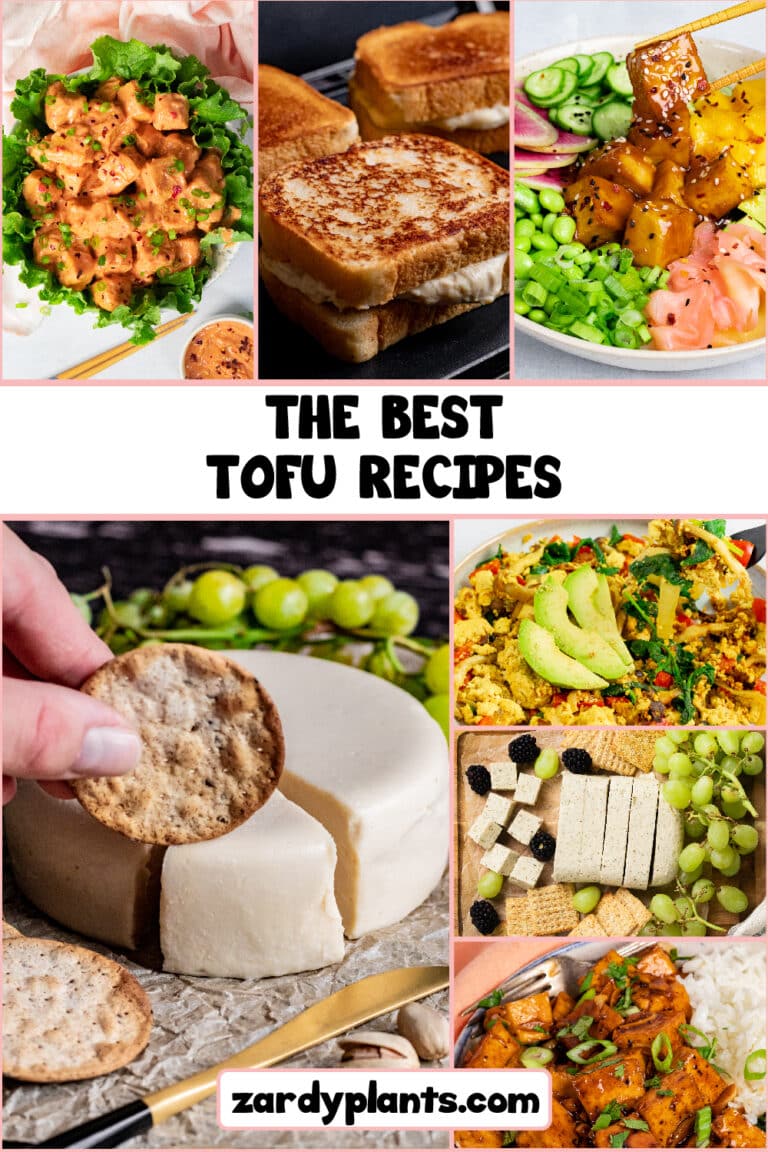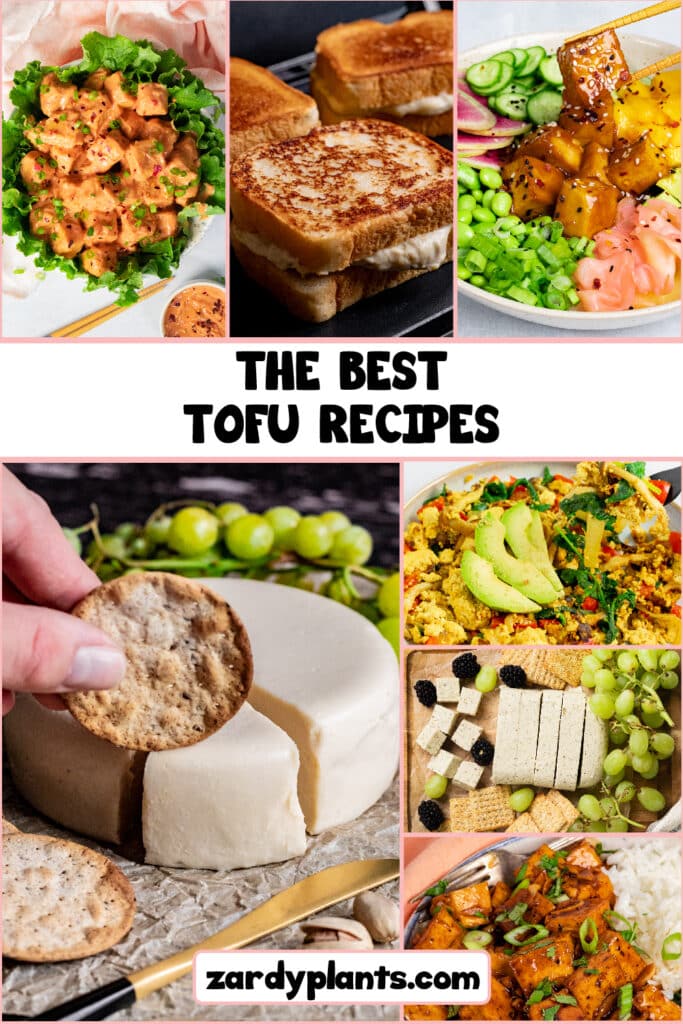 Hey Internet, are you a new vegan and lost when it comes to tofu?
Or maybe you're a seasoned vegan (hah, get it?) and just looking for some new ideas for this incredibly versatile protein.
I've made all kinds of things with tofu, such as direct meat replacements, silky sauces, nut-free vegan cheeses, etc.
On occasion, I even use it as an egg alternative.
Though I have to say my absolute favorite way to eat it is by making crispy tofu. Simple, easy, delicious, and super versatile.
Before we get into the tofu recipes, let's answer some common questions about tofu.
Frequently Asked Questions
What is tofu?

Tofu is a vegan and vegetarian friendly protein-packed food made from condensed soy milk that is coagulated and pressed into white blocks. The process is similar to cheesemaking. 

You can vary the thickness / firmness of the tofu with minor adjustments during the process.

In fact, you can even make tofu at home and it's pretty easy to do so! Here's a great recipe for homemade tofu.

Some folks with soy allergies even make homemade tofu out of other substances, like pumpkin seeds (referred to as "pumfu").
What Does Tofu Taste Like?

Much like seitan, tofu doesn't really have a flavor until you add something to it.

Many vegans will mention their children like plain tofu, but children are known for having simple palates.

Is Tofu Healthy?

Tofu is PACKED with protein, calcium, manganese, and several other micronutrients. It is also low in fat, contains no cholesterol, and is considered a major staple of any vegan or vegetarian diet.
Is Tofu GMO?

So, you have to be careful here if you are avoiding GMO. There are many Non-GMO Tofu brands out there, just check the packaging!
What Kind of Tofu Should I Buy?

Tofu is easy to find these days, and in varying firmness.

Super firm tofu, the kind that comes in vacuum sealed plastic, is the best for direct meat replacement. You often don't need to press it, and you get the most tofu for your buck.

Extra or Firm tofu are also great for meat replacements. Because they come packed in water, you'll want to drain this water before using them.
Medium or soft tofu are great for more tender applications, like tofu scramble or as the egg in shakshuka, which I have available in my Plant Based Jewish Recipes e-book.

Some recipes may encourage you to bread and fry soft tofu (often Asian-inspired recipes) for a bit of a different texture, but amazing all the same.

Silken tofu is the most soft and almost liquidy tofu. It's fantastic for making super creamy sauces like salad dressings, tofu sour cream, or even vegan mayo.
Do I Need to Press Tofu?

You'll want to press tofu if you're intending to cook it, yes. When it's packed in water, the tofu absorbs that water like a sponge.

That means it won't absorb any type of flavor you put in it, like a marinade or a sauce.

Water packed tofu also can result in a less-than-optimal texture when cooking. If you press out most of the excess water, the tofu will become chewy and even crispy with certain cooking methods.
Do I Need a Tofu Press?

While a tofu press makes it a lot easier to press tofu, you don't absolutely need one.

Many people will sandwich the tofu between two cutting boards or plates and a few heavy objects (like a cast iron pan or reference books). You may want to wrap the tofu in paper towels if you do this, because a lot of water will come out this way.

If using a tofu press, you may be able to just turn it on its side in or over the sink and let the excess water drip out.

Tofu presses are all pretty different, so you may want to look into how your tofu press best releases extra water.

I prefer this EZ tofu press because it's like two clamped boards with a crank to press them together and hold the tofu in place. 

I flip it on its edge and place it on the clean side of my sink to drip while I do other things.
What is the Freezer Tofu Method?
The freezer tofu method is essentially where you freeze a block of firm or extra firm tofu inside the packaging (with the water and all) until completely frozen, and then you thaw it and use it.
Many folks actually repeat the process by freezing it and thawing it again.
What happens is this: the water in the tofu turns into ice crystals, which creates many holes in the tofu.
This makes it chewy and much more like meat, which is preferred by many vegans for recipes like nuggets or even like chicken in recipes such as my Vegan Kung Pao Chicken.
Note that your tofu will be yellowish after you do this. Totally normal.
How to Cook Tofu
This question kind of depends on what you're making. Unless you're blending it, I highly recommend at least draining your tofu, if not also pressing it.
So, with regard to that, let's get into my big list of vegan tofu recipes.
The Best Tofu Recipes
If you're looking for tofu recipes, I gotchu. Check out my list below of the best tofu recipes, all vegan of course.
Each section contains tons of recipes so you're sure to find something you'll like!