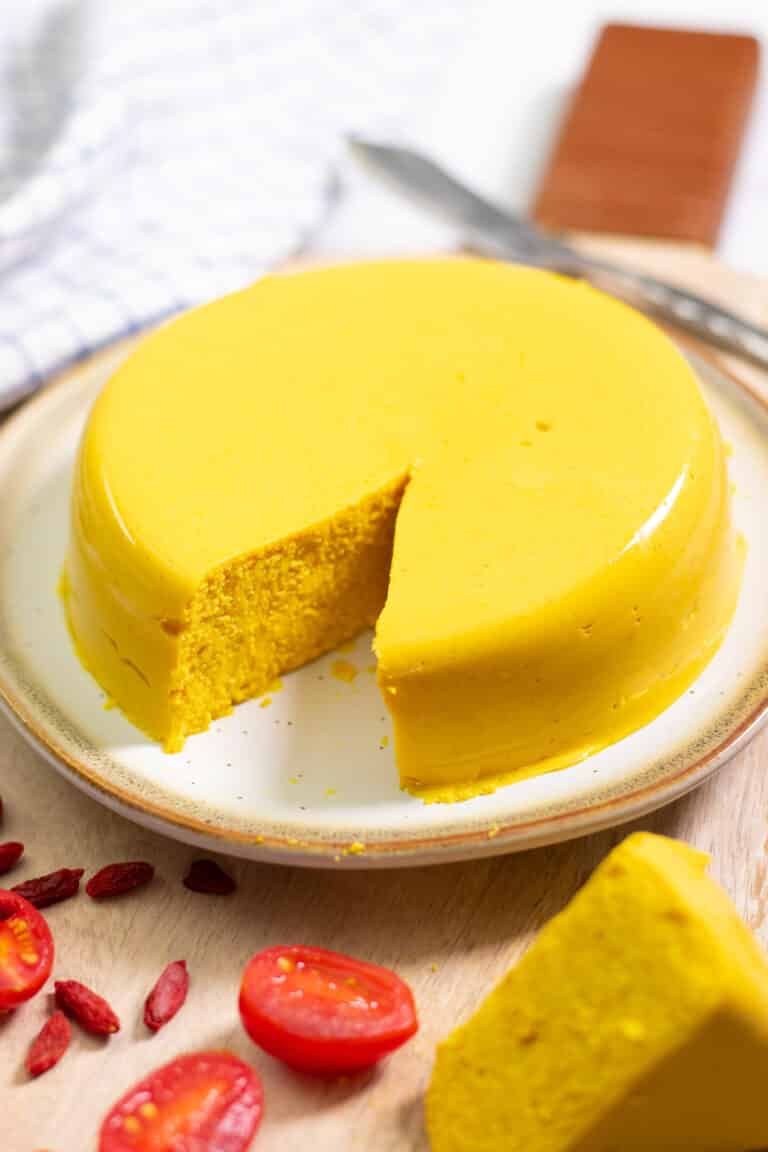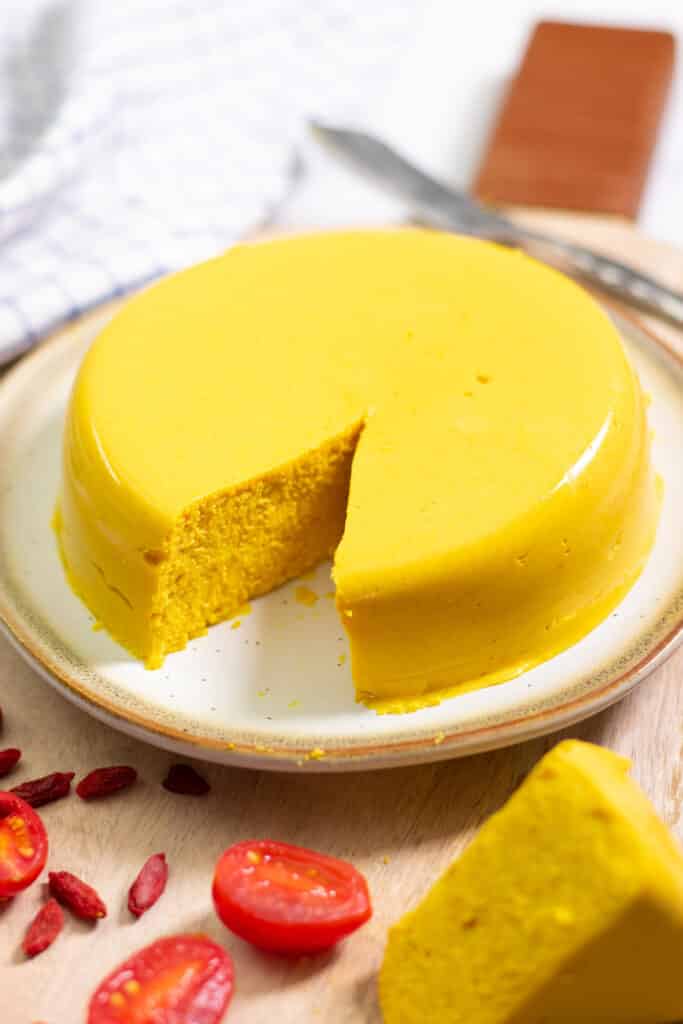 Hey Internet, want a Nut-free Vegan Cheddar Block Cheese that Melts and Shreds!? How about one that's oil-free, nut-free, and gluten-free?! Yeppers peppers, have I got the cheese for you!
This vegan cheese is not only all of those things, but it's also delicious and EASY to make! It will take you less than 10 minutes to prep this cheese, and after a few hours to set in the fridge, it's there to bend to your will.
I'm slowly adding to my arsenal of vegan cheese. Have you seen my other cheeses? Check out:
Melty Stretchy Gooey Vegan Mozzarella
Liquid Velvet Vegan Queso
Pumpkin Cheeze Sauce
Soy-free Cheeze Sauce
Consequently, I might become known only for my vegan cheeses and none of my other recipes. I'm okay with that. #cheeseaddict
Okay, enough about other cheese. Let's get onto the one at hand.
All you'll need is a few key ingredients and some spices.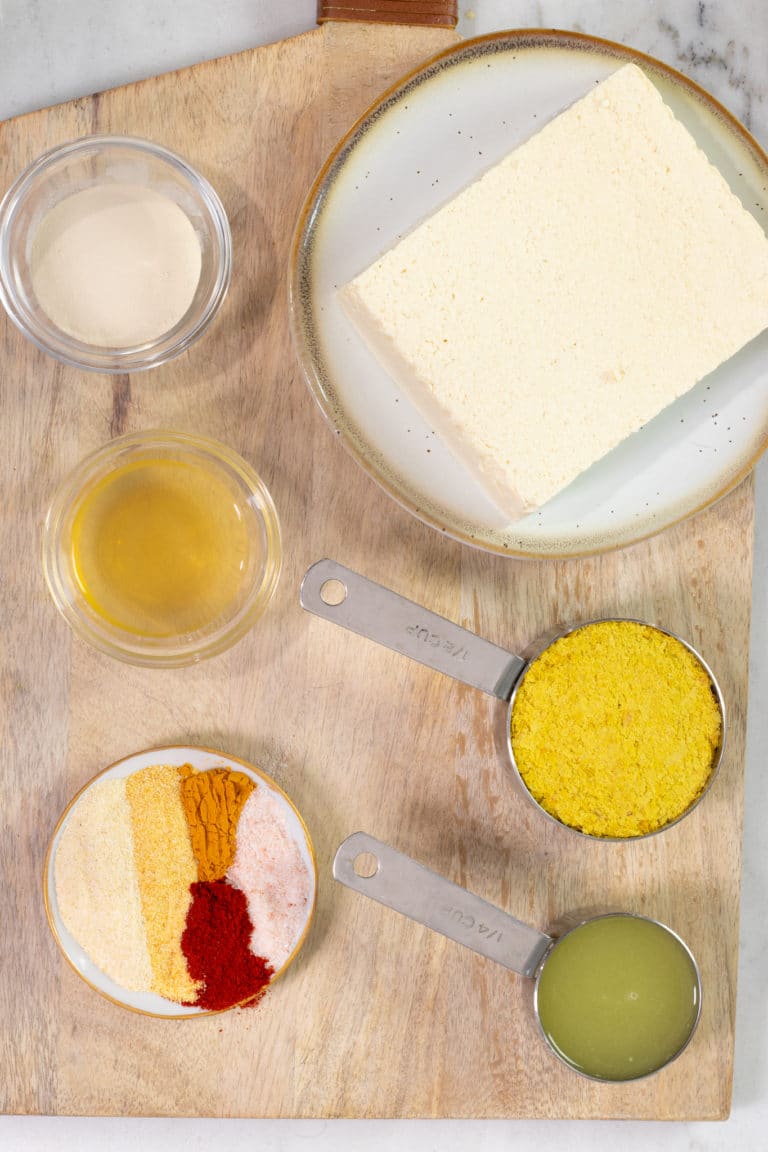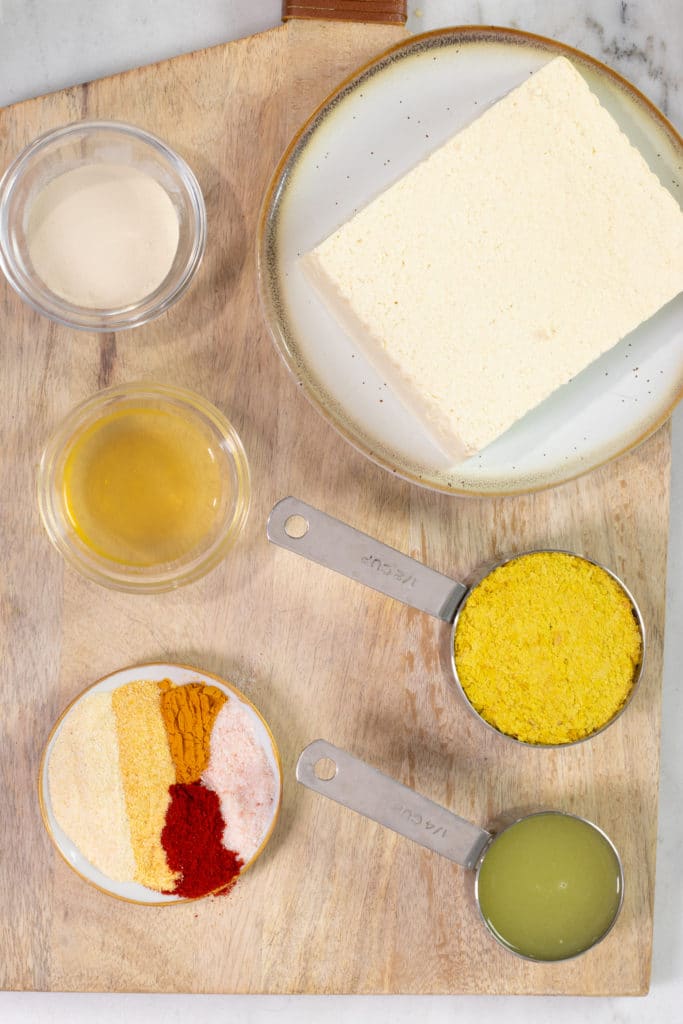 How To Make It
Like I said, it's easy to make this cheese. It's actually so simple you might do a doubletake.
First, you'll need a thickening agent. Agar powder (also known as agar agar) is naturally gelatinous powder derived from marine red algae. It doesn't taste like anything and is a magical ingredient.
All you have to do is dissolve it in boiling water, blend it with the cheese ingredients, and let it set in the refrigerator for a few hours and presto! Vegan cheese!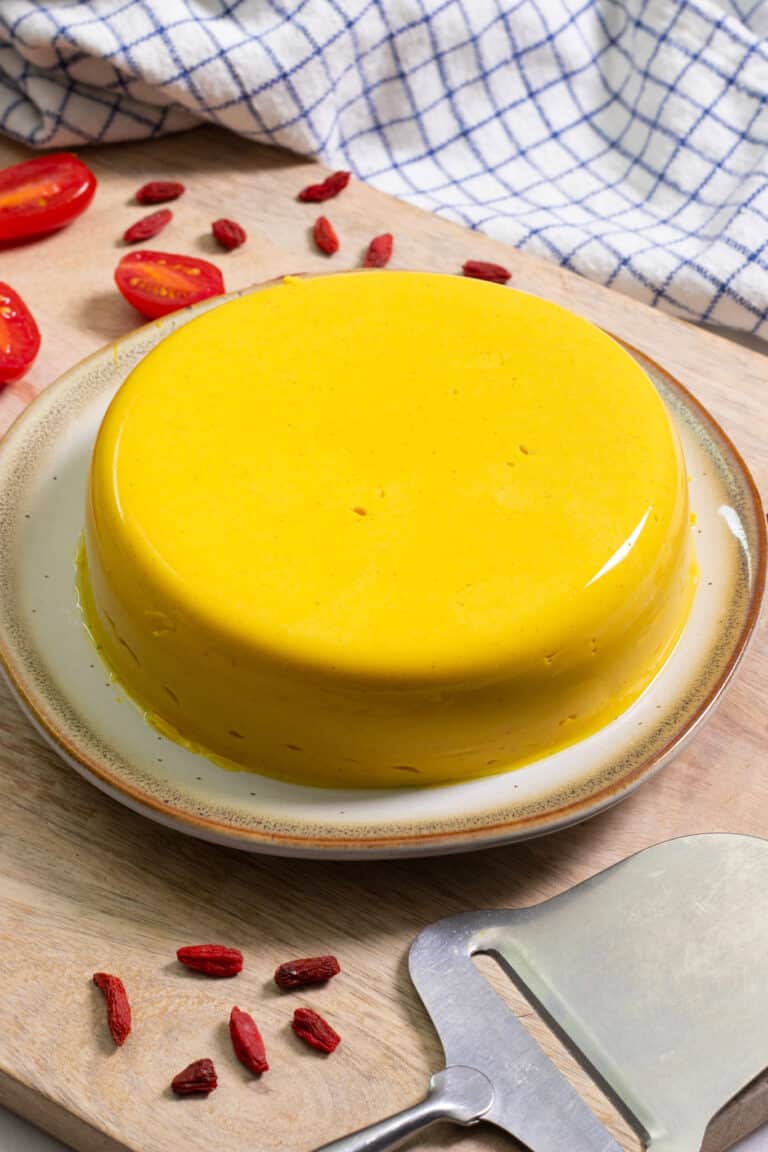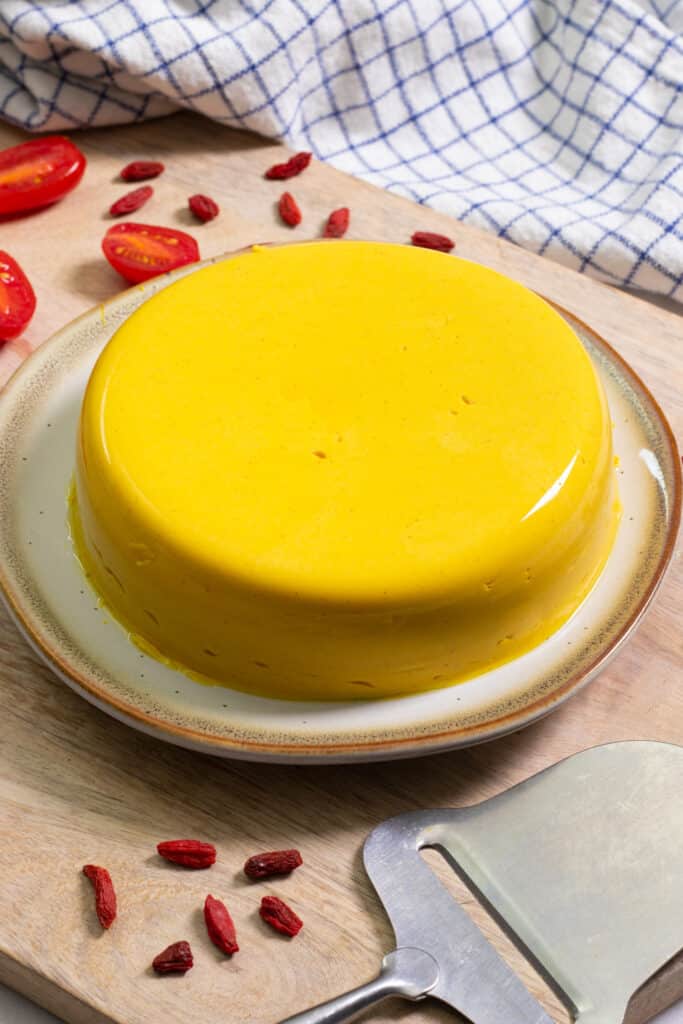 But let's talk about some of those cheese ingredients.
What Do I Need?
As mentioned above, you'll need agar powder / agar agar. It can be found at most health food stores but you can buy it for the same price (or less) online.
The base for the cheese is firm tofu. I haven't tested it with any other tofu texture so I do recommend using the firm unless you're up for experimenting with liquid levels. If you cannot have soy, you could sub soaked raw cashews.
Cheese normally has a substantial tang, so I used both lemon juice and apple cider vinegar to create a good flavor for the cheese when mixed with the spices. To get a quarter cup of fresh lemon juice, I squeezed 4 small lemons.
For spices, I used a combination of the following to get a slightly smoky, somewhat salty (most cheese is), cheddary (how else would you describe cheddar?!) flavor. I used onion powder, garlic powder, smoked paprika, turmeric (mostly for color but I definitely feel it helps the flavor). Also, I of course added some salt to bring out the flavors of the spices.
The amounts of each spice were something I had to experiment with and fine tune. I recommend you taste the blended sauce before adding the agar water solution to verify that it suits your own taste buds.
Finally, too up the cheesy flavor, I used nutritional yeast . I normally use non-fortified nutritional yeast for health reasons (an issue with folic acid I've discussed before), but for recipes when I need the color, I use the regular fortified version (#foodbloggerproblems, haha).
That's pretty much all there is to it! Now let's talk about what to do with this deliciousness.
Suggested Applications
You can shred this cheese onto pizza or pasta.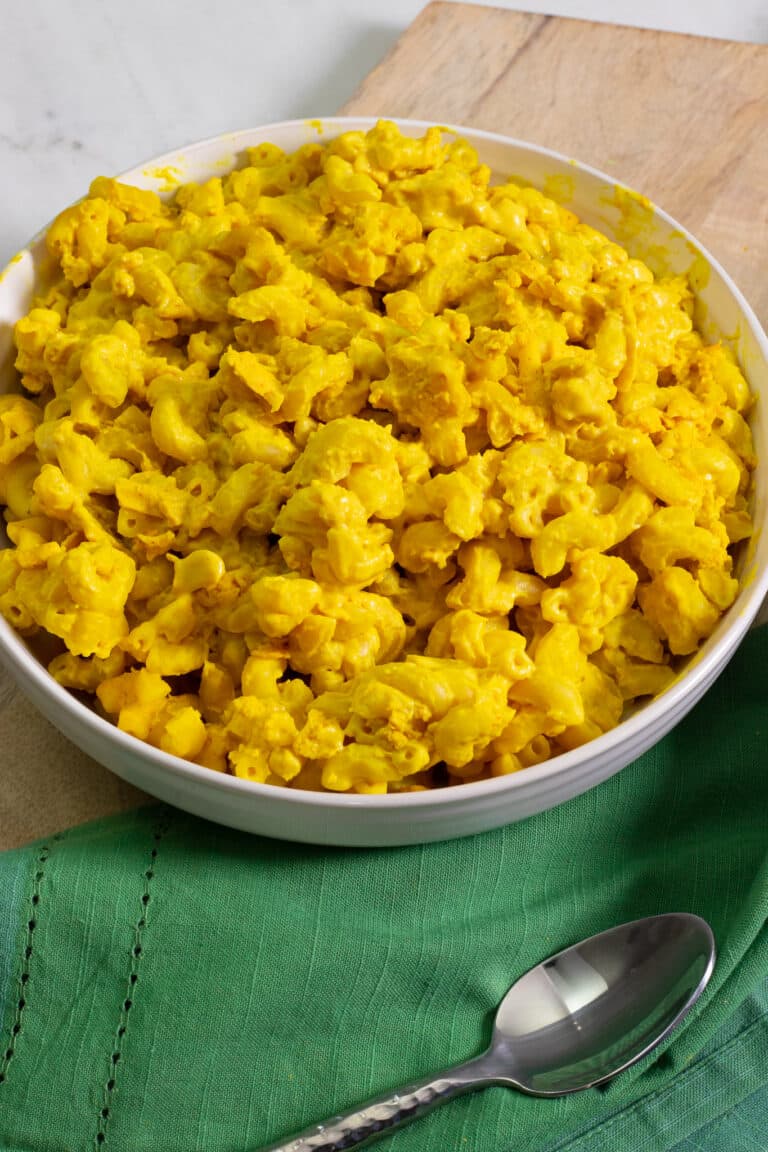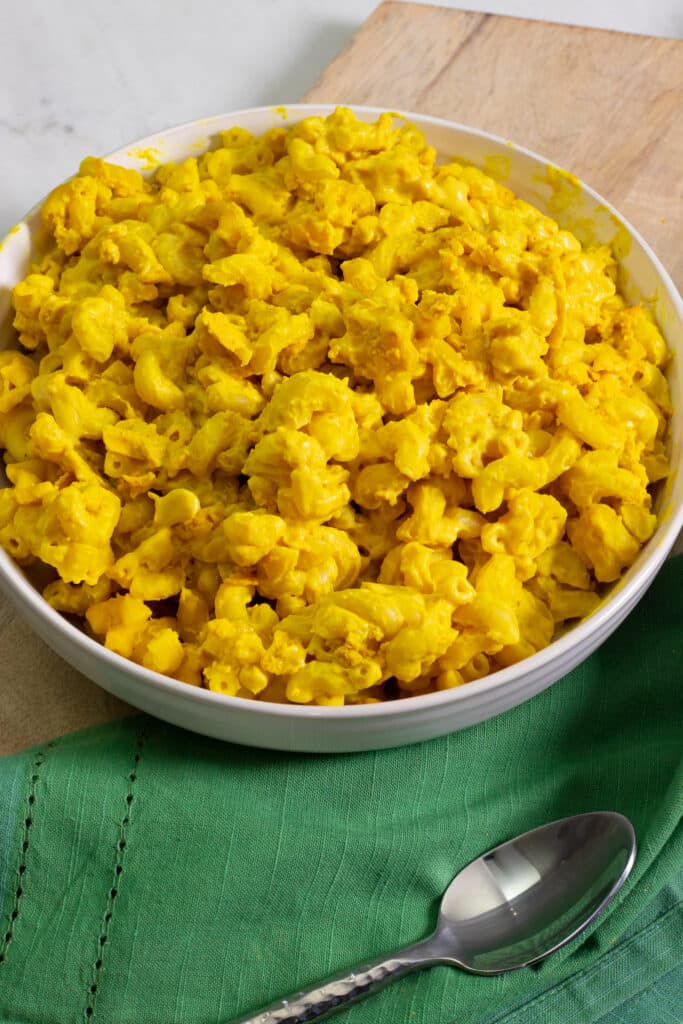 Make it into a grilled cheese or quesadilla (you could even combine it with my stretchy mozzarella.)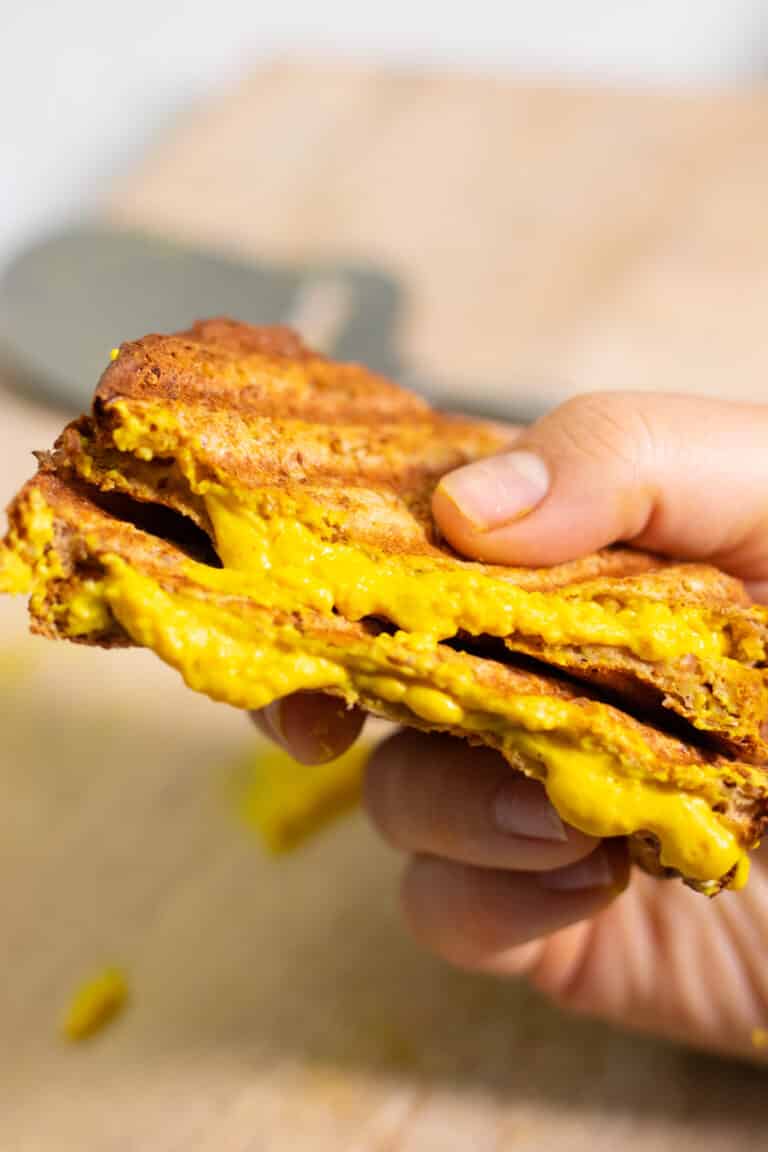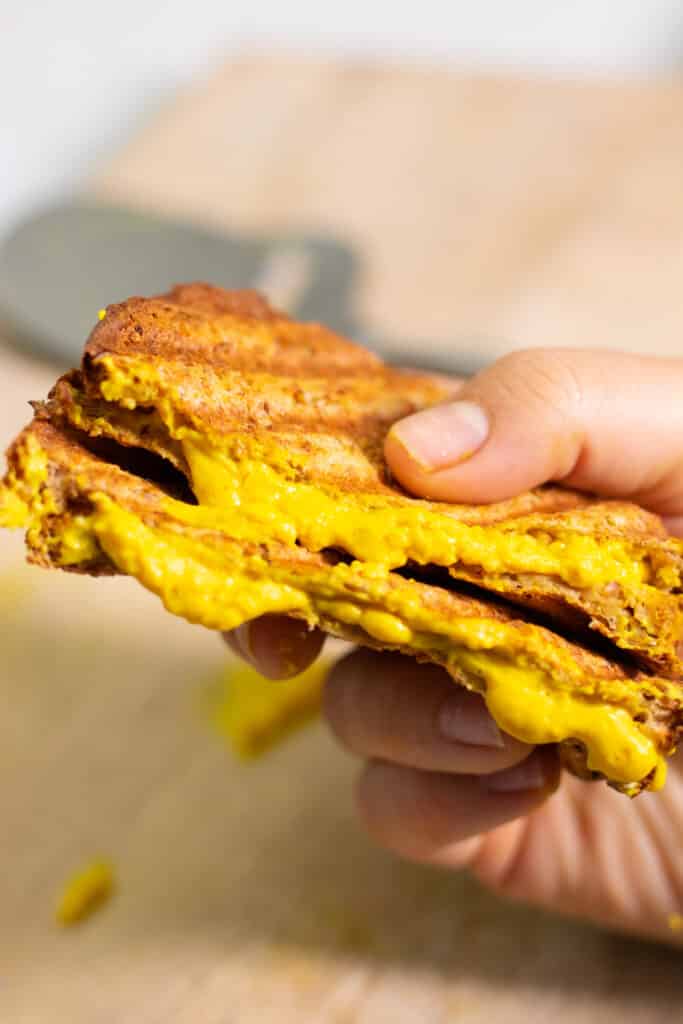 Also, you could slice it and put on a vegan burger!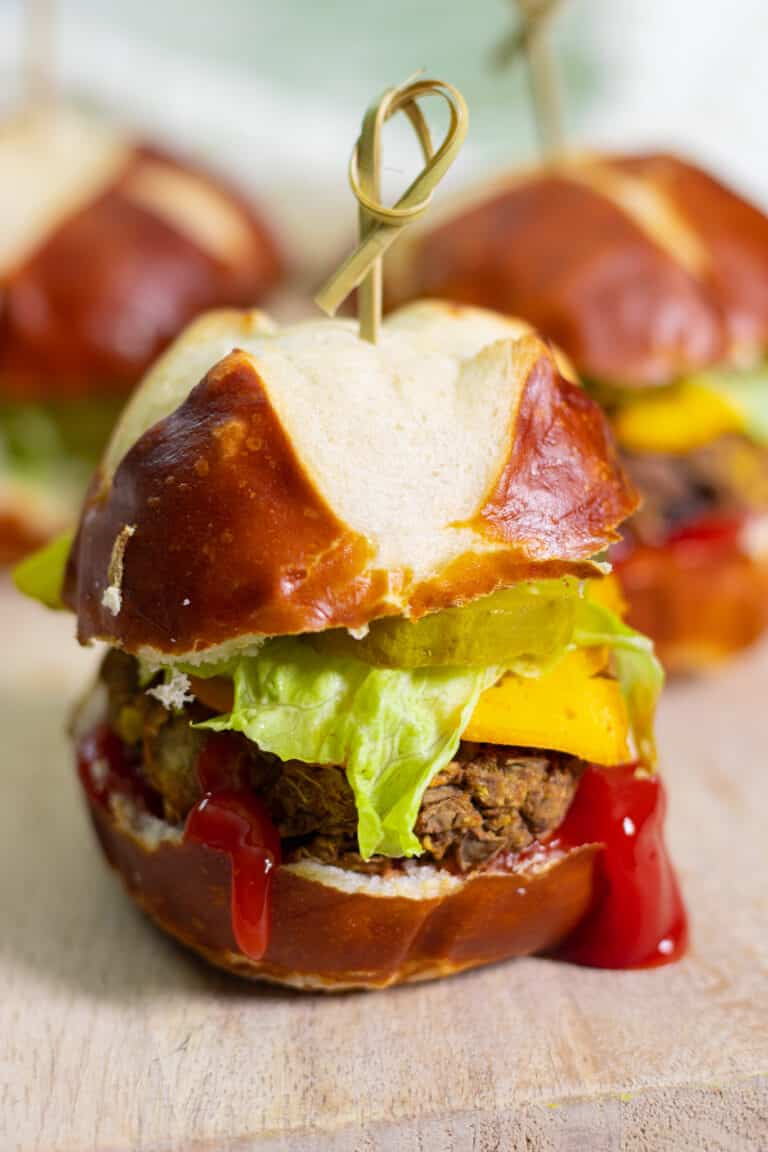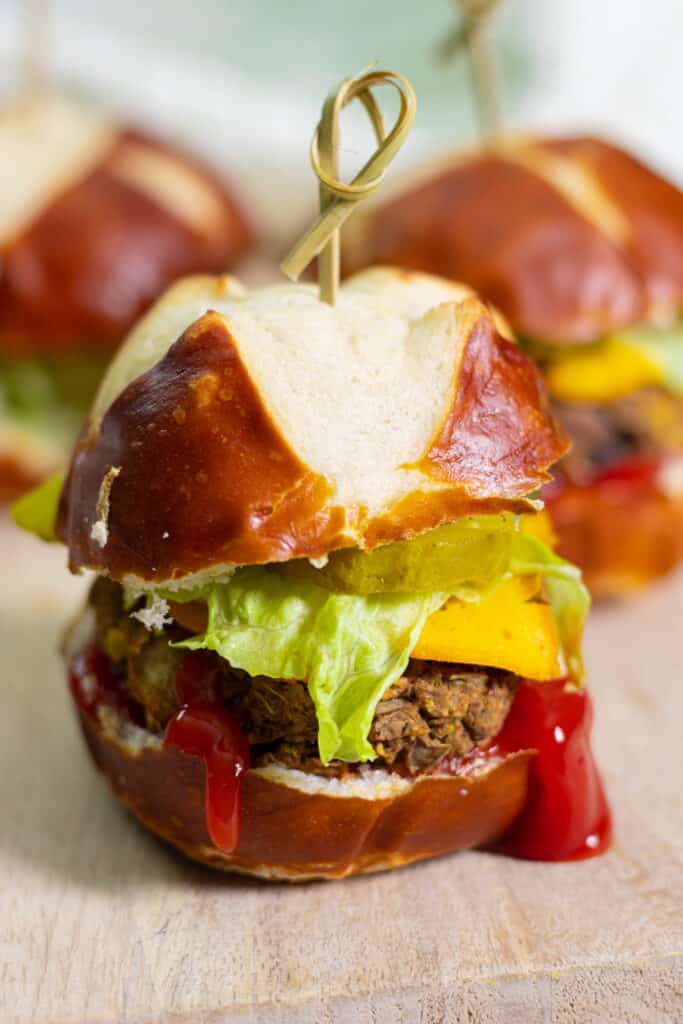 Don't forget sandwiches, pinwheels, wraps, lasagna, and more!
The applications for this cheddar are endless! Ready to make it?
As always, let me know if you make this recipe and please tag #Zardyplants and mention me @Zardyplants so I can see your beautiful recreations! If you tag me on IG or Facebook, I will share your post in my stories :) With your permission, I might also include your photo on this site!
<3 LIZ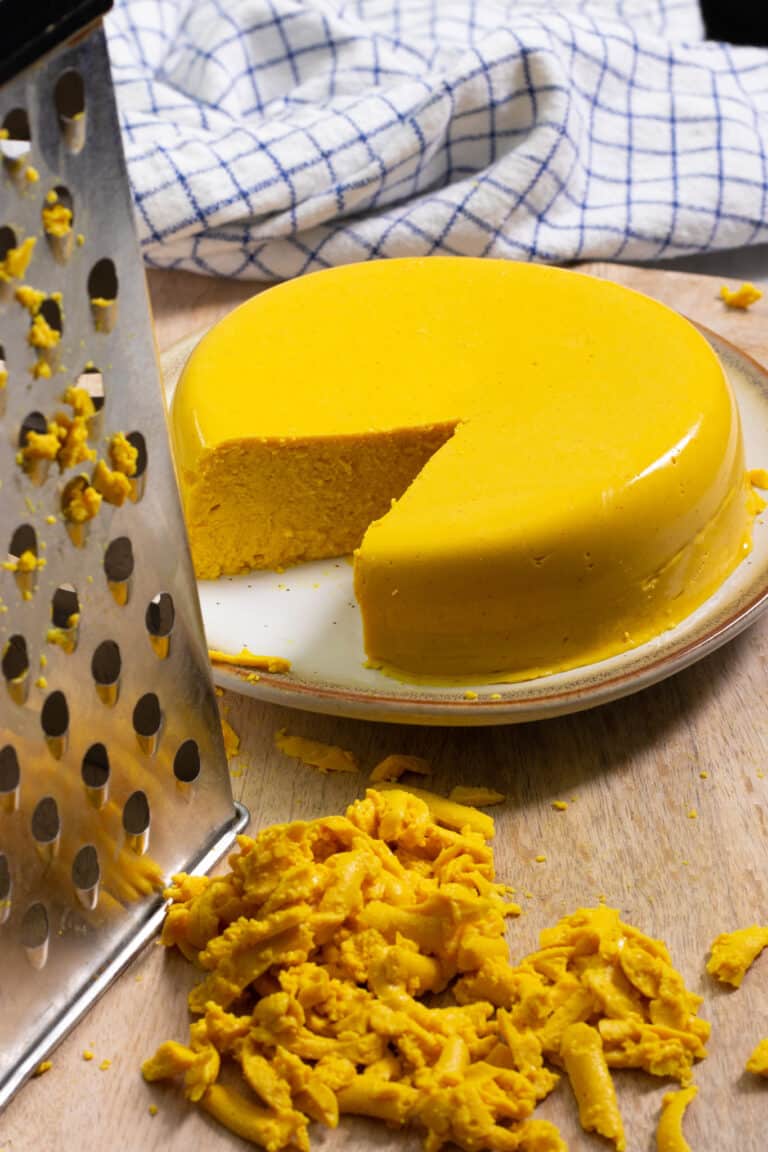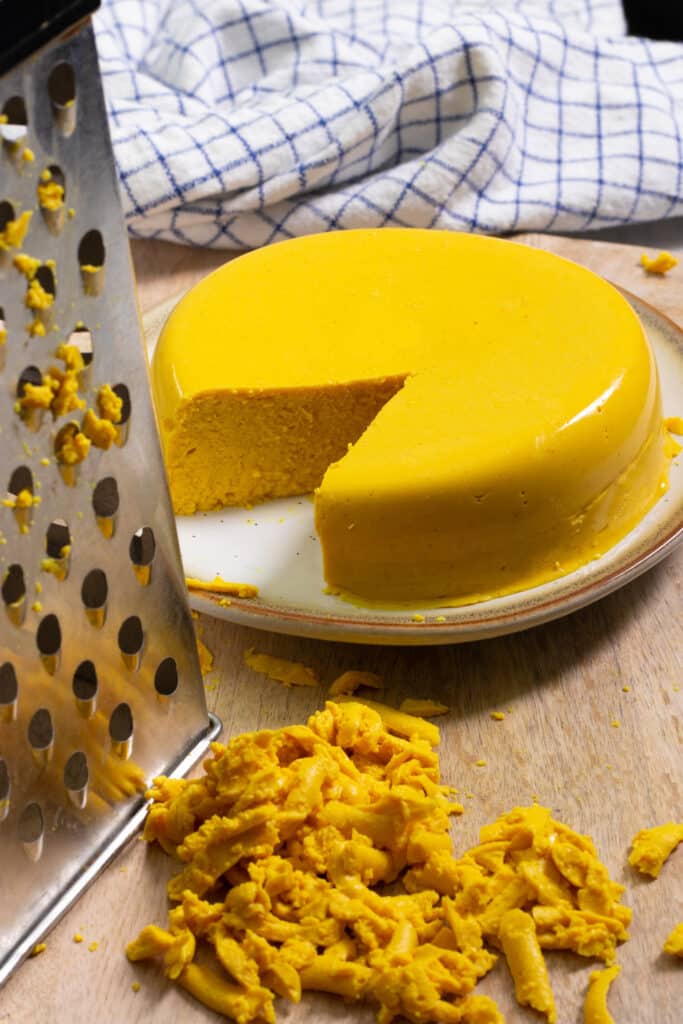 Follow me on Social Media!
Print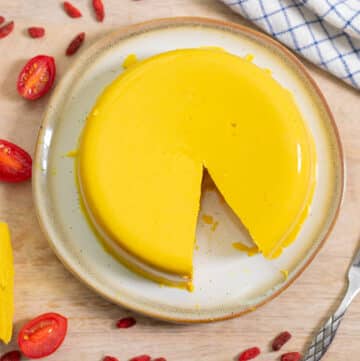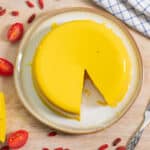 Nut-free Vegan Cheddar Block Cheese that Melts and Shreds!
---
Author:

Liz Madsen

Total Time:

3 hours, 10 minutes

Yield:

3 cups

1

x

Diet:

Vegan
Description
This Nut-free Vegan Cheddar Block Cheese is so cheesy but it's nut-free and dairy-free! Eat it on crackers or melt it on pizza. Vegan, Gluten-free, Oil-free, Nut-free, Sugar-free
---
2

-

¼

cups

water

1

block firm tofu (

396 grams

)

2 tbsp

agar powder

¼

cup

lemon juice

2 tbsp

apple cider vinegar

1.5 tbsp

onion powder

1 tbsp

garlic powder

¾ tsp

smoked paprika

¾ tsp

turmeric

1.5 tsp

salt
---
Instructions
Start by adding all ingredients EXCEPT the water and agar to a blender. Blend and taste. Adjust spices if needed. Set aside.
Next, boil the water in a small pot. Once it starts getting hot (but not boiling yet), dissolve the agar powder into the water. Whisk constantly until agar is dissolved. When the water comes to a boil, you'll want to cook and whisk for at least 2 minutes more to allow the agar to perform its magic.
When the agar mixture is ready (no need to let it cool), carefully pour it into your blender. Use a hot pad or thick kitchen towel to hold the lid on while you blend the contents of the blender till smooth.
Pour into the desired container, understanding that the shape of the container will be the shape of your cheese later. So if you'd like a cheese wheel, use a round countainer, and if you'd like a block, use a rectangular or square one. I HIGHLY recommend using a glass or ceramic container as opposed to plastic. The glass or ceramic hardness enables the cheeze to slide out when wiggled after setting. With this type of container, I did not need to grease or line the container at all.
Cover and let sit in fridge for at least 3 hours, but you can do overnight. Depending on height and width of container, your cheese may be firm sooner or may need more time. You can simply press it with your finger to check on it throughout the setting process.
When it's set, use as you like! You can grate it with a coarse box grater, slice it, melt it (recommend either high temperature or broiler--or use a grill press/panini maker for best results), etc. Note that cheese may lightly brown as it melts.
Refrigerate leftover cheese in an airtight container for up to 5 days.
Cook Time:

10 minutes

Category:

Snack, Ingredient

Method:

Blender, Refrigerator

Cuisine:

Cheese
Keywords: Vegan, Gluten-free, Oil-free, Nut-free, Sugar-free, Vegan Cheese, Block Cheese
---
---