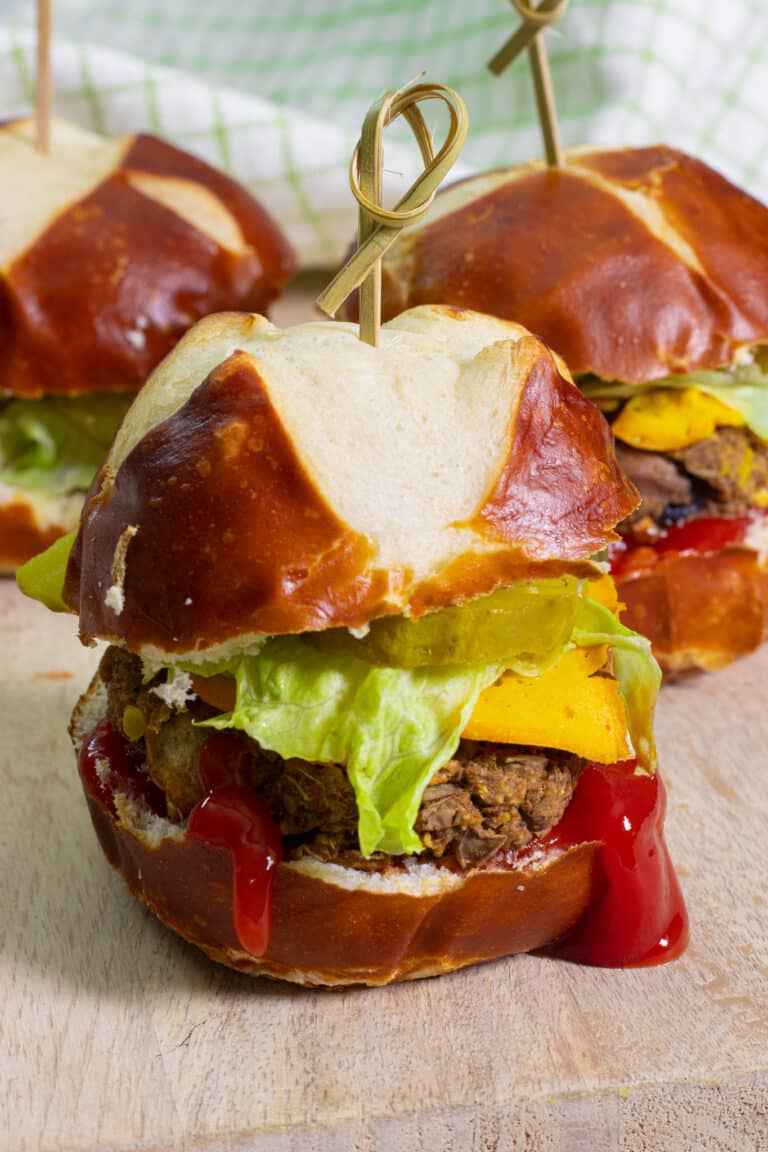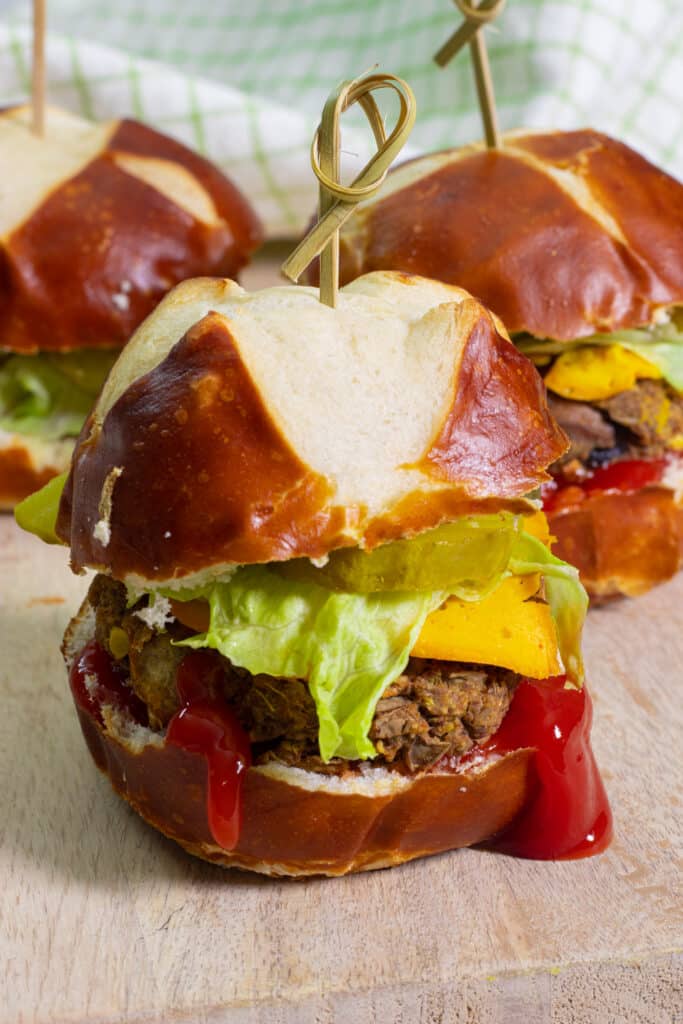 Hey Internet, are you ready for Vegan + Gluten-Free Lentil Cheeseburger Sliders? This is a great entree for The Big Game coming up this Sunday!
These cheeseburger sliders are seriously made of lentils and they're SERIOUSLY amazing. Protein-packed lentils are combined with smoky mushrooms, caramelized onions, oat flour and spices to create an oil-free, delicious patty that's perfect for sliders, burgers, "meatballs," and meatless ground.
I'll be frank with you (even though I'm Liz): these don't taste like the popular plant-based patties that are having a moment in our grocery stores, fast food restaurants, and pubs.
This recipe is not loaded with oil or chemicals. If you're like me and are not a fan of those burgers that try to mimic beef but still want a burger that has a traditional flavor, then you'll love these lentil sliders. I'd compare the flavor more to lean ground beef or ground turkey than traditional burgers.
That doesn't mean they taste like mush either! These delicious, smoky little patties get baked (or air fried for an even crispier texture if you have an air fryer) for a lightly crispy burger that's perfect on a bun or in a lettuce wrap!
So let's talk about what you'll need to make these burgers.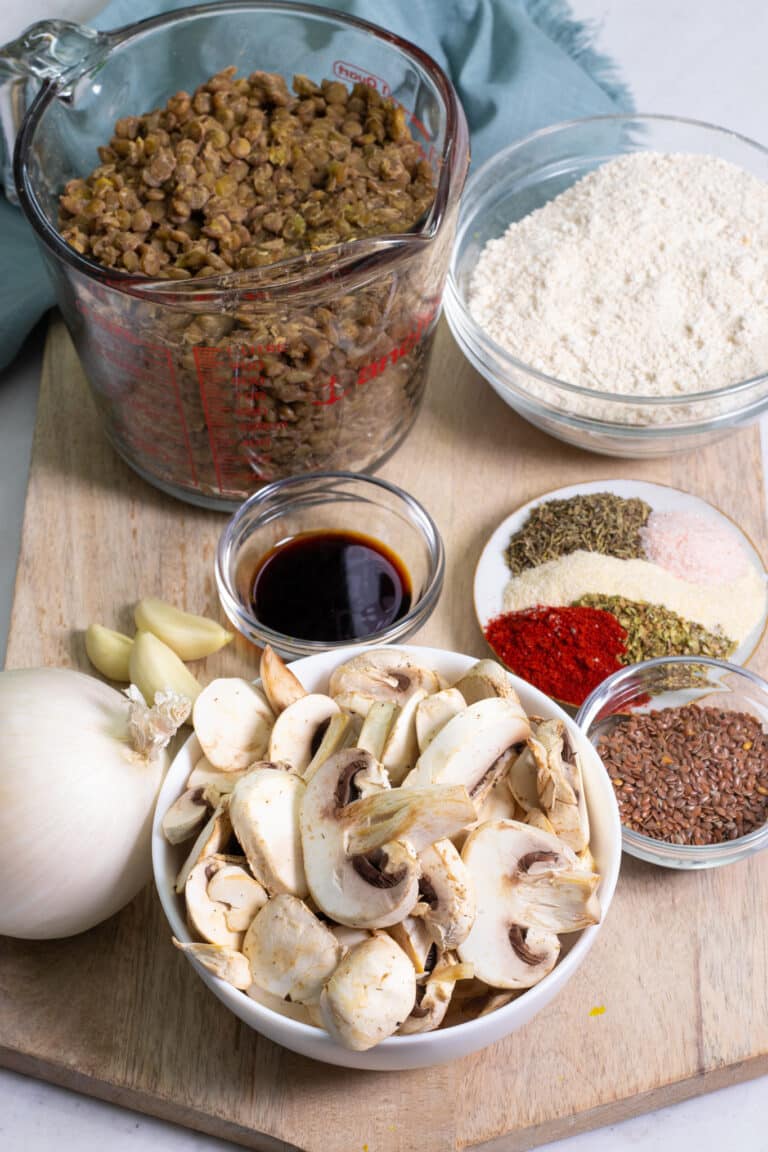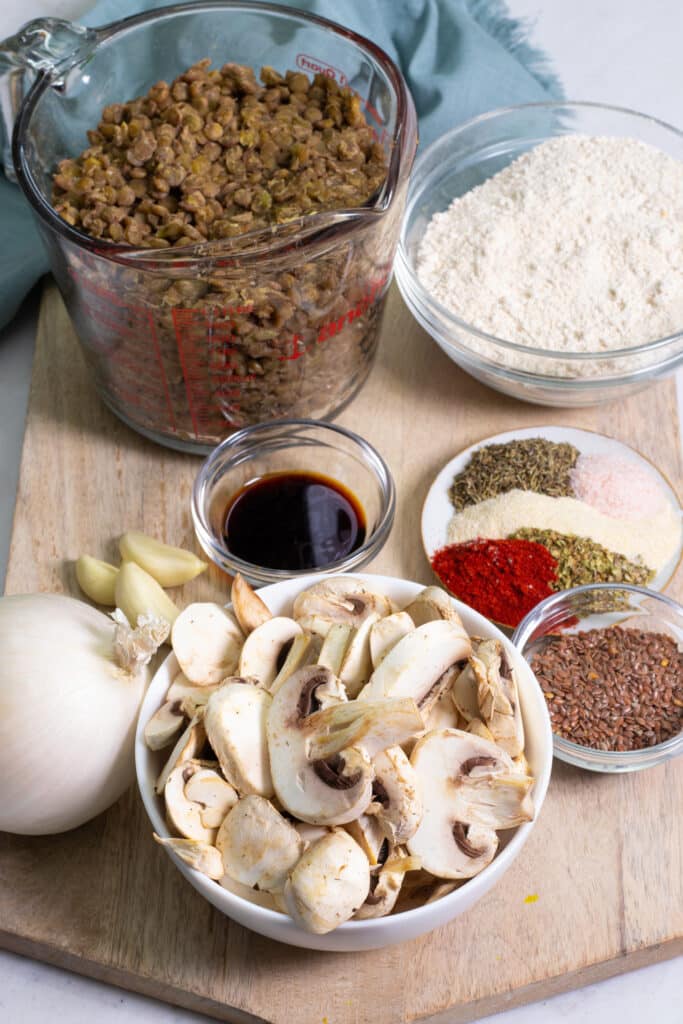 What Goes into the Vegan Burgers
I always start with the most obvious ingredient first, and today that's lentils. You can use green or brown lentils. I used green and the burgers still turned a brownish color, so no worries if that's what you're working with. Just don't use red lentils, because they can turn completely to mush when cooked.
However, to save time and because I know some people buy canned or steamed pre-cooked lentils, we'll start this recipe with cooked lentils. So if you're cooking these from scratch (you can do so up to a few days in advance, if that helps you), you'll use about 1 and ¾ cups of lentils and about 4 cups of water.
The onions and garlic are aromatics, and add a lot of flavor to the patties. We'll saute them in water like we normally do, just adding a little bit at a time to keep them from sticking.
The mushrooms (I used crimini / baby Bella but white or Portabella will work too) are a really important part of these lentil burgers. When cooked, mushrooms take on a lightly "meaty" texture and flavor that is seriously perfect when combined with the lentils. You won't directly taste them, though, if you're not a huge fan.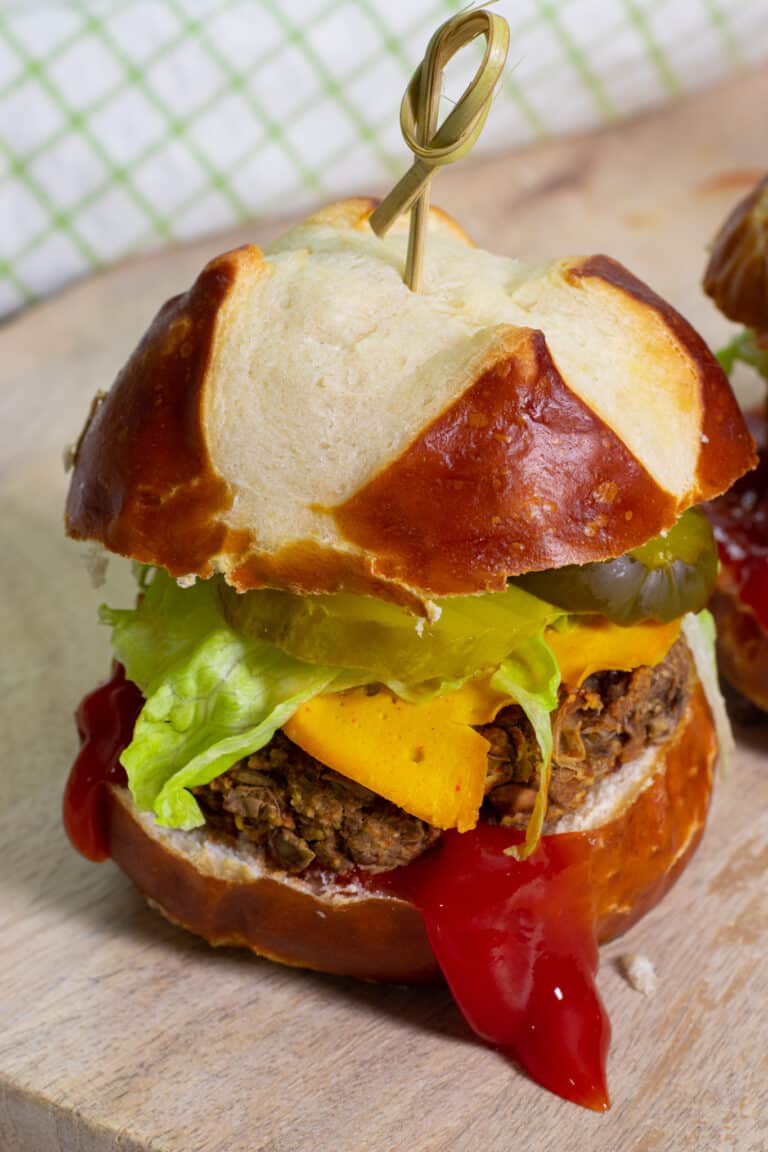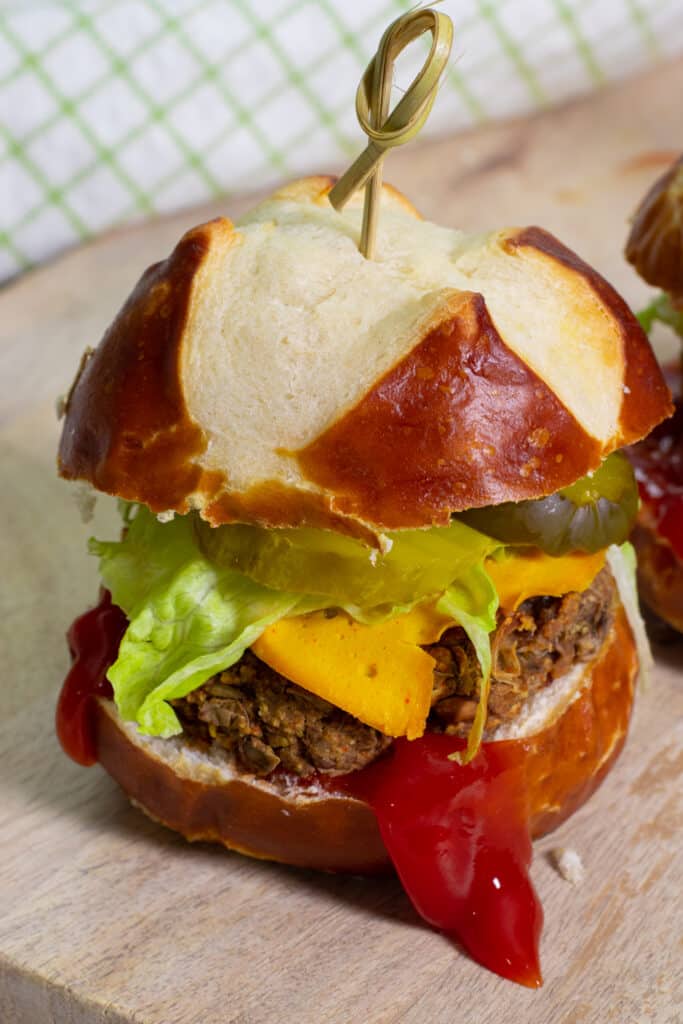 I used a splash of reduced sodium tamari to keep the mushrooms from sticking and add a little flavor.
How to Bind the Ingredients Together
To hold things together, we'll use a combo of wet and dry ingredients.
The wet: 3 flax eggs. All you need to make a flax egg is 1 tablespoon of ground flaxseed (I grind mine fresh in a spice grinder) and 3 tablespoon of water. Mix your flax eggs together and let chill in the refrigerator for about 5 min.
The dry: some kind of flour. I've only tested 2 kinds of flour with this recipe: garbanzo bean / chickpea flour and oat flour. I grind oats quickly in my blender--just make sure to use certified gluten-free oats if needed.
As mentioned above, I've only tested these two types of flour because they're a little heartier. If using more like an all purpose flour, you may need more to get the right non-sticky consistency.
And the last thing you'll need is some spices! I like this particular combination because it tastes a little smoky, nicely savory, and a light reminder of "meat" or "meatballs" without trying to mimic it exactly.
Dried Oregano
Dried Thyme
Onion Powder
Smoked Paprika
Salt
(use any type of salt, this is the one I use for everything because I love the flavor)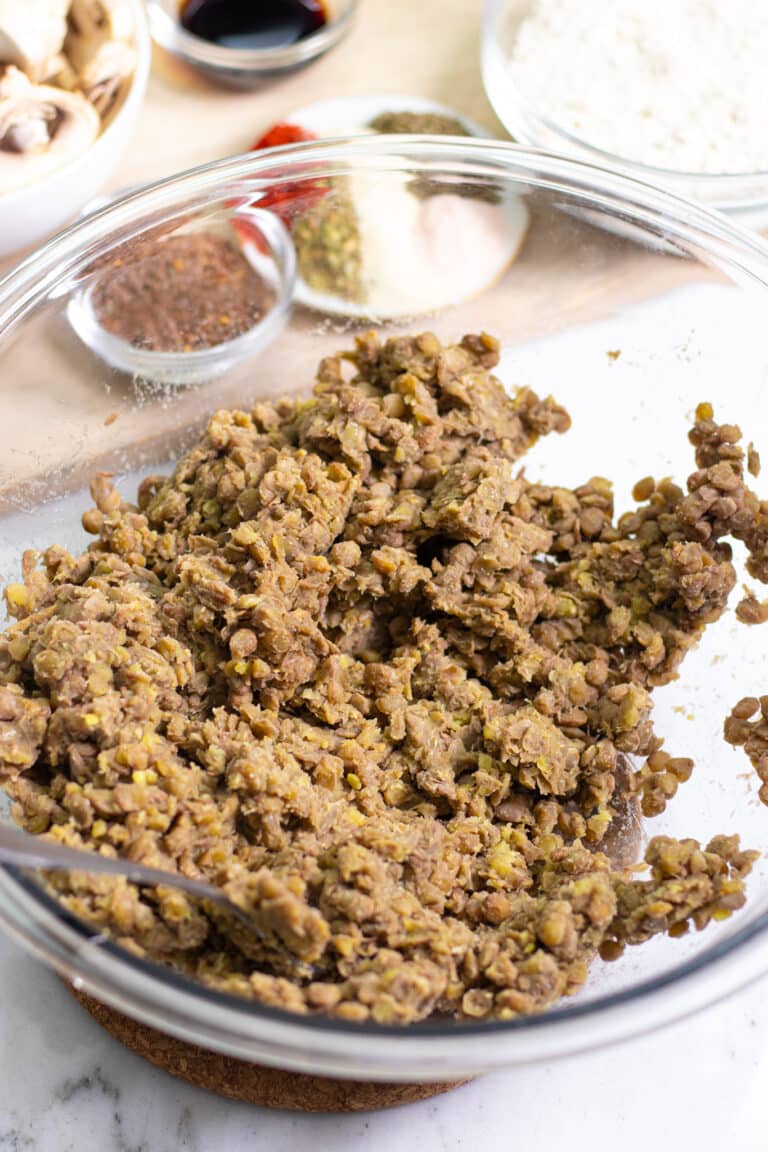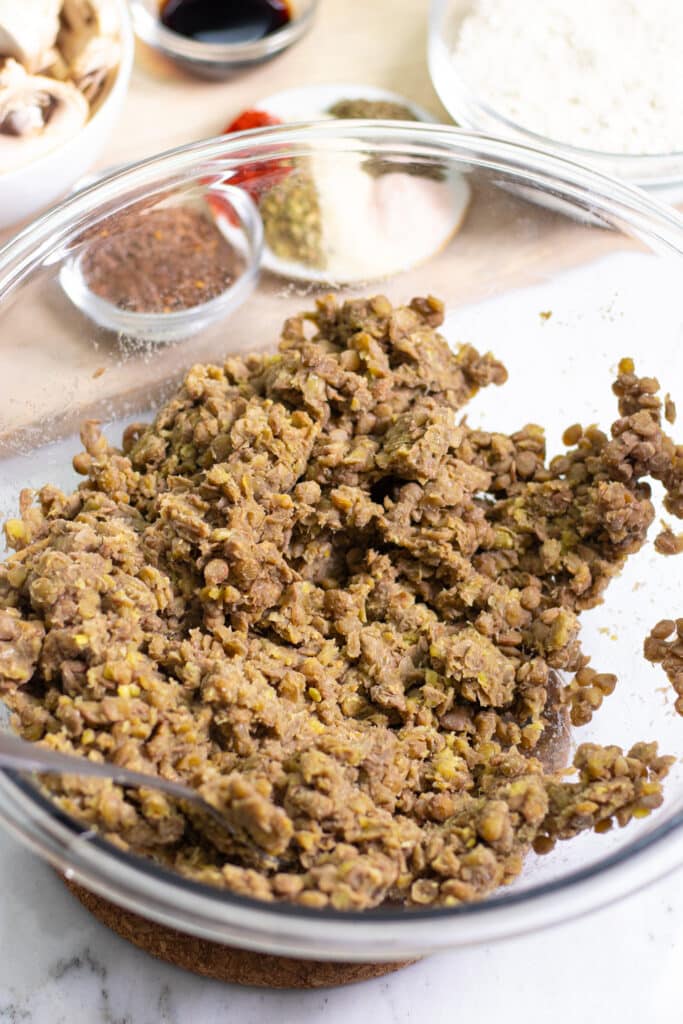 How to Make the Sliders
It's a pretty easy process to make these burgers, and it makes a batch of 20, so it will serve about 10 people. If making these to freeze some for later, you can easily double the recipe.
After mashing half of the lentils, you'll combine that with cooked down onions, garlic and mushrooms, then the rest of the ingredients.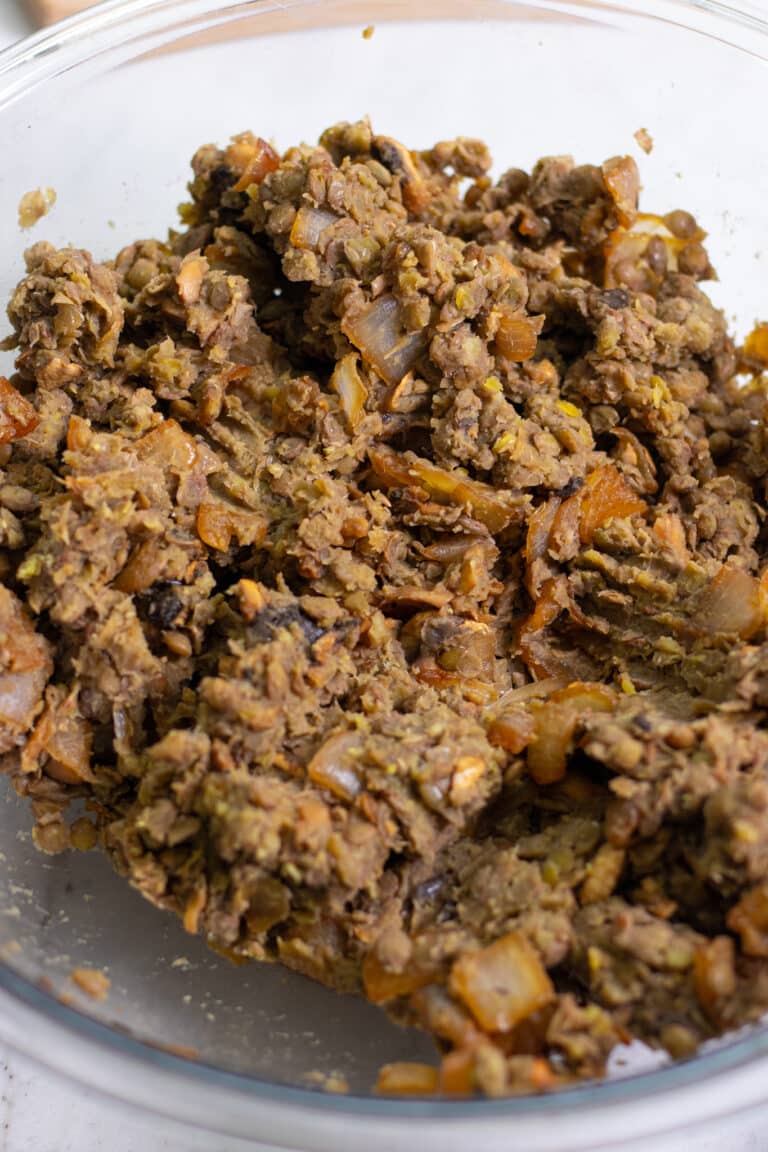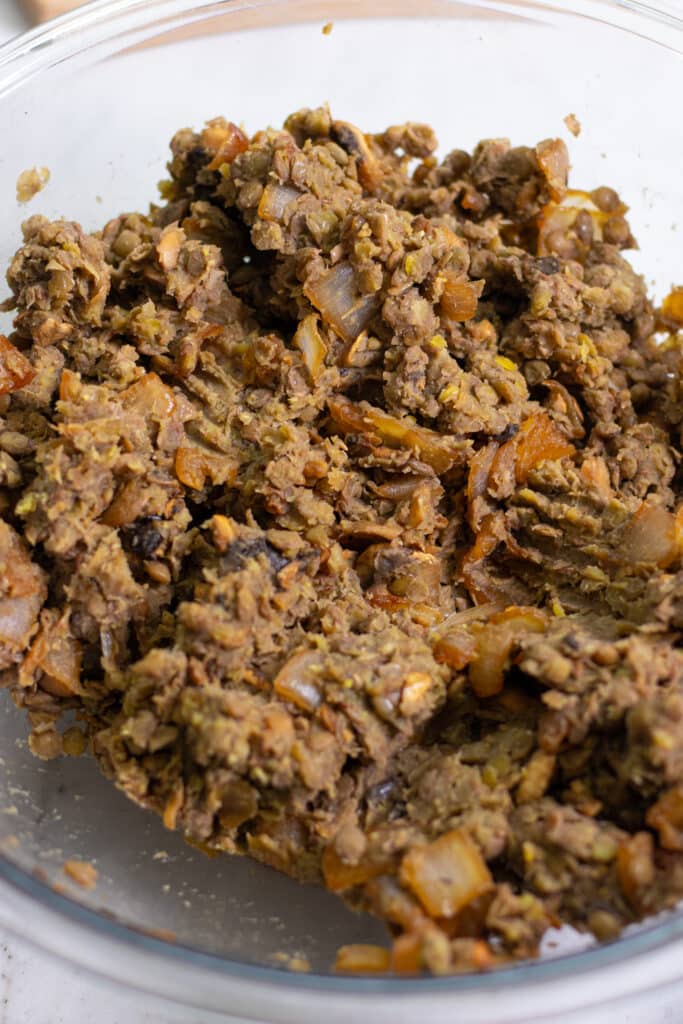 The mixture will chill in the fridge, and then you can use a large cookie scoop to grab an equal amount for each patty -- mine holds about 3 tablespoons.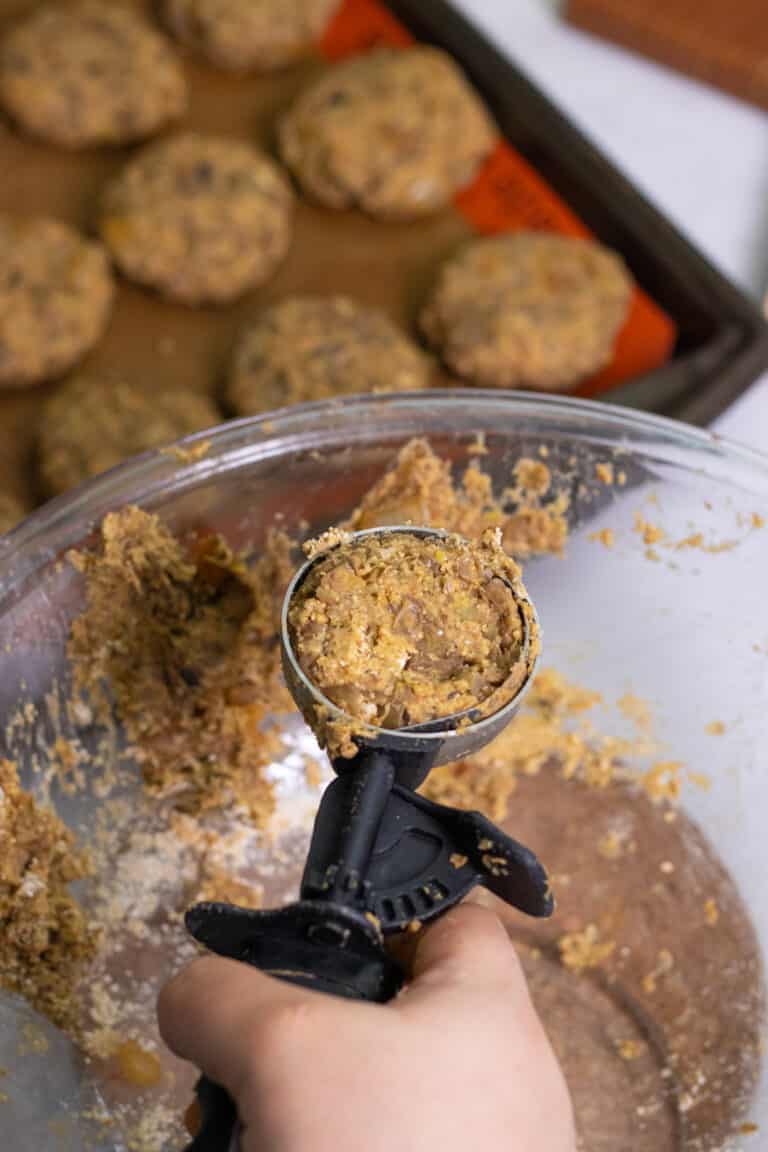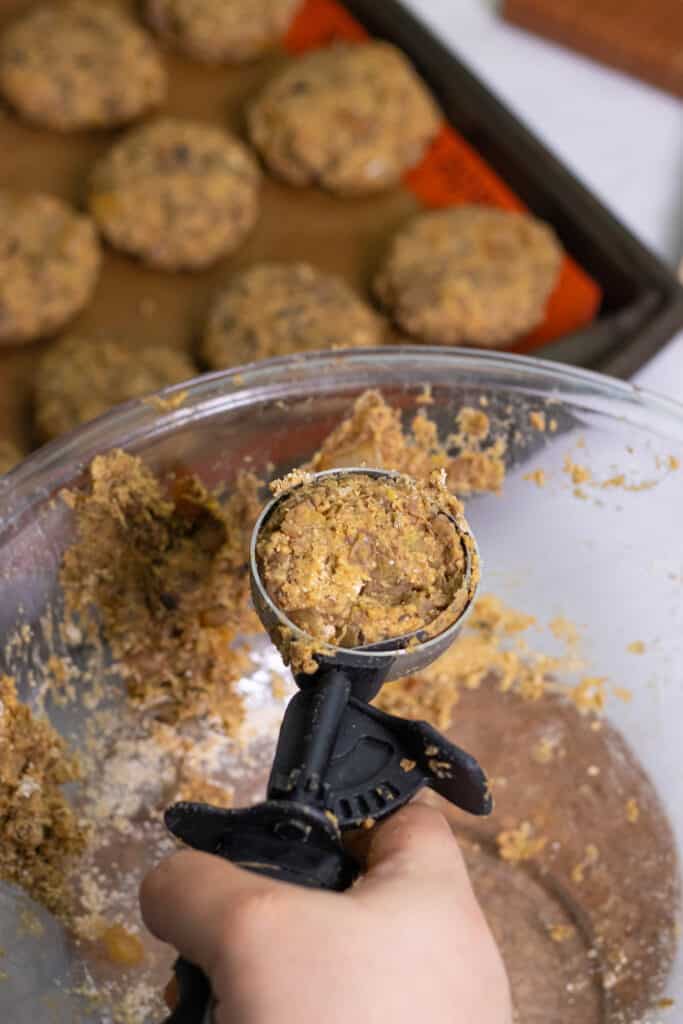 Shape each patty and place on a silicone mat or parchment paper lined pan.
The silicone mat is highly recommended as it helps to crisp and caramelize things even more than parchment in my experience. It's also better for your wallet and the environment!
You can also cook these for less time in your air fryer and get an even crispier outcome! Cook them at 400 degrees F or 205 degrees C if using this method.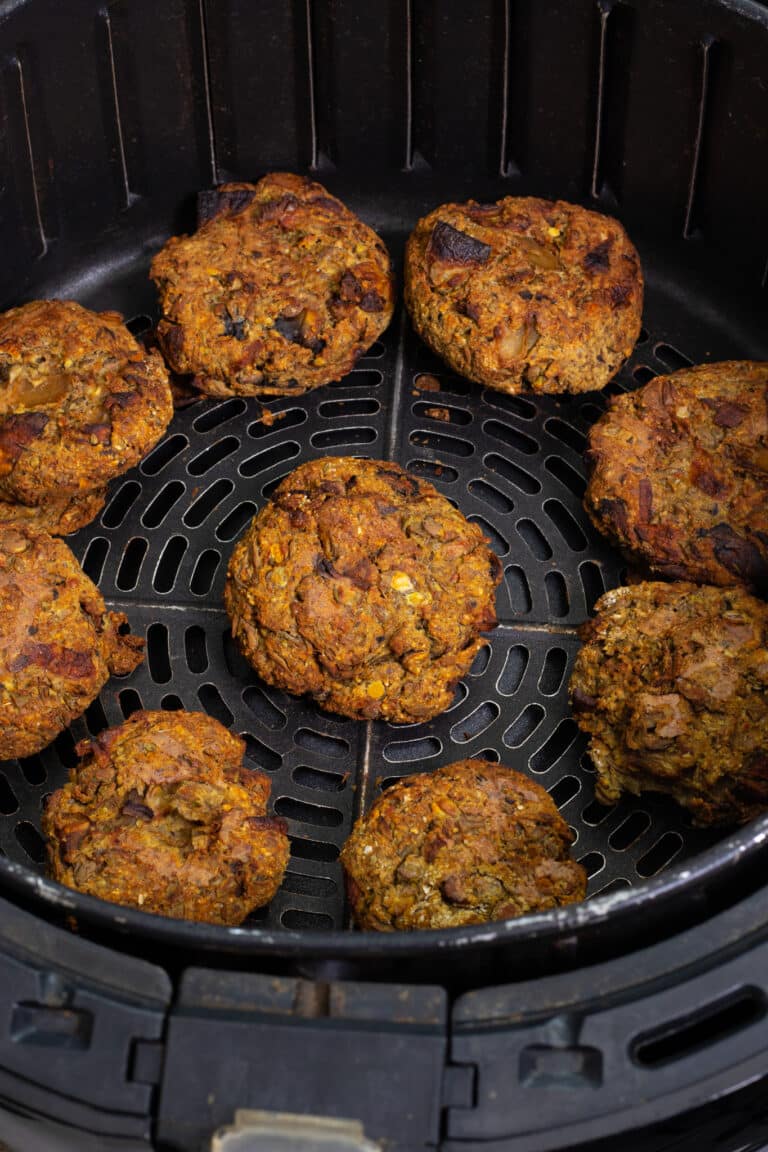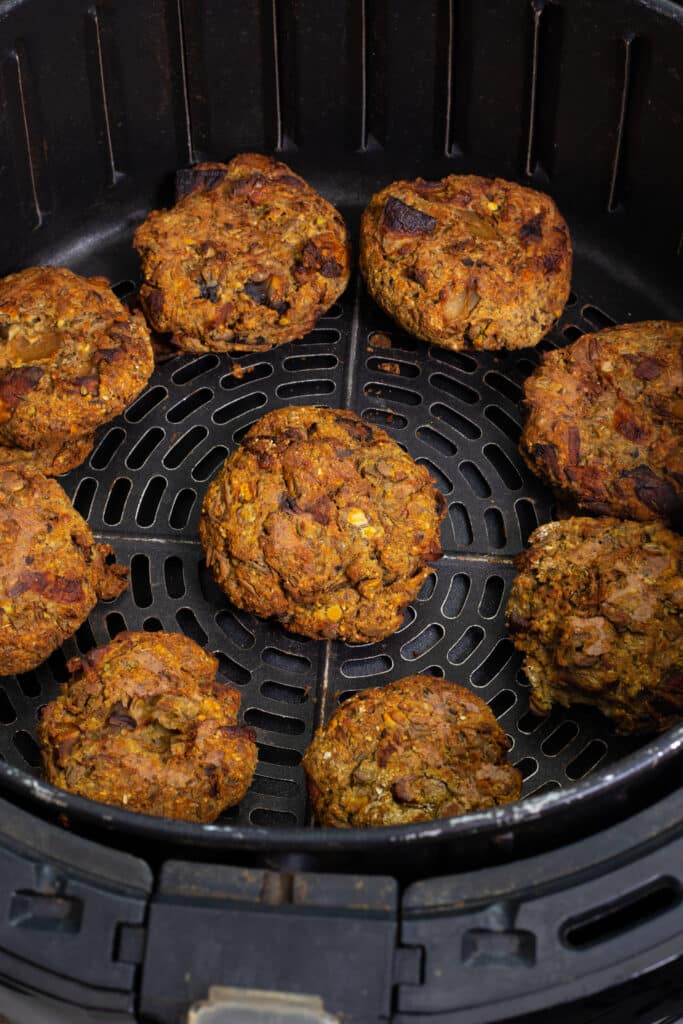 Putting it all Together
You can serve your burgers however you'd like, but this is how I did mine.
I found vegan mini pretzel buns at Whole Foods. Keep in mind that these do have oil in them. For a special occasion like The Big Game, I decided to let myself enjoy them. It's on my list to try making oil-free buns, though!
NOTE: These buns are NOT gluten-free. I saw some buns in the gluten-free freezer section of market that could be used instead, or you can do other things like cut gluten-free bread, use gluten-free English muffins, or lettuce wraps.
When I flipped these burgers halfway through the cooking process, I added slices of my nut-free gluten-free cheddar cheese. Other vegan sliced cheeses could also work.
I also added a little ketchup, pickles, and lettuce to my sliders. Mr. Zardyplants did not have pickles on his sliders and did not appreciate me teasing him about it. Too bad, I told him, it's the tax for having a wife that cooks.
Use fancy toothpicks when serving these up to your friends and family, and enjoy! I used these ones made from bamboo.
Anything else?
BTW I highly recommend serving these with Nacho Fries!
These patties can be frozen for later and reheated in the oven or air fryer.
As always, I hope you love this recipe! Let me know in the comments below if you make it, tag me @Zardyplants on Instagram so I can see your beautiful recreations! If you tag me on IG, I will share your post in my stories :)
Also, one quick request: if you love how this recipe looks or tastes, please leave me a 5-star rating and a nice comment--these things help more people find my recipes which helps me keep providing them! Thank you!
<3 LIZ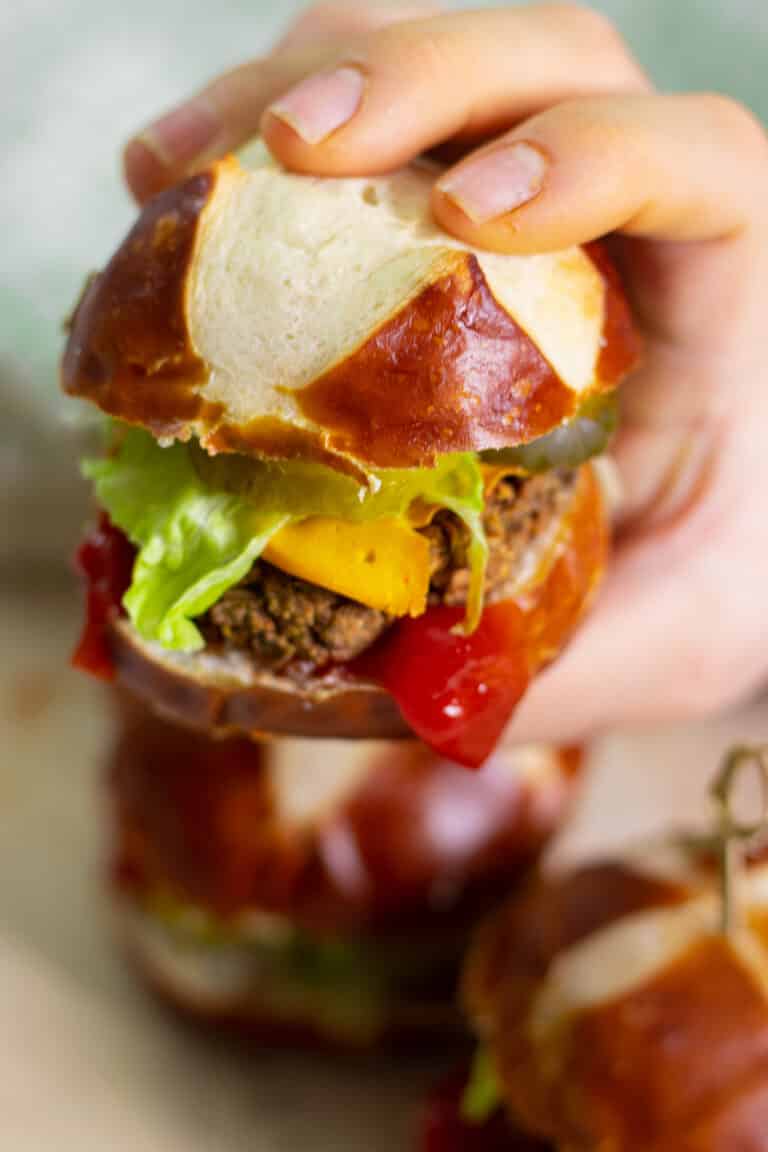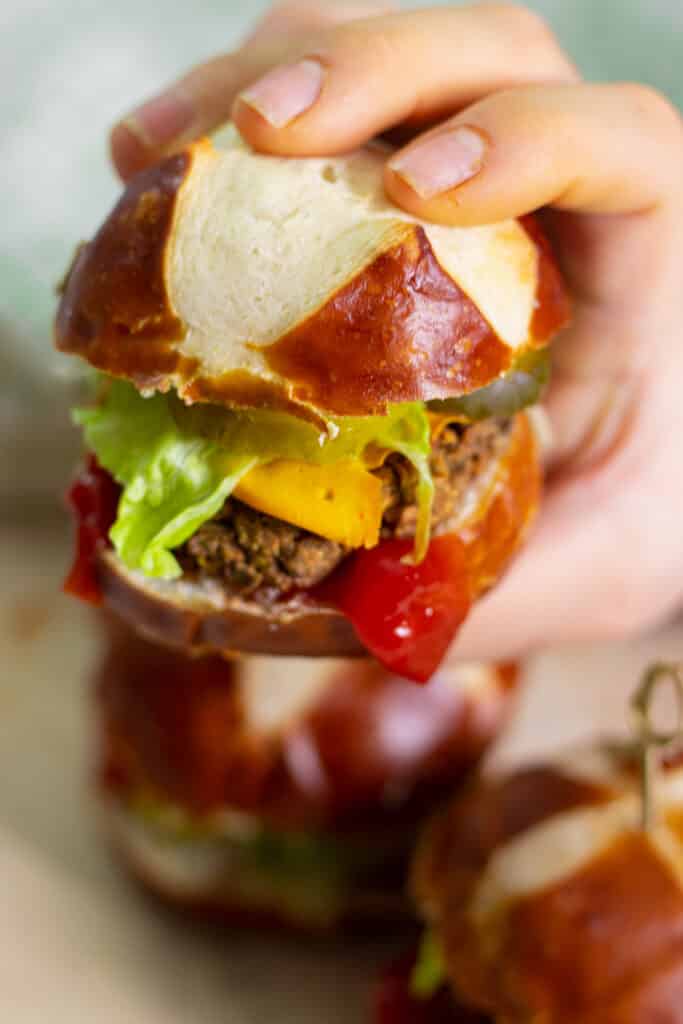 Follow me on Social Media!
Print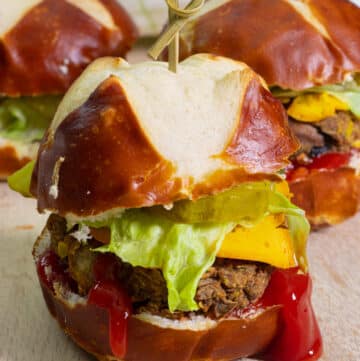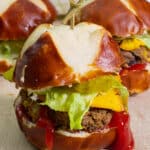 Vegan + Gluten-Free Lentil Cheeseburger Sliders
---
Author:

Liz Madsen

Total Time:

1 hour

Yield:

20

Sliders

1

x
Description
Impress your guests at your next party with these Vegan + Gluten-Free Lentil Cheeseburger Sliders! Makes 20 sliders per batch! Vegan, Gluten-free, Oil-free, Nut-free, Sugar-free
---
3.5 cups

cooked green or brown lentils

1

medium white onion, diced

4

cloves garlic, minced

16 oz

crimini / baby bella mushrooms, diced

1 tbsp

reduced sodium tamari

1.5 cups

oat flour (or garbanzo bean flour)

3

flax eggs (

3 tbsp

ground flaxseed +

9 tbsp

water)

3 tsp

dried thyme

3 tsp

dried oregano

2 tsp

onion powder

1 tsp

smoked paprika

1.5 tsp

salt
---
Instructions
First, heat a large skillet over medium high heat. When it's hot, add the diced onions and let them get hot and lightly stick for a minute, then add a tablespoon of water to deglaze the pan and stir well.
Continue the sticking, deglazing, and stirring process for about 4 minutes until the onions have lightly caramelized. Then add the minced garlic and cook for about a minute more. Next you'll add your diced mushrooms and continue to let them stick. At the first splash, instead of water, add the low sodium tamari. For a few more minutes, cook these down, adding just enough water to deglaze each time. Make sure there is no more liquid remaining before adding to the lentils (drain excess liquid if needed).
While these are cooking, first prepare your 3 flax eggs by mixing 3 tablespoon of ground flax with 9 tablespoon of water in a small bowl and placing in the refrigerator to gel. Next, add the lentils to a large bowl and mash about half of them with a fork. It can be easier to mash the lentils if they're warm and a little overcooked.
Let the mixture cool on the counter for just a few minutes. Mix it well, then add the rest of the ingredients: spices, flax eggs, and flour. Mix well again, using hands if you need to. Make sure you scrape the bottom of the bowl too for any flour being mischievous.
Your mixture needs to chill now to be easier to shape, so place it in the fridge for about 10 minutes. Make sure to preheat your oven to 425 degrees Fahrenheit or 218 degrees Celsius if using the oven method.
Using a 3 tablespoon-sized large cookie scoop, scoop out the mixture into balls and flatten with your hands to a slider-sized patty about ½ inch thick. Place on your silicone mat or parchment lined baking pan, about ½ inch apart or more. If using air fryer method, set them ½ inch apart in the basket.
If using oven method: Bake for 20 minutes, then flip, place on a slice of vegan cheese if using, then bake 10 more minutes.
If using air fryer method: Cook for 15 minutes at 400 degrees Fahrenheit or 205 degrees Celsius, then flip, place the vegan cheese, and cook 5 more minutes.
Assemble your burgers with whichever buns, condiments, and veggies you desire. Secure with fancy toothpicks and serve, preferably with nacho fries.
Prep Time:

20 minutes

Cook Time:

40 minutes

Category:

Lunch, Dinner

Method:

Oven, Refrigerator

Cuisine:

American
Keywords: Vegan, Gluten-free, Oil-free, Nut-free, Sugar-free, Vegan Burgers, Sliders
---
---