This post may contain affiliate links. See our disclosure policy for details.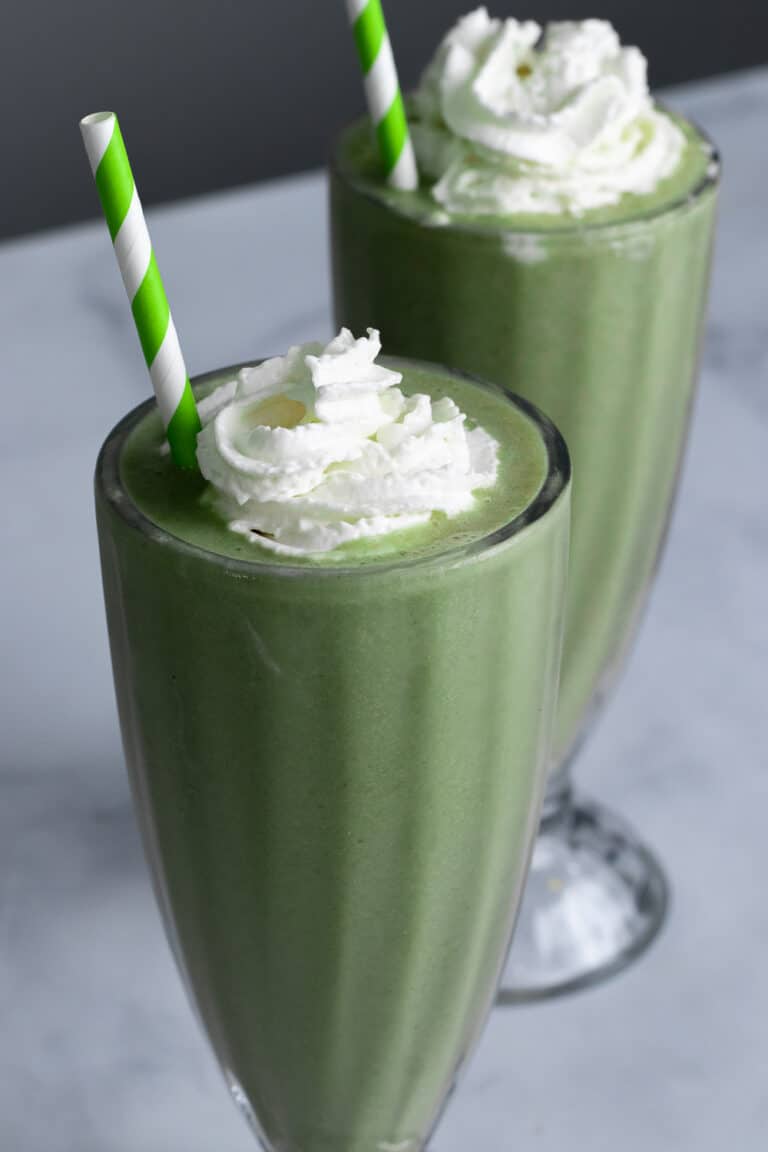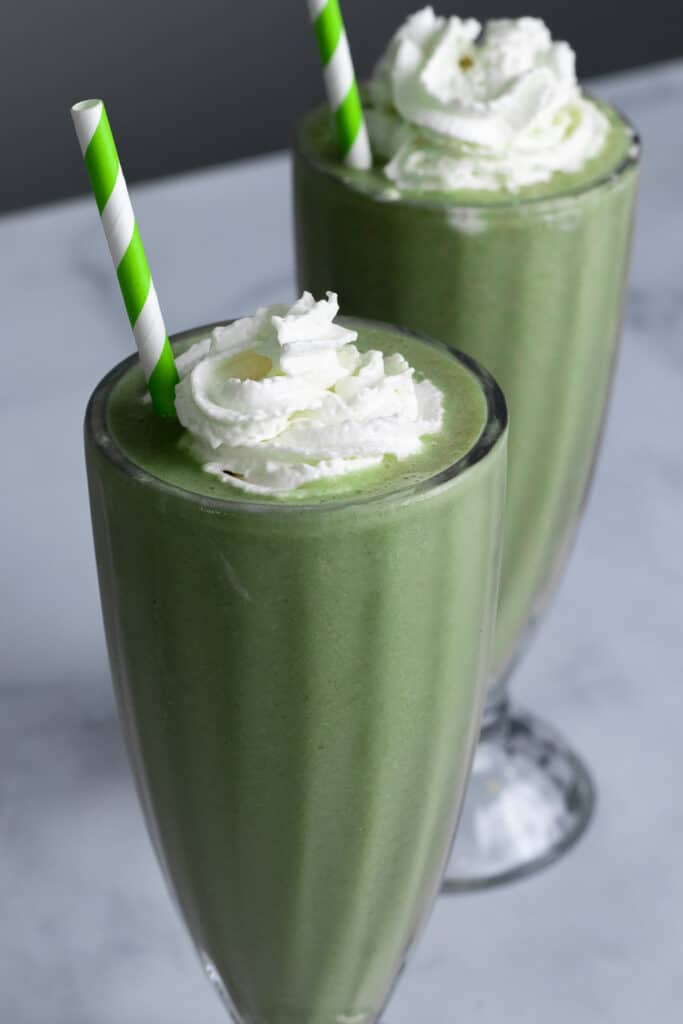 This delicious 3 ingredient Vegan Copycat Shamrock Shake tastes like the one you can buy at a popular fast food restaurant, but without all the sugar! There is no added sugar in this whole food shake and it comes together in just a few minutes.
My milkshake frees all the cows in the yard
And they're all thanking their stars :)
Hey Internet, have you ever had a Shamrock Shake? It's kinda minty and super sugary. It's a huge hit during this time of year, since it's a holiday menu item for St. Patrick's Day.
But upon looking up the ingredients, there's ice cream which has sugar and there's the syrup which has high fructose corn syrup, regular corn syrup, AND sugar! Wow!
Besides the shake not being vegan, it's definitely not healthy. And you could argue that it's a treat; it's not meant to be healthy.
Fair, but my blog is all about easy plant based comfort food. I.E. it seems unhealthy but it isn't! You know I'm all about making delicious food healthy, like:
But back to the shake at hand…
This delicious yet healthy milkshake takes only a handful of ingredients and a few minutes to prepare. It's especially perfect for this St. Patrick's Day because everyone is trying to stay inside. I'm in Illinois and all our restaurants are shut down. :o
Now, let's talk about what you'll need.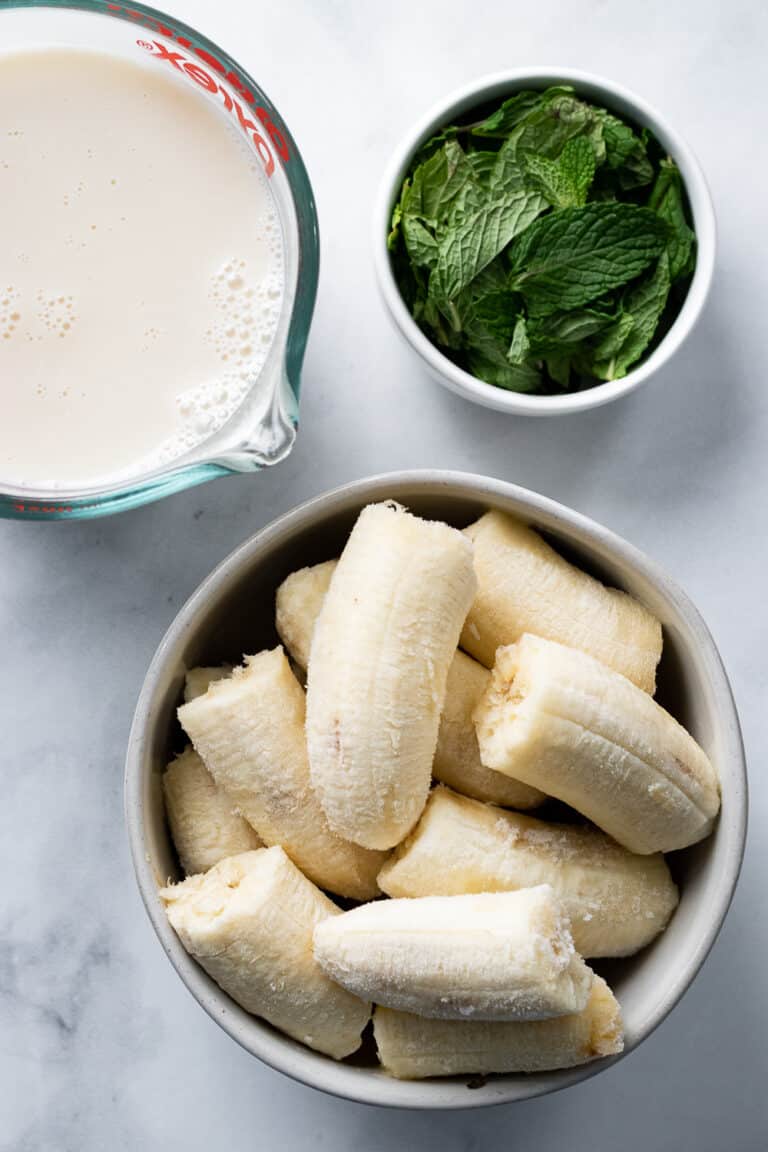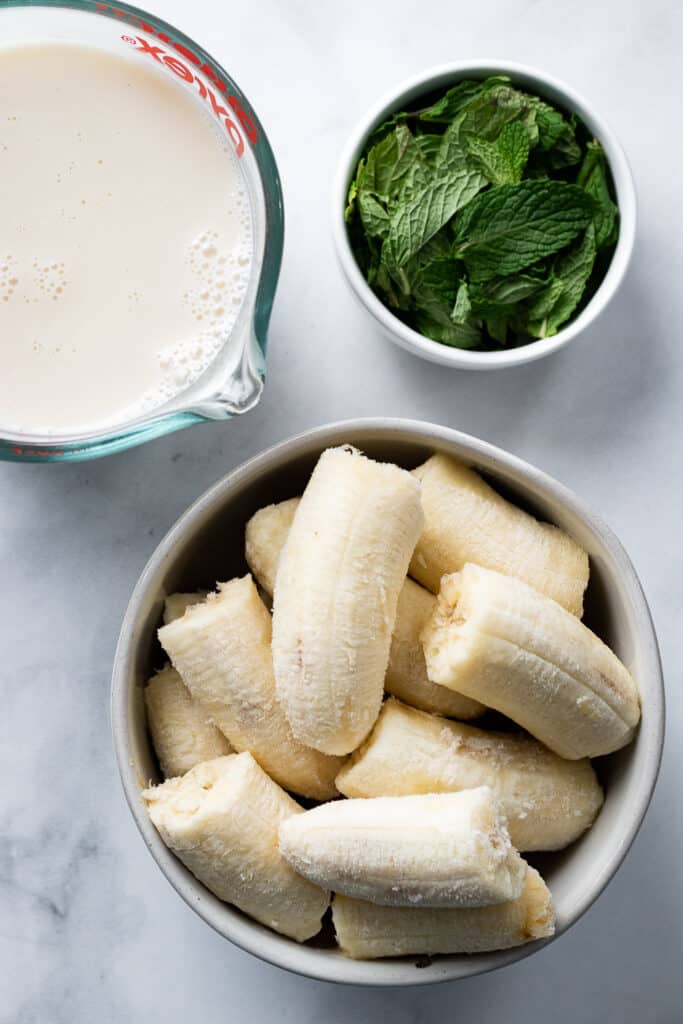 Vegan Copycat Shamrock Shake Ingredients
This is going to be a pretty short section since there are only 3 ingredients! I don't know whether I'm more surprised that there are so few ingredients or so few words -- brevity was never my strong suit.
So, the base for this whole smoothie is… drumroll please … frozen bananas!
Yep! Cold, creamy, sweet, delicious bananas.
But wait, doesn't this mean the shake will taste like banana? The answer is: "actually, not really!"
The next ingredient kind of negates that overpowering banana flavor, since it has a strong flavor of its own. For the mint flavor in the shake I used fresh mint leaves!
Fresh mint leaves are great because they don't have any fillers, they color the shake enough not to need food dye, and they're packed with nutrients such as antioxidants, vitamin A, iron, manganese, folate, and fiber!
Mint is also very delicious and fresh in salads, eaten with fresh berries (plus a little vegan yogurt if you like), or steeped in tea.
The last ingredient is unsweetened nondairy milk. You can use any kind you like; I recommend original flavor (as opposed to vanilla).
Add-ins to consider:
Chocolate chips or cacao nibs
Peppermint extract (for even more minty flavor, or if you cannot find fresh mint)
Whipped cream (you can either make your own from aquafaba or use a store bought vegan whipped cream)
Sprinkles or a cherry only if you want to get REALLY fancy ;)
Alright, it seems almost TOO simple, but let's talk about how to make the milkshakes.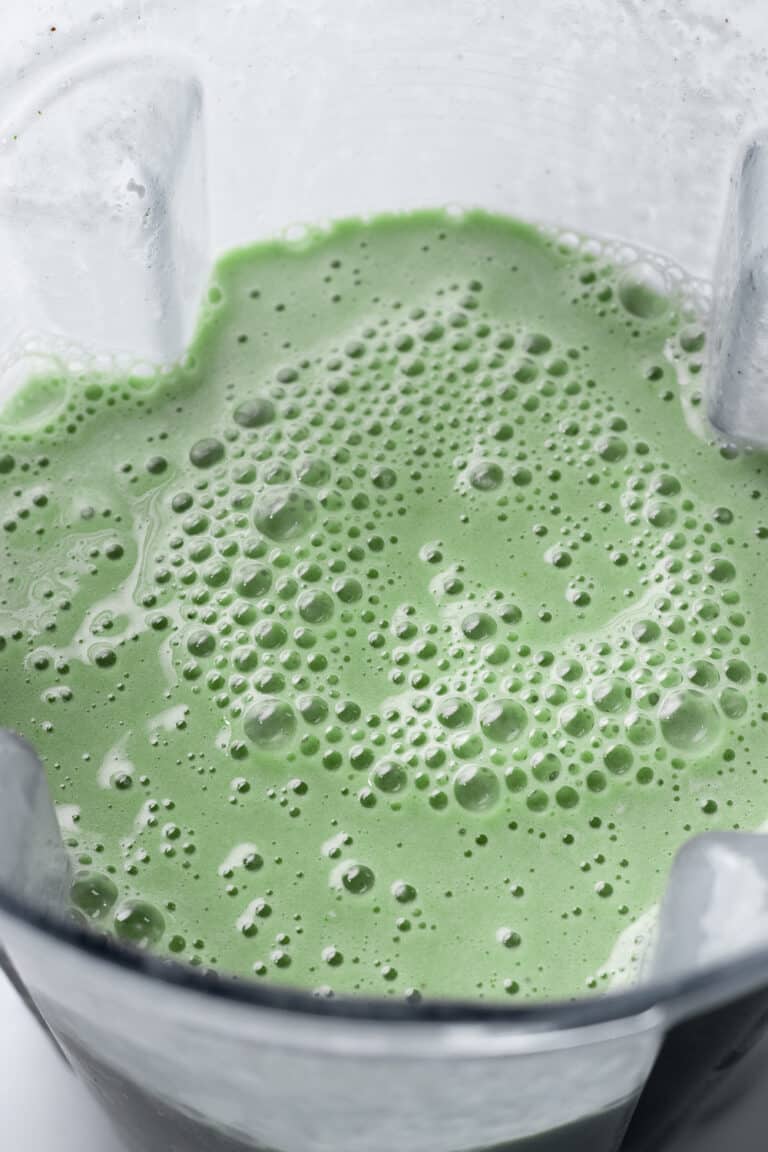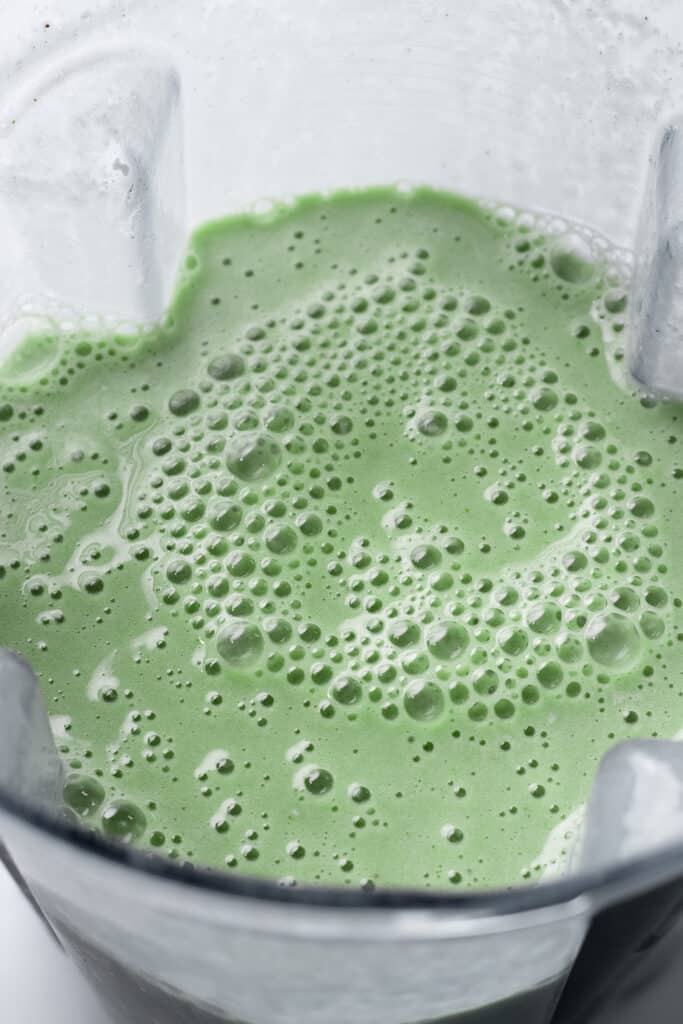 Kinda looks like I threw some shamrocks in there, huh?
A Note on Blenders
A quick note on your blending apparatus:
I highly recommend a high powered blender if you like smoothies, nice creams, milkshakes, and more. I purchased a refurbished Vitamix 5300 on Amazon a few years ago and I've used it multiple times a day since.
However, if that's not in your budget, try a food processor or a small bullet blender like a Nutribullet. My personal experience with them is that they are pretty good, and one of the best options in the under $100 price range.
If your blender has trouble with the frozen bananas, try adding a bit more nondairy milk or you can try letting the bananas thaw a bit first. You can also try using coconut cream instead.
The last thing I'll say about the blender is that I resisted the Vitamix for a long time because I thought it was ridiculous to spend $300 on a blender. But it is the best purchase I've made, period.
Like I mentioned above, I use it multiple times a day, every day. Even before I was a food blogger I used it every day.
The thing is a beast. It has a great warranty, the customer service with Vitamix is great (no matter where you've purchased it), and I feel there is no comparison.
Okay, enough about blenders.
How to Make A Vegan Copycat Shamrock Shake
To make the shake (I did not do that on purpose, I swear lol), First add your nondairy milk to your blender or food processor.
Next, add your frozen bananas and your mint leaves. Put the lid on and blend until smooth and creamy.
Really, that's it!
Taste it and adjust the mint level if needed. Add in any other things--I like chocolate chips but that's probably because my favorite ice cream is and has always been mint chocolate chip.
I swear it does not taste like bananas, but since we're talking about them…
Freezing Bananas for Shakes, Smoothies, or Nice Cream
I'm always surprised when I learn that someone has never frozen fresh bananas before! It's one of my FAVORITE vegan hacks.
Before freezing, pick bananas that are really ripe. I'm not talking about yellow bananas, I'm talking about spotty bananas.
Brown spots on the banana peel indicate that the sugar levels in the banana have risen. This obviously makes them sweeter but also makes the nutrients more bioavailable (ready to be absorbed by your body). It can also make the bananas creamier!
Step 1: Peel your bananas
Leaving the peel on can cause it to become black, and it's also very hard to peel a frozen banana
Step 2: Break or cut your bananas into fourths or thirds
This will help with both storage and it will be easier on your blender or food processor.
Step 3: Freeze your bananas on a pan lined with parchment paper
Arrange banana pieces in a single layer at least a half inch apart on a lined baking tray in your freezer. This will help them to not stick together later.
Step 4: Consolidate frozen bananas
Leaving a pan in your freezer of frozen bananas is not very feasible. Besides, leaving your frozen bananas exposed to air in the freezer can cause freezer burn. Keep your bananas in a freezer-safe container or bag.
That's it! The bananas should be good in the freezer up to 6 months, or so I'm told…
I use so many frozen bananas that I always have a few bunches on my counter in various ripening stages.
A Few Final Notes
If you celebrate St. Patrick's Day, this is the perfect festive drink. But even if you don't, it's still a delicious and refreshing healthy milkshake.
As always, I hope you love this recipe!
Let me know in the comments below if you make it, tag me @Zardyplants on Instagram so I can see your beautiful recreations! If you tag me on IG, I will share your post in my stories :)
Also, one quick request: if you love how this recipe looks or tastes, please leave me a 5-star rating and a nice comment–ratings help more people find my recipes which helps me keep providing them! Thank you!
<3
Liz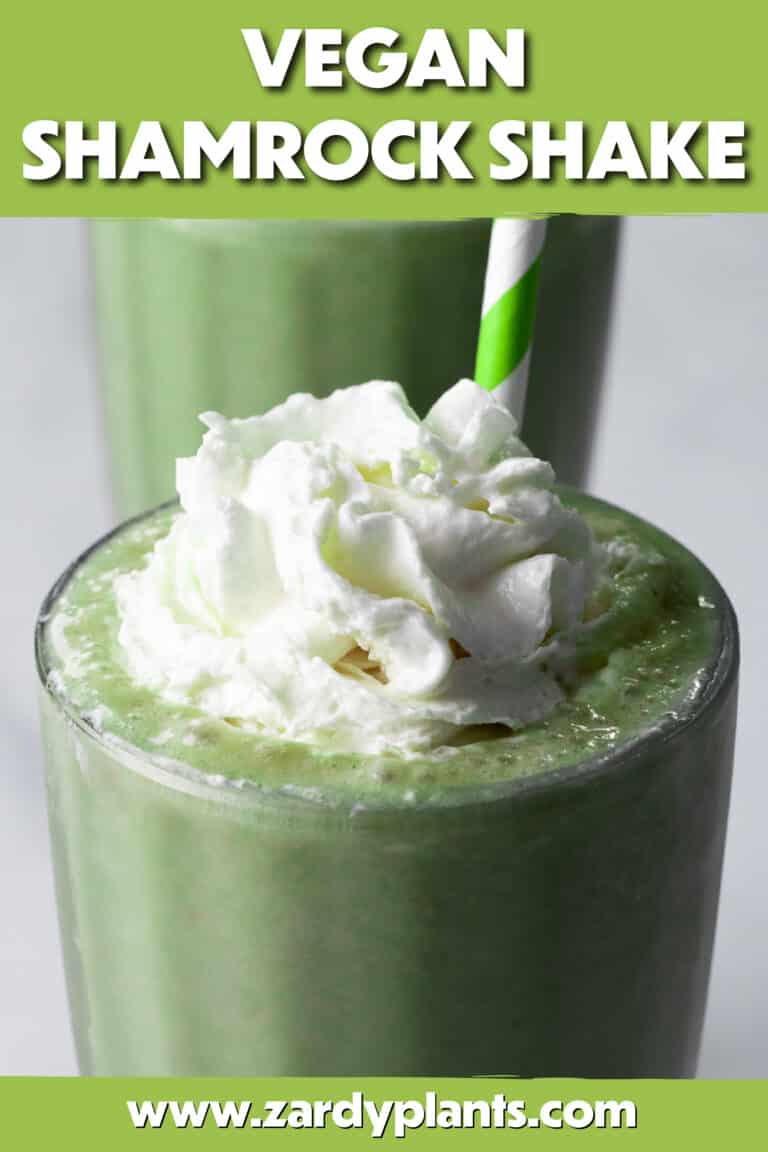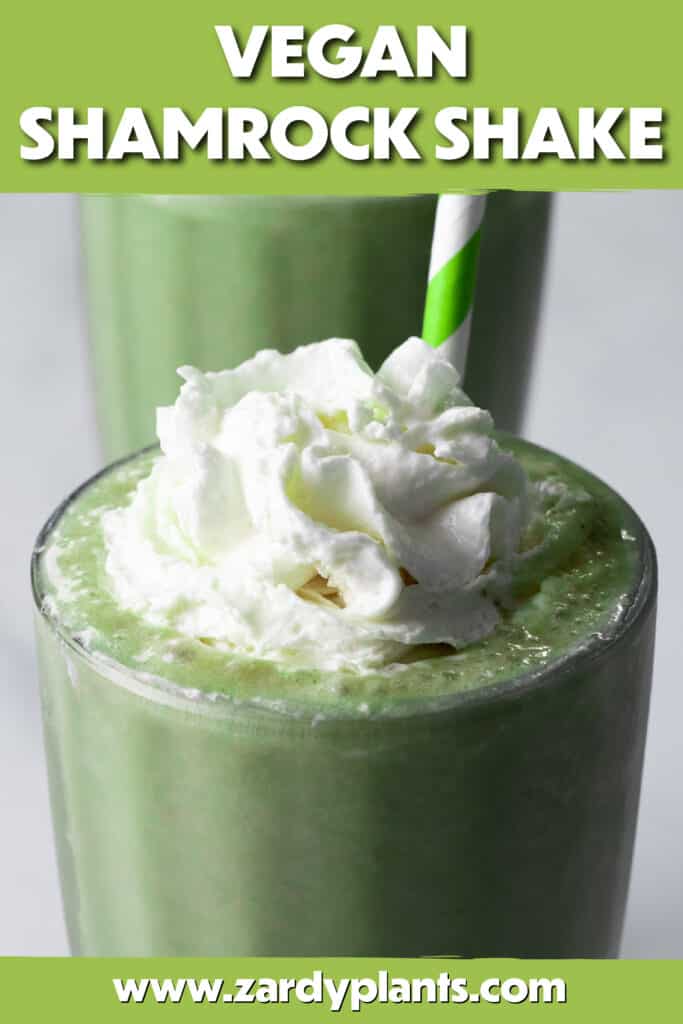 Follow me on Social Media!
Print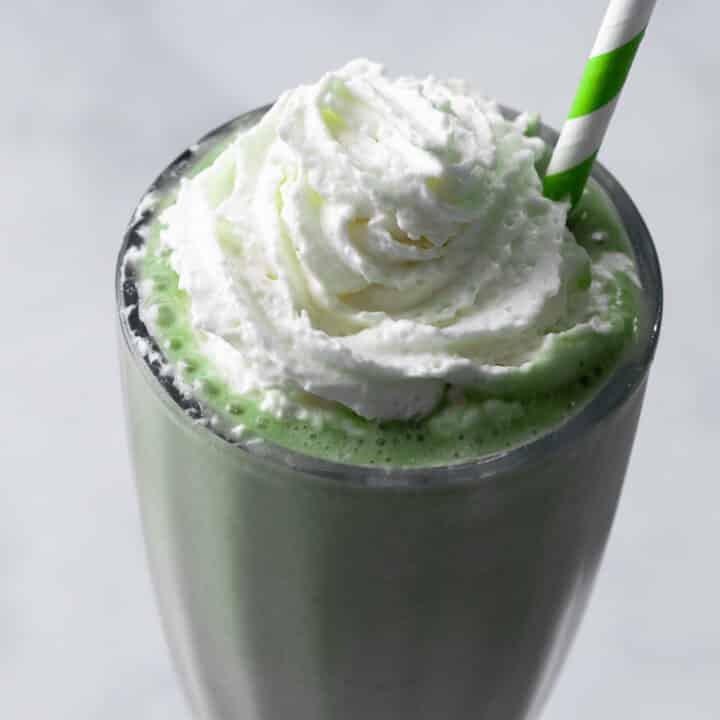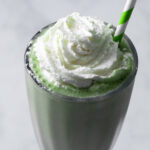 Vegan Copycat Shamrock Shake
---
Author:

Liz Madsen

Total Time:

5 minutes

Yield:

48 oz

1

x

Diet:

Vegan
Description
This delicious 3 ingredient Vegan Copycat Shamrock Shake tastes like the one you can buy at a popular fast food restaurant, but without all the sugar! There is no added sugar in this whole food shake and it comes together in just a few minutes.
---
4

frozen bananas

2 cups

unsweetened nondairy milk (see note 1)

½ cup

fresh mint leaves (or to taste) (see note 2)
---
Instructions
Add all ingredients to the blender and blend until smooth and creamy! Adjust flavors if needed.
Serve immediately.
Notes
Note 1: For the nondairy milk, you can use any kind you like; I recommend original flavor (as opposed to vanilla).
Note 2: If you cannot find fresh mint, use mint extract instead. It's VERY strong, so start with ⅛ teaspoon and go from there.
Prep Time:

5 minutes

Category:

Drink

Method:

Blender

Cuisine:

American
Keywords: Vegan, Gluten-free, Oil-free, Nut-free, Soy-free, Sugar-free
---
---