Creamy, satisfying, and refreshing, this vegan avocado salad is divine but incredibly easy to make. Reminiscent of guacamole, this salad is an elevated yet approachable, family friendly, and comes together in only 15 minutes (or less!).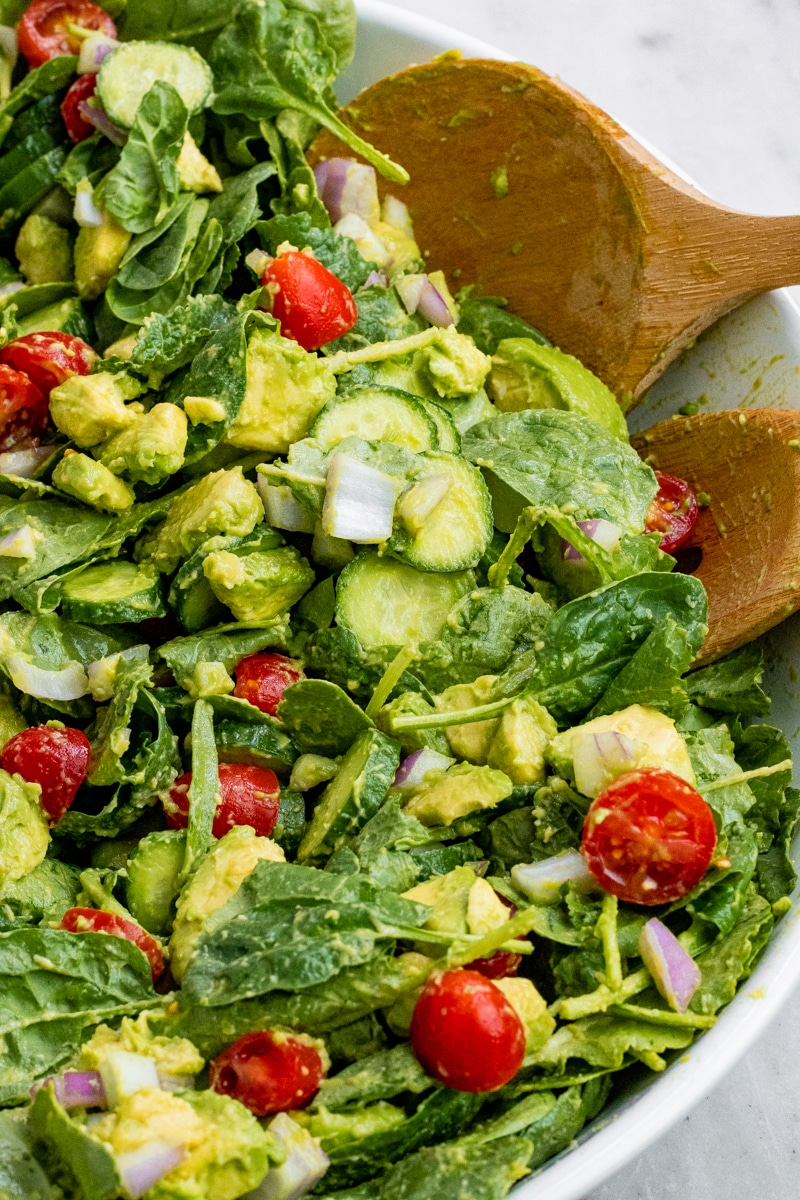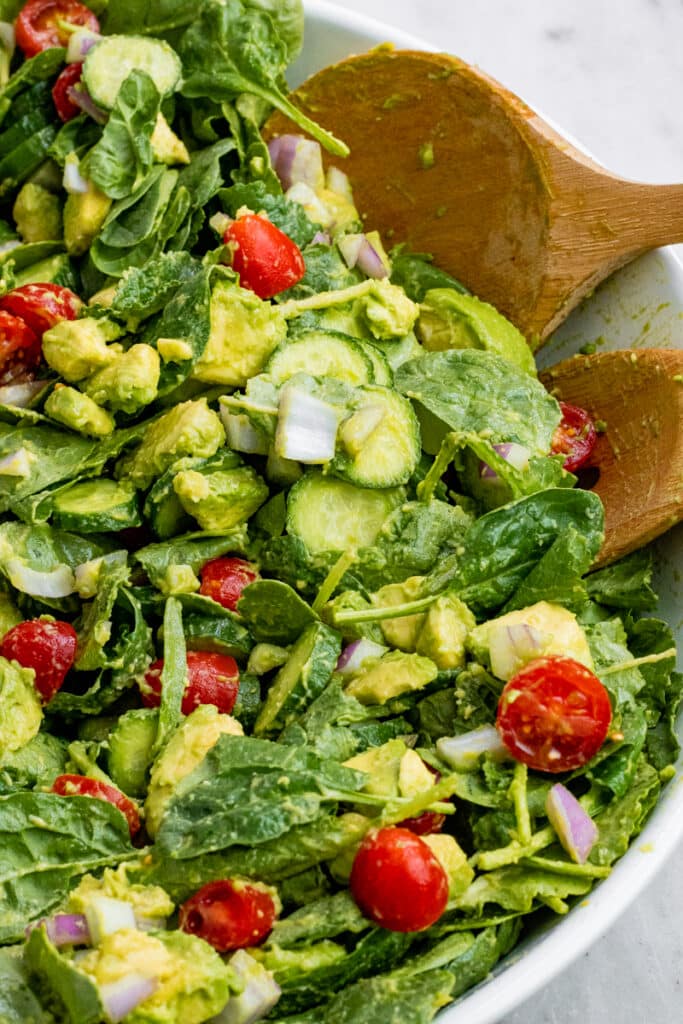 This post may contain affiliate links. See our disclosure policy for details.
Hey Internet, after my testing my latest baking creation (coconut cake!) multiple times, I feel like I've been chomping on a lot of baked goods lately. So I needed a salad.
I'm kind of a salad fiend to be honest. I've already got a bunch of yummy salads on my blog, such as Vegan Caesar Salad, Vegan Chicken Cucumber Salad, or Pomegranate Orange Pecan Salad but what's another to the list?
There's even a website devoted to salad, and their tri-color quinoa salad is next on my to-make list.
But today we're here to talk about a new salad of mine, featuring avocado. It's very trendy right now, and I understand that. Because avocado is just delicious.
This avocado salad almost tastes like guacamole, but is more substantial and can be a meal! When you add healthy plant-based fats like avocado, the meal is much more satisfying than a standard greens and veggies salad.
This recipe is also super customizable. I use a simple dressing based on lime juice, but you can use any dressing with this salad and it will be delicious.
Ready to make said delicious salad?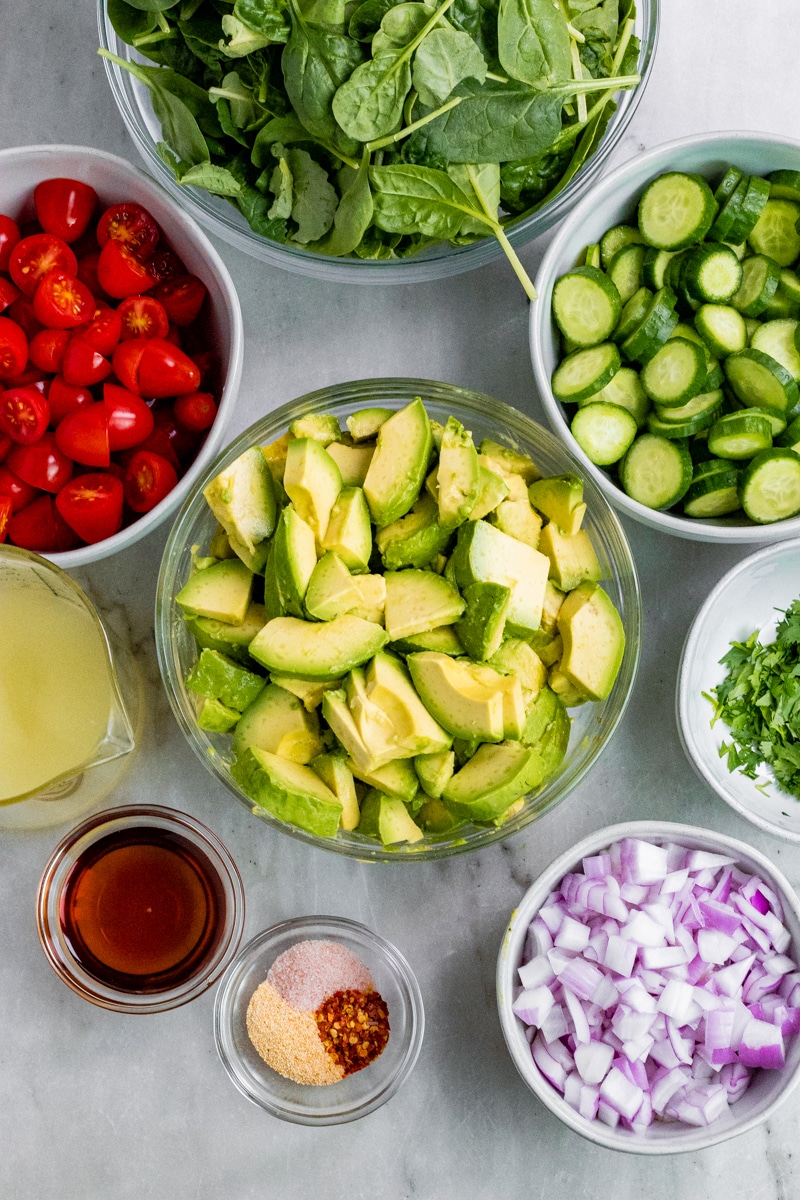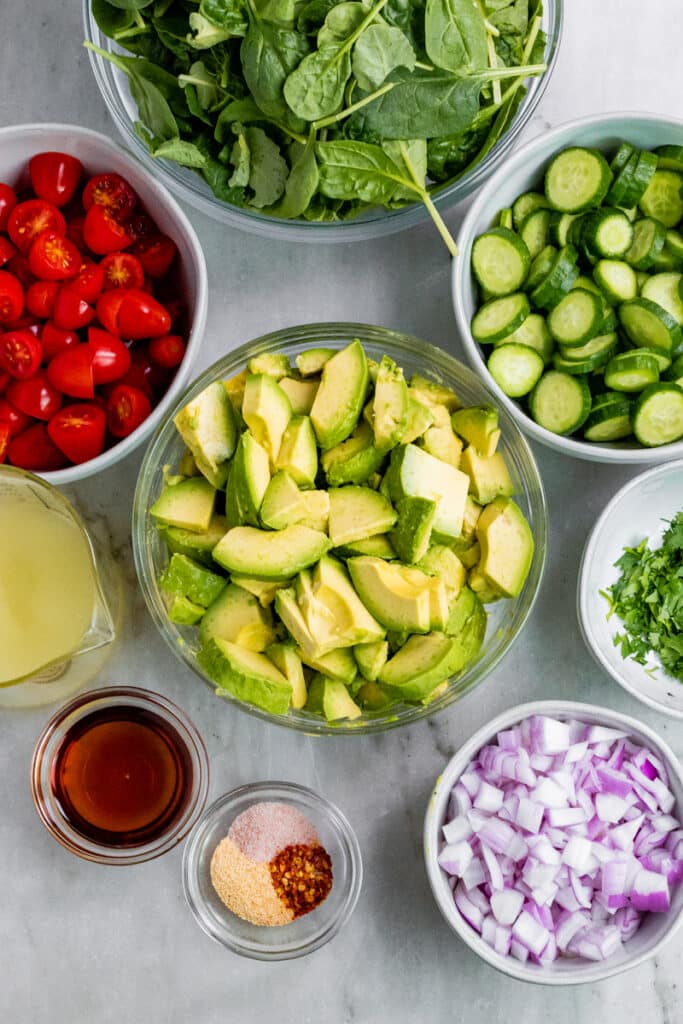 What You'll Need
Well, obviously you'll need some avocados. Try to pick ones that have a little give, but aren't too mushy. If under the little brown stem is a nice green circle, you're ready to party!
Tip: Store ripe avocados in the fridge and they'll last a few more days than if just on your counter. Similarly, if you have unripe avocados and you'd like to slow the ripening process, stick them in the fridge too.
For the greens, you can use any you like. The first time I made this salad I was just desperate to use up ripe avocados and threw them on top of the only greens I had: romaine. It was delicious, but I knew it could be even better.
In this recipe, I use a mixture of baby kale and baby spinach, which is an awesome combination with the rest of the flavors and textures in this salad. Use any greens you have or like--spring mix would be delicious, as would regular lettuces like green, red, even iceberg if that's what you like.
Let's move onto other veggies. Like guacamole, I included red onion and tomato (I used grape / cherry tomatoes so my salad wouldn't be too soggy). I also added cucumber which was super good in this.
But you can also experiment with other veggies like bell peppers, summer squash, roasted veggies, and more! My favorite salads are often just a mish mash of lots of different textures and flavors.
I also added chopped fresh cilantro to my portion, but not to the whole salad because Mr. Zardyplants doesn't like it. So it's optional--add it if you like it.
If serving to a family or group, maybe have a little dish of cilantro on the side for people to add if they choose. It really makes a delicious addition to this salad, but not if you don't like it already. ;)
The dressing is pretty simple: lime juice, garlic, maple syrup, a pinch of salt, and optional chili flakes. It was super easy to throw together.
But like I mentioned before, use any salad dressing you like. I also really like the dressing in my vegan Caesar salad or my lemon miso tahini dressing.
Finally, this salad is super customizable, change out the veggies or dressing you like. Even though all plants have some protein, you could even add another protein to this salad like tofu, tempeh, or vegan meat substitutes. Vegan Lemon Chicken would be FANTASTIC in this recipe. :)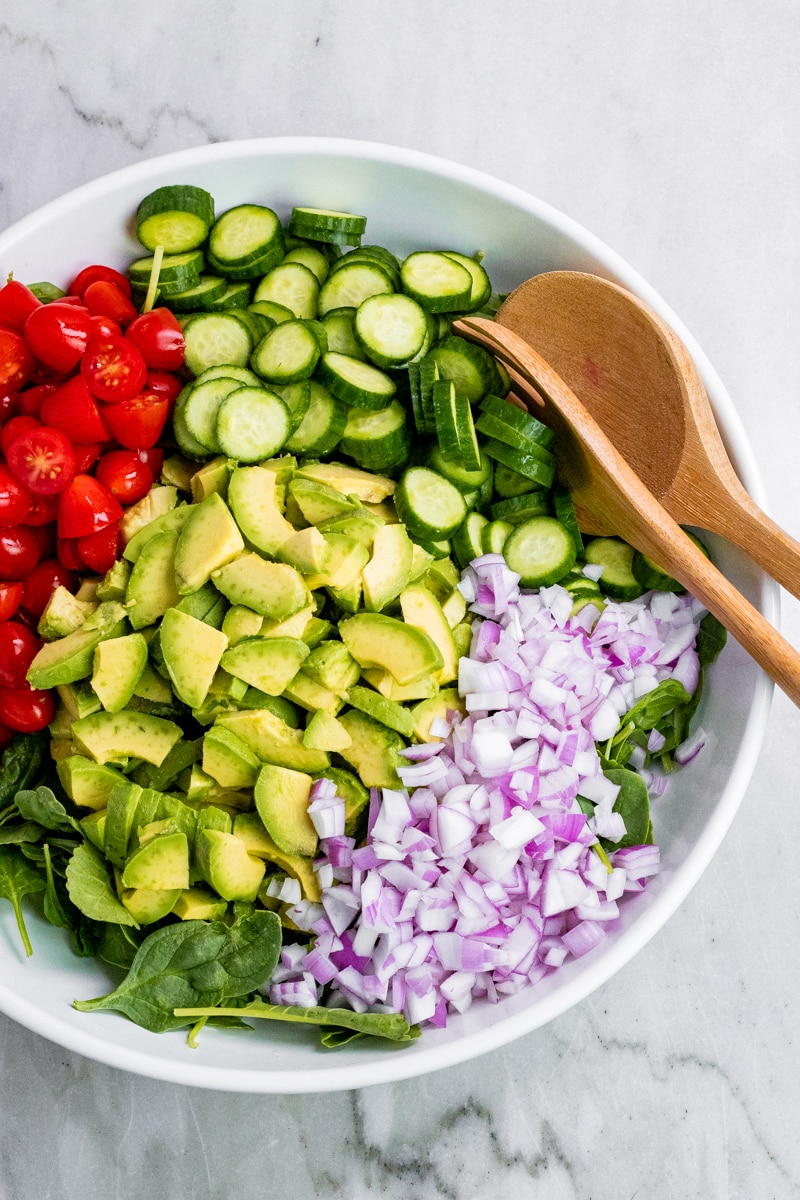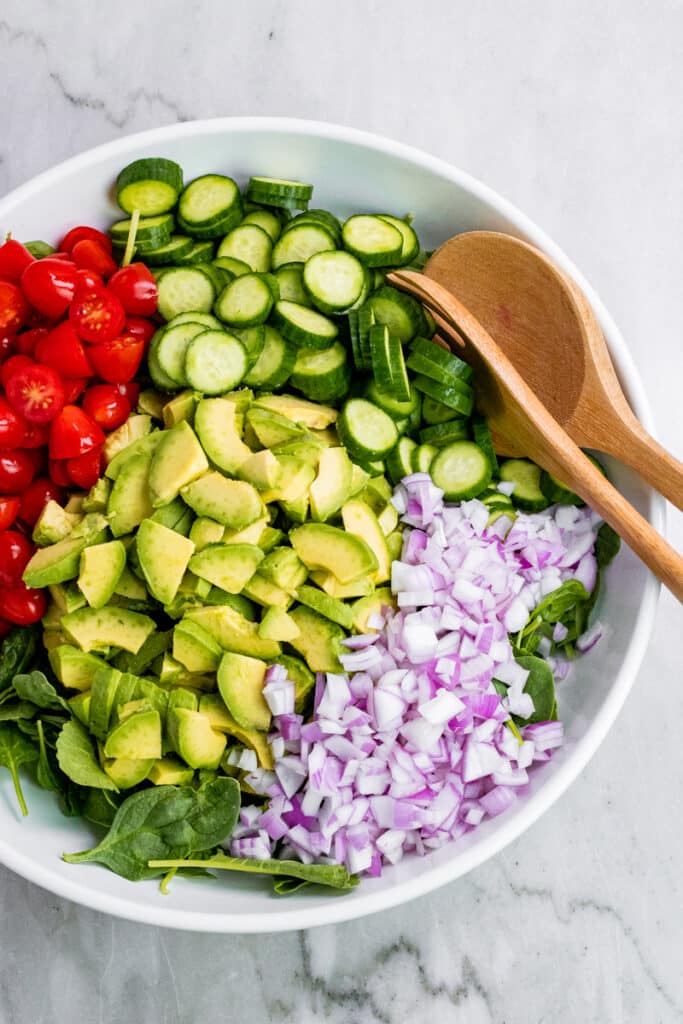 How Do You Make Avocado Salad
This vegan avocado salad is easy and quick. Chop your veggies first.
Since I used grape / cherry tomatoes, I just chopped them in half. If you're using regular sized tomatoes, I would squeeze out a little of the liquid, because it can make the salad a little soggy.
If you're using larger greens, give them a rough chop. I like the texture of unchopped baby greens in my salad so I didn't bother. But if you like the salad chopped up more, feel free to do that!
Mix the dressing in a jar by shaking it up, or in a bowl / measuring cup with a whisk (this tiny whisk was just so cute).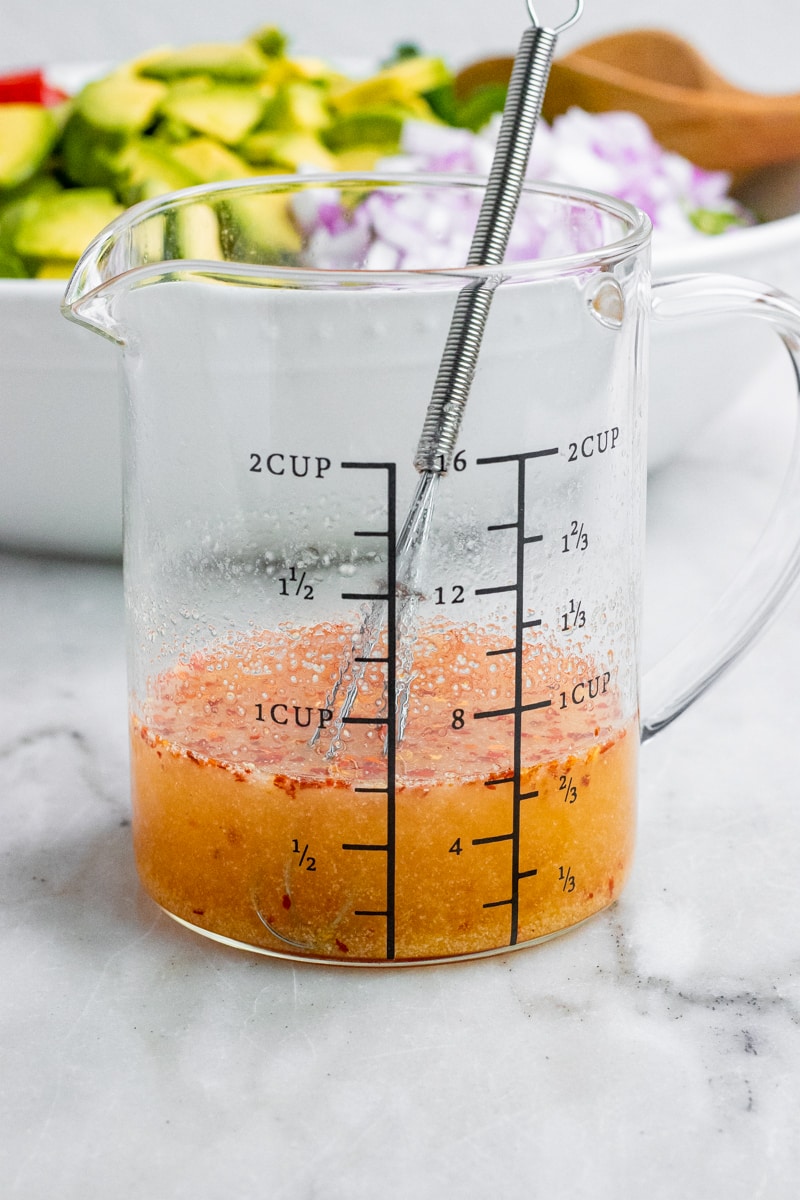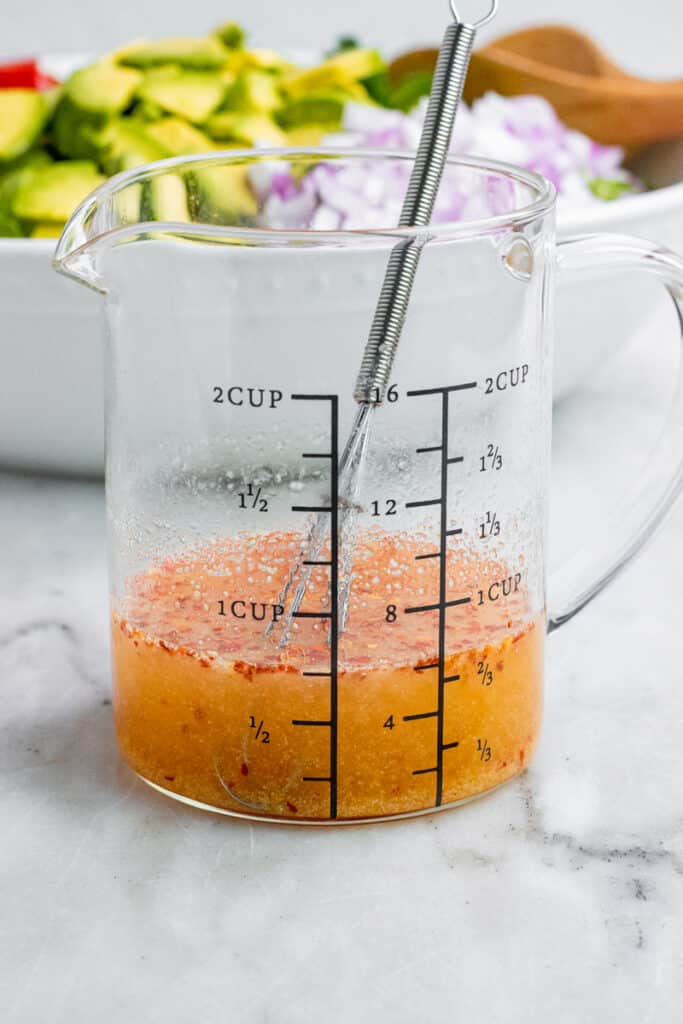 Finally, mix the dressing with the rest of your veggies and greens. Toss well to combine.
Serve it between a few large bowls as a meal or serve it as a side to anything from portobello mushroom steaks to a tomato soup.
How Do You Keep Avocados Fresh in a Salad?
The massive amount of lime juice and the salt in this recipe act as a natural preservative and will keep the avocados fresh for several hours.
Unfortunately avocado browns quickly due to oxidation, so eat this salad quickly! If you're worried it will be too much to finish, you can easily halve the recipe and make a smaller portion.
The salad is so easy to make you could just make it again the next day!
Anything Else?
As always, I hope you love this recipe--I know I do, and Mr. Zardyplants does too.
These vegan avocado salad is:
Creamy
Refreshing
Tangy
Rich
Zesty
Crunchy
Satisfying
And great for a meal, side, or dish to bring to a barbeque or party--even meateaters will enjoy it!
Let me know in the comments below if you make this recipe or tag me @Zardyplants on Instagram so I can see your beautiful recreations! If you tag me on IG, I will share your post in my stories :)
Also, one quick request: if you love how this recipe looks or tastes, please leave me a 5-star rating and a nice comment–ratings help more people find my recipes which helps me keep providing them! Thank you!
<3 Liz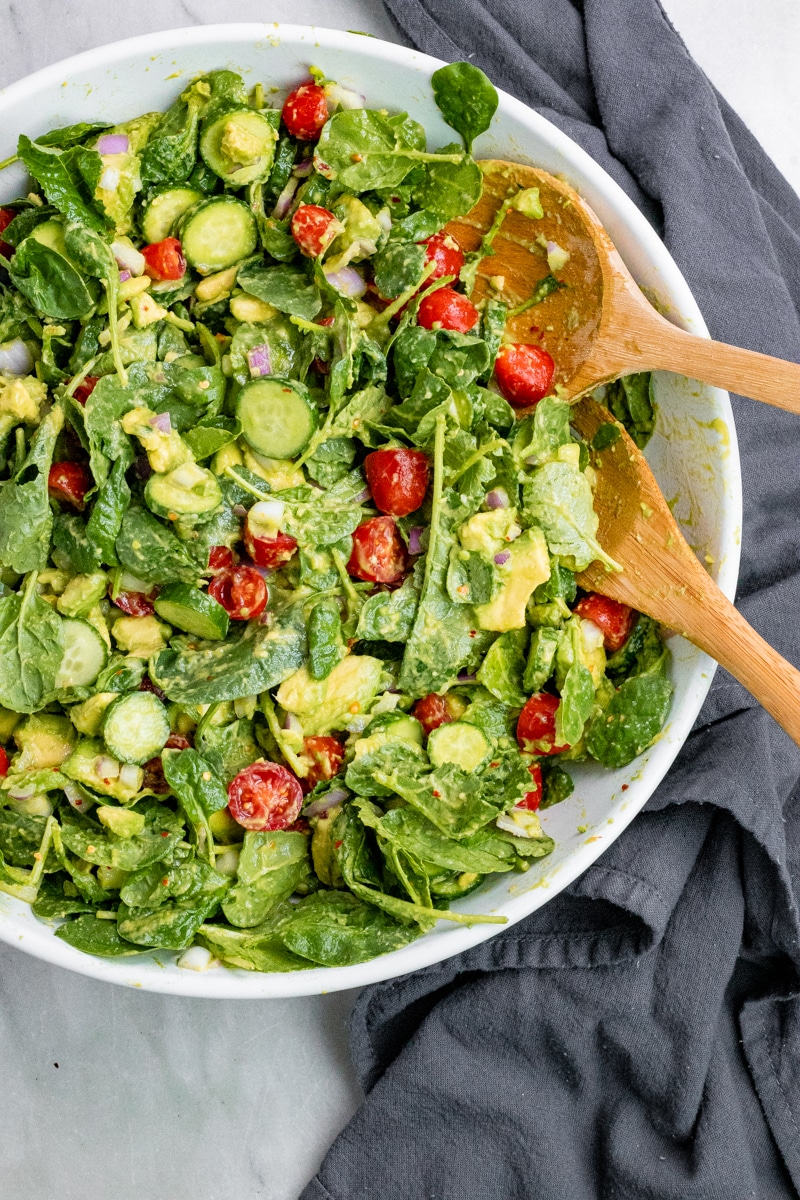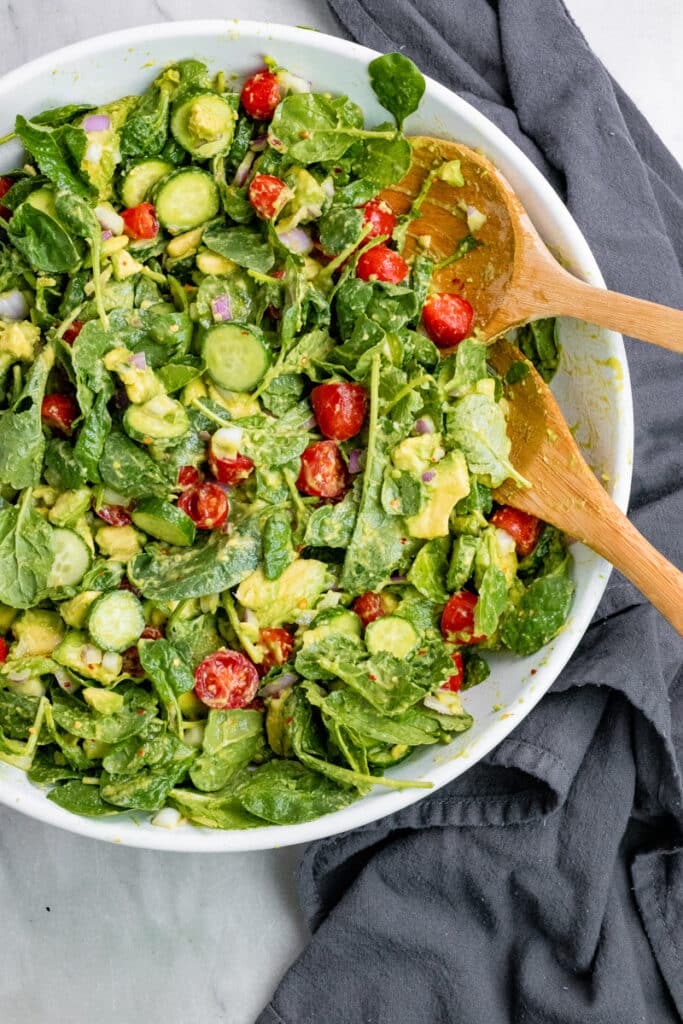 Follow me on Social Media!
Print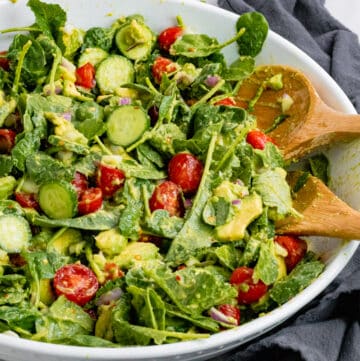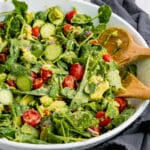 Creamy Vegan Avocado Salad
---
Author:

Liz Madsen

Prep Time:

15 minutes

Total Time:

15 minutes

Yield:

10 cups

salad

1

x

Diet:

Vegan
Description
Creamy, satisfying, and refreshing, this vegan avocado salad is divine but incredibly easy to make. Comes together in only 15 minutes (or less!)
---
Salad:
4 cups

greens (I used baby spinach + baby kale)

4

avocados, chopped

2 cups

cucumbers, chopped

2 cups

tomatoes, chopped (I used grape / cherry tomatoes)

1

small red onion, diced finely

¼ cup

cilantro, chopped, optional
Dressing:
½ cup

lime juice (about

5

limes)

2 tbsp

maple syrup or to taste

1 tsp

garlic powder

1 tsp

salt or to taste

½ tsp

chili flakes or black pepper, optional
---
Instructions
Wash, dry, and cut your greens and veggies to your liking. I leave my baby greens whole but feel free to chop up more if desired.
Grape or cherry tomatoes are great in this salad--they're sweeter and less watery. If using regular tomatoes, squeeze out some of the extra juice before including in the salad if you're concerned about it being soggy.
I like to quarter each avocado, peel off the skin, and slice it thinly. That way, every bite of salad gets some delicious avocado, but it doesn't get lost among the other ingredients.
Whisk the dressing ingredients together in a small bowl or cup (or shake in a small jar), and add to salad when ready to serve. Toss everything together well and serve.
Salad will last well for a few hours, but will need to be refrigerated after about 3 hours. The avocado should stay fresh for several hours, but may start to brown the next day. Recommended to halve the recipe if there is concern about not being able to eat the whole recipe the first day.
Category:

Salad

Method:

Chopping

Cuisine:

American
Keywords: Vegan, Gluten-Free, Oil-Free, Soy-Free, Refined Sugar-Free, Salad, Avocado Salad
---
---