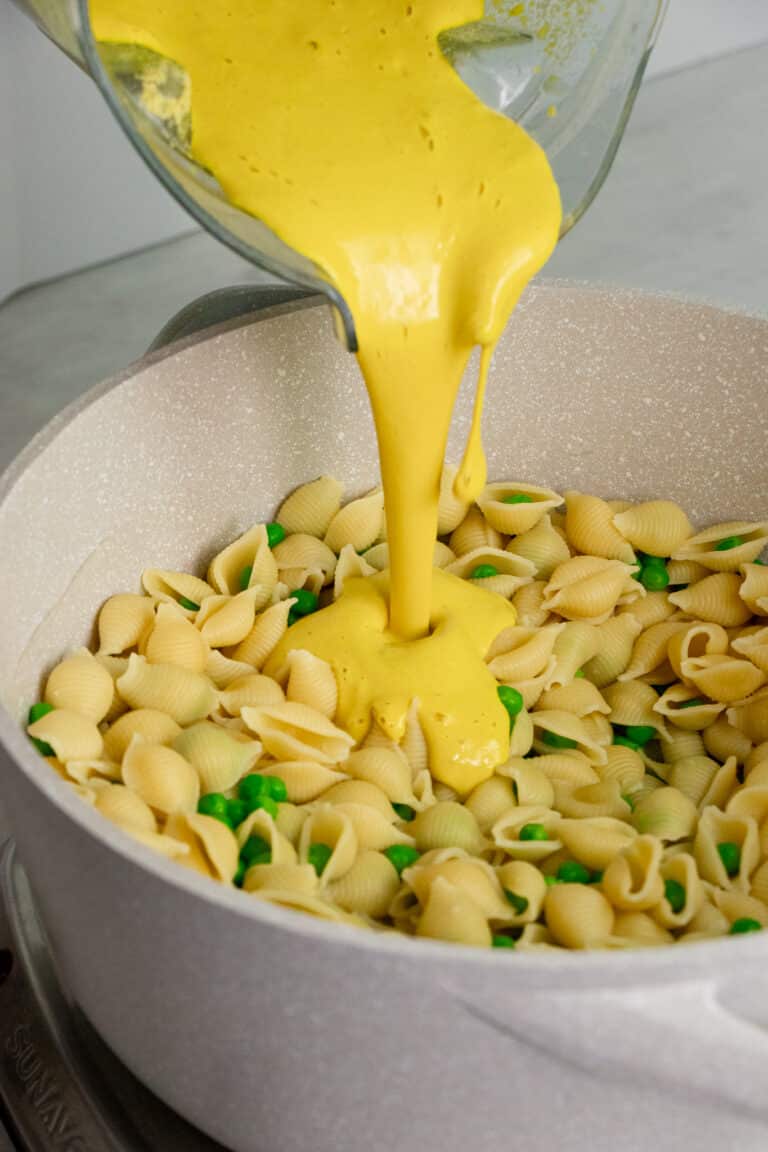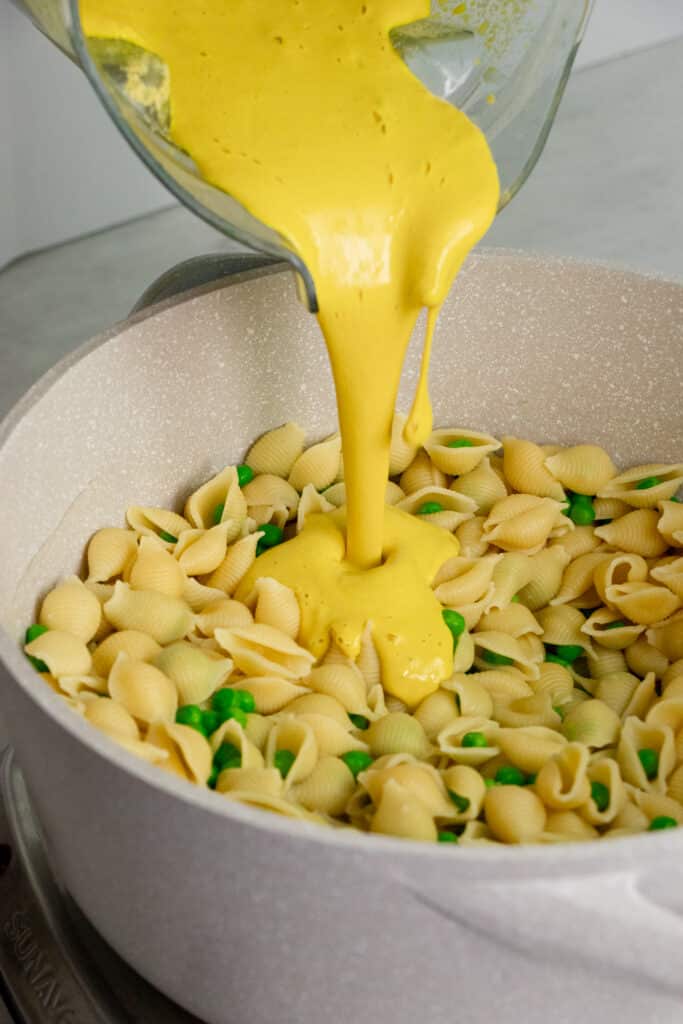 This easy Soy-Free Nut-Free Vegan Cheese Sauce is delicious and comes together in minutes. No potatoes and carrots here, the spices and elements in this cheese sauce make a rich, creamy, luscious vegan cheese sauce.
I have always been obsessed with cheese. Still am, except now I'm vegan.
Honestly it isn't much different. There are tons of ready-made vegan cheeses out there. Some are pretty good. But they're usually loaded with oils and preservatives.
I set out to make healthy vegan cheese sauce for pasta dishes and more. This particular one is nut-free and soy-free. I don't have a problem with either of those, but I know some people have allergies.
The world of vegan cheese sauces is very exciting! People on vegan message boards and in social media groups often ask "what is your cheese sauce made of?"
This is a question that wouldn't normally be heard in omnivore circles, because the assumption is, well, dairy cheese. Maybe it's a different variety like white cheddar or gouda, but in any event, it comes from the same place.
Vegan cheese sauces, however, can be made from any variety of "bases" including cashews, other nuts/seeds, tofu, coconut, potatoes & carrots, beans, and even squash!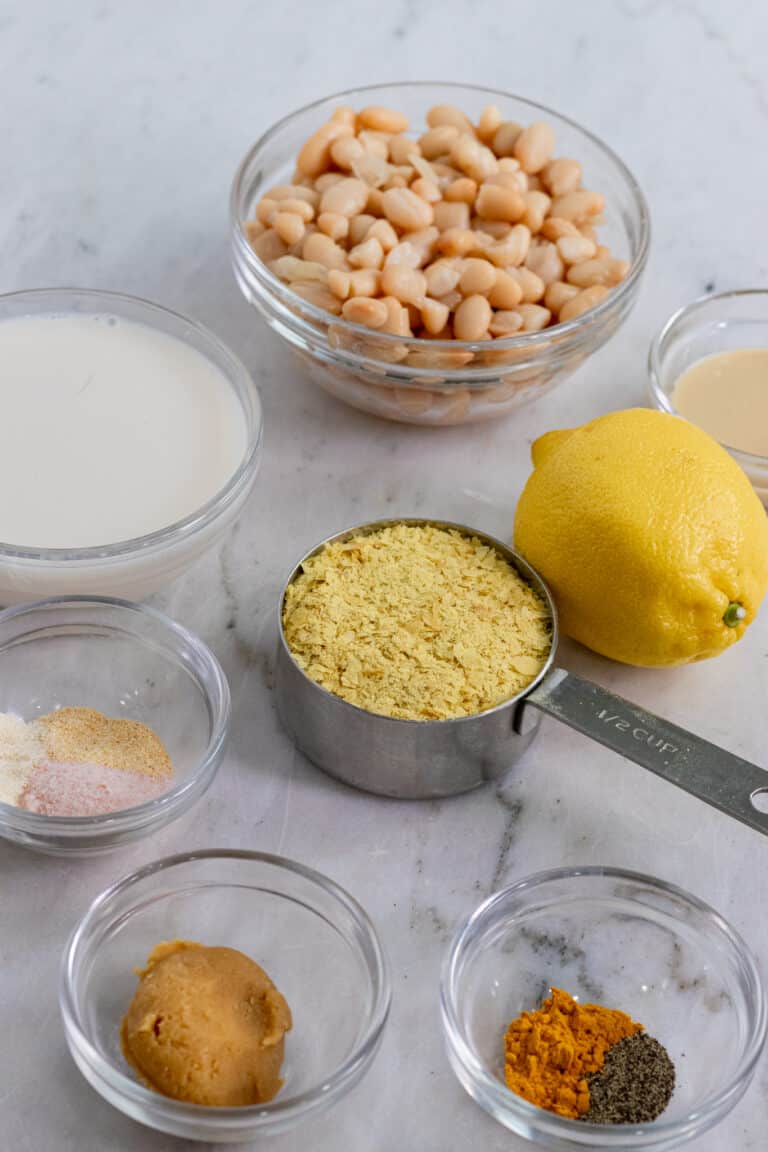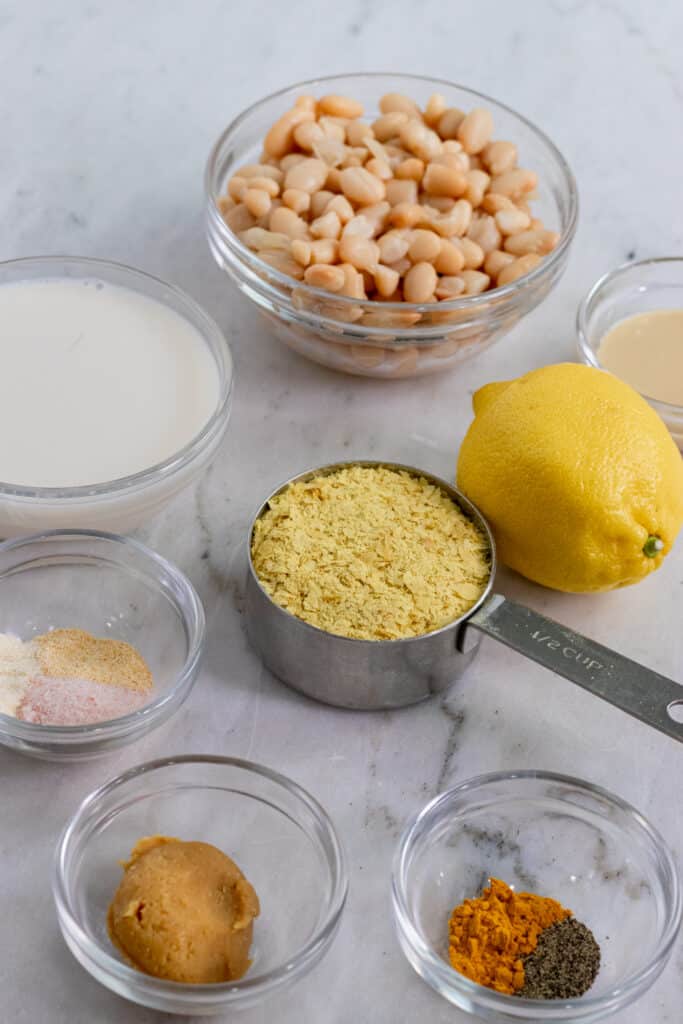 So What's in THIS Soy-Free Nut-Free Vegan Cheese Sauce?
I used white beans as the base for this recipe. They're versatile and protein-packed!
The other awesome thing about white beans is that unlike cashews, you don't need a high powered blender! Don't get me wrong--I LOVE my Vitamix, but not everyone has one. I saved for a long time AND bought mine refurbished (don't regret it for a second though; I use it daily).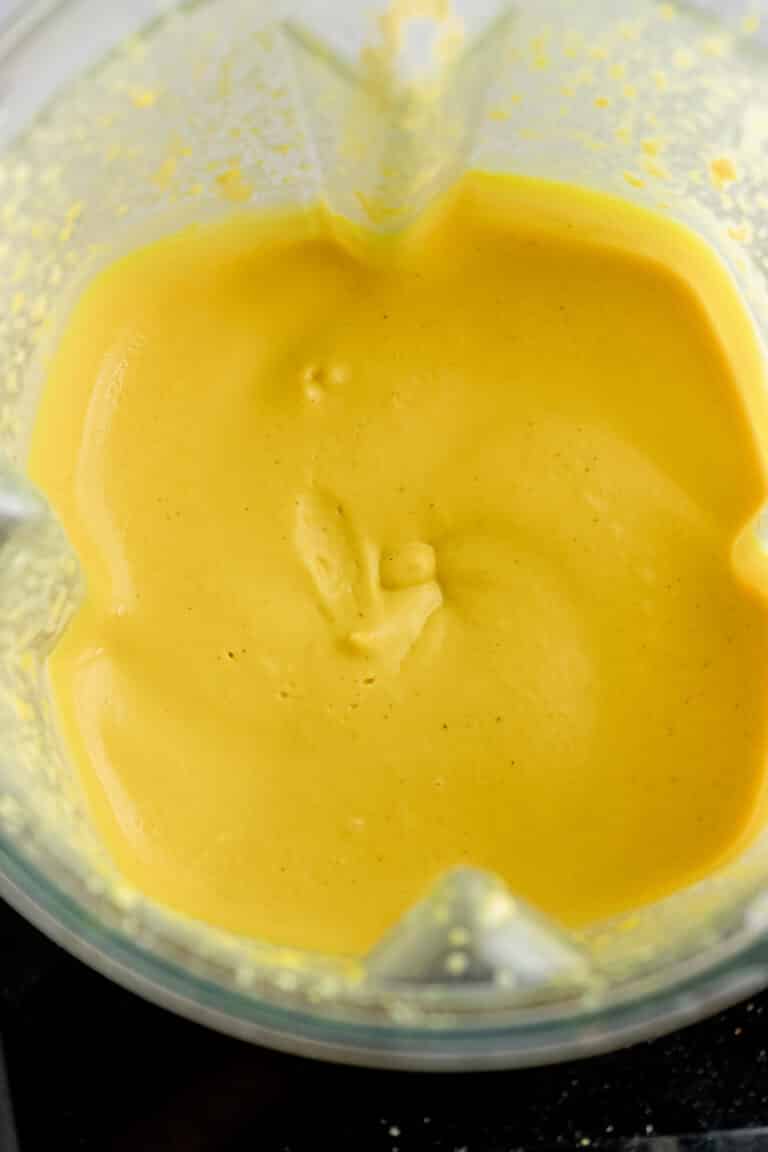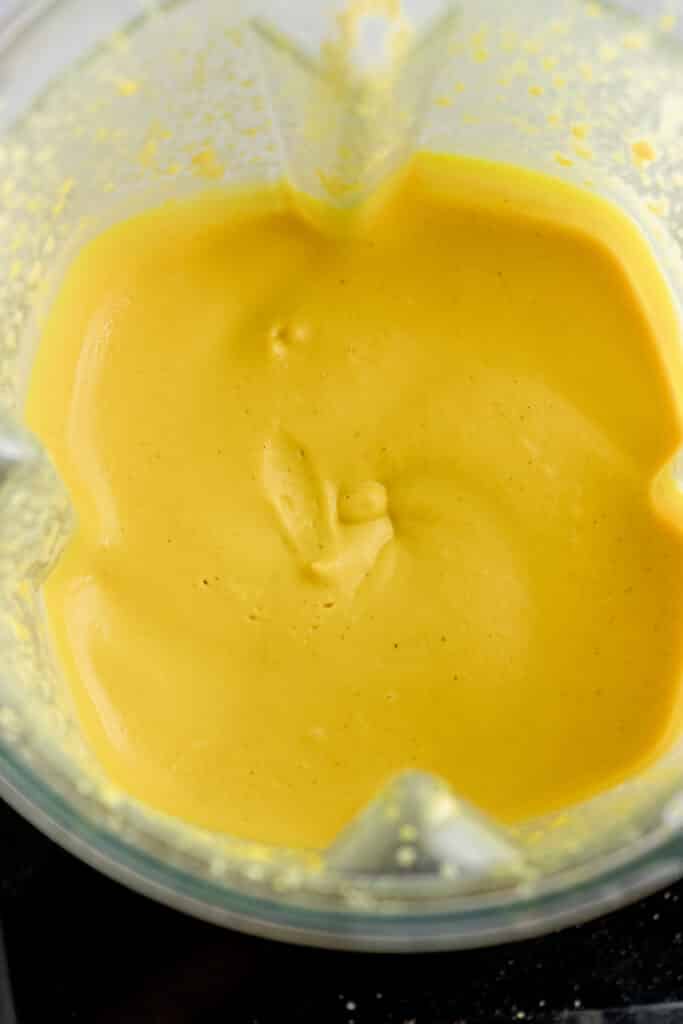 And don't worry, with all the other flavors going on it won't taste like beans.
This sauce also uses tahini (made from ground up sesame seeds) for the slightly fatty mouthfeel of cheese sauce. Check the substitutions section (scroll down) for what you could use instead.
Finally, I use a few different spices and seasonings to make it taste good. But speaking of which...
How Do I Make Vegan Cheese Taste Better?
I get it. Some vegan cheeses are kind of gross.
The thing about dairy cheese is that it is legitimately addictive and not so good for you (source).
But you need something to mimic that flavor. A lot of cheese is somewhat tangy and SALTY. Cheese is salty.
One thing I highly recommend is miso paste! It's got a lightly tangy flavor and a salty taste (without being TOO high in sodium).
But wait, isn't miso made from soy?
Yes, typically, however, there is chickpea miso the rescue! It's made from chickpeas instead of soybeans like the name suggests and can be found online and in specialty stores like Whole Foods.
However, it is probably way easier to find regular miso paste (you can find it in Asian groceries) and if you don't have a soy allergy I'd recommend just subbing regular white or yellow miso paste.
Additionally, I HIGHLY recommend nutritional yeast.
Wait, yeast? What?
Nutritional Yeast is a substance that is a deactivated yeast from a strain of Saccharomyces cerevisiae. It's totally safe to eat and has a nice cheesy, nutty flavor.
If you've ever tried it by itself you may not like it. Give it a try in this recipe.
The other ingredients help mute any weirdness and just enable the nutritional yeast, or affectionately termed nooch by vegans, to work its cheesy magic.
This is sauce is
Rich
Thick
Creamy
Savory
and most importantly, CHEESY!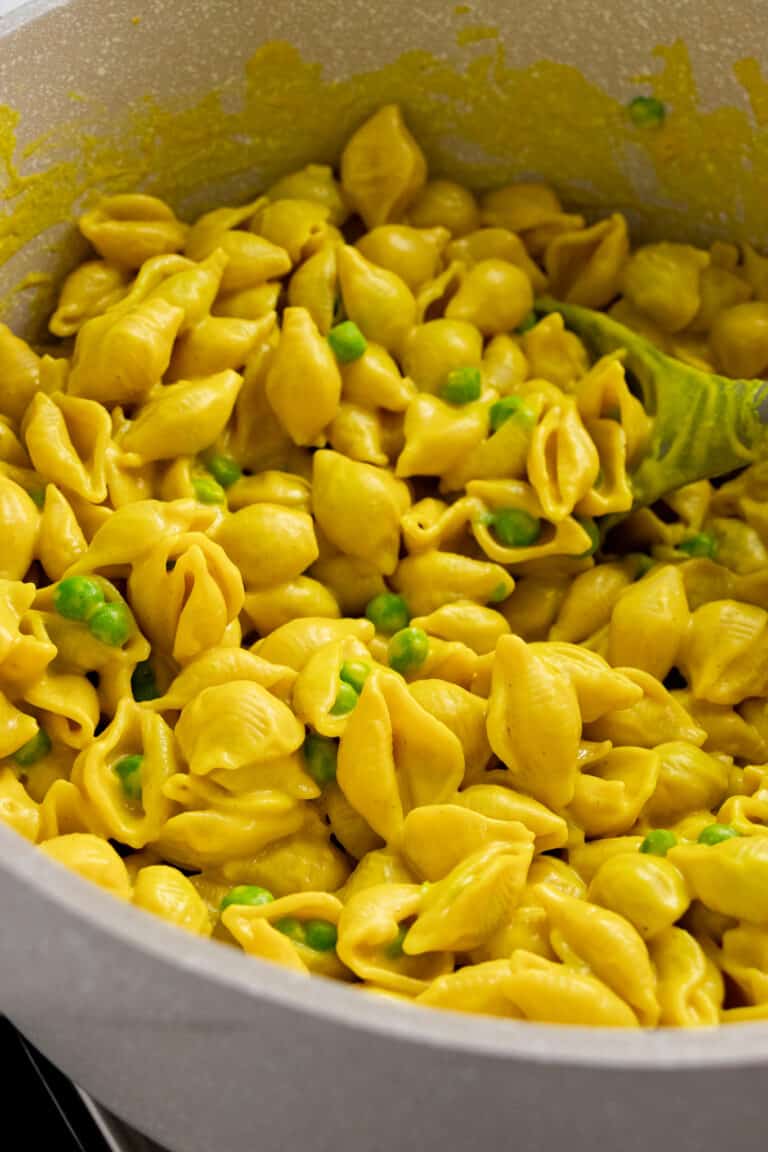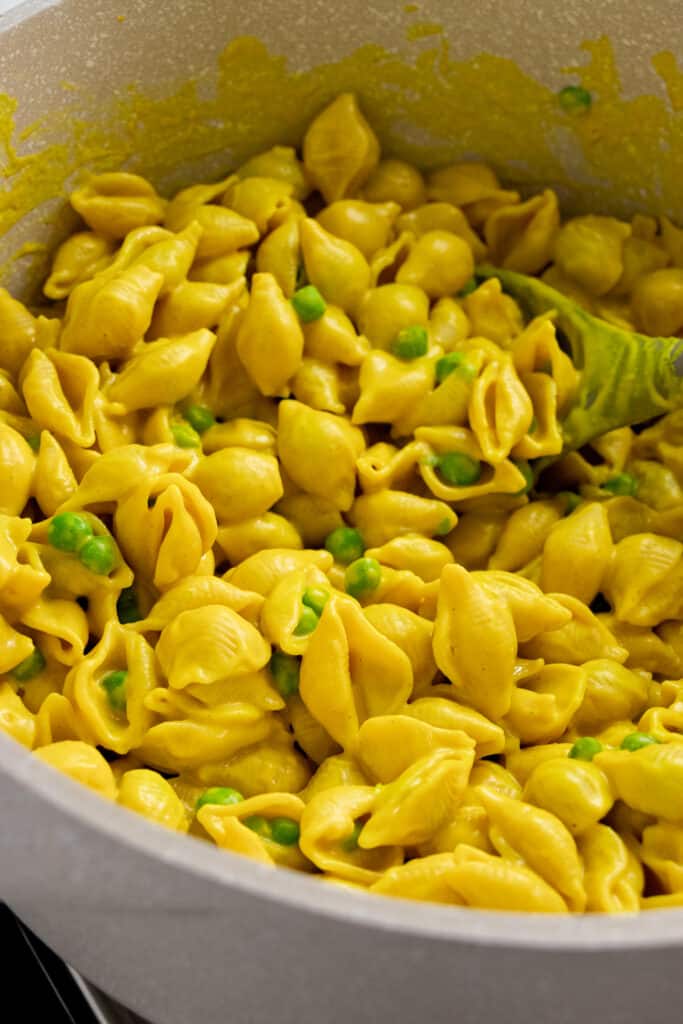 I know it doesn't seem like beans, seeds, and spices could taste as amazing as "real" dairy cheese, but just trust me.
What Substitutions Can I Make?
Instead of white beans, you can use tofu, soaked cashews, or even coconut milk (use no extra liquid in the recipe if you do this).
The tahini helps give this sauce a richness but it's not required. You could also sub cashew butter or sunflower seed butter.
If in a pinch, you could also throw in some soaked cashews or sunflower seeds, or unsoaked hemp seeds, and let the blender run a little longer to grind up the seeds.
In any case, adding a fat definitely helps the richness. However, if you're watching your fat intake you could just omit it from the recipe and it would still be good.
If you can't find any miso paste, try using ume plum vinegar instead. It has that slightly briney, tangy taste that miso has.
And if you can't find ume plum vinegar, just use any other vinegar with a pinch of salt added. It won't taste EXACTLY the same, but it will still be cheesy and delicious (I've certainly done this in a pinch).
As far as the spices, the only one I can see removing is the turmeric. It's mostly there for color, although I do feel it adds a little something something.
MORE VEGAN CHEESE
If you're looking for more vegan cheese, I've got you covered.
Anything Else?
I have used this sauce in a few ways on my blog so far:
I certainly must consider that it is the bias of being vegan for a few years, but I've asked multiple people, including "omnivores," and they all agree that my Soy-Free Nut-Free Vegan Cheese Sauce is cheesetastic.
Enough of me being cheesy, let's get onto the sauce recipe!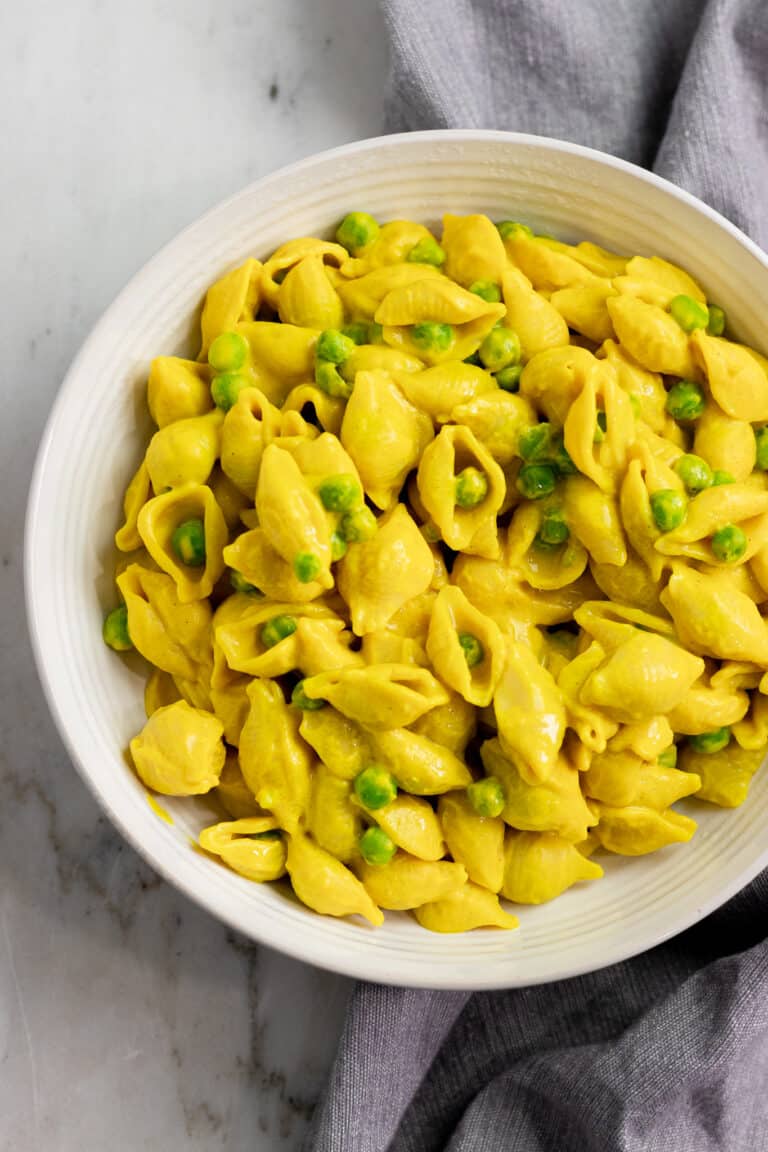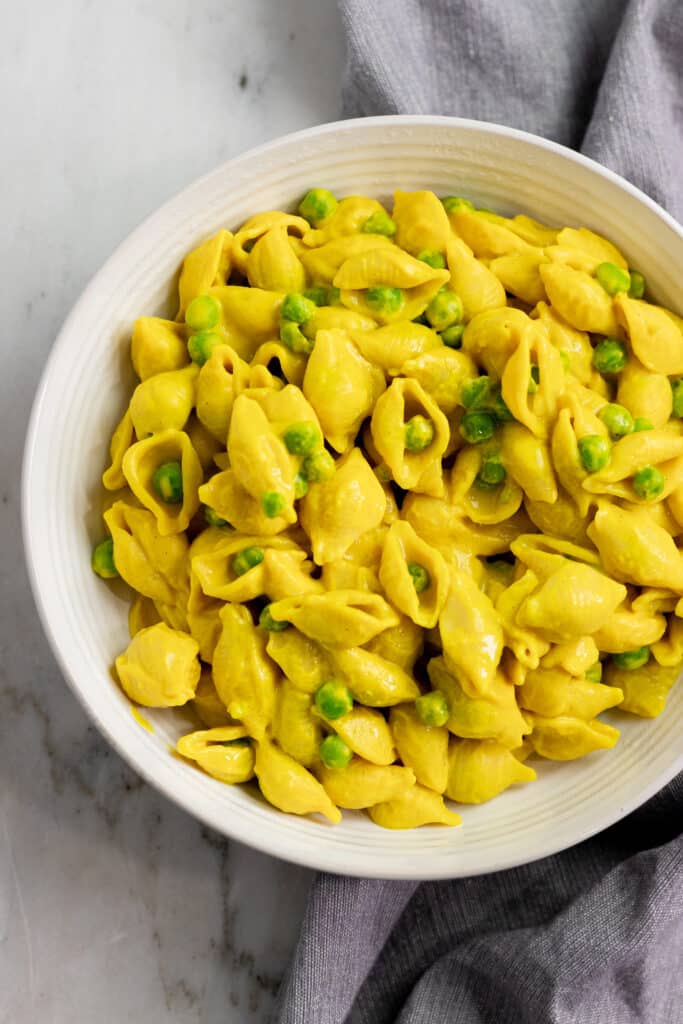 As always, let me know if you make this recipe and please tag #Zardyplants and mention me @Zardyplants so I can see your beautiful recreations! If you tag me on IG, I will share your post in my stories :)
<3
Liz
Follow me on Social Media!
Print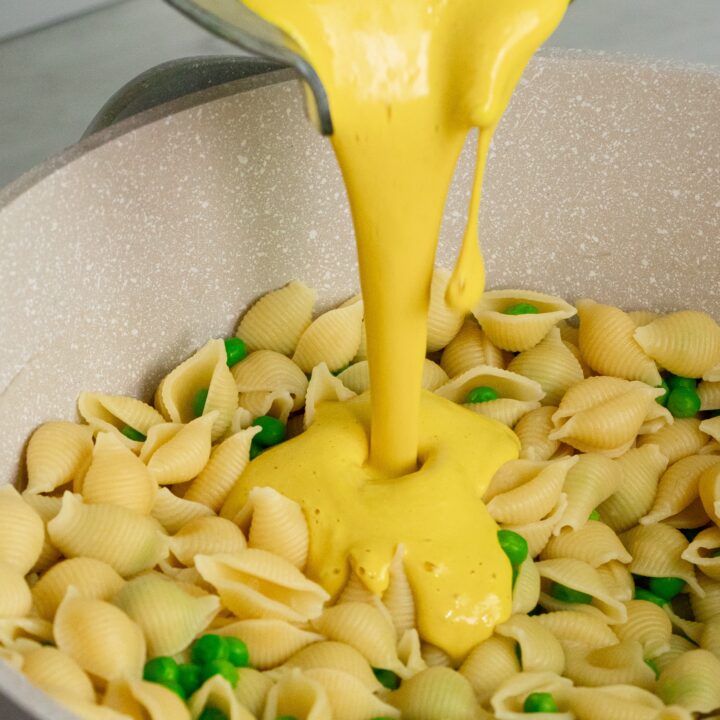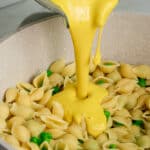 Soy-Free Nut-Free Vegan Cheese Sauce
---
Author:

Liz Madsen

Total Time:

5 minutes

Yield:

2.5 cups

1

x

Diet:

Vegan
Description
This easy Soy-Free Nut-Free Vegan Cheese Sauce is delicious and comes together in minutes. No potatoes and carrots here, the spices and elements in this cheese sauce make a rich, creamy, luscious vegan cheese sauce.
---
1.5 cups

or 15 oz can cannelini beans (or other white beans) (you can use cooked from dry beans too)

1 tbsp

chickpea miso paste (may sub regular miso if not soy-free)

1 tablespoon

tahini, optional

½ cup

nutritional yeast

¾ cup

unsweetened nondairy milk
Juice of

1

lemon

1 teaspoon

garlic powder

1 teaspoon

onion powder

1 teaspoon

sea salt

¼ teaspoon

turmeric

¼ teaspoon

black pepper
---
Instructions
Blend all ingredients until thick and creamy.
If desired, add a little more nondairy milk to make the sauce a bit thinner.
If you wish to make the sauce somewhat stretchy, heat it on the stove over medium-low heat and add a tablespoon or two of tapioca starch, stirring until the sauce becomes stretchy.
Refrigerate leftovers up to 5 days in an airtight container (like a mason jar)
Prep Time:

5 minutes

Category:

Vegan Cheese

Method:

Blender

Cuisine:

American
Keywords: Vegan, Plant-based, Oilfree, Cheese, Cheese Sauce, Vegan Cheese
---