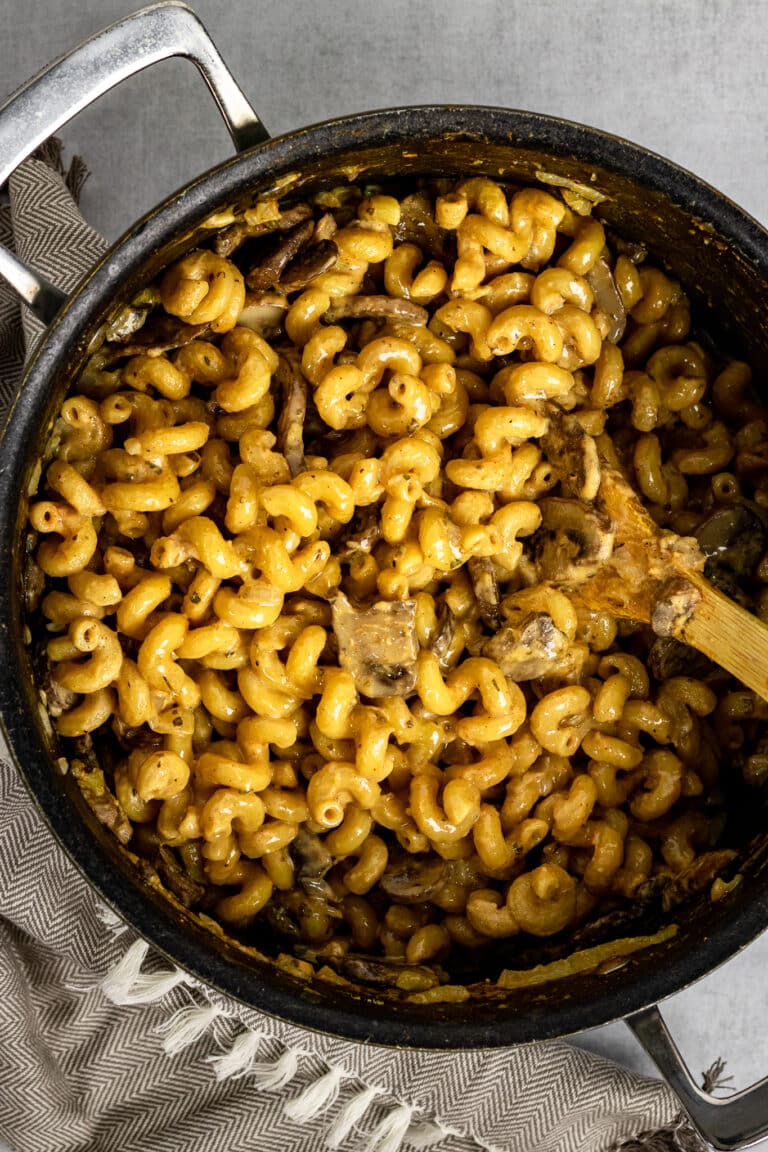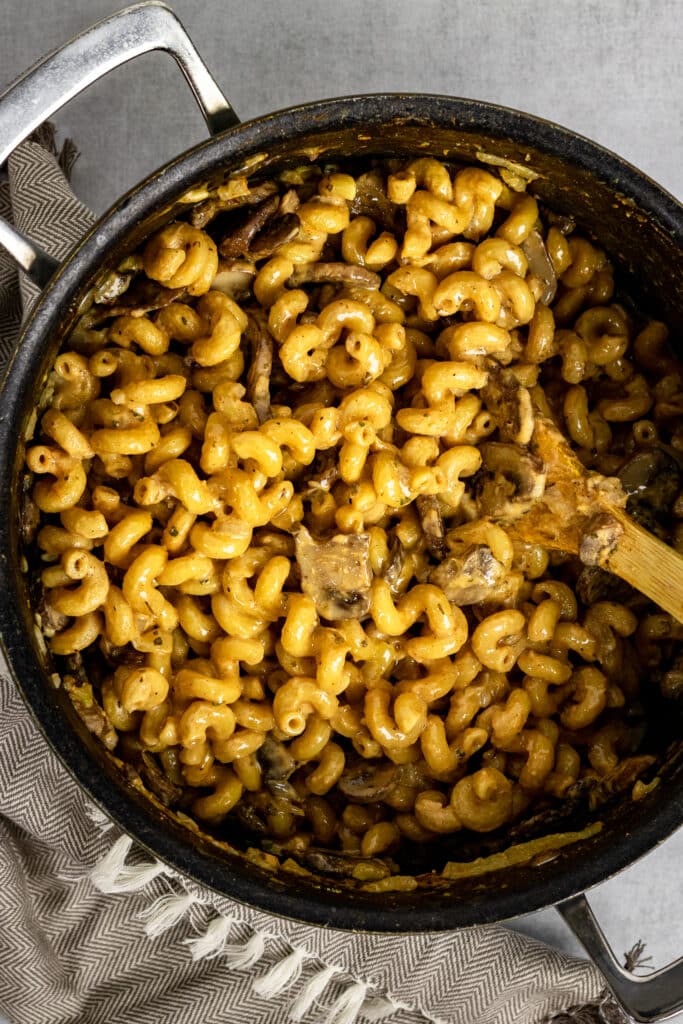 This delicious, cozy Creamy Vegan Mushroom Pasta takes just 30 minutes and one pot to make. A super easy meal to make no matter your kitchen skills, this pasta, is creamy, rich, savory and packed with umami flavor!
Hey Internet, what's better than a comforting, tasty bowl of pasta for dinner? A comforting, tasty bowl of pasta that only uses one pot and takes only 30 minutes to cook!
This creamy vegan mushroom pasta dish is perfect for a busy weeknight, when you don't have much time to prepare dinner, but it feels fancy enough to serve at a dinner party or enjoy at home on date night or as part of a self-care night. It also is a great comfort when you're not feeling your best and just want some warm, starchy pasta in your belly… what, I said I was a carbivore! ;)
Lately we've been so busy trying to get everything done. With full time jobs, a new puppy, and trying to start this blog – Hi :) – we have been resorting to either takeout from Whole Foods or grazing randomly, which certainly helps neither our budgets nor our waistlines!
I knew I had to come up with some easier, quicker dinners, most importantly ones that didn't leave a mountain of dishes!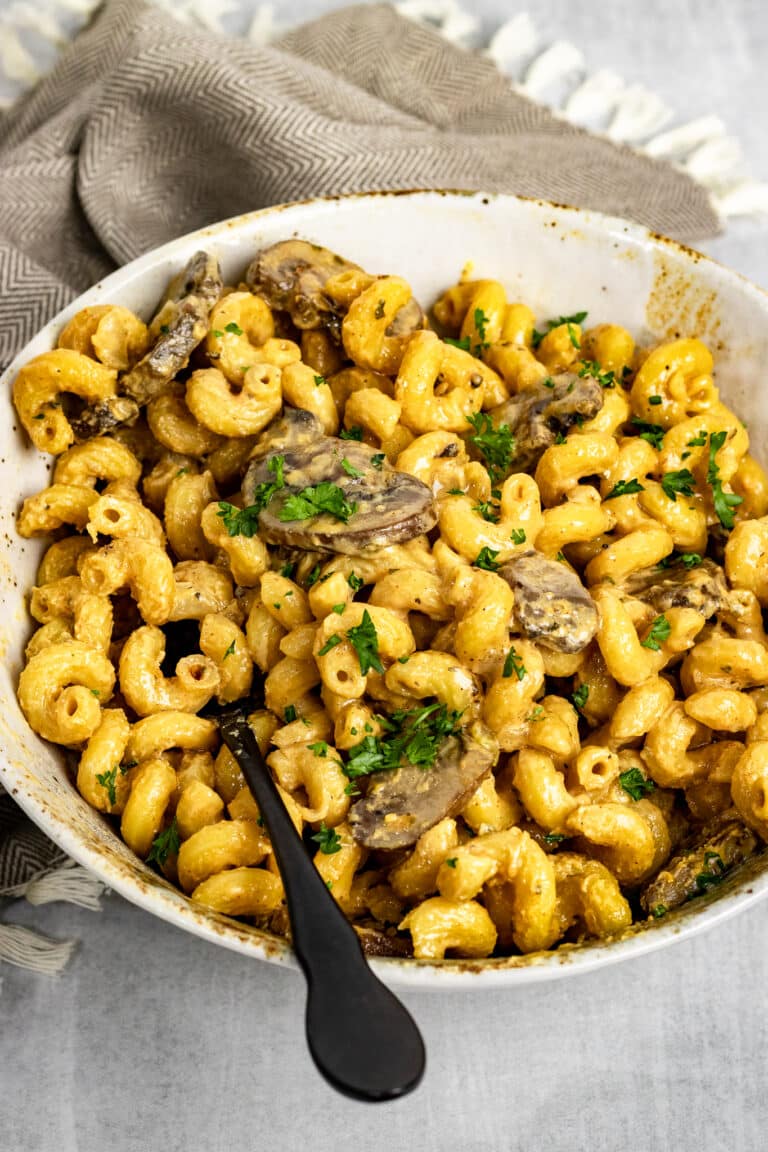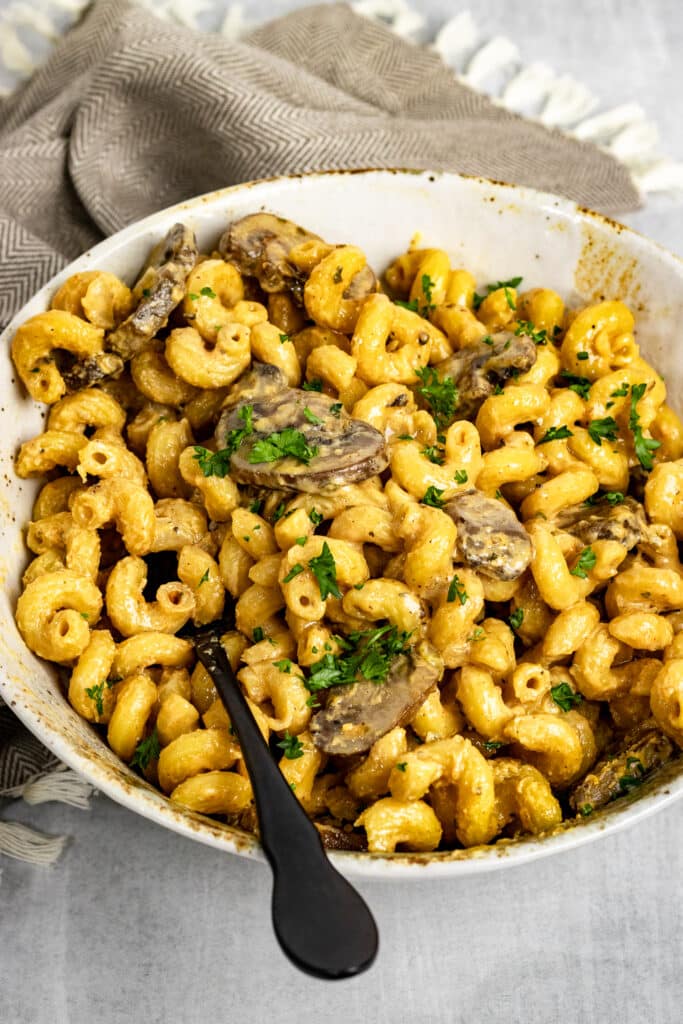 For the longest time, I couldn't wrap my head around how you could make a one pot meal with pasta.
What about all the water? Doesn't it need to be drained? Surely you'd be left with a soupy, soggy mess.
One Pot Pasta Hack
That was until recently, when I started experimenting with using just enough water to cook everything. In this recipe, I use broth instead of water, since it's more flavorful, but you could use water and add more spices/salt if needed.
The best thing about this dish is that you don't have to pre-cook the pasta, leading to a quicker dinner with easier cleanup!
I add the same amount of broth as I do pasta. The mushrooms also release a little water as they cook, but if you don't like mushrooms, you can trade them for another vegetable like broccoli, asparagus, peas, etc.
But if you do like mushrooms–and I love them–this recipe is perfect for you, because the mushrooms really shine in this creamy dish.
Luna always tries to get the mushrooms when I chop them, but since they aren't good for dogs I usually have some cucumber slices as back-up to give her instead. If I don't pay some attention to her while I cook, she barks incessantly.
It might be a puppy thing, but we'll see! She's definitely unique.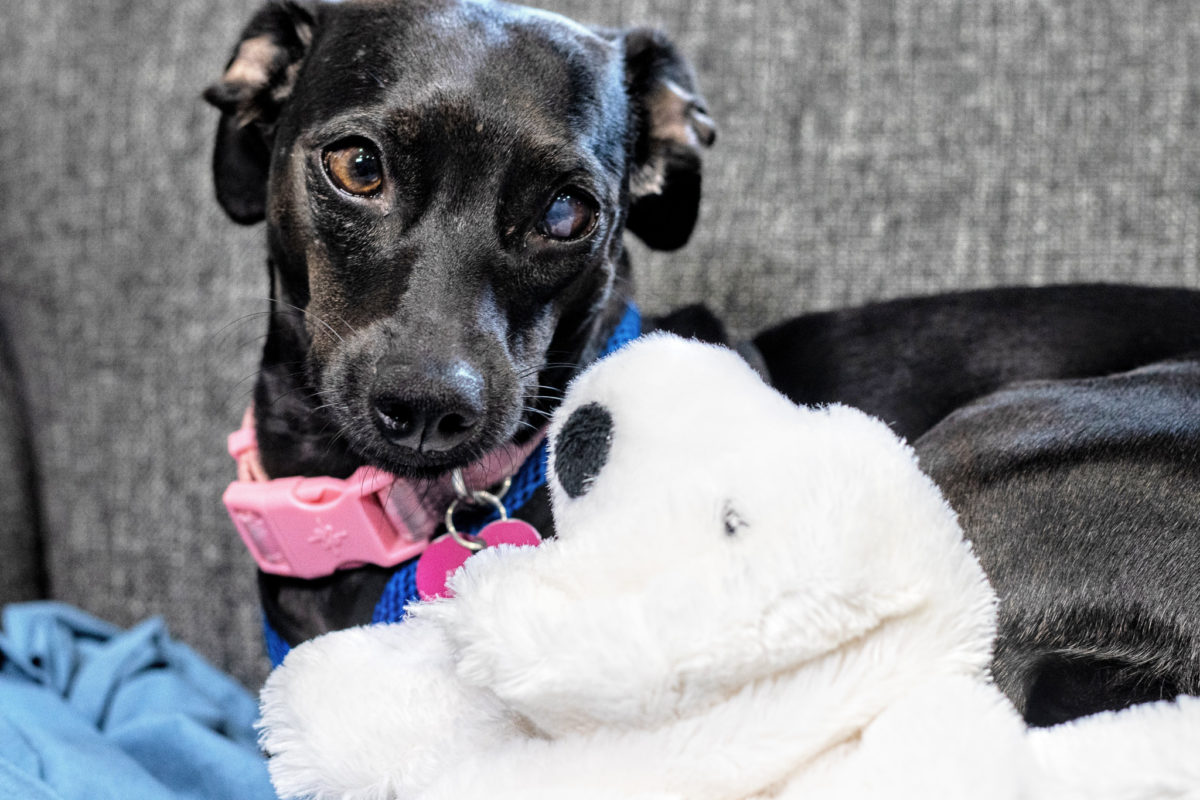 What makes this meal really creamy is a small bit of cashew butter (and if you don't have that, try blending a large handful of soaked cashews with a little water), but you can substitute tahini or canned coconut milk as well and it will be just as good.
The cashew butter really adds a rich decadence, but since we also add a little nondairy milk and this makes a large amount of food, it's not too much. If you're watching your overt fats, try blending a half cup of white beans with some water to substitute, but the result won't be quite as creamy.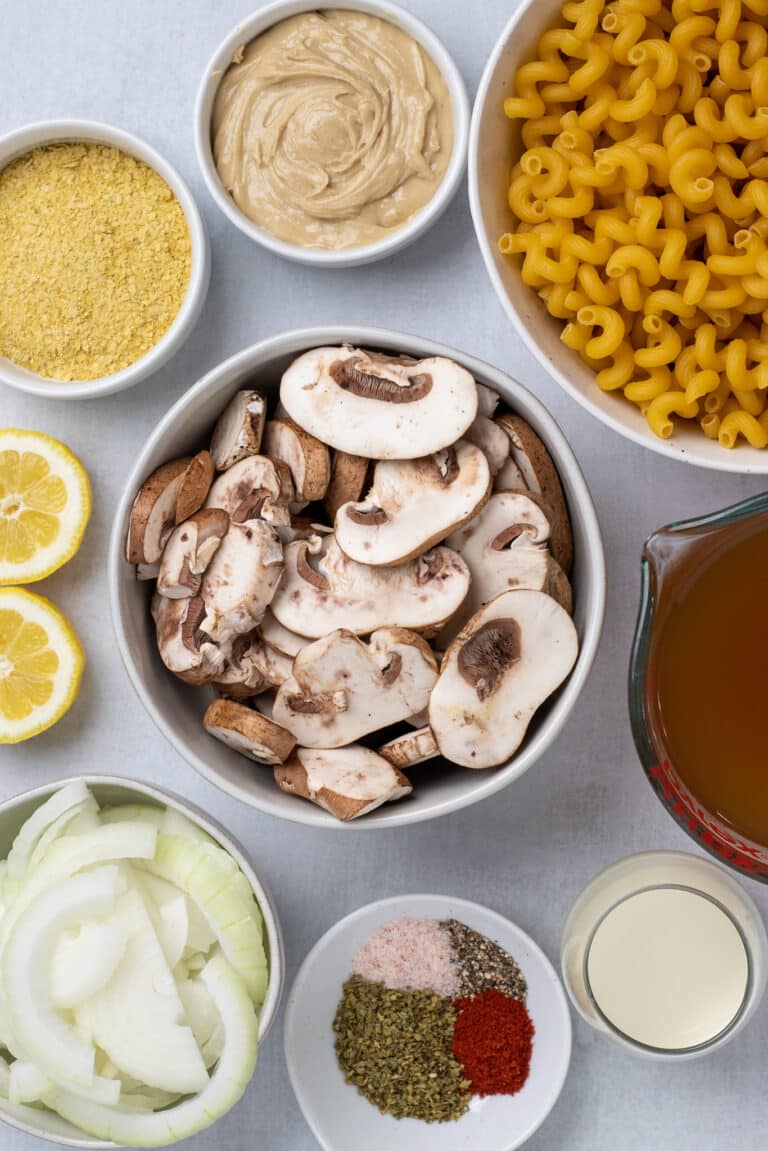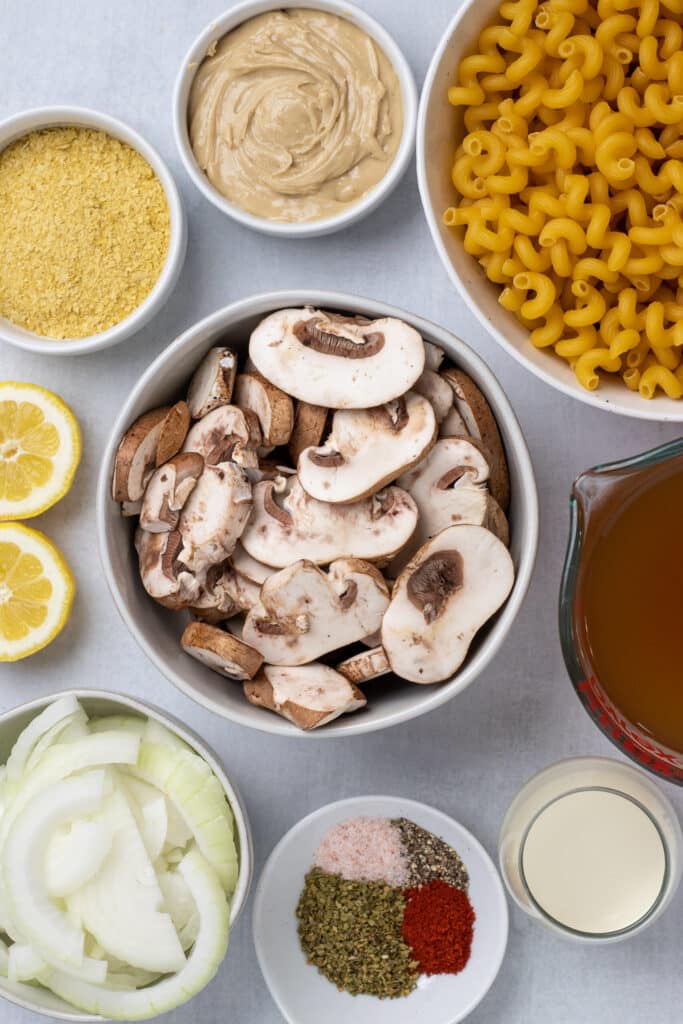 What You'll Need
So, you know you'll need pasta and vegetable broth for this recipe. You certainly could use water but you may need more spices since the broth has a lot of flavor of its own.
Mushrooms are not a necessity but they are delicious. Any vegetable should work--see below on customizing this recipe!
I also decided to use red pepper in this recipe for a little color, crunch and extra veggie. Use hot (like chili peppers) or mild (like bell peppers) to your preference! I used bells here because that's all I could find, and I'm somewhere in the middle on the spice spectrum :)
Spices like oregano, smoked paprika, and pepper add a lot to this dish but you can customize what you'll add. I also love a bit of nutritional yeast in this to give it a lightly cheesy flavor.
Speaking of flavors, a squeeze of lemon at the end and some parsley give this dish a wonderful brightness but they're not required. Further, you could use any vinegar to sub the lemon and use dried parsley instead.
Cashew butter, tahini, sunflower seed butter, or coconut milk are all great options for making this dish extra creamy, but aren't necessities either if you don't have them. But they are definitely recommended because, well, yum.
Finally, you may need a splash of nondairy milk to thin out your nut butter, but just add it a tablespoon or two at a time. It's easier to add more than to wind up with too much liquid! You can always try thickening your pasta with a little extra nutritional yeast if that happens.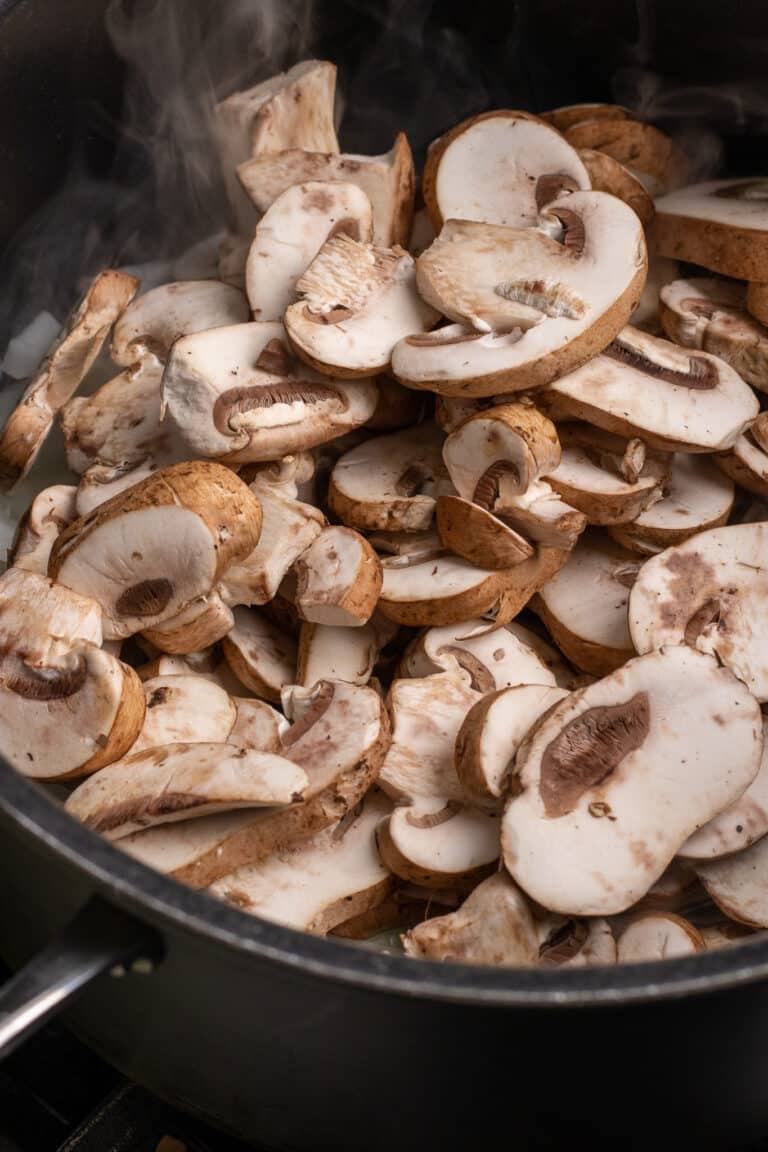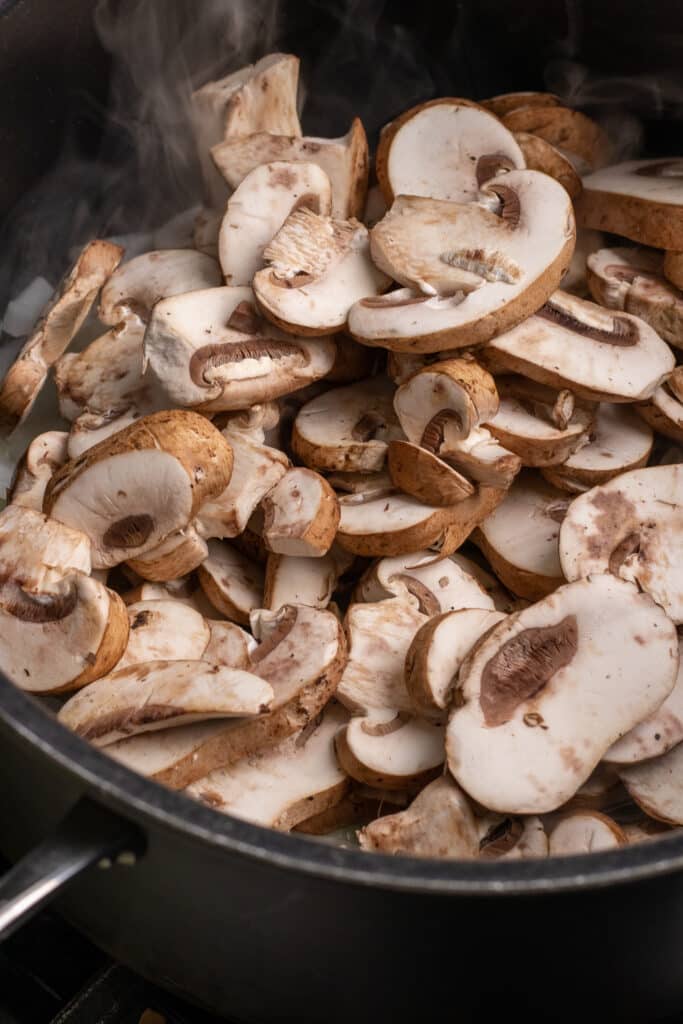 How to Make Creamy Vegan Mushroom Pasta
Making this dish is incredibly easy, and after you've made it once, you might want to add it to your regular meal rotation–I know I did. All you need to do is:
Saute your onion in a little water, then add the broth, pasta, and mushrooms. Bring it to a boil and then let it simmer until the pasta is done.
You can then add everything else and play with the spices until it's perfect for your tastes. No draining, no extra pots, and truly this takes only about 30 minutes depending on the power of your stove and the thickness of your pot.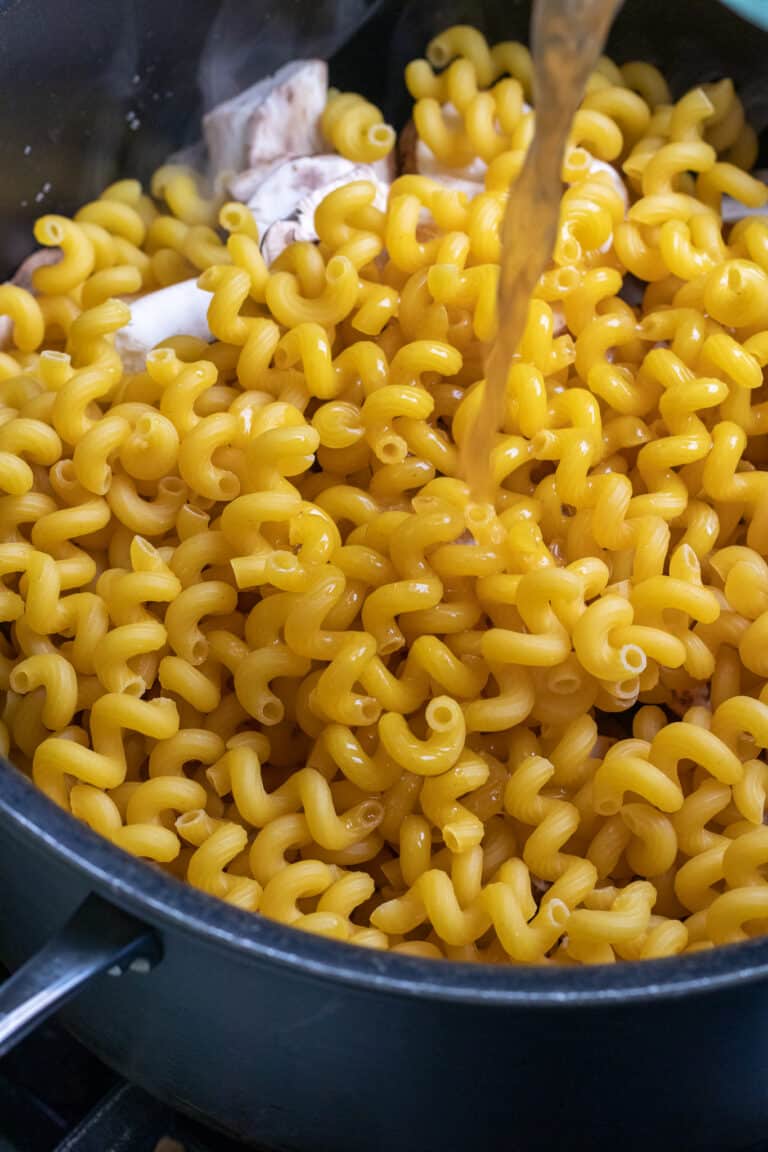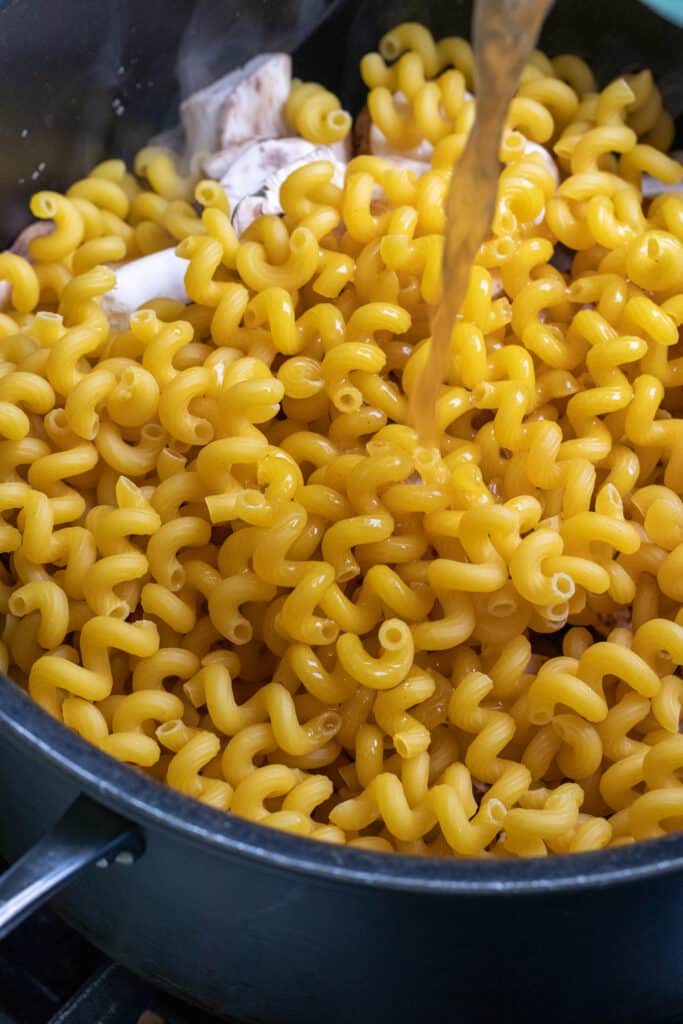 A Note About Pasta
I LOVE fun shaped pasta, so I used cellentani/cavatappi noodles in this dish, but you could use any type of pasta that you like. The one thing to be aware of is that if you pick a different type of pasta (such as bean pasta, gluten-free, or lentil), you may need to adjust your cooking time. Just keep stirring and tasting.
Whatever pasta you choose, as it cooks with the broth and mushrooms, it's going to soak up all that delicious, umami (savory) flavor. The rich, creamy sauce will then coat those noodles and mushrooms, making for an indulgent, yet healthy meal.
The spices add just a hint of smokey and spice to the flavor (add less black pepper if you're not a fan of spice, or add more if you wish) and the lemon and white wine vinegar are the perfect touch of acid to brighten the flavors.
Add a little salt (if you wish) and garnish with some fresh, chopped parsley and dig in. If you even have any leftovers (Mr. Zardyplants and I always polish off the whole pot, oops), you can store them in the fridge. If the pasta dries out a little, just add a little almond milk to it when reheating.
Ways to Customize This Recipe:
Made this before and want to make it again, but with a twist? Try some of these options and let me know how you like yours in the comments below!
When in doubt, add more veggies! This pasta would be excellent with some broccoli, squash, or eggplant!
Add garlic and/or tomatoes–this can really change up the flavor profile and I would highly recommend experimenting.
Change up the broth–use a mushroom-based broth for even MORE mushroomy flavor >:D or try a no-chicken broth (I like this one from Imagine Organic for a nifty flavor tweak!).
Add vegan parmesan cheese to the pasta when you're about to serve it. Try my vegan parm topping recipe.
Want More 30 Minute Meals?
I make a lot of 30 minute meals (many of them one-pot) because I too am pressed for time in the evenings. Even though I don't have kids but I do work full time and run a business full-time (I also do freelance writing, oy).
I get it.
So, if you'd like to add a few more quick vegan meals to your arsenal, check out some of the recipes below!
Chickpea Florentine Pasta (one pot)
Sheet Pan Roasted Vegetable Pasta
Double Chik'n Noodle Soup (one pot)
Anything Else?
As always, I hope you love this recipe–I know I do, and Mr. Zardyplants does too. This mushroom pasta is:
Creamy
Luscious
Cozy
Savory
A little nutty
Comforting
And PACKED with umami flavor!
Please let me know if you make this recipe and please tag #Zardyplants and mention me @Zardyplants so I can see your beautiful recreations! If you tag me on IG, I will share your post in my stories :)
Also, one quick request: if you love how this recipe looks or tastes, please leave me a 5-star rating and a nice comment–ratings help more people find my recipes which helps me keep providing them! Thank you!
<3 Liz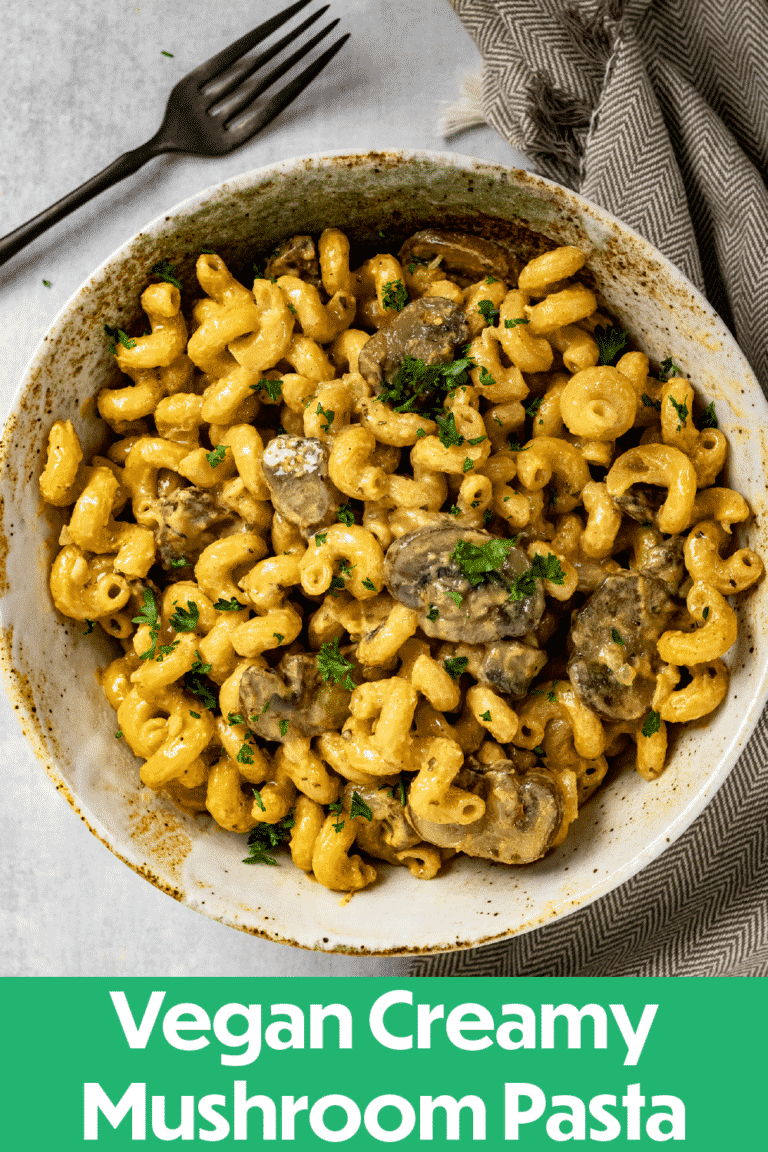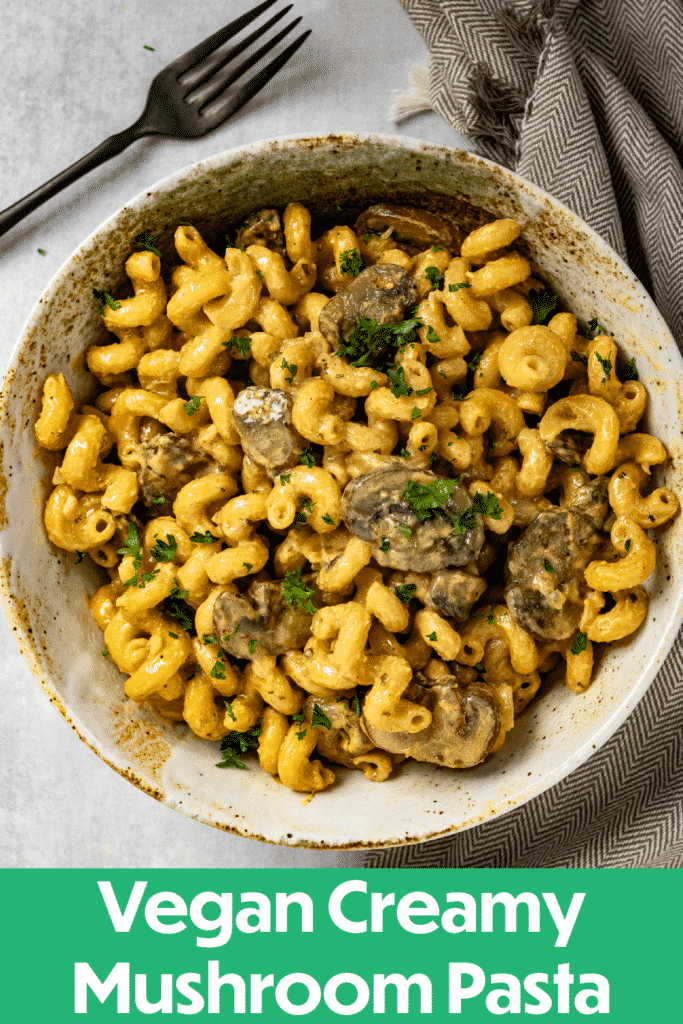 Follow me on Social Media!
Print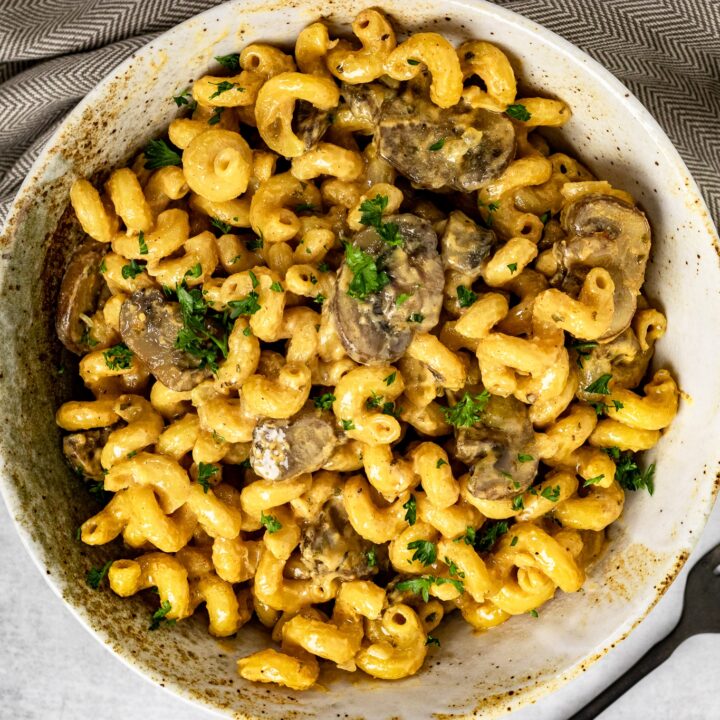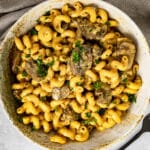 30-Minute Vegan One Pot Mushroom Pasta
---
Author:

Liz Madsen

Total Time:

30 minutes

Yield:

4

bowls

1

x

Diet:

Vegan
Description
Too busy for plant-based? Not with this Creamy Vegan Mushroom Pasta! With its creamy goodness only 30 minutes away, it will be no hassle!
---
One small onion, sliced

16

oz

mushrooms (any will work, I used crimini/baby Bella), sliced

4

cups

pasta of choice

4

cups

vegetable broth

½

cup

to 1 full cup chopped peppers of choice, optional

3 tablespoons

nutritional yeast

1 teaspoon

dried oregano

½ teaspoon

black pepper

½ teaspoon

salt

½ teaspoon

smoked paprika

2

-

3

teaspoons white wine vinegar
Juice of

1

large lemon or

2

small lemons

⅓

cup

cashew butter (or substitute tahini, sun butter, or the heavy portion of a can of full fat coconut milk)
Splash of unsweetened nondairy milk
Chopped fresh parsley to garnish
---
Instructions
In a large pot, saute your onion in a splash of water over medium-high heat until translucent, about 4 minutes.
Add broth, pasta, peppers, and mushrooms. Turn the heat up and bring it to a boil.
Lower heat to medium-low and let cook for about 10-15 minutes, stirring occasionally, until the pasta is tender.
Remove from the heat and add the spices, nutritional yeast, lemon, vinegar, and cashew butter. Stir it well. Add a little nondairy milk if the sauce needs to be thinner. If it needs to be thicker, add a little bit more nutritional yeast.
Garnish with fresh parsley and serve.
Refrigerate in an airtight container up to 5 days if desired. If it's thick when reheating, add a bit of nondairy milk.
Cook Time:

30 minutes

Category:

Entree

Method:

Stove Top

Cuisine:

Pasta
Keywords: Vegan, 30 Minute One-Pot, Pasta, oilfree
---
---
Other Recent Content!