Incredibly delicious and immensely satisfying, this protein-packed Vegan Buddha Bowl with Sweet Potatoes and Quinoa is easy to throw together, perfect for meal prep, and ready in 30 minutes or less! This bowl features an epic Lemon Miso Tahini Dressing, and the whole bowl is super easy to customize.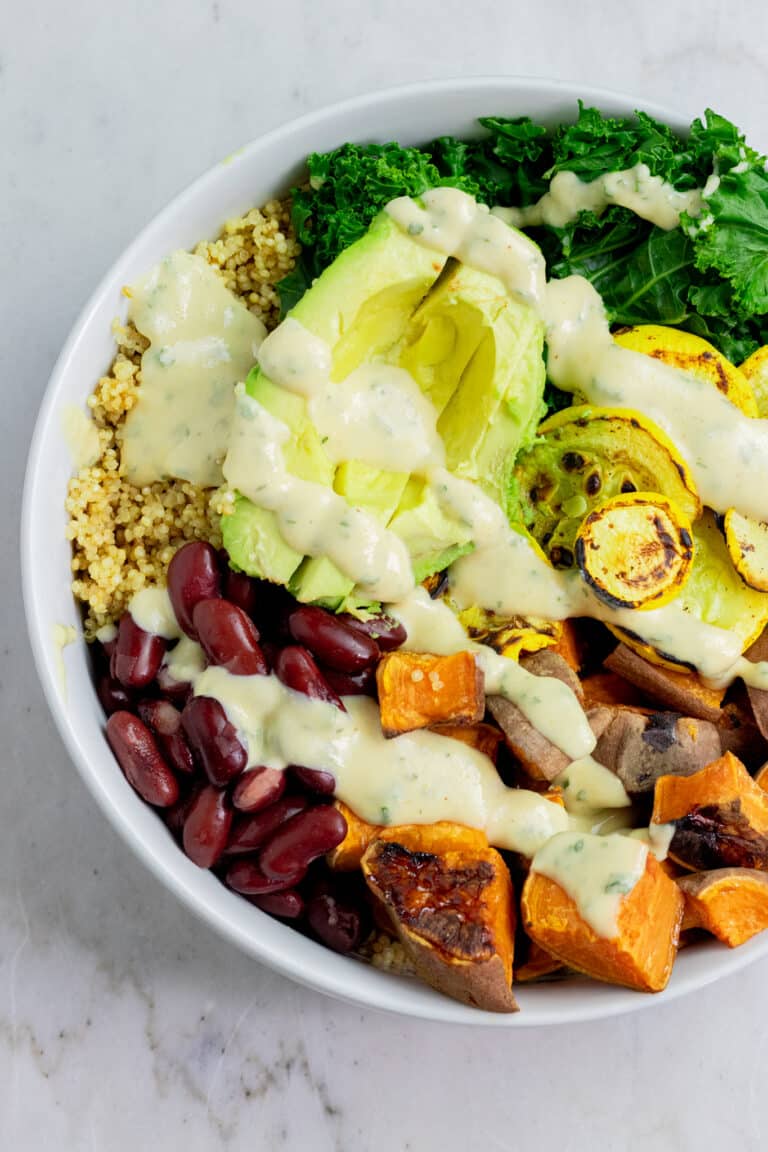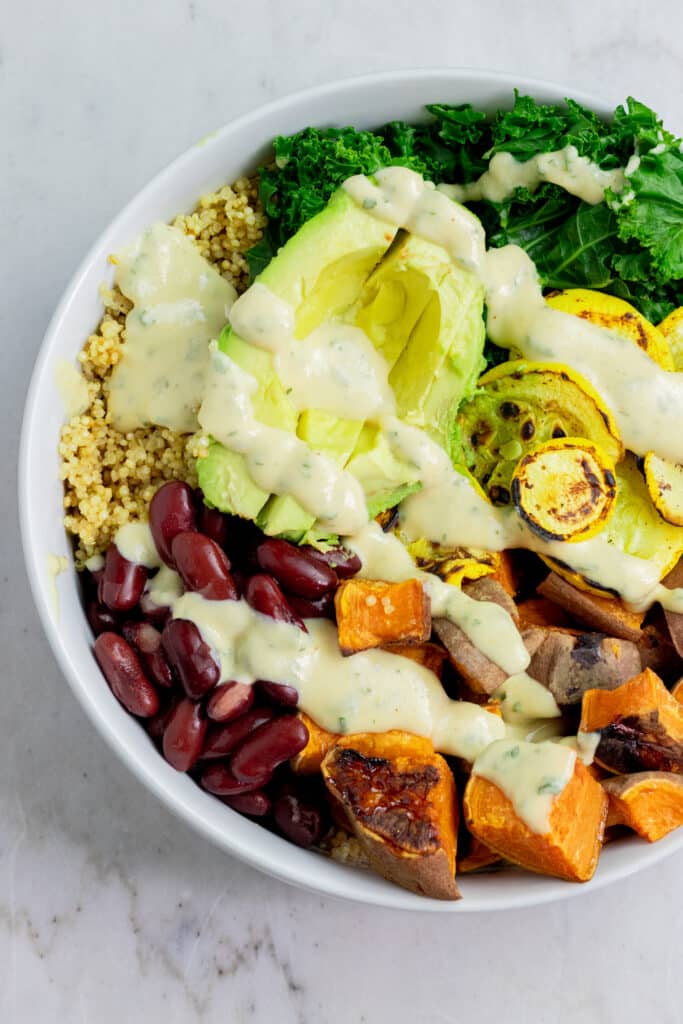 This post may contain affiliate links. See our disclosure policy for details.
Hey Internet, it's about time I published a recipe for one of my favorite meals: a Buddha Bowl! If you've never heard of a Buddha Bowl, it simply refers to a large bowl of food that is rounded like a Buddha belly. I think it's rather cute.
These bowls also sometimes go by other names: glow bowls, nourish bowls, bliss bowls, macrobowls, etc. It really just means a bunch of random, delicious plants in a bowl!
When creating a Buddha Bowl, you can be as random or as methodical as you choose. Simply use up random stuff near the end of the week before it goes bad OR carefully plan out what things will go well together.
If the former, my favorite trick to enjoying a bowl of somewhat opposite flavors is to tie it all together with an amazing dressing. My favorite sauce for this is my Lemon Miso Tahini dressing!
I used this exact sauce in my Sheet Pan Roasted Vegetable Pasta recipe and I have gotten so many wonderful comments on social media about it! I love when you all love my recipes; it makes me feel all warm and gooey like fresh baked--
Wait, no, we're not talking about dessert, *cue eye roll*... I'm always thinking about dessert, lol.
Anyway, the best thing about a Buddha Bowl is that it is SUPER customizable and you can kind of just throw anything together. This particular recipe is one of my favorites.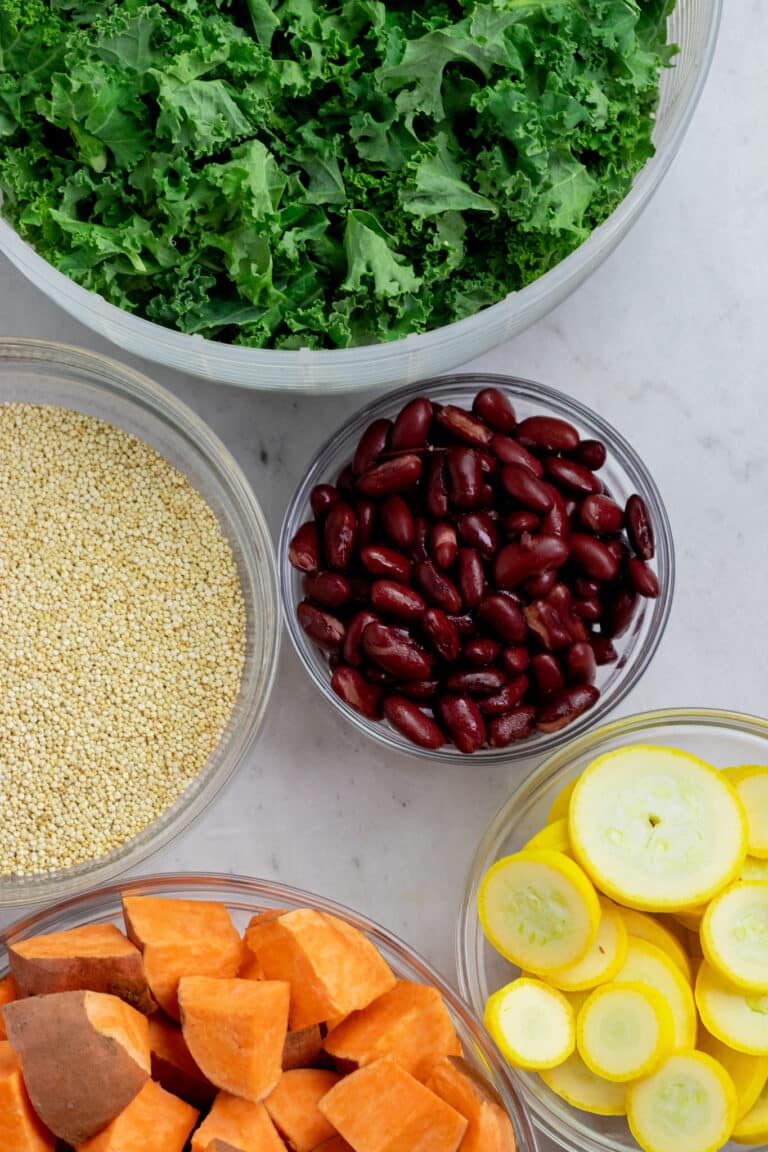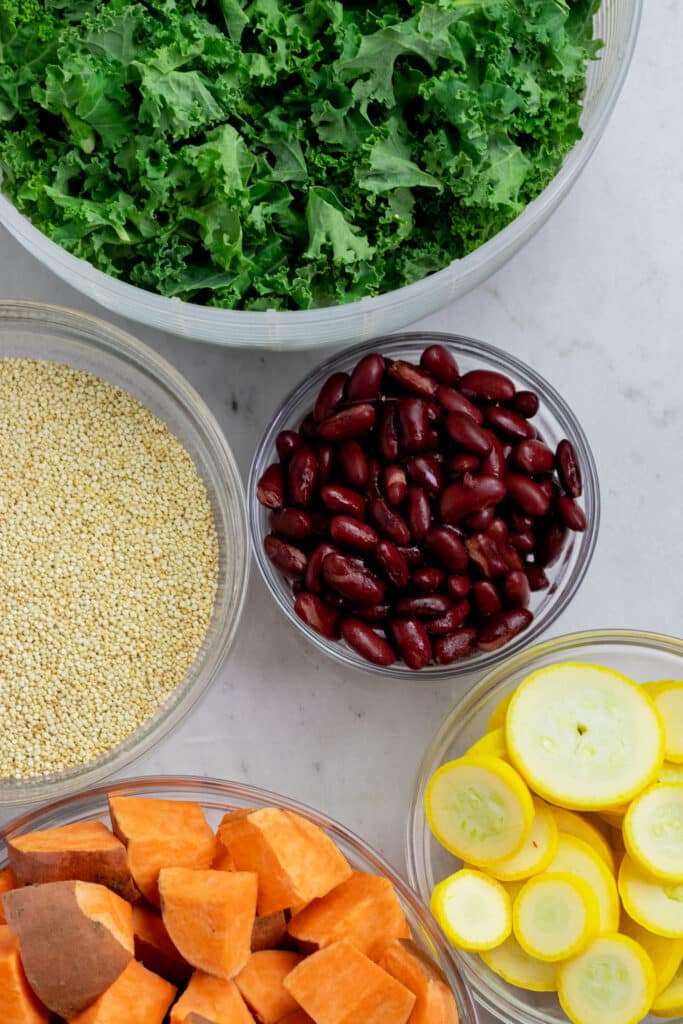 What's in this Vegan Buddha Bowl?
I'm not even the biggest fan of quinoa, and yet I LOVE it in this recipe. Same with sweet potatoes.
I know, I know--some of you are thinking "blasphemy!" But really, they're just a little too sweet for me sometimes.
But the dressing… oh the dressing. It helps to combat the sweet taste of the sweet potatoes and brings everything together so well.
And you all know I love kale. No really, I'm not being sarcastic.
It's all steamy and delicious in this recipe. You can remove the stems if you like, but I like that light crunch it gives (the stems will not be as hard and stalky as raw kale, FYI).
This bowl also features some yummy, fresh grape tomatoes, pan cooked yellow squash (it was a sad little thing in my vegetable drawer so I had to include it) and some kidney beans for an extra protein boost.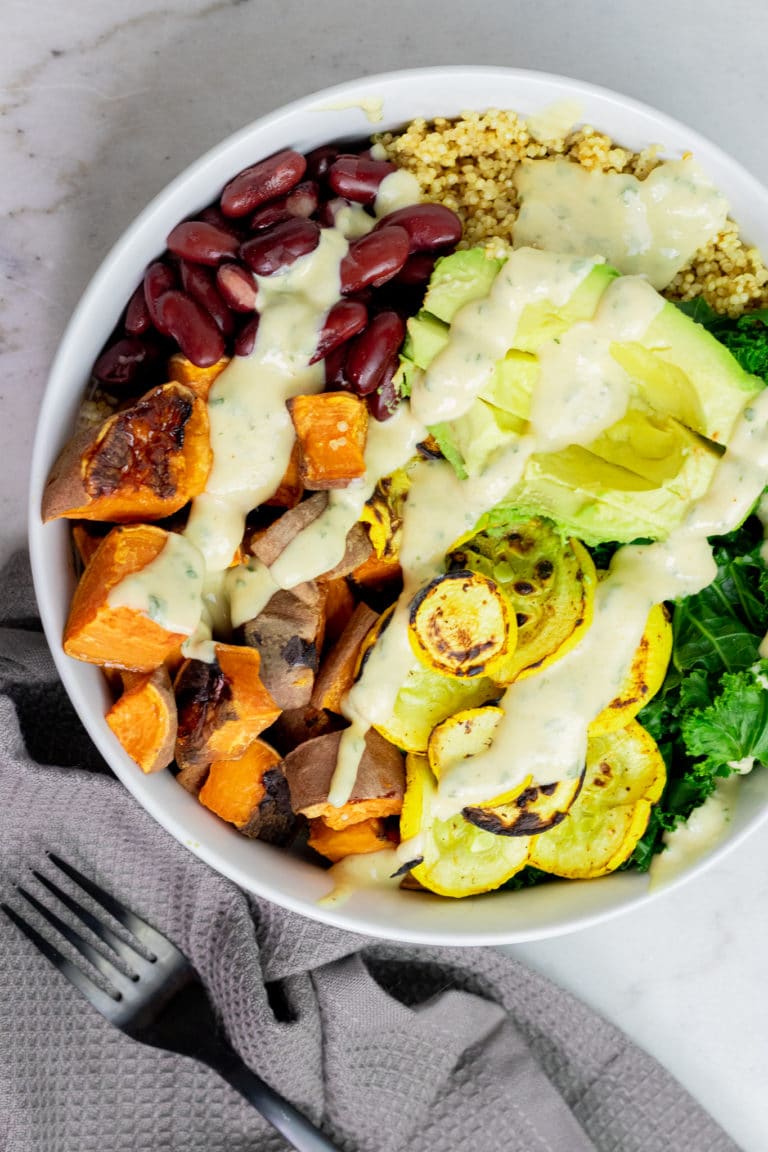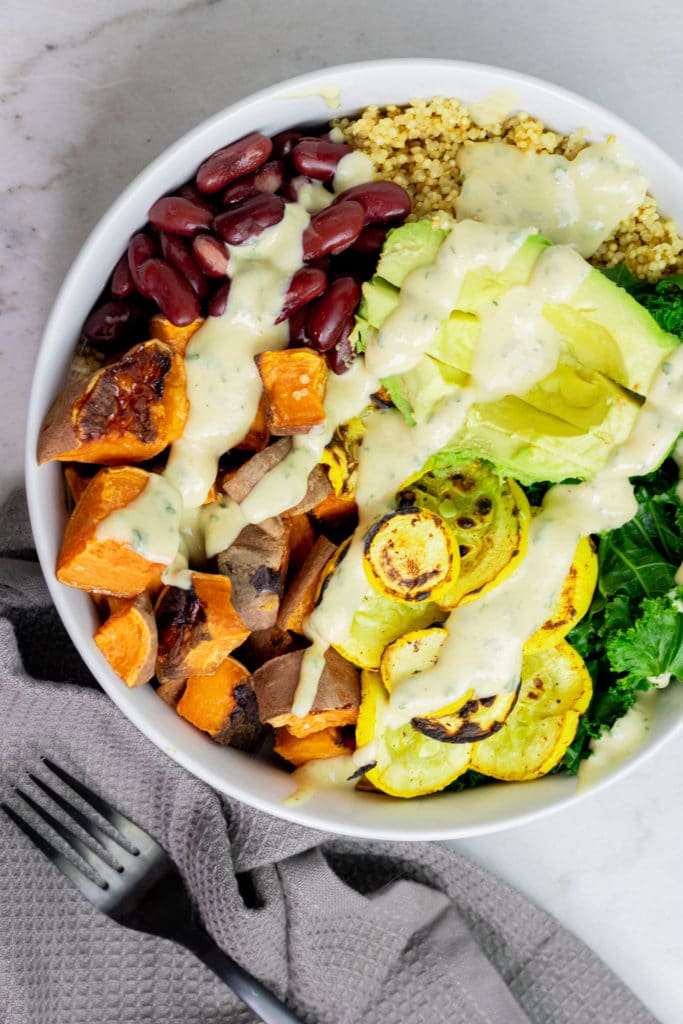 Finally, I plopped half an avocado on there because avocado. It doesn't need an explanation. ;)
What Substitutions Can I Use?
The sky is kinda the limit here. You can do whatever you'd like.
REALLY don't like sweet potatoes? Use regular potatoes.
Don't like kale? Use spinach or another green.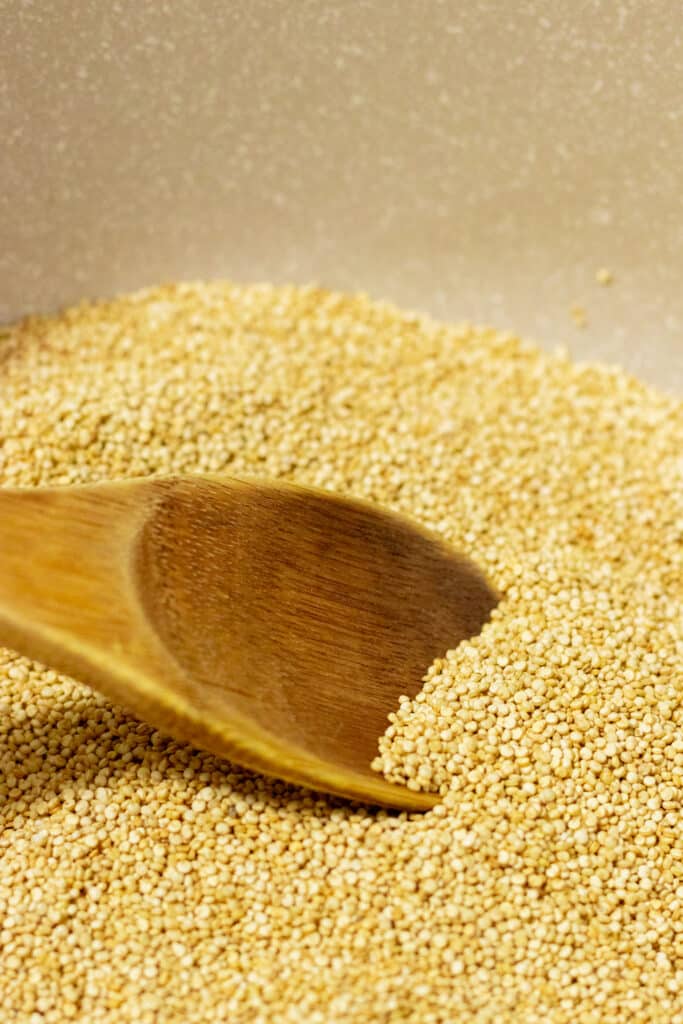 Hate quinoa with a passion? Use rice or another grain.
Want a different protein? Use tofu, tempeh, soy curls, or seitan chunks.
Use a different dressing if you like. Sometimes I just use hummus.
Like I mentioned earlier, a Buddha Bowl is my go-to when I have random veggies leftover at the end of the week.
If you're someone who batch cooks their grains at the beginning of the week, you can have a dinner bowl ready in under 10 minutes! Just mix and match, throw things in a bowl, pour on a sauce, and enjoy!
I think Buddha Bowls are best when they're a mix of raw and cooked, sweet and savory, light and filling, and all full of plantiful goodness.
How to Make This Vegan Buddha Bowl
It starts with roasting our sweet potatoes in the oven. I highly recommend using a silicone mat on your baking tray.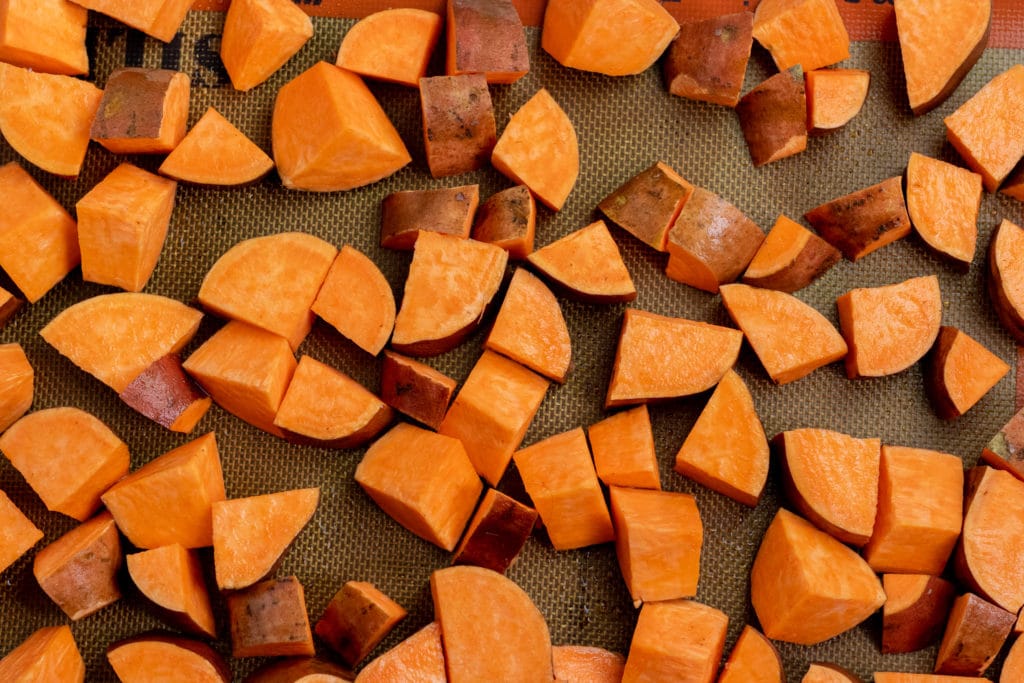 Halfway through, we'll start to cook our quinoa.
Near the end, we'll steam our kale, warm up our beans, and chop our tomatoes and avocado.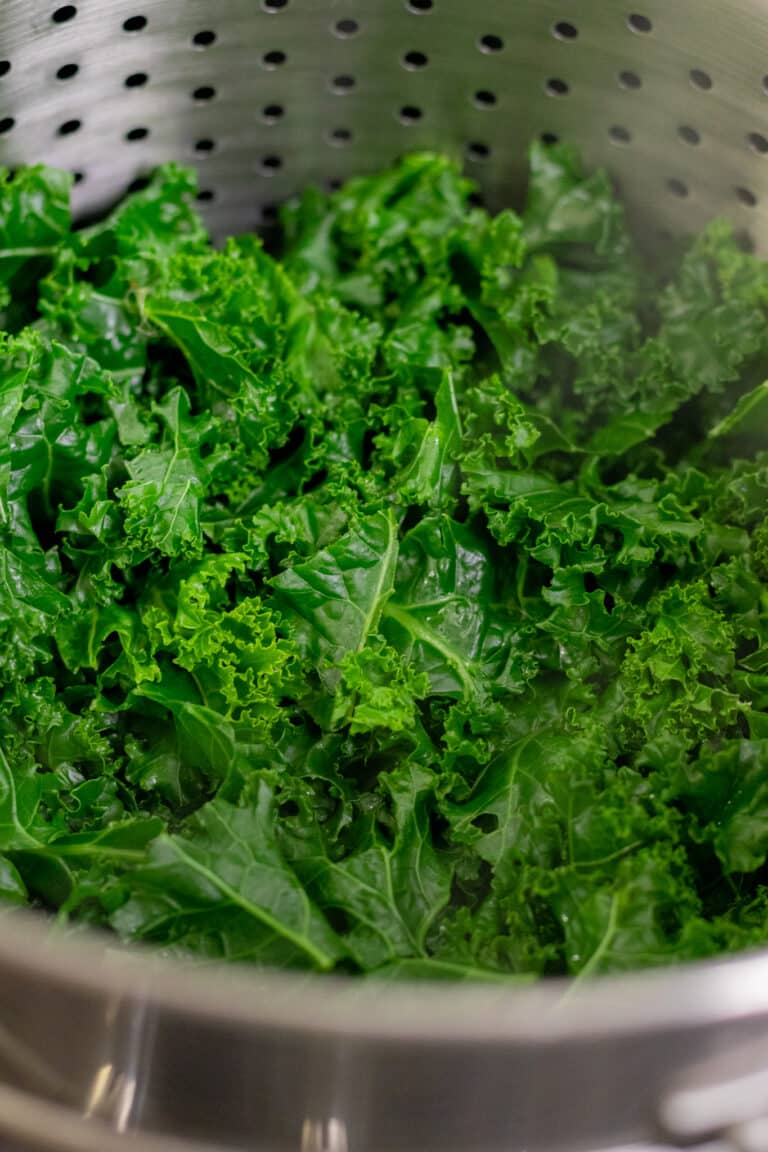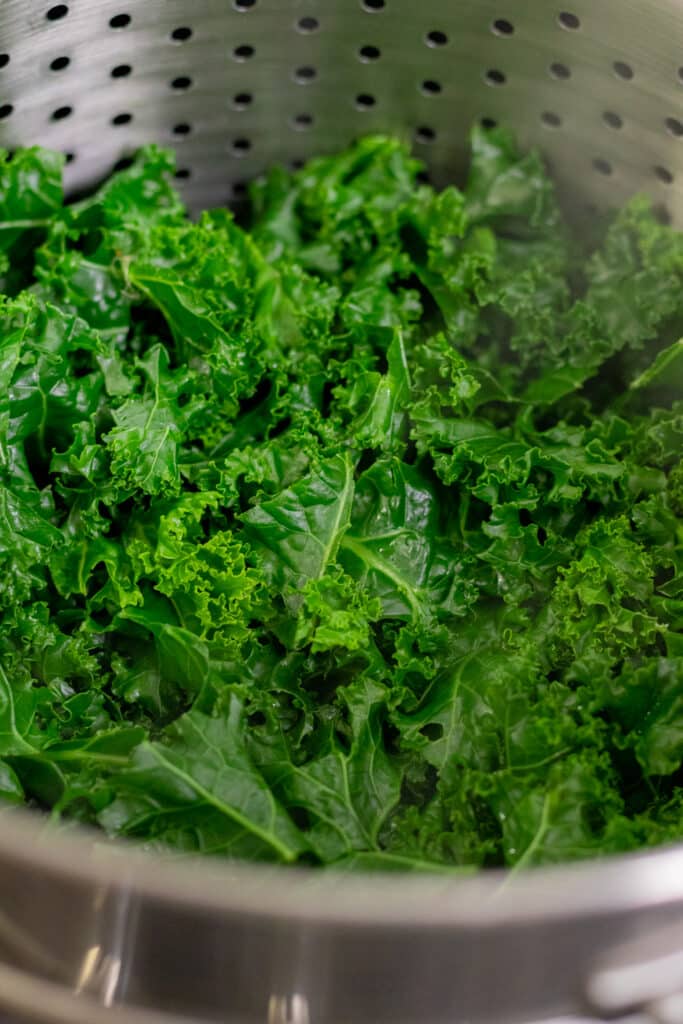 BTW, for steaming the kale and other veggies, a proper steaming set is wonderful and a serious game changer (that little foldable steamer basket didn't work well for the large amount of veggies I like to steam!).
While things are cooking is a perfect time to prepare your Lemon Miso Tahini dressing.
Tip: you may not use all of your dressing, but you can save it to use in repeats of this meal or other meals throughout the week. Store it in a glass jar or container.
When it's all done, just throw it in a bowl and drizzle (or dump) on your dressing. Mix and enjoy!
Like 30 Minute Dinners?
Me too! Sometimes the last thing I want to do after a long day of work is cook a long or complicated meal.
Here's a few of my favorite quick vegan meals!
Chickpea Florentine Pasta (one pot)
Creamy Mushroom Pasta (one pot)
Sheet Pan Roasted Vegetable Pasta
Double Chik'n Noodle Soup (one pot)
Hearty Lentil Vegetable Stew (one pot)
"Fish" Tacos with Tangy Cabbage Slaw and Chipotle Aioli
Weeknight Tofu Vegetable Curry
Anything else?
As always, I hope you love this recipe!
Let me know in the comments below if you make it, tag me @Zardyplants on Instagram so I can see your beautiful recreations! If you tag me on IG, I will share your post in my stories :)
Also, one quick request: if you love how this recipe looks or tastes, please leave me a 5-star rating and a nice comment–ratings help more people find my recipes which helps me keep providing them! Thank you!
<3
Liz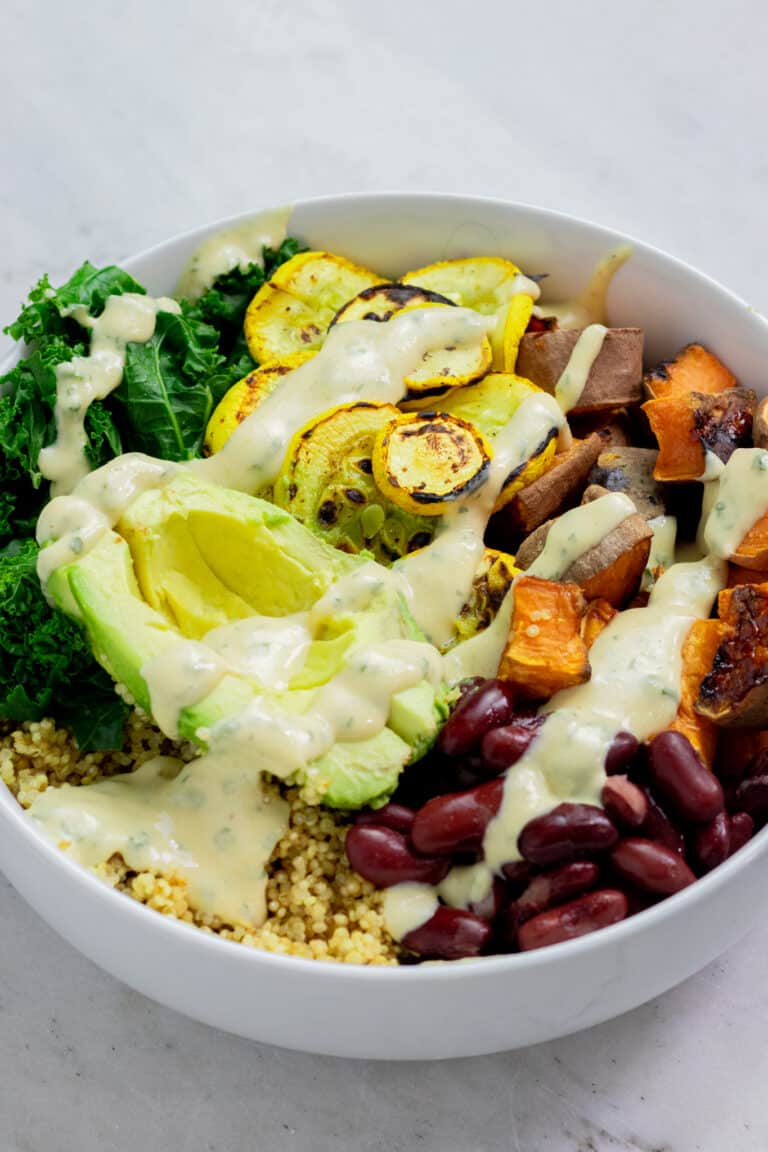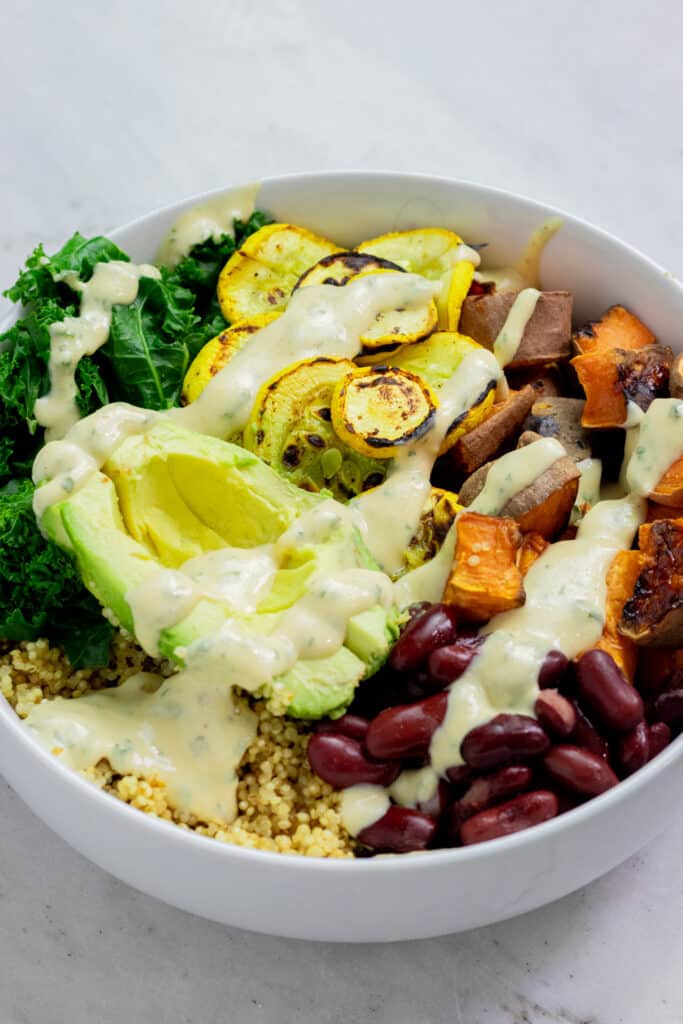 Follow me on Social Media!
Print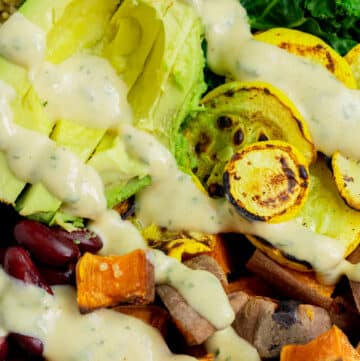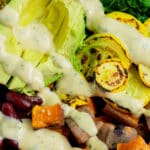 Vegan Buddha Bowl with Sweet Potatoes and Quinoa
---
Author:

Liz Madsen

Total Time:

30 minutes

Yield:

4

servings

1

x

Diet:

Vegan
Description
Incredibly delicious and immensely satisfying, this protein-packed Vegan Buddha Bowl with Sweet Potatoes and Quinoa is easy to throw together, perfect for meal prep, and ready in 30 minutes or less! This bowl features an epic Lemon Miso Tahini Dressing, and the whole bowl is super easy to customize.
Vegan, Oil-free, Gluten-free, Nut-free, Sugar-free, Soy-free
---
4

medium sweet potatoes, washed, sliced in ½" medallions and quartered

1.5 cups

dry quinoa

3 cups

water

1

yellow squash (or sub broccoli, zucchini, eggplant, cauliflower, etc.)

1

pound kale, washed, roughly chopped

1 cup

grape tomatoes, halved

1.5 cups

(or

1

-

15

oz can) kidney beans, drained and rinsed

1

batch Lemon Miso Tahini dressing
Avocado for serving, optional
---
Instructions
Place cut sweet potatoes in a 425 degrees F (218 degrees C) oven on a lined baking tray. Spritz them with water (salt and pepper if you desire, but I find they don't need it if I'm using a dressing).
While sweet potatoes are cooking, prepare Lemon Miso Tahini dressing.
At the 15 minute mark, remove sweet potatoes from oven, mist with water, and put back in oven. This keeps them from drying out.
Rinse your dry quinoa and add to a pot. Add 3 cups of water and stir. Bring to a boil, then turn the heat down to medium. Stir occasionally.
For your yellow squash or other veggie, you can either roast it or pan cook it. To roast it, throw it in the oven for the last 15 minutes of baking. Just place each slice on a lined baking tray in a single layer. To pan cook it, heat a skillet over medium high heat. I cooked it for about 10 minutes, flipping often. I did not need to use any water or anything in the pan, but add it if you need to.
If you haven't washed and chopped your kale, do it now. Trim the thickest part of the stem if desired. I find they have a nice crunch in this bowl, but to each their own.
When the quinoa has absorbed all the water and the germ is exposed (the quinoa will appear to have white "threads" on top), remove it from heat.
Steam the kale: Boil about ½ inch water in a steamer pot. Add your kale to the steamer basket, put the lid on the pot, and cook for 2-4 minutes, depending on how soft you like your kale.
Heat up your beans in the microwave or a small pot. Halve your tomatoes.
Put everything together in a bowl and drizzle on the dressing. Enjoy!
Leftovers will keep up to 5 days in the fridge. Recommend to store items separately to mix and match.
Notes
Place Nutritional information does not include dressing or optional add-ons.
Cook Time:

30 minutes

Category:

Entrees

Method:

Oven, stove

Cuisine:

American
Keywords: vegan buddha bowl, 30 minute dinner, quick vegan meals, sweet potato recipes, quinoa recipes, vegan, gluten-free, oil-free, soy-free, sugar-free, nut-free
---
---