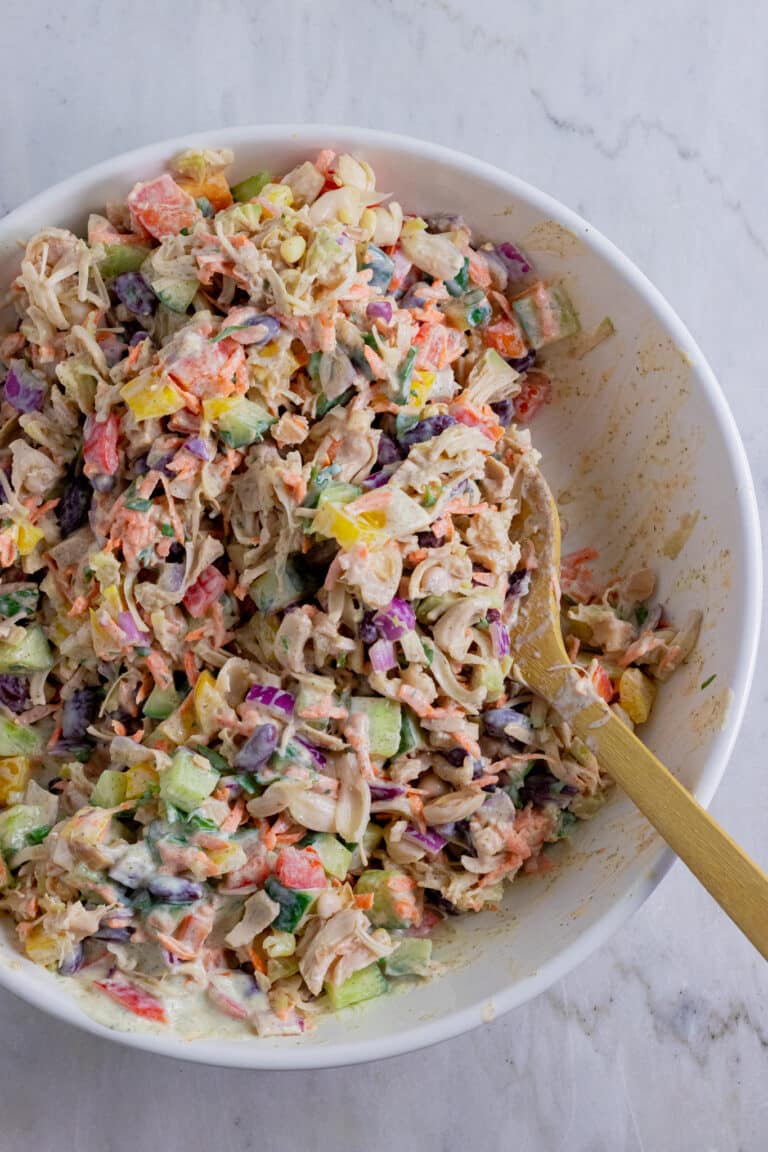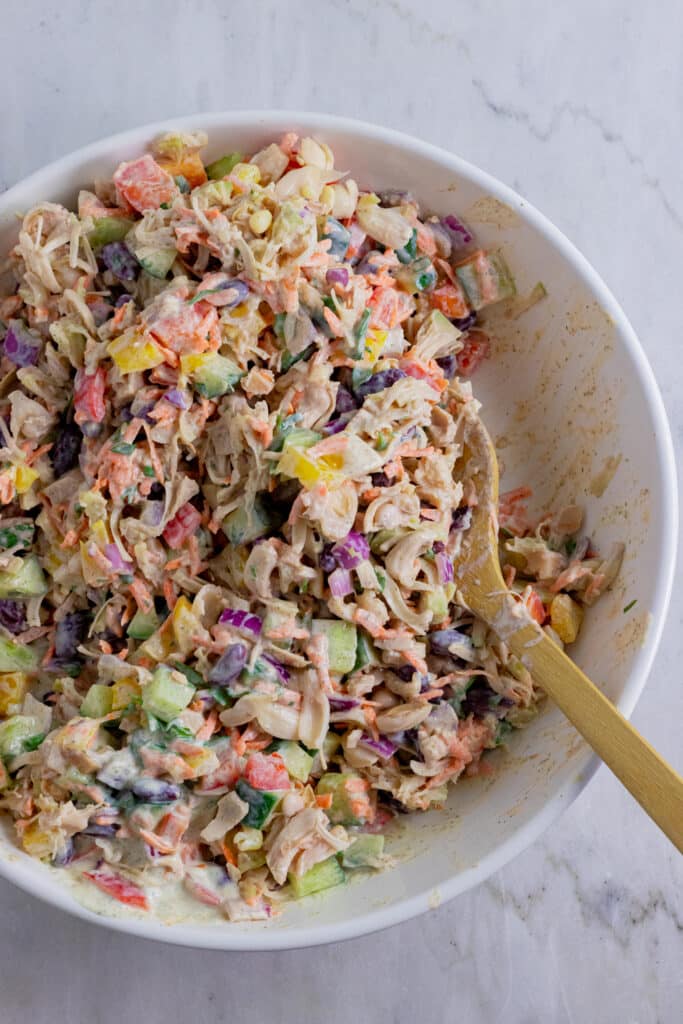 This Vegan Chicken Cucumber Salad is delicious any time of the year, but particularly yummy in warmer weather. It also makes an easy dish to batch prep on Sundays for easy work or school lunches all week. Mix it up by wrapping some in a tortilla, or serve it over rice for a heartier meal.
Hey Internet, are you ready for a fun salad recipe? I HATE boring salads!
I love to make mine fun with unique elements like jackfruit, colorful veggies, beans, grains, nuts, fruit, etc.! This salad definitely includes some of my favorites, and the fresh, creamy dressing is so satisfying.
The rainbow of veggies in this salad is so fun! Did you know different colored veggies have different nutrients? For example, carrots are high in beta carotene but so are orange bell peppers!
If you don't like one of these veggies, you can easily substitute another.
I can think of many other veggies that would be great, including cabbage, broccoli, sugar snap peas (or snow peas), green onion/scallion, etc.
Getting in a variety of colors in your vegetables means you're getting in a variety of nutrients so go ahead and eat the rainbow (not sponsored by Skittles lol)!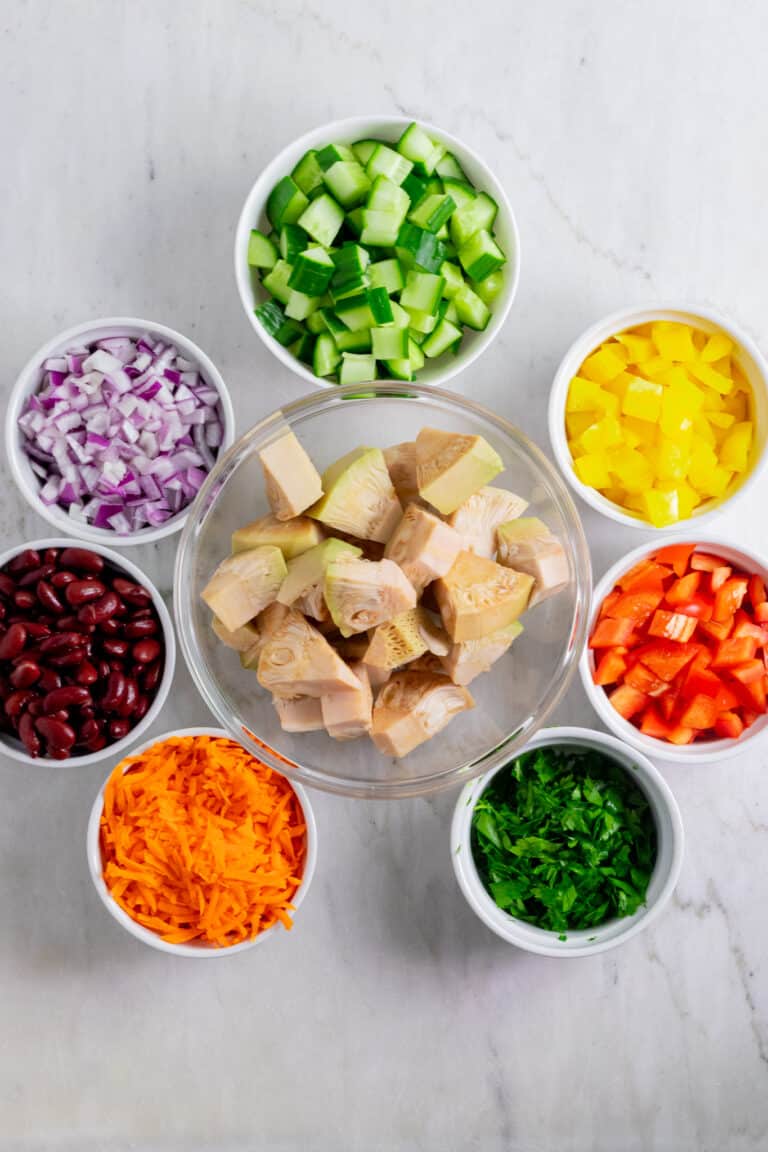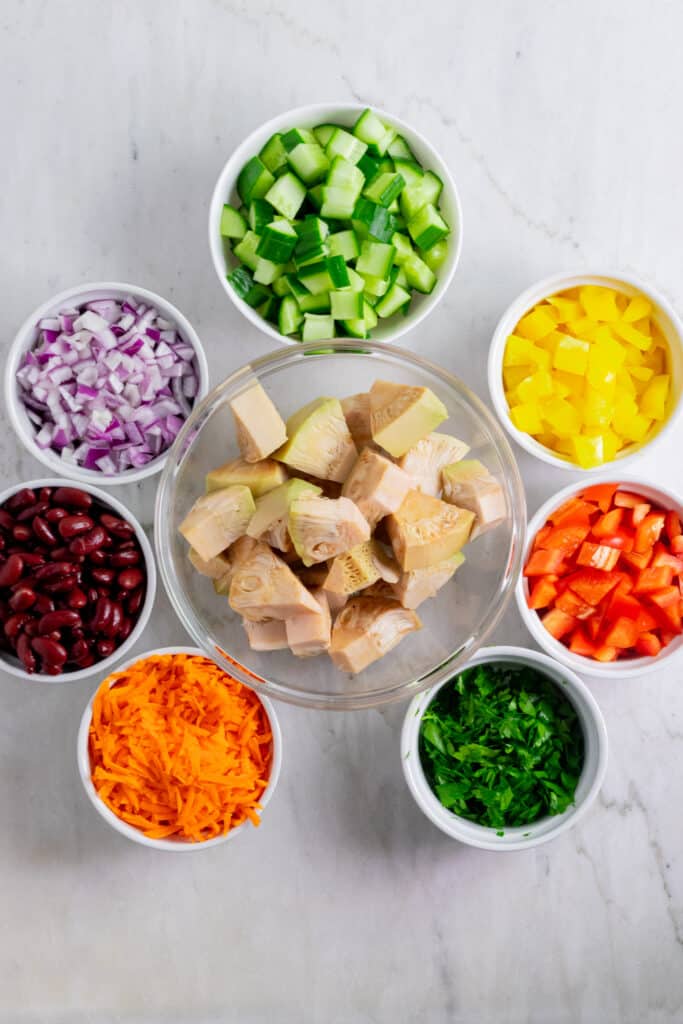 What Do You Need to Make Vegan Chicken Cucumber Salad?
To make this delicious, creamy salad, you'll obviously need some veggies. I included red bell peppers, grated carrots, yellow bell peppers, parsley, and cucumbers. You can use any you'd like -- even add fruit (grapes would be great in this!).
To bulk it up I added red kidney beans, but any beans will work. Even lentils!
For the vegan chicken I used jackfruit, but specifically I used green jackfruit.
Green jackfruit, also known as Young Jackfruit, is not ripe like the kind you can buy whole or cut at grocery stores (I've seen them mostly at Asian markets).
It usually comes in a can or shrinkwrapped, and it has a much more mild flavor. I like Trader Joe's brand but you can also buy Young Jackfruit online.
Make sure to wash your jackfruit thoroughly before using.
I use my jackfruit raw in this recipe and it's delicious, but you can also cook it. I make a mean Vegan Double Noodle Chik'n Soup with jackfruit.
For the dressing I used tofu, lemon, salt, garlic, and dill. If avoiding soy, you can use soaked cashews or you could just use plain vegan yogurt! I love Kite Hill for this.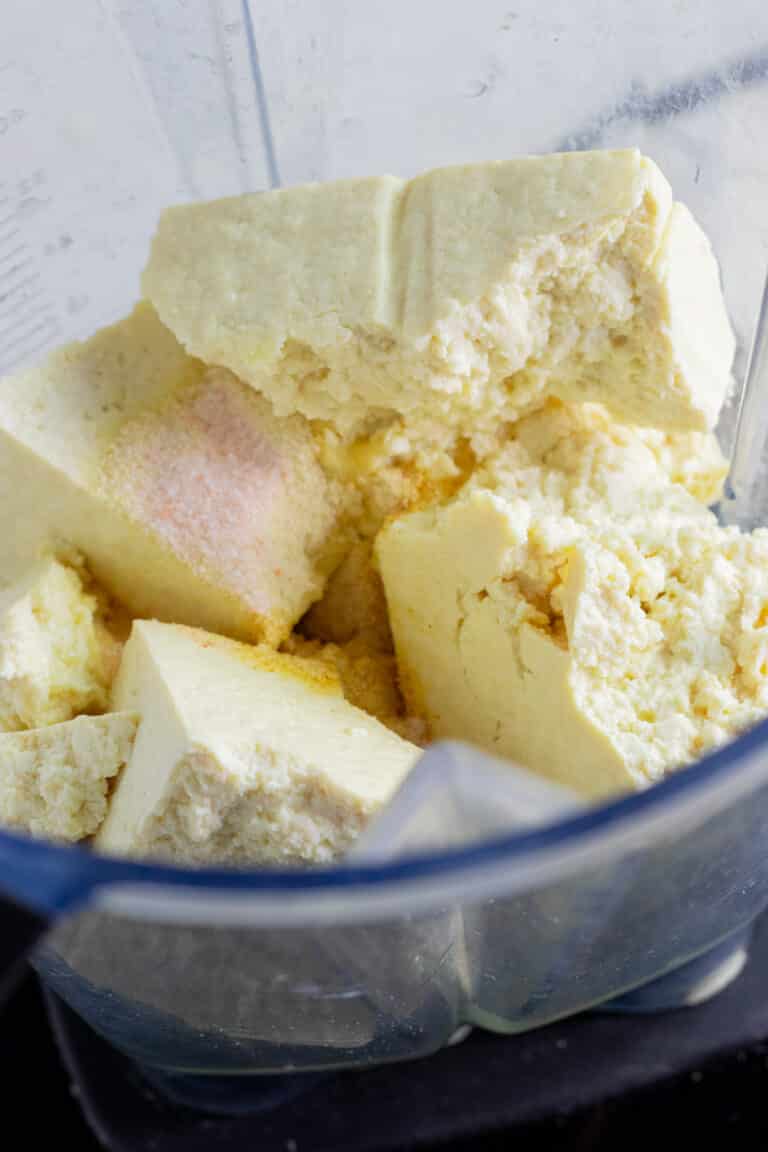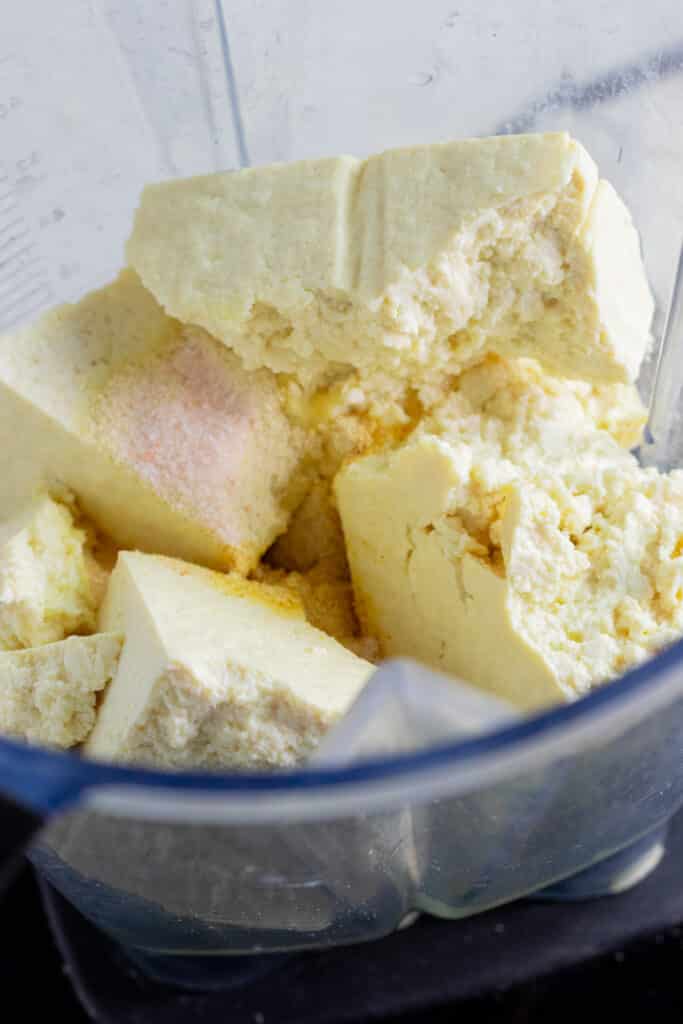 How to Make Vegan Chicken Cucumber Salad
Did I mention how easy this salad is to make? There are only a few steps: chop your veggies, drain and shred your jackfruit, make the dressing, and then throw it all together!
Make sure you rinse your young jackfruit very well or it may taste briney.
The easiest way I've found to shred jackfruit is to put in a clean kitchen cloth, close it up and rub it together, shredding the inside. However, if you still like to have some small chunks, I wouldn't recommend this method.
I like to add the jackfruit to a strainer over a medium bowl (so I can be draining out the water while I shred it, and shred it with my fingers. If there are seeds in your jackfruit, compost or discard them.
To make the dressing, just add all the ingredients except the dill to a blender and blend until smooth. I like to add the dill in at the last second of blending so it doesn't get too blended (that turned my dressing green once!).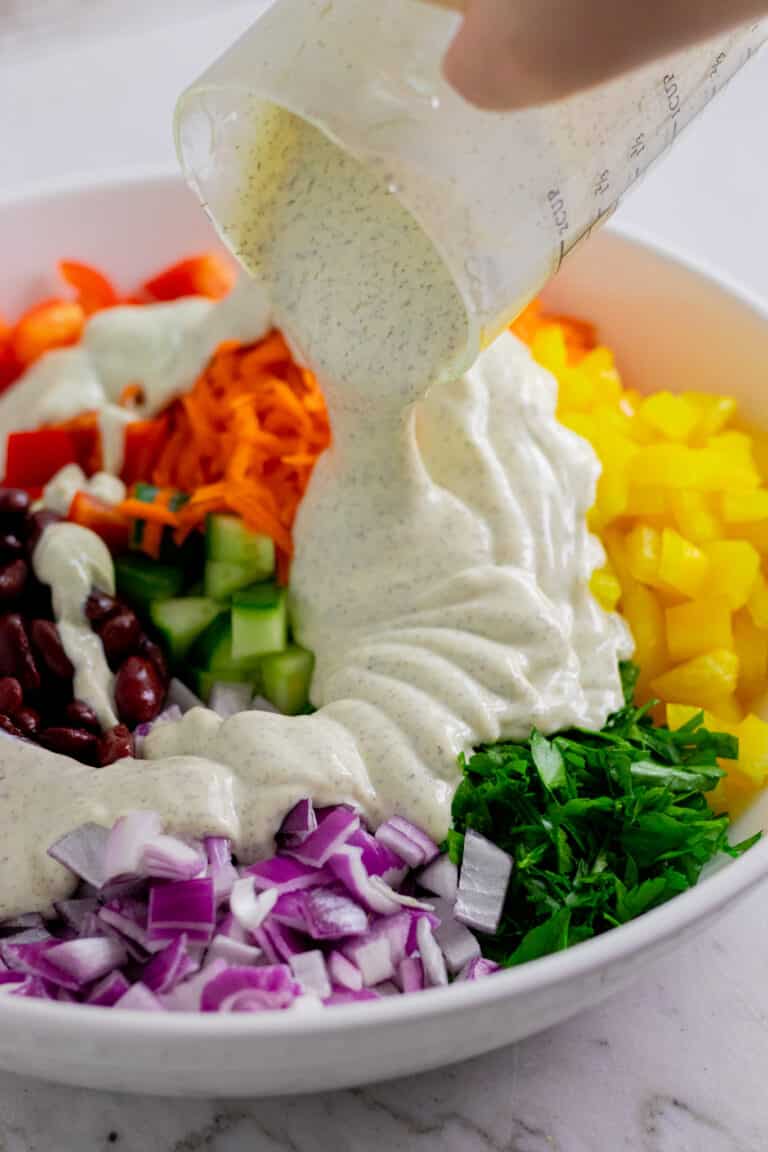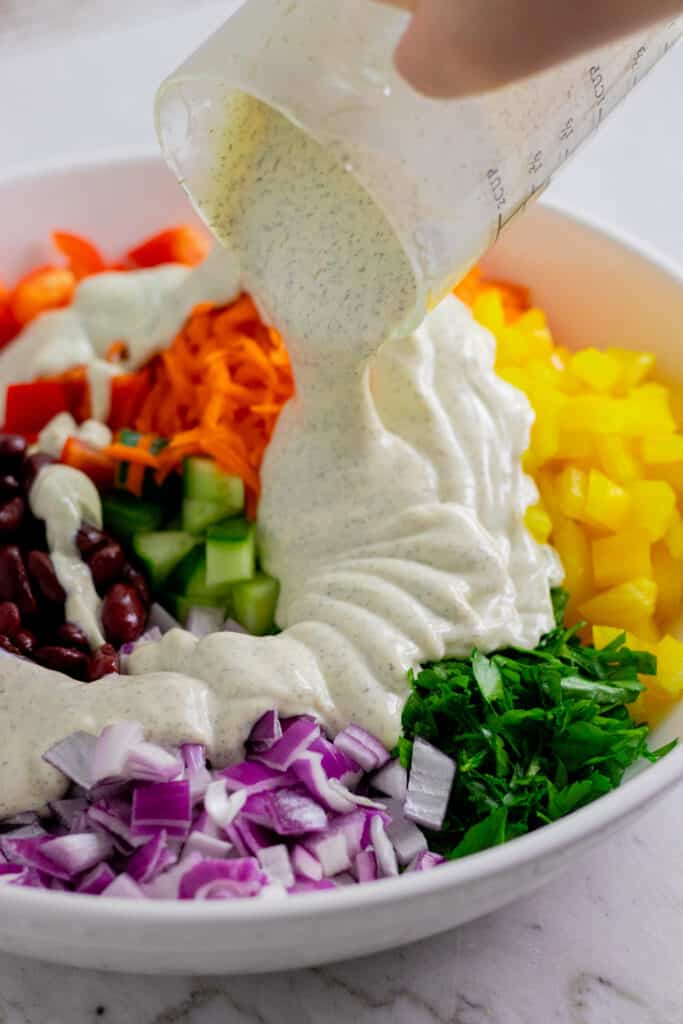 Want More Salads and Light Meals?
If you know me and my blog, you know I like to make decadent foods like this matcha pound cake and delicious cheese, but I also like lighter meals sometimes!
Have you tried my Vegan Kale Caesar Salad with Chickpea Croutons yet? It's delicious, filling, and super healthy of course.
I also have a really fun Fall salad I like to make for Thanksgiving. It's called Pomegranate Orange Pecan Thanksgiving Salad and I am OBSESSED with the dressing.
Speaking of dressings, if you're looking for a go-to salad dressing, my favorite is this Lemon Tahini Miso dressing, which I've had friends rave about.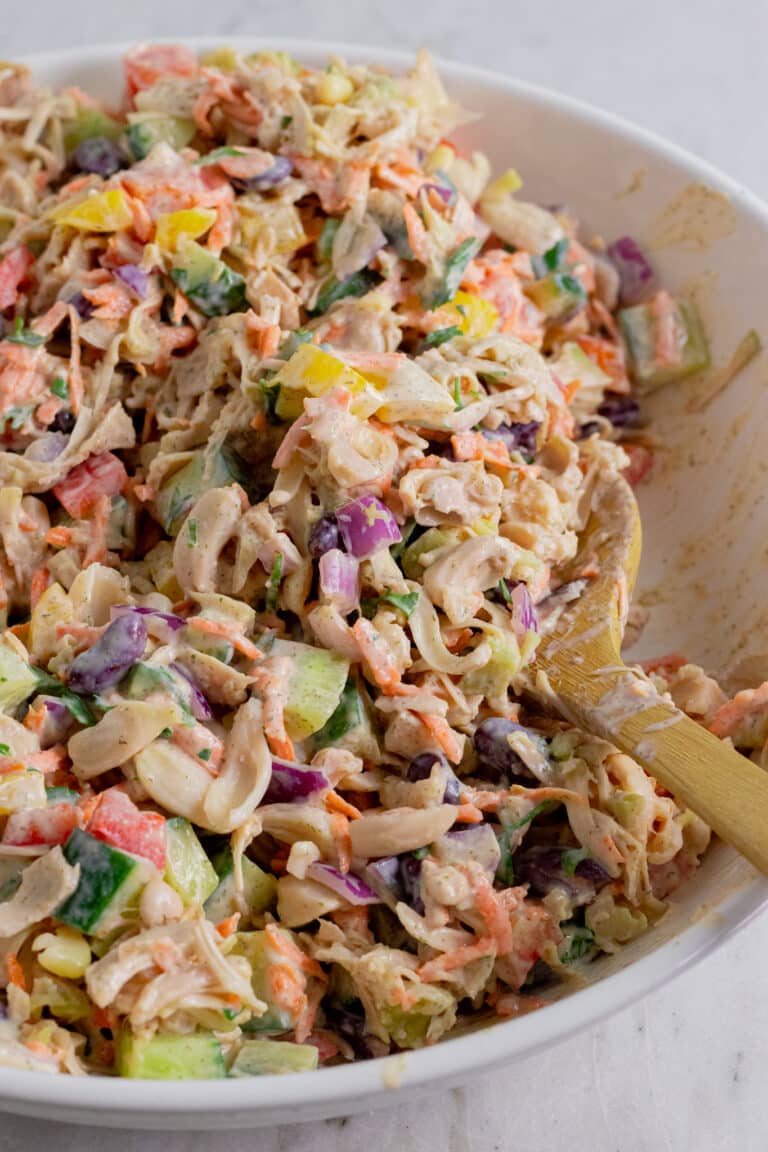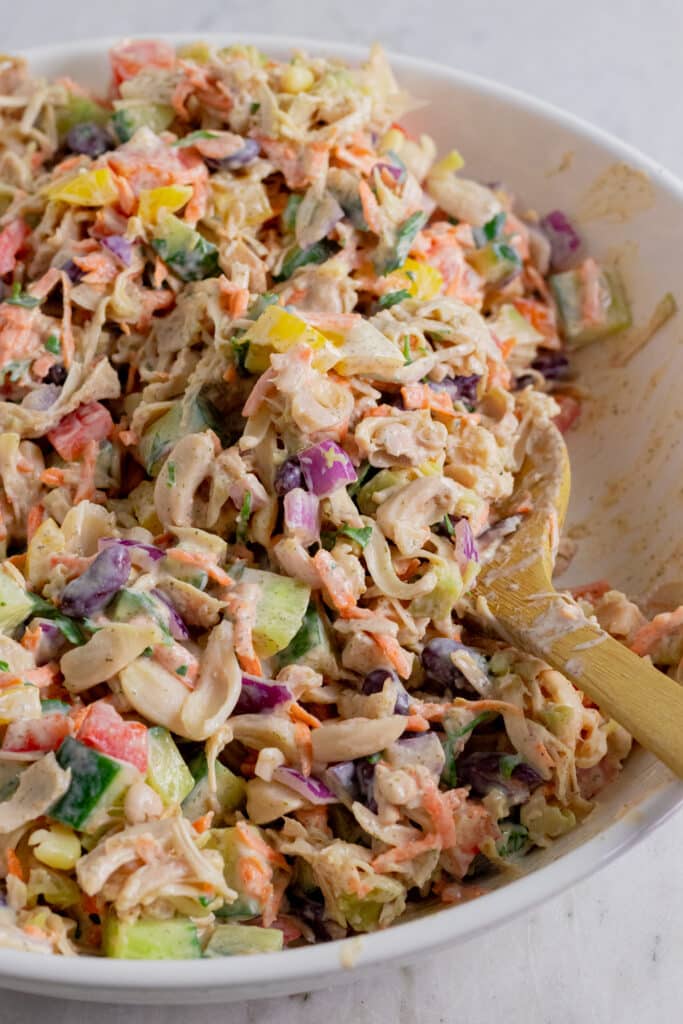 Anything Else?
This recipe is pretty simple, but good enough to take to a potluck or party. It also packs incredibly well for a picnic lunch or sporting event. Chow down on something healthy (to earn that cookie for dessert!).
If you've never had jack fruit before, I urge you to give this recipe a try. The jack fruit does not have much flavor of its own, but easily takes on the garlicky dill flavor of the rest of the salad.
The jack fruit has a meat-like texture that will leave you satisfied but not sleepy like poultry can for some people (including me). And even if you aren't vegan, this salad is incredibly light and nutritious, so it makes a perfect side or meal, depending on how much you put on your plate.
As always, I hope you love this recipe--I know I do.
Let me know in the comments below if you make these onions, tag me @Zardyplants on Instagram so I can see your beautiful recreations! If you tag me on IG, I will share your post in my stories :)
Also, one quick request: if you love how this recipe looks or tastes, please leave me a 5-star rating and a nice comment–ratings help more people find my recipes which helps me keep providing them! Thank you
<3 Liz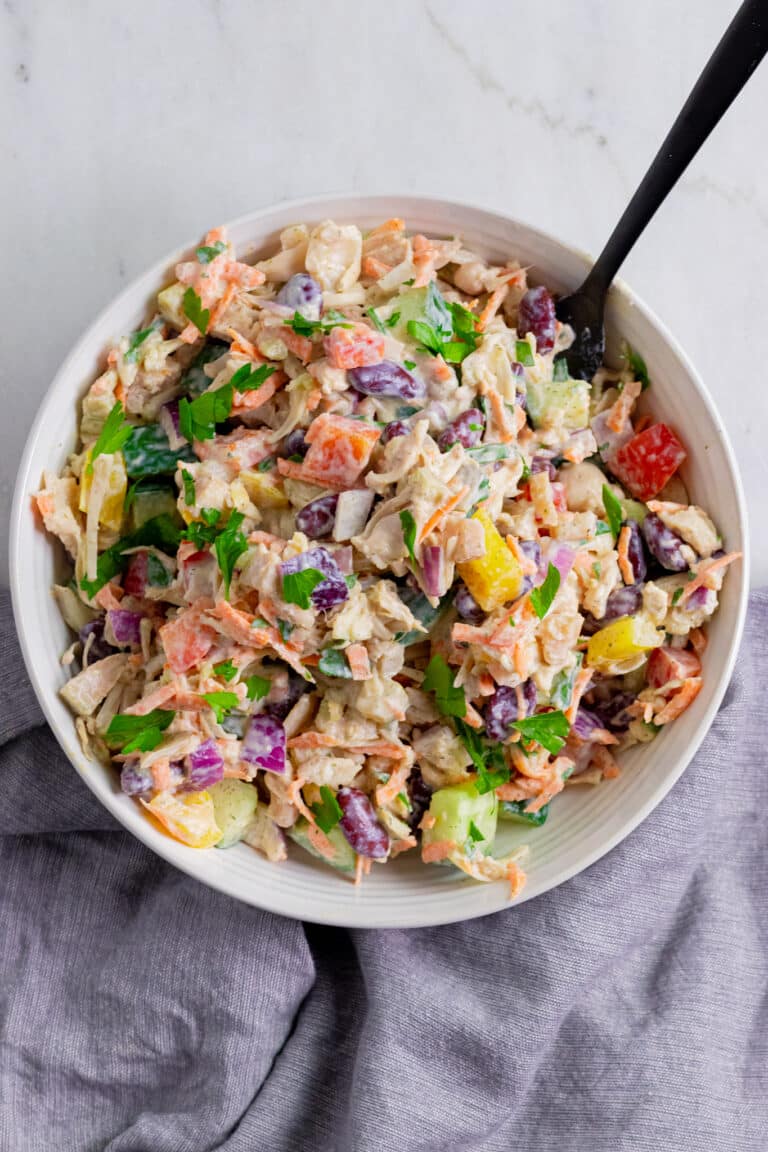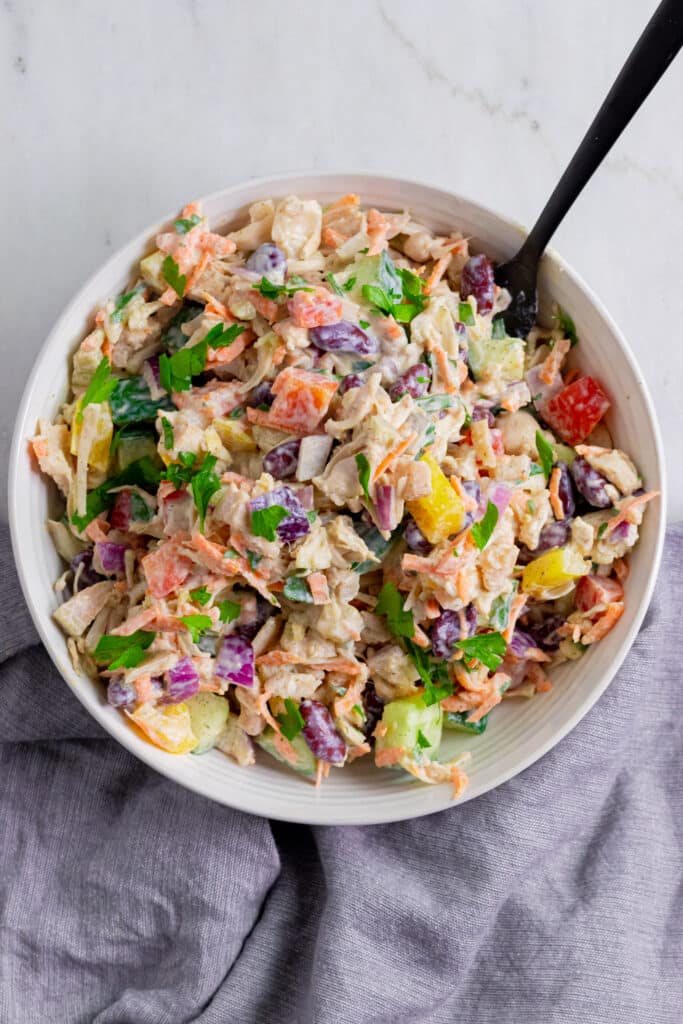 Follow me on Social Media!
Print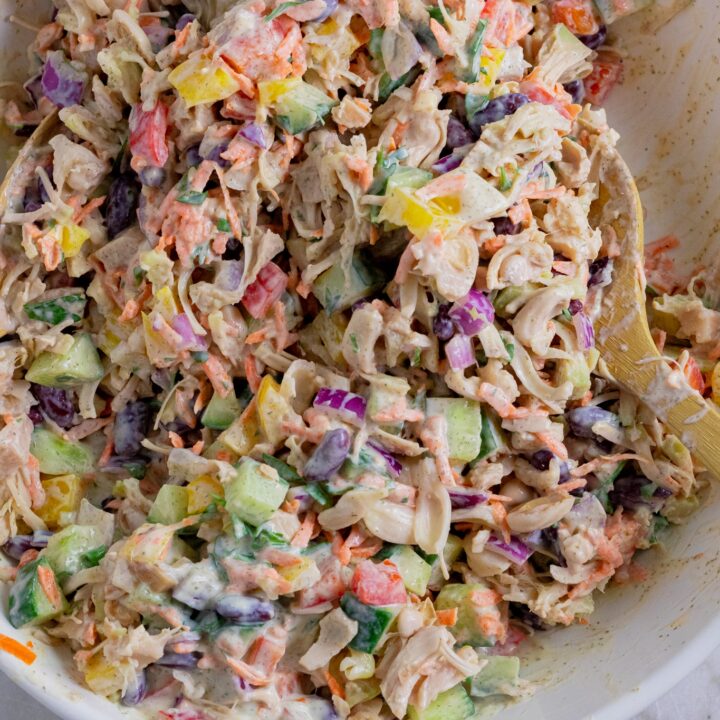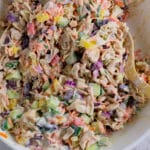 Vegan Chicken Cucumber Salad
---
Author:

Liz Madsen

Total Time:

10 minutes

Yield:

10 cups

1

x

Diet:

Vegan
Description
This Vegan Chicken Cucumber Salad is delicious any time of the year, but particularly yummy in warmer weather. It also makes an easy dish to batch prep on Sundays for easy work or school lunches all week. Mix it up by wrapping some in a tortilla, or serve it over rice for a heartier meal.
Vegan, Gluten-Free, Oil-Free, Nut-Free, Sugar-Free, Can be Soy-Free
---
Salad
2

-

20

oz cans jackfruit (young jackfruit in brine/water), drained, rinsed and shredded with fork or fingers

1

-

½

cups

(or 1 can) dark red kidney beans

1

large cucumber, diced

1

yellow bell pepper, diced

3

medium carrots, grated

1

red bell pepper, diced

1

small or medium red onion, diced
Dressing
1

block firm tofu (not pressed), drained
Juice of

1

large lemon or

2

small lemons

1 tsp

garlic powder

¼ tsp

salt (to taste; start with ¼)

½

cup

water to blend, or as needed
---
Instructions
Chop your veggies and shred your jack fruit. Make sure to drain the jackfruit again or squeeze it in a clean kitchen towel to remove the excess liquid.
Blend dressing ingredients in a blender or food processor, adjusting amount of water or salt as needed.
Combine all ingredients and stir well.
Serve cold.
Refrigerate leftovers in an airtight container up to 5 days.
Prep Time:

10 minutes

Category:

Salad

Method:

Blender

Cuisine:

American, Fresh
Keywords: vegan chicken salad, vegan chicken cucumber salad, cucumber salad, jackfruit, jackfruit chicken, vegan, gluten-free, oil-free, nut-free, sugar-free, can be soy-free
---
---
Other Recent Content!