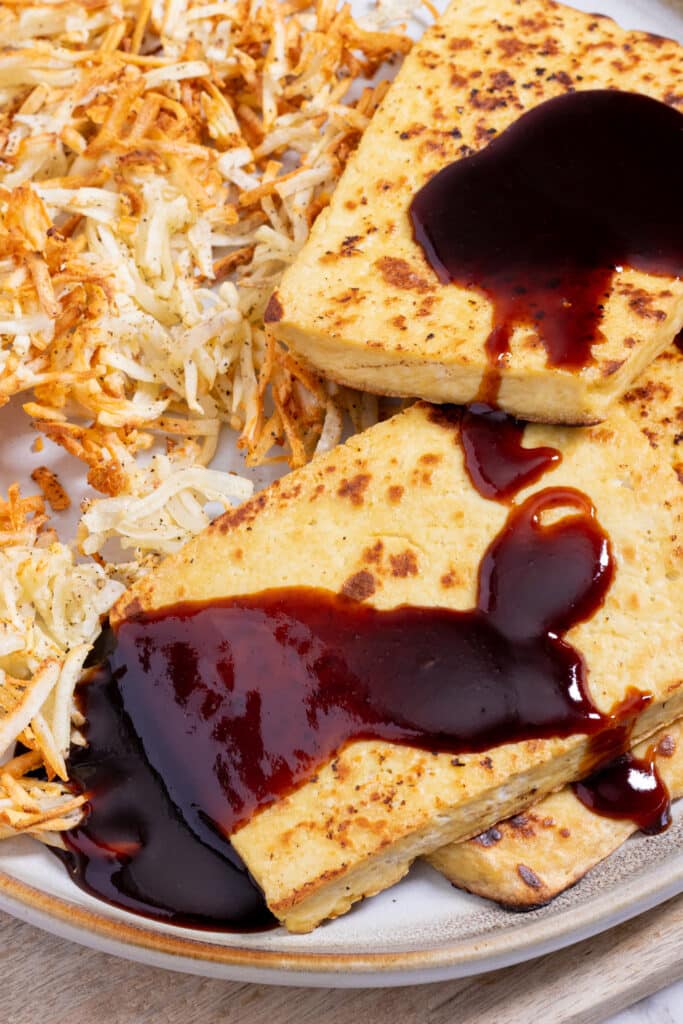 Easy, foolproof tofu steak and potatoes! This meal is so easy to make, you don't have to know how to cook to make it. It's also inexpensive, protein packed, and totally delicious!
Hey Internet, it's not Liz?! My name is Paul, aka Mr. Zardyplants (I'm Liz's husband).
I normally do a lot of the behind-the-scenes work, I like running cameras and editing video/photos and maintaining the website.
You may be wondering why I'm writing. Has Liz been kidnapped? Don't worry. All will be explained.
What's going on?
Today marks the beginning of a new set of recipes that I will be taking the lead on. Right now we are calling these recipes Vegan Struggle Meals.
You may be thinking to yourself: Okay… what is a struggle meal?
Struggle meals started as a tv show where a chef showed viewers how to make good meals on a tight budget.
But the term has been adapted by the internet to refer to a broader phenomenon of very very simple meals, good for people who are on a budget or who are not yet confident in their cooking skills. Most of these recipes also involve only a few ingredients, so they're great for those of us who are eating different meals than others in our household.
These recipes will be quick, easy and super cheap to make. Being an oil-free vegan doesn't need to be hard and you can still make easy, delicious, and filling food.
The goals of these recipes are the following:
Whole Food Plant-Based No Oil Compliant - It not only has to be vegan, it has to have zero processed oils in it.
Cheap and easy to obtain ingredients - ones you might already have. I won't be forcing you to go get rose petals to cook.
Minimum ingredients - I aim to keep it around 5. Should help keep the cook times down.
Slow rate of spoilage - I'm sure avocados would be delicious, but the fact that they go bad by just looking at them doesn't make them particularly effective as an ingredient for these recipes.
With that in mind, I present my vegan Tofu Steak and Potatoes recipe!
What is a Tofu Steak and Potatoes Meal?
Liz still has her day job as we both work to make this blog our full time reality. I'm at home most of the day, building our content and doing graphic design jobs that come my way. So I get to do some of my own cooking while Liz is out.
I try to keep things interesting.
I like to cook with tofu. It's easy to prepare and doesn't take a long time to cook. But previously, I had been only cooking it two ways.
Either I'd grab a pack of firm tofu, crumble it and put turmeric on it to make it look and taste like a replacement for eggs or I go with the super firm and cube it to Buddha Bowls and the like. They can be good, but a guy my size, 6' 5'', can find that a little unfilling, as well as monotonous.
I need something much more hardy.
One day, I was staring at a pack of super firm tofu, trying to figure out what to do with it for my lunch.
I wasn't feeling like a bowl or wrap. I kinda flopped it onto its side in frustration. Looking at it then, it occurred to me, why not slice it into rectangles?
I opened the package, drained the excess water and stood it up on its tall side. I then sliced it into 4 patties and thought those could make a great "steak"! Fortunately, Liz had just introduced me to a sauce perfect for it, but I'll talk about that in the next section.
Let's Get Saucy
Hoisin sauce is an ingredient usually found in Chinese cooking. It typically consists of garlic, soy paste, chili peppers and fennel. The brand of hoisin sauce we use is a little smokey too and with its dark color it's like a steak sauce, but better.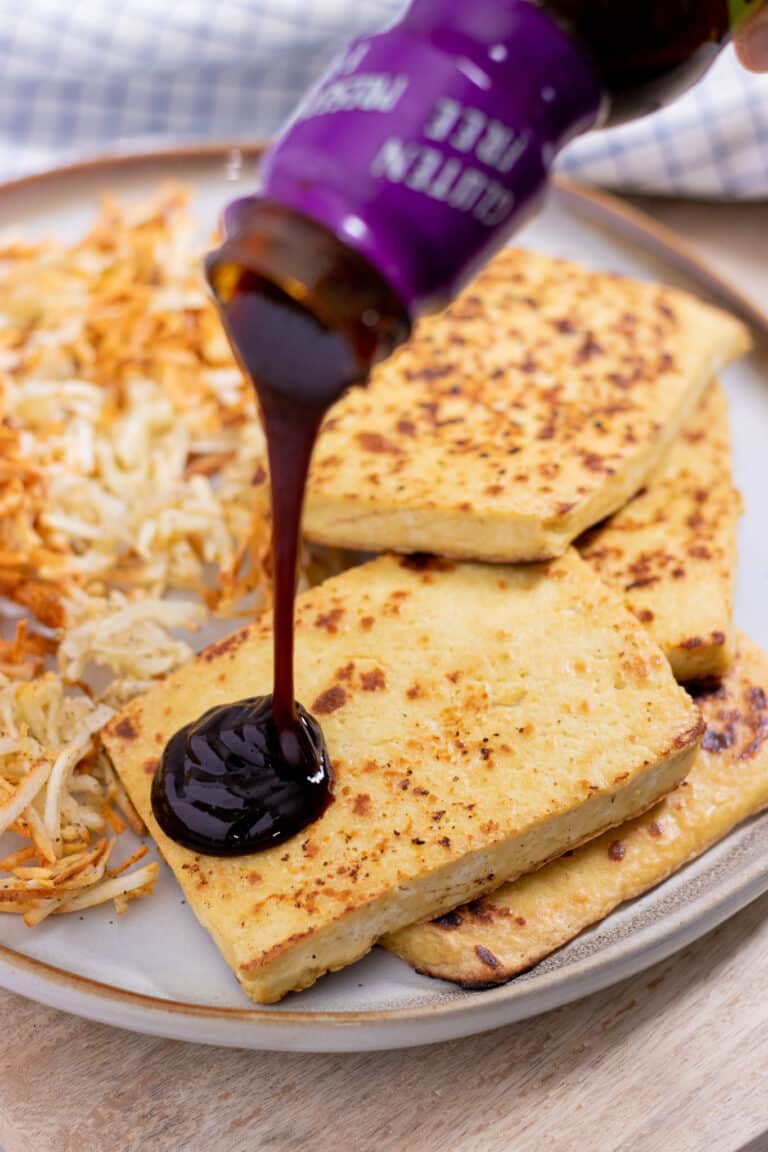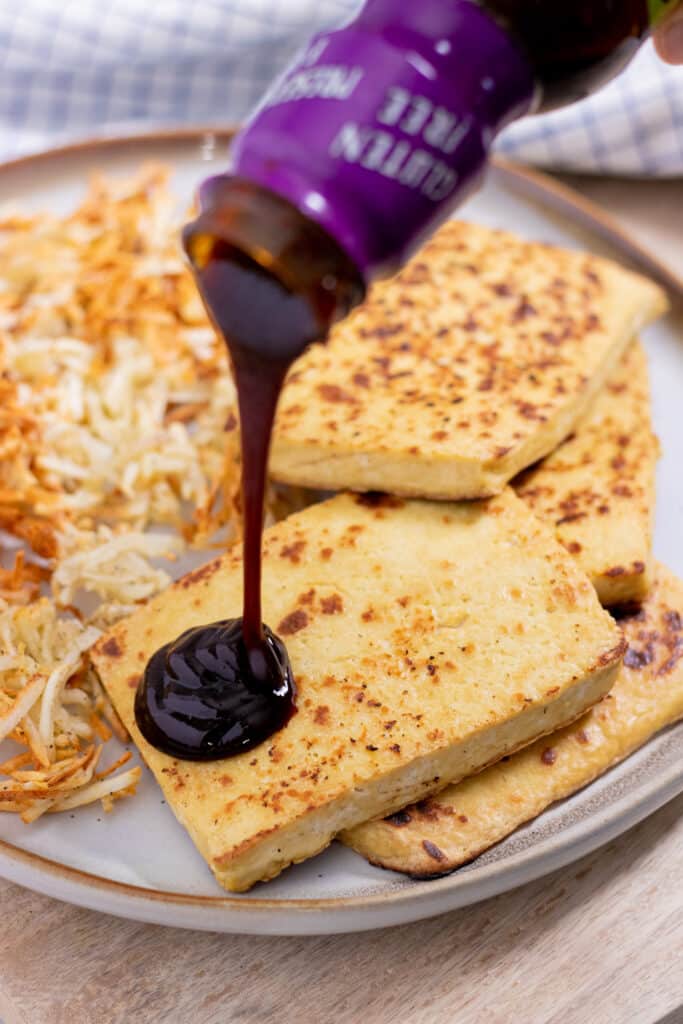 A Quick Note on My Tofu Steak and Potatoes Meal
As I said earlier, my goals with these recipes is to create recipes that make it easy and cheap to stay WFPBNO. Before I was vegan, it was just too easy to remain unhealthy.
Why go through the trouble of making a salad or even a less harmful omni meal when you can easily make mac and cheese or through a Hot Pocket into a microwave. It was truly a bad time for me: I had no energy and it was getting hard to walk.
Veganism saved my life, but I took a long time to get there.
3 Reasons Why I Used Hash Browns
Because of this, I want to make it easier for both me and others. Thus, I have three reasons for using the hashbrowns: they don't spoil, they are fast to cook and they tend to be more likely WFPBNO compliant.
First point, I want an ingredient that will always be ready on a practical time scale.
While regular potatoes do tend to last a while, they do go bad eventually and depending on what stores you go to, they might spoil a lot sooner than you expect. While I won't point fingers, if you're looking for budget recipes, there's a good chance you shop at a store like this.
Second, regular potatoes just require more time, either taking more prep time or cook time. Potatoes are dense fellas. That means in their whole state they take much more time to cook compared to say broccoli.
Taking 30 to 40 minutes to cook a side is not something I envision as being quick, even if it doesn't take that much effort to put them into the oven. On the other hand, taking the time to dice your potatoes might speed up the cook time, but that's time you take to prepare them.
I want something you can grab from your freezer that takes about 10 to 20 minutes.
Which leads into my third point, compliance. I noticed that hashbrowns are the most likely in a grocery store to not have any additional oils.
Trader Joe's has a hash brown pack that is oil free and even these Ore-Ida Shredded Frozen Hash Browns don't have added oil. Sure, some of them do, but in my search for frozen potatoes, hash browns have always come on top.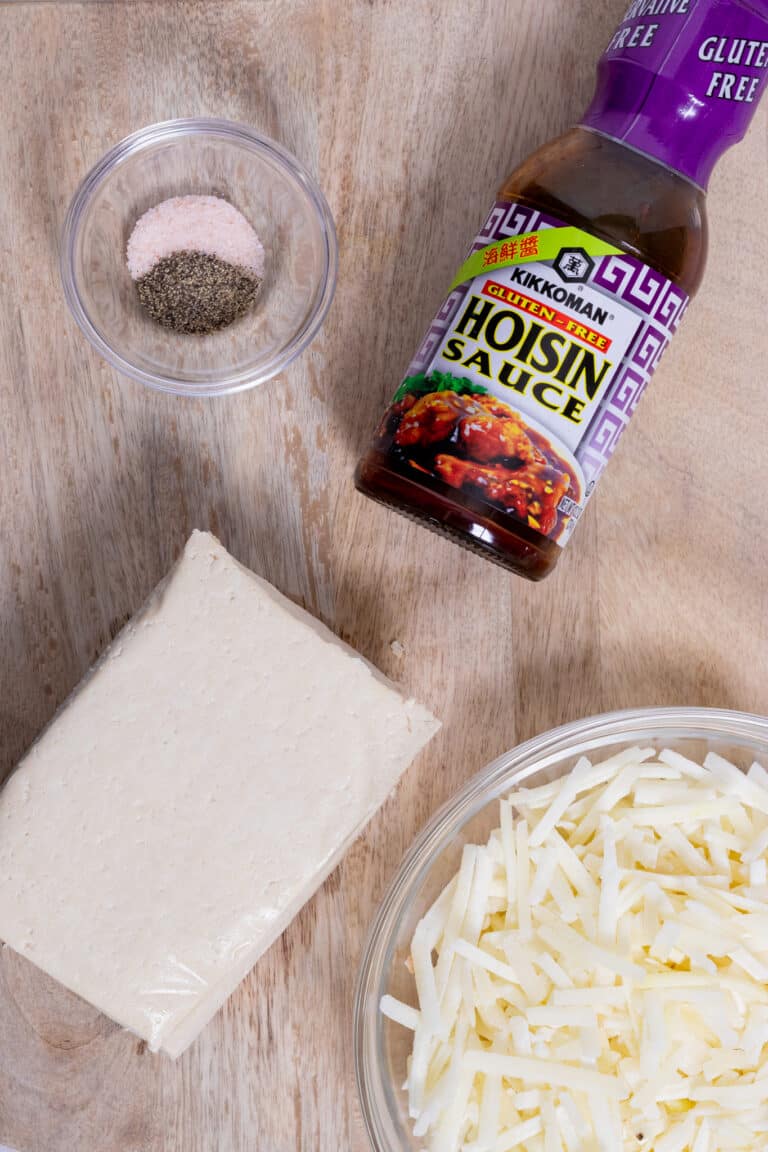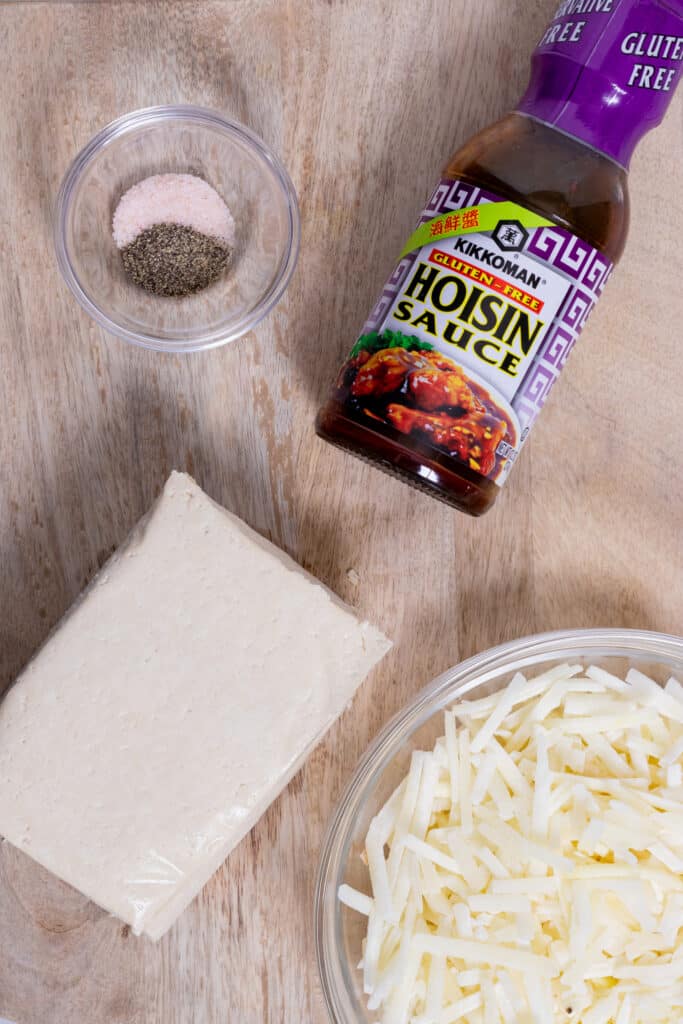 Ok, So What Ingredients Do I Need?
I only use 5 ingredients in this recipe: Super Firm Tofu, Frozen Hash Browns, Hoisin Sauce, Salt and Ground Pepper. It's really that easy!
Be sure to grab super firm tofu as anything else will crumble as soon as you put your knife to it.
Finally, I found a ¼ of a teaspoon and some black pepper seasoned my potatoes well. You may need to adjust them to your taste and if you increase the amount of hash browns you are cooking.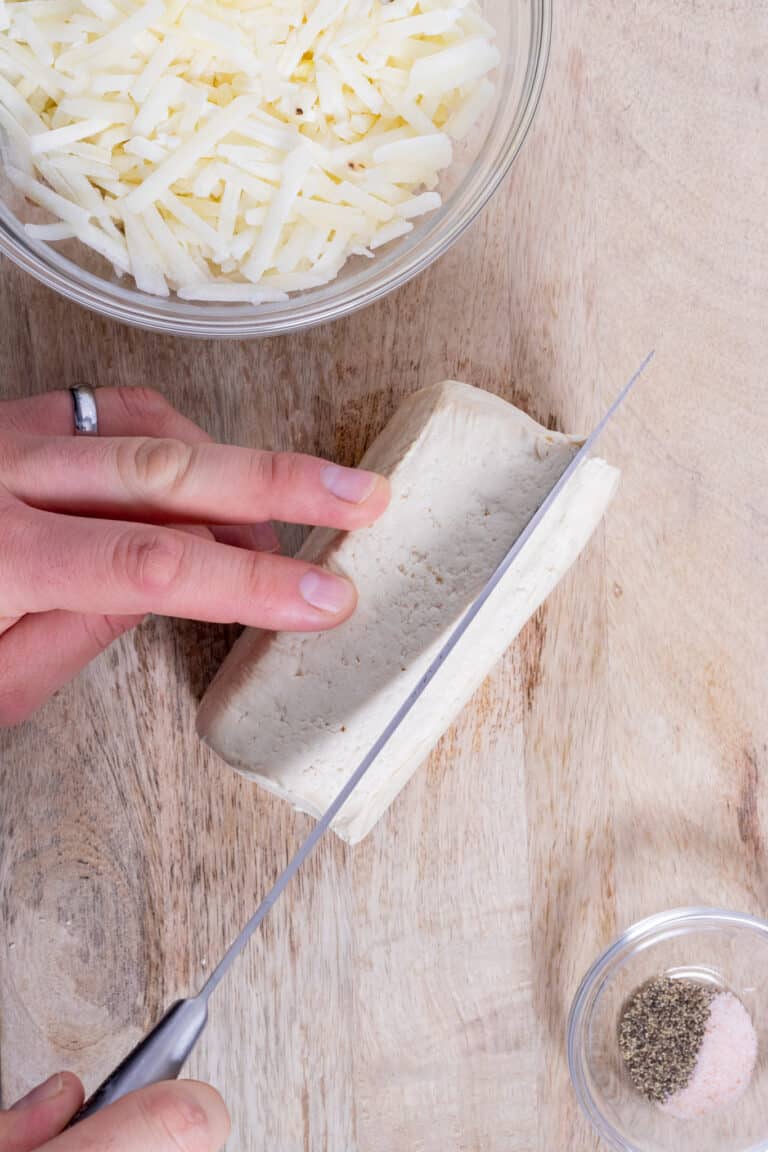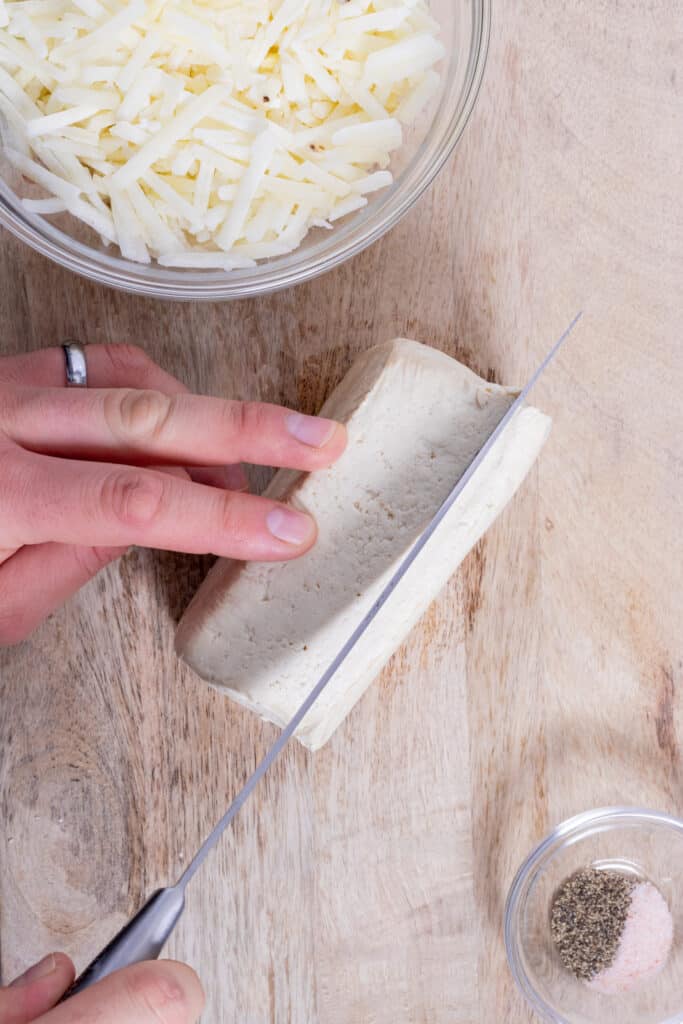 Cooking the Tofu Steak and Potatoes
Start by grabbing a cutting board and cutting open the package of super firm tofu. You should get rid of the water hanging around in the package, but don't press out any of the water.
Next, stand the tofu block up like a tower and slice it into three or four slabs, depending on how thick you want them to be and if you're sharing.
Set the slices aside for now and get out your frozen hash browns. I find cooking them in an air fryer is much quicker and convenient then in an oven, but both methods should work.
Add your salt and pepper to them and mix them evenly. You can do it in the air fryer hopper, but find that some of the spices fall into the bottom portion of the hopper. I recommend mixing them in a bowl first.
If you are doing it in the oven, sprinkle them evenly over the tray of potatoes. I use a ¼ teaspoon of both salt and pepper, but you may need more or less depending on your needs.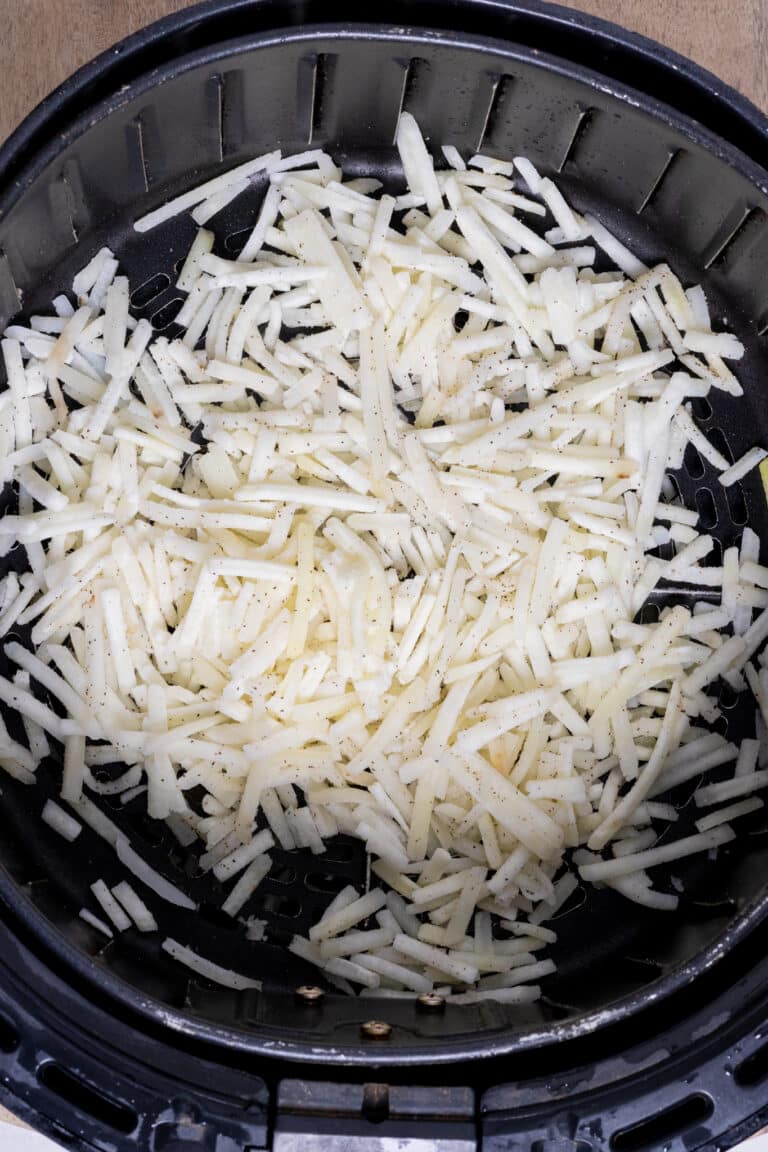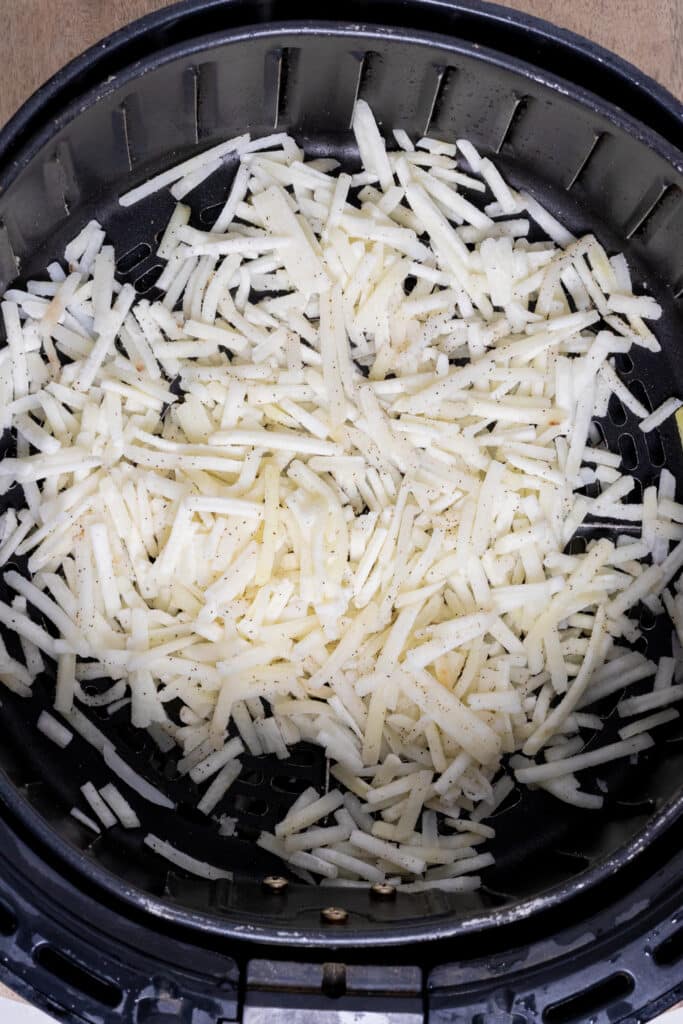 I air fry my hash browns for 6 to 12 minutes at 400 degrees F (205 degrees C), depending on how crispy I want them to be. Be sure to check on them and toss them around every few minutes for an even cook.
In the oven, I would preheat to 425 degrees (218 degrees C) and then cook them for 10 to 15 minutes.
How to Sear Tofu Without Oil
While that's happening, get a frying pan and and start browning the tofu slabs. You may be wondering how we can use a pan without oil and not get everything stuck to it.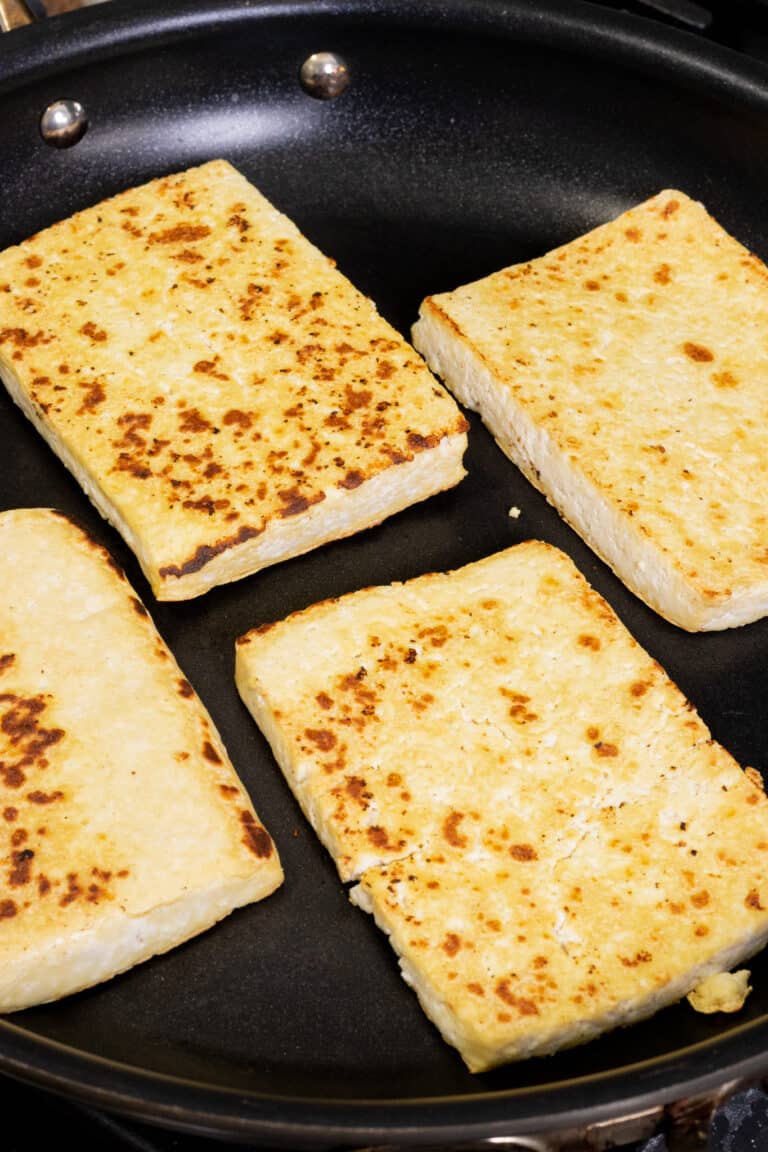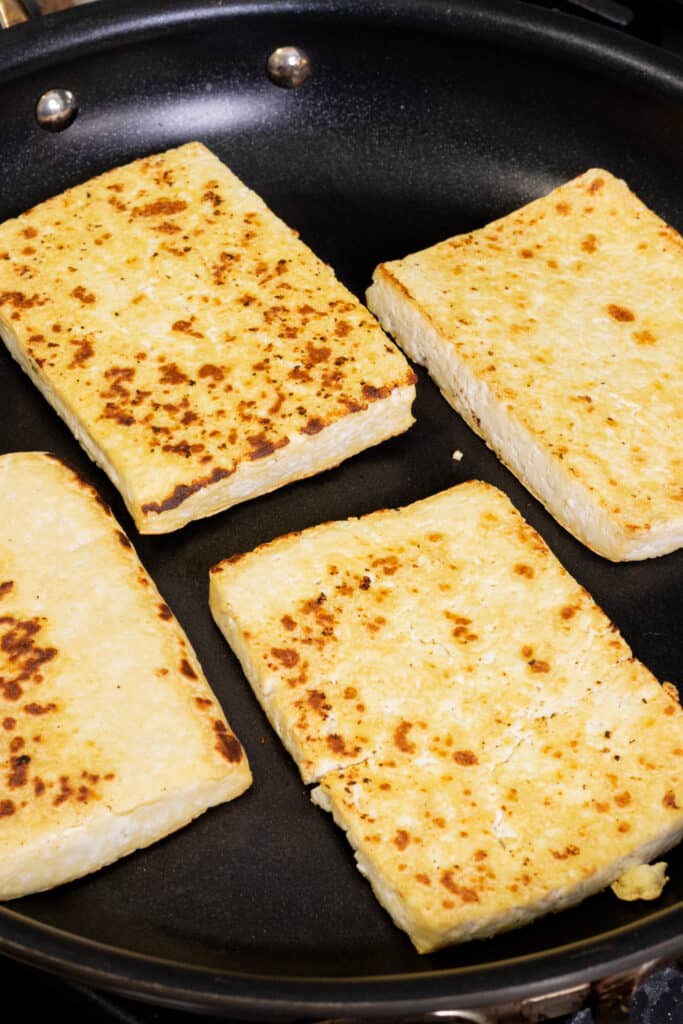 We currently use an All Clad pan that keeps food from sticking to it. We really think it's a great investment!
If you can't get your hands on one, you can always slowly add water or vegetable broth to prevent sticking. It's especially great when the vegetable broth imparts its flavor on your food.
Our only problem with this method is you have to babysit the pan a lot more. With all the cooking we do, we really get a lot out of the All Clad.
Once they are browned, serve the tofu steak and potatoes on a plate. Add the hoisin sauce as desired and enjoy! Serves two (or one very hungry person).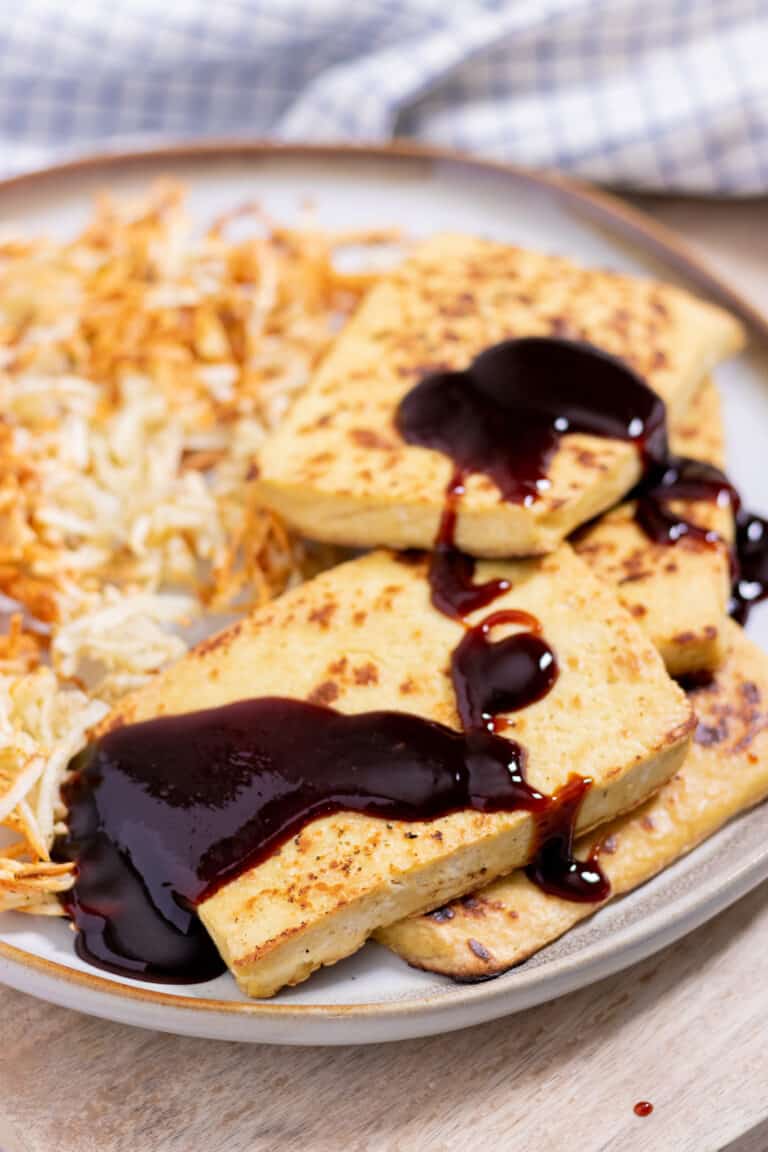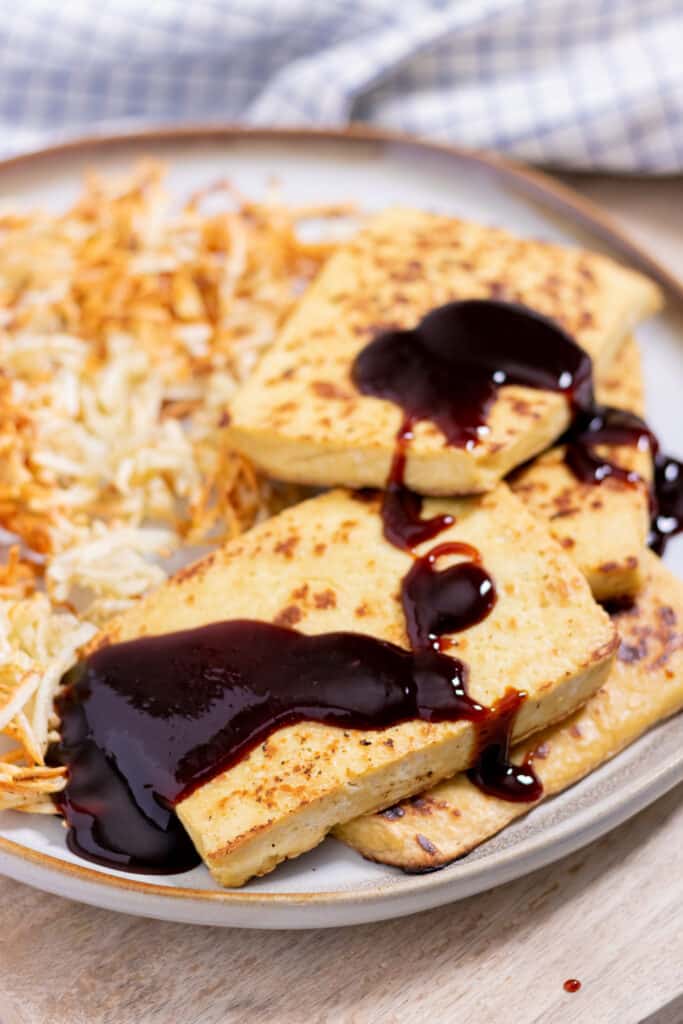 Great! Anything Else?
We have a lot of other great meal prep recipes that can help you stay on track such as:
Vegan Instant Pot Creamy Mushroom Lasagna Soup
Customizable Sushi Bowls
Vegan Gluten-Free Chili Cheese Pot Pies
And if you're looking for more tofu dishes, check out this post I made with all my best tofu recipes.
It shouldn't be long until I get more of these recipes developed! With both Liz's and my work, we're hoping to get you a boatload of content each week from now on.
This includes several videos a week which we will be hosting on our Facebook, Instagram and Pinterest accounts, and hopefully Youtube soon.
Now get in there and chow down on some Tofu Steaks and Potatoes!
Skål!
Paul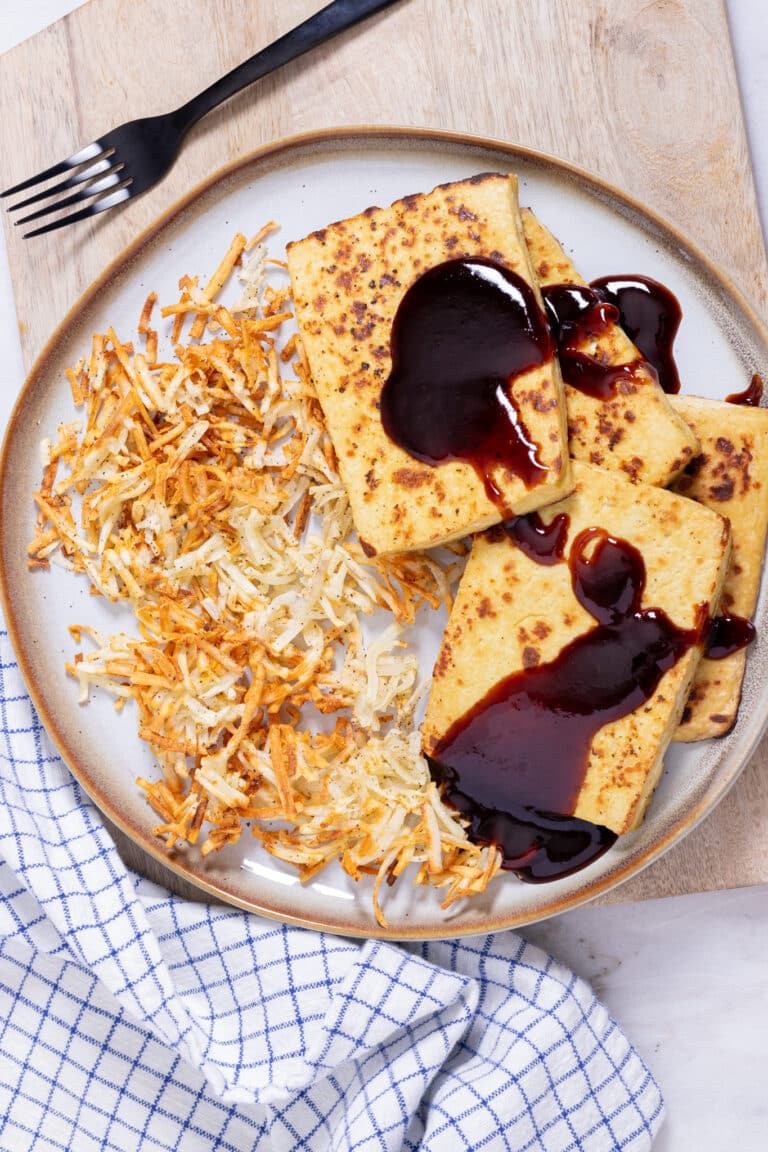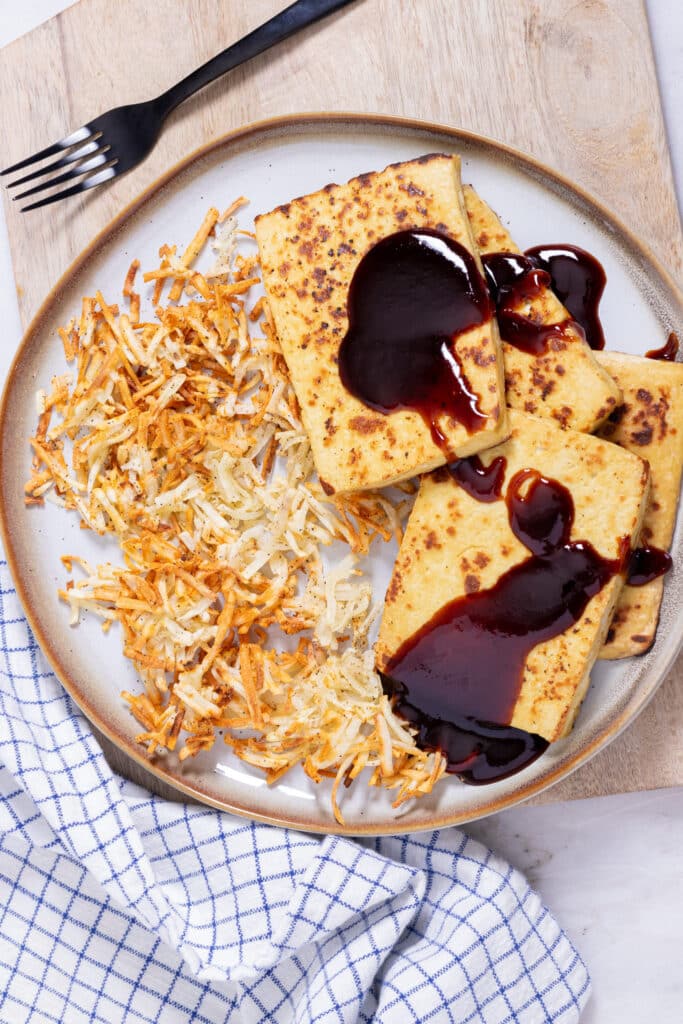 Follow me on Social Media!
Print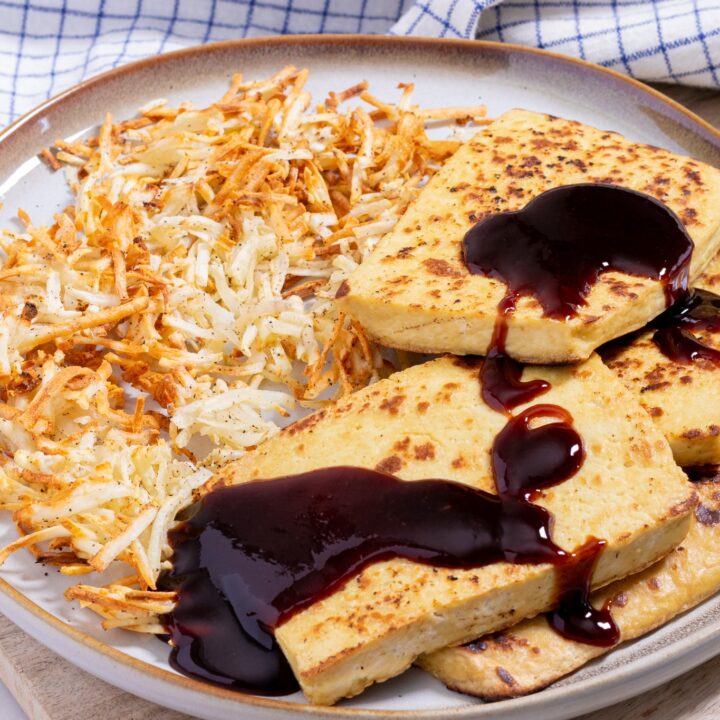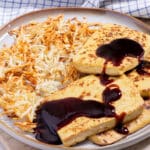 Tofu Steak and Potatoes | Vegan Struggle Meals
---
Author:

Paul Madsen

Total Time:

20 minutes

Yield:

2

servings

1

x
Description
This Tofu Steak and Potatoes is great when you need to save money and need a hardy meal! It also only takes 20 minutes to make.
---
16

oz

(454 grams) Super Firm Tofu

10

-

20

oz

of frozen hash browns

¼ teaspoon

salt

¼ teaspoon

ground pepper
---
Instructions
Slice the super firm tofu into 3 to 4 slabs
Place the hash browns in a bowl and mix in the salt and pepper. If hash browns are too frozen, add after cooking.
Place hash browns in air fryer and cook for 400 degrees F (205 degrees C) for 6-12 minutes. If using an oven, preheat to 400 degrees F (205 degrees C) and cook for 10 to 15 minutes.
Sear the tofu slabs on a pan until both sides are golden brown.
Plate tofu and potatoes. Add hoisin sauce as desired
Prep Time:

5 minutes

Cook Time:

15 minutes

Category:

Dinner

Method:

Air Fryer, Stove Top

Cuisine:

American
Keywords: Easy, Budget Meal, Vegan, Plant-based, oil-free, gluten-free, tofu
---
---