Today I'm excited to share this Vegan (and Gluten-free!) Mushroom Lentil Pâté! It's super easy to make, fantastically delicious, super healthy, and a great dish to bring to a party with crackers or bread!
The word Pâté technically refers to some sort of paste or loaf that contains liver and sometimes other ground meat. Since this is a vegan blog, I made a mock version out of mushrooms and lentils, both of which tend to get cast in mock meat roles because of their texture and flavor.
This dip is an awesome party dish as mentioned, and to me it tastes just like the heavy stuff served at dinner parties and celebrations I attended.
My real obsession with Pâté began though when my mom started making a Pâté out of our leftover turkey from Thanksgiving. My mom was pretty inventive in the kitchen; a trait I'm pleased to have received. :)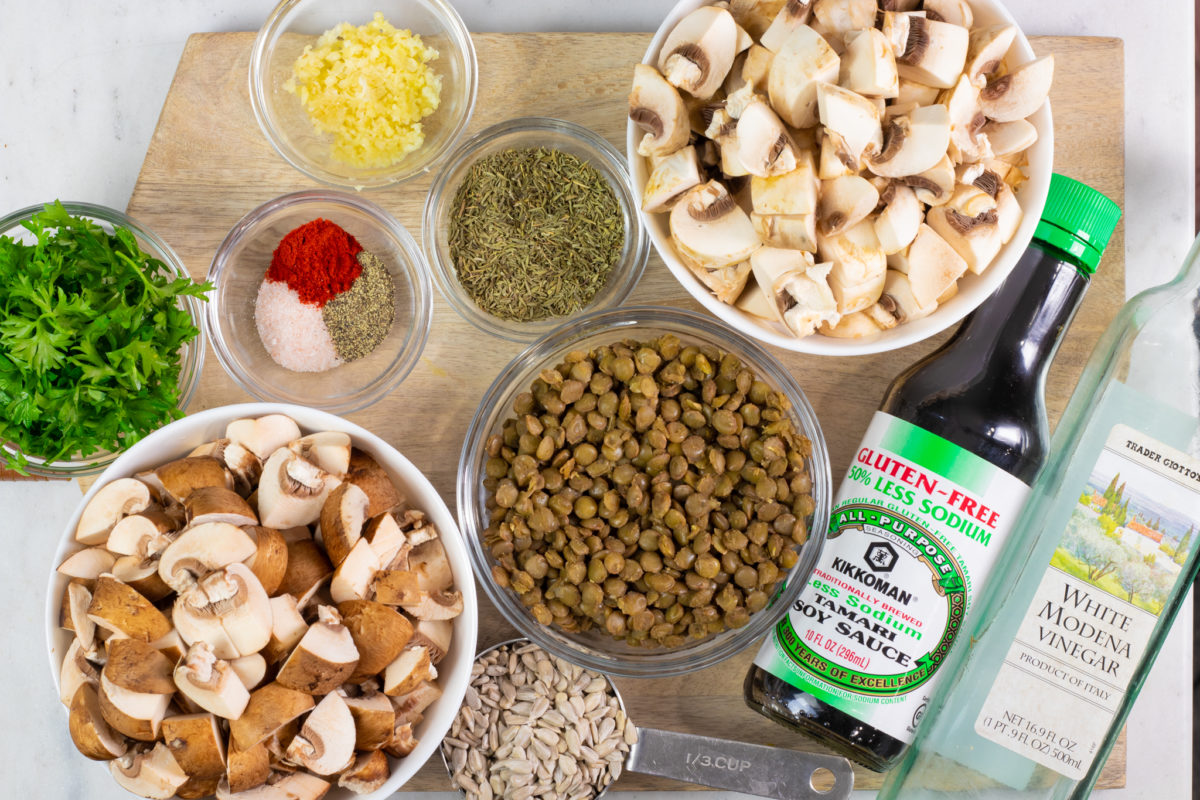 Alright, Liz, What's in This Vegan Mushroom Lentil Pâté?
So as mentioned before, this Pâté (French) is made of mostly mushrooms and lentils, but other additions play a supporting role. Garlic is one of those, and it gets sauteed with the mushrooms for a completely delicious flavor.
I call for a mix of mushrooms (white button and crimini/baby bella) in this recipe, but you can use any you like. These two are the easiest to find and are a good flavor combination.
I say precooked lentils in this recipe to both save time and I know some people use canned lentils. But if you're cooking your lentils from scratch, try cooking them in vegetable broth instead of water (2:1 ratio — 2 cups broth to 1 cup lentils) for extra flavor. I like to make extra lentils to have on hand for salads and such (you can freeze cooked lentils if you won't use them within 5 days).
To add extra umami, I added reduced sodium tamari. As mentioned in my Tofu "Beef" and Broccoli recipe, I normally prefer to use coconut aminos over soy sauce because it's lower in sodium, but it has a sweeter and lighter flavor that's not super appropriate for the flavor profile of the Pâté. If you prefer it though, by all means.
So for this recipe, I recommend either soy sauce or tamari, which is gluten-free soy sauce. I used reduced sodium tamari.
For herbs, I used dried thyme and fresh parsley. I couldn't find fresh thyme anywhere, but I actually really like how it turned out with the dried each time I made this for recipe testing. The fresh parsley is great though, and highly recommended. Use either curly or flat for this recipe (I used curly).
The sunflower seeds are for texture, not necessarily flavor. You could replace them with another seed or nut like walnuts, but I wouldn't omit them because it might make the Pâté too wet to hold together.
To finish out the flavor profile, I added white wine vinegar for acid, smoked paprika for even more umami, salt, and black pepper.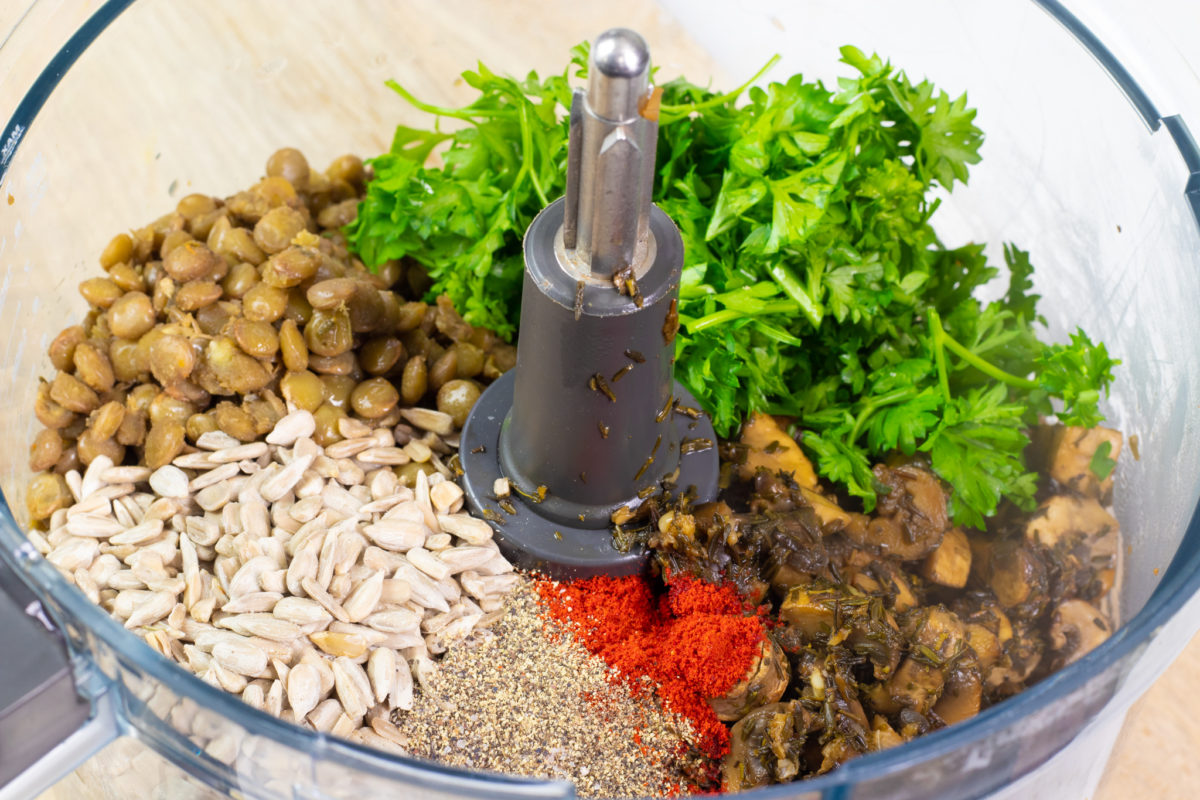 How Do I Make Pâté?
Making the Vegan Mushroom Lentil Pâté is quite easy–there are only 3 steps.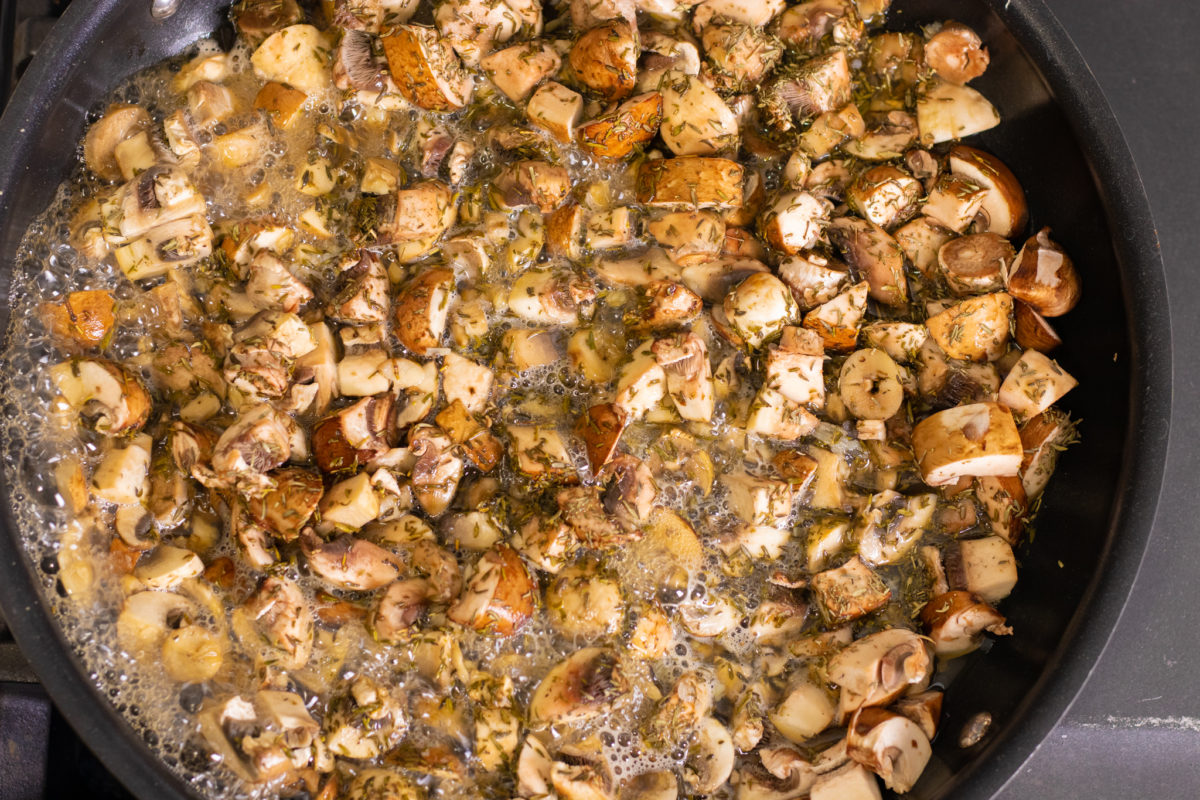 First, saute your garlic and mushrooms with thyme for about 15 minutes. You can add water 2 tablespoons at a time to keep it from sticking.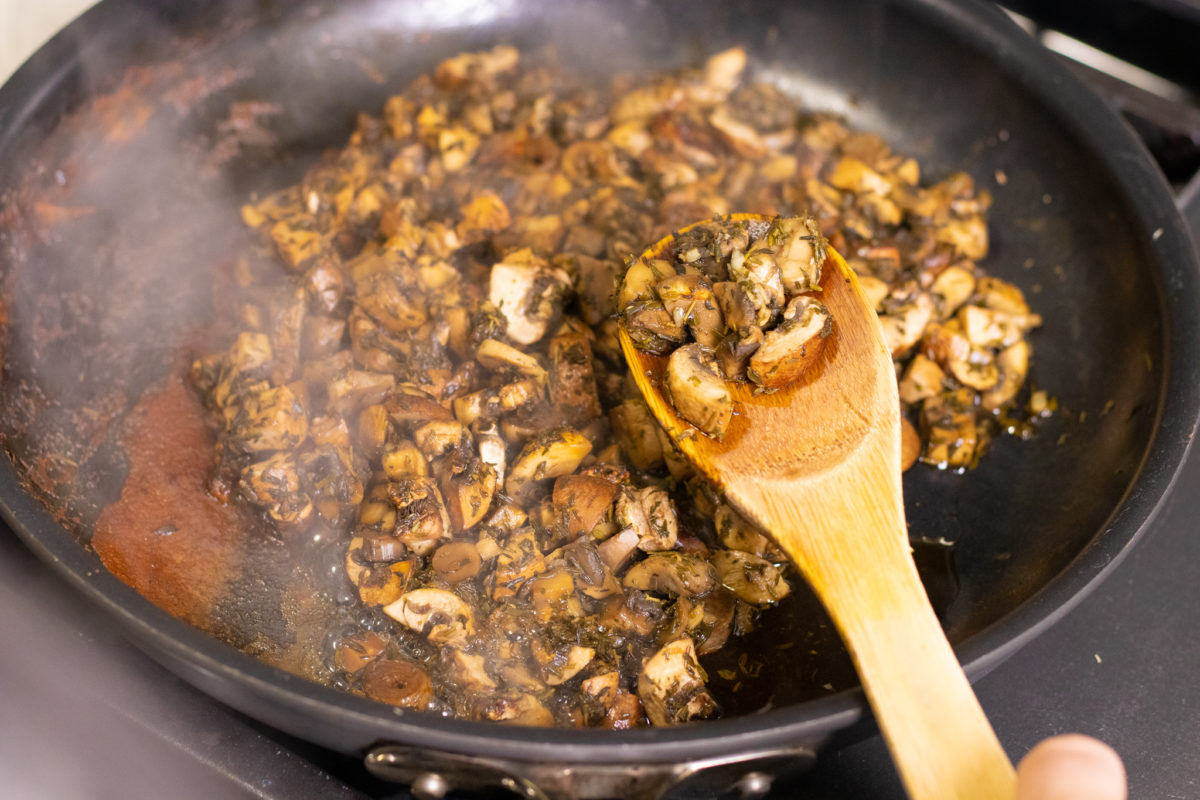 I like to keep a measure cup or glass of water by the stove and splash it on whenever anything starts to stick. Mushrooms release a lot of water when they cook, so they won't stick too often.
Then combine everything in a food processor (or blender), stopping and scraping down the sides a few times.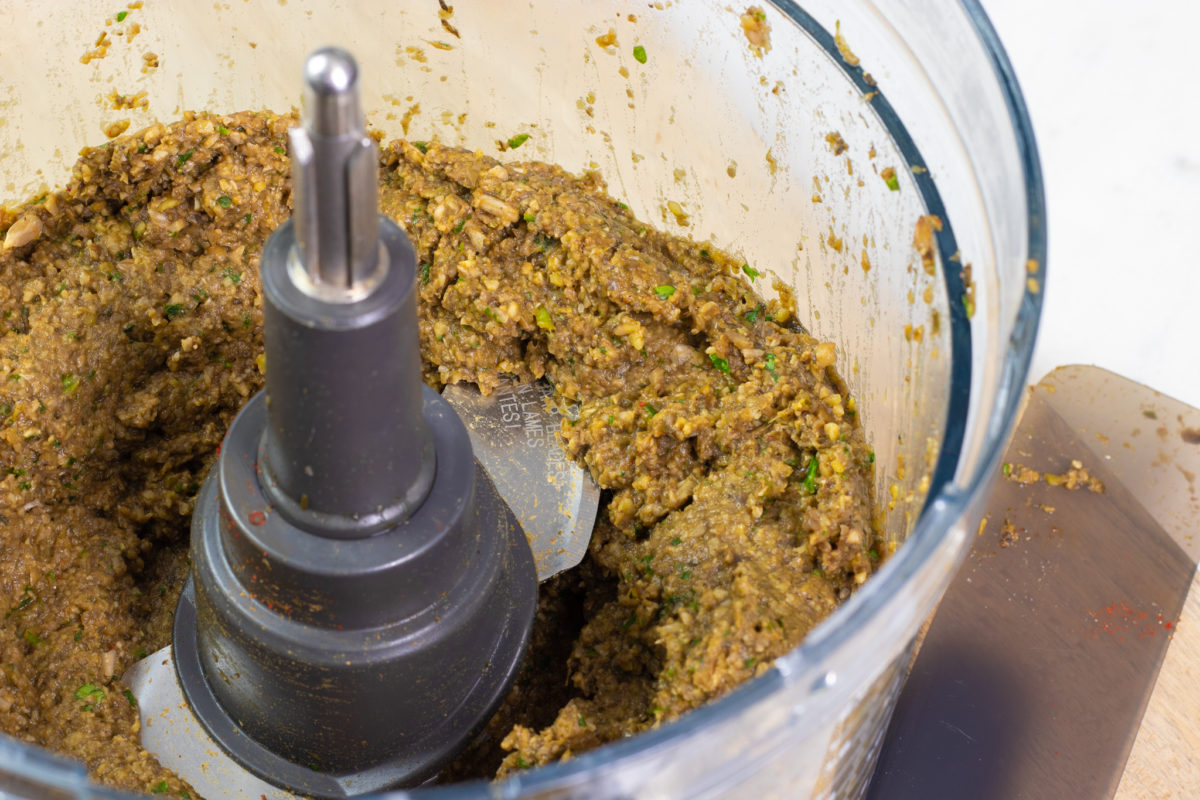 Then all you have to do is add it to a bowl or container (note whatever shape your container is, that's what shape your Pâté will be). Cover with a lid or reusable wrap and refrigerate at least 2-3 hours to firm up.
When you're ready to release it from the container, run a butter knife around the edges to separate the walls from the container. Place the serving plate upside down on top of it and flip it carefully, like transferring a cake onto a cooling rack.
I decorated the top of mine with extra parsley, smoked paprika, and thyme, but do whatever you like! Serve chilled with crackers or toasted baguette slices.
As always, let me know if you make this recipe and please tag #Zardyplants and mention me @Zardyplants so I can see your beautiful recreations! If you tag me on IG, I will share your post in my stories :)
<3 Liz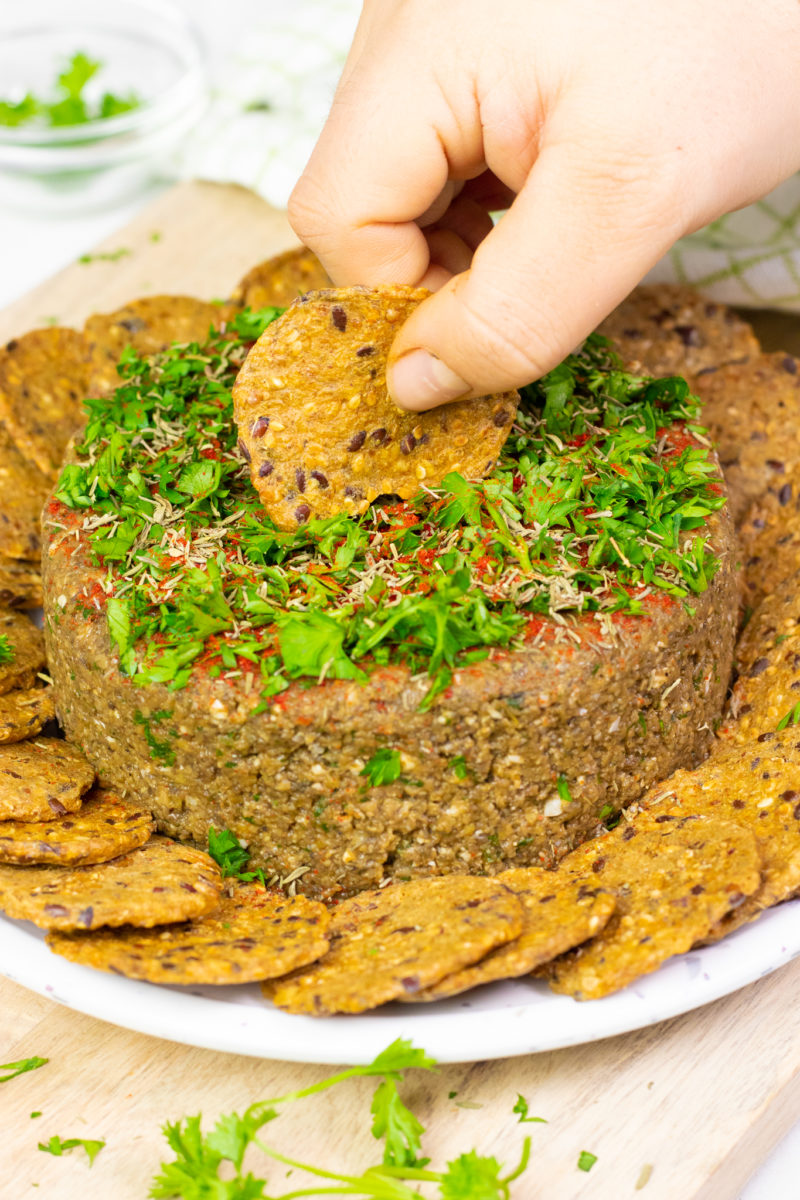 Follow me on Social Media!
Print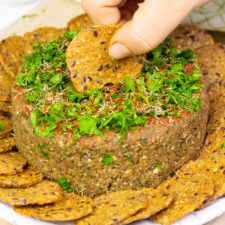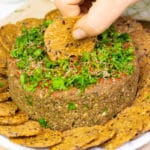 Vegan Mushroom Lentil Pâté
---
Author:

Prep Time:

3 hours

Cook Time:

25 minutes

Total Time:

3 hours 25 minutes

Yield:

12 oz

1

x
Description
Need a dip for New Year's Eve? Try my Vegan Mushroom Lentil Pâté! It's got that umami taste you would find with liver pate without harming animals.
Vegan, Gluten-free, Oil-free, Can be soy-free
---
Scale
Ingredients
1 cup

cooked lentils

8 oz

crimini or baby bella mushrooms, diced

8 oz

white mushrooms, diced

4

cloves garlic, minced

1/3 cup

raw sunflower seeds

2 tbsp

dried thyme

2 tbsp

reduced sodium tamari (or sub liquid aminos for soy-free)

1 tbsp

white wine vinegar

1/2 tsp

pink Himalayan salt (or use any salt you like)

1/2 tsp

black pepper

1/2 tsp

smoked paprika
---
Instructions
Heat a large skillet over medium high heat. When hot, add mushrooms, garlic, and dried thyme. Let cook, covered, for 15 minutes, stirring every 3-4 minutes. Whenever it starts to stick, add a splash of water and stir.
When cooked, drain off any remaining liquid and add to food processor or blender with remaining ingredients.
Process or blend until smooth. Pack into whatever container you'd like your Pâté to take the shape of. Really pack it in there, pushing it down and smoothing it with a spatula.
Cover and refrigerate for at least 2-3 hours or overnight. To release, run a butter knife around the edges, place a plate upside down on top of open container and flip like a cake onto a cooling rack. You may have to wiggle it a little or hit the bottom of the container a few times. You should hear it slide out.
Clean up the edges if you need to and decorate the top with extra herbs and spices if you wish.
Serve chilled with crackers or toasted slices of a baguette. Enjoy!
Refrigerate leftovers in an airtight container up to 5 days. Can freeze if needed, thaw overnight in fridge.
---
Notes
I only tested this with ceramic and glass containers, I do not know how it will work with plastic.
Category:

Snack, Ingredient

Cuisine:

Vegan, Plant-based, party, snack
Keywords: Vegan, Gluten-free, Oil-free, Can be soy-free, Pâté
---
---
Other Recent Content!