This big list of vegan potato recipes is a super comprehensive compilation of all the potato dishes you'll ever need. There's main dishes, side dishes, breakfasts, and more. We know you'll want to save this one!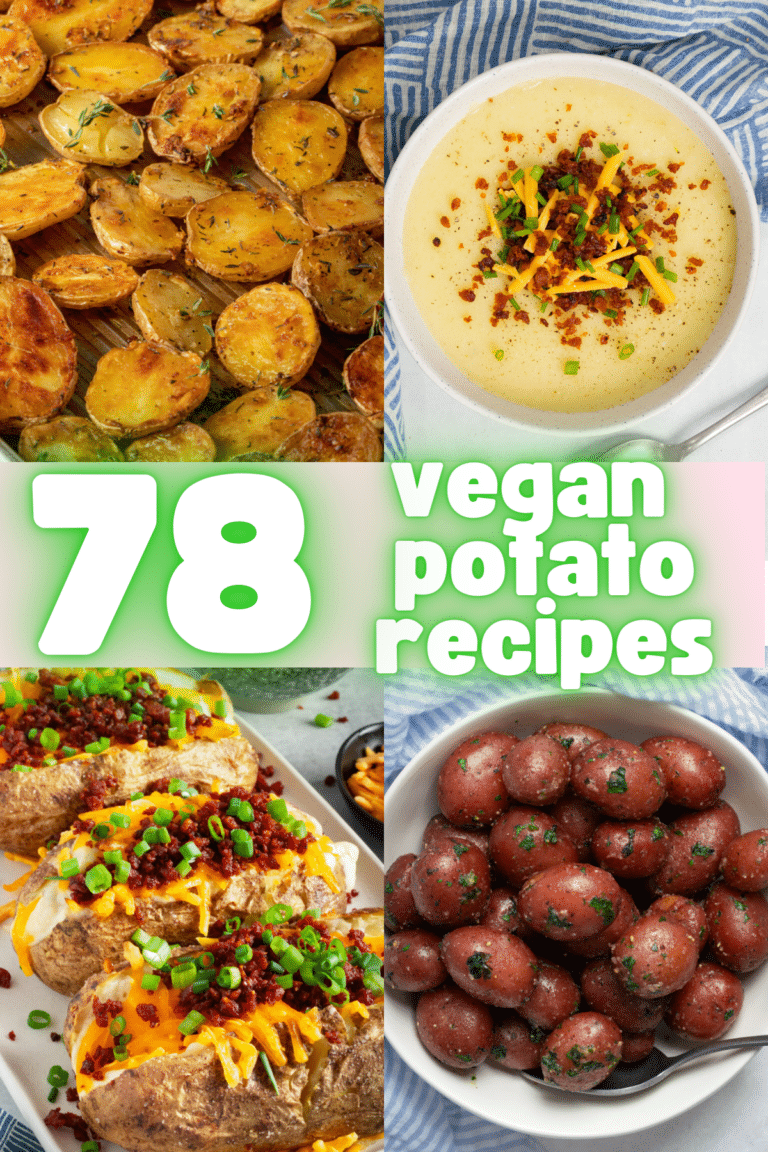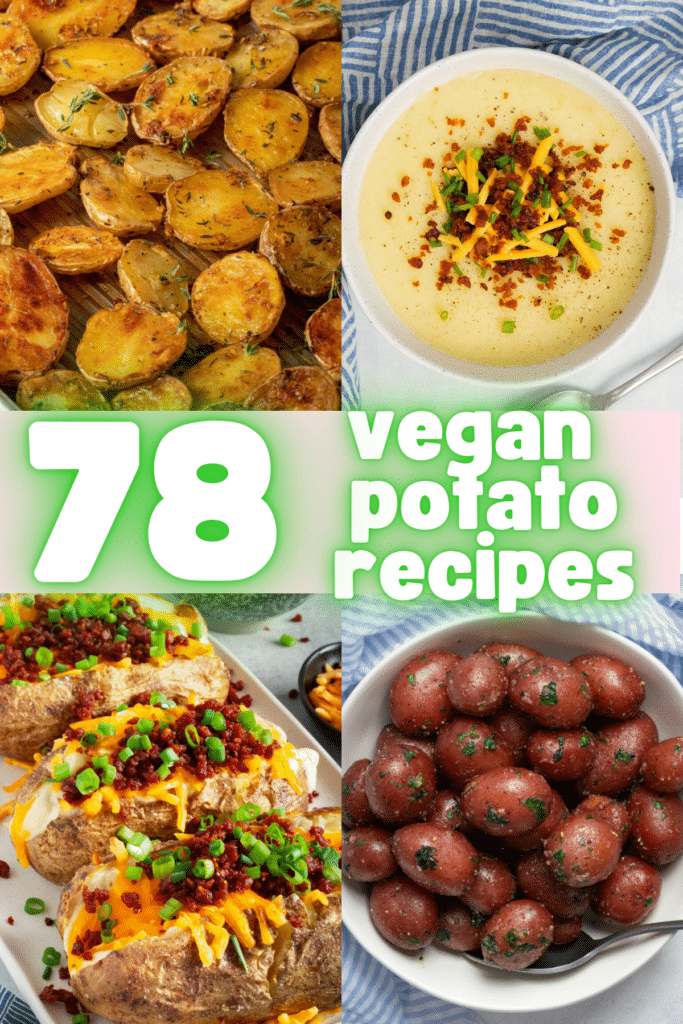 Jump to:
This post may contain affiliate links. See our disclosure policy for details.
Hey Internet, I'm super excited to share this compilation of my favorite vegan potato recipes with you today! I love potatoes, and I'm guessing if you're here you at least like them a little. ;)
I'm going to be sharing my favorites from the around the web (with other bloggers' permission of course) as well as some of my own such as vegan roasted potatoes, boiled baby potatoes, vegan loaded baked potatoes, vegan pierogi with potato and leek, vegan potato kugel (like a giant tater tot!), vegan latkes (potato pancakes), vegan shepherd's pie (it has a thick layer of vegan mashed potatoes on top!), etc. Obviously I could go on and on.
Potatoes are the perfect food -- they may just be one of the best and most underrated vegan foods out there. They are a root vegetable that is a staple in many cultures and countries.
They're filling, versatile, inexpensive, and nutritious. You can find them at any grocery store and there's no one perfect way to make them. Some folks build whole diets around them!
We at Zardyplants don't quite go to that extreme but we LOVE potatoes of any type and wanted to share with you the best vegan potato recipes out there.
It's not just about french fries, potato chips, and mashed potatoes... though those are delicious. It's about spinning a whole new web and making all potato recipes vegan of course. Have some creativity!
Come up with some fun ideas to try, or seek out vegan recipes of your favorite potato dishes. Find the most exciting and cozy dish to serve at Christmas dinner, or an easy way to prepare them for breakfast, like my vegan air fryer breakfast potatoes.
I'm so excited to share my favorite potato recipes with you today, and I know you're going to love many of them. Potatoes are my comfort food (along with pasta... of course).
Potatoes can be the perfect side dish or main attraction. They're so satisfying, but they're also cheap! In these times, we could all use more budget friendly recipes anyway. I'm confident you're going to love these easy vegan potato recipes.
Are Potatoes Healthy?
Despite what you've heard, potatoes are actually really healthy! I've actually seen people similarly ask "are potatoes vegan?" and let me tell you, the two are kind of related.
You see, in traditional non-vegan cooking (and by no means is this an all-encompassing statement, I realize not everyone cooks this way.), potatoes are often made in ways that are unhealthy. This includes loading baked potatoes with butter, sour cream, and bacon. Some restaurants even go as far as coating their baked potatoes in bacon grease!
And mashed potatoes usually contain animal products like butter and heavy cream or milk. And so on.
These additions are not only not vegan, but they aren't healthy either. Dairy and meat add a lot of fat as well as cholesterol to potatoes.
Potatoes on their own are completely vegan and very healthy--yes, even white potatoes, red potatoes, russet potatoes, yukon gold potatoes which have a more creamy texture, etc.. The food industries have you believing differently but it's true.
I'm sure you've heard sweet potatoes are healthier but to be honest they're both healthy and should both be staples in any vegan diet. Change it up to please your body and your taste buds!
Potatoes are high in vitamin C, vitamin B6, potassium, fiber (especially the skin), manganese, folate, niacin, magnesium, and phosphorus. Surprisingly they are relatively low in calories (on their own).
About the skins, a lot of the nutrition is found in the skin but it is also found throughout the potatoes. However, I always recommend eating potato skins when you can because of the nutrition, it minimizes food waste, and honestly it's just good food!
There are vegan versions of virtually every potato dish you can think of, and I'd venture to say they're just as good and most times even better than the dairy and meat laden versions.
There's vegan sour cream which you can buy at the store or make yourself with my tofu sour cream. You can buy or make vegan bacon, like my vegan bacon bits.
There's vegan cheese, vegan butter, vegan heavy cream (use cashew cream, sunflower seed cream, or canned coconut milk), and just about anything else you could want to make any potato recipe vegan.
If you're looking for a healthy vegan potato recipe we've got those for you too.
Here's an easy recipe: you can make healthy vegan mashed potatoes by just using almond milk or soy milk (make sure to buy unsweetened non-dairy milk!) and topping them with some green onions. Sometimes a splash of lemon juice and a sprinkle of garlic powder or some nutritional yeast will go a long way. Tasty and light in calories!
Potatoes: My Favorite Food
Potatoes are just amazing. Soft potatoes, crispy potatoes, you name it and I probably love it.
Did you know there's even a National Potato Day? It's Friday, August 19.
I've seen potatoes served daily as regular meals, or served for special occasions like a wedding reception with a baked potato bar! Potatoes are great for holidays like Thanksgiving and Christmas -- if you're looking for more of that, check out my Vegan Holiday Recipes guide.
Potatoes are also a staple at many Jewish holidays. My vegan potato kugel and vegan latkes (potato pancakes) are fabulous and super easy to make with a food processor.
I always serve my potato latkes with apple sauce and vegan sour cream. They aren't a side, they're a main dish.
You can make potatoes in the instant pot, air fryer, oven, in a large pot on the stove, deep fryer, grill, etc. There are side dishes, main dishes, hot dishes like a vegan potato casserole (coming soon) or cold dishes like a classic vegan potato salad (also coming soon!). Serve them with veggie burgers for an easy side dish recipe.
There's potato tacos with black beans, red onion, and creamy avocado or a chipotle-style creamy sauce using my homemade vegan mayo as a base. Maybe even some vegan chorizo.
Some people use potatoes to make vegan cheese sauce even! I'm telling you the options are endless. What's that now-pop-culture phrase from the movie Mean Girls? The limit does not exist.
I love creamy potatoes, I love potatoes in vegan curry or in a starring role like in a potato curry or bombay potatoes, I love them with soy sauce in something like a stir fry or as a filling in vegan egg rolls. They're delicious roasted with a little sea salt and black pepper.
Possibly the best thing about potatoes is that they are so versatile in the ways I just described. Any dish with potatoes in my mind is a perfect dish. You can use simple ingredients and make an amazing meal.
Potatoes are a great way to round out a meal, but sometimes I could literally just eat a vegan baked potato (loaded of course), maybe with a side salad, and that's my dinner. Or a creamy potato soup like my vegan potato and leek soup or pumpkin and sweet potato soup. No seriously, who doesn't want a creamy pumpkin potato soup?
For a simple recipe, I like to just make skillet potatoes with a little olive oil, fresh herbs like rosemary and thyme, garlic, and salt and pepper. Maybe add in some black beans or baked tofu, yum.
Frequently Asked Questions
Do I have to buy organic potatoes?
Potatoes are often on the Dirty Dozen list (which changes every year, so give it a quick search to find the current year's list), so it is better to buy organic when you can. Potatoes are grown underground, which means they can absorb the pesticides sprayed on the plants and the surface above them. I scrub my potatoes really well and try to buy organic when I can. If you're concerned and aren't able to buy organic potatoes, you may want to peel them before consuming.
Are potatoes vegan?
Yes of course, potatoes are vegan. They are a produce item and therefore are considered naturally vegan. But they are often made non-vegan with added animal products like meat or dairy. So just use vegan versions and you'll be fine!
Are potatoes healthy?
Yes! Potatoes (any kind) contain a wide range of micronutrients and are a good source of healthy carbohydrates and calories (energy). A good portion of the nutrients in potatoes are in the skin, so definitely consume the skins whenever you can.
How do you cook potatoes properly?
There are so many ways of cooking potatoes, but in general, potatoes are done when their flesh is easily pierced with a fork. If your fork encounters resistance, the potato is not done yet. Always test the largest/thickest potato or fragment of potato (if you cut your potatoes), as the small ones will cook quicker.
Is it better to bake potatoes or boil?
It's fine to do either--both are healthy! More of the nutrients (especially the B6 or folate) are retained when baking, so keep that in mind. But you can enjoy potatoes a variety of ways and still absorb plenty of nutrients.
How long to boil potatoes?
As long as it takes for the potatoes to be cooked enough for your fork to easily sink in! If the smaller potatoes are cooked and the larger ones aren't, you may want to remove the cooked ones so they don't become mushy.
Should potatoes be boiled covered or uncovered?
Never cover boiling potatoes. This changes the cooking environment and may result in mushy potatoes.
How long do you mash potatoes?
It usually only takes a few minutes to mash potatoes. Be very careful never to over mash your potatoes, as they can become gluey and unpleasant. I just use a simple potato masher, but in a pinch a fork will work. Some folks swear by a handheld mixer but again, just be careful not to over mash. I like to do an initial mash, add a bit of the boiling water or a little vegan butter, a little sea salt and maybe a little garlic. Then mix it and it should be mashed enough--I don't like mine super smooth.
Growing Your Own Potatoes
Potatoes are part of the nightshade family and are grown underground, making them tuber plants.
One of my dreams is to have a large vegetable garden and be able to grow a lot of our produce. It's more sustainable, it's healthy, it's fun, it cuts down food cost, and it's something I've always wanted.
I currently cannot because I live in an apartment, but I know we all have different living situations so I wanted to touch on some of my research about growing potatoes in your own backyard.
Potatoes are usually planted in mid spring and can be harvested by early to mid summer. According to Almanac, potatoes should be grown in fertile soil that is loose and well drained, and areas that get lots of direct sunlight (at least 6 hours per day).
Typically potatoes are grown in the Northern regions of the US, but can be grown in more Southern regions in winter months. Read more on growing potatoes on Almanac.
Amazing Vegan Potato Recipes
Alright, let's get to the point here and give you tons of delicious vegan potato recipes.
I'll keep this list updated with more recipes, so save this post for later on Pinterest or your favorite social media platform. Or go old school and bookmark it!
Onto the recipes!
The Best Vegan Potato Recipes
Whether you're looking for an entree, a side dish, something a bit sweet, a classic, or something more unique, we've got a huge list of what we feel are the best vegan potato recipes on the internet. Keep reading and don't forget to save this recipe for later using one of the sharing buttons on this page!