Over 70 Vegan Holiday Recipes in one place! Whether it's Hanukkah, Christmas, Thanksgiving, or whatever you celebrate, we've got some great festive recipes for you.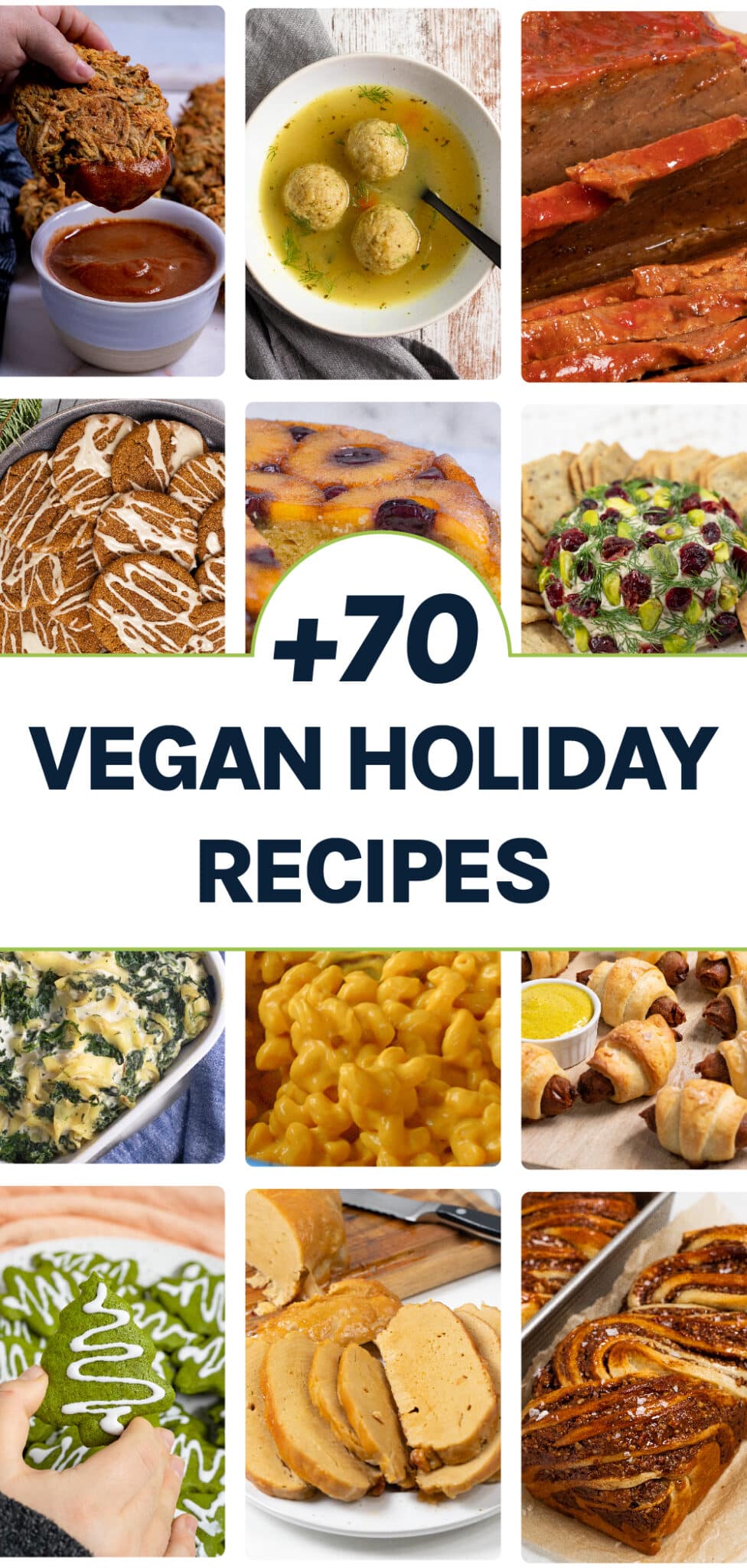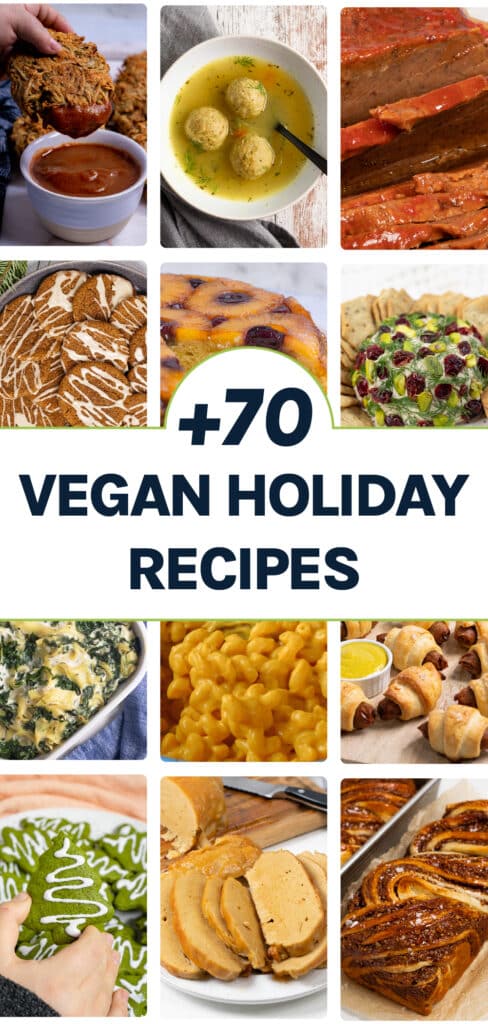 Do you need vegan Thanksgiving recipes? Or are you planning ahead and looking for vegan Christmas recipes?
Maybe you even need vegan Easter recipes? I don't know what time of year you're reading this, but I do know that the giant list below contains over 70 fantastic vegan holiday recipes for whatever you're celebrating.
These recipes are great for entertaining—or if you're not serving a lot of people, these recipes are a.) easily halved and b.) make great leftovers.
We always end up taking a bunch over to my husband's family's house and surprisingly a lot of things get eaten by his picky omni family!
What Do Vegans Eat for Thanksgiving Dinner?
Whether you're serving an entire meal or just a dish or two or three, here's the general idea of what a vegan can eat for Thanksgiving, all of which you can find in the list below:
What Vegan Hanukkah Food Can I Serve?
Well, now, this is my wheelhouse. Here's some awesome vegan Hanukkah food.
But Christmas—What do vegans eat for Christmas?
Whether you're making food for a Christmas eve dinner, brunch or lunch or even dinner on the day of—Christmas will have a lot of folks stumped on what to serve vegans.
While I didn't grow up celebrating Christmas in a traditional way, I have talked to a lot of people about their traditions--as research!
A lot of people tell me that what they eat on Christmas is similar to what they ate on Thanksgiving! And some folks change up the main and eat the same sides.
So while this list might look similar to the Thanksgiving one above—you can really mix and match as you please.
Try some of the below options.
Great Christmas Gifts for Vegans
Oh, and this might be a great place to list a few of my favorite Hanukkah or Christmas gifts for vegans, too.
All of these items are items I've given or received as a gift and love them (or the person I gave it to loved it)!
Anyway, let's get into this list of vegan holiday recipes.
Vegan Holiday Recipes
Are there days where you just can't even summon the strength to deal with the world? Last thing you want to do is cook an extensive meal for yourself, let alone anyone else. Don't worry, with these Lazy Vegan Meals you'll be able to throw together recipes that are cheap, delicious and, most importantly, easy.