Vegan watermelon feta salad is incredibly refreshing, light, and super easy to throw together in less than 15 minutes. Use my easy vegan feta cheese or store-bought vegan feta for a delicious summer salad that's perfect for sharing… or not.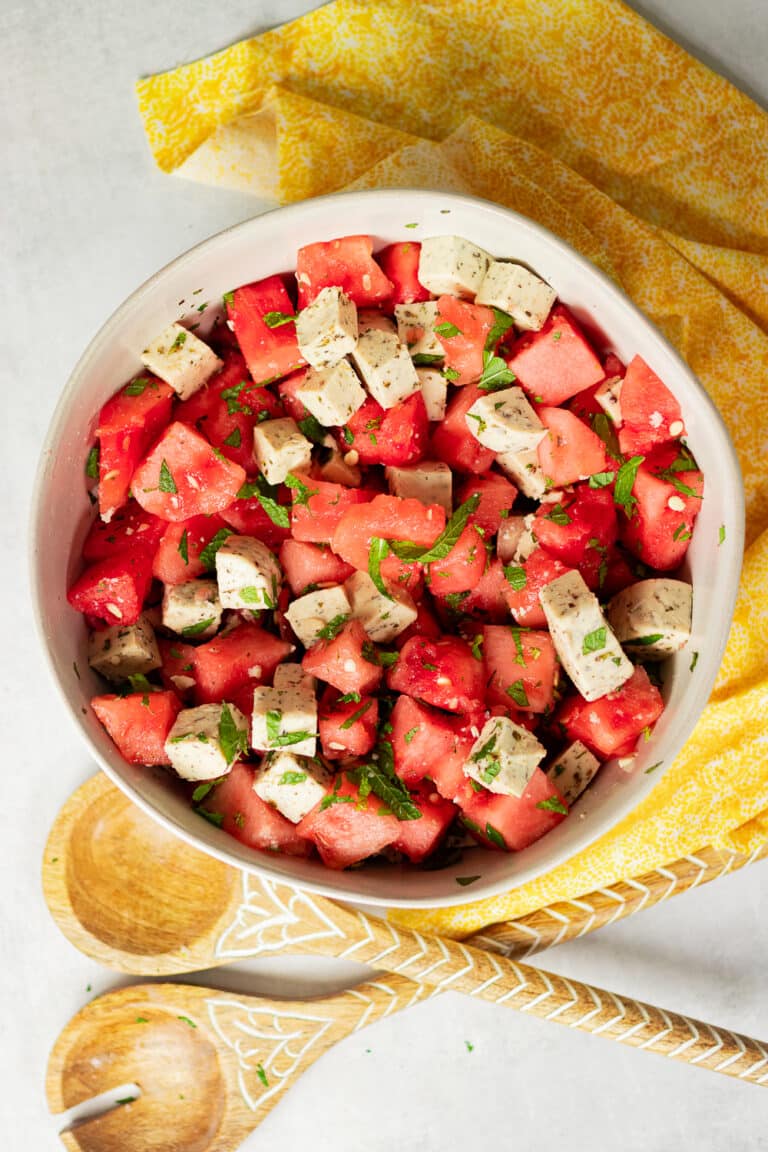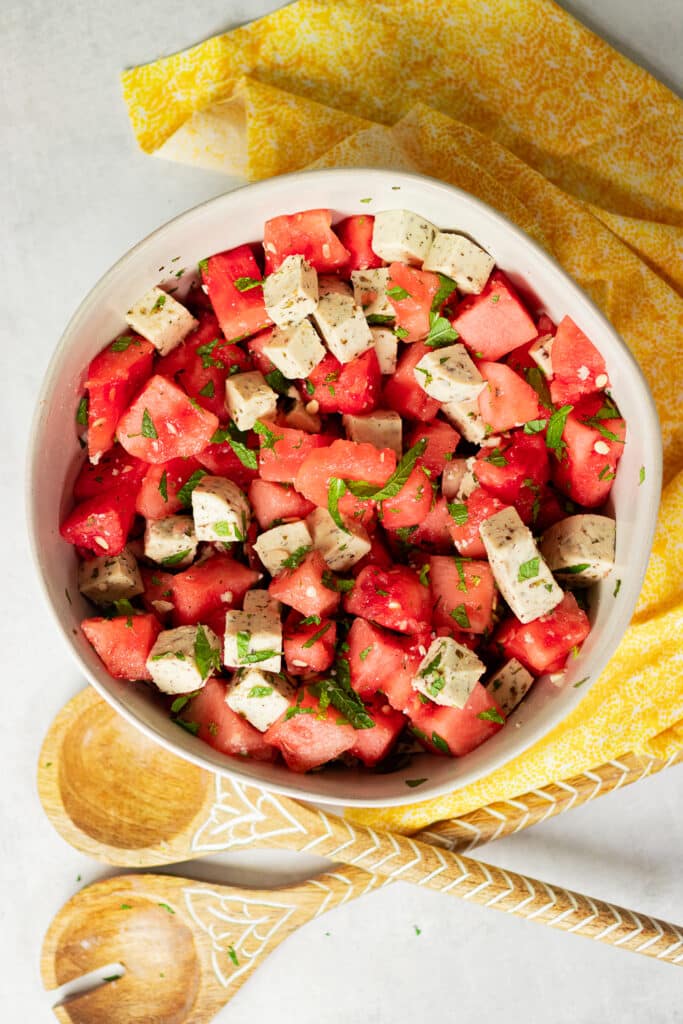 This post may contain affiliate links. See our disclosure policy for details.
Hey Internet, I've got another fun salad for you today: vegan watermelon feta salad! I don't know how this strange-sounding salad came about but it is downright delicious.
Sweet, salty, and tangy, this show stopping salad is perfect for a potluck or party, but also delicious just to enjoy at home with your family. Mr. Zardyplants and I enjoy this for lunch quite often since we discovered it well over a month ago.
We use my vegan feta cheese which is super easy to make and ridiculously delicious.
There are two easy ways to make it--one involves a brief stint in the blender and stove top, and setting in the fridge--this makes it meltable! The other you can do simply by blending the spices with a block of tofu, so you can make this feta + the salad in less than 20 minutes!
The other awesome thing about this salad is that it requires only 4 ingredients, so there isn't a lot of annoying chopping.
Summertime really is the best time for salads, because you're already warm from being outside and who wants to heat up their kitchen with the oven?
Alright, let's get into this super simple and delicious recipe!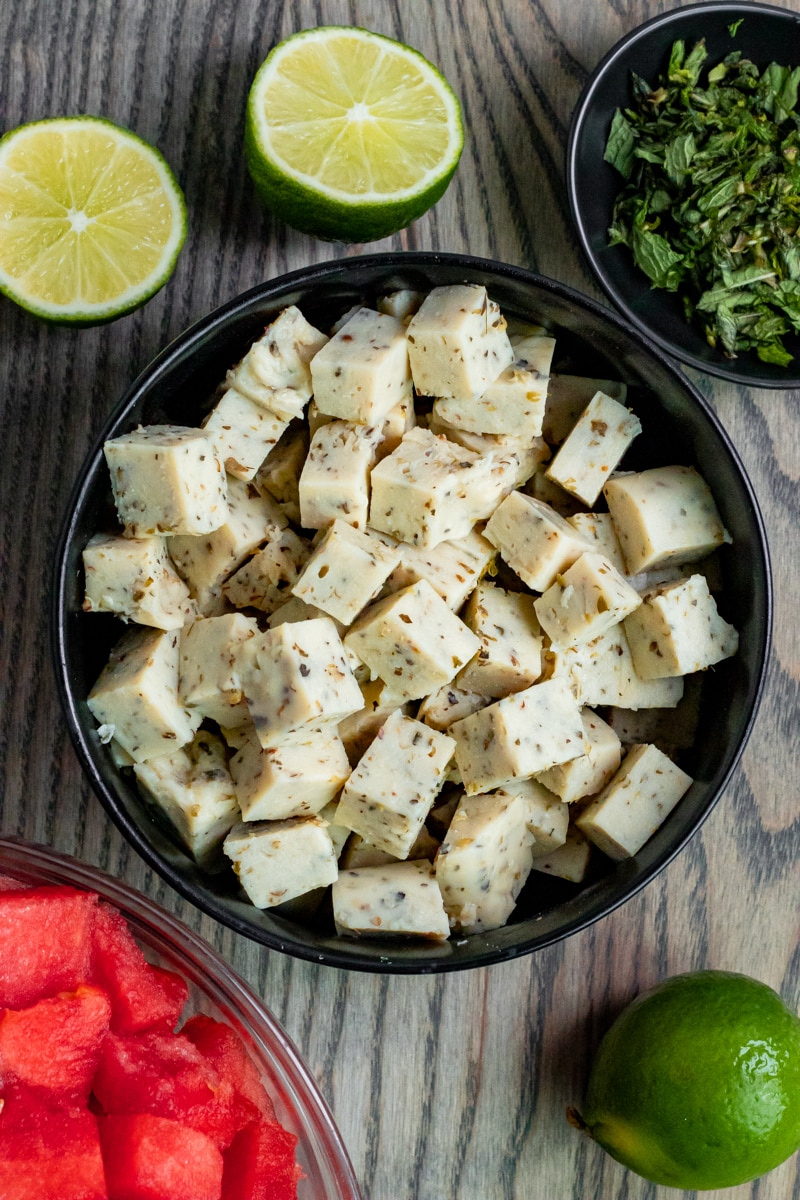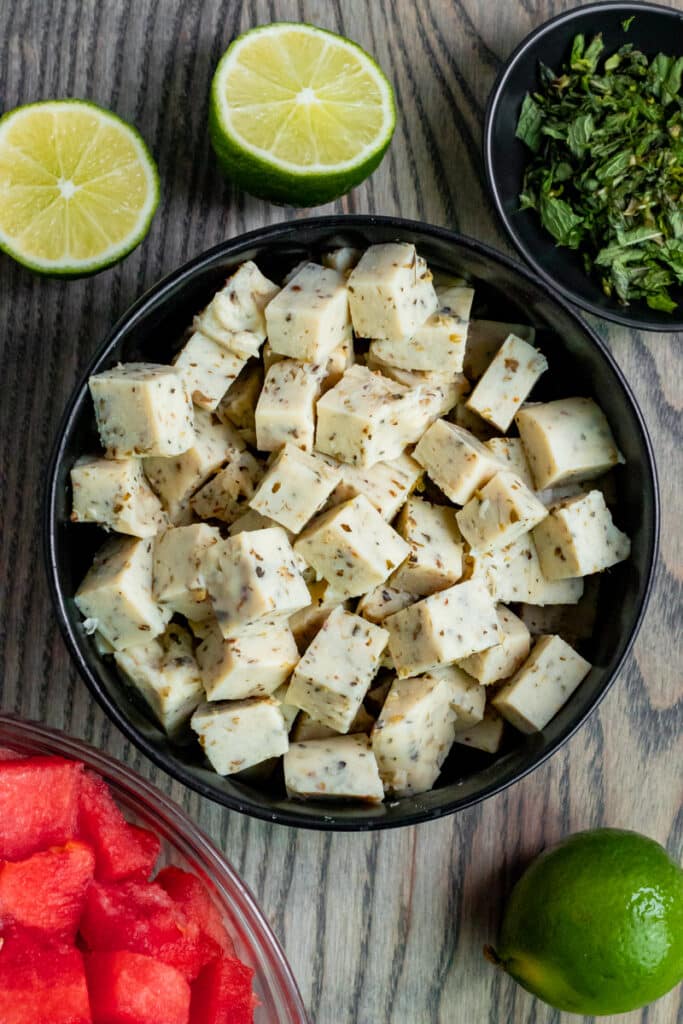 What You'll Need
Watermelon is the first obvious ingredient here. I used fresh seedless watermelon to create this salad. I prefer watermelon to be chilled when I eat it, so we cut it up and refrigerated it before making this salad.
Feta is the other main ingredient. As mentioned before, I have a delicious vegan feta cheese that we used with this recipe, but you can use store-bought if you wish.
To boost the flavors and for a nice tanginess, I added some fresh lime juice.
Finally, and this is optional, I used a bit of fresh mint leaves, chopped up, to bring a freshness and cool flavor to this salad. You could substitute basil for another interesting flavor, or skip the herbs altogether and it will still be super yummy. :)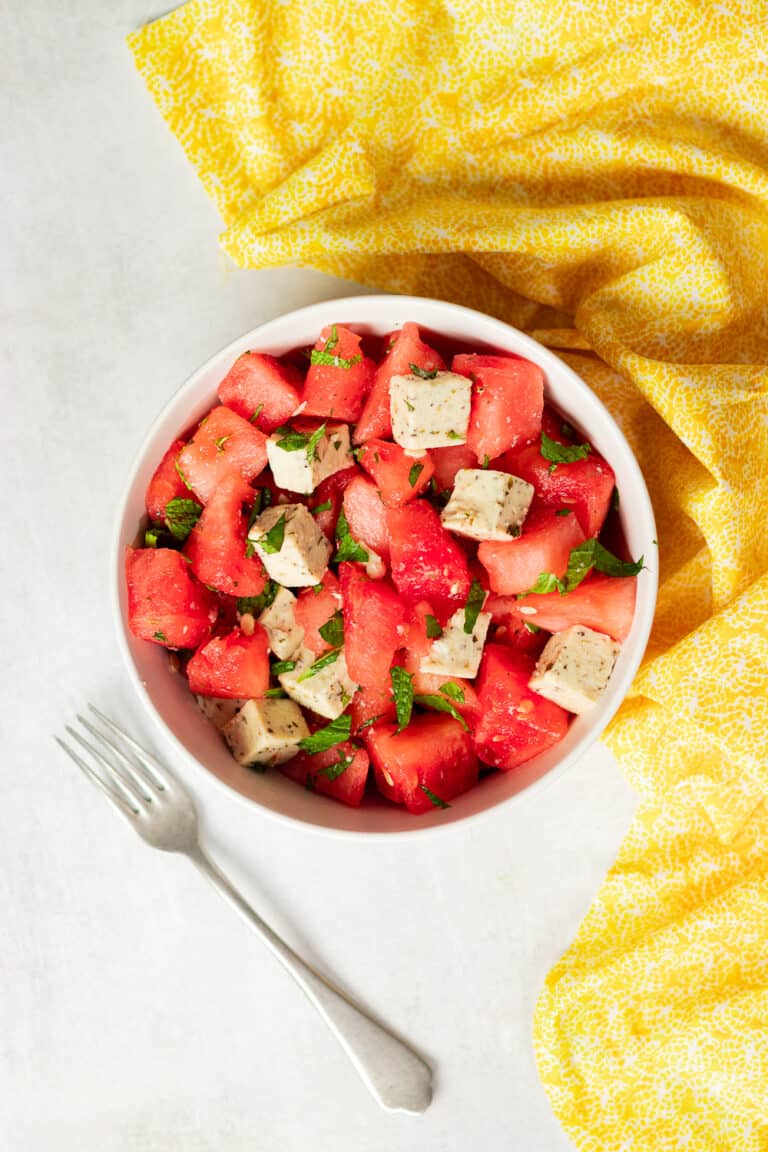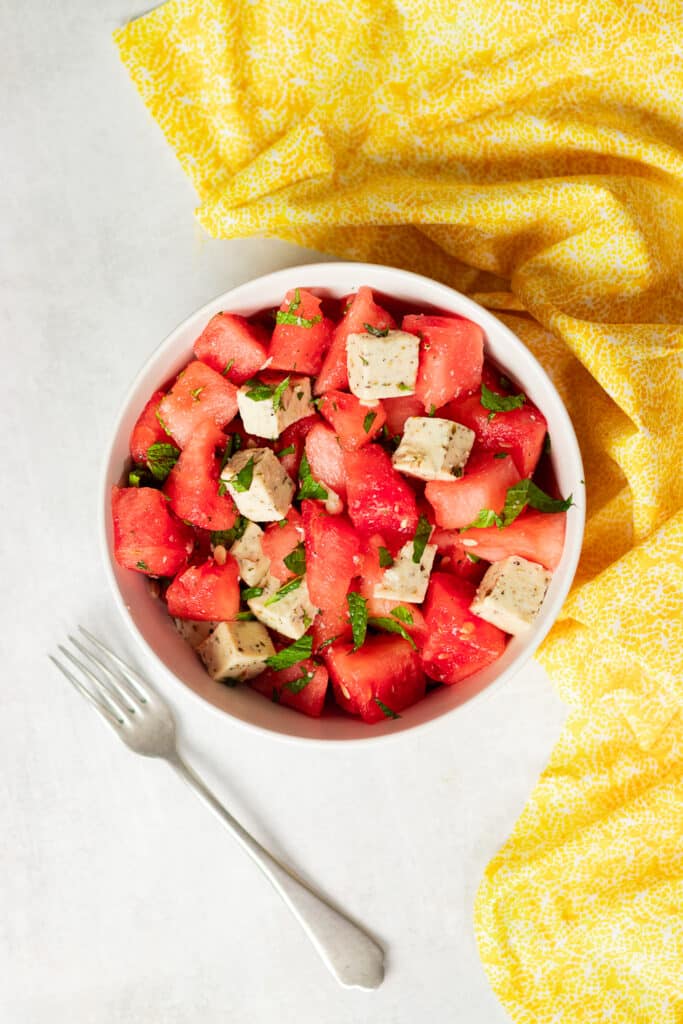 How to Make Vegan Watermelon Feta Salad
Like my other salads, I feel silly writing a how-to section when it's so easy!
As I said above, I refrigerate my cut watermelon before throwing together this salad prior to eating, but this is personal preference.
Add your diced watermelon to a large bowl. Try to omit any excess liquid, though I know that's difficult with watermelon.
Next add in some cubed vegan feta cheese and a few squeezes of fresh lime juice.
Finally, if desired, chop up some fresh mint or basil leaves and toss the salad well.
I like to chiffonade my herbs, which is a fancy term for rolling up the leaf into a cylinder and making fine cuts along the rolled up leaf. This allows you to create thin ribbons that look pretty while distributing flavor.
This salad is delicious right away, but the flavors also continue to develop and are great after a few hours in the fridge.
If not consuming right away, I'd make this salad up to 4 hours ahead of time. It's shelf life in the fridge is probably about 2-3 days. After that, the herbs have gotten soggy and the flavors won't be as bright and fresh.
How to Pick a Watermelon
Picking out a ripe, sweet, juicy watermelon (seedless or not) can be difficult. It's not about choosing the biggest one, which I normally do with produce, hah. It's about finding the one that's going to be the juiciest and sweetest.
Weight
You want to pick out a watermelon that's super heavy for its size compared to others that are a similar size.
Color
Most watermelons have a light colored spot or splotch on one side. This is called a field spot from where they, well, rest on the ground. In the field.
When this spot turns yellow (as opposed to cream colored), it's an indication that the watermelon is ripe.
Sound
Tell the watermelon a knock knock joke, but actually knock on it. I'm serious! Thump the watermelon on the side with a few of your knuckles.
If it sounds kind of hollow, that means the watermelon is full of juices and will be very sweet. If it sounds dull, the watermelon won't be as juicy or sweet.
Telling it the joke is paramount. :)
How to Cut Watermelon
My husband has had to deal with my watermelon obsession for a long time. He has watched YouTube video upon YouTube video. It was part of our vows that he learn to cut watermelon in the best way possible.
This is the method Mr. Zardyplants feels is best. I am satisfied with this method as well as this man. I think I will keep him.
First, slice the watermelon in half widthwise. Slice the halves in half so that you get four half-moon shapes.
Then, cut around the outside a little bit before the pink watermelon meets the white of the rind. Cut straight lines across each watermelon vertically and horizontally, like a grid of cubes (similar to how many people cut avocados and mangoes).
You'll know you've done it right when you can easily push the cubes off each watermelon piece into the containers. Use your knife to cut off any remaining cubes.
Here's the link to the YouTube tutorial he found the most useful.
What Does Watermelon Salad Go With?
I think watermelon salad goes with anything, honestly. I would eat it on it's own, but it could also be a great side to have with meals like:
Or basically any other summer dish. This would be great to bring to a potluck or barbecue.
Want More Salad Recipes?
This is a plant based site, so we do have a few other salads you might like. ;) Here are some of them--we have more coming soon.
If you'd like to be notified when we come out with more recipes, please click here to sign up for our free newsletter (we promise not to email too often!).
Vegan Goat Cheese Salad with Strawberries and Pecans + Vegan Strawberry Tahini Dressing
Air Fryer Squash with Kale Salad
Kale Caesar Salad with Chickpea Croutons
Vegan Italian Salad + Vegan Italian Dressing
Anything Else?
As always, I hope you love this recipe--I know I do, and Mr. Zardyplants does too.
This vegan watermelon feta salad is:
Refreshing
Cheesy
Tangy
Salty
Light
Satisfying
And great for a meal, side, or dish to bring to a barbeque or party--even meateaters will enjoy it!
Let me know in the comments below if you make this recipe or tag me @Zardyplants on Instagram so I can see your beautiful recreations! If you tag me on IG, I will share your post in my stories :)
Also, one quick request: if you love how this recipe looks or tastes, please leave me a 5-star rating and a nice comment–ratings help more people find my recipes which helps me keep providing them! Thank you!
<3 Liz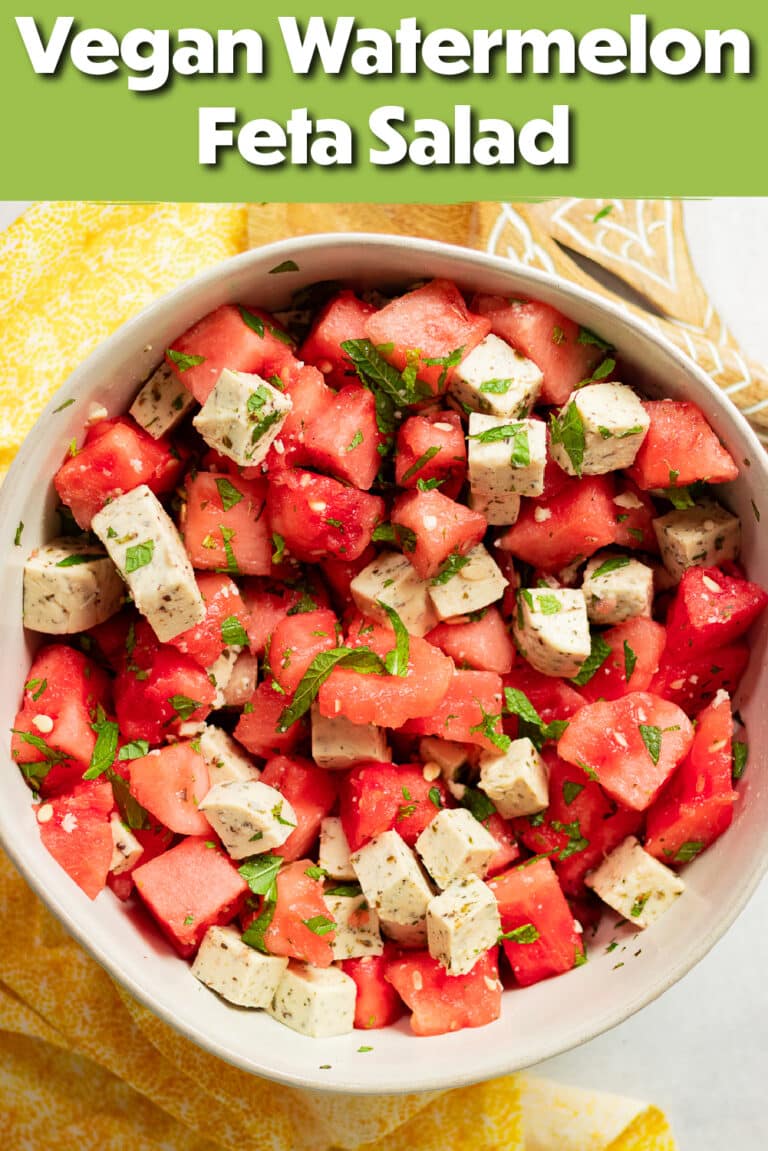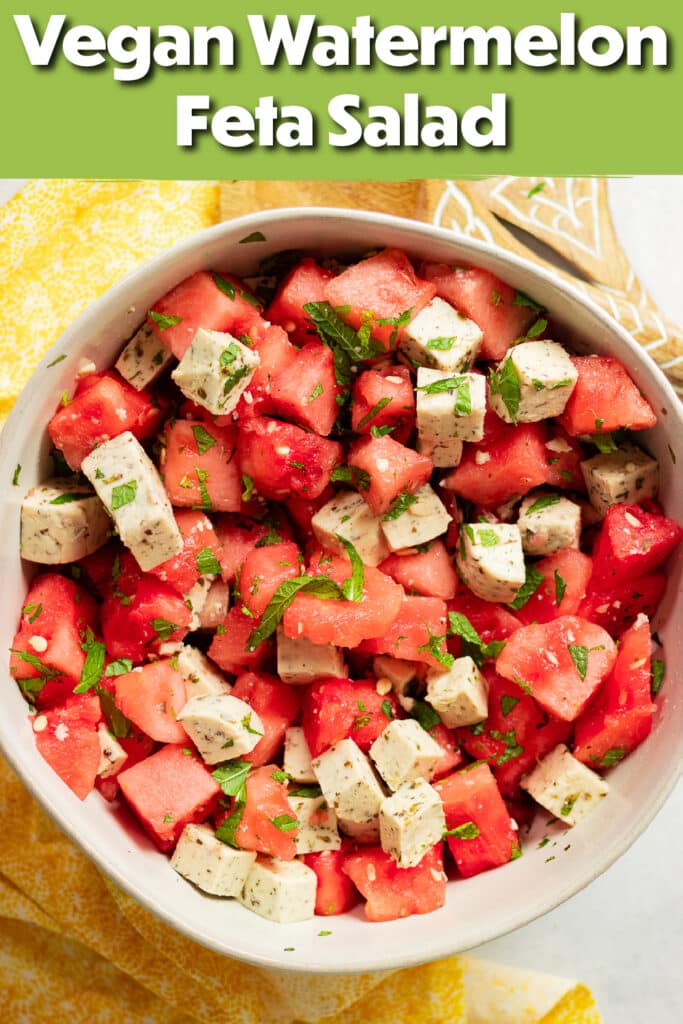 Follow me on Social Media!
Print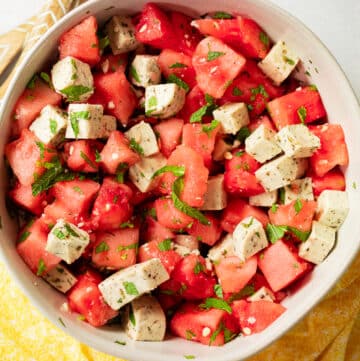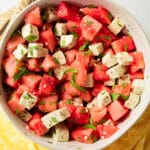 Vegan Watermelon Feta Salad
---
Author:

Liz Madsen

Total Time:

15 minutes

Yield:

8 cups

1

x

Diet:

Vegan
Description
Vegan watermelon feta salad is incredibly refreshing, light, and super easy to throw together in less than 15 minutes. Use my easy vegan feta cheese!
---
6

cups

diced watermelon

1

batch (or approx. 2 cups) vegan feta cheese (or store bought)
Juice of

2

limes

¼

cup

chopped mint leaves (or basil), optional
---
Instructions
Dice your watermelon and feta cheese into similar sized pieces. Toss gently in a large bowl. 
Squeeze the limes over the watermelon and feta.
Add chopped mint or basil if using, and toss everything to combine.
Serve immediately or refrigerate for a few hours before serving if desired. Refrigerate leftovers in an airtight container for up to 3 days.
Prep Time:

15 minutes

Category:

Salad

Method:

Chopping

Cuisine:

American, Summer
Keywords: Vegan, Gluten-Free, Nut-Free, Sugar-Free, Oil-Free, Vegan Feta, Watermelon Feta Salad, Salad
---
---