This big guide of Vegan Meat Recipes has all kinds of recipes for all kinds of proteins: from tofu to soy curls to seitan, etc. and even meat substitutes that aren't high in protein (jackfruit, mushrooms). Whether you're looking to replicate a certain flavor or you just want to eat more vegan protein, this guide has everything you'll need!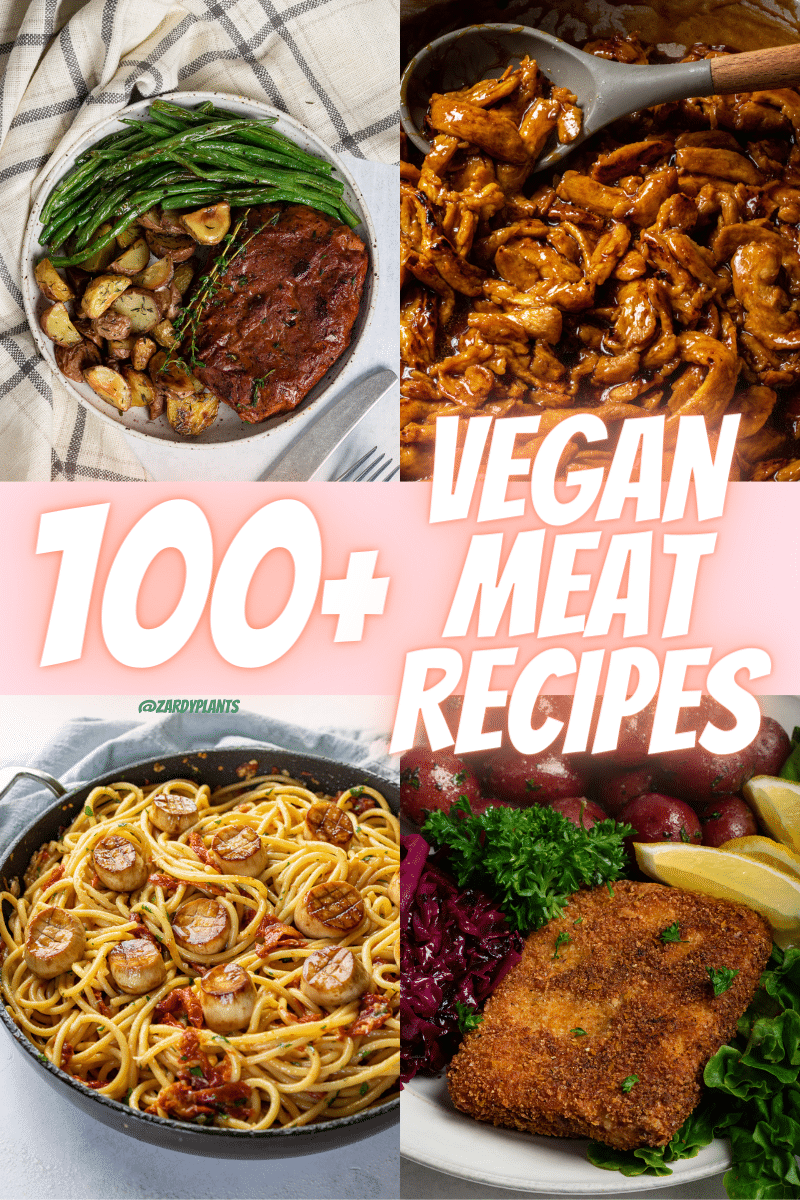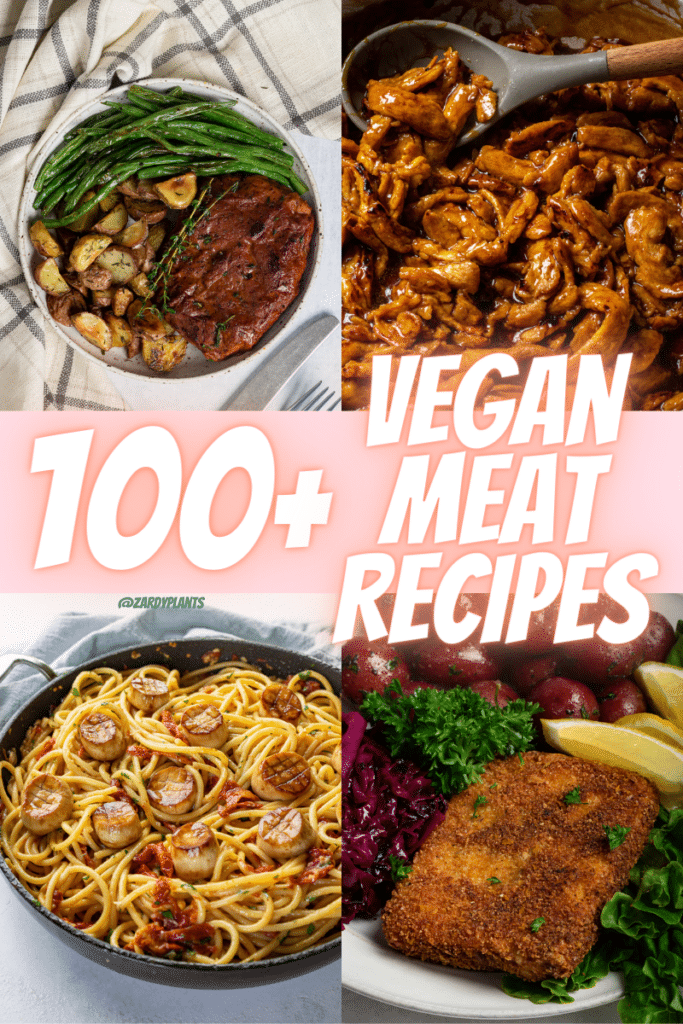 This post may contain affiliate links. See our disclosure policy for details.
Hey Internet, the inspiration for this article/guide actually came from getting less-than-nice comments on social media. Every time I post something that's meant to be an alternative to meat, and it does well (like my vegan pepperoni), I get all kinds of comments from people telling me to just call it what it is.
Well I tell people, if I did that, I wouldn't be describing the actual flavors and no one would be able to find it. Spicy seitan log doesn't cut it. Sorry.
I don't think there's anything wrong with using the phrase vegan meat recipes. It's vegan recipes that are formulated to taste like meat. But without the cruelty or cholesterol.
Anyway, today I've compiled a list of my best vegan meat recipes featuring some sort of vegan protein (or vegetable) as a substitute for meat.
I think you're going to love everything on this list!
But first, a few questions to answer, based on ones I've received on my recipes.
Why do vegans want their food to taste like meat?
First of all, this is a generalization. Lots of people eat a vegan diet for a lot of different reasons.
Some people don't even like the taste of meat, so they don't want their food to taste like meat. Those folks will probably have a more whole food diet of vegetables, fruits, grains, nuts and seeds, and legumes.
Other folks in that category may not mind the taste of meat but may also just be eating vegan for their health. There's a lot of research out there to support this, but that's not the point of this article.
Let's turn to a different group of vegan and plant based eaters: those who are vegan for the animals and for environmental reasons. Eating vegan is better for the planet and it also reduces animal cruelty and suffering.
That doesn't mean that we don't like the taste of hamburgers, hotdogs, pepperoni, etc. That means that we want to enjoy those things without causing undue suffering to animals and the environment.
So if we can purchase or create a plant based version of those meats, we can still live consciously and enjoy the foods we want to enjoy.
Also, based on my research, there are a lot of people searching for vegan meat recipes, vegan chicken recipes, vegan beef recipes... by these phrases (or more specific ones like vegan ham or vegan steak). So clearly people want to use these terms even if just to find recipes for vegan versions of their favorite foods.
Which meat alternative is the best?
That's purely subjective, honestly. One person may like seitan the best, and another person might prefer mushrooms or jackfruit.
From my own personal experience and from what I've heard in online vegan communities (and from vegan friends in real life), seitan is the most similar to meat.
There are various methods and stock ingredients, but the bottom line is that seitan is made from wheat gluten, the predominant protein in wheat. This means that seitan is NOT gluten-free.
But more about that later.
Although I believe seitan is the meatiest, I actually prefer soy based meat products like tofu and soy curls.
Soy curls are a dehydrated soybean product. I have lots of soy curls recipes and FAQs if you're interested in learning more.
And if you prefer tofu, I also have a big compilation of tofu recipes.
Let's go over some of these in more detail. If you're not interested in one of these, keep scrolling until you find one that interests you.
Never miss a recipe! Join my mailing list to receive a free copy of my e-book on my go-to plant based recipes as well as vegan tips, NEW recipes straight to your inbox. I will NEVER spam you or sell your information.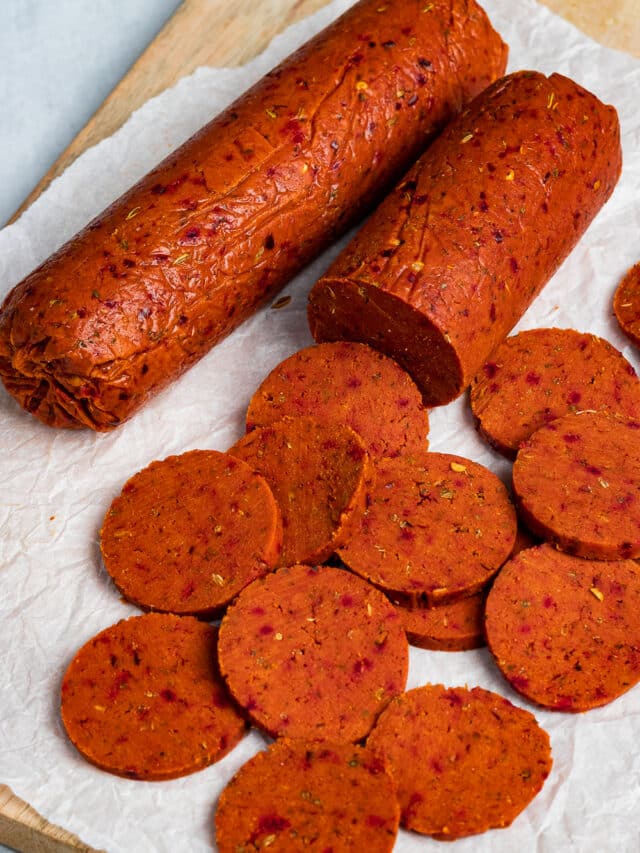 Seitan
What is seitan?
Seitan is made primarily by washing flour (sounds crazy, I know) with water, until all the starch is removed and you're left with just the protein of the wheat. This mass is then usually flavored and manipulated (by hand, usually by knotting, braiding, and stretching the dough) and cooked until it resembles meat.
Most of the recipes you'll find (including on my site) take a short cut and use vital wheat gluten, which is a protein based flour used to skip the lengthy washing process (a multi-step arduous endeavor). Some seitan-makers believe that using purchased vital wheat gluten is not a pure form of seitan making.
I prefer to think of it as a shortcut that, while it may compromise slightly on texture (you may not get vegan meat that is shreddable), it can be worth the time and effort it saves.
Personally, I have a disability in my hand that affects my dexterity, so I primarily focus on vital wheat gluten recipes that make it possible to make seitan in 1-2 hours (or less, depending on the recipe) as opposed to a several day process.
Seitan is among the highest in protein and best texture for vegan meat recipes and meat alternatives, but it can also be the most labor intensive and time consuming process.
If you'd like to learn more about seitan, check out The Seitan Society.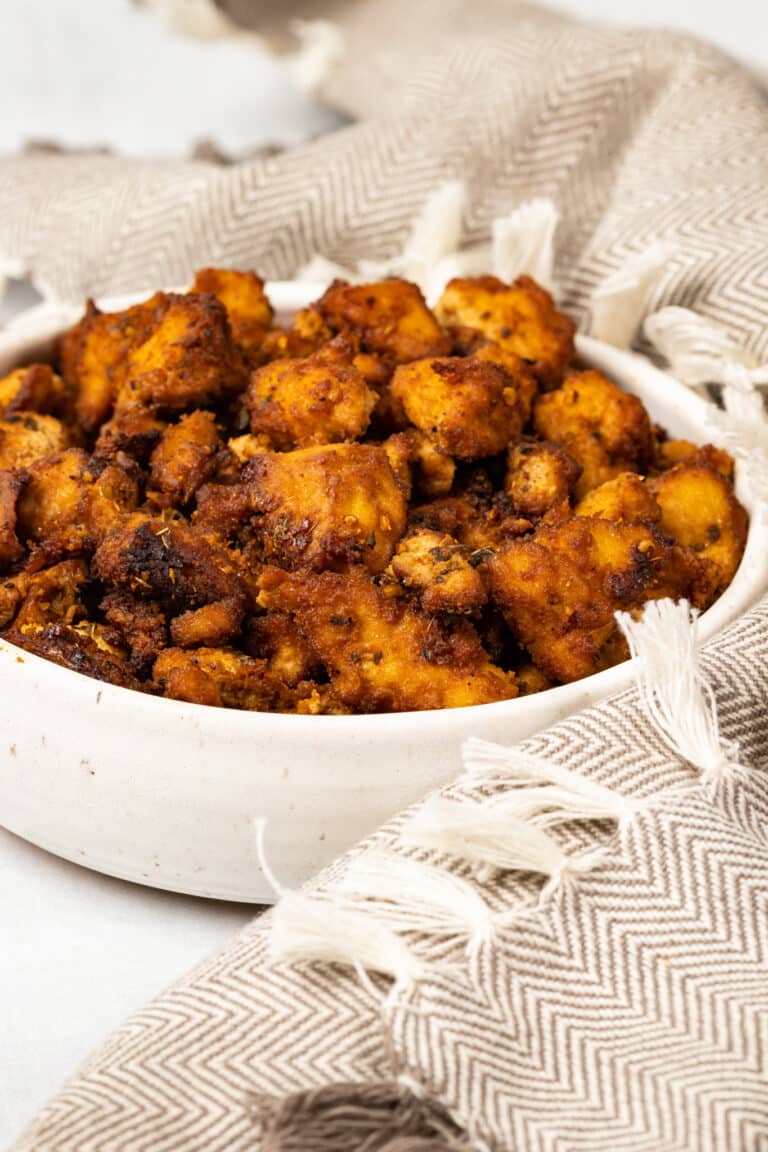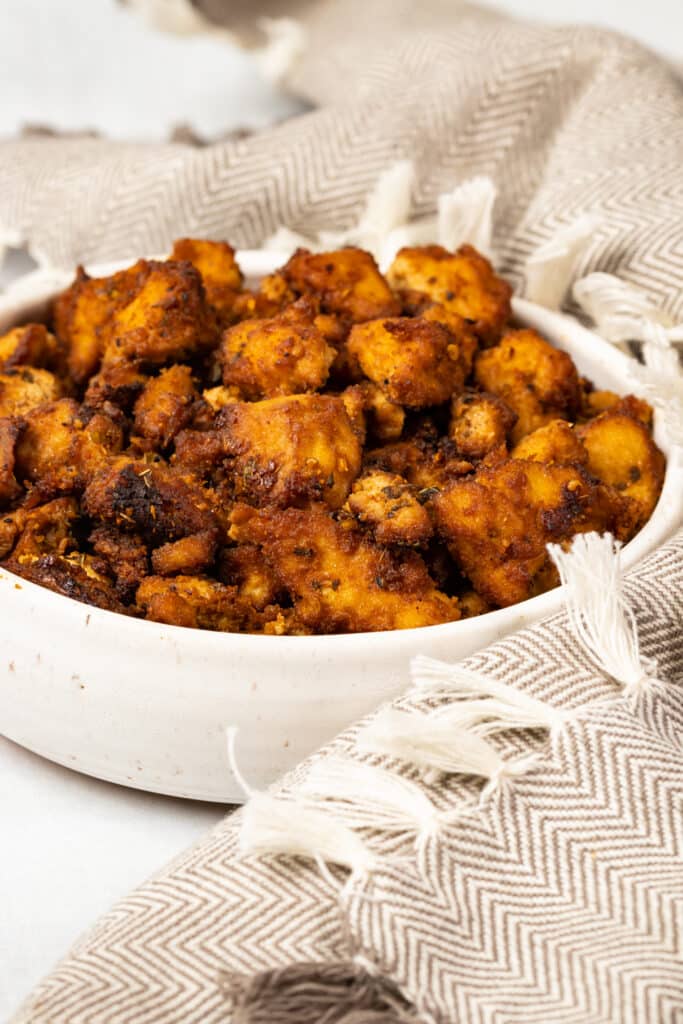 Tofu
Tofu is made from soybeans, just like soy milk, edamame, miso, and tempeh. It is classified is a bean curd product.
It is made by drying the soy beans, soaking them and crushing them, and boiling them. The mixture is separated into a solid pulp (which is referred to as okara) and liquid which is soy milk. Salt coagulants help separate the mixture to keep the solids and liquids separated.
Soy is actually very healthy (unless you're allergic, of course). Myths perpetuated by the media make some people think that soy contains estrogen which is not true.
Soy contains phytoestrogens called isoflavones. Soy consumption has been found to reduce the risk of breast cancer and to increase kidney function. If you're interested, I highly recommend reading more about tofu nutrition.
I learned all about soy and its benefits when I got my certification in Plant Based Nutrition from eCornell, a subject I'm very passionate about!
Tofu is a high protein, low fat legume based (soybeans are legumes) vegan protein. Many cultures in Asia have been eating it for hundreds of years.
Today, in many places, we can purchase many different kinds of tofu. From super firm vacuum sealed tofu that is ideal for baking and air frying to silken tofu (no curds) which is silky and smooth making it perfect for sauces, tofu is an incredibly inexpensive and versatile meat alternative.
I love using super firm tofu for dishes like sweet and sour tofu and salt and pepper tofu. I even stuffed it to make vegan cordon bleu!
Tofu that is silken or soft is ideal for blending into my nut-free vegan mayo or tofu sour cream. 
Firm tofu, which is not as soft as silken but has more water in it than super firm, is perfect for a softer texture that isn't too wet, such as vegan ricotta and vegan goat cheese.
Check out my big list of tofu recipes if you'd like to try some new ideas.
Tempeh
Is tempeh the same as tofu? No. They are both soy products but there are a few key differences between them.
What is tempeh? Tempeh is a block or cake of fermented soybeans bound together during the culturing and fermentation process. It is considered one of the healthiest soybean products because of this process (fermented foods are fantastic for your gut, FYI).
What does tempeh taste like? Tempeh has a slightly nutty, somewhat savory and earthy flavor. It is far firmer than tofu.
Tempeh is often bitter if not cooked correctly. The best way to cook tempeh is to steam it for 5-10 minutes BEFORE doing anything else to it. Some people move directly onto the cooking process after that, by adding a sauce or seasoning and baking or sautéing the tempeh.
Tempeh can be sliced, crumbled, or grated into any recipe to punch up the protein and "meatiness."
The other great thing about tempeh is that it is pretty inexpensive and relatively easy to find.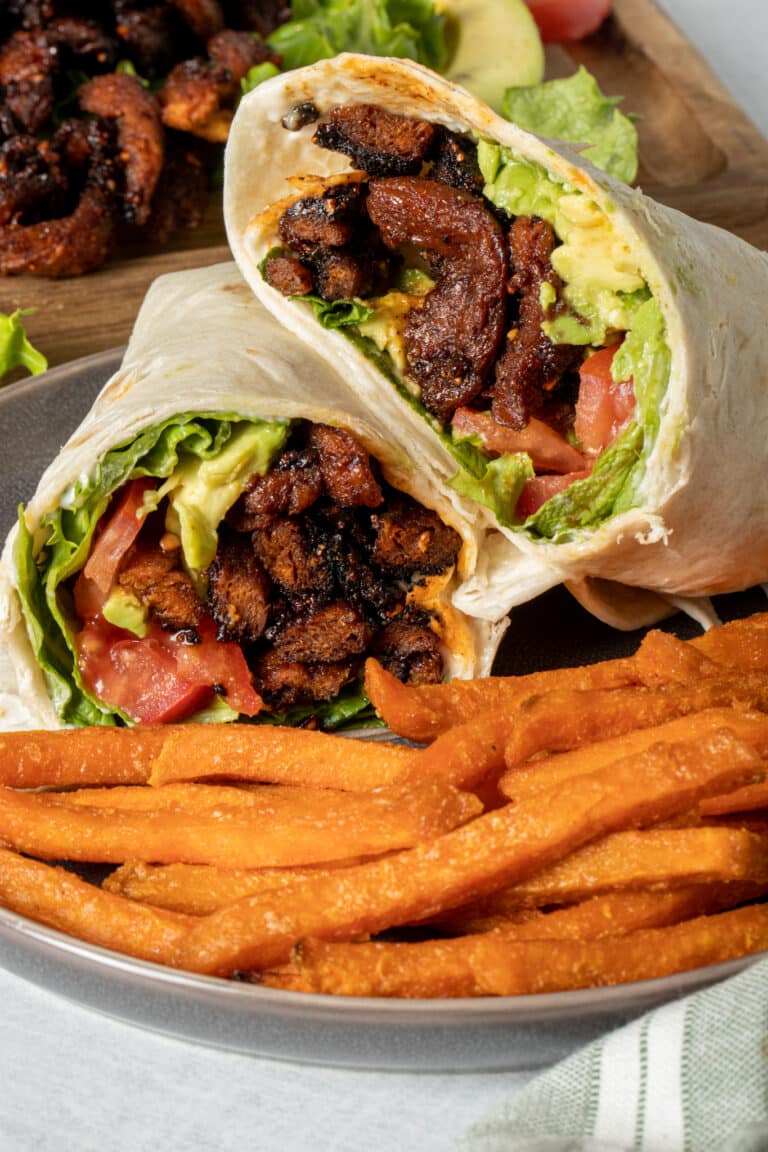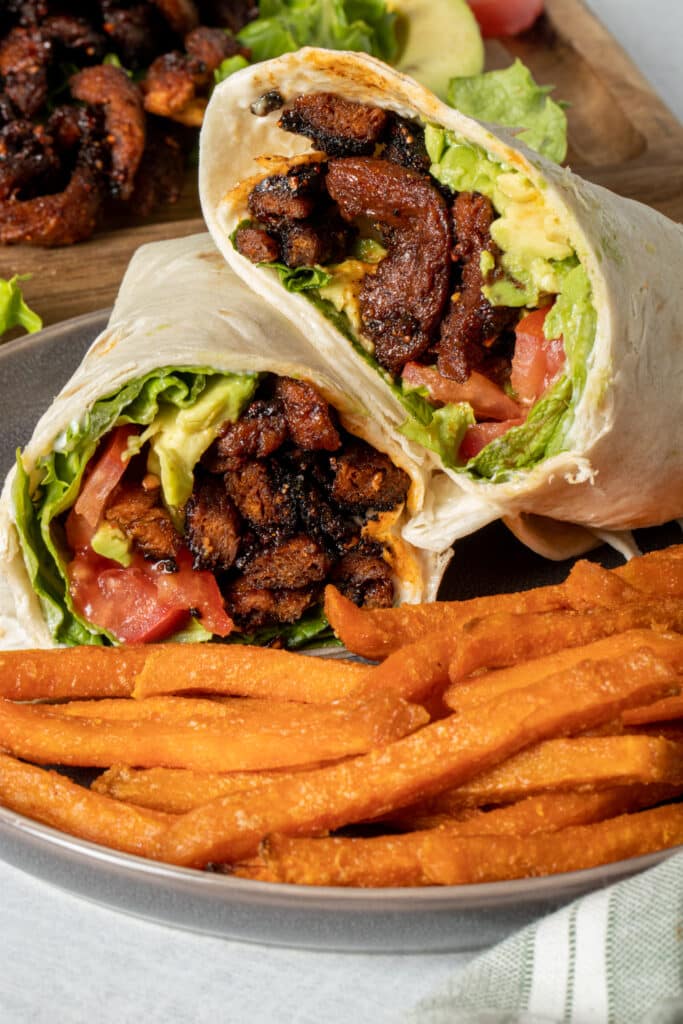 Soy Curls
I absolutely love soy curls. They're inexpensive, incredibly versatile, last a long time, gluten-free, and VERY quick to make.
Most of my soy curls recipes take between 15 and 30 minutes to make. I'm actually writing a whole e-book about soy curls!
Soy curls are a healthy meat alternative made by boiling and then dehydrating whole soybeans. This is a natural method and is less processed than other options out there (such as TVP which is defatted soybean flour).
Soy curls can be purchased online from Butler Foods, the only company (as far as I know) who makes these. There are other similar dehydrated soy products but none just like soy curls.
My three favorite soy curls recipes (at least the ones on my site… don't even get me started on the ones in my book… YUM) would have to be the Vegan General Tso's Chicken, Vegan Chicken and Dumplings, and Vegan Chop Suey. But also Soy Curl Bacon and Vegan Carne Asada... don't make me choose!
Did you know I have books? Visit my shop page to see the various e-books I have available. My best seller is Plant-Based Jewish Recipes, and I'm in the middle of a second volume of that as well as a new book in the works that focuses on one of my favorite gluten-free vegan proteins.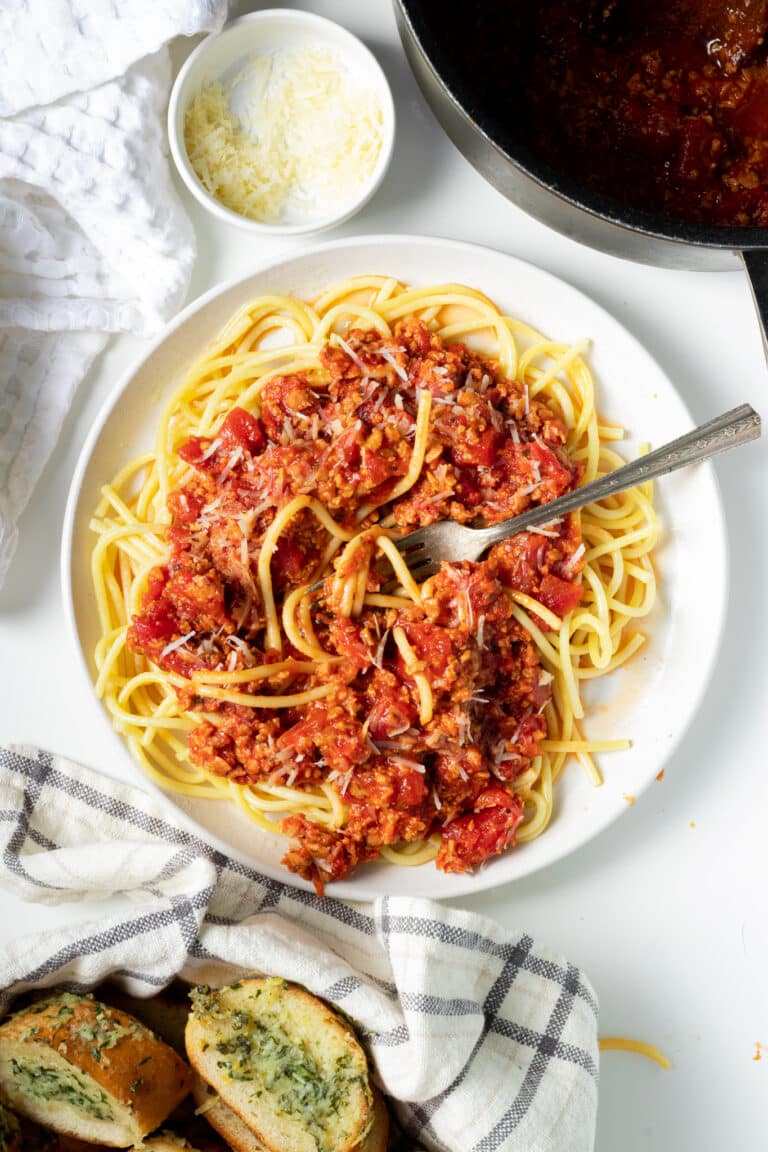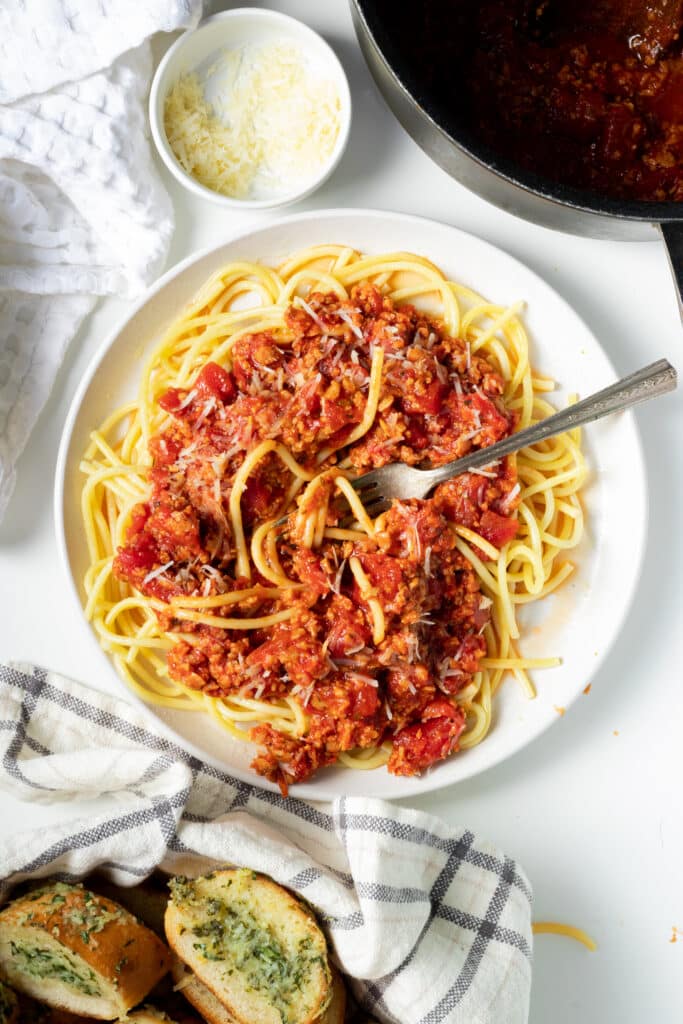 TVP
What is TVP? TVP stands for Textured Vegetable Protein.
It comes dehydrated just like soy curls and will last on a shelf (though many folks refrigerate or freeze these products to make them last longer. And it's easy to inject flavor into TVP like soy curls.
TVP is defatted soybean flour that is then constructed into little granules (or chunks or whatever form you find them in). It's a byproduct from the soybean oil extracting process.
So it is more processed than other soybean products. That isn't inherently a bad thing. It's up to you to decide what level of processing you're OK with.
TVP is perfect for vegan meat recipes where you don't want big chunks.
So I've found TVP is great for bulking up chili. I like to use it to make vegan bacon bits, vegan chorizo, and meatless crumbles. I also love it as a vegan meat sauce for pasta.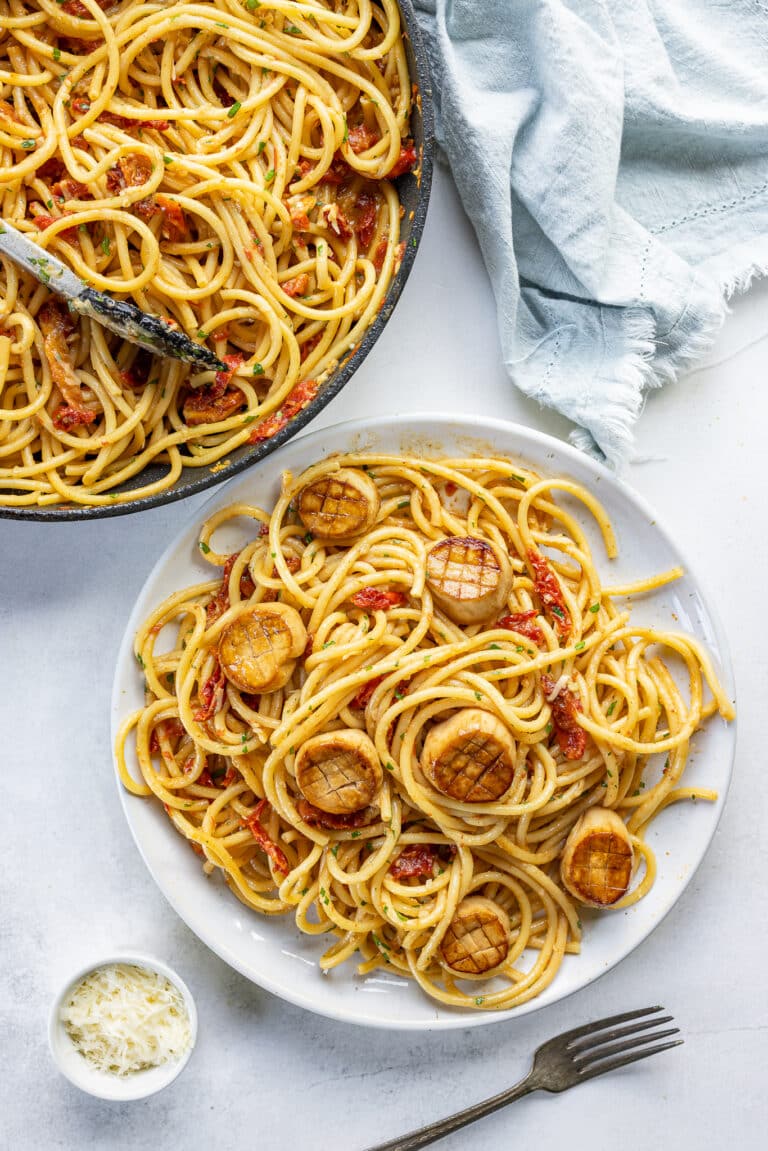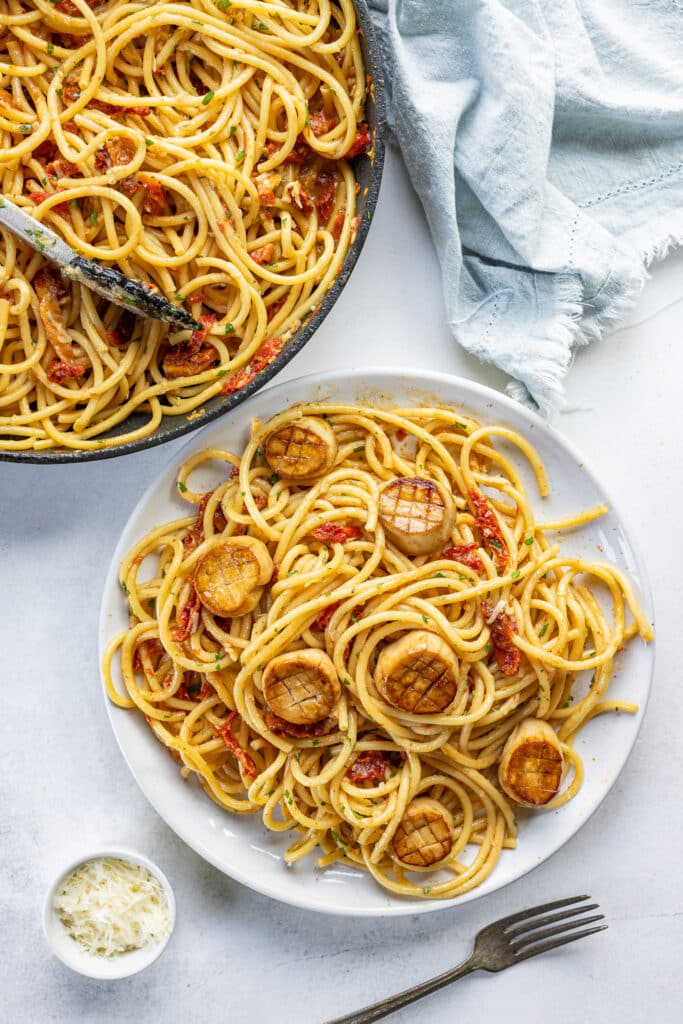 Vegan meat alternatives that aren't high in protein
There are a few vegetable based options that I think are worth mentioning here. These options are not really all that high in protein (although all vegetables have some protein), but they're worth mentioning because some lend themselves really well to vegan meat recipes.
Mushrooms are fantastic in certain recipes for meat. King oyster mushrooms, for example, make great vegan scallops.
Portobellos are great for fajitas, portobello bacon, or portobello mushroom steaks.
Shiitake mushrooms are very meaty and perfect in stir fries.
And I used oyster mushrooms in this early recipe that I still love—vegan chicken teriyaki with Brussels sprouts.
Next up, you've probably heard of jackfruit! Well I guess this is a fruit, not a vegetable, but it is actually awesome as a vegan meat replacement.
When you use jackfruit, you want to buy the kind that is called either Young Jackfruit or Green Jackfruit. This is unripe jackfruit and it doesn't have much of a flavor, making it perfect for vegan meat recipes.
Do not buy fresh ripe jackfruit for this purpose—it's far too sweet and will overwhelm the other flavors.
I use jackfruit in quite a few of my recipes, including this awesome vegan chicken salad as well as this vegan chicken cucumber salad and this cozy jackfruit stew.
Jackfruit is easily shredded, making it perfect for vegan shredded chicken.
Eggplant is one other option folks like to use to replace meat (I hate the term "fake meat"). I haven't used it much myself, but many people enjoy cutting eggplant into large chunks and using it in their cooking.
I also want to mention protein isn't everything! If you are eating a plant based diet and consuming a wide variety of fruits and vegetables, beans and legumes, nuts and seeds, and whole grains, you're going to get enough protein.
The only diets that lack protein are those that lack calories. Eat enough calories and you'll be OK when it comes to protein.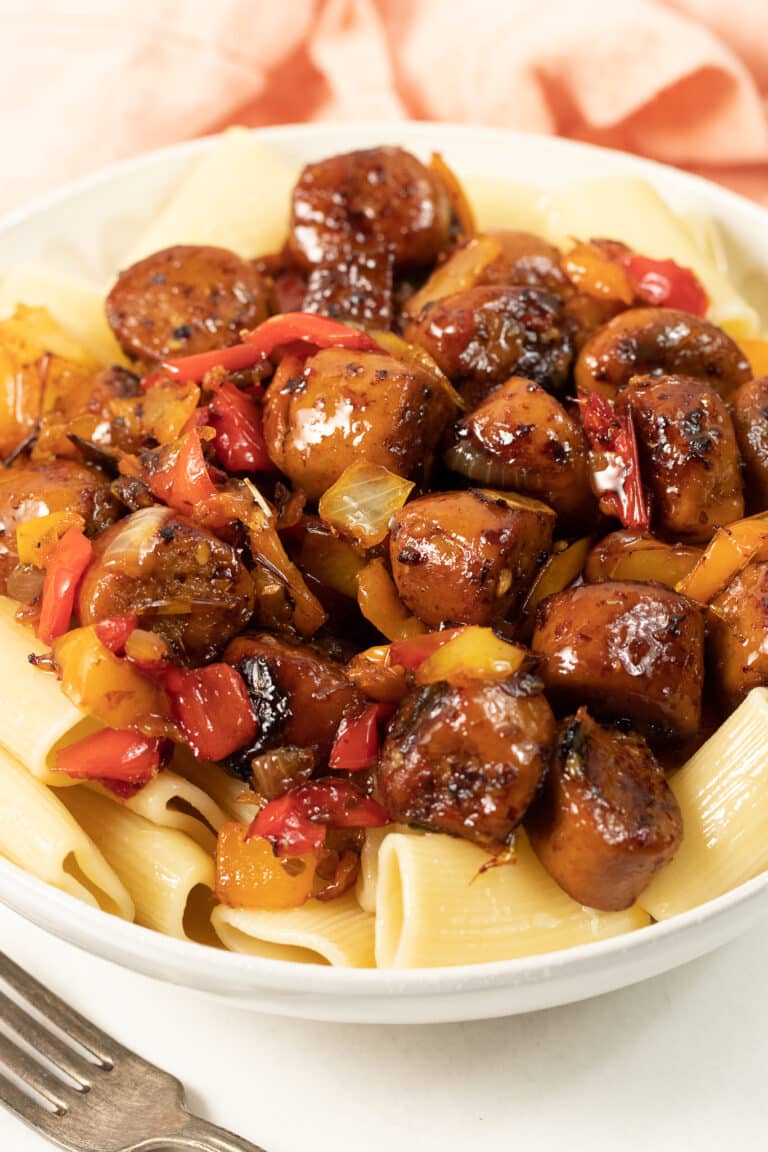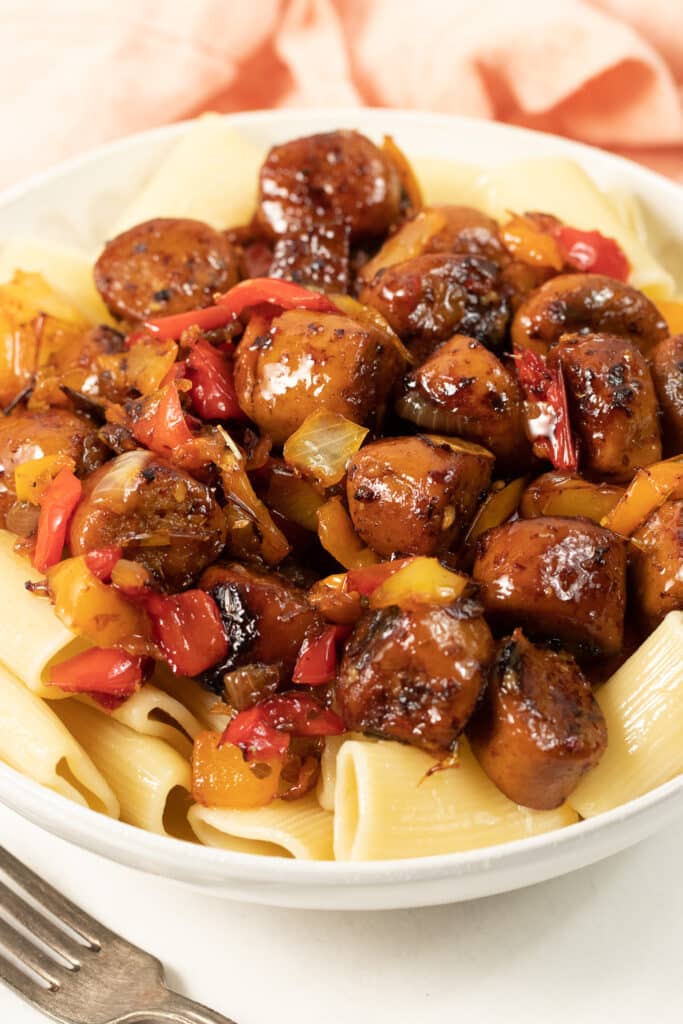 Store Bought Vegan Meat Recipes
Being vegan is SO much easier now than it used to be. When I was 15 I was lucky if there was maybe one vegan meat alternative and one vegan cheese alternative... and they weren't that good.
But nowadays, you can find all kinds of ready-made vegan meat at many stores these days. And most of them are REALLY delicious. Of course, personal preferences differ, but if you try all of them you'll likely find at least one you love.
Vegan meat alternatives can be found at major grocery chains such as Albertsons, Safeway, Kroger, Giant, and more. Vegan meat products can also be found at big box stores like Walmart, Target, and Meijer. They can also be found at specialty markets like Whole Foods, Trader Joe's, Aldi, Sprouts, Fresh Thyme, and your local health food stores.
What kind of vegan meat products are available in stores? I'm glad you asked.
There's all kinds of burger patties, sausages, plant based ground meats, chicken nuggets and recently some non-breaded style vegan chicken products have appeared, sandwich slices (like deli meat), hot dogs, bacon, and much, much more.
Our personal favorites are Beyond Meat Sausage and Impossible Meat Chicken Nuggets. My husband really loves these, although I personally have to limit my consumption of them since I have a sensitive stomach (to oil, mostly).
We've even created recipes using some of our favorite products, such as our Beyond Meat Meatloaf and Vegan Sausage Pasta.
These products can be expensive, but they are convenience foods first and foremost. If you're looking to save money on a vegan diet, I recommend you limit your consumption of these items and use them as a special treat once in a while, like for date night or if you're having a get-together.
There are so many less expensive options out there (see the sections above and the recipes below!) which can be much more budget friendly. And if you're really pinching your pennies, try some of the bean and lentil dishes below and others on my site like my hearty lentil vegetable potato stew, vegan stew with dumplings, and black beans and rice for really low-budget vegan meals.
Frequently Asked Questions
What is seitan?
Seitan is a high protein vegan meat alternative made using the protein of wheat—it is made by washing flour or blending pre-made vital wheat gluten, flavoring it, and cooking it until it resembles a certain type of meat (chicken, pork, beef, etc.).
What is seitan made of?
Seitan is made of gluten, the main protein found in wheat. Gluten is a combination of proteins prolamin and glutelin. Seitan's gluten content makes it unsuitable for celiac and gluten-intolerant people.
Is seitan basically bread?
No. Seitan and bread have very different textures and tastes. They're also cooked differently. Seitan does not contain yeast. It does not rise. It is not fluffy. It is flavored and cooked differently than bread.
Can I eat seitan raw?
No. It won't taste good at all. Definitely needs to be cooked!
Is seitan better than tofu?
Not necessarily. Seitan has more protein than tofu, but it depends on what texture, flavor, and application you're looking for. It also highly depends on personal preference. Let's use sausage as an example. Want something that crumbles? Go for tofu, like with my tofu-based vegan sausage crumbles. Looking for something more solid you can stick in a bun? Try my seitan-based vegan sausage links.
What is tofu?
Tofu is a soybean product made from drying, soaking, crushing and cooking the soybeans.
What does tofu taste like?
Tofu tastes like nothing, really. It is perfect for soaking up flavor. If you want to inject flavor into tofu, you'll either need to buy super firm tofu (which comes vacuum sealed; NOT in a tub of water) or press your firm tofu (with a tofu press or heavy objects) to rid it of excess water. Then you can use marinades, spice rubs, sauces, etc. to flavor the tofu.
What is tempeh? 
Tempeh is made from fermented soybeans. It is generally considered to be the healthiest soybean product. It is a little less versatile than seitan or tofu. It is a little challenging to cook for some folks. You must steam it first to get rid of any bitterness.
Is tofu high in estrogen?
No. Soybeans contain what are called phytoestrogens. They do not raise the estrogen level in humans. Cultures in Asia have been eating soy for centuries.  I highly recommend this source on tofu nutrition.
Which meat alternative is your favorite?
I like this question. But it's hard to answer! I think I'd have to say my personal favorite is soy curls. They're quick, versatile, and very easy to make and inject the flavor you want. You can also cook them with little to no oil if you want, which makes them easy on my stomach (which is sometimes sensitive). Mr. Zardyplants says his favorite is also soy curls but with seitan as a close second. We've been testing and photographing soy curls recipes for the last 4 months though, so I'm sure that's impacting his decision!
Follow me on Instagram, Facebook, TikTok, Pinterest, or YouTube for more vegan tips, recipes, and to see all my recipe videos (I even have recipes not on the blog!).
Vegan Meat Recipes
This big list of vegan meat recipes contains all kinds of dishes made with meat alternatives like tofu, seitan, soy curls, jackfruit, and more. Check out this super versatile list of satisfying vegan entrees featuring meat alternatives.